Gion, the entertainment district with the atmosphere of ancient Kyoto. You've seen pictures or movies of maiko walking briskly along a stone-paved path, haven't you? We could say this is what Kyoto is all about.
I'll introduce how to stroll around Gion District after leaving Kiyomizudera Temple (清水寺) here. Please check out my other blog "The allure of Kiyomizudera," if you haven't read it yet.
Gion is still mystical and kind of exclusive for even the locals. It would also be a good idea to get lost and discover your own unforgettable Gion!
1 Sannen-zaka (三年坂)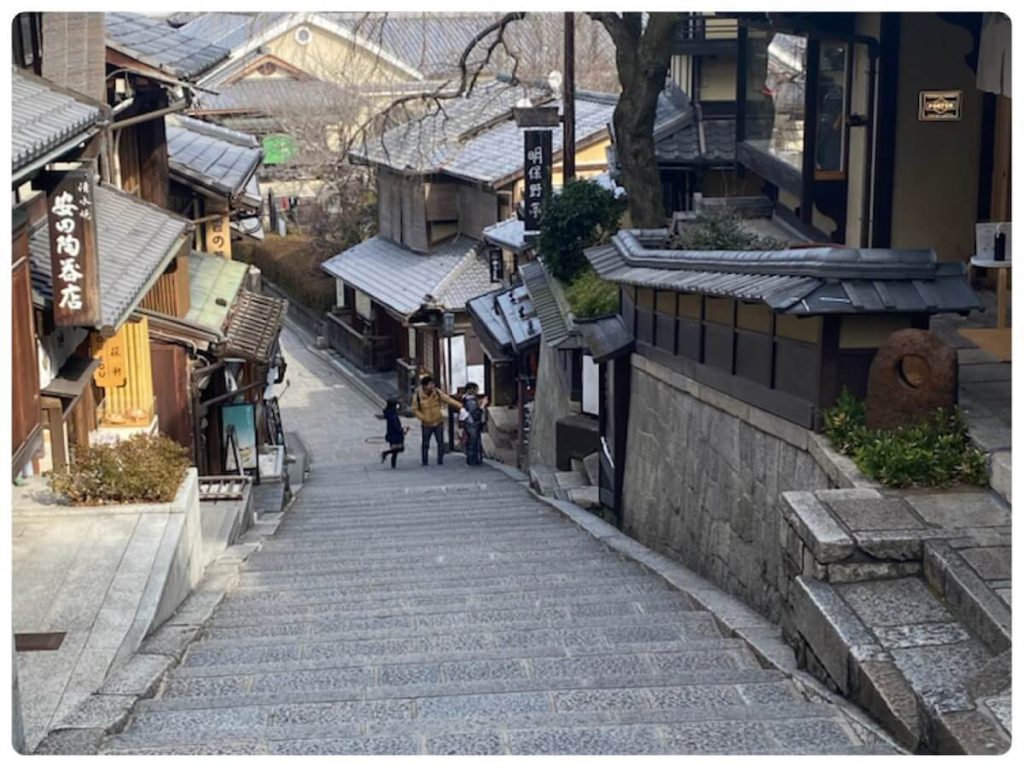 Down the slope after leaving Kiyomizu-dera, you can find the descending stone stairs called Sannen-zaka (三年坂) or Sannei-zaka (産寧坂) on your right. Lots of touristy shops selling Kiyomizu ware, sweets, souvenirs and also restaurants are lined up along the pathways here.
San-nen-zaka literally means "Three-year-slope." Watch your step! It's said that if you slip on the stone steps, something bad will happen to you for three years. Also this stairway is called Sannei-zaka, meaning the slope for easy birth. So if you go through this slope, you will have a safe delivery as "Sannei" has the meaning of an easy childbirth.
Anyway, this is one of the very famous slopes in Kyoto.
2 Yasaka Koushin-do (八坂庚申堂)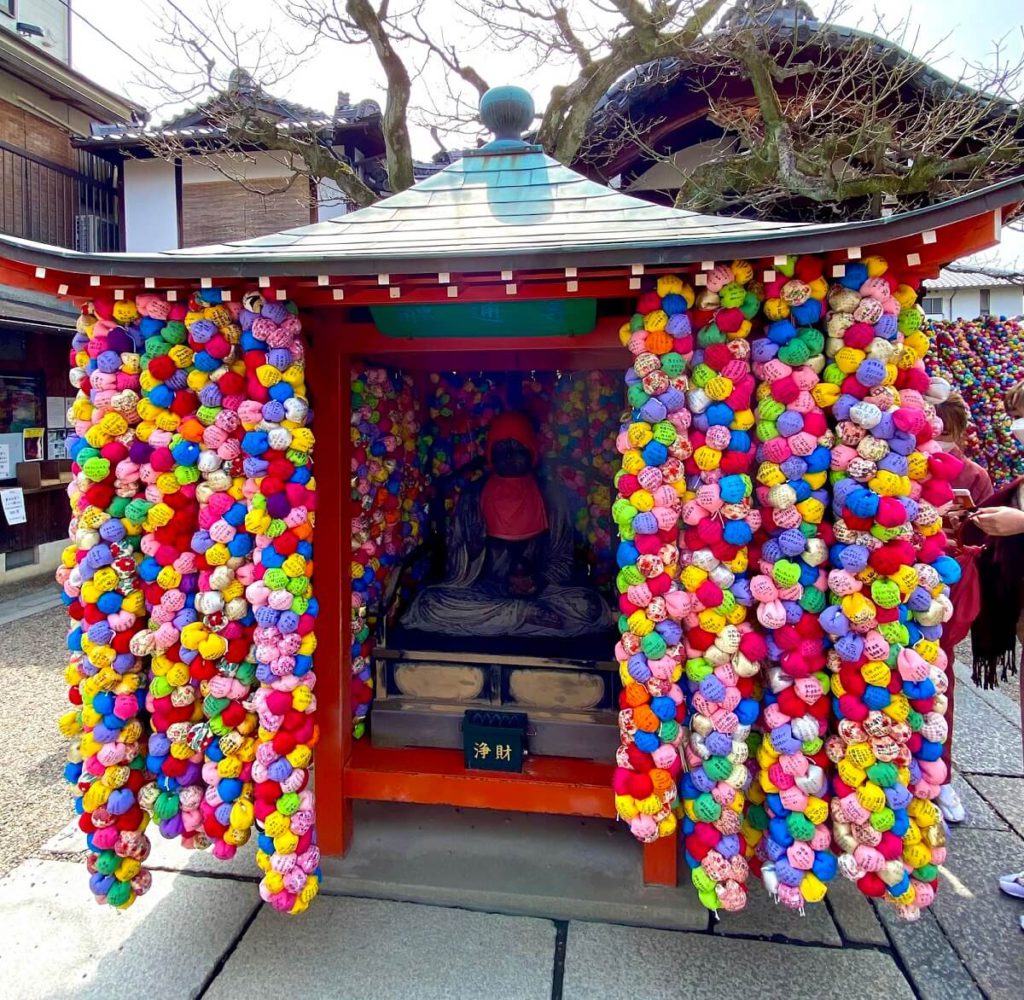 This is one of the most Instagrammable temples in Kyoto due to the colorful ornaments hanging in a string of beads. These balls are little monkey talismans called "Kukuri-zaru" (くくり猿), literally meaning bound monkeys, which represent not being able to move freely with their hands and feet tied. It's believed that if you give up something precious to you, one of your wishes will be granted.
3 Yasui Konpira-gu (安井金比羅宮)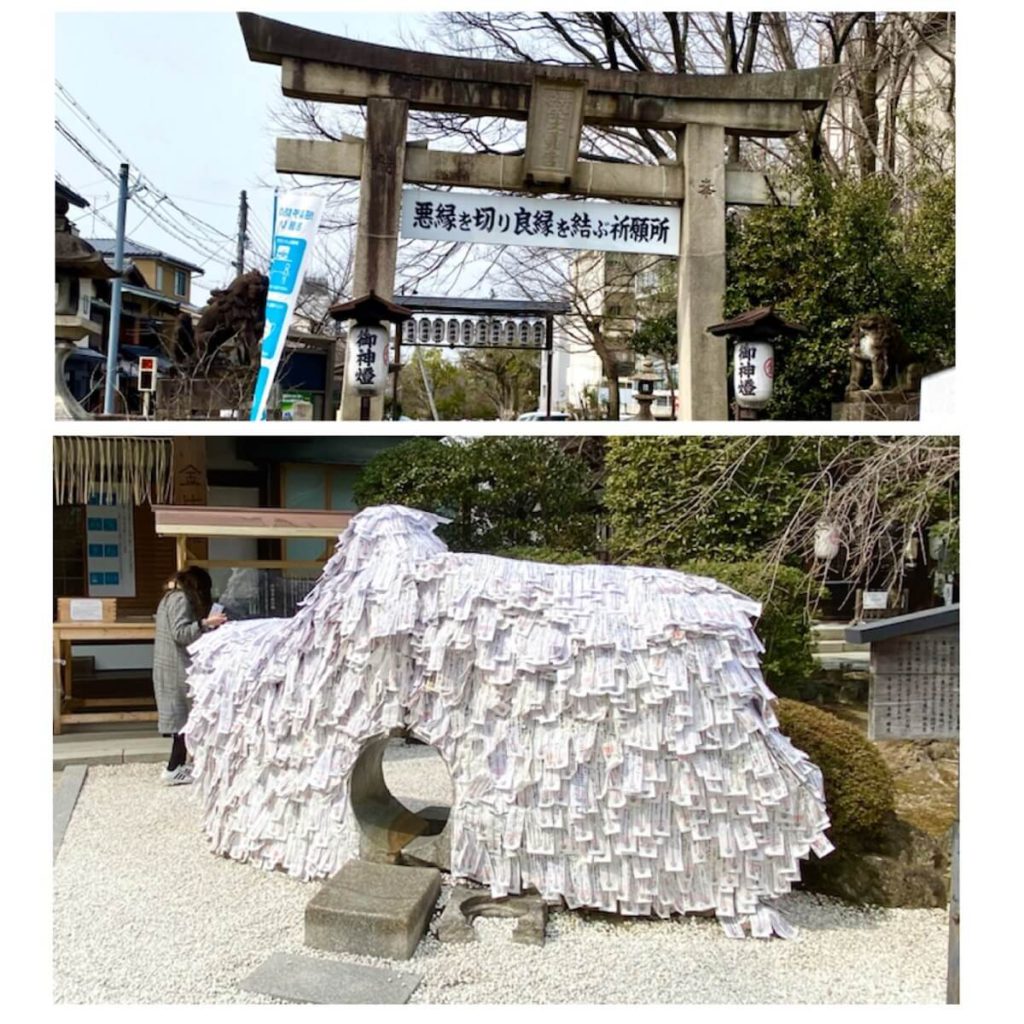 This shrine is commonly known as the "Shrine of Breakups." People who want to break off bad relationships and initiate good ones visit here and offer their prayers. I often see visitors making a line to crawl through a hole in a large ema-shaped stone, then back through again. They say this ritual can break up not only human relationships but also get rid of illnesses or addictions such as alcohol, cigarettes, gambling and other bad fate, and attract positive relationships.
4 Kennin-ji Temple (建仁寺)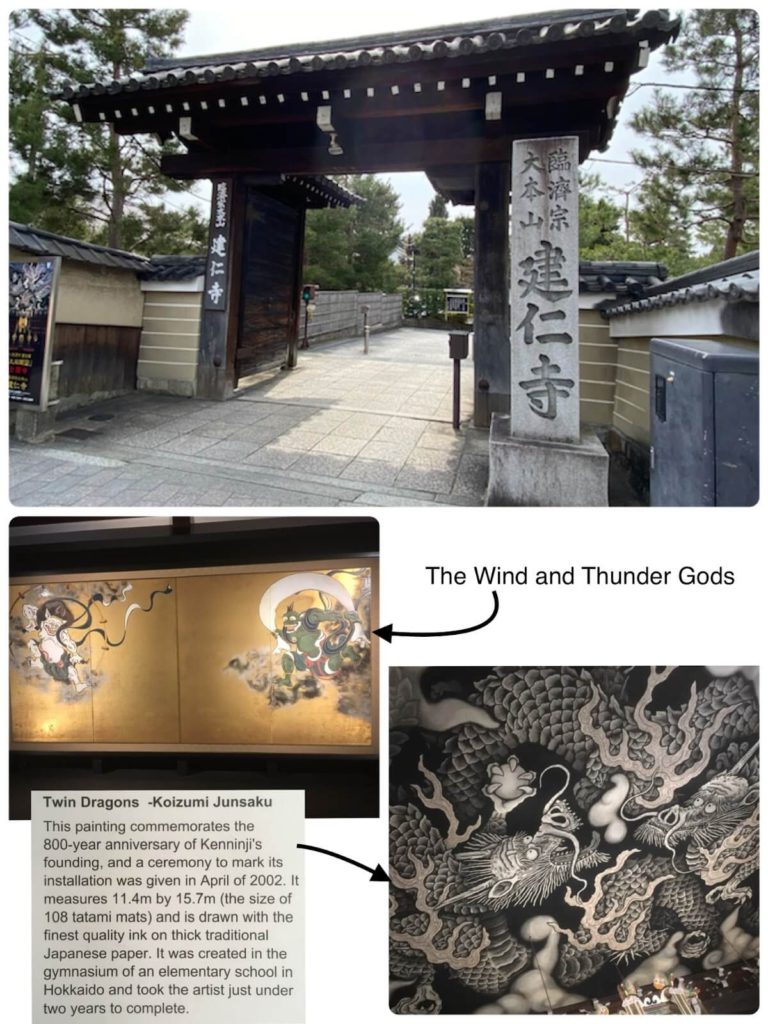 Kennin-ji is the oldest Zen temple in Kyoto, located just south of the Gion area. It's famous for its folding screen "The Wind and Thunder Gods" (風神雷神図屏風), the painting "Twin Dragons" ( 双龍図) drawn all over the ceiling of Hatto Hall (法堂), and some refined Zen gardens.
Kenninji
https://www.kenninji.jp/
5 Okiya (置屋)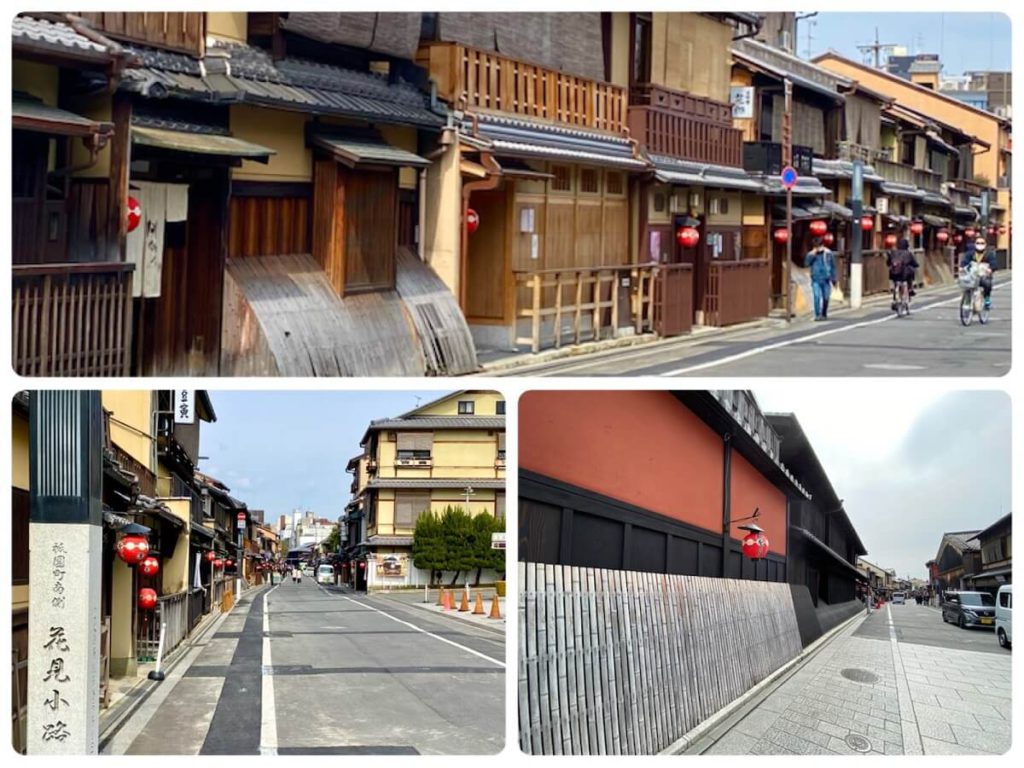 Here it is! It's the main street in Gion called "Hanamikoji Street" (花見小路通), usually overflowing with tourists. I suggest you explore the other alleys to taste the charm of Gion. Just keep in mind that the Gion area is not a tourist site, and is mostly privately owned. So photography is not allowed in most alleys except the main street, Hanamikoji.
Walking down pathways, you can find nameplates over some entrance doors as shown in the picture below. On each is written a name of a maiko (舞妓) on it. It seems that 3 maiko live together in this house. A woman called Okaasan, meaning a mother, is responsible for taking care of the maiko living together here as their guardian. Houses like this one are called okiya.
6 Maiko(舞妓) & Geiko(芸妓)
Maiko are apprentice geiko. In general, girls who want to be maiko start to live in okiya just after graduation from middle school. And for 4 or 5 years before turning 20, they are trained to become geiko in traditional Japanese dancing, playing the shamisen (三味線, the Japanese three-stringed guitar), flower arrangements and the like. When they turn around 20 years old, they become geiko and usually leave the okiya to be independent. Geiko are professional entertainers, well-trained in traditional dance and music and also manners for entertaining guests at Japanese-style banquets.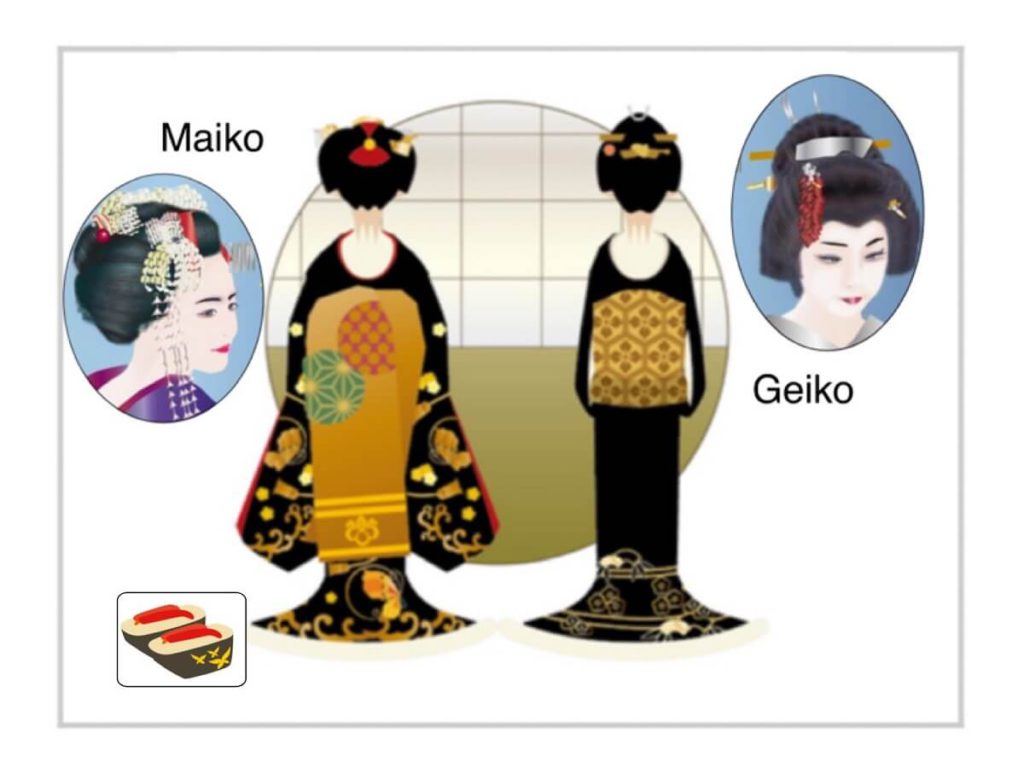 You can tell maiko from geiko by appearance. Maiko wear colorful kimono with a long obi sash hanging from the back, elaborate traditional hairstyle and about 10 cm-high wooden clogs called okobo or pokkuri in order to look child-like. There are many more differences than these, but just one more, maiko set their own hair in traditional Japanese hairstyles while geiko wear wigs. Incidentally, during the first year, maiko put lipstick only on their lower lips. From the second year, they put it on both their lips.
You too can be a maiko! There are some photo studios that offer a Maiko Makeover Experience in Kyoto. Reservations are required in advance. If you are interested, please google "Maiko Makeover Experience."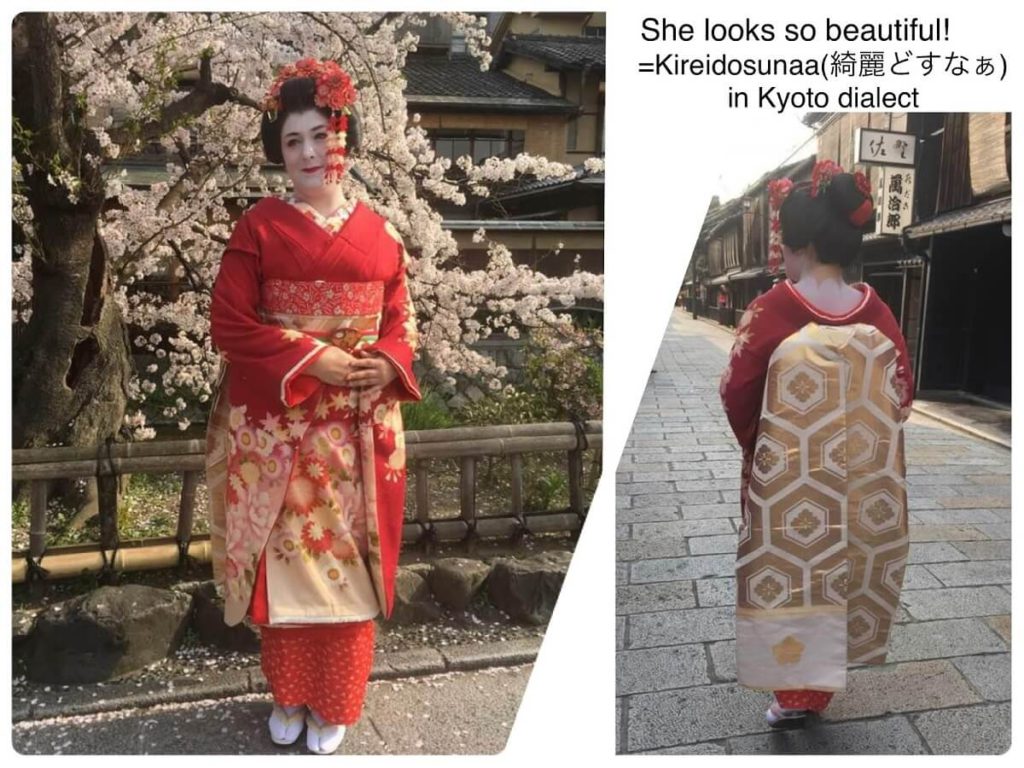 She, who is one of my guests I guided, enjoyed experiencing a Maiko Makeover and walking around Gion on a beautiful spring day!
7 Chaya (茶屋)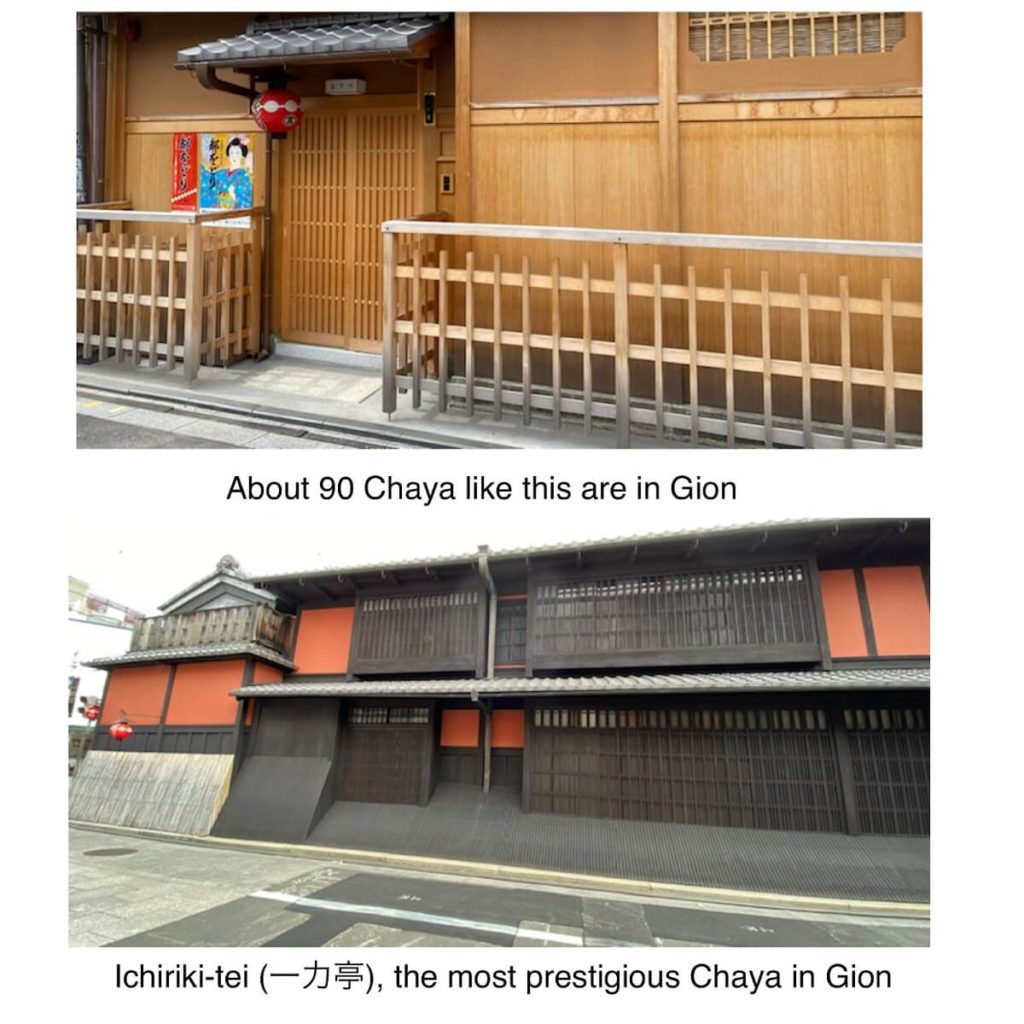 Maiko and geiko are invited to chaya, where a traditional Japanese-style banquet is held to wait on guests with sake and entertain with classical Japanese dance and music accompanied on the shamisen. These places called chaya don't accept first-time customers easily. You need an invitation from someone who goes to the chaya. However, some places are recently open to the general public.
If they were in show business, okiya would be an agency, chaya would be a theatre, and maiko and geiko would be entertainers.
All the splendid cuisine is brought to chaya from caterers called shidashiya (仕出し屋). This is how, in Gion, the guests can receive the best hospitality by dividing up the work among the different fields of expertise.
8 Inuyarai (犬矢来) & Komayose (駒寄せ)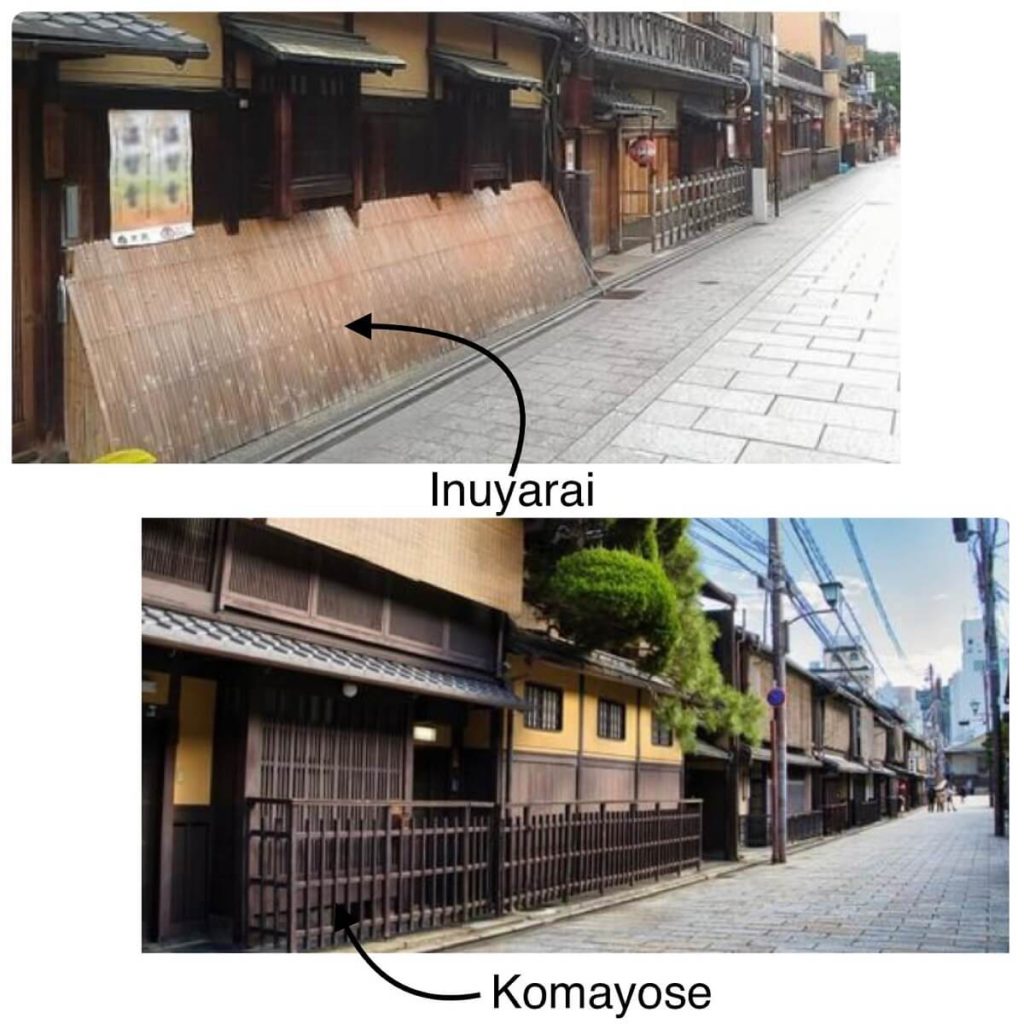 You can see fences as shown in the photo above in front of most houses in Gion.
Inuyarai were originally used to prevent dogs from urinating on the walls of the houses in Kyoto. They can also protect the walls against splashes of rain and mud. Komayose used to serve as a place to tie horses or cows.
It goes without saying that they are elegant and attractive in their design, but they also have another practical aspect that they prevent people from leaning against the walls.
9 Gion Corner (ギオンコーナー)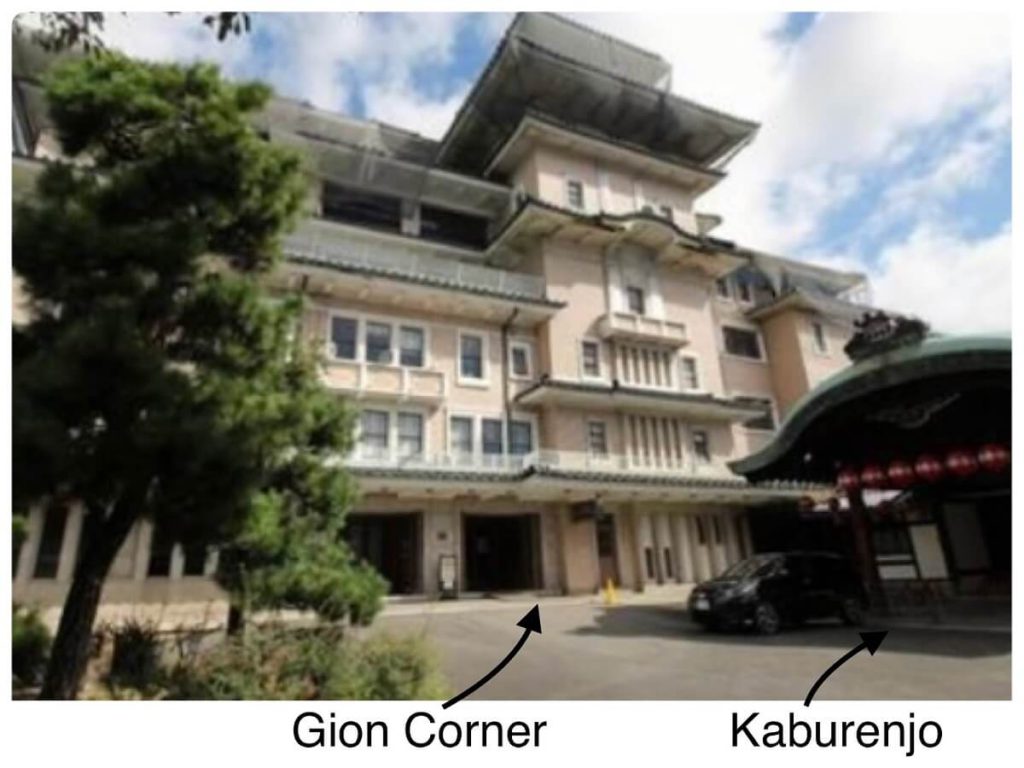 Here you can indulge in the seven Japanese traditional performing arts in a compact one-hour program for tourists.
Gion corner
http://www.kyoto-gioncorner.com/global/en.html
10 Gion Koubu Kaburenjo Theatre (祇園甲部歌舞練場)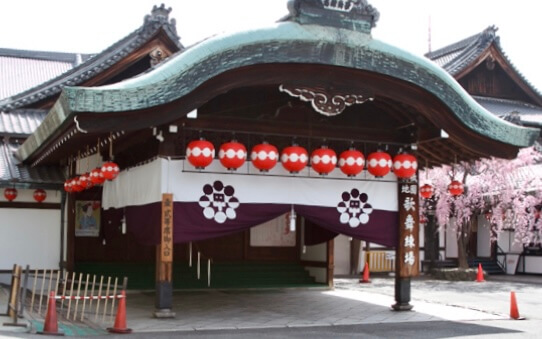 This is a traditional Japanese performance theatre, where an annual maiko and geiko dancing performance "Miyako Odori" (都をどり) is held in April. Unfortunately, this traditional structure is now closed for earthquake resistance construction. It's expected to be completed in spring 2023.
11 Tatsumi Daimyojin Shrine (辰巳大明神)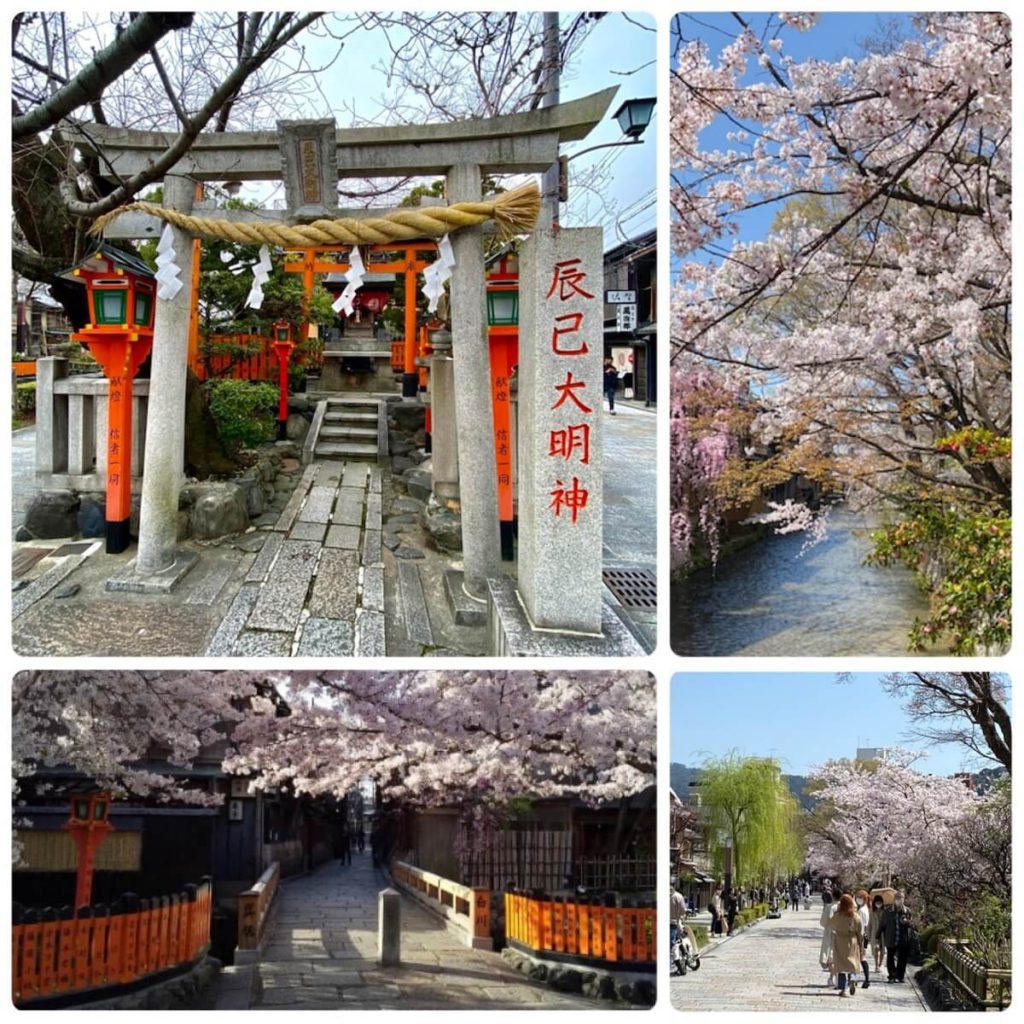 Gion District extends to the north across Shijo Street (四条通り). You can also enjoy the quaint Kyoto-ish streets and houses around here, Gion Shirakawa (祇園白川) area.
This shrine is worshipped by geiko and maiko as a deity to whom they pray for the improvement of their artistic skills.
This is a map in which the red arrows indicate the shortest route from Kiyomizudera to Tatsumi Daimyojin. You don't need to follow the arrows. Explore some other enchanting paths as you are allured!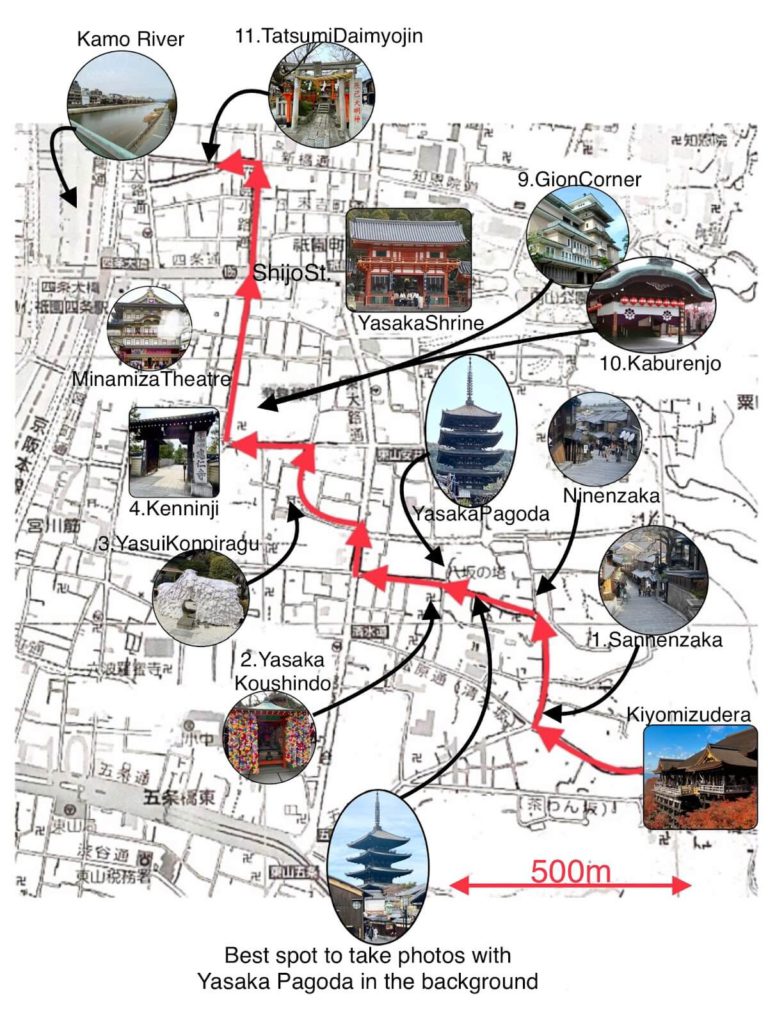 Did you enjoy strolling around Gion? It's unfortunate, but these days Gion has to have stricter rules regarding photography, maiko and geiko and others, because of a few people with bad manners.
It is a shame that we can see these kinds of signboards here and there, which ruin the graceful scenery.
I'd like to think that this article helps tourists savor the elegant atmosphere of the ancient city and also preserves the historic landscape of Gion.
For more information, please click the link below.
Gion
en.wikipedia.org/wiki/Gion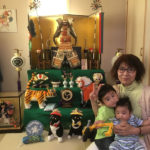 Born and raised in Kyoto. A private tutor and a volunteer tour guide in Kyoto. Love sewing, kimono remaking, traveling, cooking, gardening, playing the shamisen(三味線), making stained glass and grandparenting as well.