Byodo-in Temple, one of the World Heritage Sites in Uji, was originally a villa of Fujiwara no Michinaga (藤原道長), an aristocrat in the Heian period. The aristocrats preferred Uji, as well as Arashiyama, as their resort area. Look at the photo below! It's somewhat similar to the view of Arashiyama, isn't it?! Literary scholars in the Heian period, such as Murasaki Shikibu (紫式部), also wrote their stories set in Uji. And the climate created by the Uji River has nurtured the culture of Uji-tea.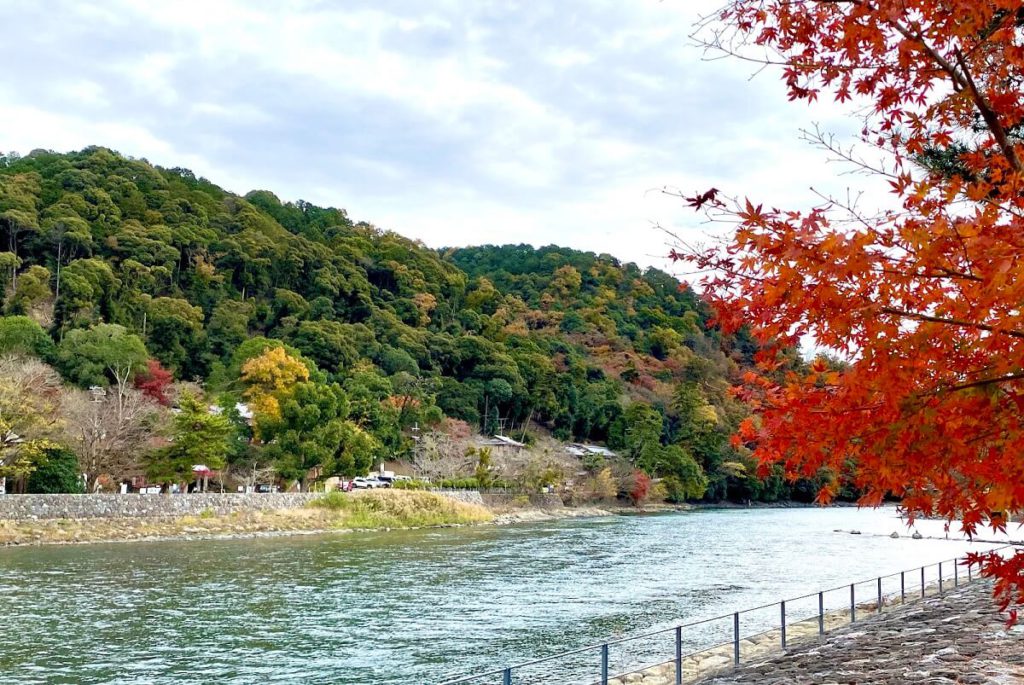 It has been about 40 years since I started living in Uji City. Recently, this city has developed as one of the most beautiful tourist destinations while carefully preserving its nature, history and culture.
I'd like to share a sightseeing course in Uji. But before that, let me boast about the charms of my city!
We have two World Heritage Sites, Byodo-in Phoenix Hall (平等院鳳凰堂) and Ujigami Shrine (宇治上神社).
There are several places to experience tea culture, including tea ceremony, such as Taiho-an (対鳳庵), Chazuna (茶づな) and more.
You can enjoy all kinds of matcha dishes and sweets, like matcha curry, matcha ramen, matcha gyoza, matcha beer and others at restaurants here and there.
Most elementary schools in Uji City have faucets with tea coming out of them.
There are many things associated with the Tale of Genji (源氏物語), the museum "Genji Monogatari Museum (源氏物語ミュージアム)," some monuments and the like.
We have a mountain called Daikichi-yama (大吉山, 131m) behind Ujigami Shrine, which is also a hiking course and offers a panoramic view of Byodo-in Temple and the Uji River from its observatory.
We can enjoy camping, picnicking, swimming and other activities in a huge park "Taiyo-ga-oka" (太陽ヶ丘).
There are Uji City Botanical Garden to the west of Taiyou-ga-oka and a skating rink "Kyoto Uji Ice Arena" to the east as well.
There is also a dam called "Amagase Dam" (天ヶ瀬ダム), which can be visited freely.
That world-class company Nintendo intends to build a tourist facility that offers exhibitions and hands-on experiences on the site of the former Nintendo factory, scheduled to open in spring 2024.
Have I piqued your interest? You must be curious about Uji!
~ A sightseeing course ~
Now, let me introduce a typical sightseeing course in Uji!
Let's leave JR Uji Station and head to Byodo-in Temple through the Uji-bashi Shopping Street! This shopping street used to be mainly for locals, but recently it has become quite touristy.
Right in front of JR Uji Station, you will see one of the long-established and very popular tea shops, "Ito Kyuemon (伊藤久右衛門)," where various dishes using matcha green tea such as matcha parfait, matcha curry and matcha udon noodles are served. About 30 meters ahead, another traditional tea shop, "Nakamura Tokichi ( 中村藤吉)," will catch your eye. Like this, many tea shops and restaurants stand side by side along Uji-bashi Shopping Street and Byodo-in Omotesando Street. If you walk directly from JR Uji Station to Byodo-in, it'll only take about 10 minutes or so. But you'll be intrigued by every store and will have a hard time reaching Byodo-in!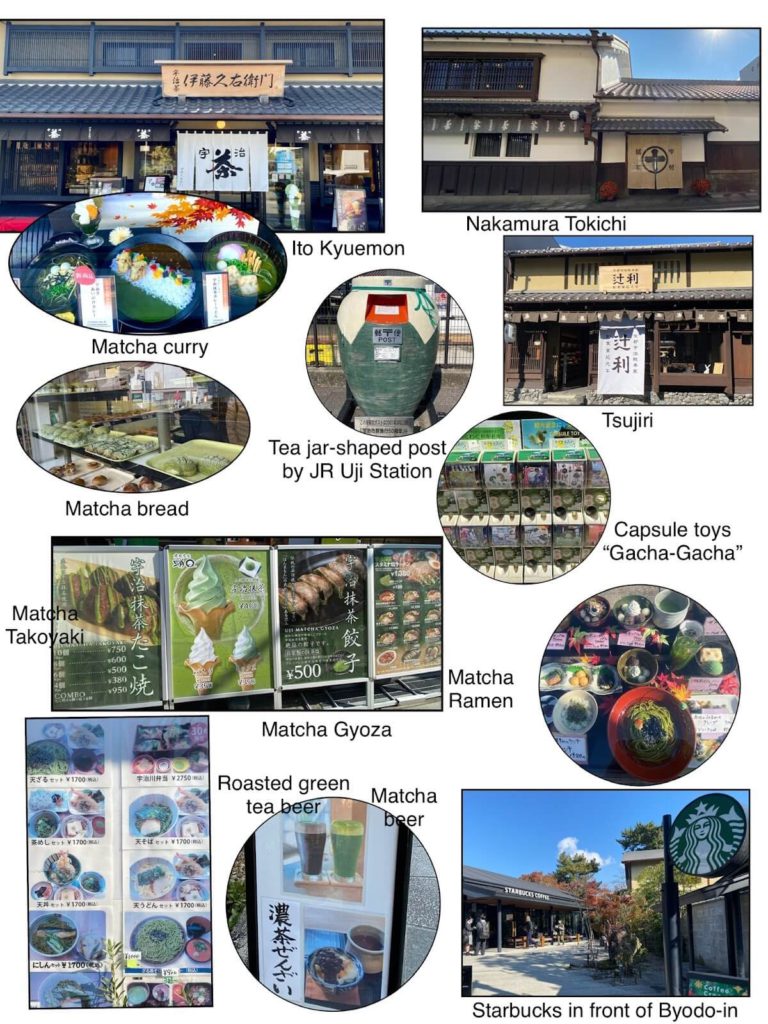 1. Byodo-in Phoenix Hall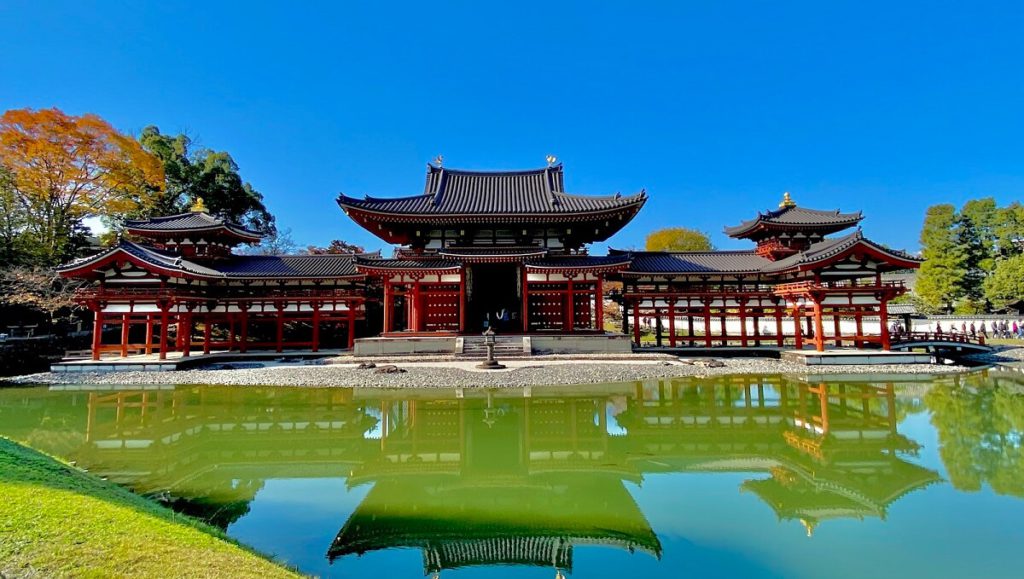 Byodo-in is the temple Fujiwara no Yorimichi ( 藤原頼通), then a Court noble, turned his father Michinaga's villa into in 1052.
The Hall, built in 1053, is the original building and houses an image of Amida Buddha. The building represents a phoenix with its wings open and a pair of phoenixes is on the rooftop. That's why we call it the Phoenix Hall (Hoo-do, 鳳凰堂). Visitors can take a tour of the inside. The garden with a pond in front of the Hall represents the Buddhist Paradise, where Yorimichi imagined and longed to go.
Byodo-in is used as the design on a 10 yen coin. You can also see the phoenix of this temple up close on the back of a 10,000 yen bill.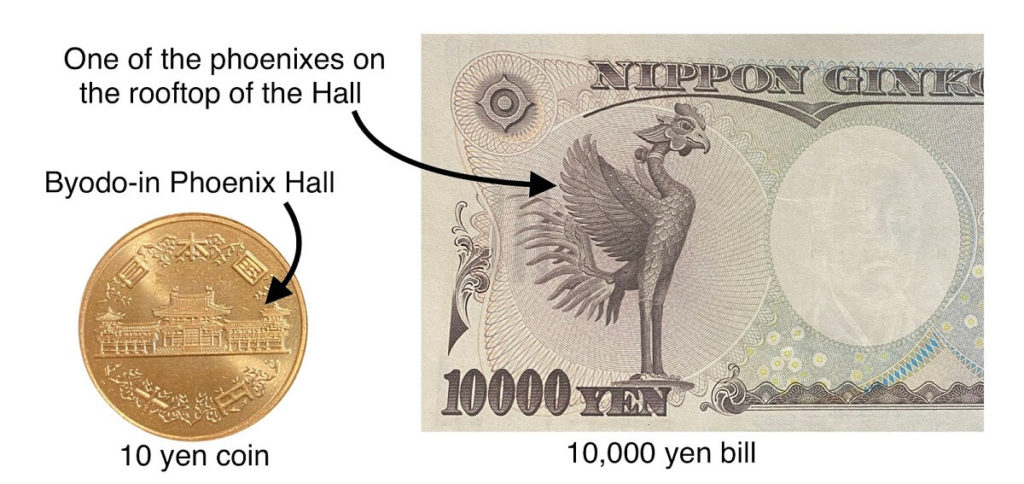 2. Taiho-an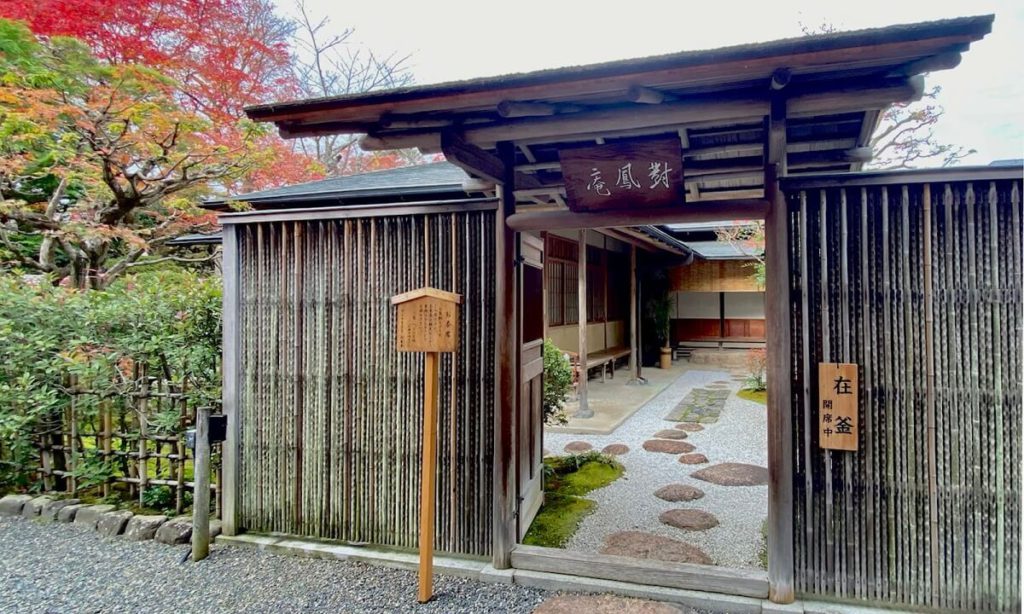 Leaving Byodo-in from the South Gate towards the Uji River, you'll find Taiho-an, where you can experience an authentic tea ceremony. You don't need to know proper manners. Why not try it?
3. Tonoshima Island (塔の島) & Tachibana Island (橘島)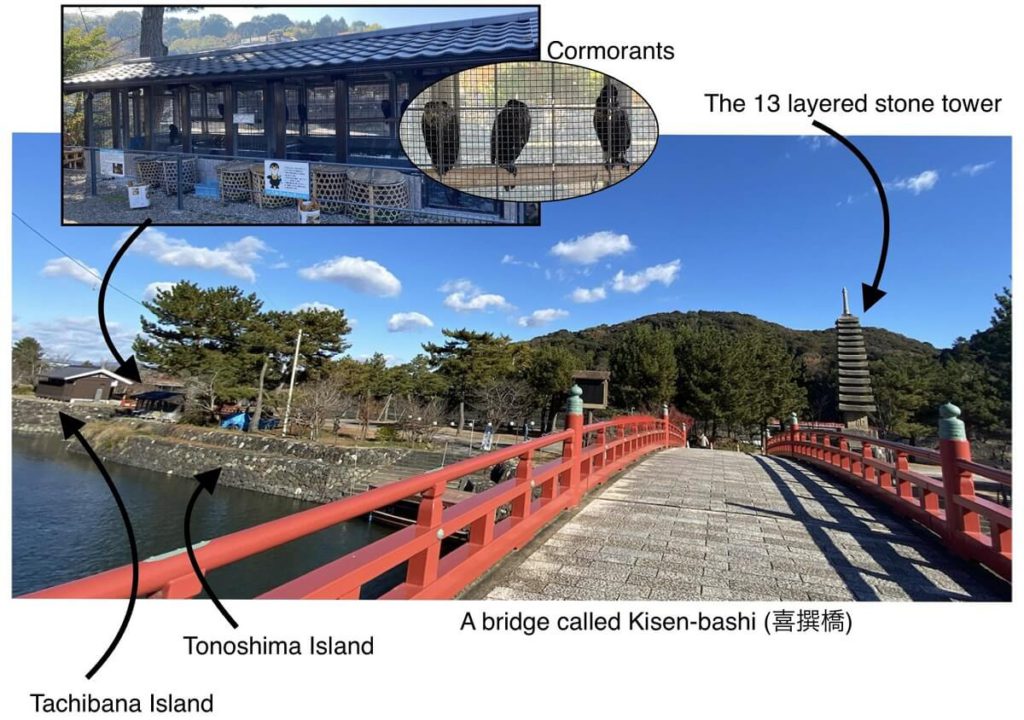 Crossing a small bridge to Tonoshima Island, you can see a 13 layered stone tower, which is the tallest stone tower in Japan and was built to pray for fish spirits and the safety of the Uji Bridge in 1286.
Every year on summer nights (from July 1 to September 30), cormorant fishing is held on the Uji River. There is a hut with the cormorants on this island.
4. Uji Shrine (宇治神社)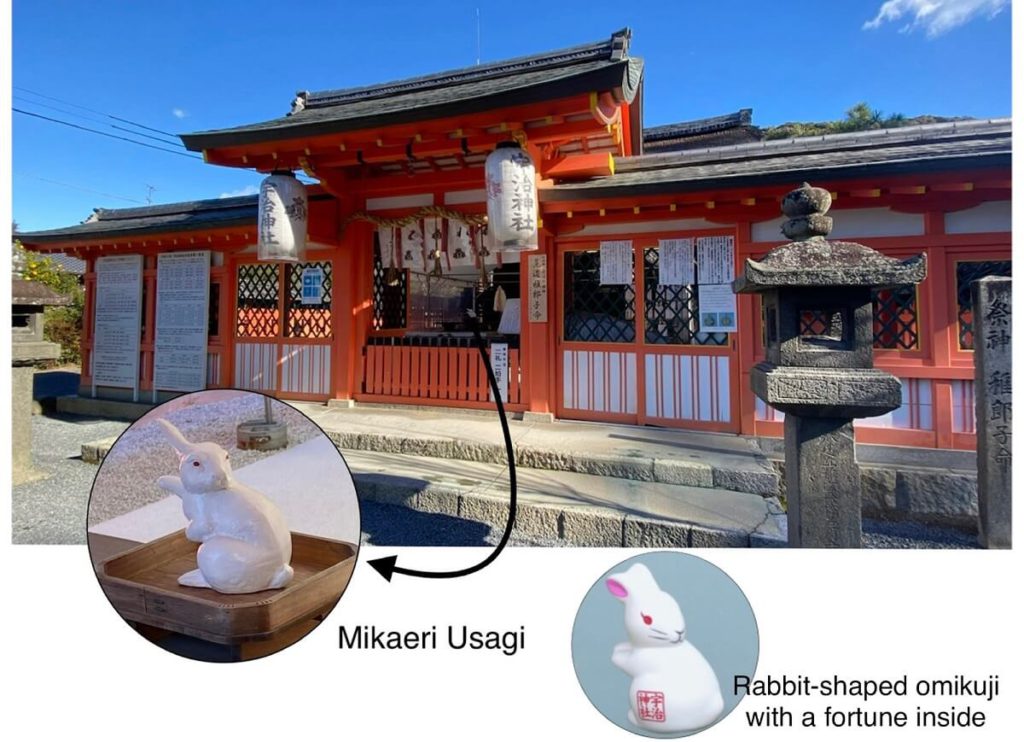 Crossing another small bridge to the other side of the river, you will see the torii gate of Uji Shrine.
This shrine enshrines the "Mikaeri Usagi" (見返りうさぎ, literally meaning "Rabbit looking back"), which leads people to the right way in our lives.
It's believed that after praying at the main hall, if you can find three rabbits while going clockwise around the main hall three times, your wish will be granted. Only about half of the people can find all three, I heard. Good luck finding them!
5. Ujigami Shrine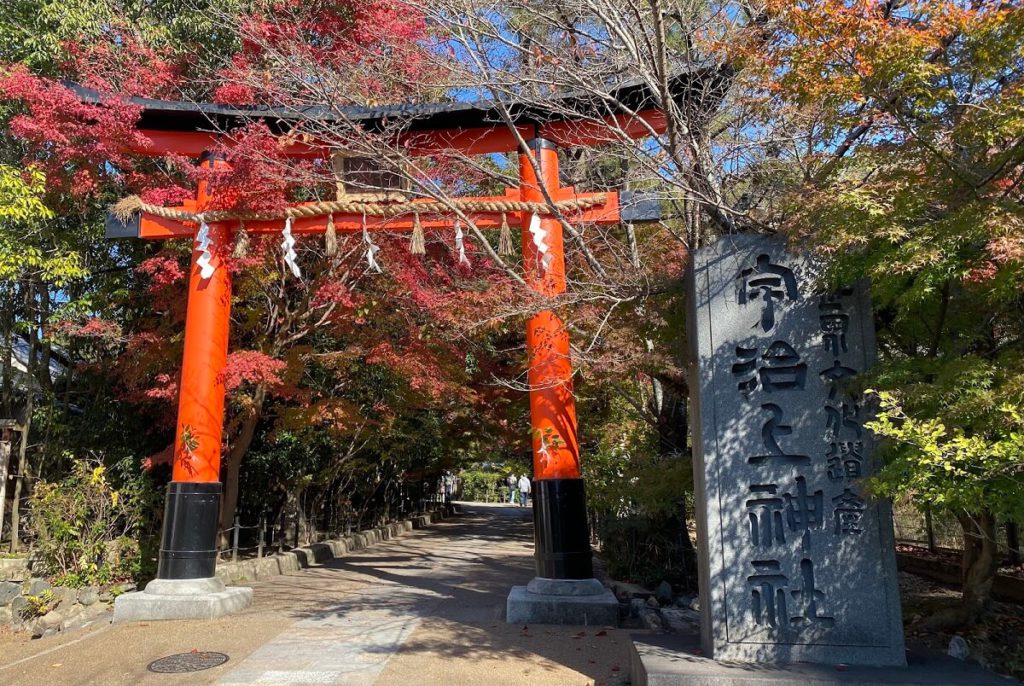 Ujigami Shrine is behind Uji Shrine. This shrine is registered as one of the World Heritage Sites, along with Byodo-in. The main hall was built in 1060 and is known as the oldest shrine architecture in existence in Japan.
6. Genji Monogatari Museum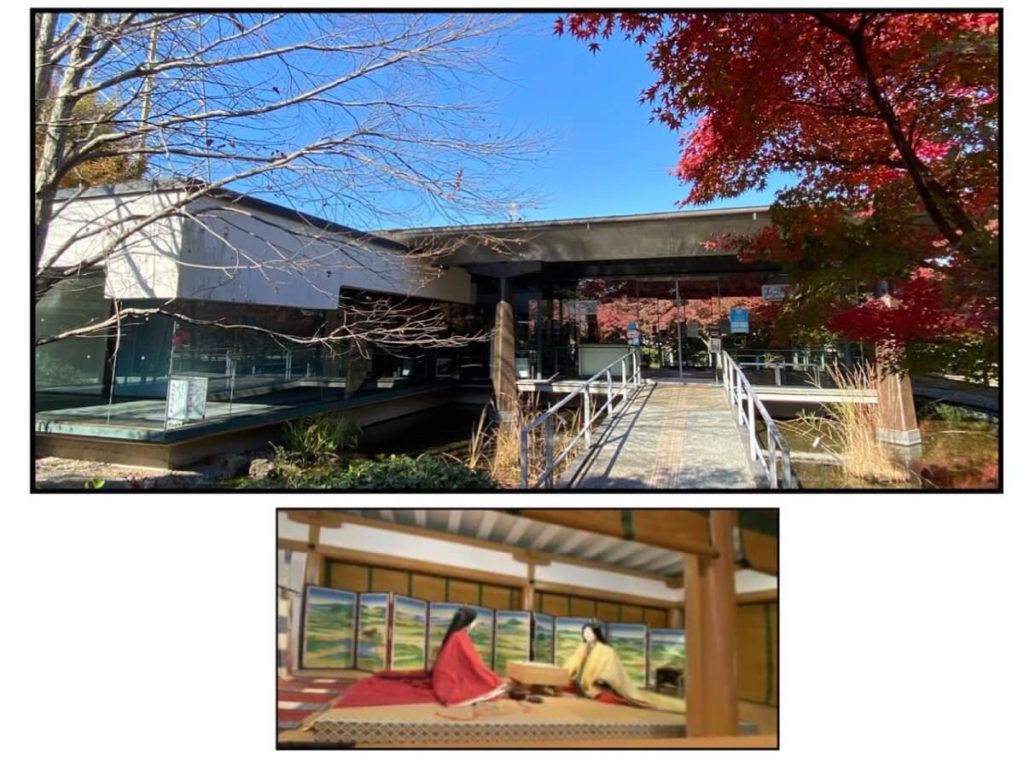 The Tale of Genji is the world's oldest love story, written by Murasaki Shikibu (紫式部) about 1000 years ago. The last 10 chapters of this long tale, consisting of 54 chapters, take place here in Uji.
Through movies and exhibitions that explain the tale in an easy-to-understand way, visitors can enjoy learning about Heian culture in this museum.
7. Uji Bridge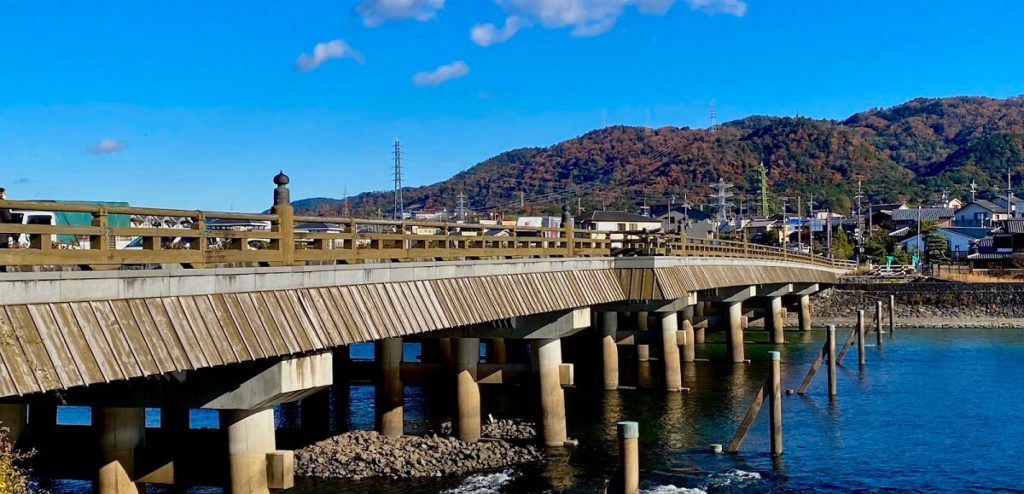 Finally, let's cross the Uji Bridge and return to JR Uji Station.
Built in 646, this bridge is said to be one of the three oldest in Japan.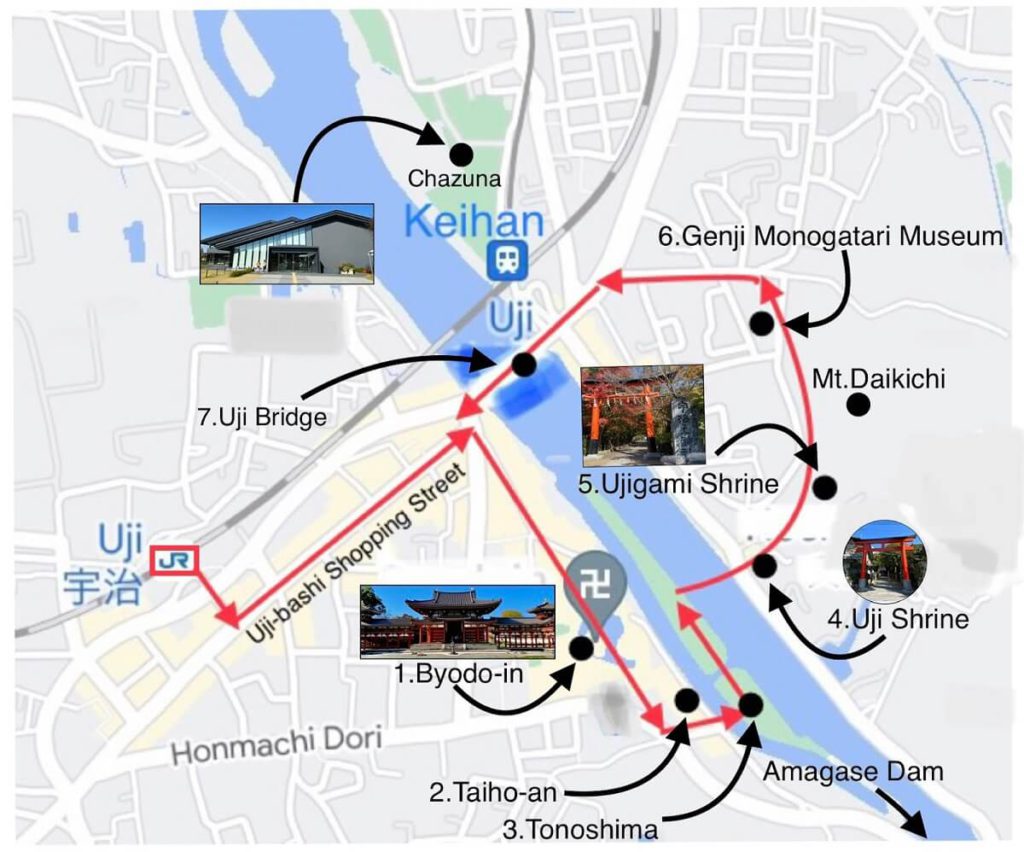 Did you enjoy the tour? A quick tour takes 2 to 3 hours, or a full day can be enjoyed if you take your time to relax and enjoy lunch and a tea break while touring the course.
Uji City is located just south of Kyoto City and on the way to Nara. It takes 17 minutes by JR rapid train from Kyoto Station to JR Uji Station and 20 minutes by JR local train from JR Inari Station right in front of Fushimi Inari Shrine.
Please make a stop by Uji, the town full of natural beauty, historic heritage and the aroma of tea!!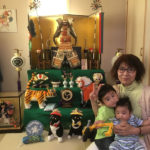 Born and raised in Kyoto. A private tutor and a volunteer tour guide in Kyoto. Love sewing, kimono remaking, traveling, cooking, gardening, playing the shamisen(三味線), making stained glass and grandparenting as well.