Arashiyama, where we can indulge in the colors of the four seasons with its mountains and rivers, has undoubtedly been one of Kyoto's most iconic tourist spots. When I think of how this magnificent landscape has remained unchanged since ages ago, it's no wonder that aristocrats used this place as a resort area during the Heian period (794-1192). I'd like you to enjoy walking around Arashiyama to your heart's content while thinking back to the graceful old days.
Let me share the can't-miss spots and other unique sites in Arashiyama here in part 1.
1. Bamboo Forest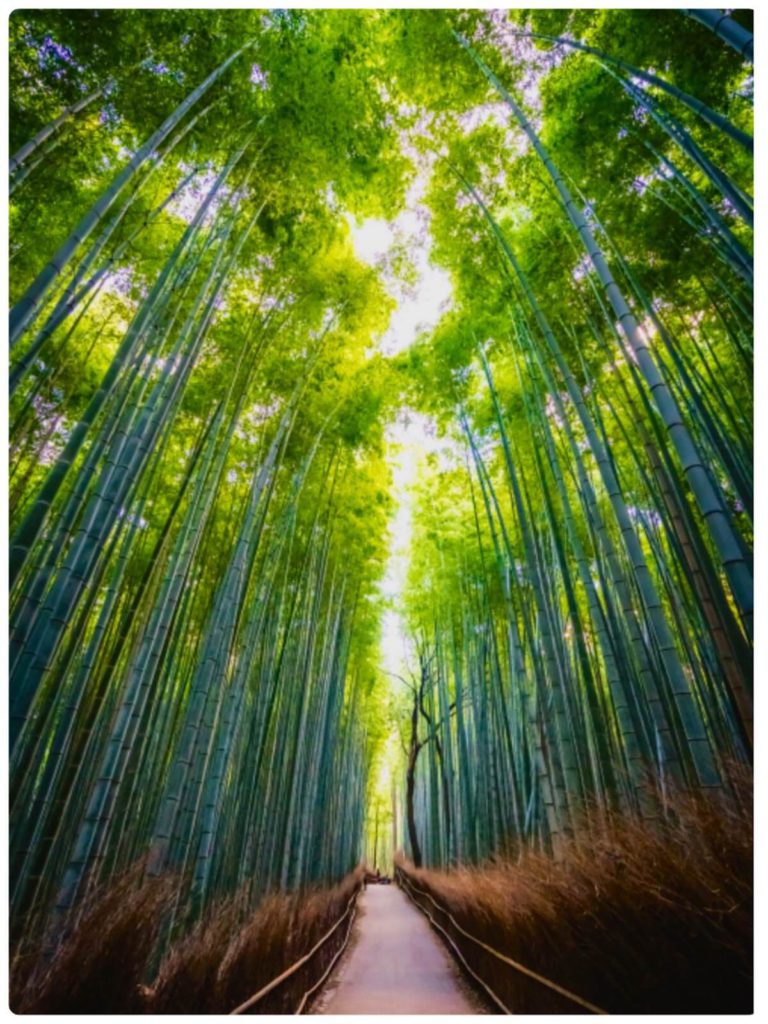 First and foremost comes Bamboo Forest! You've probably seen pictures of Arashiyama Bamboo Forest like above, right? Standing between towering bamboo on both sides, hearing the sound of the rustling bamboo and feeling a little cool even in summer, we are somewhere serene.
We Japanese have had an inseparable and deep connection with bamboo in our daily lives since ancient times. In spring, we eat bamboo shoots, which makes us feel the coming of spring. Although many of these products have been replaced by plastic or metal products in this day and age, bamboo products still abound in our daily lives.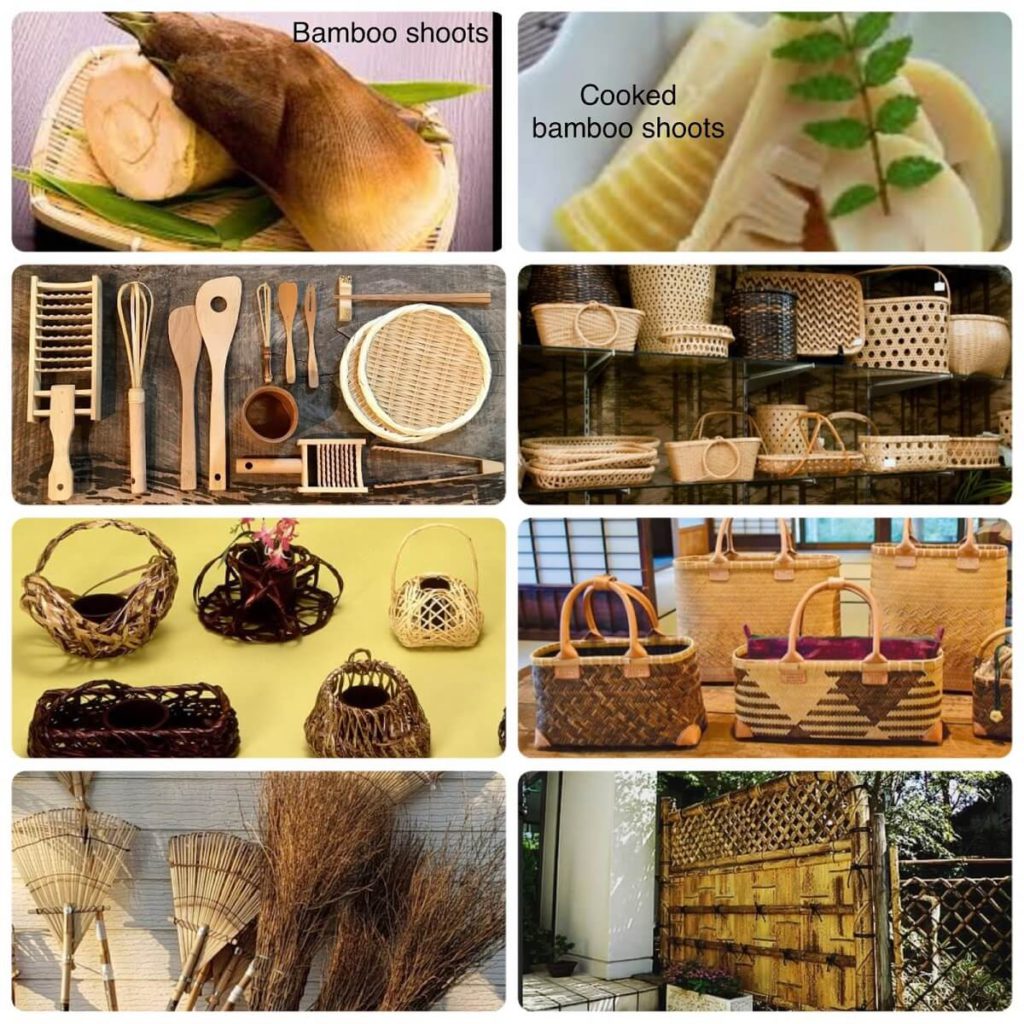 Bamboo grows so fast that there is a record of its growing 121cm (4ft) in a single day, and it finishes growing within 2 to 3 months.
Depending on the kind, bamboo is about 20m (66ft) or taller, and has a lifespan of about 20 years. The brighter its green color, the younger.
It has been popularly known that Thomas Edison (1847-1931) was successful using bamboo from Kyoto for the filaments for his invention of the light bulbs.
How about bamboo products as souvenirs? There are some bamboo-product stores in this area.
2. Togetsu-kyo Bridge (渡月橋)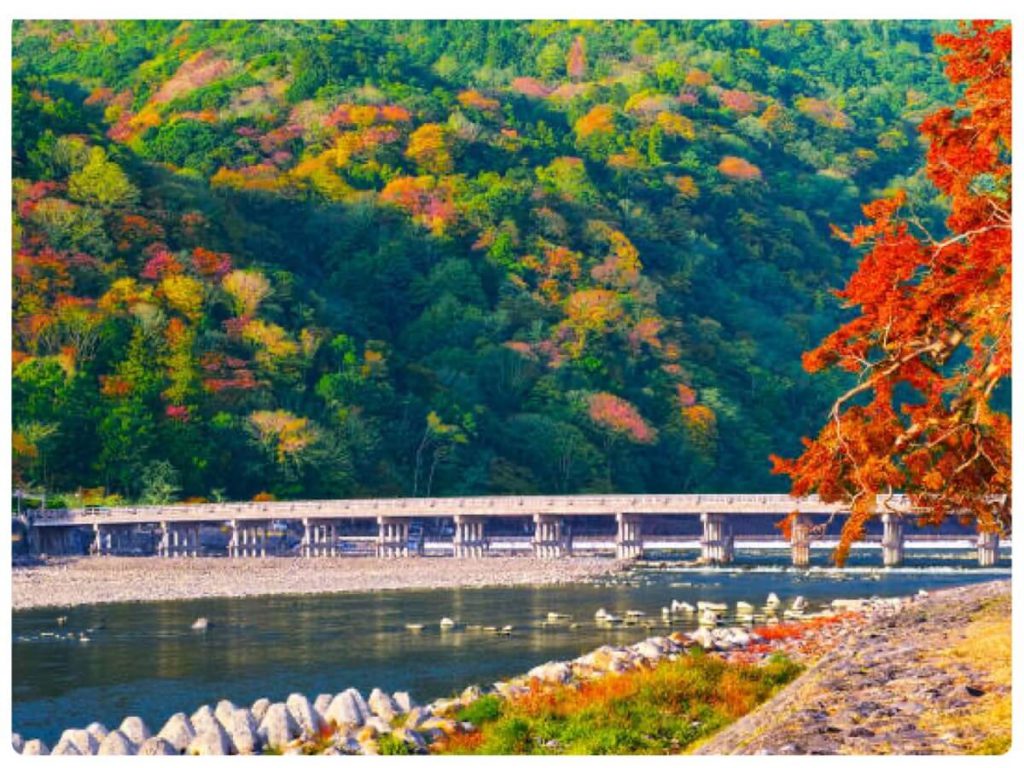 Togetsu-kyo, which is a 155m(500ft)-long bridge over the Katsura-gawa River, is a symbol of Arashiyama.
When Emperor Kameyama (1249-1305) saw the moon move above the bridge, he wrote a poem in which he said, "It looks as if the moon were crossing the bridge." So it was named "To-getsu-kyo" (渡-月-橋), literally meaning, "passing-the moon-bridge."
3. Nonomiya Shrine (野々宮神社)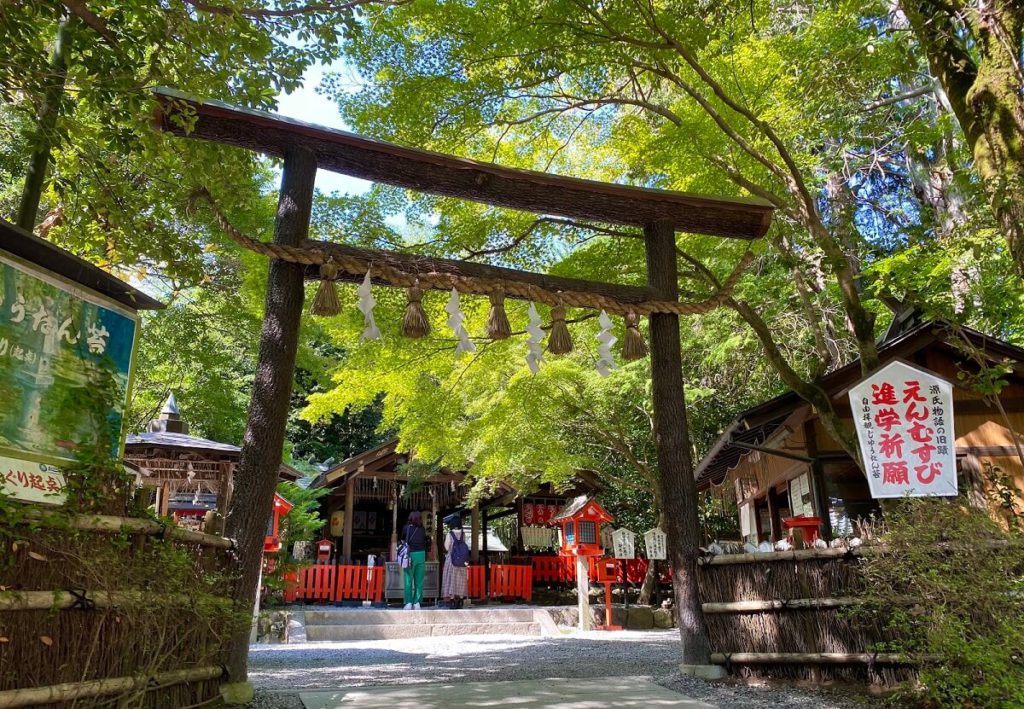 The torii gate here, which is made of unbarked timber called Kuroki (黒木), looks very unique, right? Kuroki was once used to build torii all over Japan, however, due to difficulty in obtaining and preserving the raw timber, nowadays, vermilion-colored torii gates have become the norm.
Today, this gate with embalming treatment is the only Kuroki torii left in Japan.
This shrine is said to enshrine the gods of matchmaking, safe childbirth and even academic studying. There're many items for visitors seeking luck in love and marriage here.
Nonomiya Shrine
nonomiya.com/eng.html
4. Tenryu-ji Temple (天龍寺)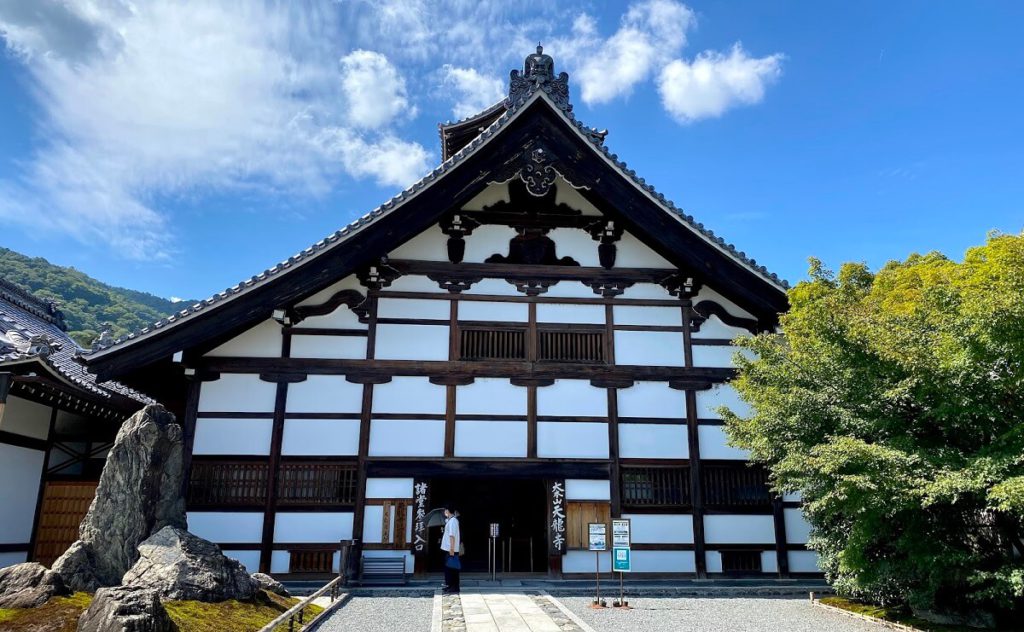 This temple, originally built in 1339, is the most prestigious Zen temple in Arashiyama. The temple buildings were lost in fires eight times. However, its gorgeous Zen garden has survived for around 700 years in its original form to this day.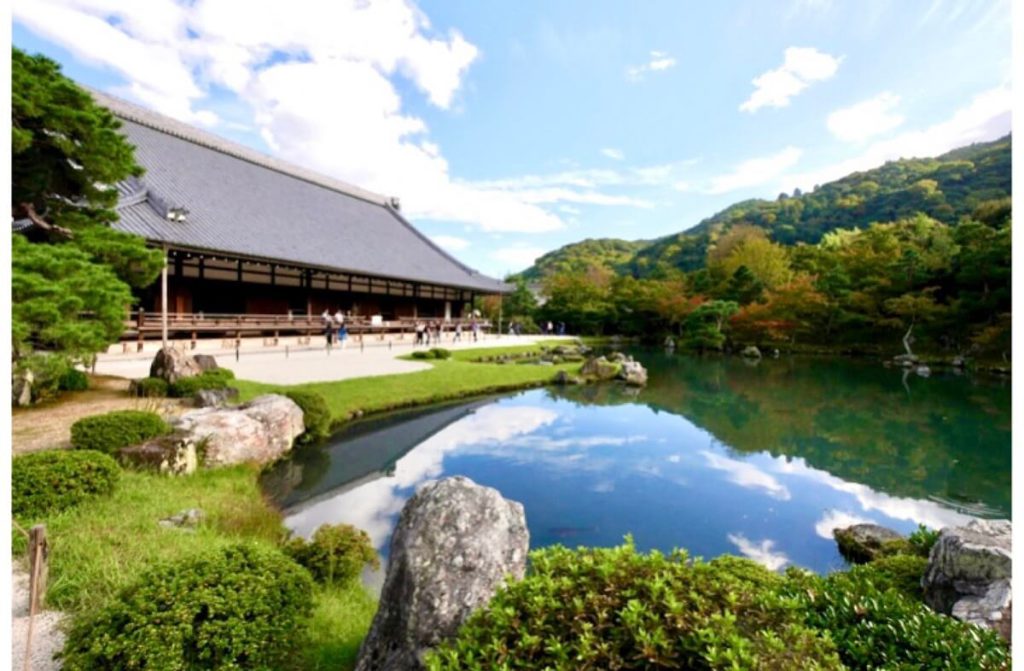 Tenryu-ji
tenryuji.com/en/
5. Kimono Forest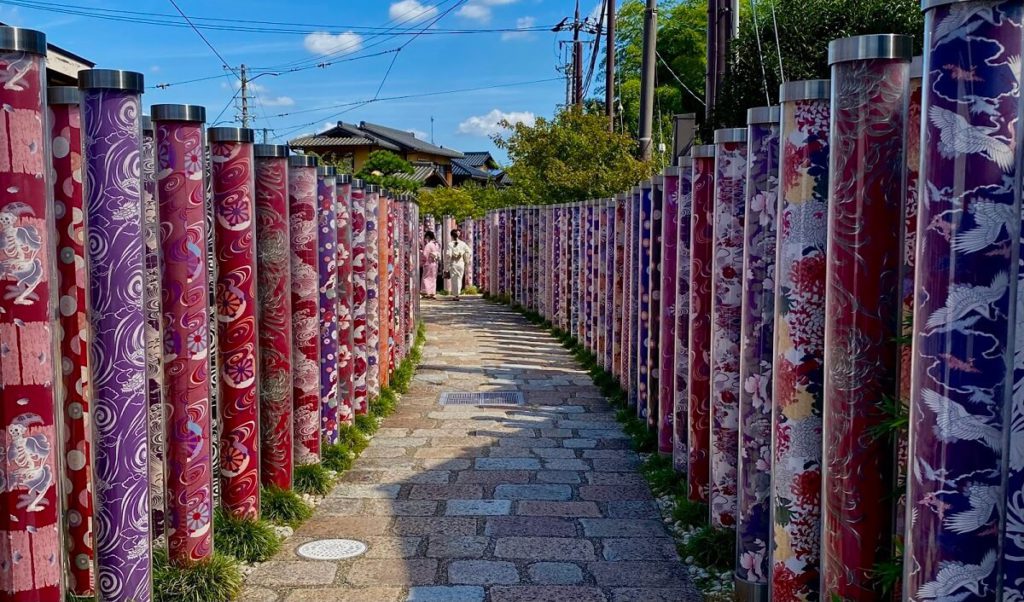 There's another forest called Kimono Forest inside Randen Arashiyama Station.
You can explore among 600 Kimono pillars standing in rows like a forest. It's so instagrammable!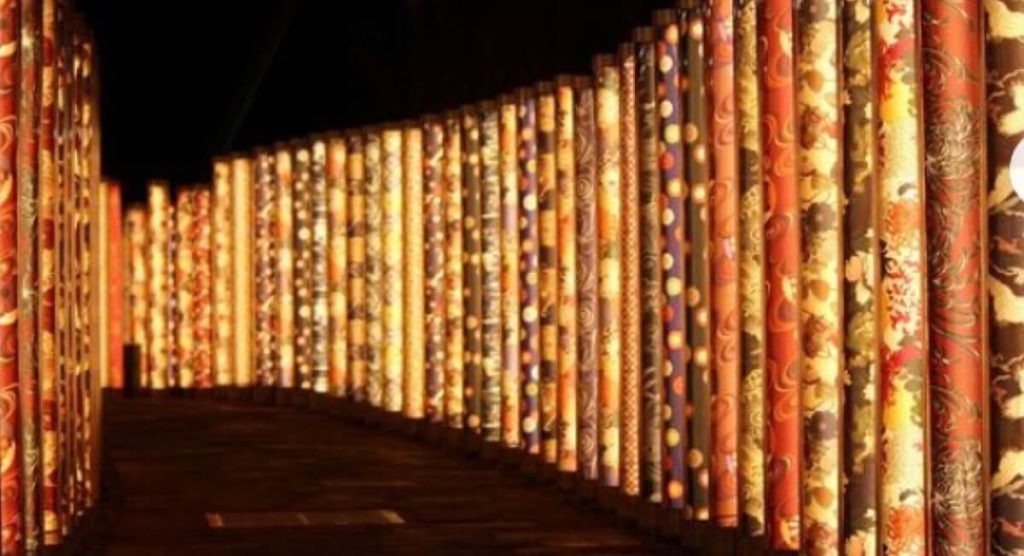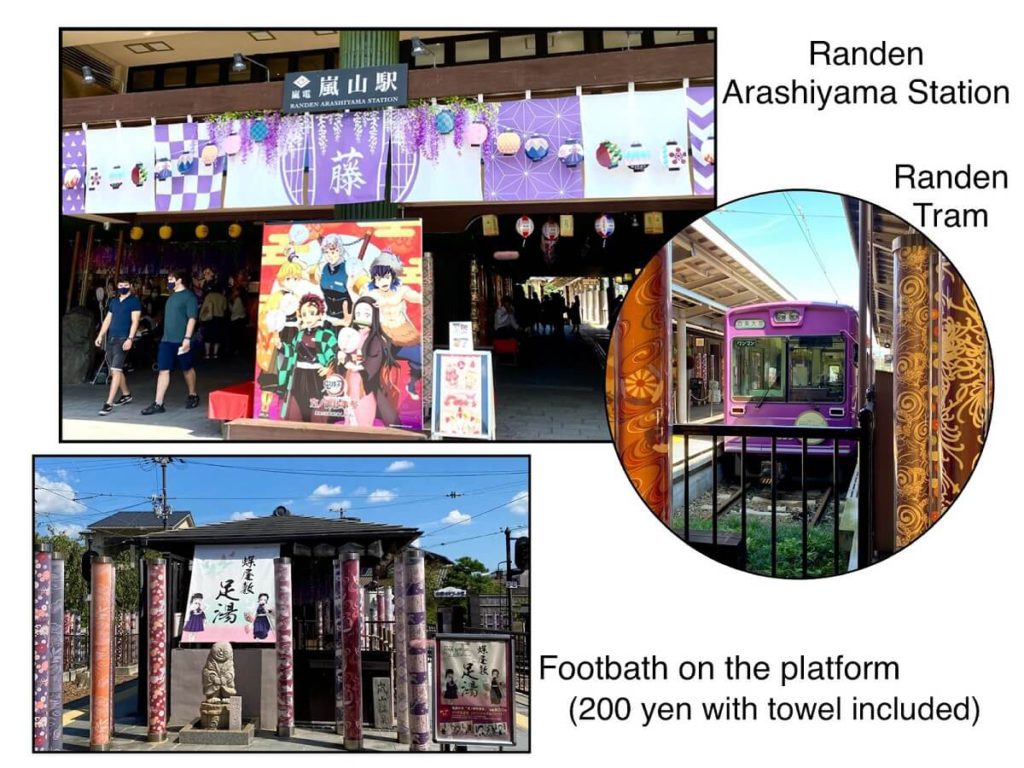 The five places above make up a typical course that allows you to enjoy Arashiyama to the fullest. Depending on how much time you spend at Tenryu-ji Temple, you can usually get around to all five places in 2 to 3 hours. Only Tenryu-ji Temple requires an entrance fee, but the rest are free of charge. If you visit Tenryu-ji Temple, it's convenient because you can take a shortcut using the main and north gates to pass through.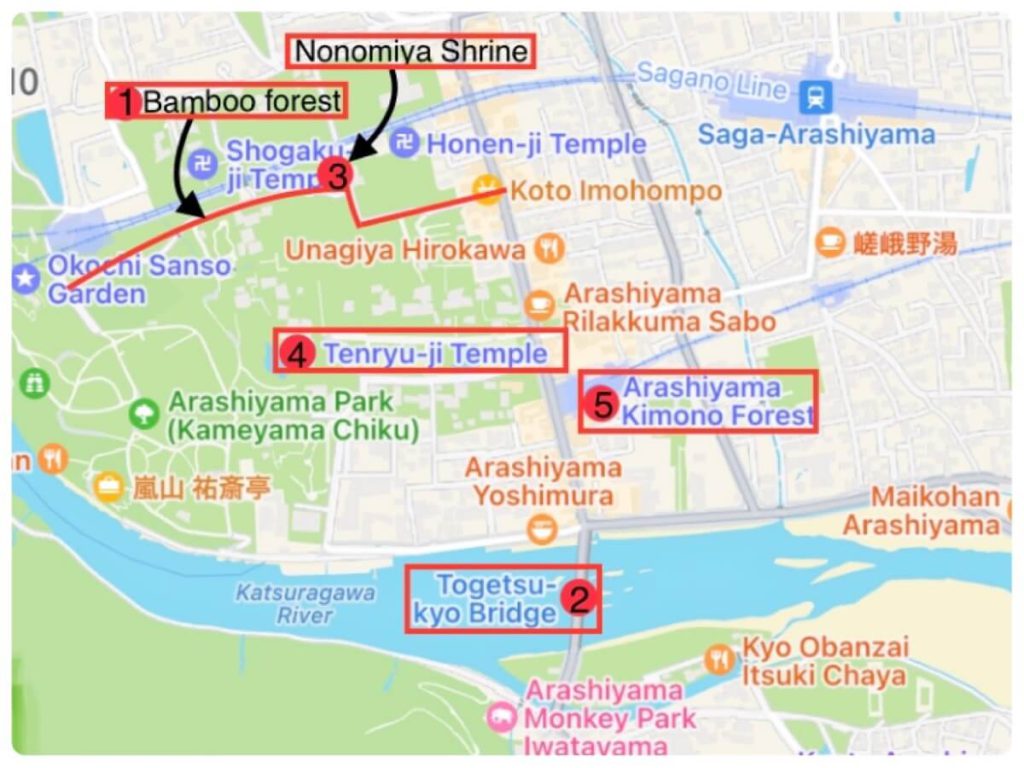 Now, it's finally time for more exciting spots that are sure to make your Arashiyama tour even more special. Why not add some of the following spots to your tour plan, time permitting?
6. Boat rides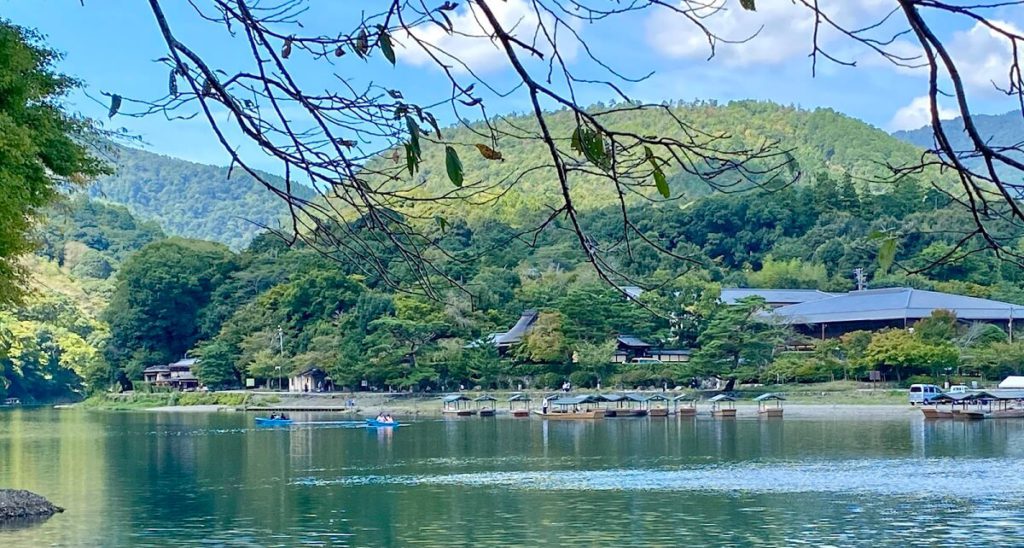 How about a boat ride surrounded by the spectacular scenery of Arashiyama?
It costs 1800 yen per three-person boat, for up to one hour. Reservations aren't accepted.
There are two boat ramps across the river. You can get on and off either side.
Yakata-bune (Japanese-style roofed sightseeing boats) also depart from the same ramps.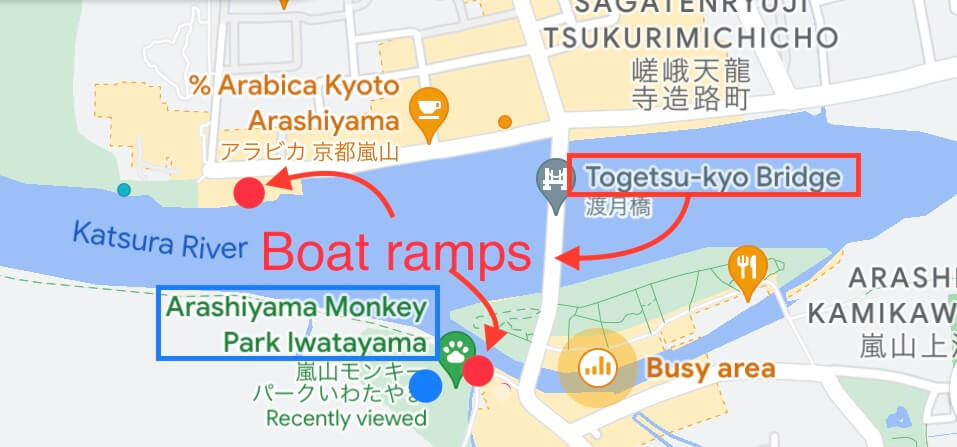 Arashiyama Boat Rides
arashiyama-yakatabune.com
7. Monkey Park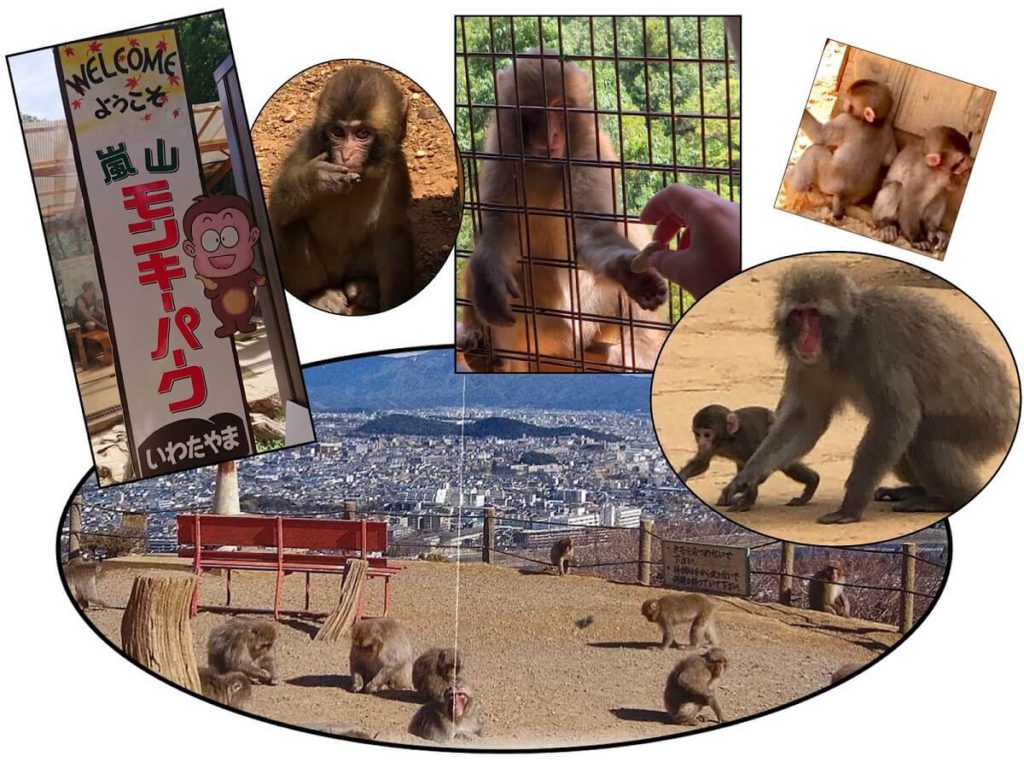 Have you ever seen monkeys in person?
There are about 120 Japanese monkeys on the mountain called Iwata-yama mountain.
Taking a 20-minute walk up a gentle hiking trail, we can see one monkey, two, three…, lots of monkeys at the top. We can feed them from inside the hut.
Tom Cruise famously visited here and raved about this park!
No wild monkeys live in Western countries, right? You can surely have a valuable experience!!
8. Hot Springs
There're not any hot springs in Kyoto city, are there? Yes, there are!!
Although we have no hot-spring resorts, like Hakone or Kusatsu onsen, Kyoto does have hot springs in Arashiyama!
The history began with the digging up of hot springs in 2004 as part of a regional revitalization effort.
What do you think of taking a break from sightseeing and relieving your fatigue in the hot springs? I'll share two places where we can enjoy a day spa below.
9. Rickshaws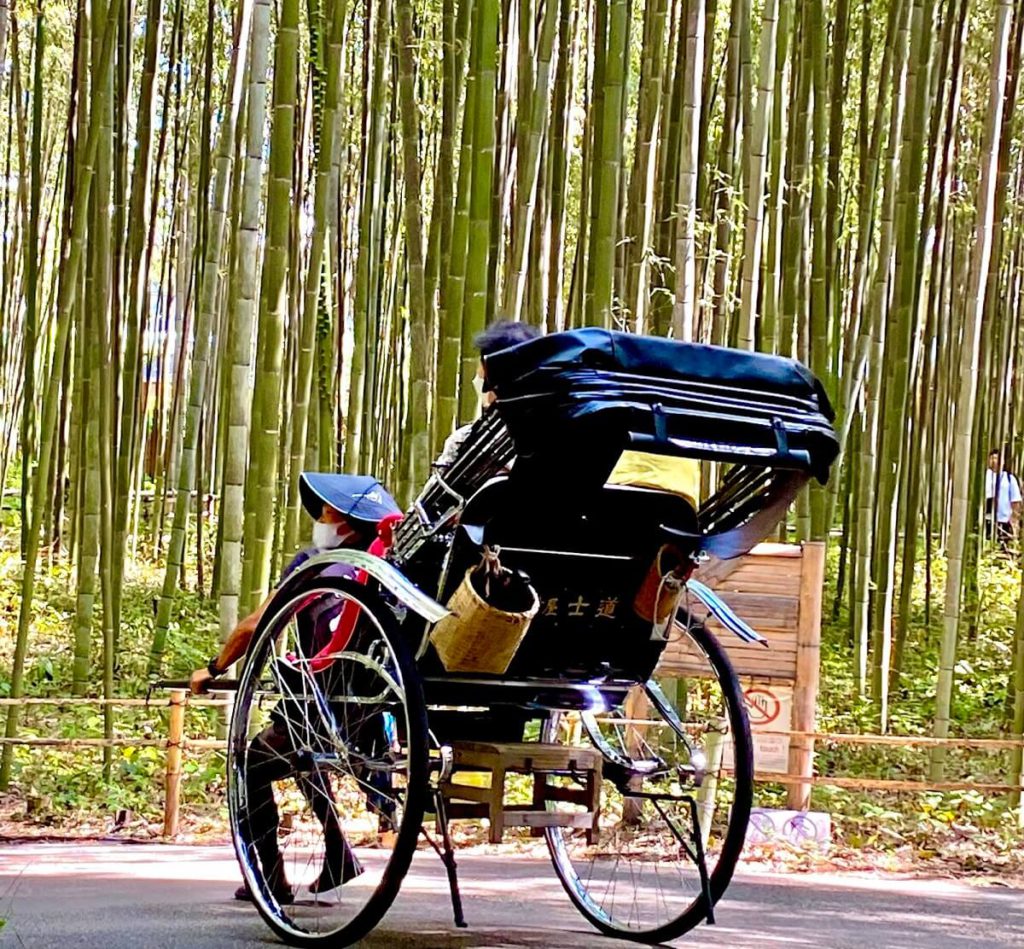 "Rickshaw" is derived from the Japanese word "riki-sha" (力車), which is an abbreviation of "jin-riki-sha" (人力車).
These days, we see rickshaws for tourists in all tourist spots in Japan and some other countries as well.
They were originally invented in Japan around 1870 as a means of transportation, but were gradually replaced by streetcars, and they were rarely seen by the 1920s.
In the meantime, many rickshaws were exported to China and other Southeast Asian countries, and they are still in use as auto-rickshaws or other variations in each country.
Once gone from Japan, rickshaws gradually found their way back into the tourist market around 1970.
Nowadays, rickshaws are a big part of the essential activities in tourist destinations.
The rickshaw drivers, who are good-looking, funny, well-built and know the area like the back of their hands, will entertain you with pleasure.
Arashiyama Rickshaws
ebisuya.com/en_smp/
10. Okochi Sanso Villa (大河内山荘)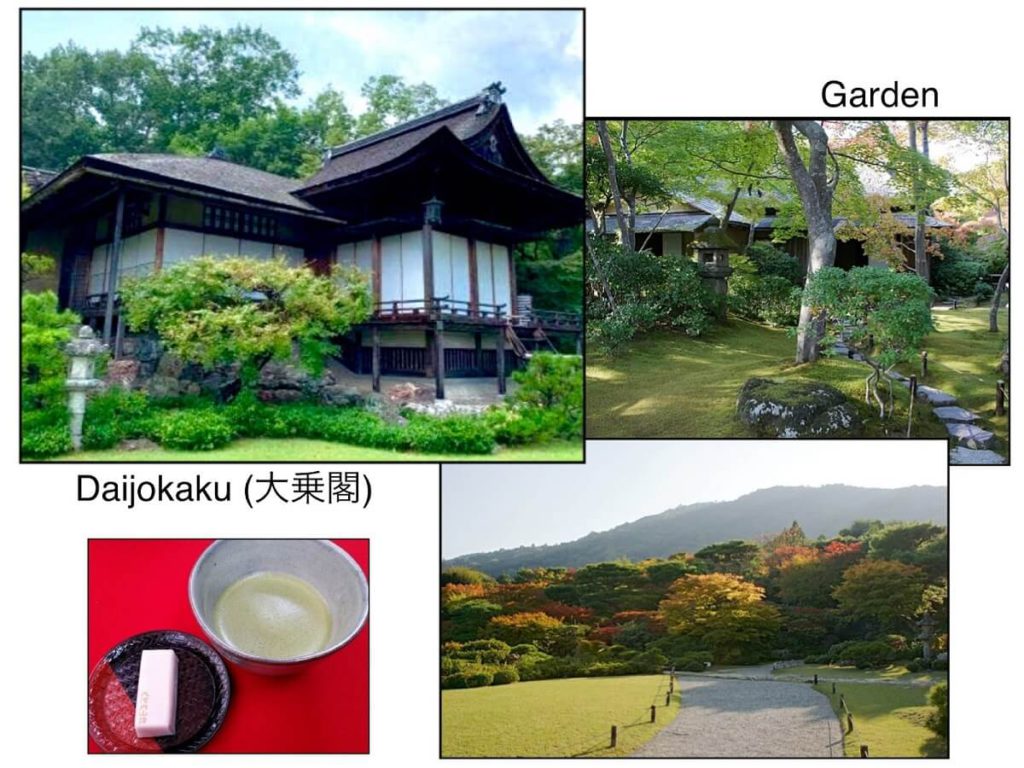 The last place I'll introduce in this part 1 is Okochi Sanso, which is the villa of a Japanese period drama actor Denjiro Okochi (大河内伝次郎 1898-1962). The garden, which he himself designed, is a sight to behold. You can enjoy matcha green tea and sweets there, included in the admission fee.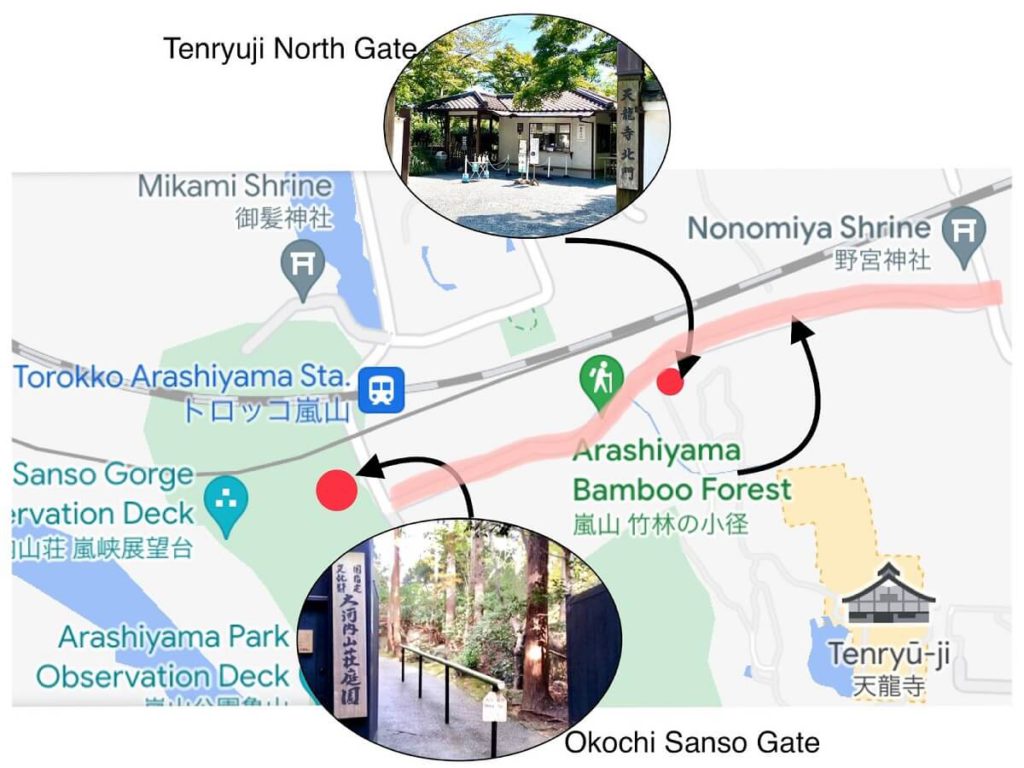 Okochi Sanso
en.wikipedia.org/wiki/Ōkōchi_Sansō
〜 How to get to Arashiyama 〜
There are several ways to get to Arashiyama. From Kyoto Station, it takes only 11 minutes to Saga-Arashiyama Station by JR rapid train (17 minutes by JR local train), and a 5-10minute walk will bring you to the path leading to Bamboo Forest, or Tenryu-ji temple.
In this part 1, I shared several spots in the center of the Arashiyama area. I'd like to introduce some other beautiful sites in Hozukyo(保津峡) and the north-Sagano(嵯峨野) area, a short distance from Arashiyama, in part 2. Please look forward to it!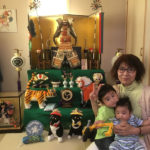 Born and raised in Kyoto. A private tutor and a volunteer tour guide in Kyoto. Love sewing, kimono remaking, traveling, cooking, gardening, playing the shamisen(三味線), making stained glass and grandparenting as well.