Generally speaking, going to the dentist is one of the most difficult things you face when you live abroad, even if you can speak the local language to some extent. Especially in Japan, there are two main factors that make it more difficult.
The first one is the matter of language. Most Japanese people, including dentists, generally don't use English. That means you need to use Japanese when you are there. It might be pretty difficult. You might think, "What if I can't explain my symptoms properly?", "What if I can't understand their explanations of my symptoms or remedies?", etc. Those kinds of worries might be enough to discourage you from going to the dentist.
The second one is the complexity of the Japanese health insurance system. It's a bit complicated. "How much will it cost?", "Is teeth cleaning covered by insurance?", "How about crowns?" I'm sure many questions like these will come up. However, there is less information regarding these things. But no worries! I, a professional dentist in Okayama, Japan, will cover all of these questions. You don't need to be scared of sudden toothaches anymore.
1. Look for English-speaking dentists!
The first step you need to take is to look for a dental office. Like I mentioned earlier, the first difficulty is the problem of language. The easiest way to solve it is to choose English-speaking dentists. That's it! It's super simple, right? In this day and age, you can get a lot of information on the internet. I tried Googling "English-speaking dentist Okayama city" for my area.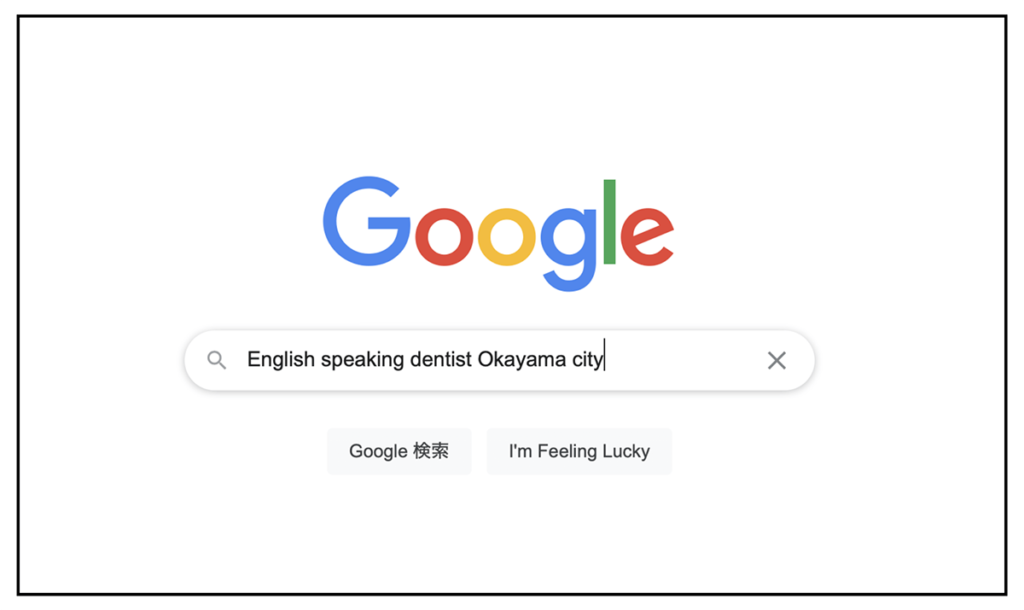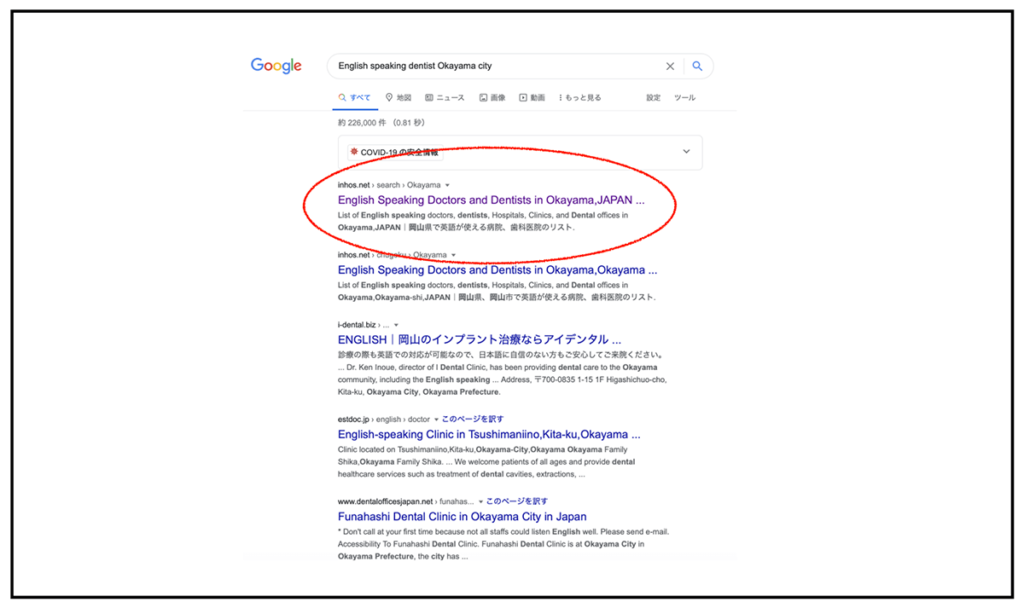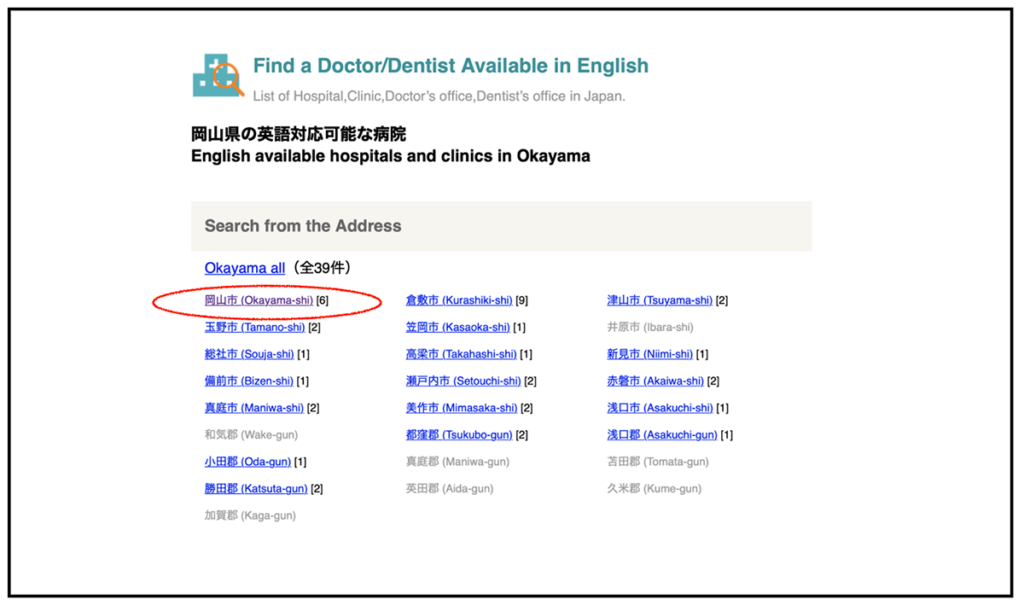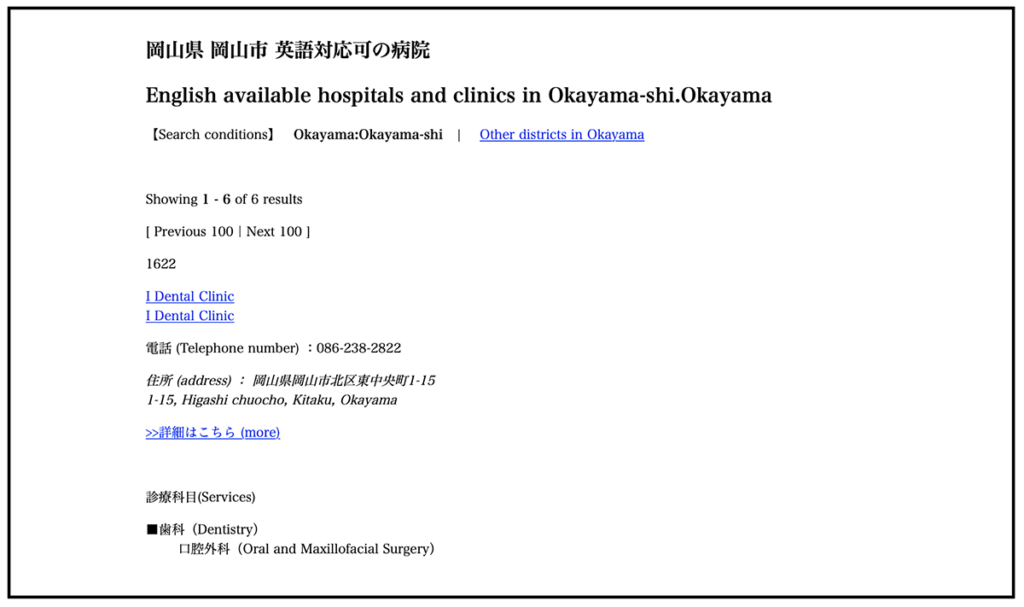 As shown in the figure above, by using the keywords "English-speaking dentists" plus the name of the place that you live in, you can find what you are looking for. Actually, my search result happened to be my dental office, but I didn't mean to promote my place. Lol.
I tried changing the keywords to "English-speaking dentists Tokyo." (Fig 5~8) Typically, the bigger the city you live in, the more dental offices you can find. You can apply this method to looking for hospitals, pharmacists, anything.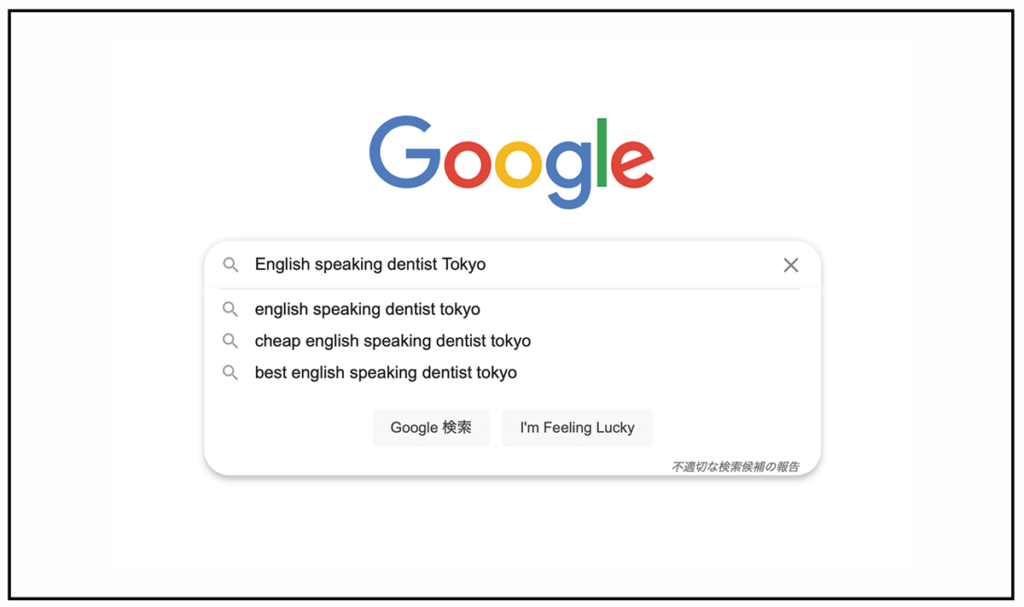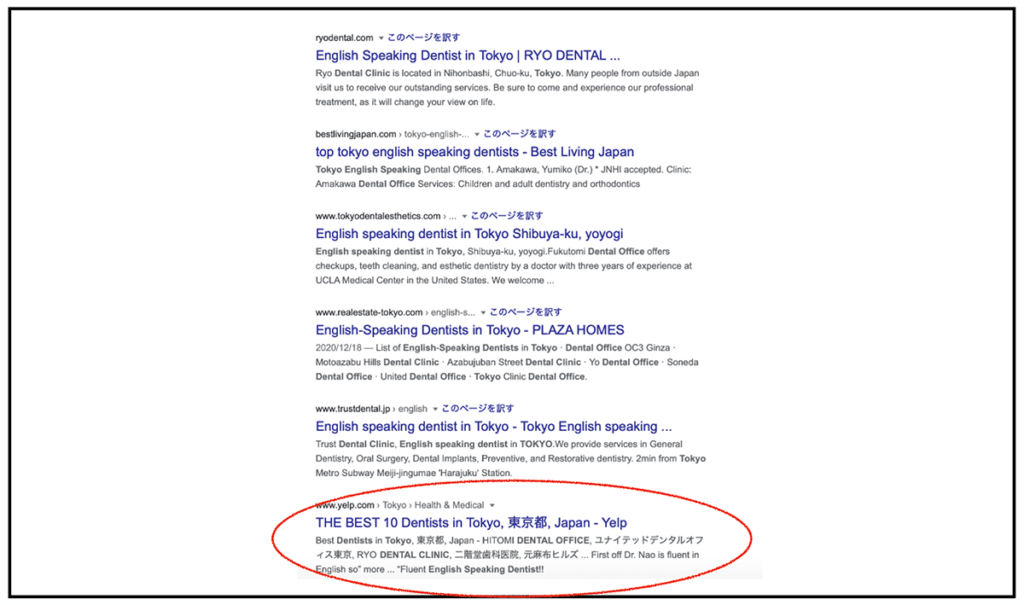 2. Use the online appointment service for your first visit!
When you decide which dental office you will go to, the next thing you need to do is make an appointment. But there is one obstacle there. Just because they are English-speaking dentists, it doesn't mean that all of their staff can speak English. Therefore, I recommend that you make an appointment for your first visit online. Recently, most dental offices in Japan offer online appointment services on their websites. Of course, on English-speaking dental offices' websites, you can use English. It must be less stressful. As an example, I will show you how to schedule an appointment online through my website.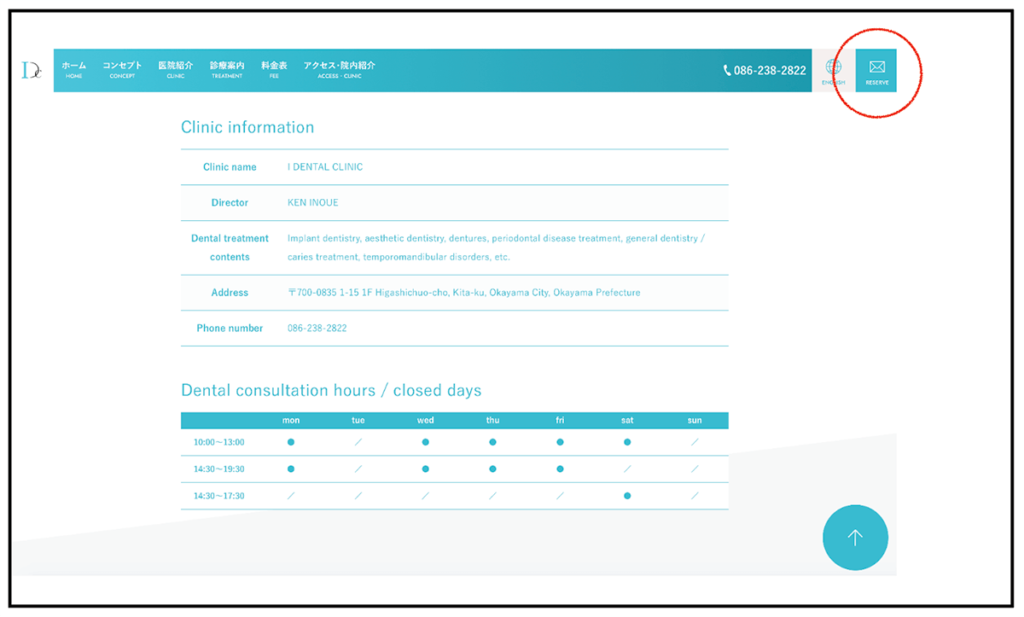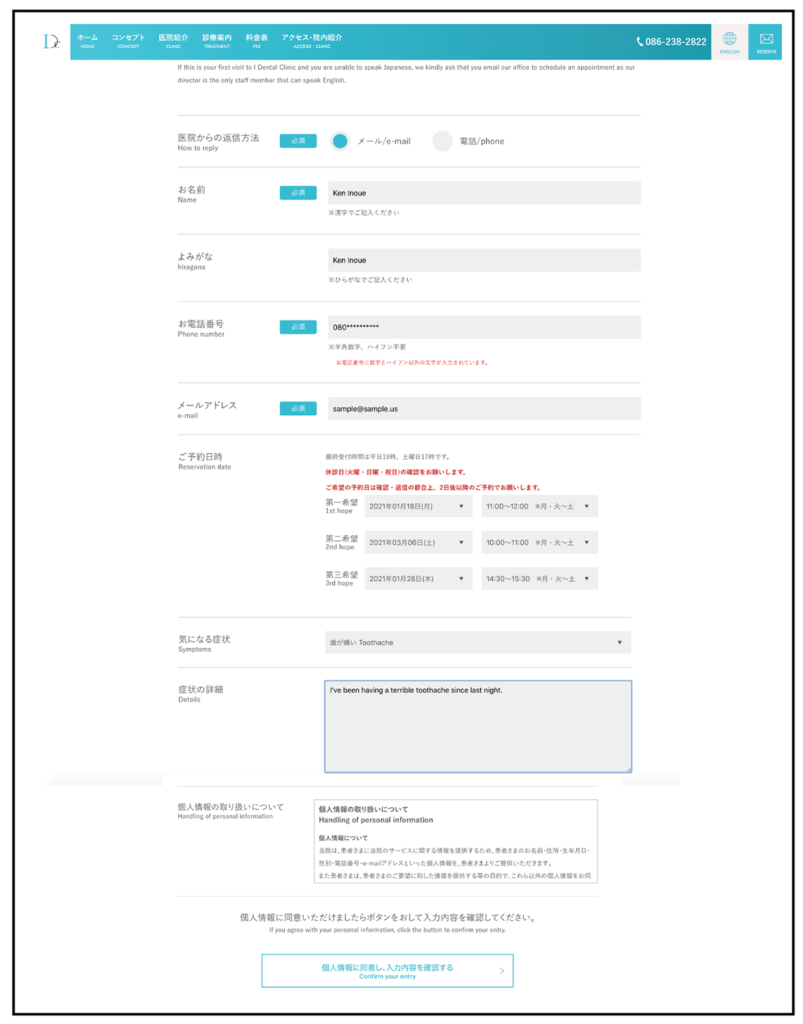 3. What kind of treatments are covered by insurance?
The next common question is "What kind of treatments are covered by health insurance?" Before going into the answer, I need to give you a brief explanation about health insurance in Japan.
There are different types of health insurance, such as National Health Insurance(国民健康保険:kokumin kenkou hoken), Social Insurance(社会保険:Syakai hoken), and so on. But the kind of insurance you have is not a problem. In any insurance system, patients need to pay 30% of treatment fees.
(Technically speaking, the fee ratio differs from person to person. For instance, people over 75 years of age need to pay 20%. But in most cases, the fee ratio is 30%.)
Let's say, the fee that you need to pay in case you don't have an insurance card is 10,000 yen. If you don't have an insurance card, obviously, you need to pay 10,000 yen. But if you have an insurance card, you will pay only 10,000 yen × 0.3 = 3,000 yen. In this case, the government will pay the rest of the fee. (10,000 – 3,000 = 7,000 yen) (Fig10).
Roughly speaking, this is the health insurance system in Japan.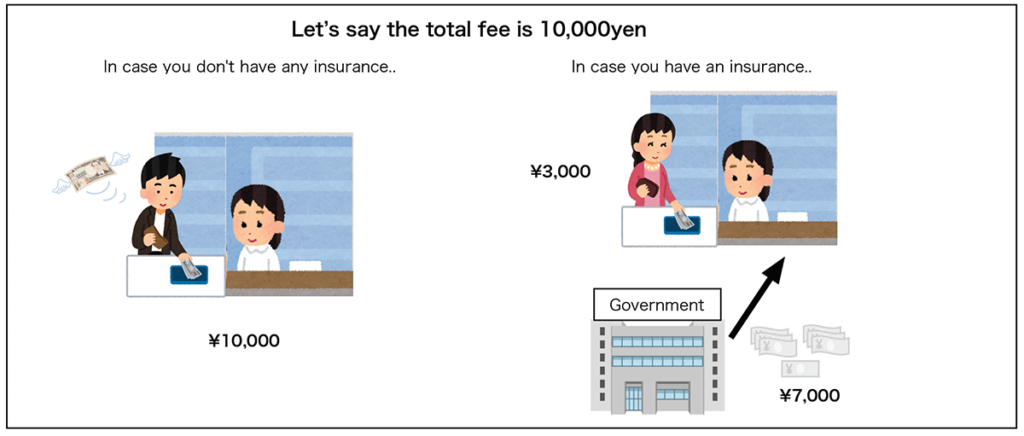 Let's get back on track. "What kind of treatments are covered by health insurance?" Actually, most general dental treatments are covered by it. Fillings, crowns/bridges, treatment for periodontal disease (getting rid of tartar etc.), root canal treatments, extraction of teeth ( including wisdom teeth), and so on. I'm going to make a list below (Fig.11,12).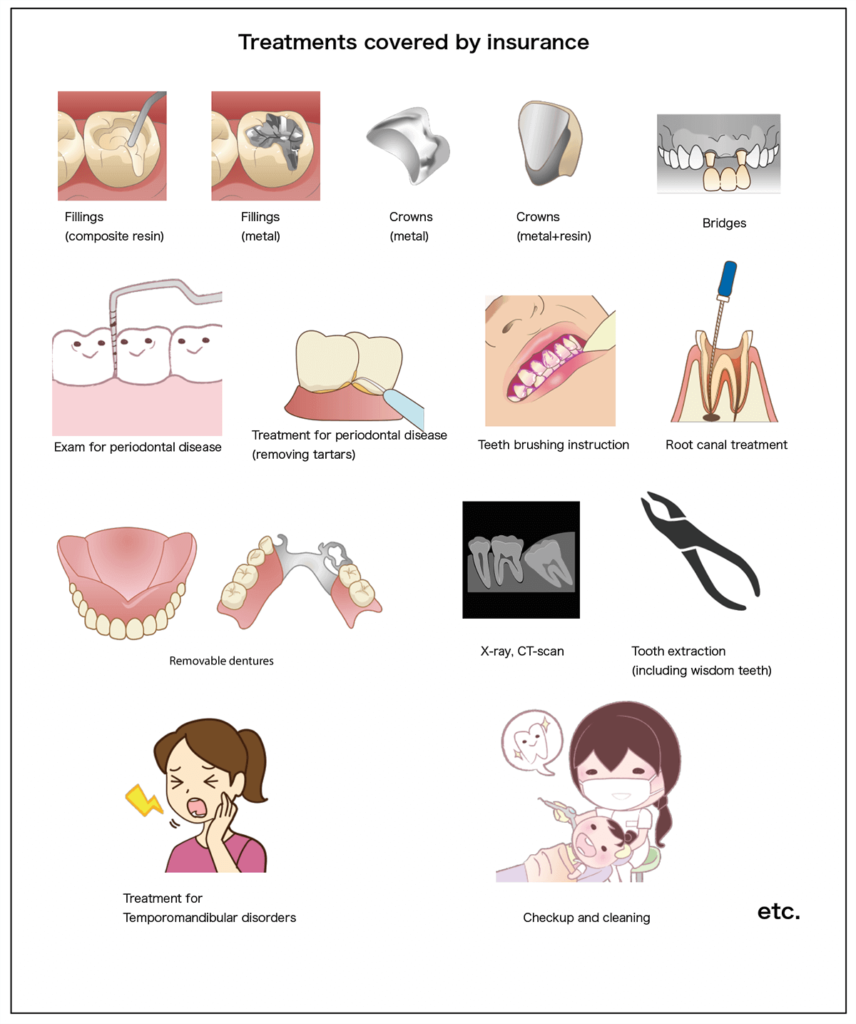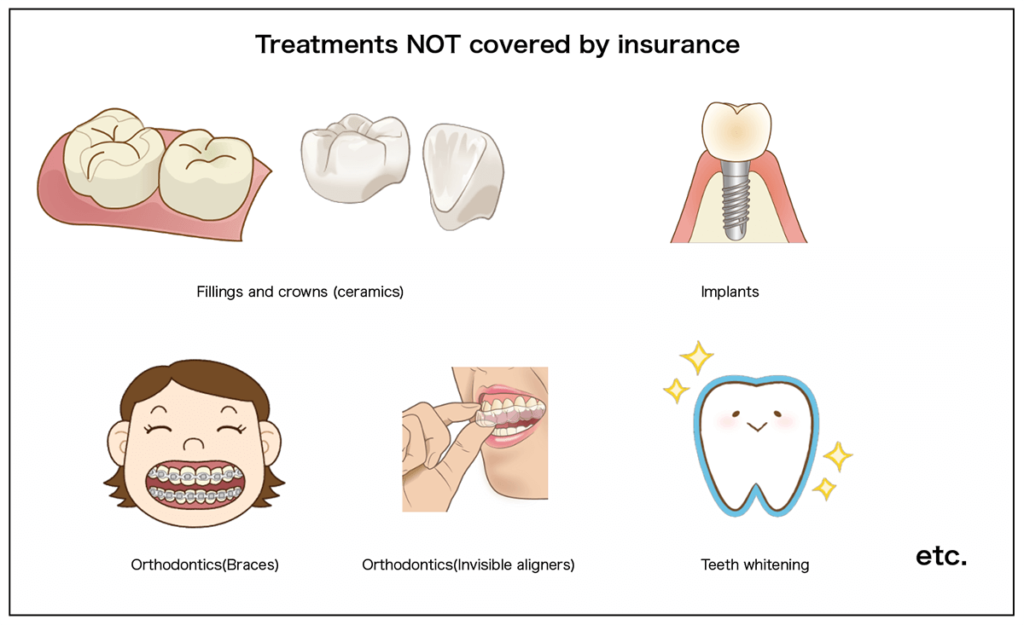 ---
Extra Tips (FAQ)
Q: How much is it going to cost?
A: Obviously, it depends on what your symptom is and what treatment you're going to take. But generally, it'll take roughly 2,000 to 5,000 yen for your first visit if you have insurance.
Q: Is it going to be painful?
A: No. We generally apply local anesthetics for painful treatments here in Japan as well. We make sure it will not be painful.
Q: How high are the dentists' levels?
A: It's not just a Japan thing, but obviously, it depends on the dentist.You would be better off checking their work histories and facilities on their website.
Q:What if I get a toothache during a trip in Japan?
A:You have to pay 100% of the treatment fee because you don't have a Japanese insurance card. If you've taken travel insurance, please look at your contract to confirm whether they cover the dentist fee or not.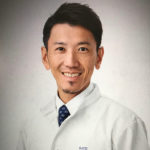 I'm a dentist and the director of I Dental Clinic in Okayama city. And I am also a husband and a father to two kids.I enjoy surfing during my free time. Communicating with people from all around the world is also an enjoyment of my life. I've been providing dental care to the Okayama community for over 15 years. Feel free to contact me!