I am a Shinto priest who works at Onji Shrine in Osaka Prefecture. It was built around 470 A.D. and is one of the oldest Shinto shrines in Japan. The enshrined gods (kami) are named "Omiketsuhiko no Okami" and "Omiketsuhime no Okami", and they guide visitors to happiness.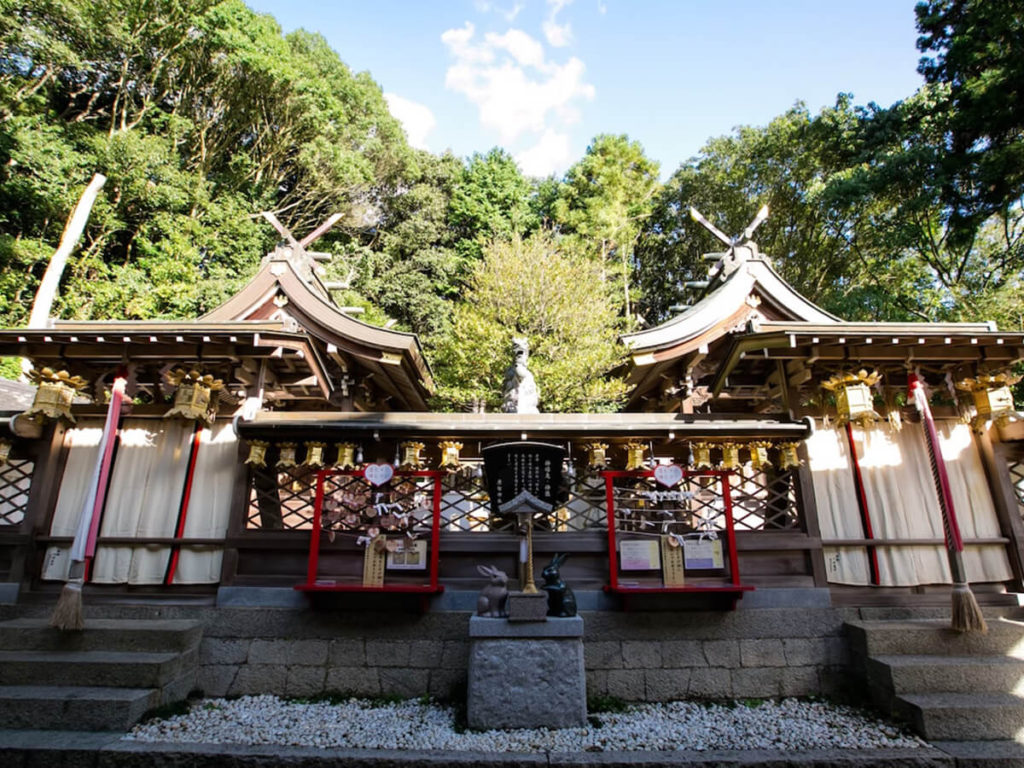 This area has been inhabited since ancient times (the Neolithic Period), and there is some evidence of people worshipping the mountain before the Shinto shrine was built. The name Onji was given 2680 years ago when Emperor (Tenno) Jinmu (the first Tenno of Japan) came to this place.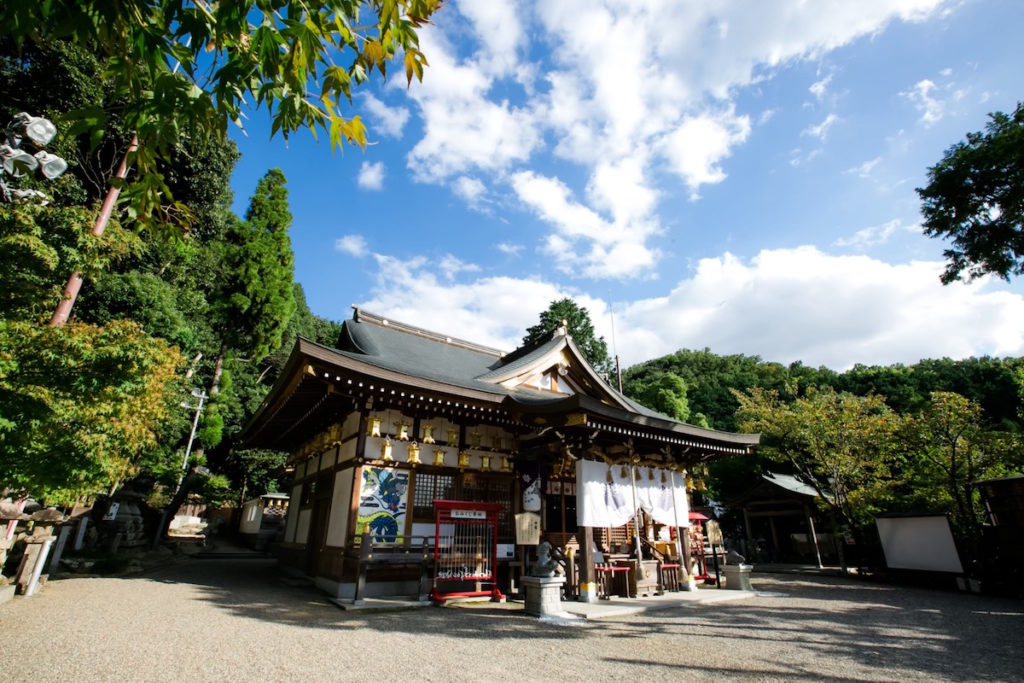 This Shinto shrine retains many old traditions such as the summer and autumn festivals that have continued since the 900's, the Koshogatsu's rituals, and the Oniyarai that is performed on Setsubun. Other than that, there are many other things, such as the Shinto shrine building and the surrounding atmosphere, that maintain their original shape, so please take a look directly at them.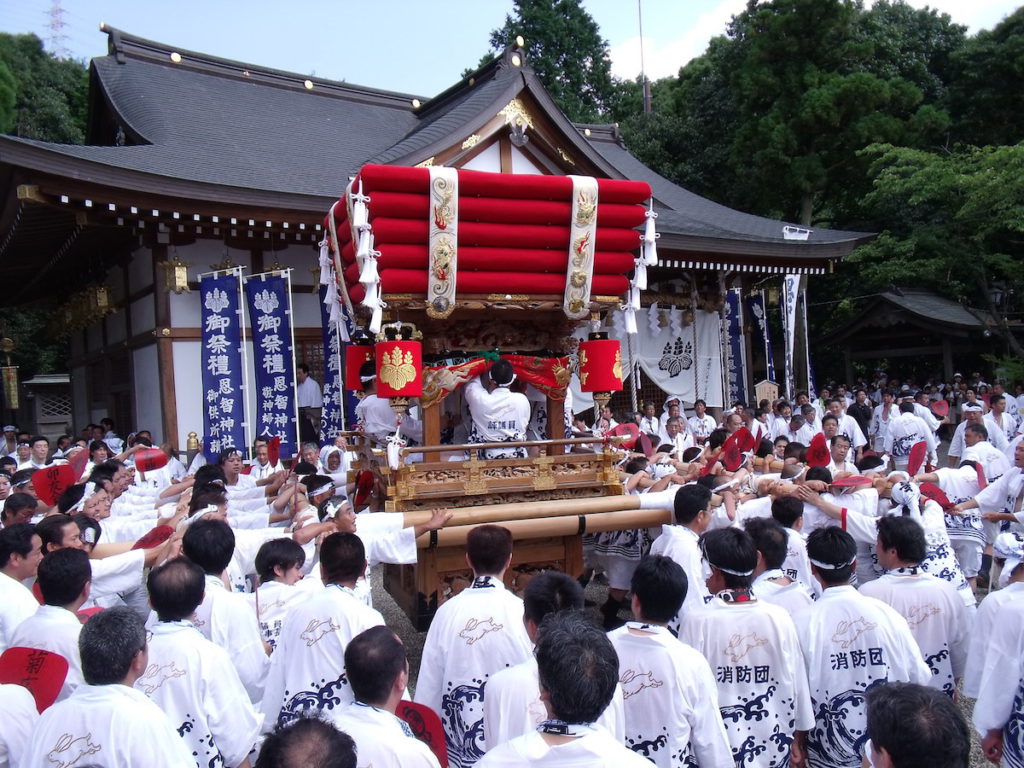 It is said that Japan is a multi-religious country. There are Shinto, Buddhism, Christianity, and more. Among them, Shinto and Buddhism have existed since ancient times, namely, Shinto shrines and Buddhist temples. Do you understand the differences between them? In this blog, I will introduce the differences between Shinto shrines and Buddhist temples that foreigners often hear.
1. What is a Shinto shrine?
The origin of Shinto is very old, and it is a natural idea based on the Japanese climate and Japanese lifestyle. The Japanese believed that the universe was the work of kami, and felt "kami live in everything". So they prayed to the sun, mountains, rocks, trees and other natural objects. Kami that dwell in nature are various, such as the kami of the sun, the kami of the land, the kami of fire, and the kami of water. Therefore, there are so many kami (called "Yaoyorozu"). Other than that, there are also cases where a real person has been deified. For example, Tenno Jinmu, Tenno Meiji, Michizane Sugawara, and so on. A place where these kami are enshrined is called a Shinto shrine. The people who work are Shinto priests called Kannushi-san, and shrine maidens are called Miko-san. Shinto priests read Norito, wishes and thanks to kami written in archaic Japanese, to deliver the wishes of those who came to visit the Shinto shrine to kami.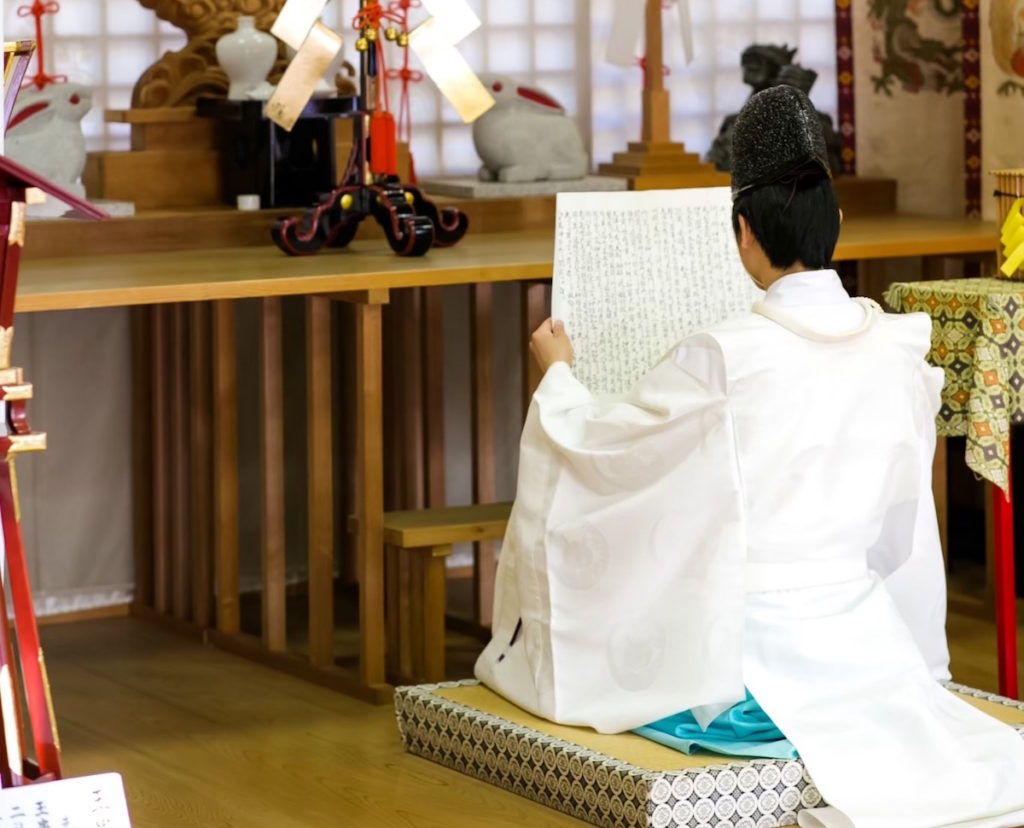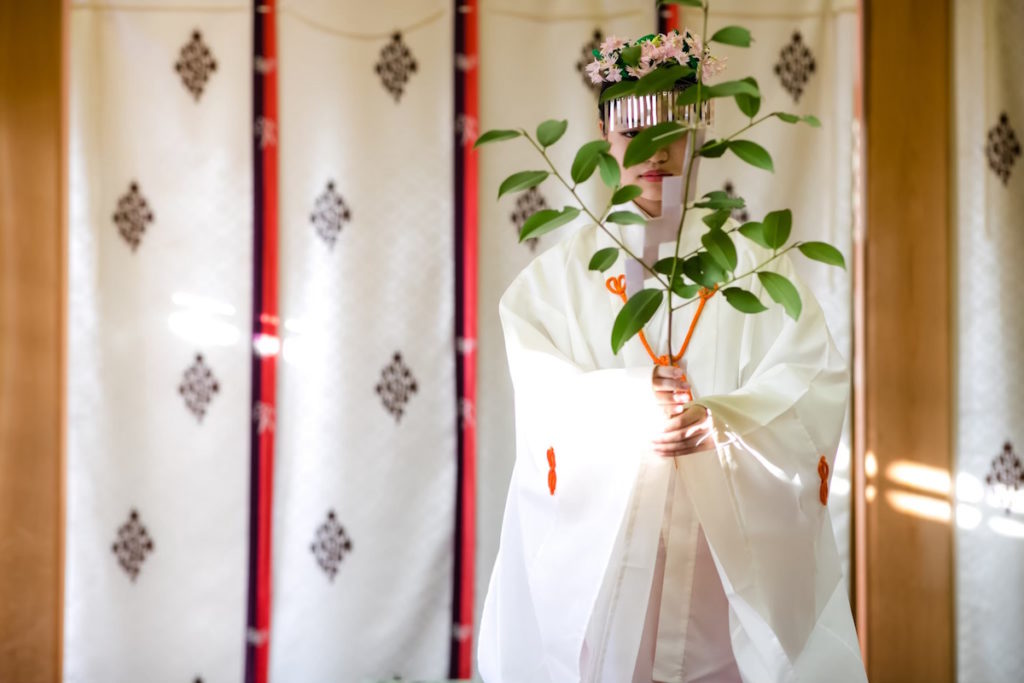 2. What is a Buddhist temple?
In the 6th century A.D., the world-class religion of Buddhism, born in India, was introduced from the continent to island of Japan via China. Buddhism refers to Hotoke (Buddhist Buddha) and Bosatsu (Bodhisattva), and the facilities built for them are called Buddhist temples. There are many other places around the world besides Japan that have Buddhist temples.There are many sects in Buddhism, but they share the common point that Buddha, which means a person who has attained enlightenment, is the founder of Buddhism. The people who work there are Buddhist monks called Obo-san. They recite sutras (advice for living people) for those who come to worship.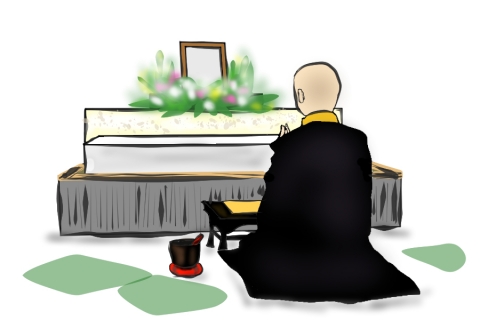 3. What is a sacred object?
The main building houses a sacred object called the "divine body (goshintai)" or "august-spirit-substitute (mitamashiro)". This object is placed in the inmost chamber of the main building. However, while the object itself is not the kami, it is one which the kami's spirit will descend to or inhabit. A mirror is the most representative of such objects. For example, a mirror called Yata-no-kagami is the sacred object of the Ise Jingu. A sword and precious stones may also be such objects. A sword called Kusanagi-no-tsurugi is the sacred object of Atsuta Jingu in Nagoya. The sacred object in the main building of a Shinto shrine is never opened to the public.On the other hand, the Buddhist temple has Buddhist statues in various shapes. They are divided into four categories: Nyorai, Bosatsu, Myooh, and Ten, and each has its own meaning. Unlike the ones in Shinto shrines, most of them are open to the public.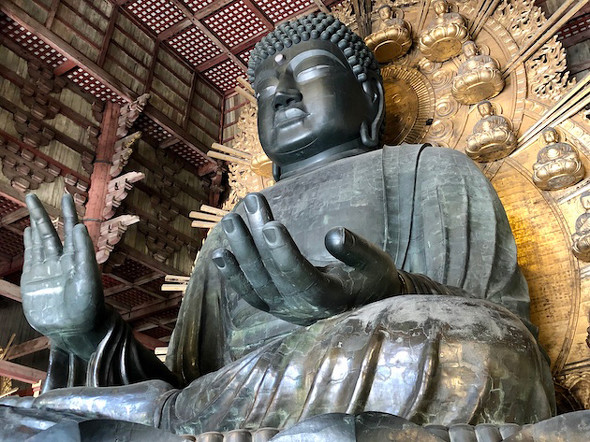 4. What is the difference in appearance?
There is a torii gate at the entrance of shrines, followed by koma-inu. Koma-inu are symbolic guardians of a Shinto shrine. At Inari shrines which enshrine a kami for crops, especially for rice cultivation, a pair of fox images is found instead of koma-inu. The characteristic of Shinto shrine buildings is that they have unique ornamentation on the roof called chigi or katsuogi. Since the chigi and katsuogi can be seen only in Shinto shrine buildings, foreign visitors can easily distinguish Shinto shrines from Buddhist temples.
On the other hand, there is a gate called sanmon in Buddhist temples, and there are also statues of Nio placed on both sides of the gate. There is a kind of ornamentation called hoju on the roof of the main hall. This hoju is not on the roof of the Shinto shrines. Please note that this does not apply to all Shinto shrines and Buddhist temples.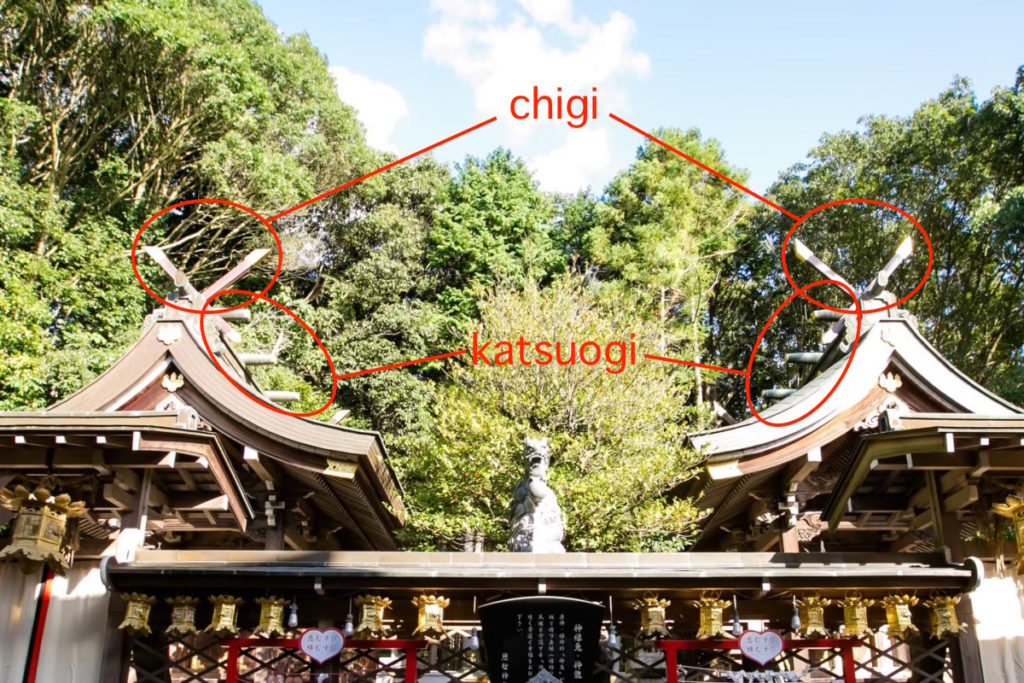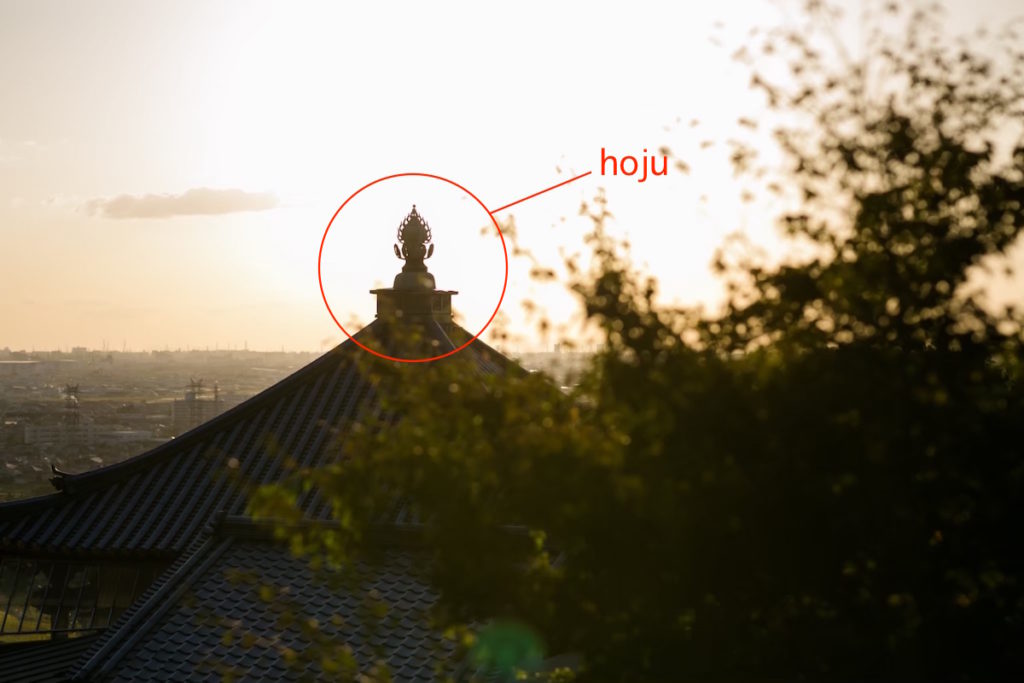 5. What is the difference in way of worship?
At shrines, visitors show reverence to kami by bowing deeply twice, clapping their hands twice at the level of the chest and bowing deeply once again. This is a general way of worship. At the Izumo Taisha in Shimane Prefecture or Usa Jingu in Oita Prefecture, however, the way is different. They bow deeply twice, clap their hands four times and bow deeply once again. At the Ise Jingu priests clap their hands eight times and add one small clap in their rituals. There is an offertory box in the worship building into which visitors drop money before bowing deeply twice.
At temples, people put money in an offertory box, and hands are quietly pressed together palm-to-palm in front of their chests without clapping.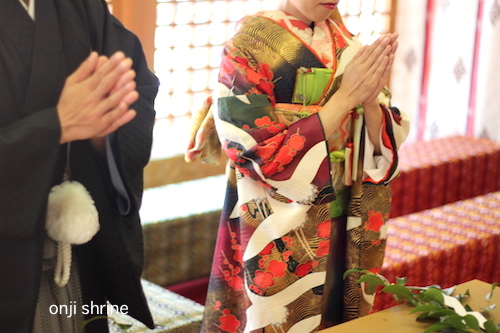 There are only a few differences that I've shown you. There are many other differences, so please look for them yourself. If there is anything you don't understand, please ask Shinto priests and Buddhist monks at the particular shrine or temple.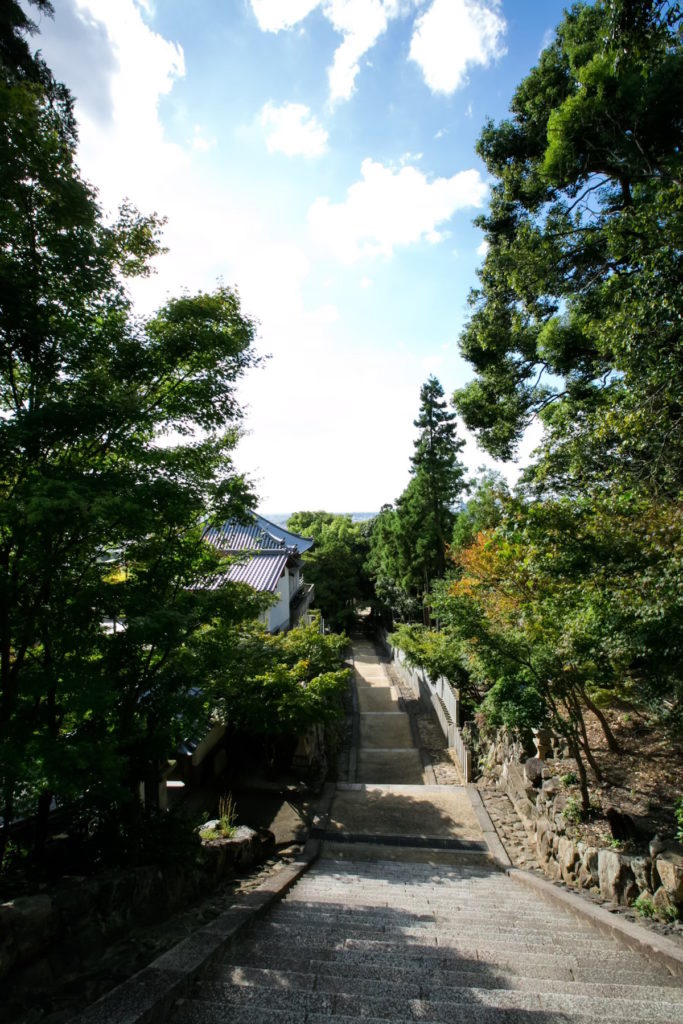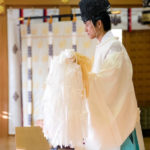 Shinto priest at Onji jinja. I live in Osaka with my wife and daughter. I was a science teacher at a junior high school until ten years ago, so I'm thinking about the role of Shinto shrines scientifically.