Do you know that miso is a traditional Japanese seasoning? It's as well known as soy sauce or natto, and is a fermented food made from soybeans. We not only put miso into miso soup, but also in various kinds of Japanese cuisine, including noodles, hot pot, fried pork, oden, and other things like that. This means that miso is a must-have item for Japanese food.
If you visit Japan, you can see many types of miso at any supermarket and get it easily. However, I'm sure that homemade miso is by far more delicious than ready-made ones, because homemade miso has no food additives and preservatives. Moreover, you can adjust the amount of salt and customize it by changing the kinds of mold you use. That's why I highly recommend making miso by yourselves.
You may imagine making miso from scratch is very hard work, but it's not true. It probably takes only a day including preparation before the day. I'll show you how to make our homemade miso, which has been taken over by my parents-in-law, so please try it if you are miso lovers!
Things to prepare
Ingredients for making 20 kg miso :
| | | |
| --- | --- | --- |
| Soybeans | 4 kg | about 4.000 yen |
| Malted rice ( Koji) | 4 kg | about 4.200 yen |
| Salt | 1.5 kg | about 900 yen |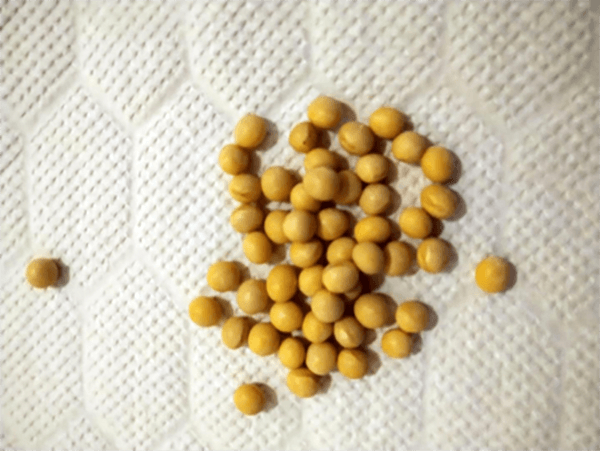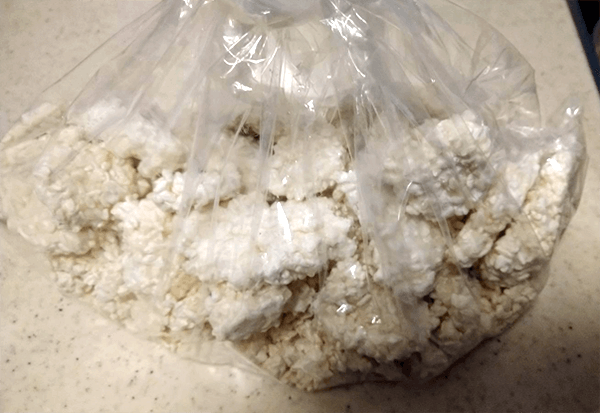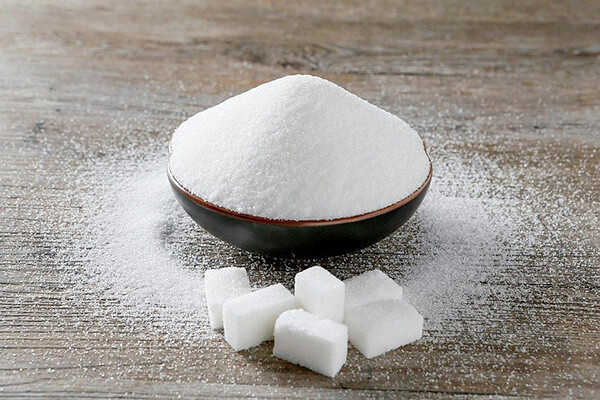 Tools and container
Mincer: Use to mince boiled beans. This old type of mincer was passed down to us from parents-in-law.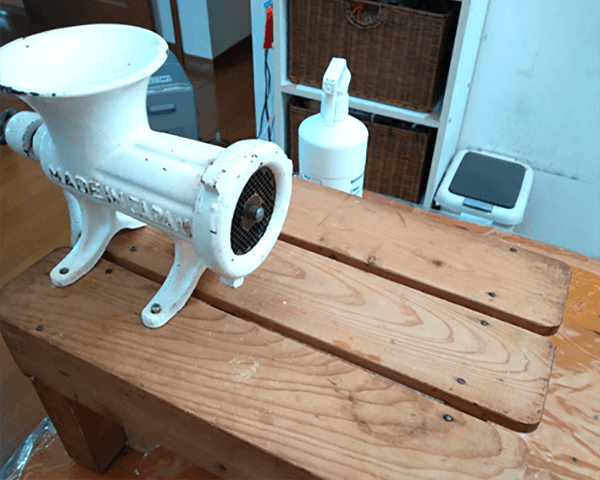 Container: Use to keep homemade miso. This container made of polyester has a capacity of 25 liters.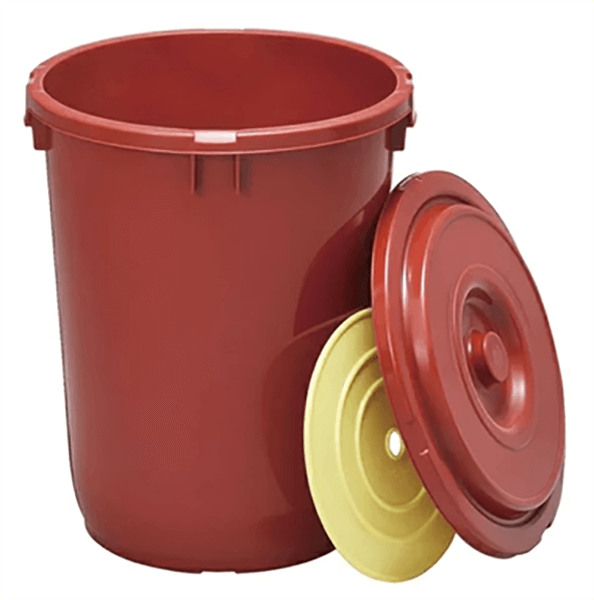 Mask and disposable gloves: Staying hygienic is very important to make good miso. Make sure to wear a mask and disposable gloves to prevent fungi from propagating when you make miso. We always sanitize a table, a container, and a ladle before we use them. It'd be better to prepare a spray type of sanitizer.
Instructions
<Step 1> Soak soybeans in water overnight on the previous day
Put soybeans in a pot filled with water three times as much as soybeans and leave it out overnight.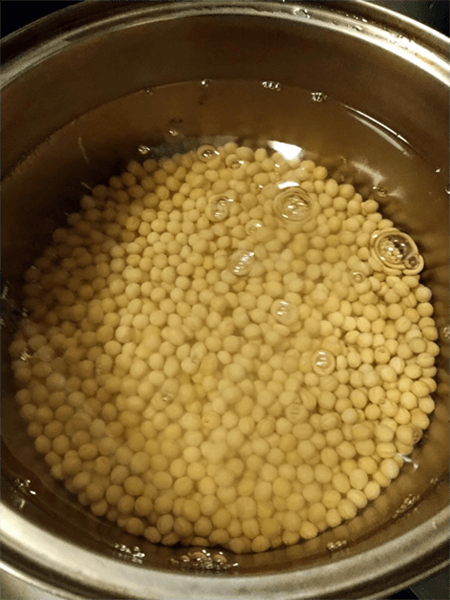 <Step 2> Mix salt and malted rice
Mix salt and malted rice in a plastic bag. Make sure to mix them until consistent.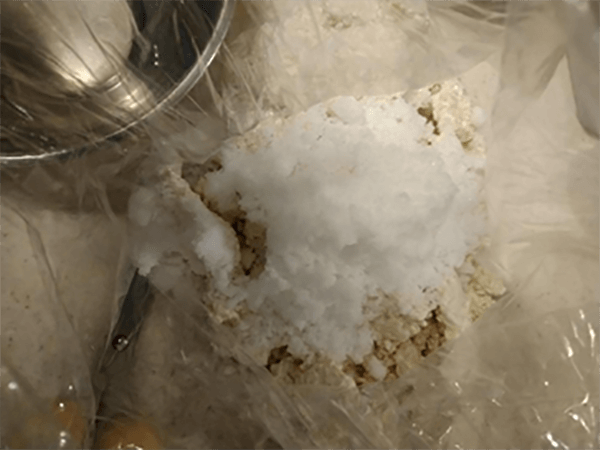 <Step 3> Boil soybeans
Boil soybeans for about 40 minutes until they become soft such as you can crash them with fingers. In the middle of the time, you need to skim the foam from the top of the surface.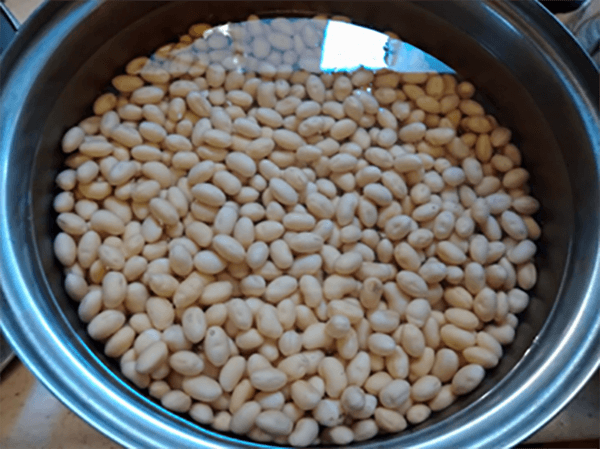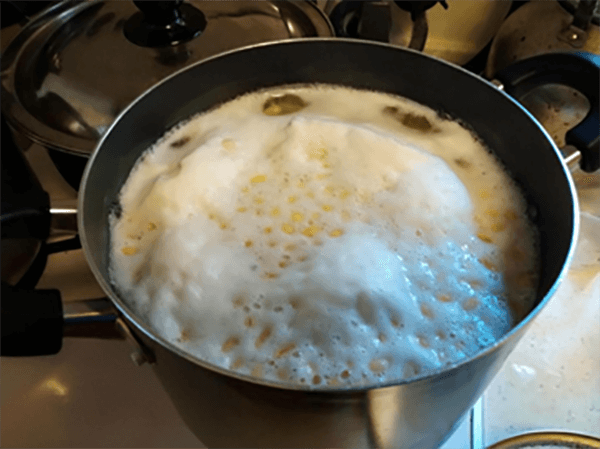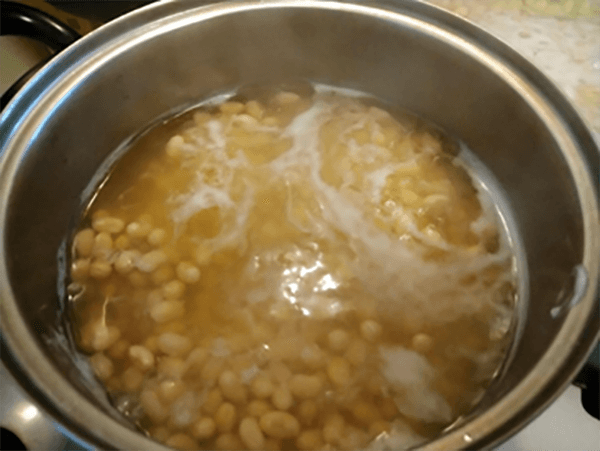 <Step 4> Mince boiled soybeans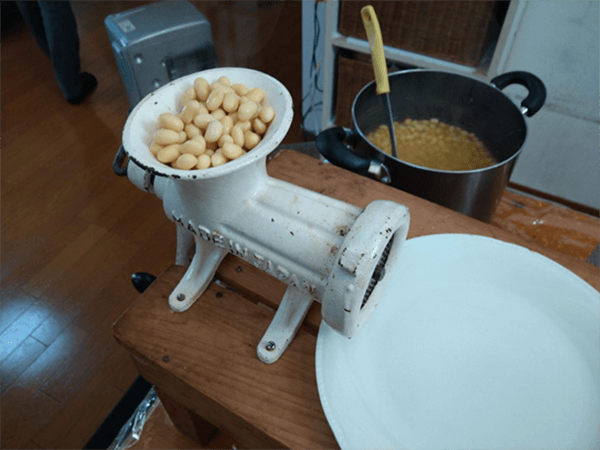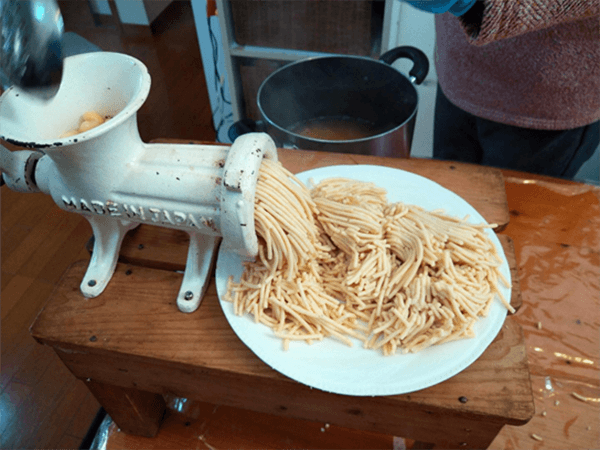 <Step 5> Mix minced soybeans, malted rice, and soup stock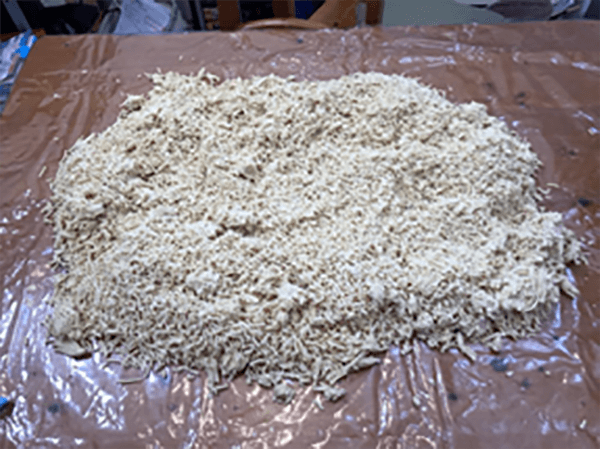 Let the minced soybeans cool down until you can touch them because Koji mold doesn't work if it's more than 65℃.
Mix them with the salty malted rice.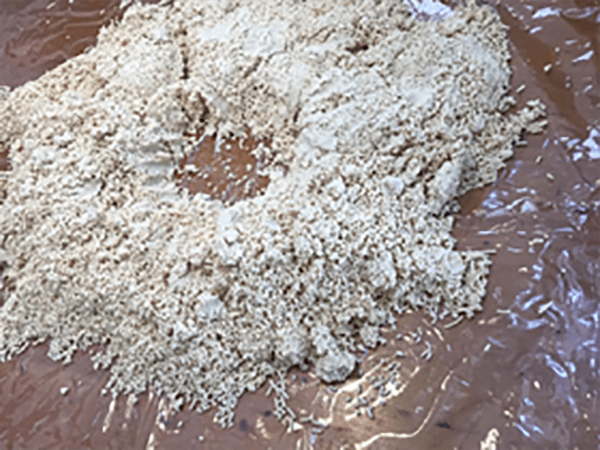 Make a little well in the mix, which is where you will put your soup stock.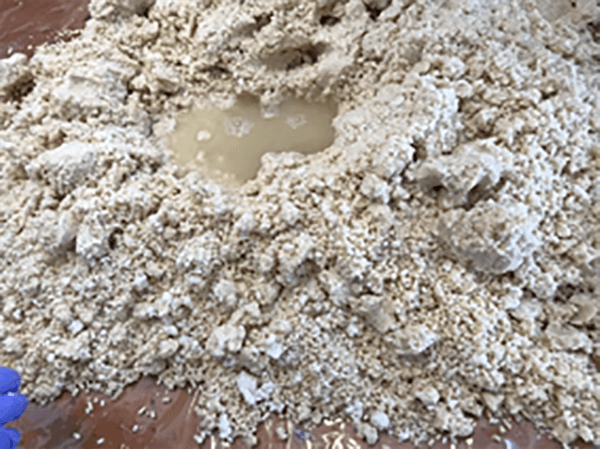 Put the soup stock into that spot.
<Step 6> Knead the mixture and put it into the container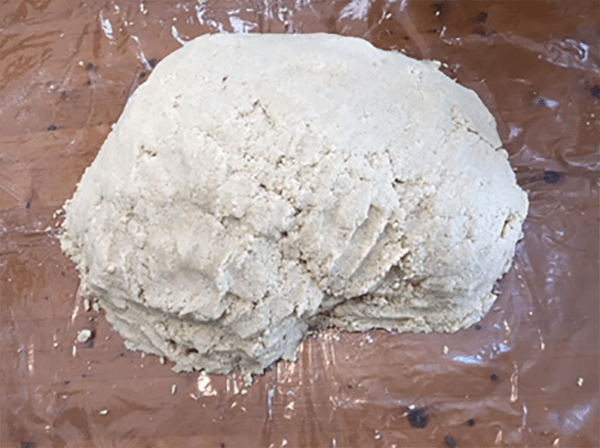 Knead the mixture by hand until it becomes as soft as an earlobe.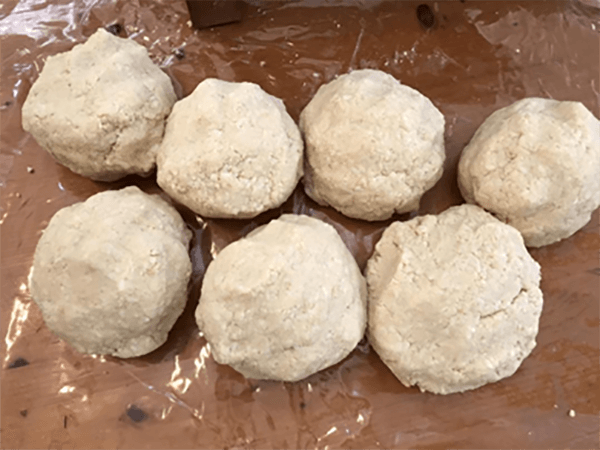 Round the mixture into a miso ball.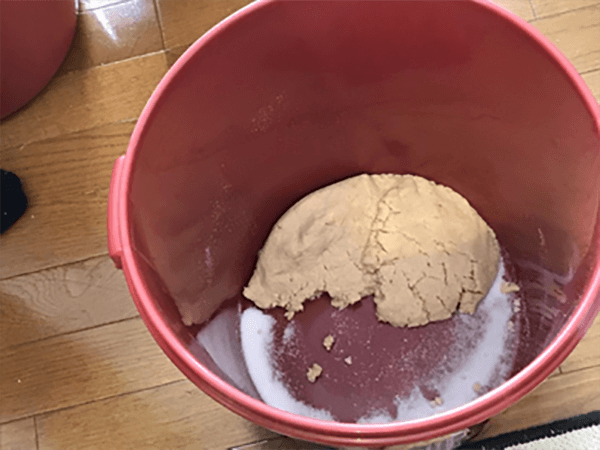 Throw a miso ball into a container to release the air. Before doing that, put some salt on the bottom of the container to prevent fungi from propagating.
<Step 7> Seal the container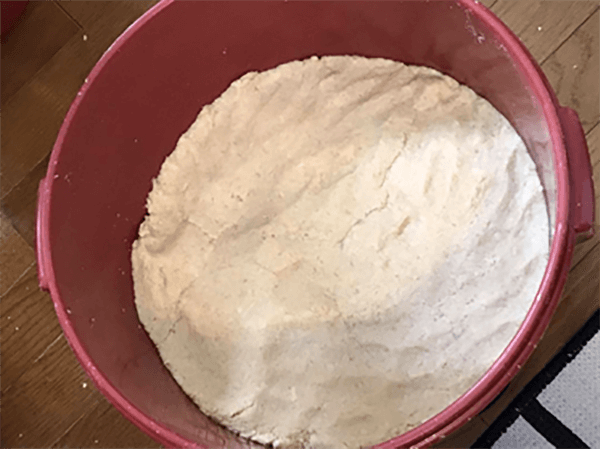 Flatten the mixture with your palm and add some salt onto the surface.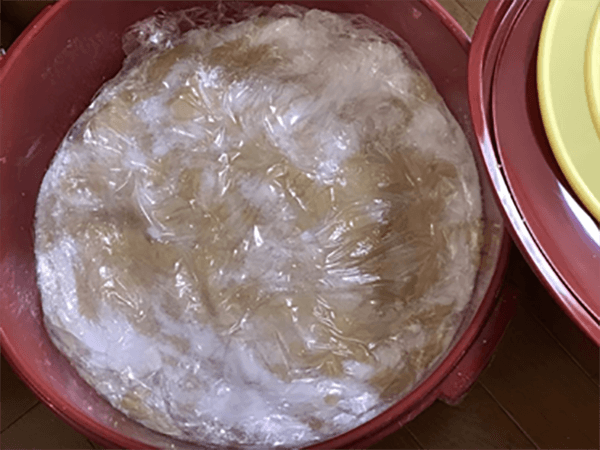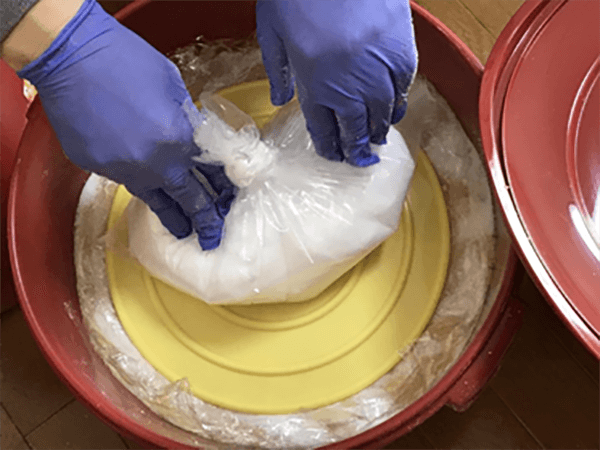 <Step 8> Let the mixture ripen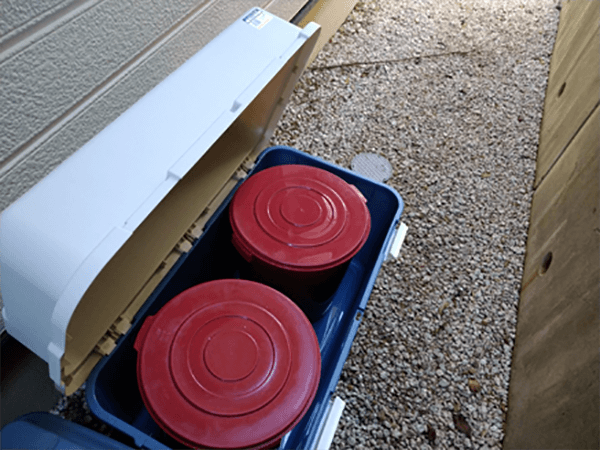 Store the containers in a cool and dark place away from high temperature and humidity. It will stay here for at least six months up to a year.
Completed product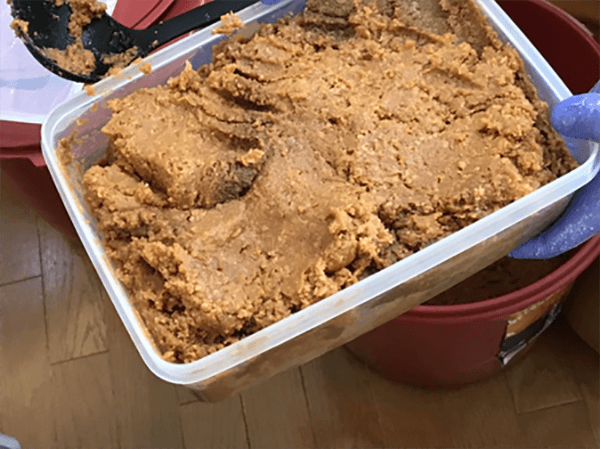 This is the miso we made a year ago. The brownish color shows it's ripe for eating. If you prefer white-ish miso, which tastes sweeter, you should let it ripen it for at least six months.
I introduced our original way to make homemade miso here. There are also many other ways to make it in Japan. The taste is different depending on the type of mold called "Koji" or how to cook soybeans.
If you like sweet miso, it'd be better to make a white-ish one, which is made from well-boiled soybeans and a little more Koji. On the contrary, if you like dry miso, it'd be good to make a reddish one, which is made from steamed soybeans. Our miso is just in the middle of sweet and dry. It's totally up to you. That's why I recommend trying to eat various kinds of miso until you find your favorite one.
Homemade miso is not only good for health but also reasonable. I have no doubt you'll be obsessed with homemade miso if you eat it once.
I hope this helps you, but please let me know if you need anything else or if you have any other questions.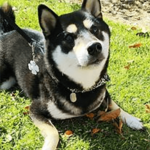 I live with a husband, three daughters, and a black Shiba Inu in Aichi. I love traveling abroad, playing with my dog, and eating fermented food. I eat rice, a miso soup, natto, and yogurt for breakfast almost every day. This is one of my tips for staying in good shape.