"Sushi" is now well known as a type of traditional Japanese food and is accepted by many people worldwide. In the past, sushi was considered to be a high-class dish served only on special occasions. However, "Kaiten-sushi" (Revolving Sushi Restaurants) is gaining popularity these days.
Kaiten-sushi(回転ずし)
The direct translation is "revolving sushi." As you can imagine, plates of sushi rotate around the restaurant on conveyor belts. It looks like a sushi train. Isn't it exciting? And also, the price is reasonable. You might think that because Kaiten-sushi is cheap, you can't expect high quality. While that might have been the case in some restaurants once upon a time, the quality has greatly improved over the years. You definitely can enjoy a wide variety of sushi at a reasonable price in a casual atmosphere.
The price is about 100 yen to 500 yen per plate. Typically, each plate has two pieces of sushi. Some shops have uniform prices for all dishes, while others have different prices depending on the dish, which you can usually see according to the color-coded labels.
Kaiten-sushi has a casual style. You can easily dine alone, or with your friends or family. There are tables for groups and a counter for individuals. Don't worry about how to eat it. If you've heard a lot about the manners of eating sushi, you might be worried. However, whether you hold sushi with chopsticks or you can use your hands, whether you dip it in soy sauce or not, it doesn't matter. Any way is fine, if you think it's delicious.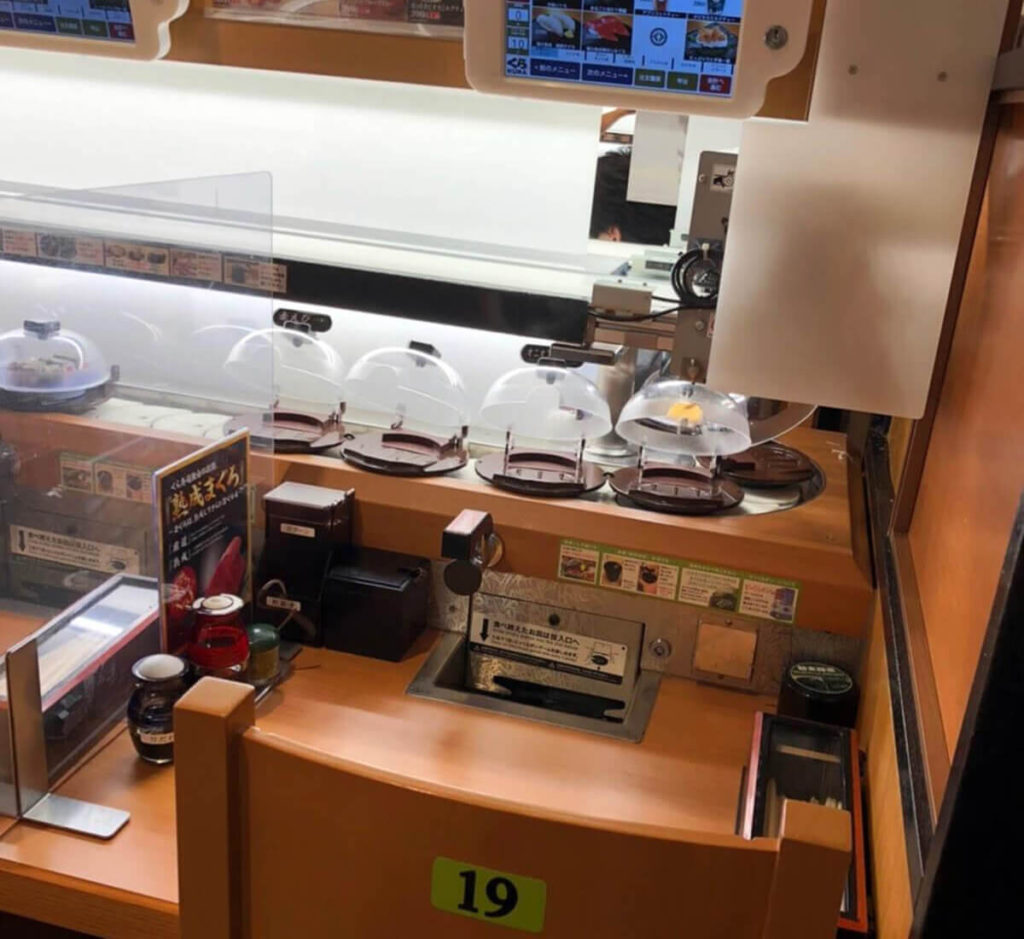 It must be fun to see so many dishes moving around the restaurant like a "sushi-go-round." It is a very exciting system. You can pick any plate you like from a rotating conveyor belt. You might have to wait until your favorite item appears right in front of you. Sometimes, like a game, the plate is taken by a person before you at the last minute. It happens. Of course, if you'd prefer, you can order what you want to eat directly by using a touch panel equipped within each seat. You might be amazed to see so many menu items to choose from. An English menu is also usually available.
If you are the type of person who shies away from raw seafood, I recommend trying the half-raw broiled ones. In fact, half-raw broiled salmon topped with cheese is one of the most popular items among foreign customers.
There are many kinds of Kaiten-sushi chains in Japan, such as Kurasushi, Kappasushi, Sushiro, and so on. Each of them appeals to its unique systems or seasonal menu. I'd like to introduce to you one of them, "Kurasushi."
Muten Kurasushi(無添くら寿司)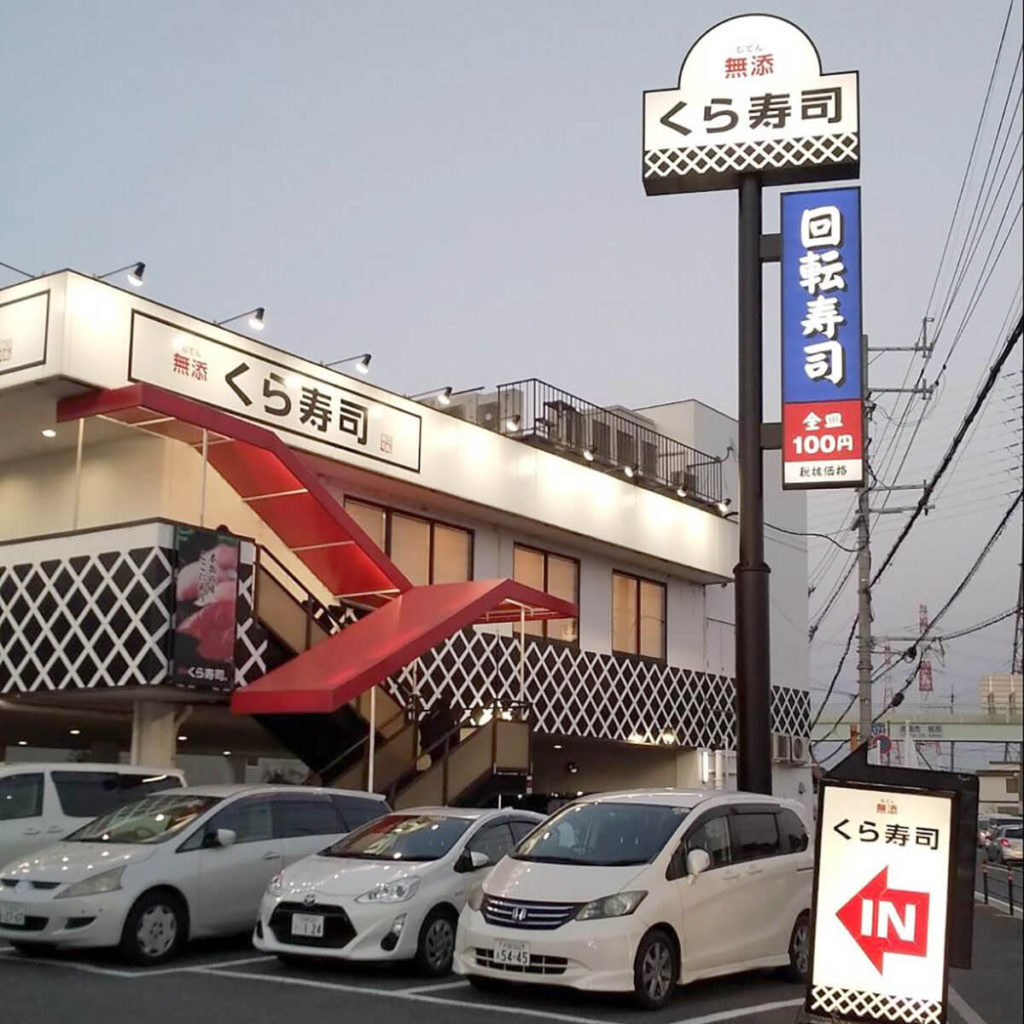 All ingredients are free of four major additives.
Kurasushi (pronounced as Kura-zushi) is characterized by having no food additives such as chemical seasonings, artificial sweeteners, synthetic colorings, and artificial preservatives. Muten means no additives.
Amazing systems
IC tags on the covers of the sushi containers control all the plates on the belt, and items are automatically thrown away after a certain amount of time. There is no doubt that they are all safe and fresh all the time!
Each plate is protected by the original clam-shaped sushi cover, known as "Mr. Fresh." It might be tricky to open it at first, but you can easily get the hang of it because the staff is supposed to show you how to do it beforehand.
Enjoy your meal!
The sushi counter rests on a conveyor belt that slowly revolves.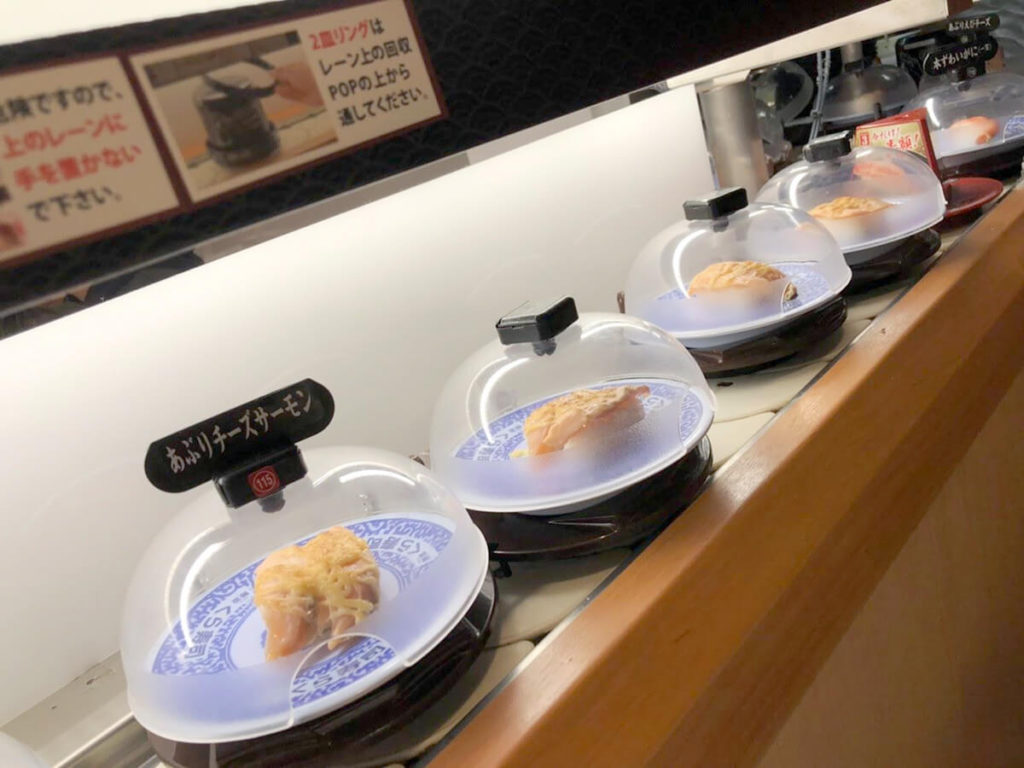 Freely take as many plates of whatever you like. Don't return anything you've taken back to the conveyor belt.
Wasabi (Japanese horseradish), soy sauce, and plenty of pickled ginger are available on the table. There is no wasabi on any of the sushi plates themselves.
Make hot green tea: Put powdered tea in the cup and pour hot water from the water tap.
Use the touch panel: You can order any sushi you want to eat from the touch panel menu. Then your dish promptly comes out through a separate conveyor belt and stops right in front of your seat. It's like an express train!
Toss the empty plates into the slot. You don't need to put other bowls or cups in it. Your plates are counted automatically, and the number is shown on the touch panel.
For every five plates, the game (bikkurapon) will randomly appear on the screen, and you may get a capsule toy by winning. If you are with kids, their shining eyes will reveal their excitement.
All plates are 100 yen. Some high-quality sushi is on double plates, meaning they are 200 yen. So take the two plates together. There may be some dishes other than sushi, which will show different prices.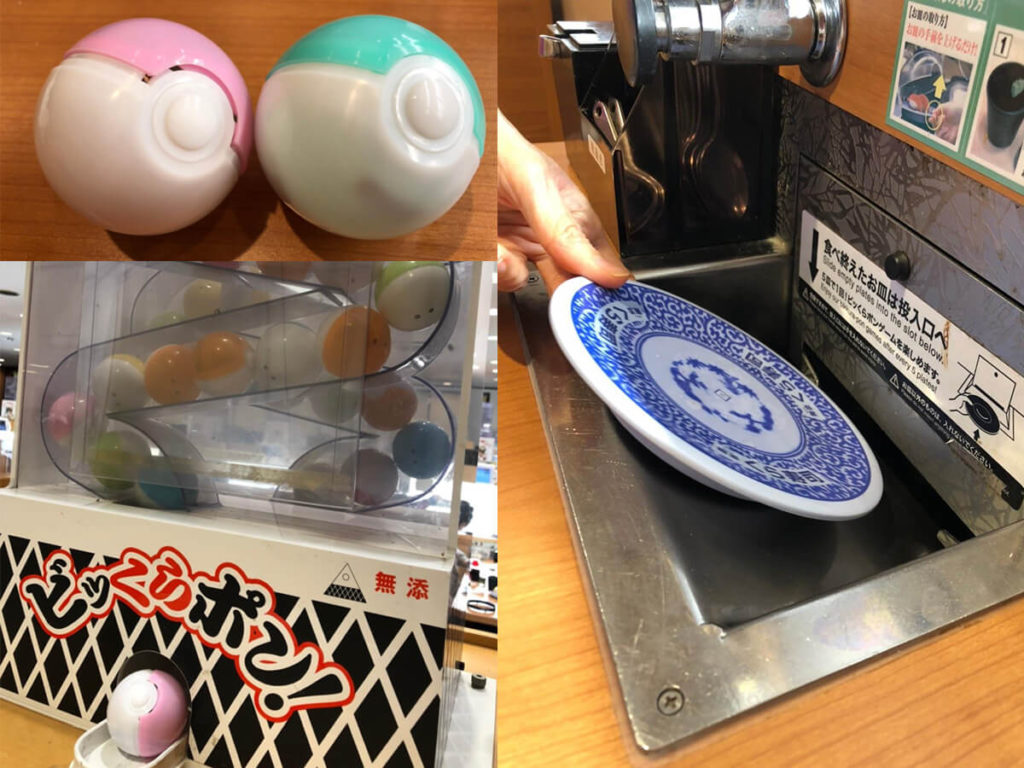 So many more options beyond fish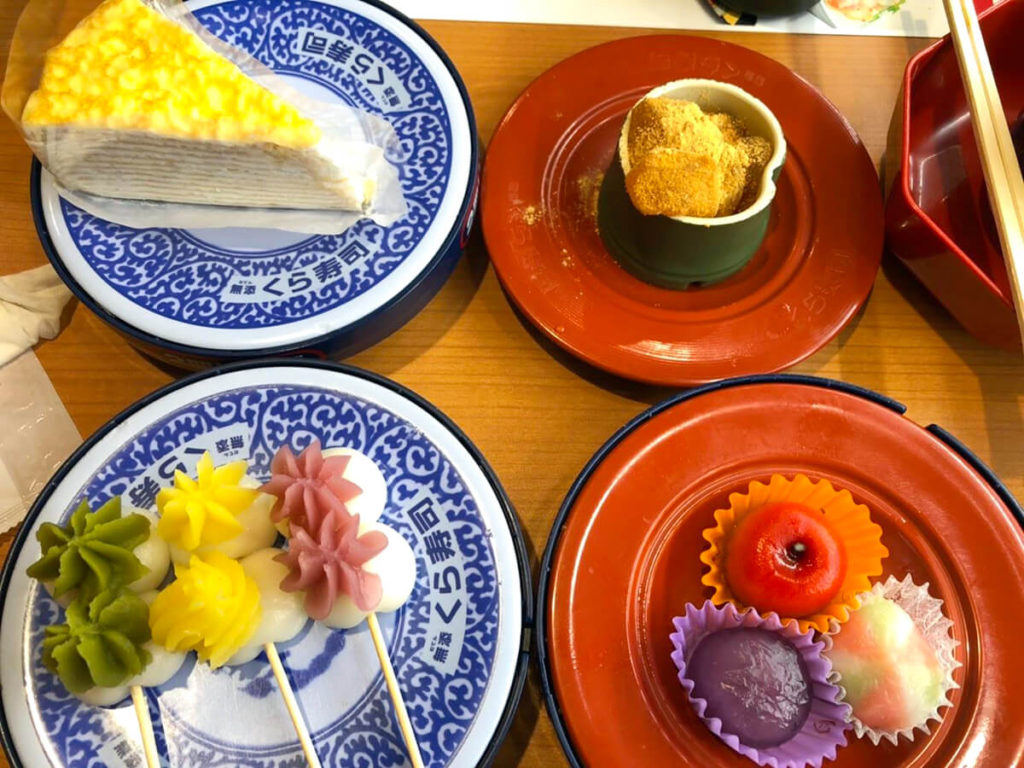 They have a rich line-up of side dishes and desserts. You can eat noodles, French fries, miso soup, chawan-mushi (savory steamed egg custard), cake, and Japanese sweets. Even if you are with little children, no worries. There are many choices such as udon noodles, cucumber sushi roll, inarizushi, and so on.
There seems to be a number of revolving sushi bars abroad, but they are quite different in terms of quality and the price also seems rather high. So, while there are plenty of great Kaiten-sushi restaurants abroad, if you are in Japan, I highly recommend going to Kaiten-sushi while you're here and trying something new! You will discover the amazing taste of Japanese seafood. I do hope you have a wonderful time at Kaiten-sushi. Have fun!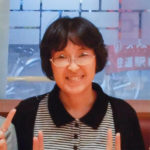 Lives in Takatsuki city, Osaka. Has been engaged in English for work and fun for years.