Let's remember this nickname. This is an abbreviation of a bus terminal's name. We call this "Basuta Shinjuku" which is "the Shinjuku Expressway Terminal" and the main transport hub in service for all over Japan besides Narita and Haneda airports. It is located in one of the station buildings and directly connected to the "New South Gate" of JR Shinjuku Station. That means you get on the JR line easily.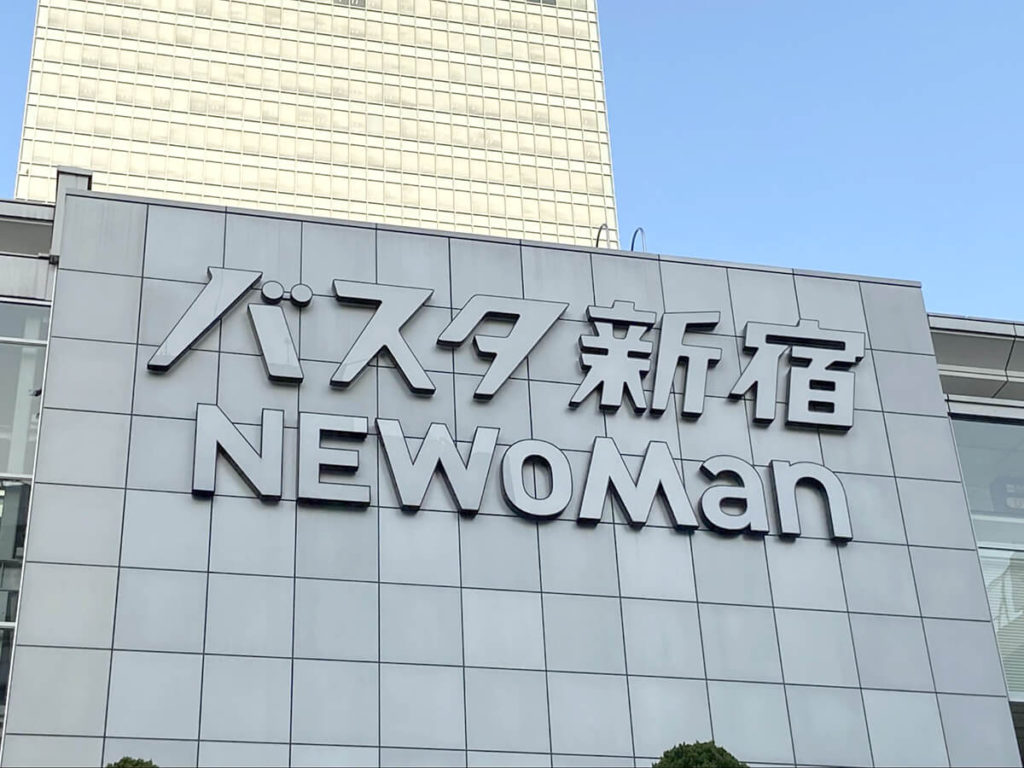 In other words, the bus terminal, taxi stand, and JR train gates are together in a building. Moreover, the tourist information center and currency exchange are also there. Of course, you can't miss some coffee, sweets, and OBENTOU (boxed meal) at the beginning of your trip. That's super convenient for sure.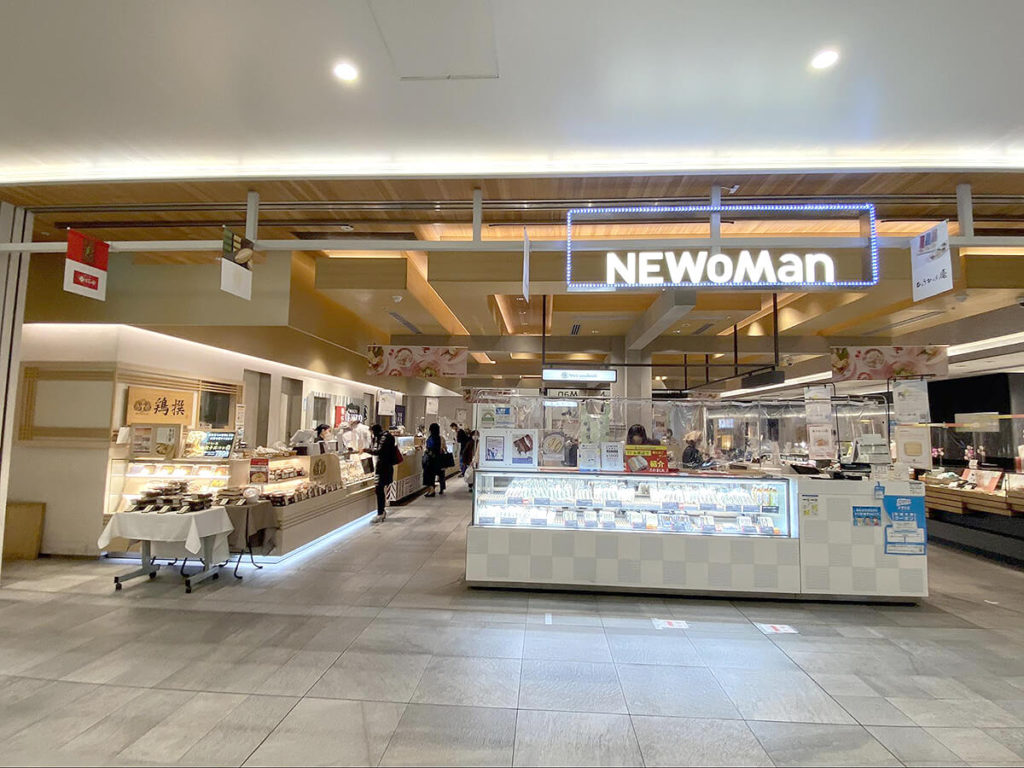 Attention
When you want to get to BASUTA SHINJUKUin the fastest way FROM the platform of the JR line, try to find "New South Gate." See the picture below. I can imagine you would have several pieces of big baggage with you before heading to the airport or the place you're going to visit in other parts of Japan. This way you'll be free from the hassle of a long walking distance.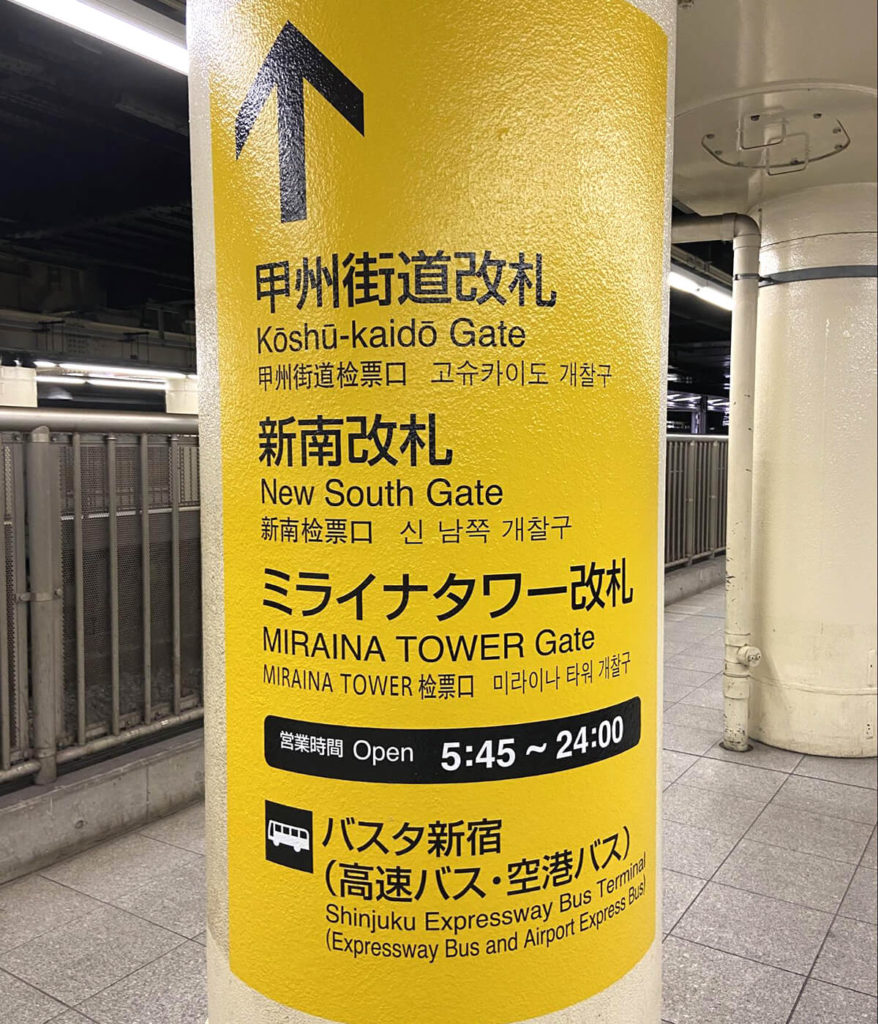 Let me tell you a bit about the station. The average number of people using Shinjuku Station is over three-hundred-fifty-million per day. It has been the biggest transport hub in the world and is often under construction here and there for development. If you don't know anything about Shinjuku Station, you might be at a loss. For more information, there are sixteen railway lines and ten gates in all directions. Can you imagine how complex this station is?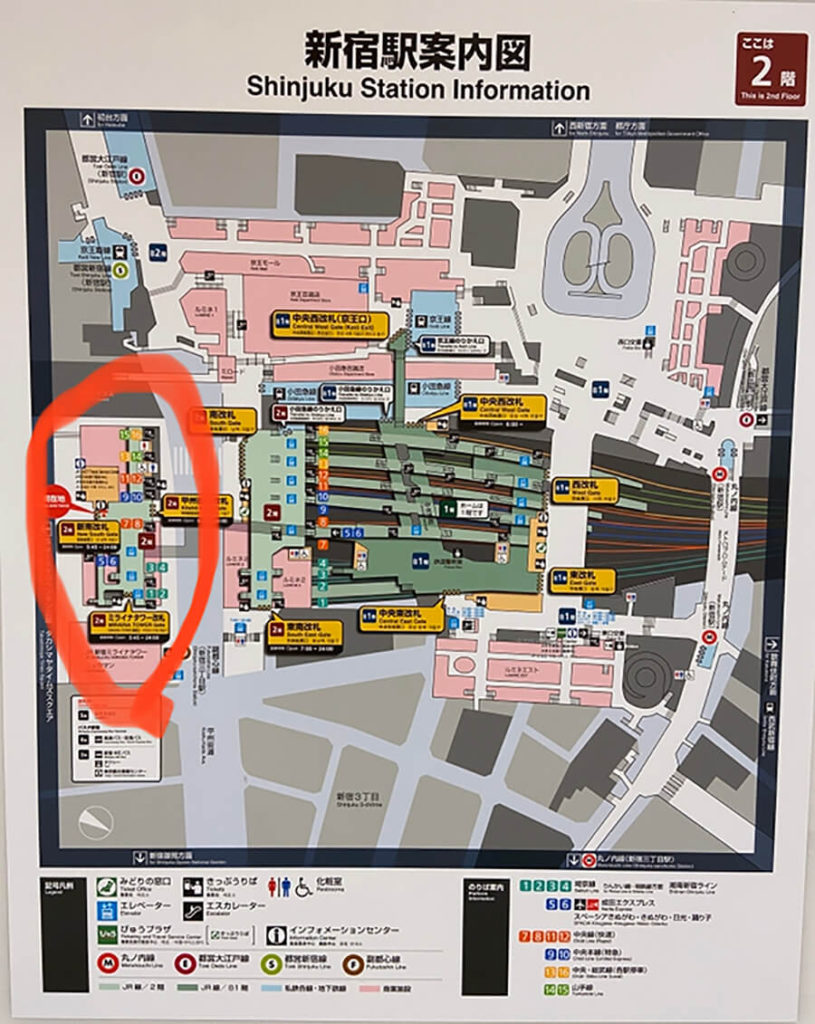 Well, did you get that finding and passing through the right gate is very important to reach the place you want to go in Shinjuku station? The question is where and how can you find the right gate? Let's get started right after getting off the train in JR Shinjuku station. There are a few stairs for different gates on the platform. In this case, choose "New South Gate," which is located at the end of the platform. Not "South Gate" or "South East Gate." Don't you think it's complicated? You can check with the yellow signboard on the platform. That way you might not be at a loss. The same is true of other places you want to go.
FYI: How many lines and companies are in Tokyo?
Japan Railway is the main train company in Japan, and we call it "JR." There are eighteen companies and eighty-five lines in Tokyo as of 2021 including subways and private lines, which also confuses Japanese people, let alone tourists from around the world.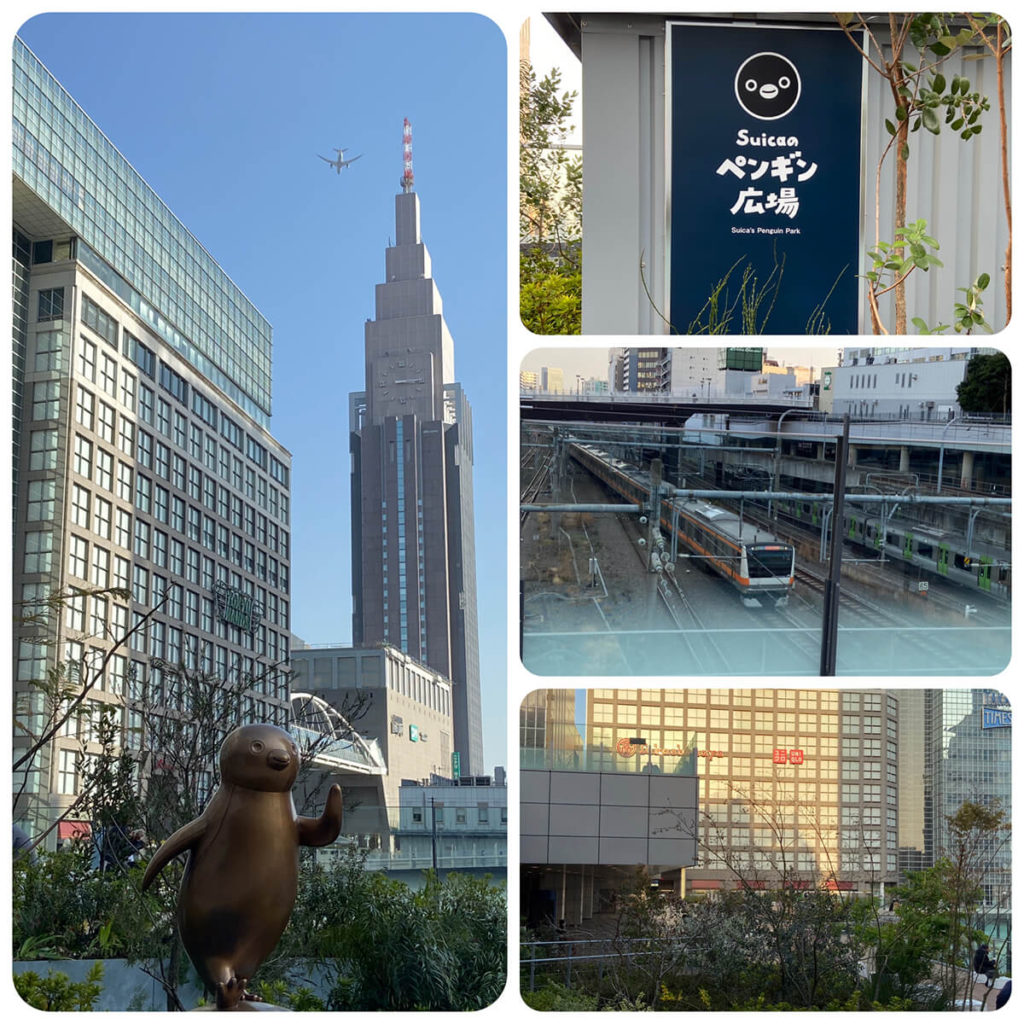 Harmony
Let's say you are at the Penguin Park on the second floor of the BASUTA SHINJUKU building. See the pictures above. The blue sky with an airplane is over you, and surprisingly you can see all sixteen railway lines at once underneath you on the first floor between other tall buildings. As I mentioned before, this building has taxi stands and the bus arrival lobby on the third floor and the departure gate on the fourth floor.
Here it looks like a miniature version condensed into the vibrant city of Tokyo in this nice and small garden.
You might be able to feel a distinct Japanese aspect and culture here in Shinjuku Station as soon as you arrive in Tokyo.
http://shinjuku-busterminal.co.jp/en/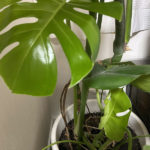 I live in Tokyo and am working at a pre-school. I'm a nature lover and enjoy experiencing the characteristics of each season. In addition, I like taking care of plants. My strength is improving myself and being able to think in a positive way.