There are a variety of delicious foods in Osaka. Especially "konamon" which is a soul food for Osaka people.
Do you know "Konamon"?
"Konamon" is a dish made with wheat flour. Udon noodles, pizza, pasta, etc. could be one of Konamon dishes. The culture of this konamon has been developing in Osaka. As you know, especially okonomiyaki and takoyaki are very famous foods in Osaka.
For this special occasion, I'd like to introduce okonomiyaki to you.
Okonomiyaki means "cook whatever you like." First you can choose ingredients that you prefer. Then the restaurant staff cooks it for you. There are two types of okonomiyaki: Osaka style and Hiroshima style.Today, I will introduce you to an Osaka style okonomiyaki that we Osaka people are proud of. I hope you enjoy reading.
Osaka Style Okonomiyaki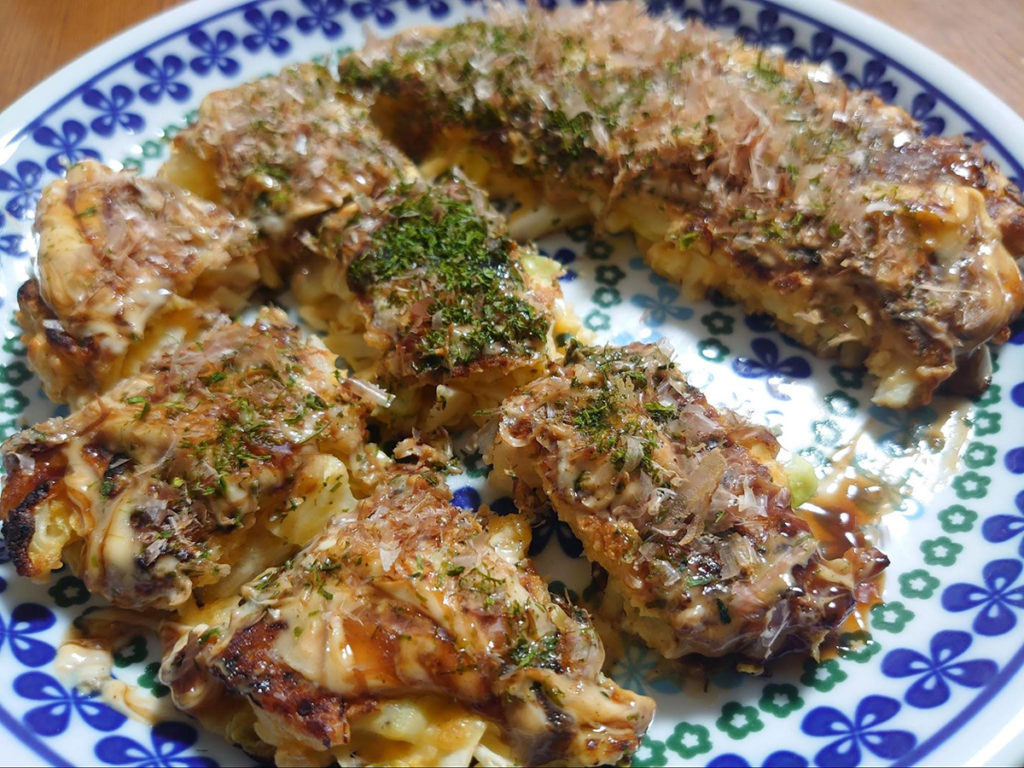 Cooking Style
The baking style is mixed with all ingredients: wheat flour, egg, yam, dashi soup, tenkasu, and so on. Depending on the restaurants, they have a few types of okonomiyaki: regular okonomiyaki, modanyaki, and negiyaki. Besides that, they serve yakisoba, yakiudon, tonpeiyaki, and so on.
Types of Restaurants
Okonomiyaki is cooked on an iron plate attached to each customers' table at Okonomiyaki restaurants.
There are 2 types of Okonomiyaki restaurants. One is to cook it by yourself at a table. After you choose the kind of okonomiyaki, staff will bring all the necessary ingredients to your table. Then you cook it on the plate at your table.
The other is to be served by the staff after being cooked in the kitchen. The staff turns on the iron plate before bringing the okonomiyaki to your table.
At the Restaurant
Most Okonomiyaki restaurants have Western style chairs and tables, but several restaurants have Japanese tatami style seats and tables where you need to take off your shoes.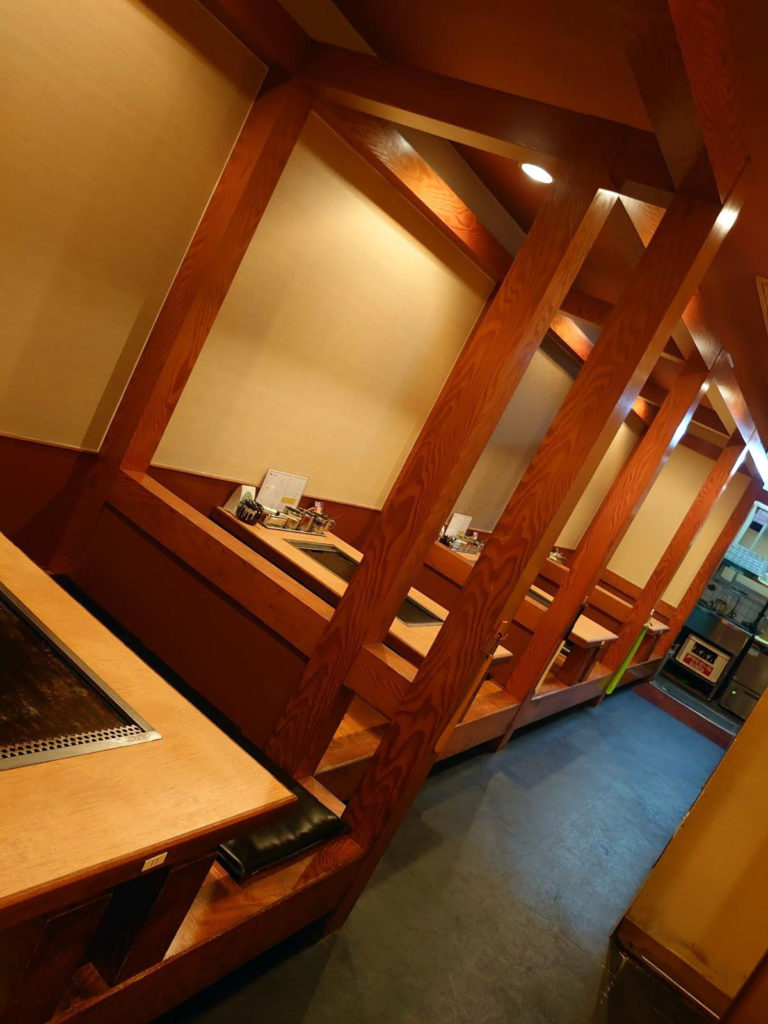 When you take a seat, you can order your okonomiyaki with the main ingredient that you choose on a menu: pork, shrimp, squid, etc. And you can add other topping ingredients, such as mochi (rice cake), cheese, negi (long green onion), etc. if you want. After you receive the cooked okonomiyaki, you eat it with special okonomiyaki sauce, mayonnaise, bonito flakes, and seaweed flakes. You have these topping ingredients on your table. The iron plate on your table is very hot, so be careful while eating it.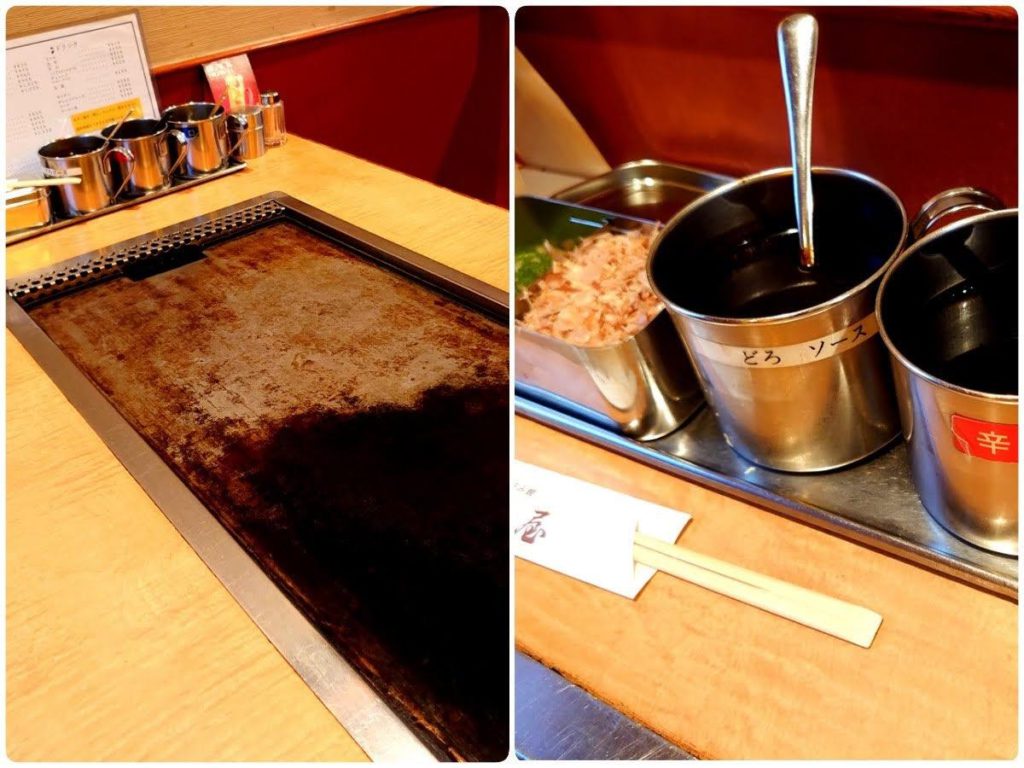 You cut the okonomiyaki into bite-sized pieces using the metal spatula called kote "こて" and eat it.
Some people eat it using only kote, but in Osaka most people eat it with chopsticks after cutting it with kote.
In addition to Okonomiyaki, I also recommend you to try yakisoba and tonpeiyaki. Tonpeiyaki is a grilled fried pork rolled with eggs and mayonnaise or okonomiyaki (tonkatsu) sauce on top. It's delicious.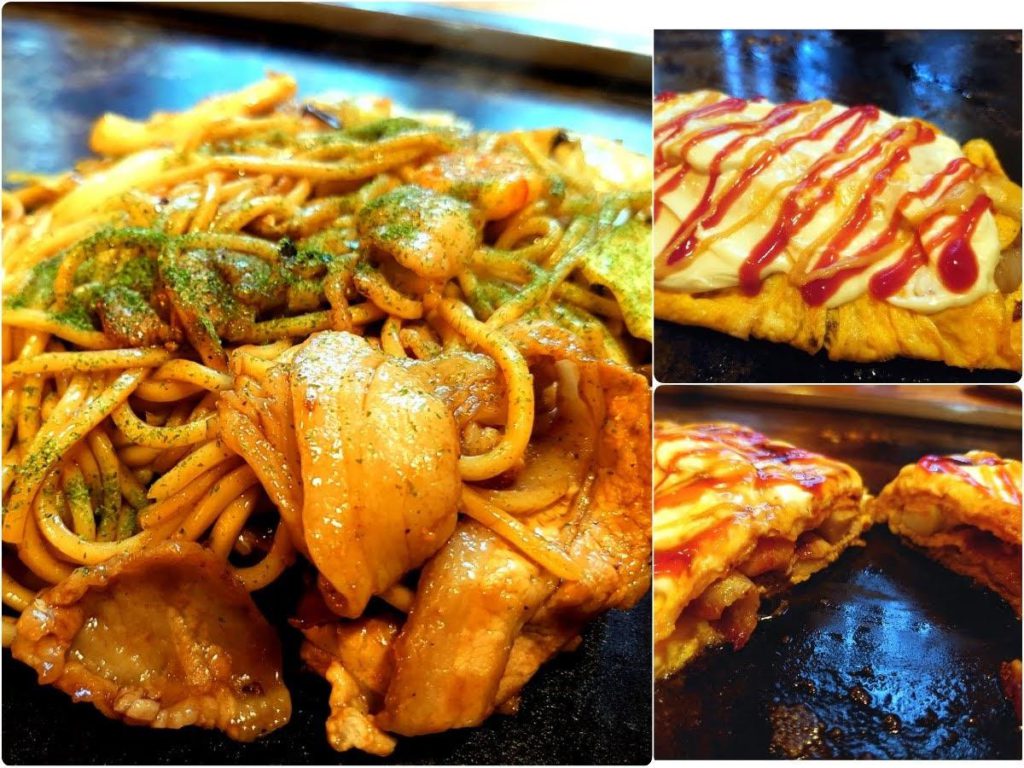 For your information, in the Kanto (eastern) area, people normally cut okonomiyaki into triangle pieces just like a pizza piece, but in the Kansai (western) area, we cut them into square pieces ( Like the picture above). It's interesting, isn't it?
My recommendation
There are tons of okonomiyaki restaurants in Osaka. Among them, below are two restaurants I really recommend in my region.
KOKORO (古々路)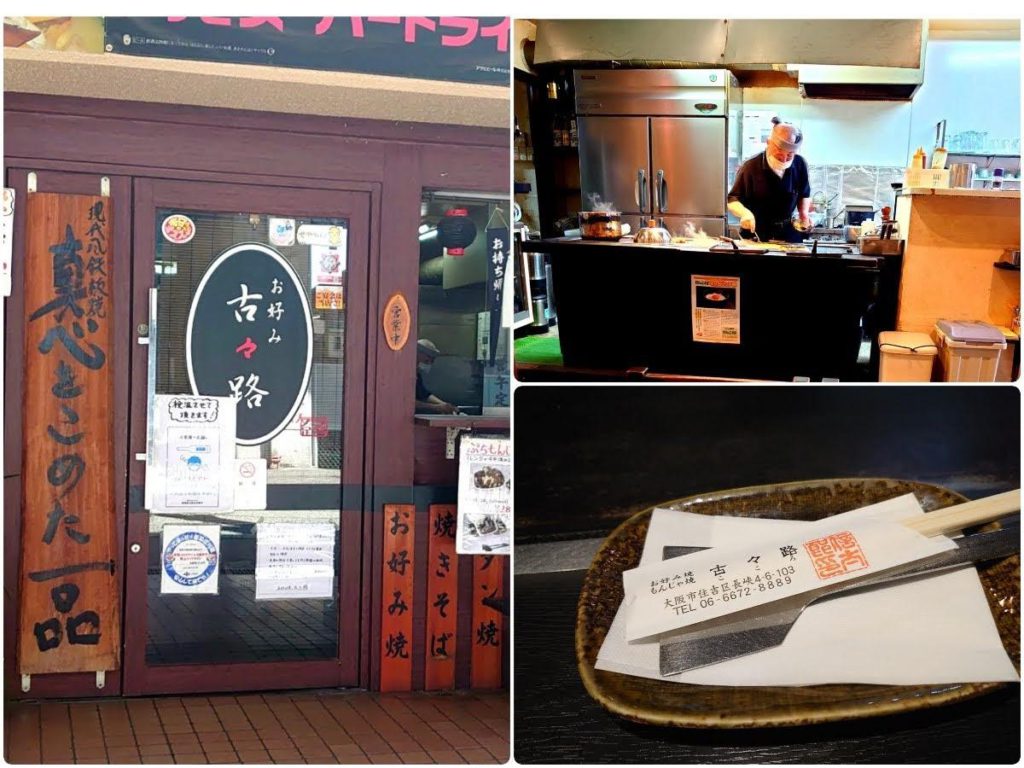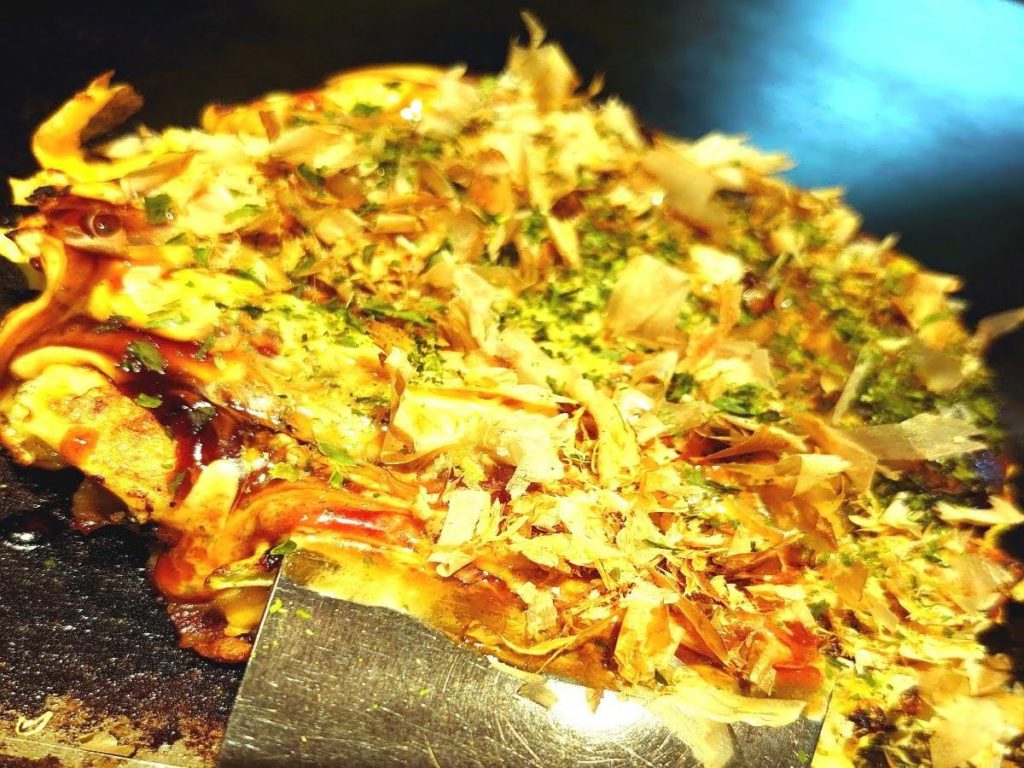 Kokoro is a family-run restaurant with a homely atmosphere. They have many kinds of foods on their menu, such as okonomiyaki, yakisoba which is stir-fried noodles with vegetables, meat, and other dishes. All dishes are really delicious there but especially, what I highly recommend is a special modanyaki called Kokoro yaki "古々路焼き." Mondayaki is another type of okonomiyaki with yakisoba in it. Kokoroyaki is salted yakisoba in okonomiyaki, and a big 170g (over 6 ounces) sliced pork from Okinawa is on top of it. It's a very large portion, delicious, and reasonably priced. It's perfect!!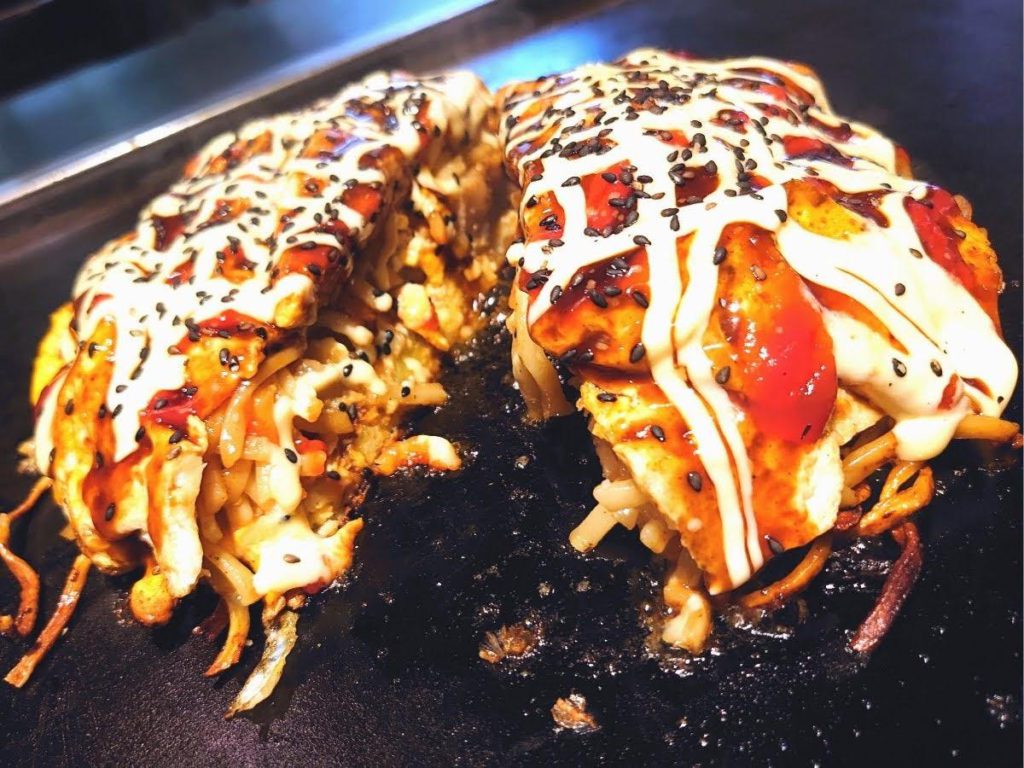 The owner who is also the chef, his wife, and his son are friendly and kind. You can see how to cook your okonomiyaki because there is an open kitchen space.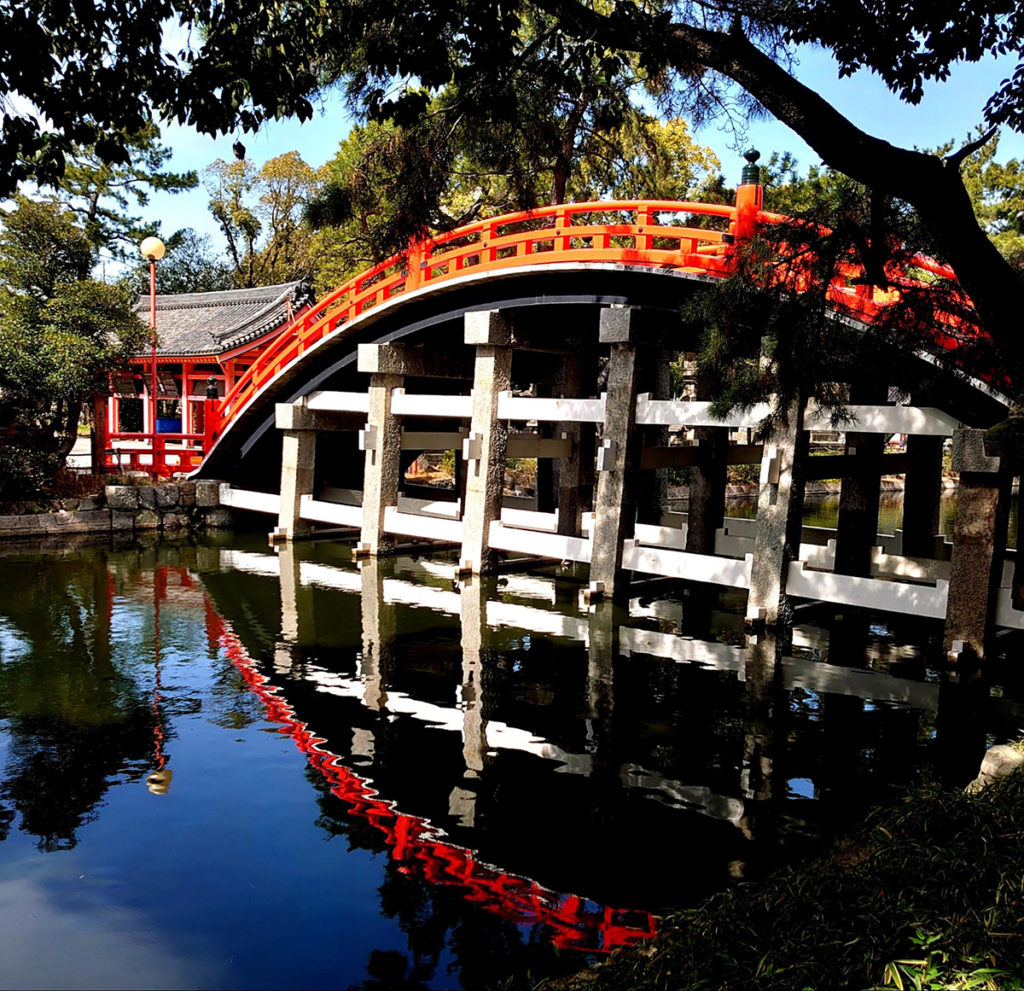 The location is near one of the most famous shrines "Sumiyoshi Taisha Shrine 住吉大社." It is also near the Sumiyoshi Taisha Station. It takes only 3 minutes by walking from the east exit of the station.
I recommend that first you go to this famous shrine and enjoy the experience and atmosphere there. Then, you will be hungry and it'll be perfect for you to head to Kokoro Restaurant and eat delicious okonomiyaki.
KOKORO (古々路)
Address: 4-6-103 Nagao-cho Sumiyoshi-ku Osaka City
Tel: 06-6672-8889
Regular holiday: Monday
Open: 11:00~15:30, 17:00~22:00
Zou Ya (象屋)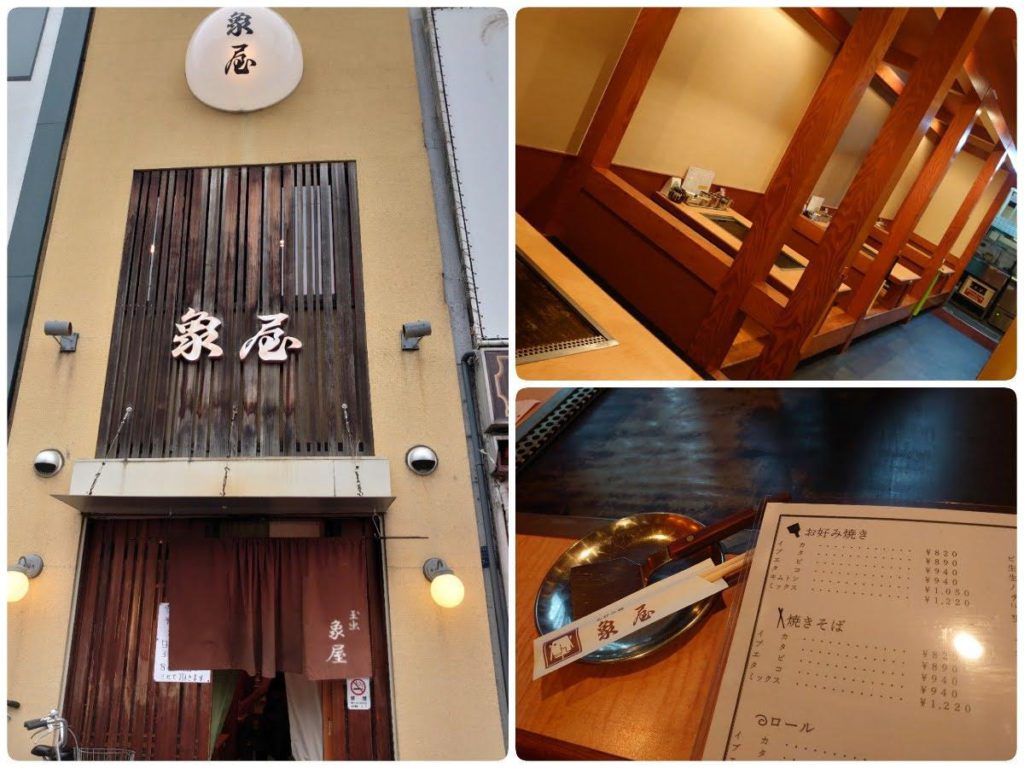 When I went to this okonomiyaki restaurant for the first time, I was so surprised because I had never eaten such delicious okonomiyaki and yakisoba before.
It's a two-story-restaurant located near Osaka-metro Yotsubashi line Tamade Station.This restaurant's atmosphere is good and the price is reasonable. They have Western style tables and Japanese tatami style tables. All of the staff are young guys who are nice and friendly.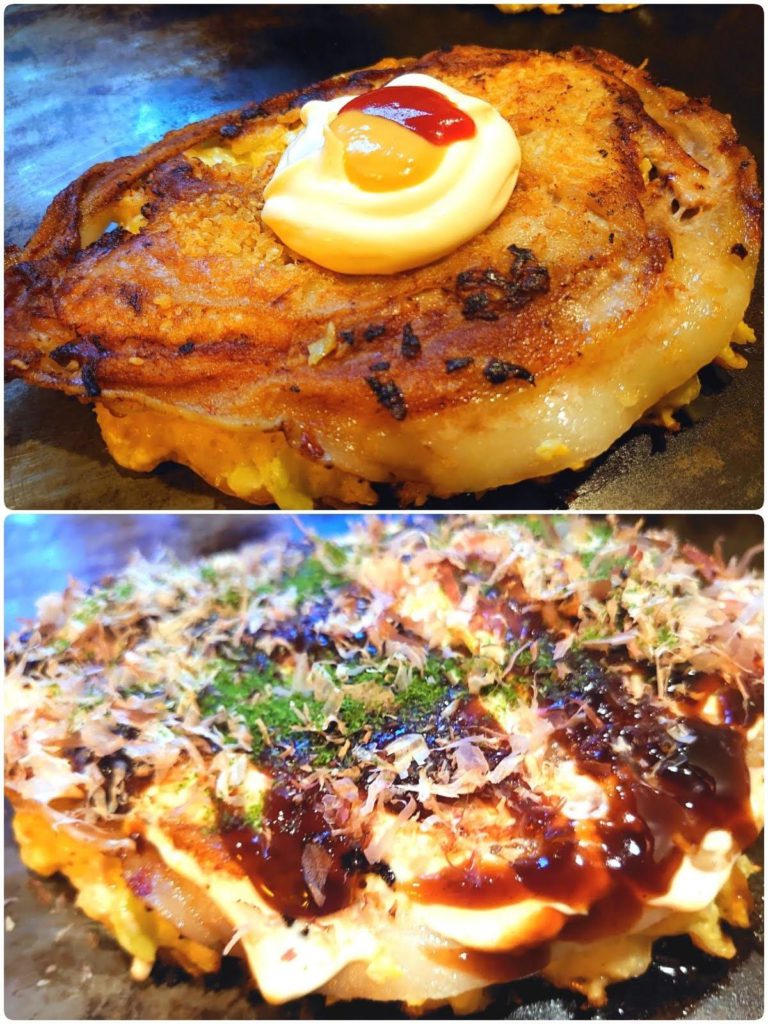 I recommend Buta tama (豚玉)which is okonomiyaki with sliced pork, and mix yakisoba with pork, squid, and shrimp. The noodles in this restaurant are thick and nice.You can walk to this restaurant from Sumiyoshi Taisha Shrine, which takes 30 or 40 minutes by walking. The tram also runs on the street in front of Sumiyoshi Taisha Shrine. From the Tukanishi tram stop to Zou-ya, it takes about 10 minutes by walking.
Zou Ya (象屋)
Address: 2-7-10 tamadenishi nishinari-ku Osaka City
Tel: 06-6657-1616
Regular holiday:Monday
Weekday open: 17:00~23:00
Sunday and National holiday open: 15:00~23:00
Neither one is a chain restaurant, so it's better to reserve in advance.
HOMEMADE OKONOMIYAKI
We Osaka people often make homemade okonomiyaki. It's fun to share the meal with family while cooking it.Okonomiyaki is a healthy and easy-to-cook dish. So if you are a housewife, this will be one of the most helpful and greatest dishes for you, I'm sure!
~Let's cook Okonomiyaki~
Ingredients (for about 3 servings)
A quarter of cabbage, green onions (with your preference), 3 eggs, 250g of okonomiyaki-flour (if you buy), tenkasu, 2-3 chikuwa (fish cake), a sliced pork (or squid, shrimp, with your preference), 100cc dashi soup (If you cook it with normal flour, it's better to prepare 250g tofu), okonomiyaki sauce (tonkatsu sauce), mayonnaise, bonito flakes, and seaweed flakes.
How to cook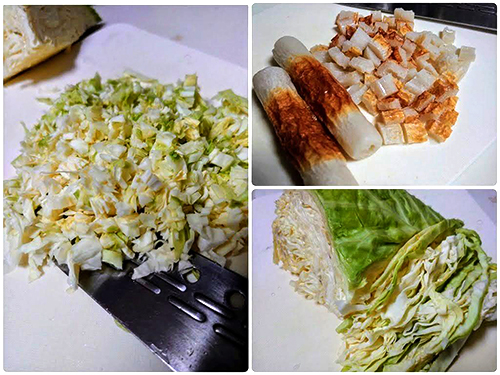 Cut cabbage and chikuwa into small pieces. If you don't have chikuwa, you can replace it with fish cakes or imitation crab.
---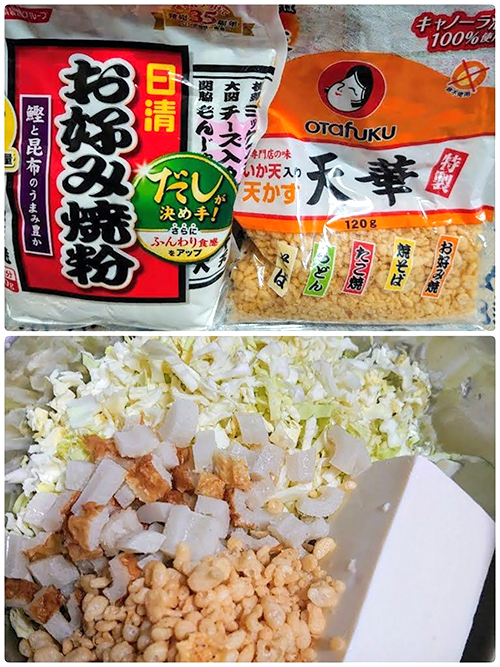 These are typical and my favorite okonomiyaki flour and tenkasu.
Any okonomiyaki flour and tenkasu is ok.
Ingredients Tip:
☆Instead of okonomiyaki flour, you can replace it with the normal flour and tofu together (You can refer to the bottom picture). In this case, I recommend adding dashi soup together. 
☆Instead of tenkasu, you can also replace it by cracking shrimp chips ("Kappa Ebisen" by Calbee かっぱえびせん)  into smaller pieces.
---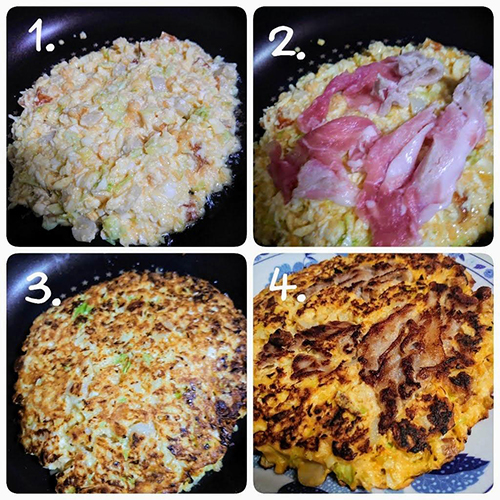 1. Put okonomiyaki dough in the pan and cook.
2. Put sliced pork on top of it (if you want to put seafood in it, mix it all together before cooking.)
3. Turn it over.
4. I recommend this side that the pork is on.
---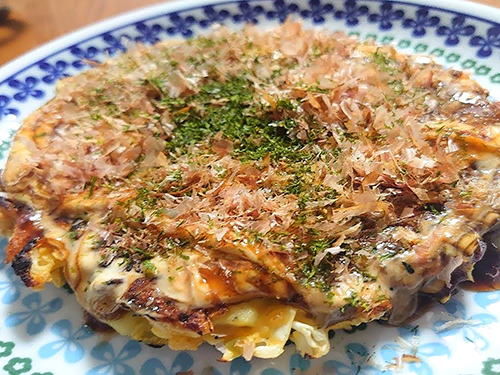 Put okonomiyaki sauce and mayonnaise on top of it and sprinkle bonito flakes and seaweed flakes.
Bonus recipe ~Okonomiyaki pizza!!~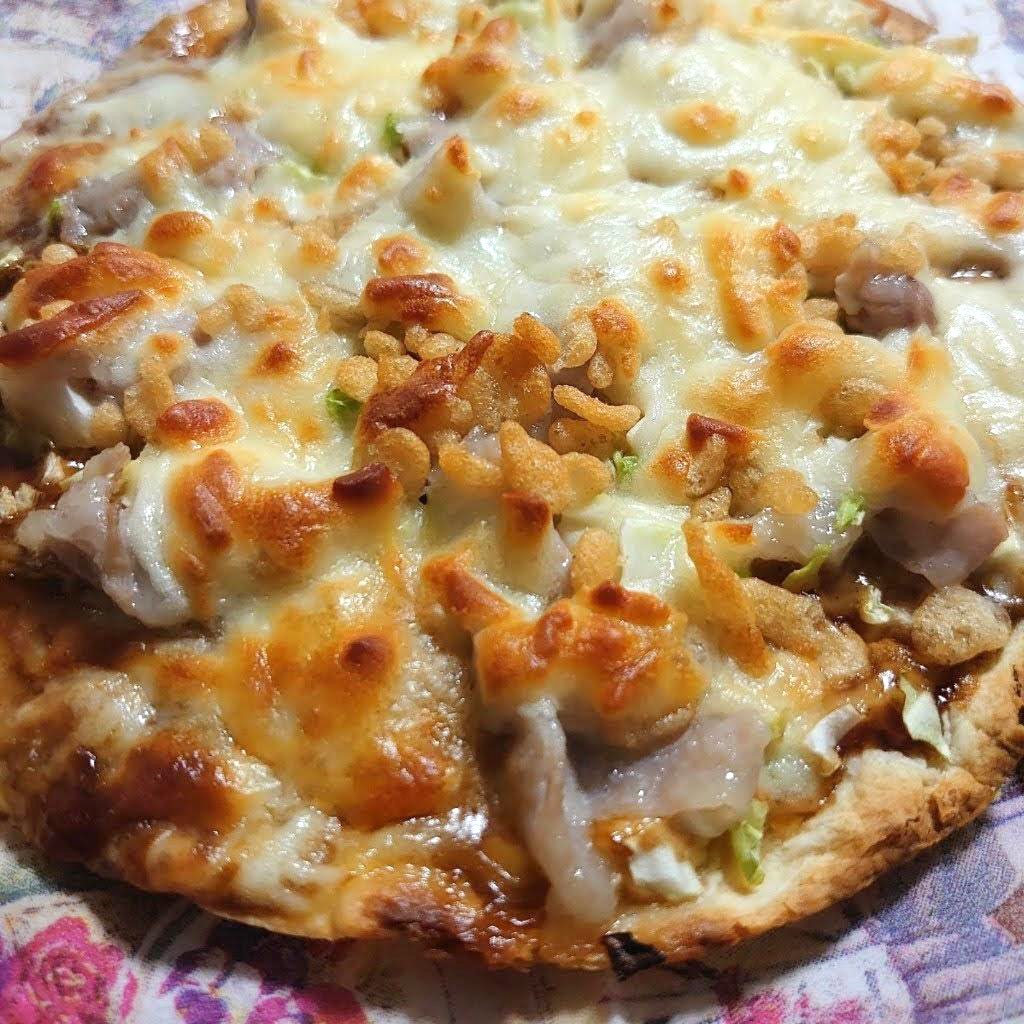 You need to prepare the ingredients below. It's very easy to make.
Flour tortilla, cabbage, sliced pork, tenkasu, tonkatsu sauce, mayonnaise, cheese, bonito flakes, and seaweed flakes.
Prepare minced cabbage.
Put tonkatsu sauce and mayo on the tortilla first.
Put sliced pork and tenkasu on it, and put the cheese last.
Bake it until the cheese melts.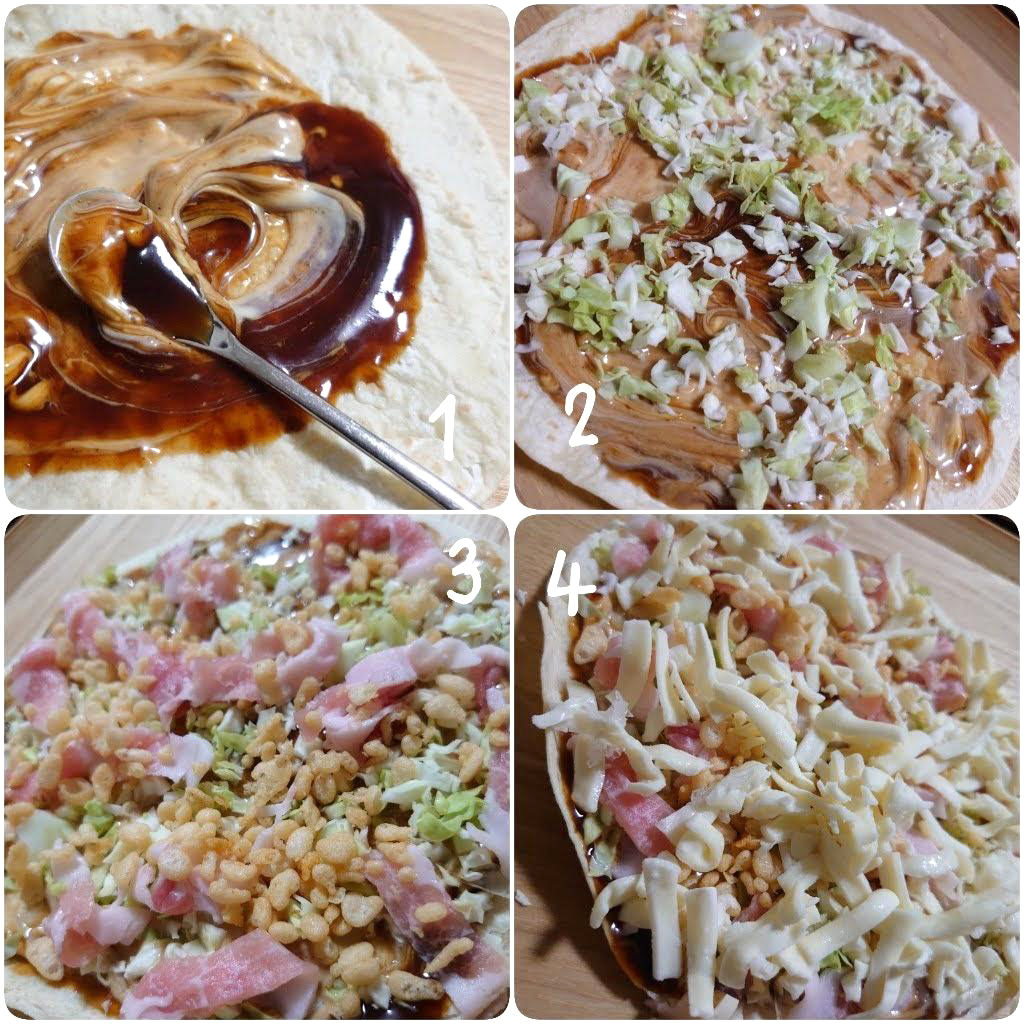 Thank you for reading my article until the very end. Did you find it enjoyable? Let's try to cook and taste Osaka okonomiyaki!!
See you~!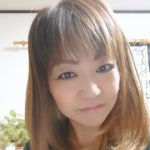 I'm a clay artist, and have my own shop in Ikaruga town, Nara, which is near Horyuji temple: world heritage site. And I'm a volunteer English tour guide there. I enjoy learning English everyday.