Takatsuki is a city located just at the halfway point between Osaka and Kyoto. Both JR and Hankyu express trains stop at it. There are large shopping areas around the station, mountains in the northern areas, and large rivers running through the city. And also Takatsuki has a long history from ancient times. Today, I'd like to introduce Takatsuki from a historical perspective.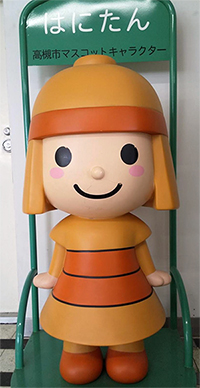 This is the mascot character "Hanitan" in our city. Do you see what it represents? Hanitan represents haniwa. Do you know what haniwa are? A haniwa is a clay figure. In ancient times (Kofun period), people used many clay figures for funerals and arranged them on and around the tombs. Although Haniwa seem so mysterious, Hanitan looks cute, doesn't it?
Imashirozuka-kofun(今城塚古墳)
Imashirozuka burial mound is the largest keyhole tomb in the Yodo River basin, measuring 181m in length. Including the double moat that surrounds it, the whole tomb is about 350m long and 340m wide. It is said to have been built in the early 6th century as the tomb of Emperor Keitai (継体天皇).
There are a lot of "Kofun" (burial mounds) throughout Japan. Among them "Imashirozuka-kofun"(今城塚古墳)is exceptional, in that people can enter the imperial burial site and walk around freely. Today, this site has been maintained as part of the Imashiro Daio-no-Mori Park. It takes 10-15 minutes to walk around the mound. So it's feasible. There are 16 informational placards at key points, which show where you are now. You can feel how big the tomb of the Emperor is.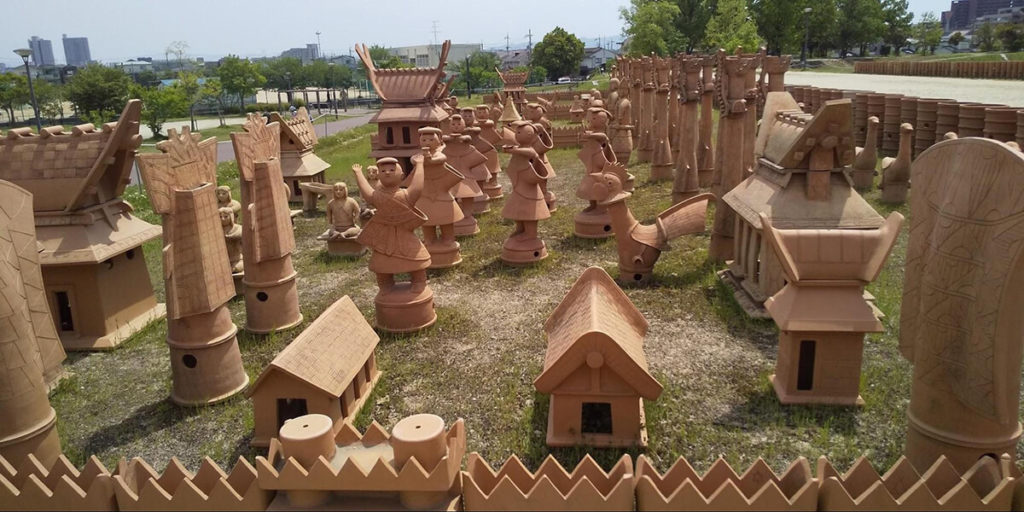 In Imashirozuka Kofun, a large number of haniwa (clay figures)were discovered along with other tools. And also the place where the ritual ceremonies would take place was discovered. (祭祀場). It was reproduced with fully-restored haniwa lined up in rows. It's a very popular photo spot. You can even touch them if you like. There are about 200 clay figures of houses, people, and animals in this area.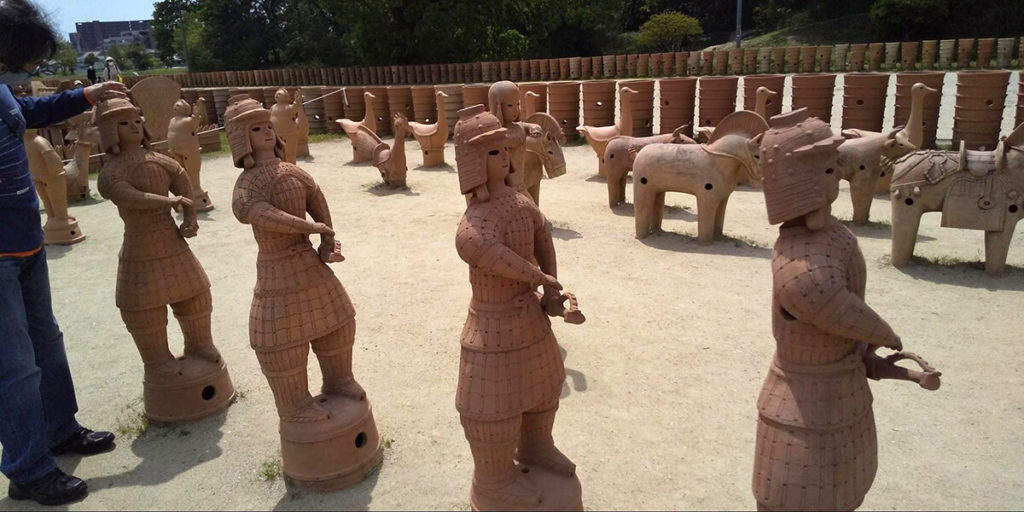 Ancient History Museum (今城塚古代歴史館)
Are you getting interested in ancient tombs and haniwa? Don't forget to stop by the Ancient History Museum adjacent to the park, where you can learn about the Kofun period (the later 3rd century to the early 7th century). For example, how did they build up the large burial mound and what did the different shapes of haniwa mean?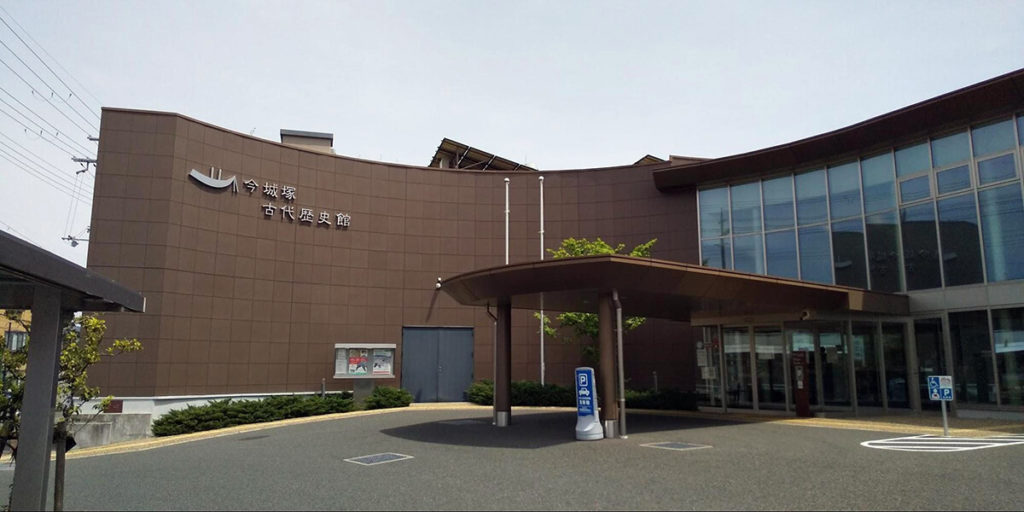 It's free of charge. It is spacious and well organized. There are so many exhibits that were excavated and elaborately restored, including the replica of a stone coffin. Each of them has a short English guide.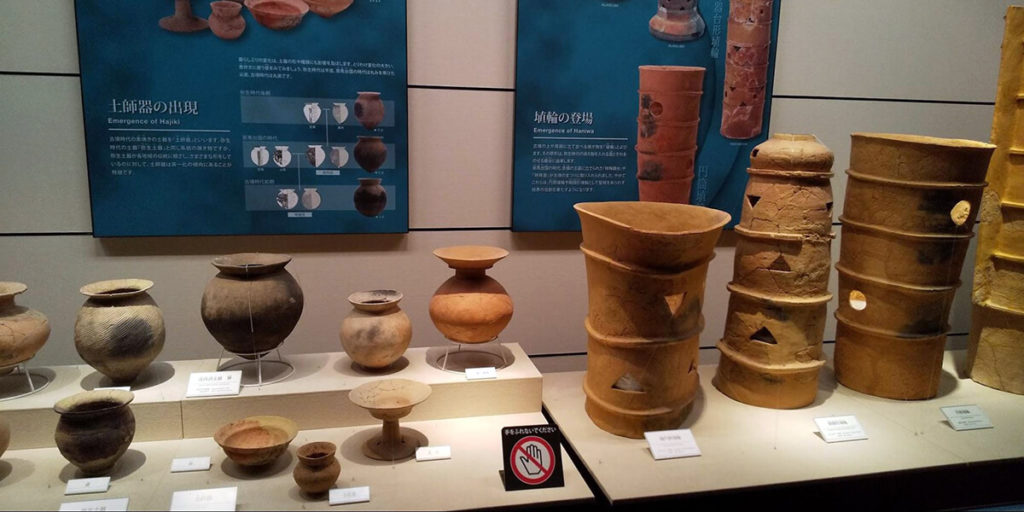 Note: The nearest station is JR Settsutonda(摂津富田)next to JR Takatsuki. It's a 30-minute walk or 15-minute bus ride from JR Settsutonda station. You can start from Takatsuki station, but there aren't many bus services. I recommend taking a taxi to go to the Imashiro Daio-no-Mori Park.
Ama site park(安満遺跡公園)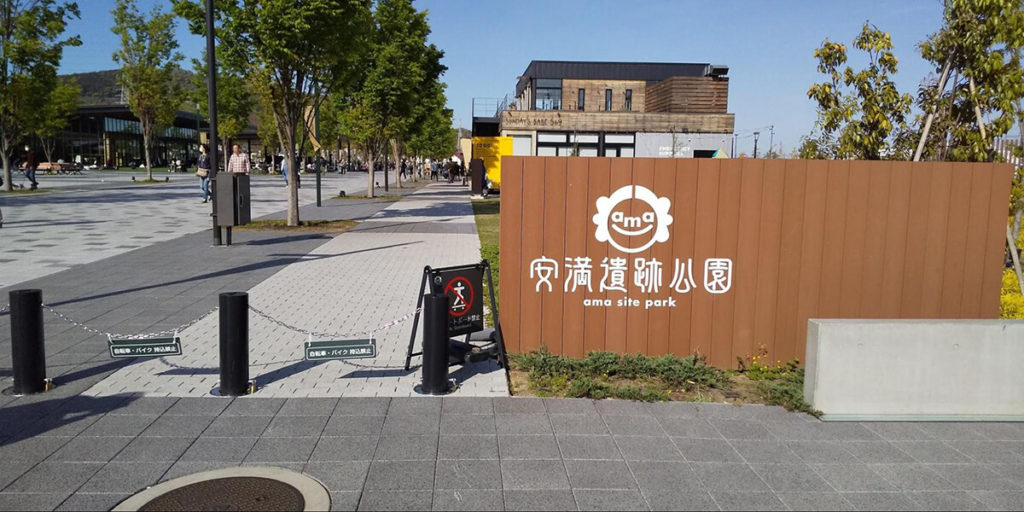 Let's date back to the prior period, Yayoi period (弥生時代). I'd like to introduce another national historic site, the Aman Ruins Park (安満遺跡公園). It was newly and fully opened in March, 2021. It's a vast and flat park located about a 15-minute walk from JR Takatsuki station or Hankyu Takatsuki city station. As you can imagine from the name, it is a valuable settlement site that reveals life in the Yayoi period. It was actually the ruins of a 2,500-year-old moat village (環濠集落) and designated as a National Historic Site in 1993. Coincidentally, this area had escaped the development of housing lots because it had been used as a Kyoto university farm. That's why the underground remains have been preserved in good condition. After long-term research, it was arranged into a large green city park of about 55 acres. Now, people spend their time in various ways in this park while they feel the lifestyle of the Yayoi people.
Distinctive characteristics of the Ama ruins
This is the only place in Japan where three areas are found and preserved.
A living area: It was surrounded by a moat to protect the village.
A production area: The first rice farming began, even footsteps of Yoyoi people were found.
A grave area: Square mounds and a wooden coffin were found.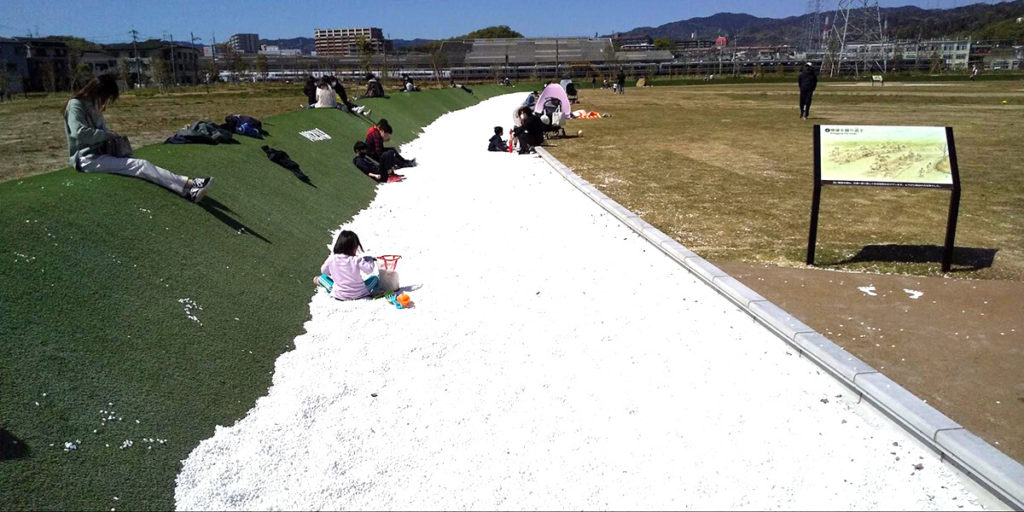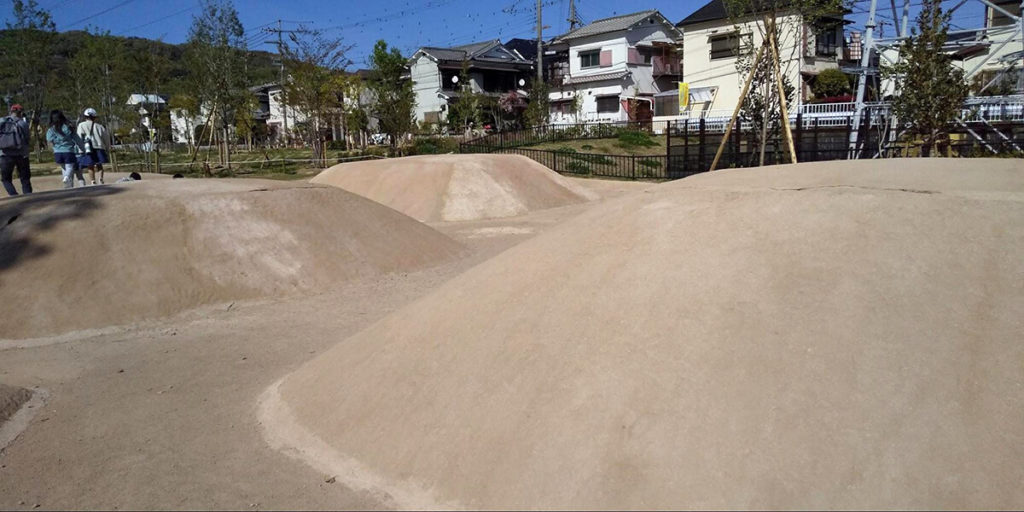 Let's go exploring in the park.
Starting from the main entrance, there are modern facilities along the street, for example, the kids area by BorneLund, and other areas for pets and for some events. Going through it, you can see a vast stretch of green lawns. In this "living area," where Yayoi people once lived, artificial grass is now shaped like a round moat with white stones as you can imagine it used to be there. In the "production area," the rice fields have also been reproduced. In the "grave area," some stone mounds have been formed and you can climb up. There are also some monuments of imagined ancient tools here and there.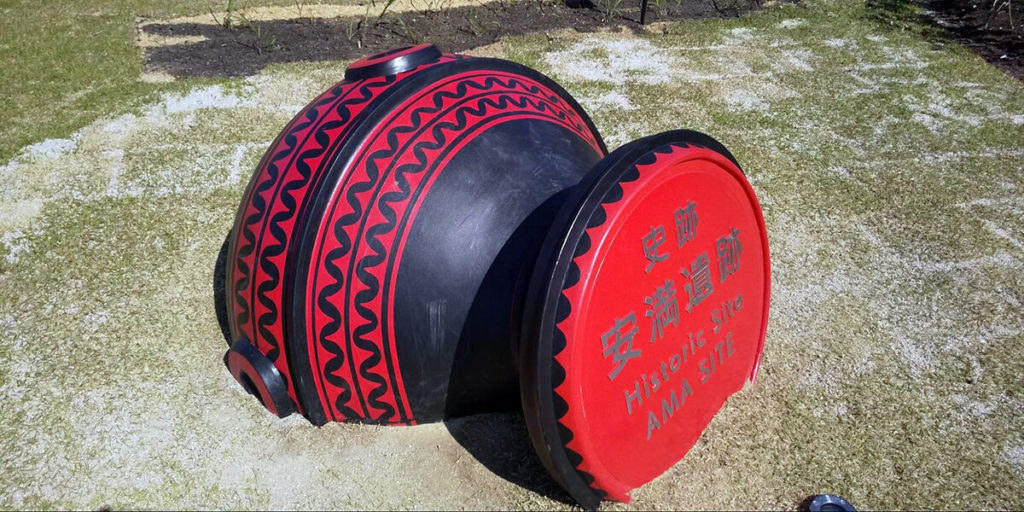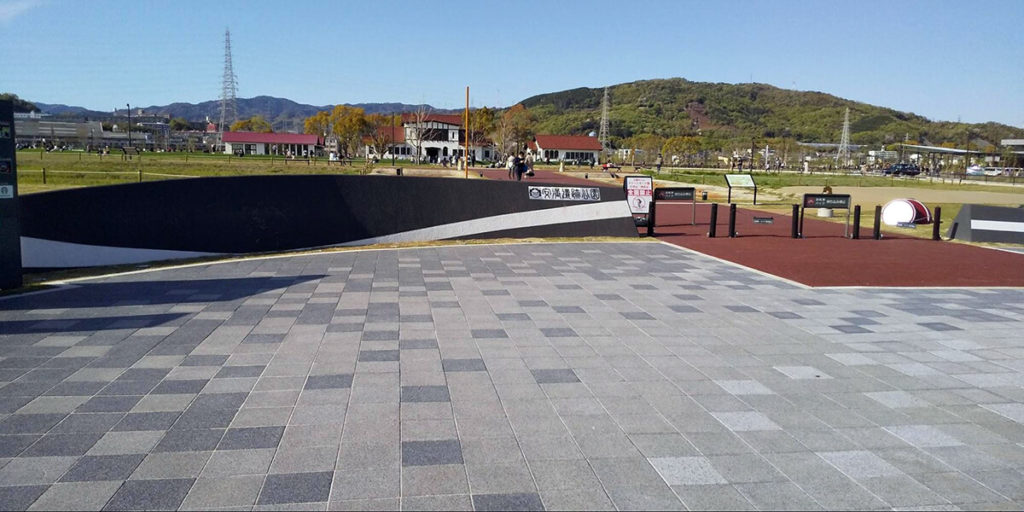 In the middle of the park, you can see some buildings with white walls and a red roof. These are about 90 years old and also historically valuable. They got renovated and now are being used as a restaurant, exhibition hall, and experience hall. In the gallery, you can see, touch, and feel the lifestyle of the Yayoi period. Make sure you go.
There are broad grass open areas as well as the new facilities in this park. It is a pleasant harmony between ancient times and the present. Why don't you lie down on the grass, take your mind off from daily life, travel into the past, and think about the life of people 2,500 years ago?
The park after night is also wonderful. The trees are lit up and the round moat will emerge out of the dark. That might take you to a mysterious world.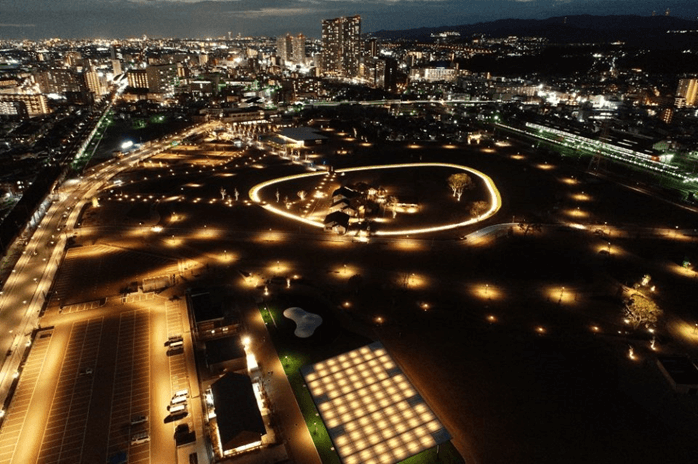 personal note
Although I have lived in Takatsuki for a long time, I was not familiar with its history. I learned a lot about these historic sites and I got interested in it. How did they build such big mounds by manual labor? What were the lives of people like? There are many unsolved mysteries about it. I'd like to thank Takatsuki city for excavating, maintaining, restoring, and sharing such a wonderful historical heritage. I would be very happy if you got a chance to visit our town.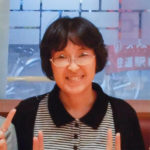 Lives in Takatsuki city, Osaka. Has been engaged in English for work and fun for years.