When thinking of Tokyo, what picture do you have in mind ? You might imagine a big city with high buildings crammed side by side, rail tracks throughout there, city lights never turn off (twenty-four seven) and a ton of people coming and going along the streets. Would you like to get away from the hustle and bustle for a while? If you want to do that, let's make a little side trip. There are some hidden spots where you can slip back in time to the old Japanese period (the Taisho – the beginning of the Showa era). I'd like to tell you 3 recommended spots and their short histories.
The Former House of Asakura 旧朝倉家 ( in Daikanyama)
Let's take a tour, shall we? You may know of the scramble crossway in front of Shibuya station, which is especially popular with people from abroad. Let's start there! After you watch the amazing flow of people from Starbucks, let's get on the Toyoko line and get off at the next station, Daikanyama. Daikanyama is popular with shoppers and tourists as a trendy area. "The house of Asakura" is about a 5 minute walk from Daikanyama station.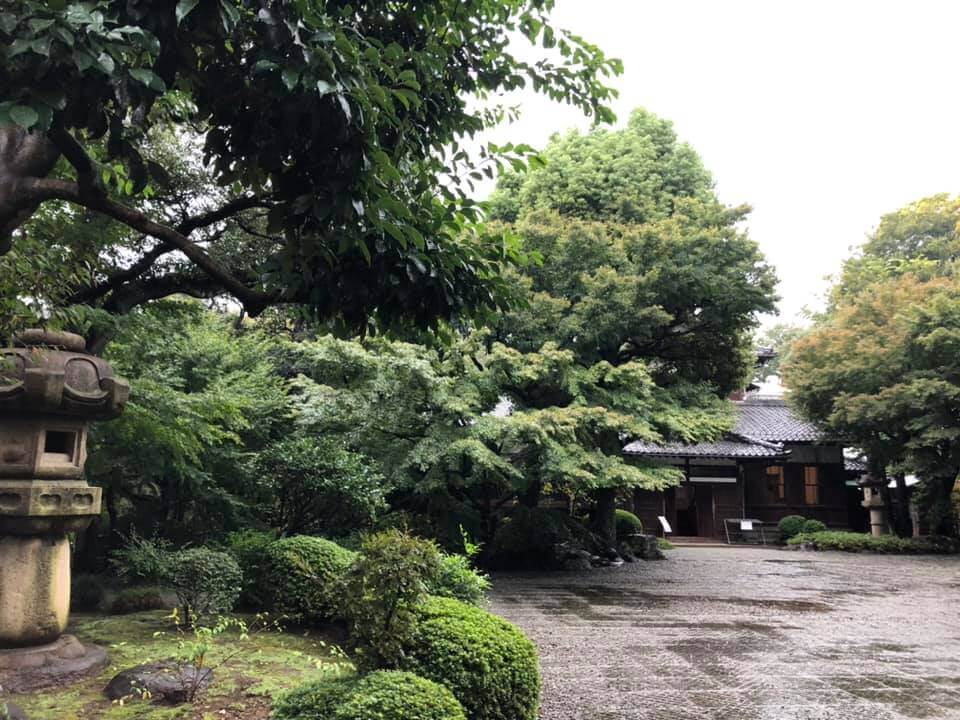 When you pay the admission fee (regular price is 100 yen, but if you're 60+, it's free!), you can look around the typical Japanese house and garden in the early 1900s. This house was built as a private house by Mr.Torajiro Asakura, who served as the chairman of Tokyo and Shibuya senate in 1919 (Taisho 8). It's a two-story wooden house and most rooms have tatami flooring. You can see exquisite workmanship, such as the ranma 欄間, which is a carved wooden fanlight, and the painting on the wooden door there.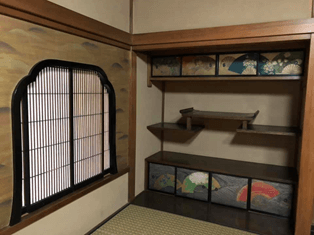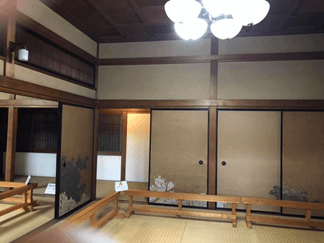 The garden is called "circuit style garden 回遊式庭園." In the garden, they have a water line and some big stone lantines. You can enjoy four season's view: tutuji flower in spring, green leaves in summer and autumn leaves in autumn.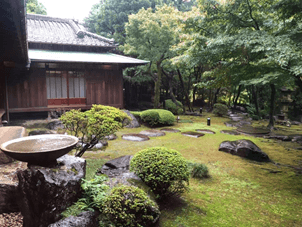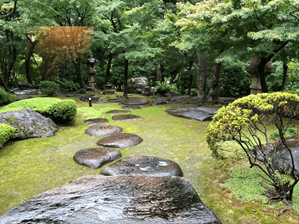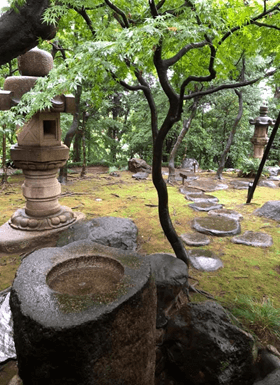 ★I especially recommend the "the autumn leaves half-day walk" course anytime from the end of November through the beginning of December. First, you need to start from Gaienmae station on the Tokyo metro line. Then, you walk along the gingko street, it takes 5 minutes from the station. After you enjoy the yellow autumn leaves, you head to Shibuya station and go down Aoyama street on foot. You will be there in 30 minutes, but you can walk without feeling tired because of all the window-shopping. Finally, when you get on the train for just one stop, you can share the beauty of red autumn leaves at "Former the house of Asakura."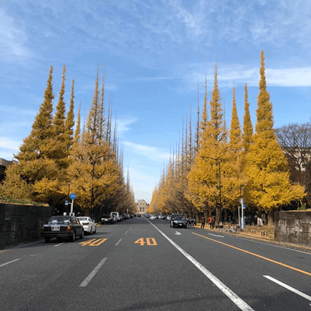 The red autumn leaves in Former the house of Asakura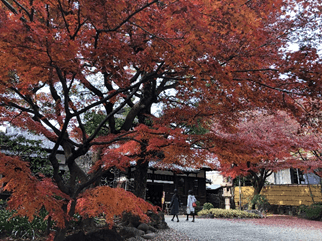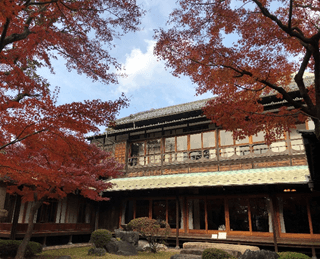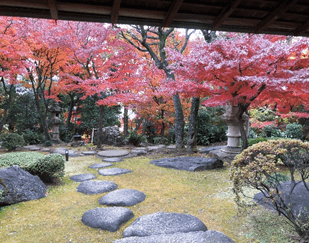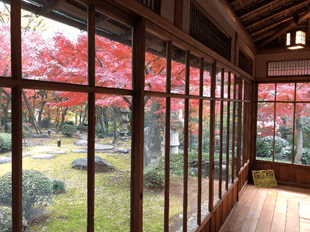 Attention: If you are 60-years-old or over, your admission is free, as long as you bring your ID, passport or driver's license.
Tokyo Metoroporitan-teien-musium (in Shirokanedai): Former Residence of Prince Asakano 旧朝香宮邸 
Let's say that after a long week of commuting on the packed trains of the Yamamoto line, which arrive every 3 minutes, you might feel like getting away. In that case, it would be good to get off at Meguro station and head to the Tokyo Metropolitan-teien-museum—it'll only take you about 7 minutes on foot. (You can also use the Tokyo metro and get off at Shirokanedai, which takes 6 minutes on foot.)
The area around there is called Shirokanedai and there is known to be a high-class residential area. People who live in this area are called "shiroganeze," which means "snobby rich people." The area here was called the shirokane demesne 白金御領地 of Tokugawa Shogunate on Edo period and there was the Matsudaira, Takamatsu Domain compound 高松藩松平家下屋敷.
This residence was built by Asakano-miya, who was one of the members of the imperial family in 1933. He studied abroad in France during that time, and he was fascinated with deco style. After he came back to Japan, he built a private residence and worked with famous designers like Rapin and Lalique, as well as some Japanese artisans, to incorporate deco style. The rooms are definitely worth a look!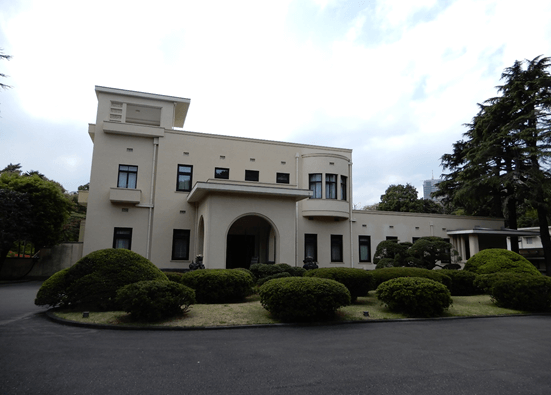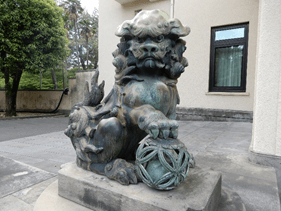 It has typical Japanese gardens with miniature hills and a pond, the traditional tea ceremony house, a Western garden and a spacious lawn garden on their property. Whenever they have an exhibition, you can also look around it by paying the admission fee: 1,000 yen (65+ = 500 yen).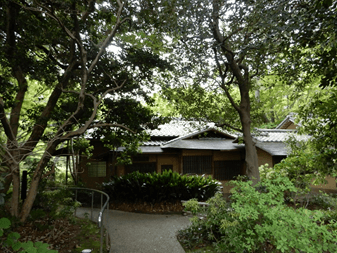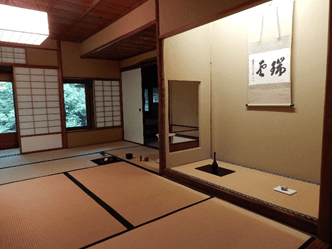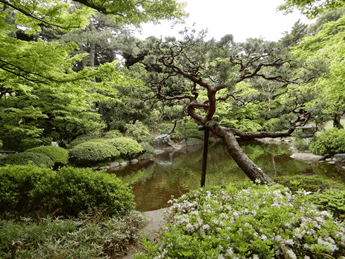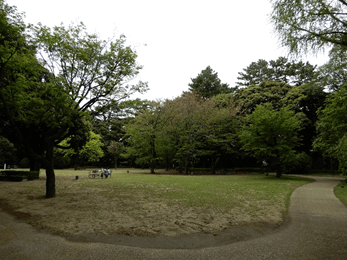 ★My recommendation: If you want to stay just in the gardens, let's choose the garden ticket that only costs 200 yen (65+ = 100 yen). You can see some families playing with their kids on the lawn. But please don't litter, and be sure to carry your trash home, because there is no trash box. They have the café and the French restaurant there. So you will enjoy all that this area has to offer!
Former House of Shirasu 旧白州邸 "Buaisou 武相荘" (in Machida city,Tokyo)
Shinjuku is the busiest station in the world. Imagine this: While you look scornfully at the tons of passengers in the station with you, get on the Odakyu line and get off Tsurukawa station, which should take about 30 minutes. "Buaiso" is a 15 minute walk from the station. "Buaiso" was named after two means. One comes from geographical areas located on the border between the Musashi 武蔵 area and Sagamihra 相模原. So, from 武 and 相, the first word of both areas, we can combine them and say "Buai" in Japanese. The other is because the sound "Buaiso" is same as "abruptness 無愛想" in Japanese. The owner chose this name because the words rhyme! The owner of "Buaiso" was Jiro Shirasu, who received his education at Cambridge University and worked as an aide for Prime Minister Shigeru Yoshida after World War II. After that, he then spent the rest of his life quietly, no longer in a position of power. His wife Masako from countship was an art historian and essayist. She built a friendship with some well-known novelists and potters.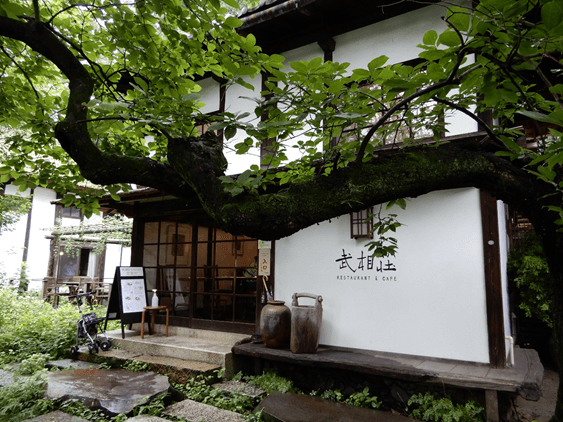 They renovated the battered house with a thatched roof, which they bought in 1943, and turned everything into tasteful and comfortable rooms with both Japanese and Western styles. The house was opened as a museum in 2001. When you pay the admission fee (1,100 yen) and come into the traditional wooden house, you can look around their collections, including kimonos and pottery, displayed in time with the four seasons. If you are interested in antique and interior goods, they will give you the happiest moment.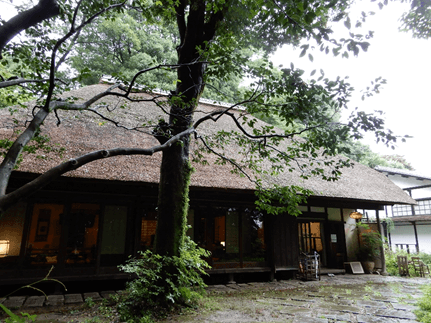 After you view the collections, you can take a walk in the garden with the bamboo grove. You can also have lunch, dinner and coffee at the retro looking restaurant.They have some old-fashioned menus, rice omelets,  and bowls of rice with chicken and eggs etc.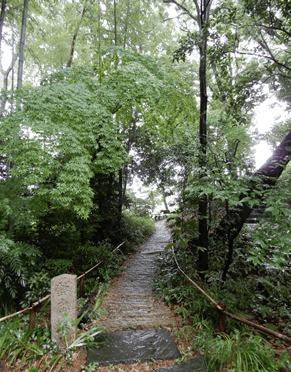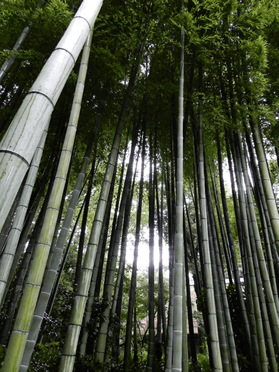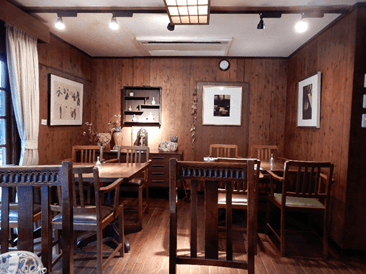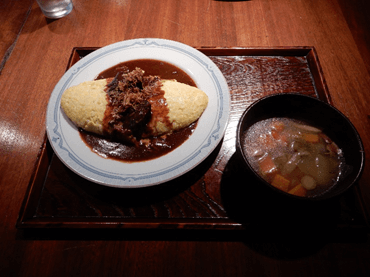 ★My recommendation: Every year, they offer some special events, such as Noh 能 and the antique market, in tribute to Masako, who has a detailed knowledge of Noh and antiques. These events are great opportunities to connect with Japanese culture!
Attention: They don't allow children under elementary school-age to come into the museum, but you can enjoy the walking path in the garden free of charge.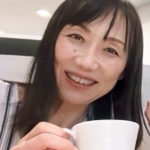 Business training instructor. I'm originally from Takarazuka in Hyogo Prefecture in the Kansai area. Now I live in Yokohama. I love exercising, traveling, watching movies, art, and nature.