I can say that Radio Exercise or "Rajio Taisou" (ラジオ体操 ) is one of the characteristic parts of Japanese culture. It is one of the common features of summer in Japan. It's not too much to say that Japanese, young and old, know about calisthenics to radio music and can do it. Our bodies move naturally if we hear the theme song and piano sound.
Have you ever seen elderly people gather in the park and do calisthenics? Have you ever seen some kids gather in the park or school early in the morning during their summer vacation? Have you ever seen every student doing exercises in their physical education class or in Japanese anime? Have you ever watched that kind of program on TV?
This calisthenic program is a 10-minute exercise program that is broadcast on NHK, (Nihon Housou Kyoukai) Japan public broadcasting station, guiding warm-up exercises along with piano music. It was designed for anyone at any age to do by themselves and there is also a version that allows us to do it while seated, so everyone from children to the elderly can join in. It is noted as a simple and effective exercise that uses the muscles of the whole body with simple motions.
History of the Rajio Taisou in Japan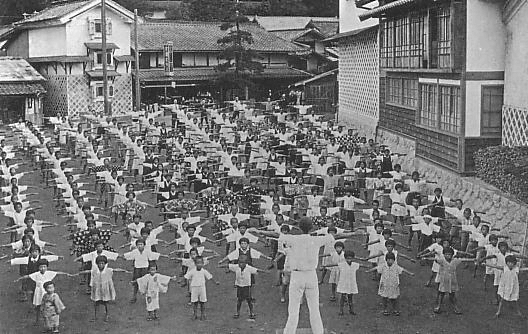 It was originally made and broadcasted in 1928 for the purpose of improving the health and physical fitness of the general public in Japan. Actually, it was established in the U.S. by the Metropolitan Life Insurance Company, and Japan referenced that and made a Japanese version. Ever since then, this tradition of Radio Exercise has been incorporated into a lot of Japanese people's routines.
【TBSスパークル】1928年12月22日 ラジオ体操始まる(昭和3年)
When the war began in 1937, the Rajio Taisou was called "National Group Calisthenics." The national government noticed that doing all of the same movements in sequence flowing along with the radio had the effect of giving the participants a shared feeling of unity. It meant that Rajio Taisou made them become one, letting people's minds and bodies be citizens who were responsible for the war. It was held all over the country at the same time by radio. Calisthenics to the radio became an important activity to mobilize the national spirit for the war.
In 1945, due to the deterioration of the war situation, it was difficult to broadcast but it should be noted that radio continued to be broadcast three times a day up until just one day before the declaration of defeat.
As postwar reconstruction progressed, people hoped for the revival of radio exercise and a new version was devised. The first version was re-edited after World War Ⅱ, but this second version was too difficult for everyone to spread. So, the third version of today was established in 1951 and has been used continuously for the last 70 years. The theme song was written in that year but they didn't use piano music at that time.
This Rajio Taisou spread especially through the country in the 1960s and 1980s. A lot of people would often join it during summer vacation. Primary school students gathered for the activity at the small park or the school in the neighborhood at 6:30am.
Gathering for "Rajio Taisou" Exercise
(Rajio Taisou no kai ラジオ体操の会)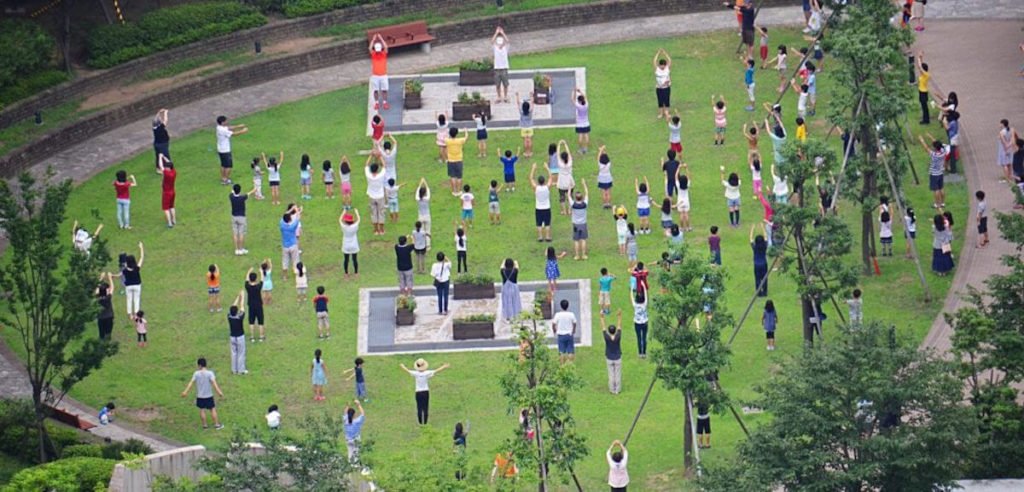 These exercise habits have been continuing since a few decades ago. Compared to the old days, the proportion of communities and children doing them is decreasing, especially in urban areas. However, it has still been going on in various parts of Japan, and it's been posted on YouTube lately as well. Like Ueno Park in Tokyo, Osaka jo-castle park in Osaka, Kamogawa river bank in Kyoto, and so on. It is also held for adults by local volunteers for the purpose of doing exercise and creating community spirit within the neighborhood.
Basically, students in many schools do exercise in their physical education class as a warm-up. We might also learn it in physical education classes when we are kids. Some companies hold those exercises for employees at work places with the aim of preventing injuries, raising their motivation and having group consciousness and so on.
What kind of contents do the exercises have?
The entire exercise program is divided into two sections including 13 different motions in each section for approximately 3 minutes. The first section aims to improve physical strength regardless of age. It is called the Radio Exercise part one or "Rajio Taisou Dai ichi." (ラジオ体操第1) The second half targets a younger generation, mainly for the purpose of training muscles and is called the Radio Exercise part two or "Rajio Taisou Dai ni." (ラジオ体操第2)
These are the standard 13 motions in part one.
1. Rotate and stretch your arms
Raise your arms up from forward, stretch your back and down your arms from your side.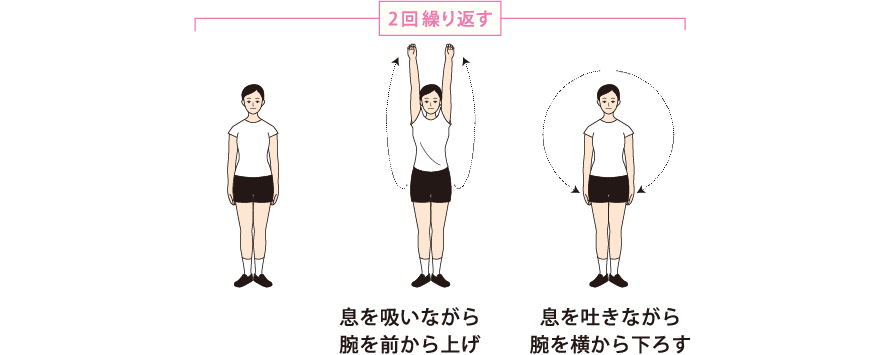 2. Cross and spread your arms while bending your legs up and down 
Swing your arms and bend your knees.

3. Rotate your arms
Swing your arms in full circles to the outside then inside.


4. Lean backward (chest out)
Spread your legs to the left, shoulder wide, and swing your arms then stretch your chest with an inward breath.
5. Twist your body sideways.
Bend sideways with one arm up, over head, stretch your side from the right side twice, then the left side.


6. Bend your body back and forth
Bend forward to touch the ground 3 times and bounce with hands on your waist and backbend.


7. Twist your body from left to right
Swing your arms and twist your body, to left then to right.

8. Stretch your arms up and down
Hands on your shoulders with your legs spread to the left, stretch up then down.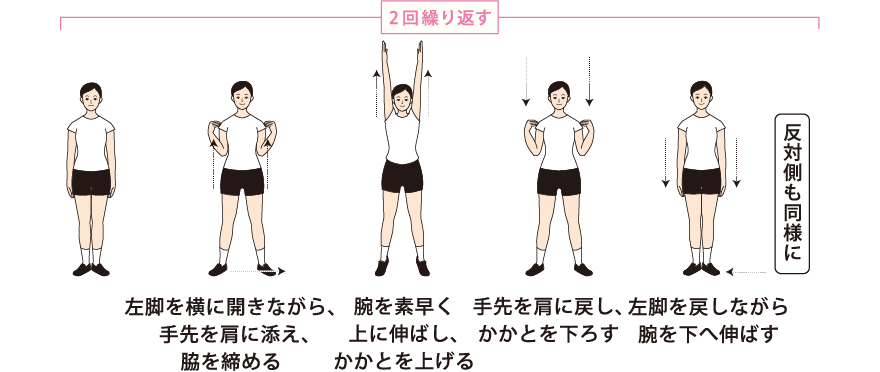 9. Bend your body diagonally downwards and chest out
Bend at the waist for your right toe twice then up and open your arms, stretch your chest then down for the left.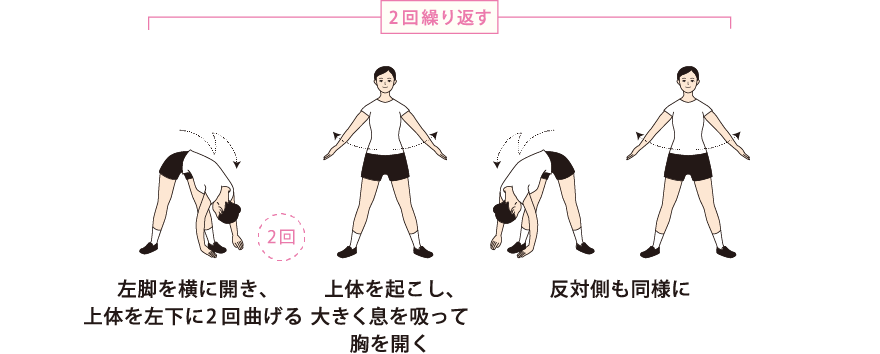 10. Rotate your whole body
Make a circle your upper body one way, then the other way.

11. Jump with both legs
Hop on both feet up 4 times, then spread and close your legs twice.


12. Spread your arms then bend and stretch your legs
Swing your arms while doing light squats.

13. Breathe deep while stretching both arms slowly
Control your breath, take deep breaths in and out with your arms going up and down.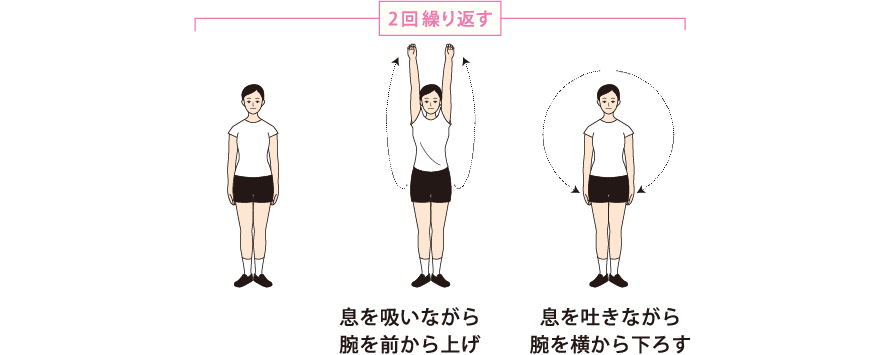 Give it a try along with YouTube !
So now, I think you are ready to do the Rajio Taisou, right ? Let's just mimic every motion! You also can check out the videos in Japanese uploaded on NHK's official YouTube channel here, Part 1 and Part 2.
Additionally, I found a helpful YouTube channel to learn this exercise by Japanese construction company, Tokyu Kensetsu. It's pretty usual for employees at construction companies,or freight companies to do this kind of exercise as a warm-up at the beginning of their shift. They said on the top page,
"Aiming to eradicate occupational accidents in the construction industry, and to revitalize communication between diverse people working on construction sites. In the future, we think that creating an atmosphere where people can easily talk to each other at construction sites where diverse workers are increasingly mixed is the first step in reducing disasters. Please use the radio exercise at the beginning of the business as a chance to activate people's communication."
So, you may see how those exercises are held at some workplaces in Japan from this English-version video. Please let me know what you think of our funny habits.
For your information, if you are in Japan, you can watch or listen to the programs on the NHK official channels below. Radio app "rajiru rajiru" (らじるらじる) NHK is available in Japan. https://apps.apple.com/jp/app/id473937342 (Japanese only)
<TV>
総合 (NHK Sougou)
2:55〜3:00 PM on Mon and Wed
Eテレ (E tele/ NHK kyouiku)
6:25〜6:35 AM Every day
<Radio>
ラジオ第1 (NHK Radio 1)
6:30〜6:40 AM, Every day
ラジオ第 2 (NHK Radio 2)
8:40〜8:50 AM, 0:00〜0:10 PM, 3:00〜3:10 PM on Mon to Sat
The attendance sheet
(ラジオ体操出席カード)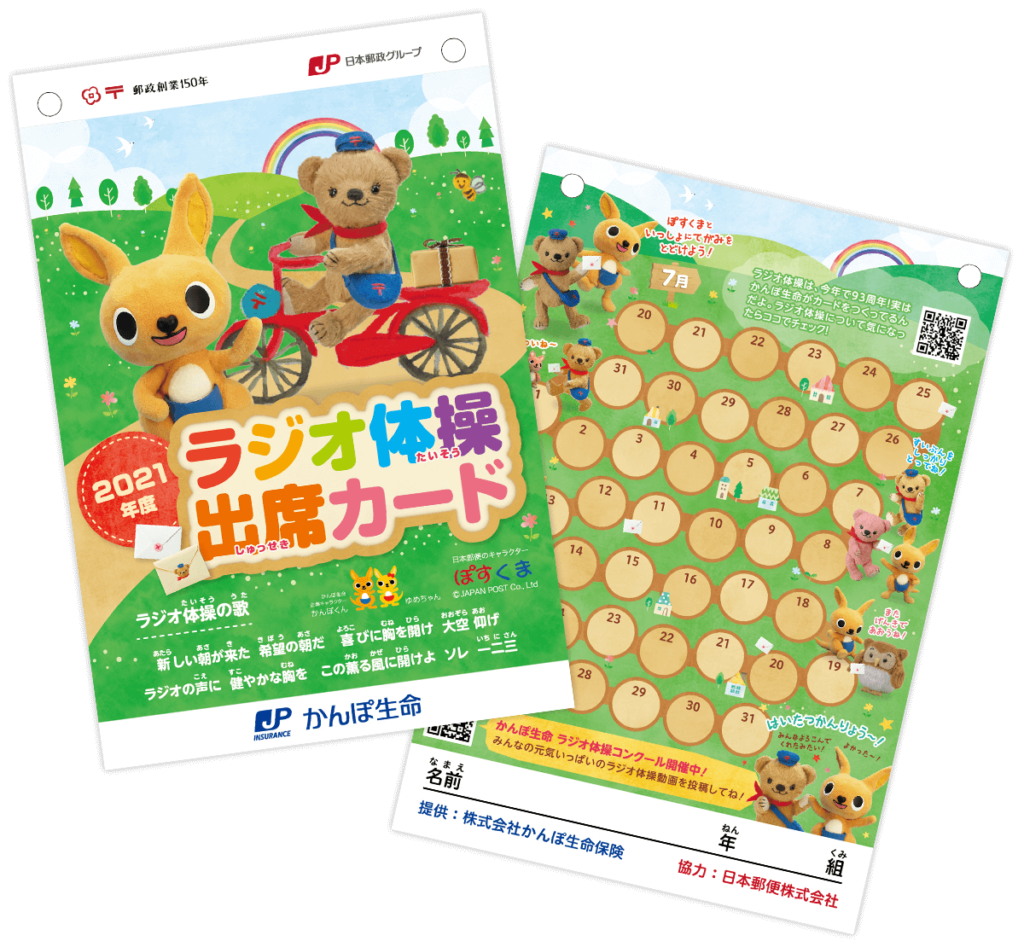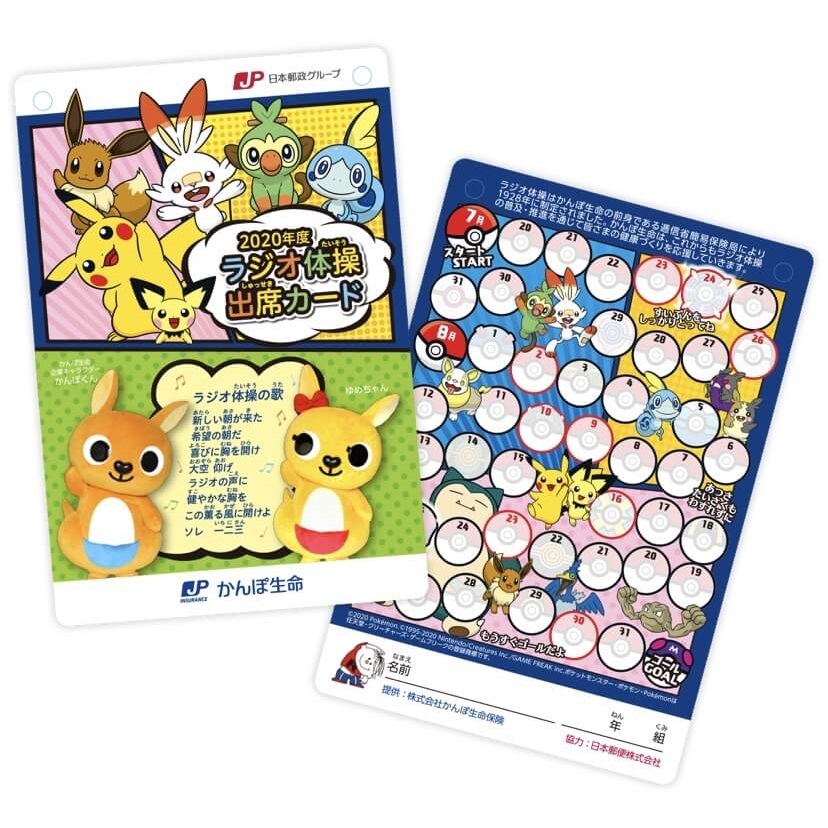 What drives students to come to the Rajio Taisou in the early morning during summer vacation while rubbing their sleepy eyes? It's obviously for an attendance sheet. After the exercises, children get stamps for the attendance sheets during their summer vacation.
When I was a kid, I used to feel joy at the stamps that accumulated on the card, or feel something like guilt if I didn't get stamps for the rest.
An attendance sheet was often handed out by the school or community where you live. It's also available at every post office or their website that is a main sponsor for Rajio Taisou. Please enjoy it on your own!
The Rajio Taisou was such an easy exercise that a lot of people who had to stay at home participated again during the pandemic in 2020. Apparently, about 10kcal was burned in 3 minutes and 11 seconds of the Radio Exercise part one exercise. If you're stuck in a rut by working from home and you need a change of pace, the Rajio Taisou must be a good idea.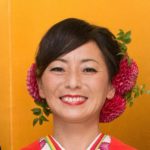 Diving instructor, tour conductor, and officially licensed Okinawan interpreter and tour guide. Yuka was born in Hiroshima but graduated from the Institute of Technology in Tokyo. After a few years of working as an engineer in Ibaraki, she settled down on a southern island called Ishigaki, which is located between Okinawa and Taiwan. For over 15 years, Yuka has been a guide and interpreter between nature and people. She is interested in cats, dolphins, traveling, spacecrafts, MARVEL, and Disney.