There are a lot of delicious foods in Japan, such as sushi, ramen, udon and so on. But don't forget about bread. Some people may think that bread is not from Japan. Exactly! But now, many kinds of bread are completely changed in a Japanese way, and I can say for sure that bread is one of the Japanese traditional foods.
After reading this article, you may decide to go to some bakeries in Japan. But hold on! There are a wide variety of breads in Japan. Even for a Japanese person like me, I feel Japanese bakeries have many kinds of bread. So, you must wonder which bread you should eat. But don't worry! I'll tell you which breads I recommend to you.
I asked about 90 Japanese people some questions about bread and wrote the next article based on the information!
What favorite pastries do you like the best?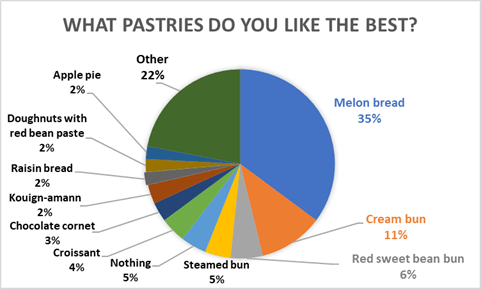 According to the questionnaire, the most popular bread is melon bread, the second most popular is cream bun, and the third most popular is red sweet bean bun. Surprisingly, all of them are from Japan. So now, I'll tell you about Melon bread, which is the most popular.
Melon bread
Melon bread is a bread baked with a crisp cookie-like covering and shaped to resemble a melon. It is crispy on the outside and fluffy on the inside. But curious to say, the ingredients in it are not melon!
In the 1930s, a bun with a cracked grid surface was sold in Kinseidou in Kobe. It is said that this was the first melon bread. Now, almost all Japanese bakeries sell melon bread. Same as the name, melon bread looks like a melon in general. Actually, however, this has a different shape and name depending on the area. For example, in parts of western Japan, especially Hiroshima, Kobe, and Kyoto, it's spindle-shaped ,like a rugby ball, and its surface is not lattice-shaped, like a melon but has several lines. As for the taste, sweet white bean paste or custard cream is the filling of melon bread in western Japan while nothing is in general. Furthermore, its name is not "Melon bread" but "Sunrise".
As I said earlier, melon bread with nothing inside is standard. But the variety of melon bread has been increasing in many bakeries recently such as melon bread with chocolate chips, with maple syrup, with whipped cream inside and so on. So if you have a sweet tooth, no doubt it's delicious!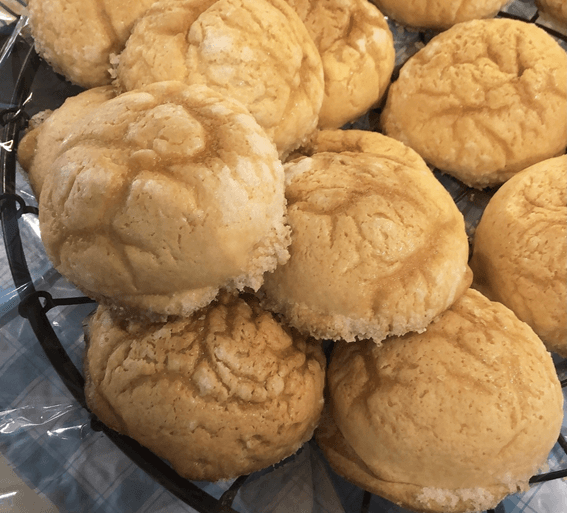 〈Bakeries famous for melon bread〉
LITTLE BY LITTLE " Namasyoku-Melon bread" (Chiba, Urayasu, Hinode, 5-5-1)
HAPPY HAPPY MELON BREAD SECRET BASE "Genkotsu-rock"(Saitama, Saitama,Minami ward, 7-7-5)
What savoury bread do you like the best?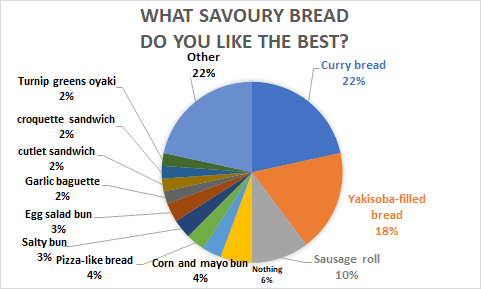 According to the questionnaire, the most popular savoury bread is curry bread, the second most popular is yakisoba-filled bread, and the third most mostpopular is sausage roll. Of course, you can buy all of them at any bakery. So next, I'll tell you about curry bread, which is the most popular in savoury bread.
Curry bread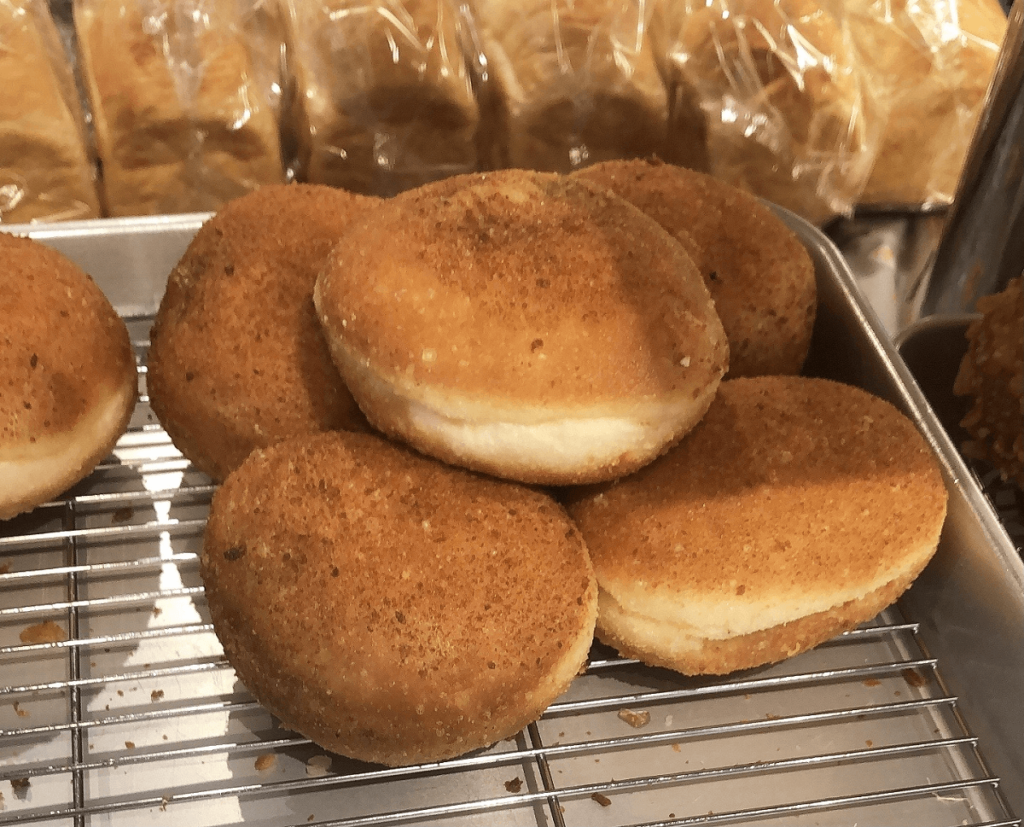 In general, there are two kinds of curry bread. One has a curry sauce filling and is baked. The other is a deep-fried donut and has a curry sauce filling. But you may not be able to tell them apart because they both look relatively similar. So if you can't tell which is which, feel free to ask any baker!
Either way, it has been loved for a long time. By the way, "Meikado" in Tokyo is said to be the origin of it. Nowadays, the bakery's name changed to "Katorea-Yougashi-store," but the original curry bread has still been popular and over 1000 pieces are sold per day.
Now, there are many kinds of specific curry breads in each country, the same as other breads. In fact, the Curry Bread Grand Prix is held every year, and the curry bread with shrimp and cheese filling won the Grand Prix last year. Besides, curry bread with pork fillet cutlet and even with oysters won a prize! That sounds interesting, doesn't it?
So, if you are interested in curry breads, you should try many kinds of them!
〈Bakeries famous for curry bread〉
BAKERY CHOPIN "Beef Curry bread" (Aichi, Toyohashi, Kawasaki,243)
PENGUIN BECKERY "Curry bread fondue"(Hokkaido, Sapporo, Tomakomai, Takuyu-nishi 1-13-11)
What bread would you like to recommend to travelers in other countries?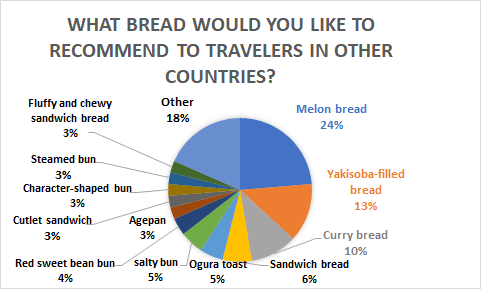 This is the last question. According to the questionnaire, the bread which we recommend to you the most is melon bread, second is yakisoba-filled bread and third is curry bread. All of them are ranked in the top 3 most popular pastries or sarvoury bread.
I already explained melon bread, the first bread, and curry bread, the third bread. So now, I'll tell you about yakisoba-filled bread, which I haven't introduced yet!
Yakisoba-filled bread
In accordance with its name, it is made by putting yakisoba into a hot dog bun. It's known as an iconic food of high school life, so many Japanese school romantic comedies have the scene where high school students buy some yakisoba-filled bread in school stores. Yakisoba sauce and a hot dog bun are the perfect combination, and this bread fills us up because it is a high-carb dish. As I said earlier, a lot of Japanese people like it so much. But on the other hand, I heard through the grapevine that some people in other countries can't imagine eating bread and noodles together. I have taken it for granted for a long time, but on second thought, it's true that many people may feel strange about eating carbohydrates and carbohydrates together. But, there are a lot of dishes like yakisoba-filled bread in Japan, such as chikara-udon, which has not only udon but mochi. I think the way to eat like this is part of Japanese culture. I know it is tough to try something you are not used to eating, but you must be into it if you like tonkatsu sauce or okonomiyaki sauce. So, just try it anyway! You might notice yakisoba and hot dog buns are the best combination!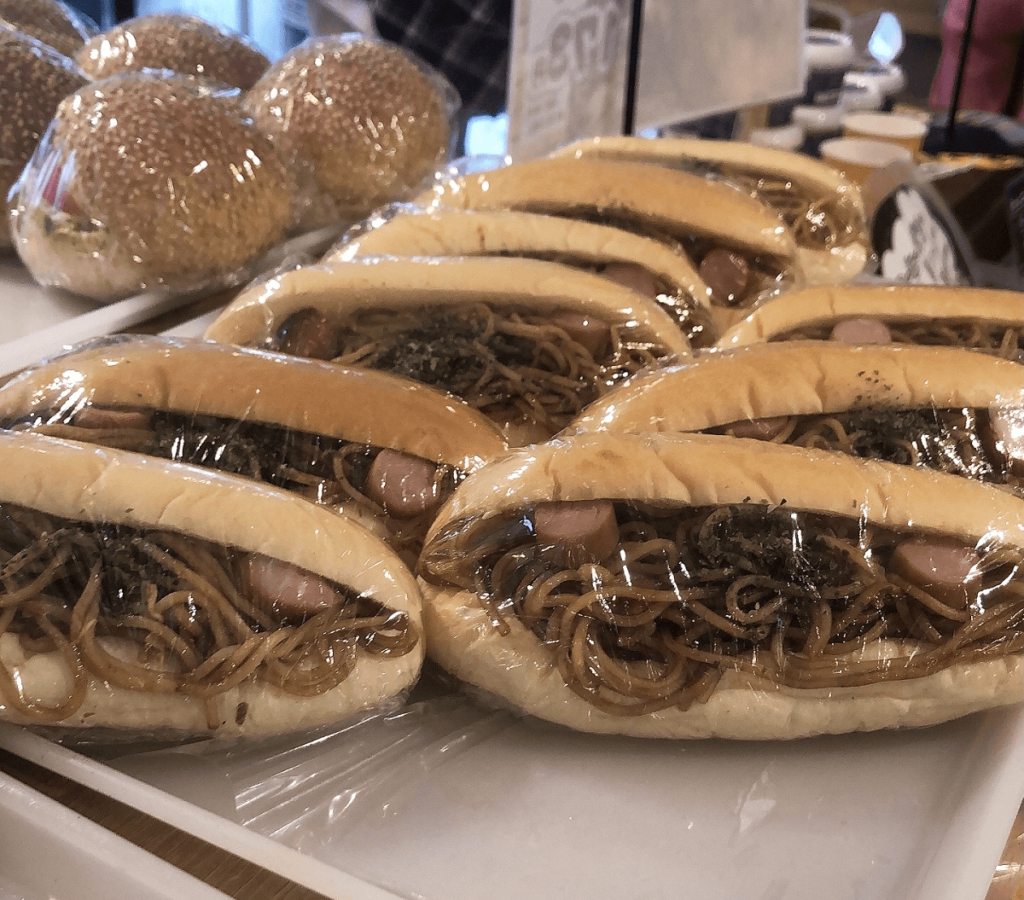 You can buy amazing bread at not only bakeries but convenience stores and supermarkets
I introduced some types of bread, but someone who knows Japanese food must already have tried them. Then how about the bread at convenience stores and supermarkets? Have you ever tried them? Actually, you can buy bread at those places for cheaper than at bakeries. It's sure that the bread at those places are slightly less tasty than at bakeries, but there are as many kinds of bread as at bakeries. Personally, I recommend "Pokemon-pan" to you if you're interested in Pokemon. Actually, it doesn't taste special. But I'd like you not to pay attention to the taste, but the free gifts and shapes. Pokemon-pan always comes with a Pokemon character's sticker as a free gift. There is a wide variety of stickers, so I often would collect them when I was little. Moreover, it's branded a Pokemon character, so it's just irresistible for Pokemon-lovers.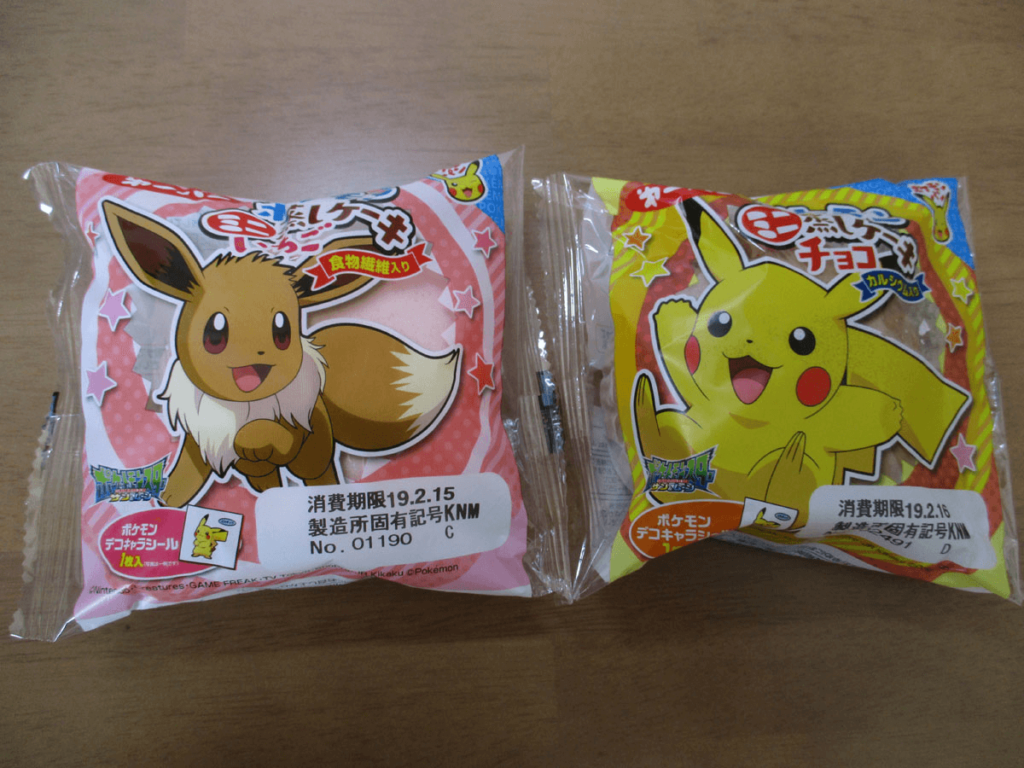 Finally
Did you find some bread which you'd like to try after reading this article? I have a lot of breads which I'd like to recommend to you, but there are too many kinds of bread to introduce to you. So, you should go to bakeries and find your favorite bread when you get the opportunity to come to Japan!
Let me know if you'd like to know any more of them! Thank you for reading the entire article! See you next time! Bye!
〈parts of recommended bakeries〉
Those surveyed told me their favorite bakeries. I classified these bakeries by area, so you should pop in them if you come to Japan!
Hokkaido area
・DONGURI(Hokkaido, Sapporo)
Tohoku area
・FRESH BAKERY ANGELINA(Aomori, Hachinohe)
Kanto area
・YUME-DUKURI ARTISANAL BAKERY(Kanagawa, Sagamihara)
・PETERPAN(Chiba, Chiba)
Chubu area
・HOUGETSU-DO(Shizuoka,Shizuoka)
Kansai area
・RYUGETSU-DO(Kyoto,Kyoto)
Shikoku, Kyusyu area and Okinawa
・Dacomecca(Fukuoka,Fukuoka)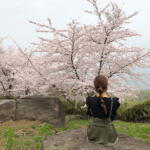 A university student in the Kanto area. She is interested in animals (especially dogs), Harry Potter, having delicious food, traveling many places, drawing pictures,  doing something fun, reading comics, learning English and talking to someone. Recently, she has enjoyed learning English and wanted to know about foreign culture and life. One of her goals is telling people in the world good things about Japan and experiencing different cultures.