It goes without saying that Tokyo is one of the most exciting and enchanting places in the world. Although there are plenty of amazing tourist spots, there are two towers that are the gold standard there – Tokyo Tower and Tokyo Skytree.
Tokyo Skytree was built in 2012 and has been attracting the spotlight since then. Its white-based modern shape is exactly fashionable. Also, it's outstanding because of its 634-meter height.
However, I bet there are many people who like the older tower, Tokyo Tower! I'm one of them. Today, I want you to feel the air around Tokyo Tower with me.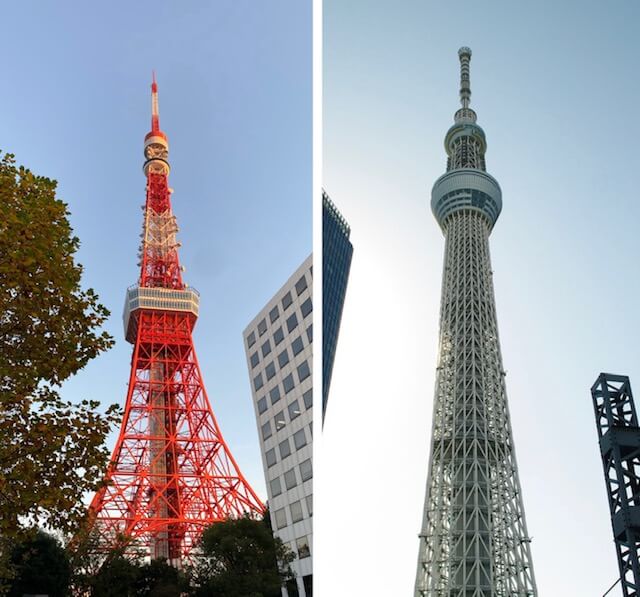 ☆Tokyo Tower is …
Tokyo Tower is a broadcast tower, which is 333 meters high. It started its business in 1958. At that time, it was the highest freestanding tower in the world. Now it is used as a spare broadcast tower of Tokyo Skytree.
There are two observation decks. One is 150 meters high, and the other is 250 meters high. The lower one is called the "Main Deck" and the higher one is the "Top Deck." In most cases, people use the elevators to go up to these decks. However, there is another way to reach the Main Deck: just walking up the stairs!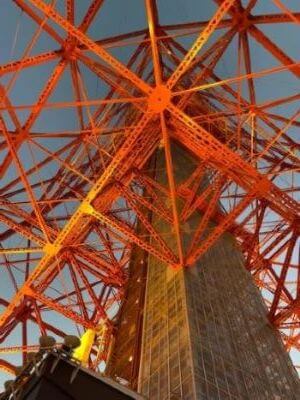 ☆Let's get started!
Even if you don't use the elevator, you have to pay the same fee to enter the deck. It costs 1200 yen per adult. Here is the rate list: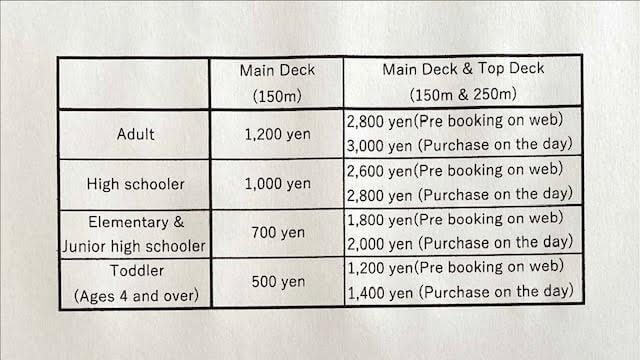 While many people line up to take the elevator, let's move forward to the starting gate for walkers! It says there are 600 steps to the deck. Don't worry. Just 600 steps!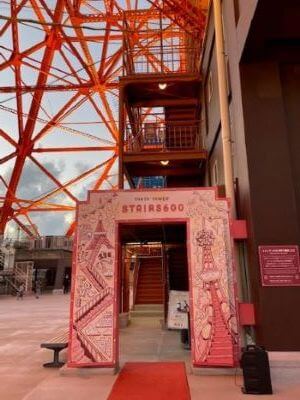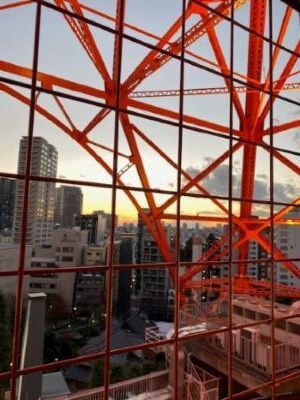 It is 30 meters high. The sign shows that they will throw the walkers some questions about Tokyo Tower. The quiz starts from the next sign. Will you join it a bit?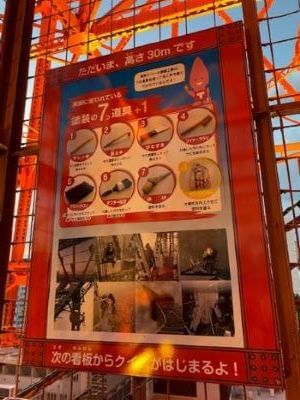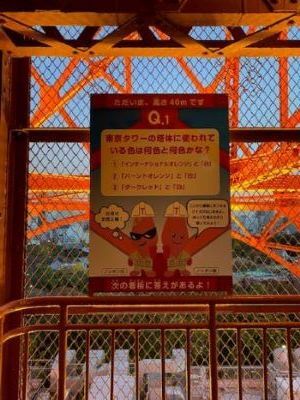 Q1: "What colors are used on the surface of Tokyo Tower?"
"International orange" and "white"
"Burnt orange" and "white"
"Dark red" and "white"
The answer is………#1! "International orange" and "white"
While answering some quizzes and enjoying the view from the tower, we've climbed half of the steps.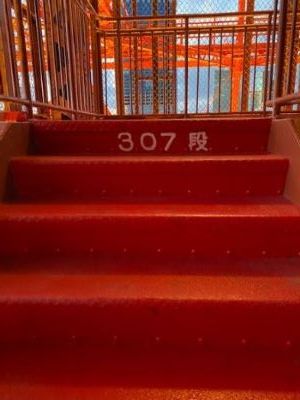 It's 90 meters high. Can you see the buildings behind the quiz board? They look smaller. The stunning scenery and the quizzes make me feel refreshed and revitalized.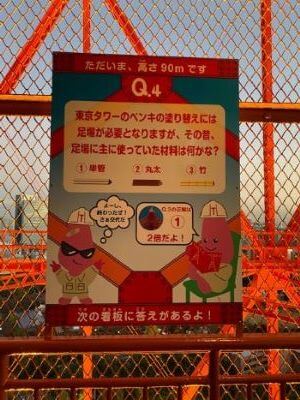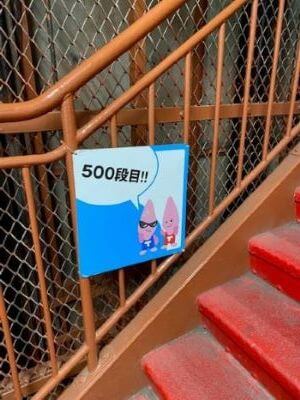 We've already climbed 500 steps. Last part of the steps are inside the building. Finally, the goal board welcomes you! It took only about 20 minutes from the starting gate. People who climb up the stairs can get a small certificate. They have 10 designs. Is it to make people crave climbing again in order to collect all designs?!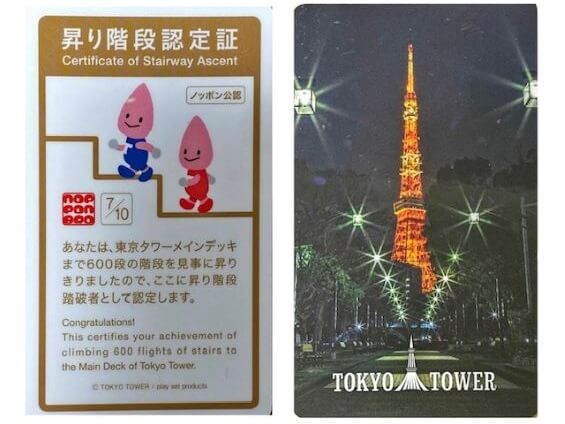 ☆On the "Main Deck"
While not many people climb up the stairs, there are a lot of people who enjoy the view of Tokyo on the Main Deck. When I went, I felt a bit strange being surrounded by all these people, as if I had returned to reality. When you're up there, you can do many more things on the Main Deck than just seeing the scenery. You can find plenty of items at a souvenir shop. Do you want to make your original medal? There is a vending machine where you can put your favorite message on a medal. Why don't you mail a postcard from 150 m high? There is a mailbox that you can use to mail. Also, I cannot help mentioning a new attraction called "Bungee VR." It is not real bungee jumping, but you can experience it using virtual reality. It doesn't operate every day, so please look it up beforehand if you're interested.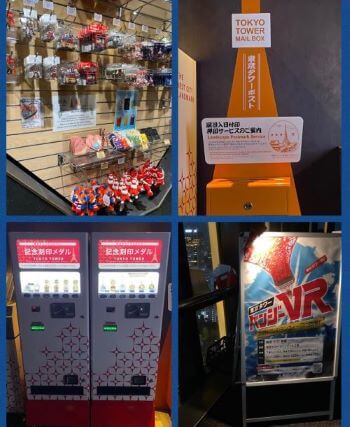 ☆Why stairs?
Thanks to elevators, everyone can go up the high decks and enjoy the extraordinary view easily. However, if you don't mind walking, I highly recommend you climb up the 600 steps to get this view. You can feel the slight changes of the view step by step. I personally didn't feel the ear-popping which I usually feel when I use elevators to high places. Also, the breeze through the steel frames is so cozy. Additionally, you'll have a sense of superiority and accomplishment when you see people come out from the packed elevator!
To get the 360-degree panoramic view of Tokyo, which would you prefer: elevators or 600 steps?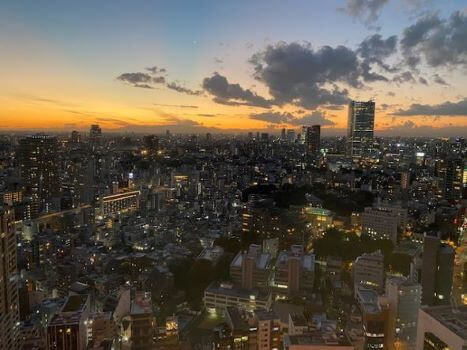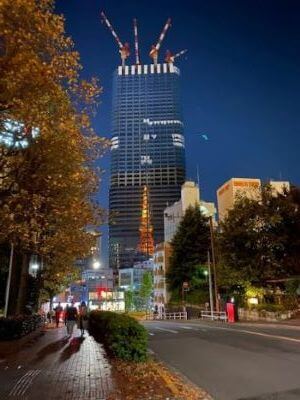 Tokyo Tower
https://www.tokyotower.co.jp/en/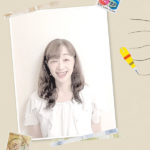 Working for an English language school. My source of energy is our students' smiles full of curiosity. I love visiting my friends in and outside of Japan.