☆Welcome to Ginza!
Ginza is one of the big, bustling and lively areas in Tokyo. It is famous for having the most expensive land as well. If you get a chance to visit there, what do you want to do? You can find plenty of fancy restaurants there. Would you like to experience the cuisine of famous chefs? There are tons of luxury brand shops there. Will you enjoy window shopping? Are you going to buy something special that you can get only here for yourself or your significant other? Those experiences must add a touch of color to your trip.
Now, after strolling around the crowded town, you must be exhausted. What do you want to do in that case? Taking a rest at a cafe is a nice choice. However, you might have to line up to get a seat. Even though you can sit down, the space per person is limited. Remember you are at the place with the most expensive real estate in Japan. Also, if you don't want to pay for a cup of coffee and just want to take a little break, how can you escape from the crowds?
Leave it up to me! Today, I will show you three spots where you can find a seat for free.
1. Mitsukoshi
When we say "the center of Ginza," I bet many Japanese people will agree that it is the intersection on the 4th block (Ginza yon-chome). Mitsukoshi, a long-established department store, is right there. The lion statue at the entrance is its symbol, and many people use it as a meeting place. Before the pandemic, it was definitely a tourist spot. However, I don't think many tourists know that there is a nice and comfortable place at the top of the building. The popular and traditional giant, Mitsukoshi, kindly provides us a spacious area on the 9th floor. It is called the 'GINZA terrace.' There are a lot of sofas, chairs and benches inside and out. If it's not rainy, I recommend the outdoor area. Green plants will help you relax and forget the fact that you are at the center of Ginza. Some people enjoy chatting, others eat boxed lunches that they bought in the department store. Parents can wind down watching their little kids toddle around as if they are in a park.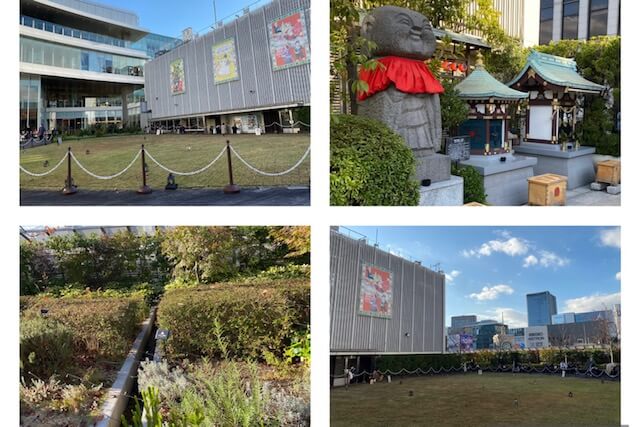 Inside, you can use the clean toilets for free. Also, there is a nursing room and a diaper changing room. It is so parent-friendly, isn't it? Please check the floor guide below.
Ginza Mitsukoshi 9F Floor Guide (English)
https://www.mistore.jp.e.az.hp.transer.com/store/ginza/shops/floor9.html
Let me say one more time. This is the place with the most expensive real estate in Japan. Can you believe it?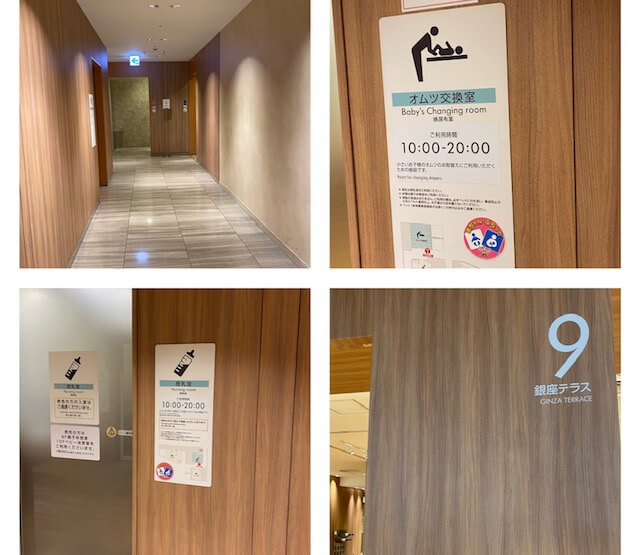 2. GINZA SIX
Next, let me introduce 'GINZA SIX.' It is just a block to the southwest from Mitsukoshi. It is the biggest shopping mall in Ginza, which has a lot of clothing shops, restaurants and cafes. In addition to the shops, many people who often visit Ginza may know it for having the largest rooftop garden. Let's take a look.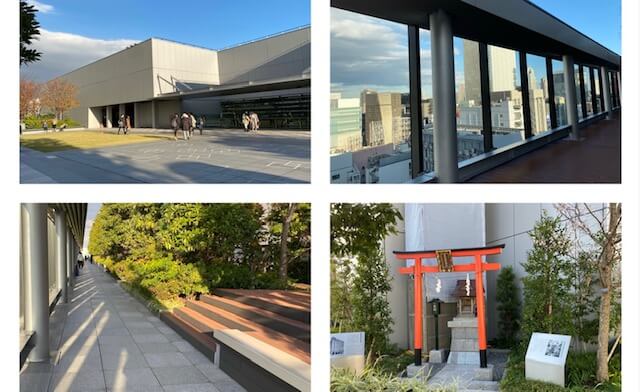 This building has 13 floors, and it has a huge garden of about 4.000 ㎡ on the rooftop. First of all, a large grassy area lets us forget that we are on the top of a building. Besides, there are plenty of areas that are full of plants. This garden is surrounded by glass walls, and we can enjoy a stroll. Surprisingly, there are a lot of benches everywhere along the glass walls. You can enjoy the 360° views of Tokyo including Tokyo Tower, Tokyo Skytree and some other famous spots.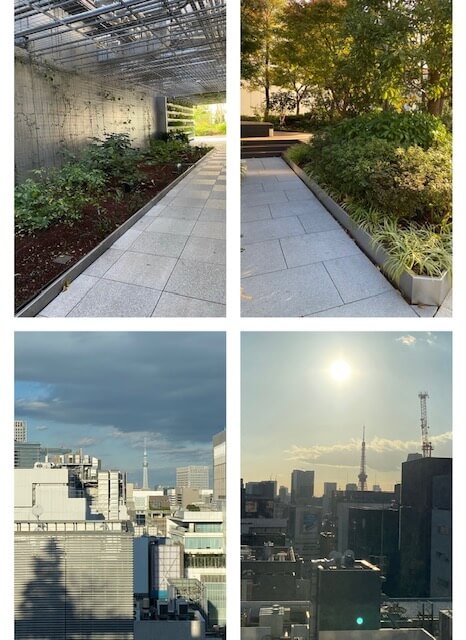 Before visiting there, let me mention this. Please keep in mind to set aside time to go back down to the first floor.The 7th to 12th floors of this building are used for offices, so the only way to and from the rooftop is by elevator. I'm afraid that taking an elevator in a department store usually takes some time.
Also, there are no toilets on the rooftop. If you want to use one, you have to go down to the 13th floor. It's the dining floor.
Besides that, there is no doubt that this is an oasis for people in Tokyo.
GINZA SIX (English)
https://ginza6.tokyo.e.abf.hp.transer.com/facilities
3. TOKYU PLAZA GINZA
If you are close to the Sukiyabashi intersection, I recommend 'TOKYU PLAZA GINZA.' A five minute walk is enough to get there from Mitsukoshi. The building has an outstanding exterior. This is one of the landmarks of Ginza, which has plenty of fashionable shops and restaurants. On June 24th in 2021, the rooftop area was renovated and the 'KIRIKO TERRACE' became open to the public. Because of COVID-19, many people started teleworking. The concept of this terrace is to help those people, and it provides chairs, outlets and free Wi-Fi. We can use the clean toilets on the 11th floor. From there, after going up to the rooftop by escalator, you can see the relaxing open air space.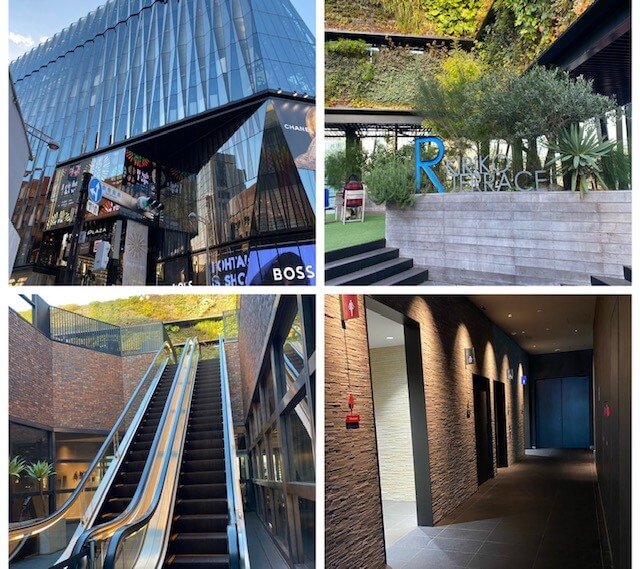 Compared to the two spots that I've already mentioned, this space seems smaller. However, you will be surprised to see a pool-like water area when you go further in. It seems like the poolside of a hotel in resorts. If you have a seat there, you might be able to reduce your stress and unwind. Why don't you use this terrace to get a change of scenery?
TOKYU PLAZA GINZA (English)
https://ginza.tokyu-plaza.com/en/
☆Lastly…
I'm not from Tokyo. That's why I wrote this article. I'm always excited when I visit various areas in Tokyo. Tokyo is like a treasure box. It's enchanting and, at the same time, makes me somewhat tired because of its huge number of people, buildings and information. I hope that anyone who visits or lives in Tokyo will learn about these relaxing places and uses them as steps to move forward again.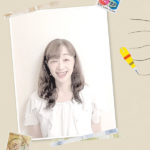 Working for an English language school. My source of energy is our students' smiles full of curiosity. I love visiting my friends in and outside of Japan.