☆Bridges in Japan
Japan is a mountainous island country. It is rich in nature, such as mountains and rivers. Also, we are surrounded by indented coastlines. It means we have a bunch of bridges all around Japan.
According to the Ministry of Land, Infrastructure, Transport and Tourism (MLIT), in Japan, there are about seven hundred thousand bridges that are more than 2 meters long. Among them, I want to pick out a popular bridge in Tokyo—the Rainbow Bridge!! Let's dive right into it!

☆The Rainbow Bridge
First of all, the Rainbow Bridge doesn't have the colors of the rainbow. It is the nickname that was chosen from the public. The official name is 'Tokyo Port communication bridge (東京湾連絡橋).' It is a double structure suspension bridge that connects the Minato ward with Daiba (Usually called 'Odaiba') area. If you get a chance to drive out at night, the lit-up Rainbow Bridge will help you to spice things up.
☆Let's enjoy the Rainbow Bridge!
I assume that using the Rainbow Bridge to get to the opposite side or seeing it as a part of the views is a common way. However, I can't help but think of another way to enjoy this bridge. If you have already read my article, Let's walk up the stairs! ~Tokyo Tower~ – How To Japan, you must know what I'm thinking about.
Yes! You're in for a treat! Let's walk across the Rainbow Bridge!!
As I mentioned before, it is a double structure bridge. The upper part is Metropolitan Expressway 11 Daiba Line (首都高速11号台場線). Under it, there are five lanes. You can see a monorail called, 'New Transit Yurikamome (新交通システム・ゆりかもめ)' in the center, and local roads called 'Harbor road (臨港道路)' on both sides of it, as well as pedestrian roads on both sides of the bridge. It's free to walk on this bridge.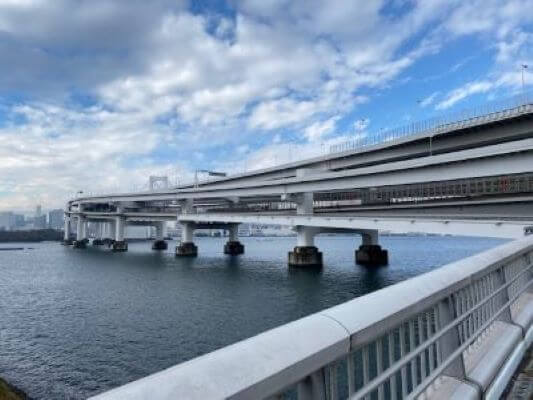 It's about 1.7km(≒1mi) long from one entrance of the sidewalk to the other. From my experience, it generally takes about 40 minutes to walk across while enjoying the scenery and taking some pictures as I walk along. It's not that big of a deal, is it?
First, we have to choose which route to walk: the 'North route' or 'South route'? We can't change the route on the way because there are roads and a monorail in the middle, as I mentioned above. Let me remind you: the view from each route is different, and you barely see the view of the opposite side. When I visited there, the 'North route' was closed due to the repair work, so I didn't have to debate which one to choose.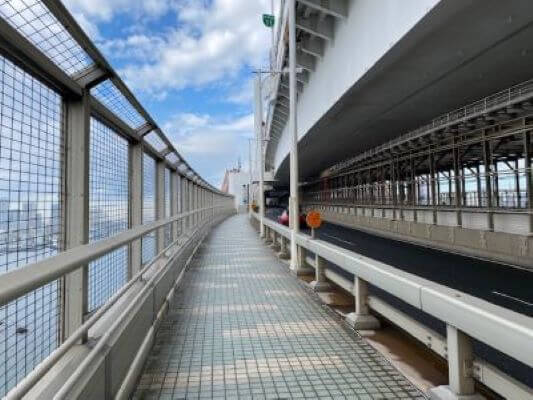 There are some observation decks along the way, and the bearing marks (as shown in the below) help us check what we can see from each point. If you are lucky, you can see Mt. Fuji in the west from there. Unfortunately, I couldn't see it that day.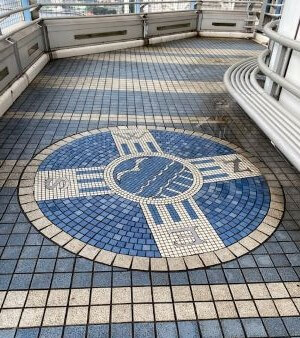 This is the best place to see Daiba. The unique earth-like building in the center is Fuji Television Network, Inc., which is one of Japan's major TV stations. I've seen it many times while driving, but it's always only for a minute. From here, you can enjoy the scenery to the fullest.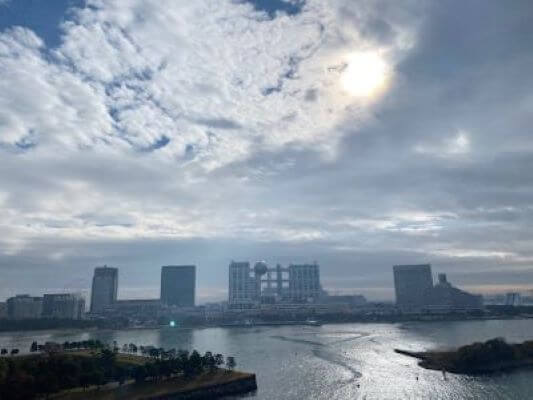 By the way, are you afraid of heights? If your answer is "Yes," this jaunt might not be for you. Please just experience it virtually by reading this article. The height of the bridge girder from the surface of the sea is 52 meters. Of course, there is the sea under the bridge. It might be because of the length of the bridge or the narrowing of the sidewalk, but I felt like I was at a much higher point than I really was. Although I got a bit scared, I can say that it's worth experiencing because this stroll was extraordinary, especially when I saw this romantic view…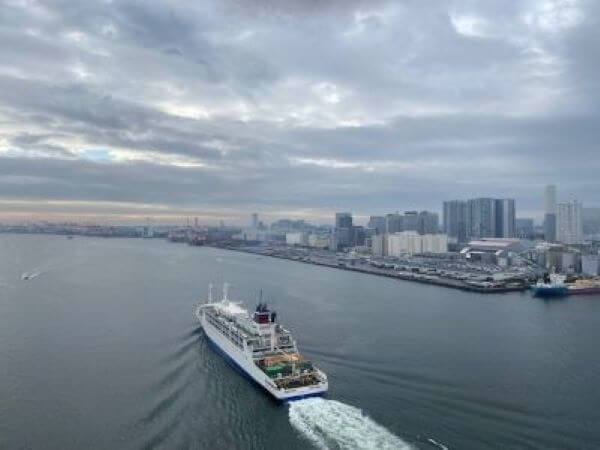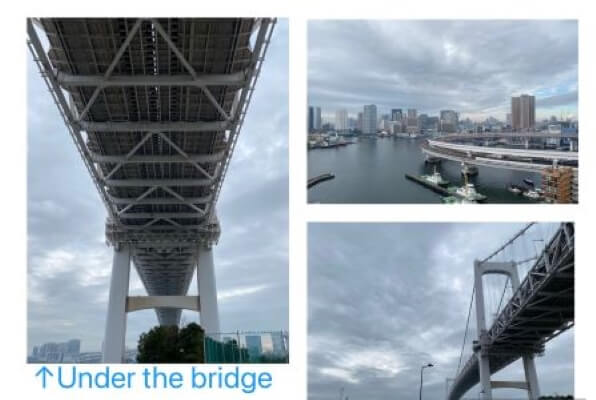 Rainbow Bridge (Tokyo) – Wikipedia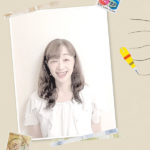 Working for an English language school. My source of energy is our students' smiles full of curiosity. I love visiting my friends in and outside of Japan.