Tasting local delicacies or specialties is one of the purposes of travel, right? Here, Nishiki Market is the place for it! The market is often called "Kyoto's Kitchen," as all of Kyoto's ingredients, such as Kyoto vegetables, dried food, pickles, fish, and more, can be found here.
So I'd like to share some tips on where to stroll around Nishiki Market and some other interesting spots in the neck of the woods!
1. Jakuchu Ito (伊藤若冲)
Nishiki Market is a narrow street, about 400 meters long, and lined with about 130 shops and restaurants. Firstly, I'll introduce a tapestry just before entering the market.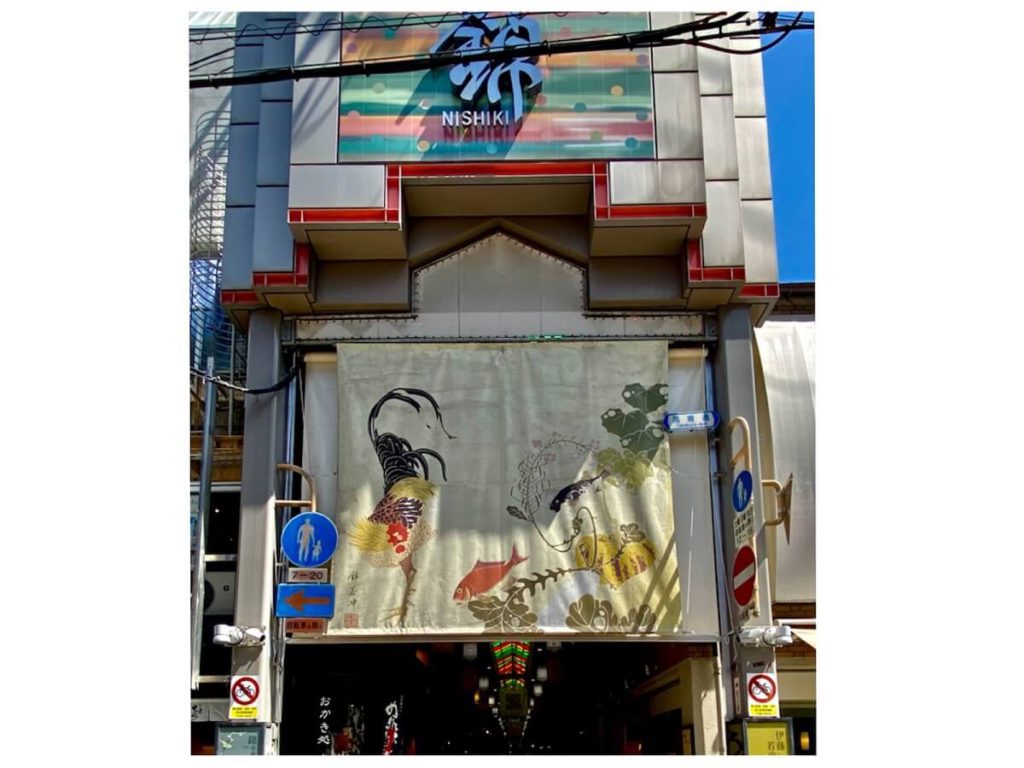 The photo above shows the west end of Nishiki Ichiba. You can see the tapestry with colorful paintings of Jakuchu Ito, who was born in 1716. He was the heir to the wholesale greengrocer in this market and became a great painter, gaining recognition even overseas.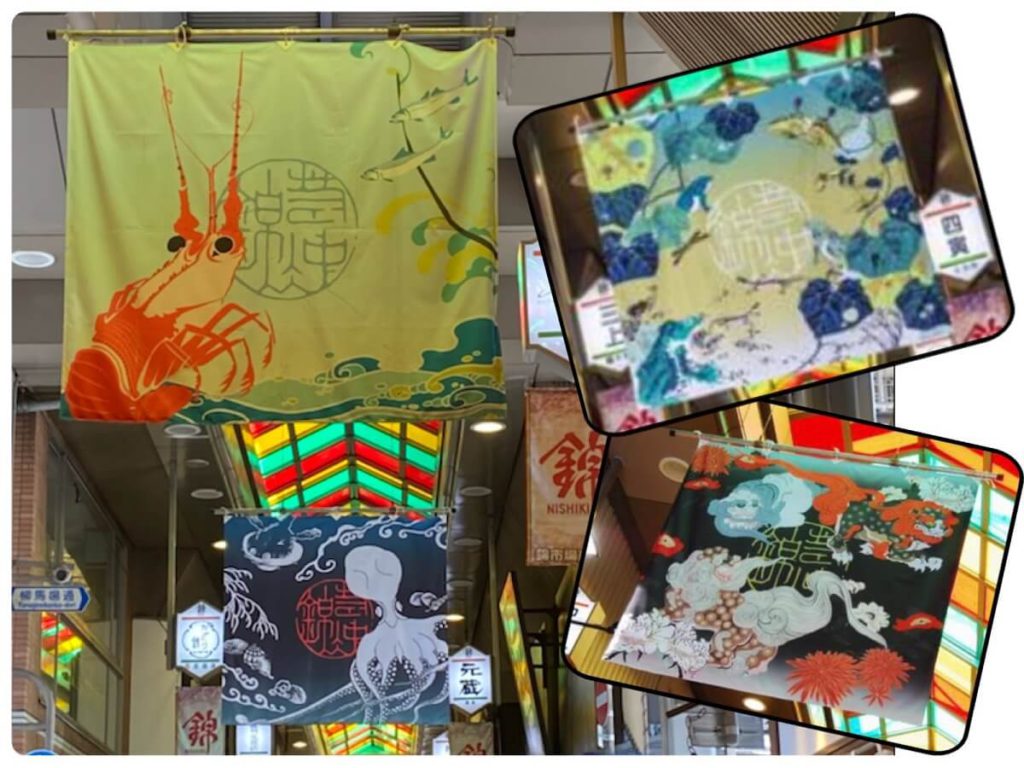 You might want to visit the market before opening or after closing to see the stores' shutters with Ito's paintings. It's like a museum of shutter art!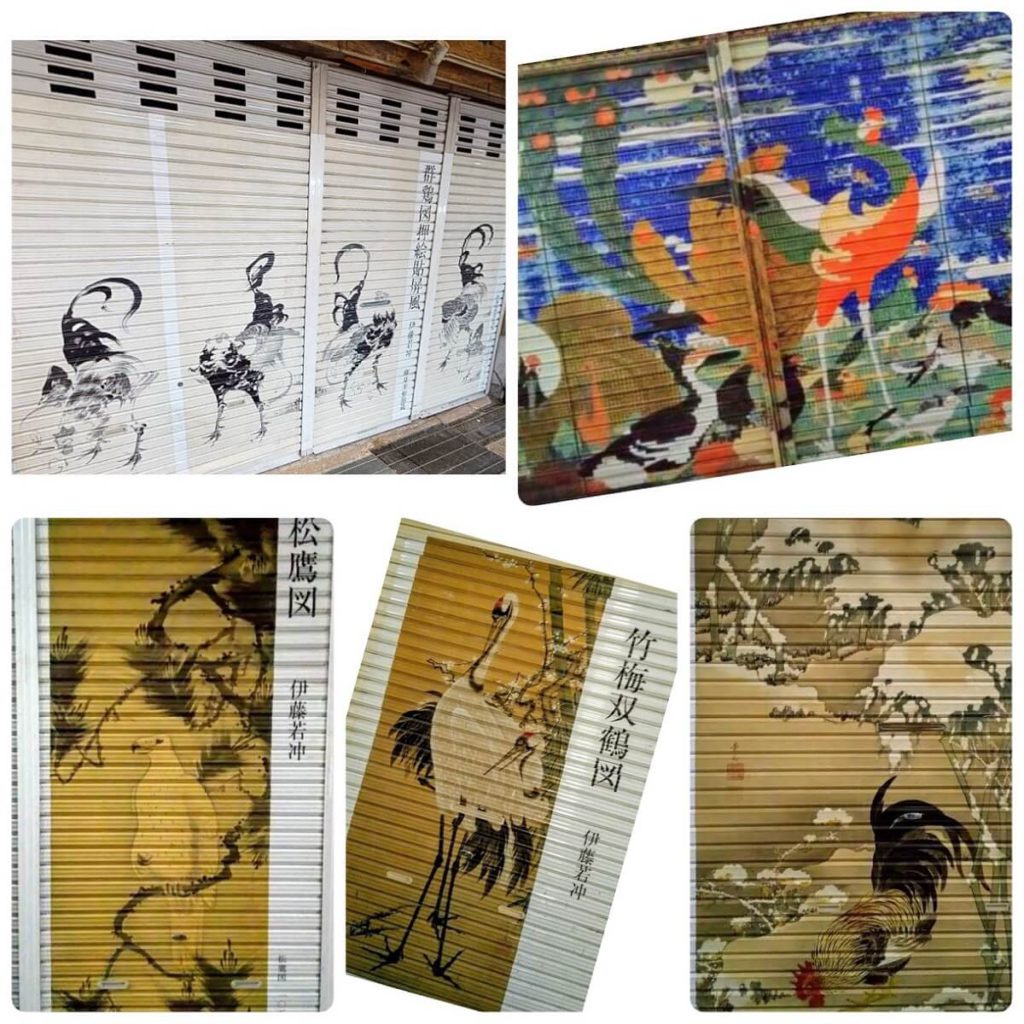 2. How to enjoy eating in Nishiki Market
Most shops open from around 10 am – 6 pm. You might as well stop by to fill up on a few free samples or bite-sized dishes sold at storefronts during your busy sightseeing schedule. Make sure to refrain from eating and walking and, instead, stop to eat at the storefront or the eat-in space where you bought the food to avoid bumping into others and creating unnecessary problems.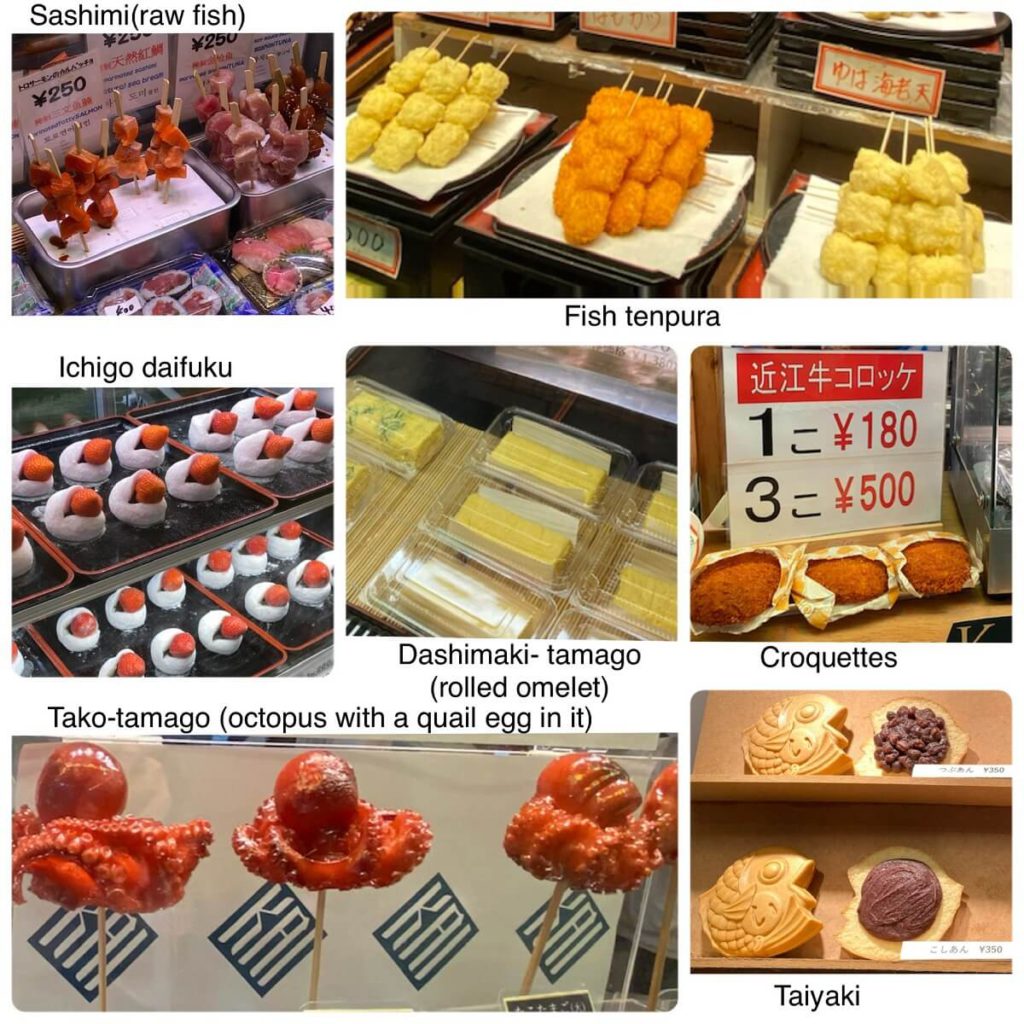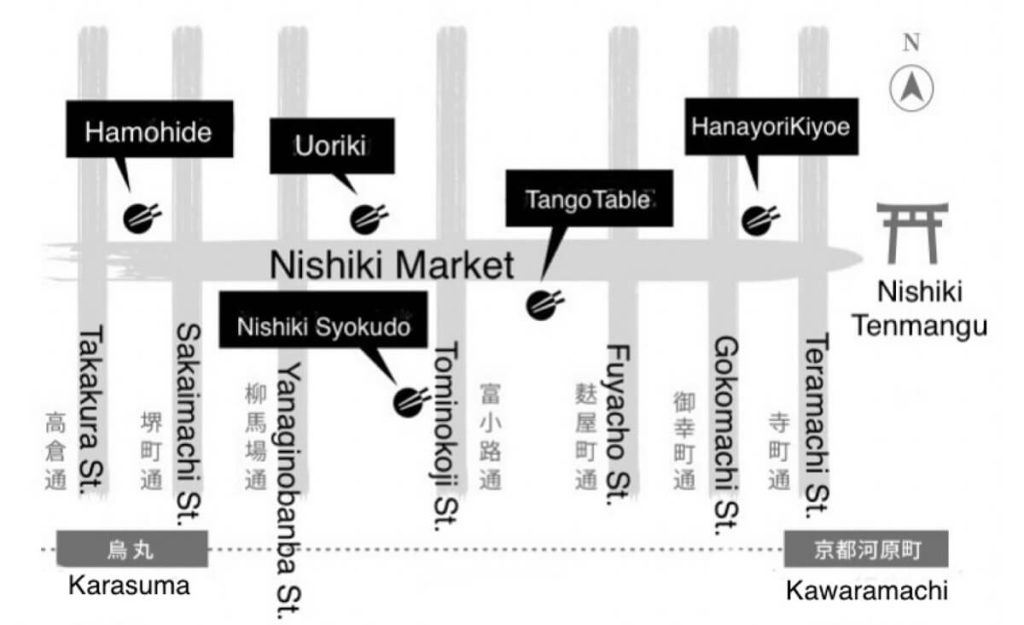 Of course, there are some restaurants here where you can also take your time and enjoy Kyoto's gourmet cuisine. It'd also be fun to bring back a variety of foods to eat at your inn.
3. Shops
Nishiki Ichiba used to be a market for only locals and cooks nearby. However, in recent years, most shops seem to have changed considerably.
While some long-established stores remain, new and popular ones have popped up too, and there is no doubt that Nishiki Market has become one of the most popular tourist destinations in Kyoto over the past few years.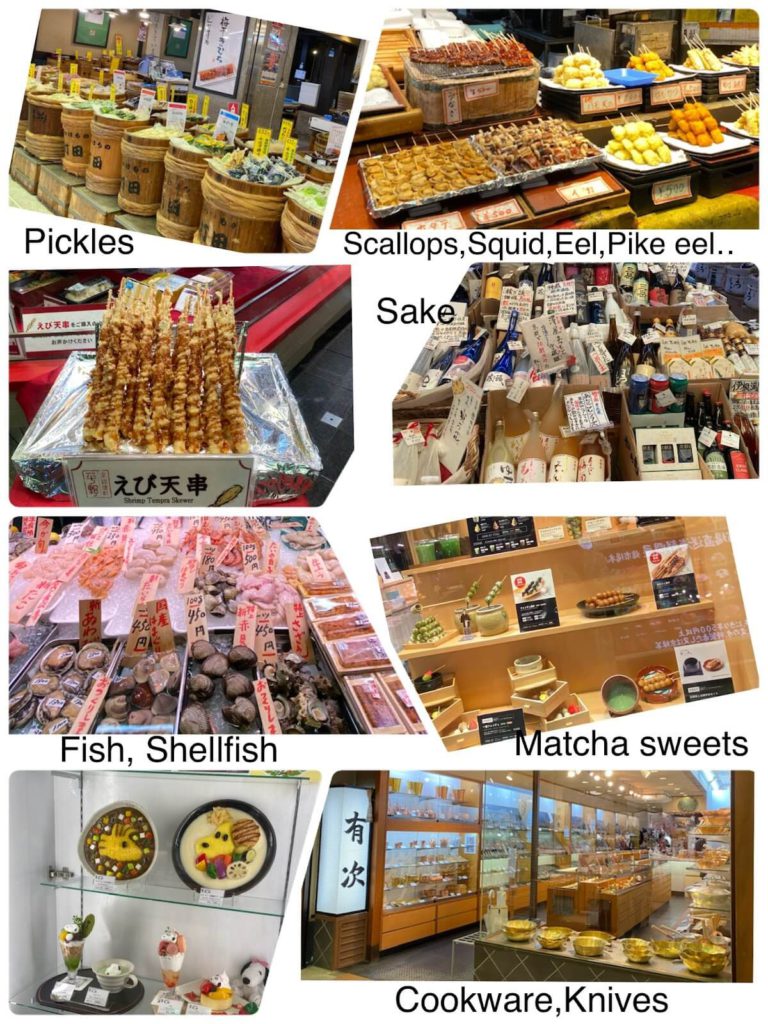 "Japanese beef," including "Wagyu," is probably one of the most popular foods that tourists from abroad would like to eat in Japan, just as much as sushi!
I'm often asked by my tour guests where they can find Japanese beef, especially "Kobe beef."
Did you know that the late Kobe Bryant, the greatest American basketball player, was named after "Kobe beef"? When his father, Joe Bryant, ate Kobe beef, he was so impressed by its delicious taste that he named his newborn son "Kobe."
With the connection, Kobe was also the Kobe City (神戸市) Ambassador from 2001 to 2011. It's no surprise that the value of Kobe Beef has risen globally thanks to Kobe.
Although the shops may not serve Kobe beef here, they do serve other kinds of Japanese beef at reasonable prices.
4. Sento (銭湯, public bathhouse)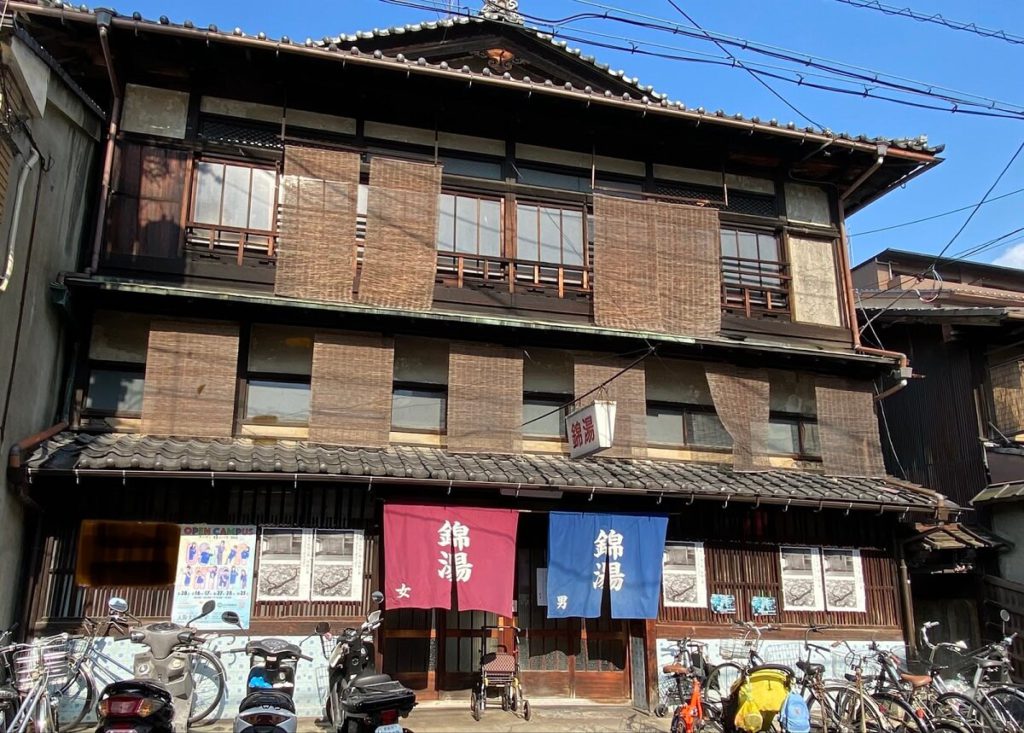 Have you been to a hot spring in Japan yet? This machiya (町屋)-style architecture is a sento called Nishiki-yu (錦湯), located just within a stone's throw of Nishiki street. Unlike hot springs, sentos usually use tap water or well water. Most of the people who use public baths are locals, so you will find the vibes different from typical hot spring resorts. The way to take a bath in sento is almost the same as in a hot spring.
Unfortunately, this sento is closing in June 2022 due to the aging of the building, but you should definitely check out other sentos around Kyoto.
5. Nishiki Tenmangu Shrine (錦天満宮)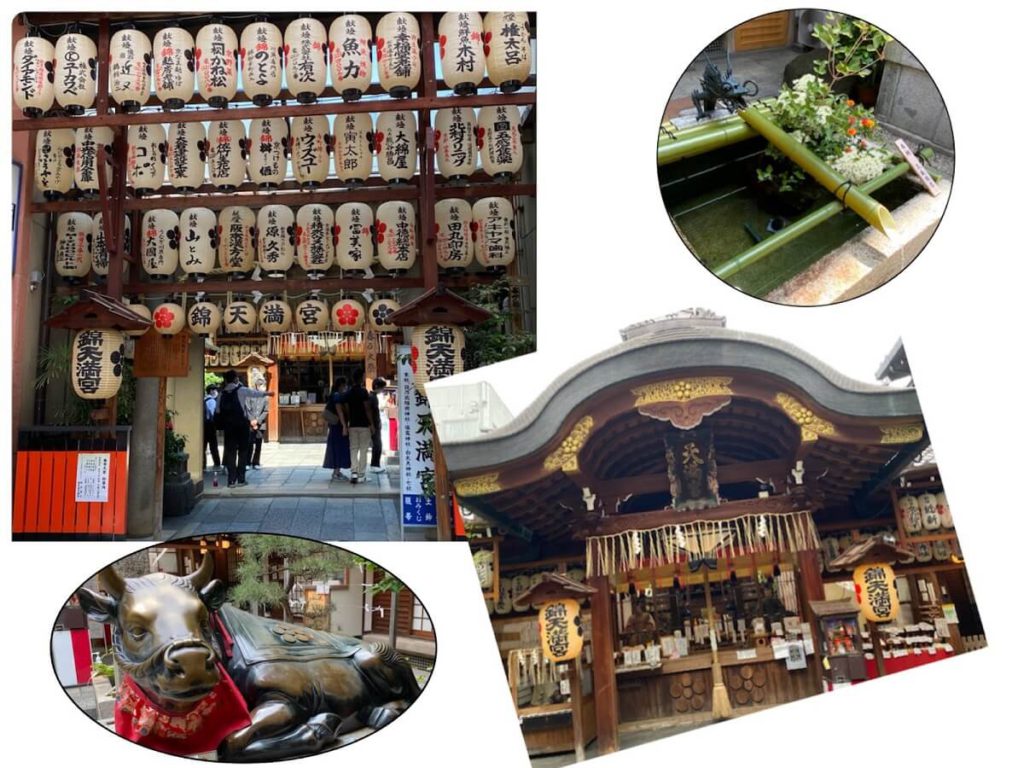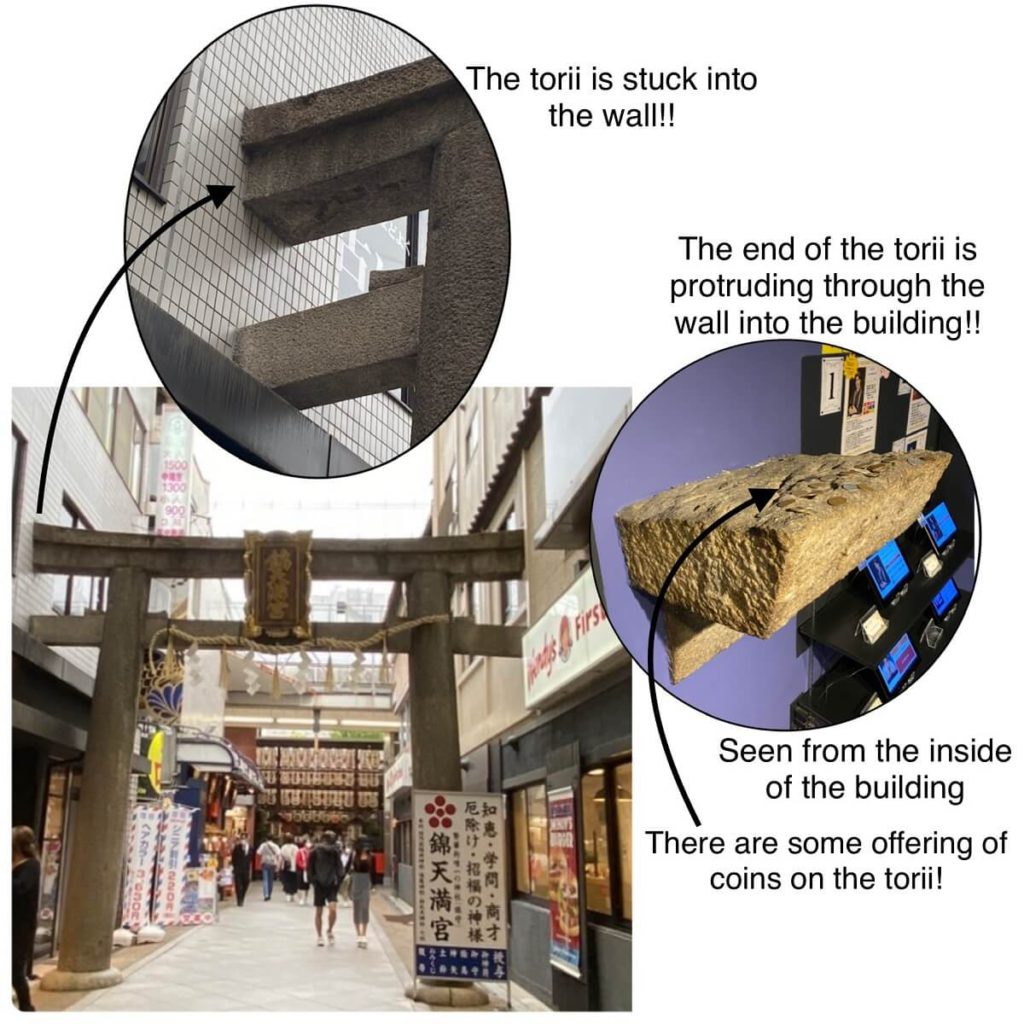 One of the things that make this shrine unique is that both ends of the torii (鳥居) are stuck into the buildings on both sides. When the land was sold in the past, they didn't consider the upper part of the torii. What a poor design mistake!!
If you'd like to see the end of the torii in person, you can go up to the second floor of the building "占いの館 千里眼" (Uranai-no-yakata Senrigan) on the south side, where they do fortune-telling. I timidly went upstairs so as not to disturb their fortune-telling and took the picture above.
Also, there are other unique things in the precinct, like Mechanical Fortune-Telling and Picture Story Robot in the picture below.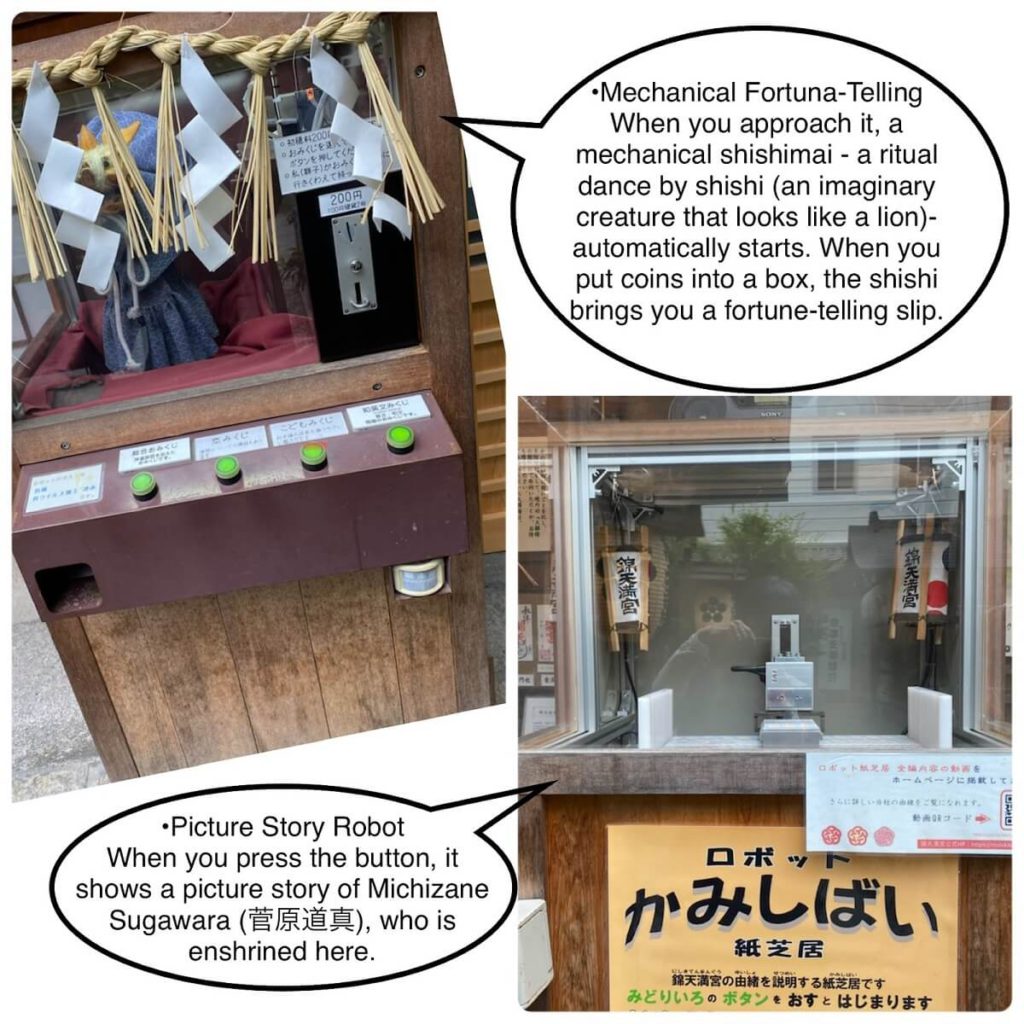 For more information, please click the link.
Nishiki Tenmangu
nishikitenmangu.or.jp/en/#page=1
6. Teramachi Kyogoku Shopping Streets (寺町 京極 商店街)
Without a doubt, Japanese pop culture – anime, manga, and video games – has taken off tremendously worldwide over the last decade.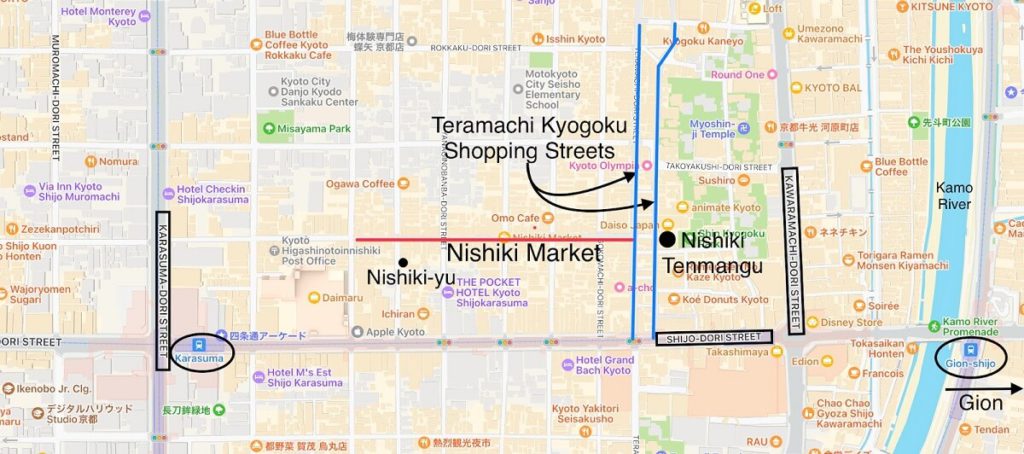 As shown on the map above, two parallel streets, Teramachi St. (寺町通) and Shin-Kyogoku St.(新京極通) run north-south just in front of Nishiki Tenmangu.
These shopping streets contain an assortment of shops and services, both traditional and modern. Pet cafés, arcades, anime shops, and the like that would be popular with tourists from abroad are dotted along the streets, mixed in with the traditional stores. Here are a few examples in the picture below.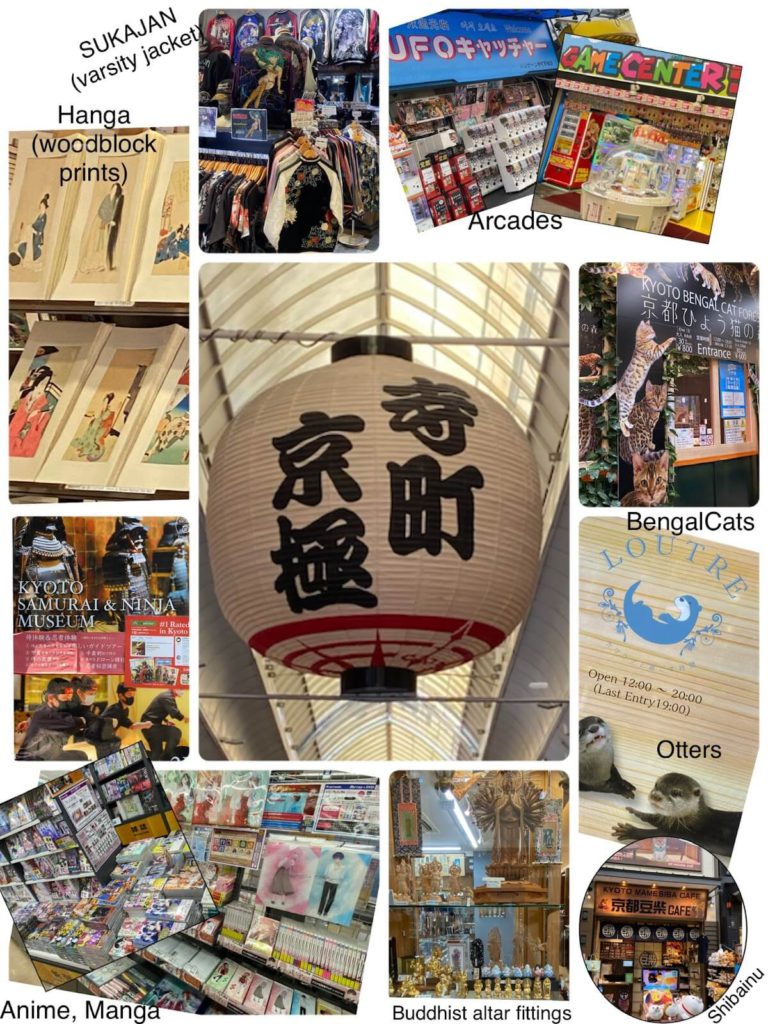 You shouldn't miss out on visiting traditional spots in Kyoto, such as temples and shrines, and immerse yourself in Japanese culture. I guarantee that you'll truly enjoy it. But then again, you can taste another charm of Kyoto, the so-called Japanese subculture, here.
How did you like the tour of Nishiki Market and its vicinity? I hope this article made your mouth water and made you appreciate Japanese pop culture a little more!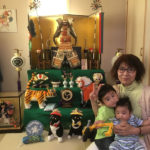 Born and raised in Kyoto. A private tutor and a volunteer tour guide in Kyoto. Love sewing, kimono remaking, traveling, cooking, gardening, playing the shamisen(三味線), making stained glass and grandparenting as well.