Manazuru is a small port town on the Manazuru Peninsula, located in the southwestern part of Kanagawa Prefecture. It's a 1.5 hour local train ride from Tokyo. The town has a long history and is surrounded by the sea and mountains. You can enjoy fresh and delicious fish. As there are no hot springs or outstanding tourist spots in this town, people visit other nearby places like Hakone, Odawara or Yugawara. But I highly recommend taking an excursion to Manazuru.
About 6,500 people live in Manazuru. Its population density is the lowest in Kanagawa Prefecture, the second most-populated in Japan. Manazuru in Chinese characters means "true crane". The town's name comes from the shape of the peninsula resembling a crane with spread wings. This area has a warm climate. When you walk around this town, you will notice citrus trees like mandarin oranges and lemons everywhere.
The town of Manazuru has a code to protect townscapes. This is not so common in Japan, particularly in small towns and villages. It's called a "Standard of Beauty". The important aspect of this town code is that the focus is put not on the appearance but on the "life of the people". In the latter half of the 1980s, ideas to develop large condominiums or hotels emerged in Manazuru, but discussions were held to figure out how to protect the landscape. Thus the natural scenery has been preserved over the years. You can feel nostalgia for the somewhat old days of the early Showa era.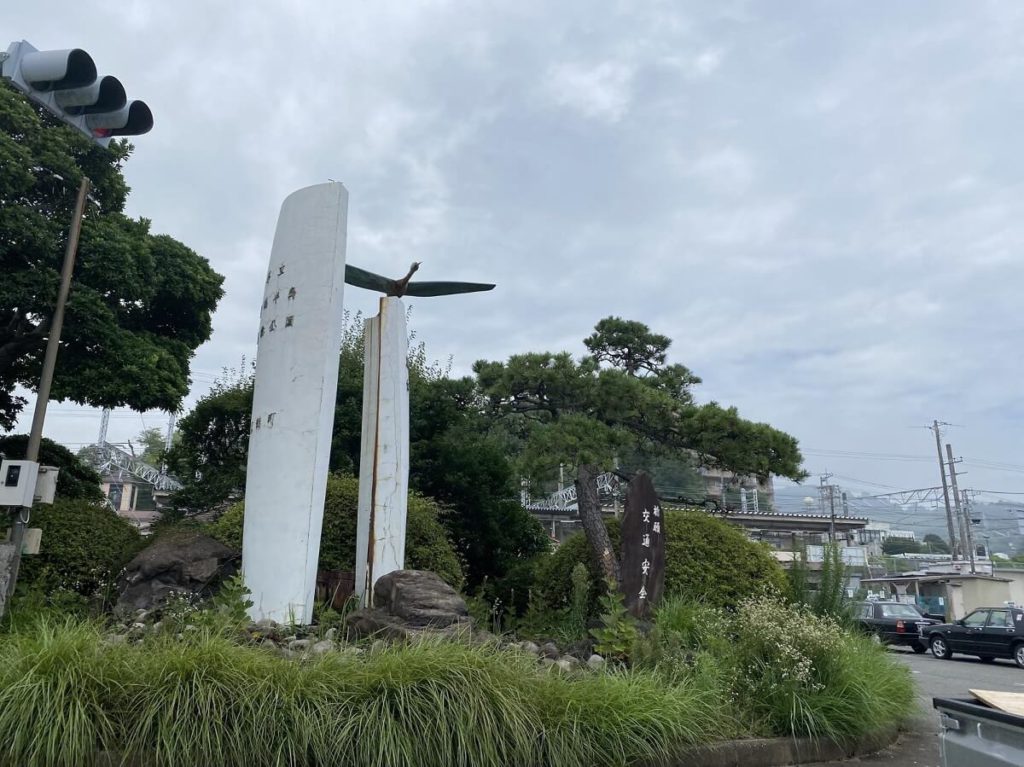 Public transportation is limited. There are only a small number of buses running from Manazuru Station to the peninsula. If you are a good walker, you can reach the tip of the peninsula in about 2 hours. Other options are cabs or rental bicycles.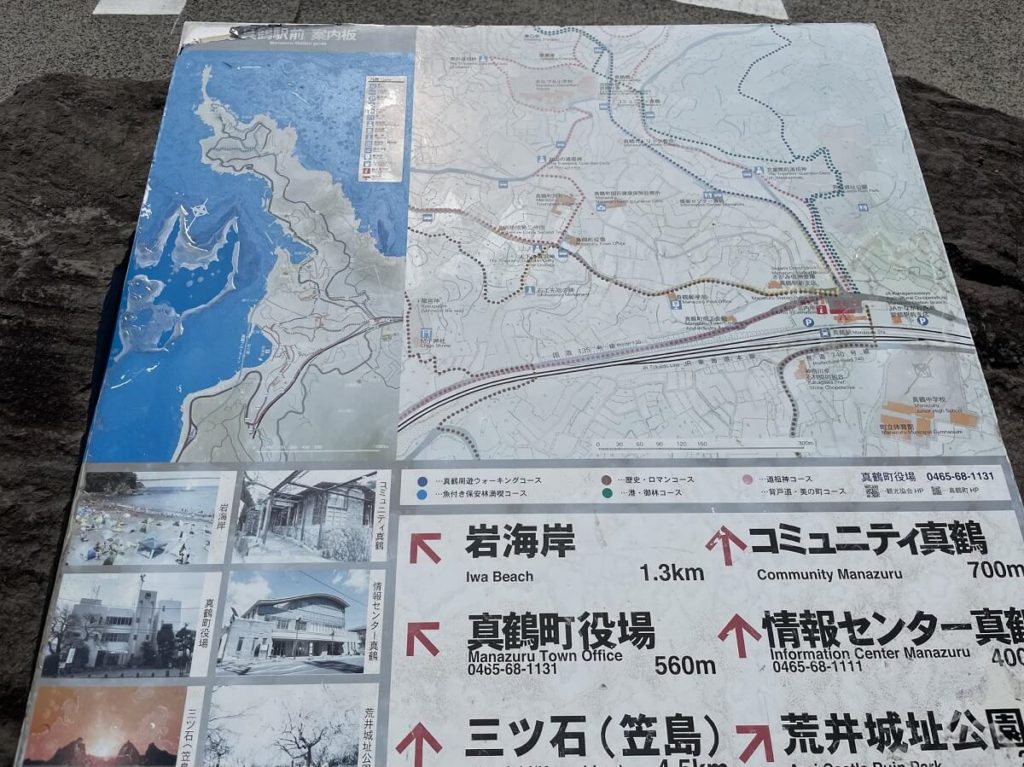 1. Araijoushi Park
It is about a 5-minute walk from Manazuru Station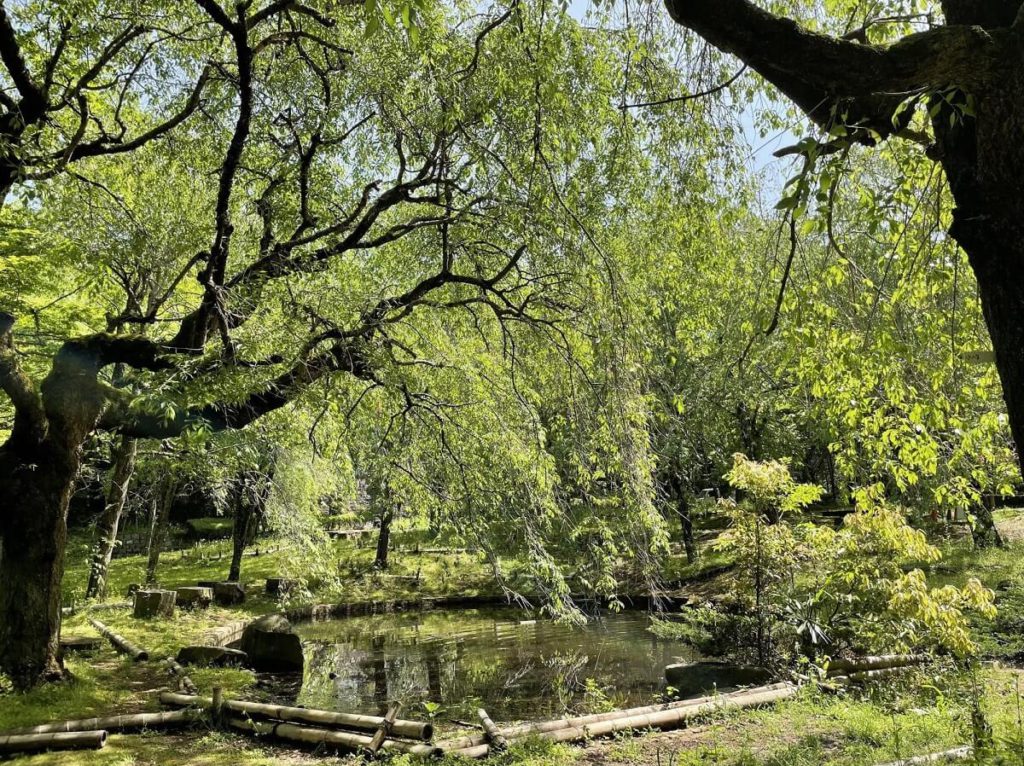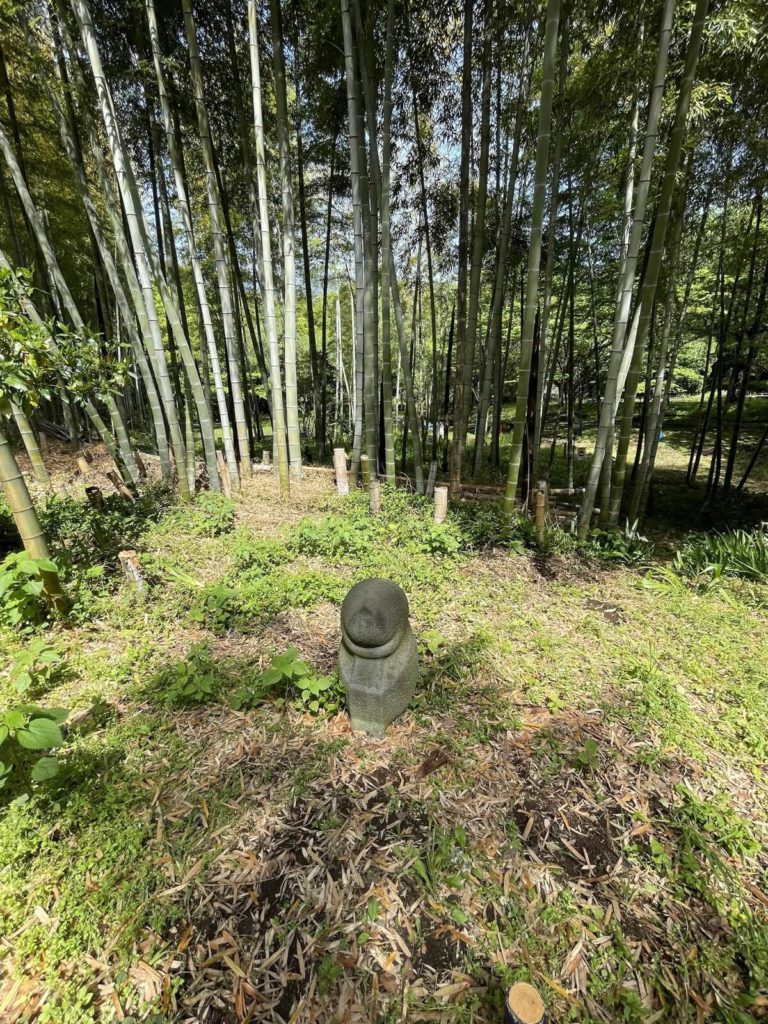 Arai-joushi Park
Ietsuna Arai, who supported Samurai General Minamoto No Yoshie in 1083, built a castle here. There are little remnants of an old castle. You can see the most beautiful weeping cherry blossom trees from the end of March to the beginning of April. The bamboo forest spreads out in the background, and the sculptures are so awesome in the park.
2. Ohayashi
Preserved forest for fish, Prefectural Nature Park in Manazuru Peninsula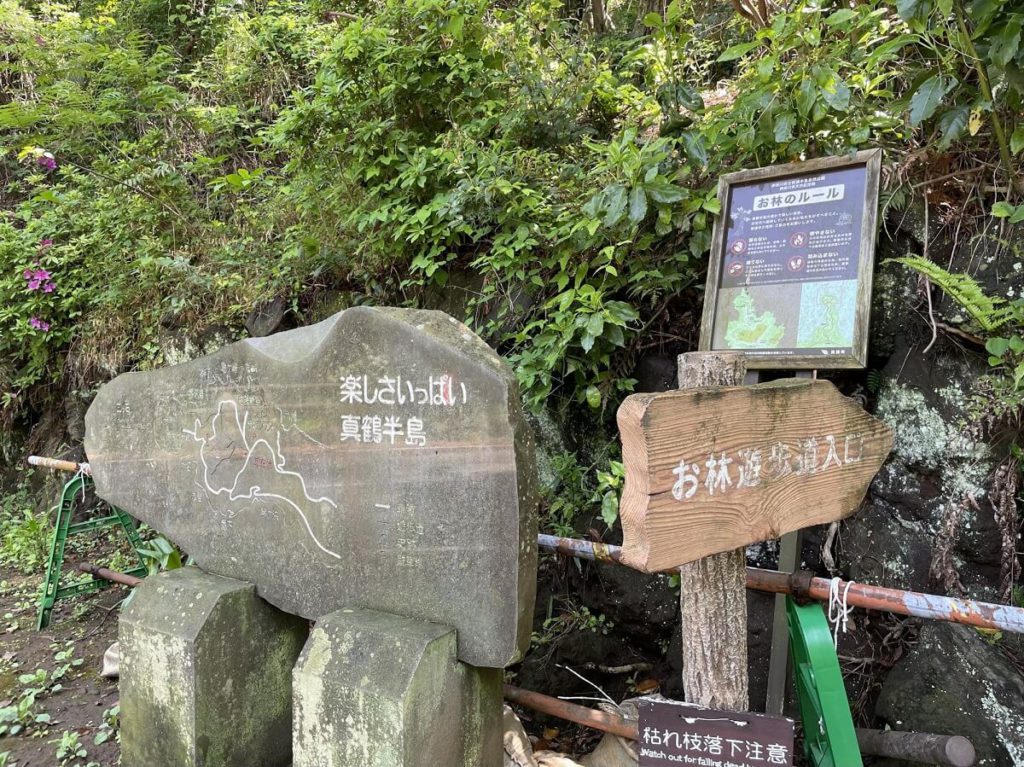 There are 200 kinds of fish caught in the sea of ​​Manazuru. The old forest on the peninsula called Ohayashi makes the sea rich. Manazuru people call this forest "Ohayashi" with affection and respect. During the Tokugawa era, the Odawara domain planted about 150,000 pine tree seedlings over three years. It is a forest close to the naturally grown one and it remained uncut while many large trees in the Kanto region and all over Japan were cut and consumed during World War II. This is a rare forest that has been protected for over 400 years. You can get a lot of energy from the forest by seeing the magnificent branches of Kusunoki. You can enjoy forest bathing and bird watching while feeling the sea breeze.
It's really fun to walk on pathways that go through the tall and thick woods with natural energy.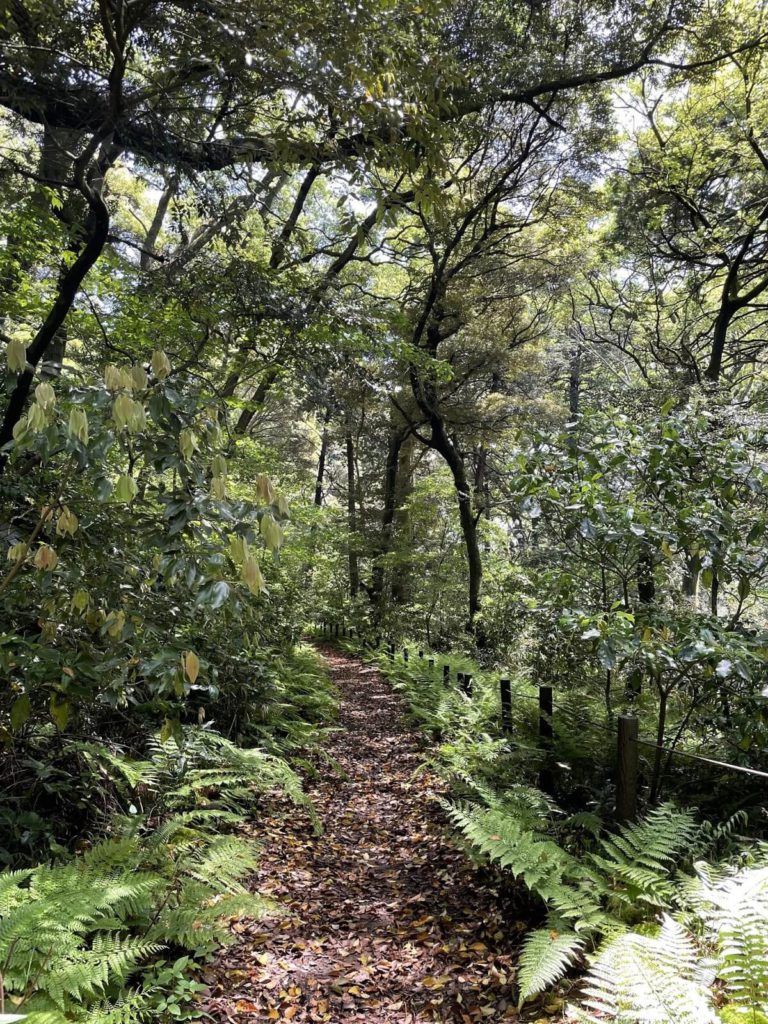 3. Mitsuishi Kaigan Coastline
It takes about 13 minutes by bus from Manazuru Station to Cape Manazuru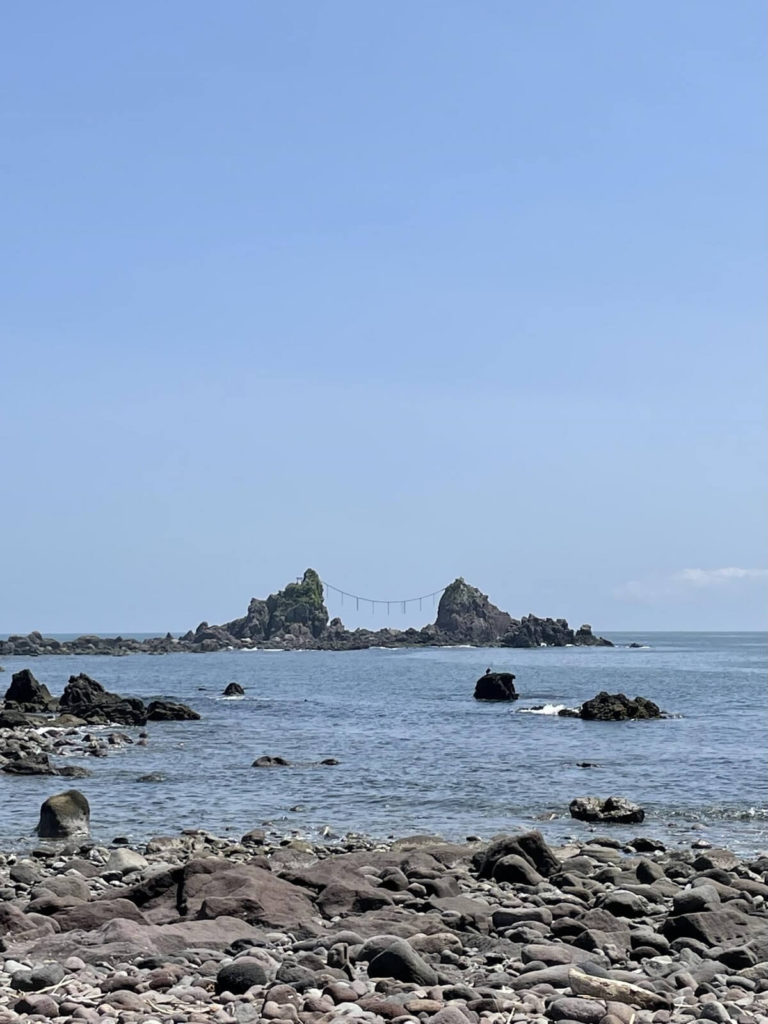 The height of the rocks is 14 meters, and the distance between the rocks is 34 meters. As seen from the cape, it looks like only two rocks are there, but from the sky, you can see three giant rocks.
This place is one of the 50 best scenic spots in Kanagawa. It is also famous as a place where beautiful sunrises and sunsets can be seen. You can overlook Sagamimi Bay and the Izu Peninsula. If you go down the long stairs of Cape Manazuru, there is a rocky shore. Not so many people go down. You can relax while facing the ocean.
Be cautioius when going down to the reef
You can walk on rocks to Mitsuishi when the tide is low. But when the tide is high, please be careful because you may not be able to return. The rocks are also wet and slippery. If you foresee any risk, you can just enjoy watching the view. Also you have to be careful about waves, current, as well as the rise and fall of the tides.
Cape Manazuru Shop & Restaurant
There are shops, restaurants, and restrooms. The Endo Shell Museum, which is part of this facility, displays shells found in Manazuru and rare shell collections from all over the world.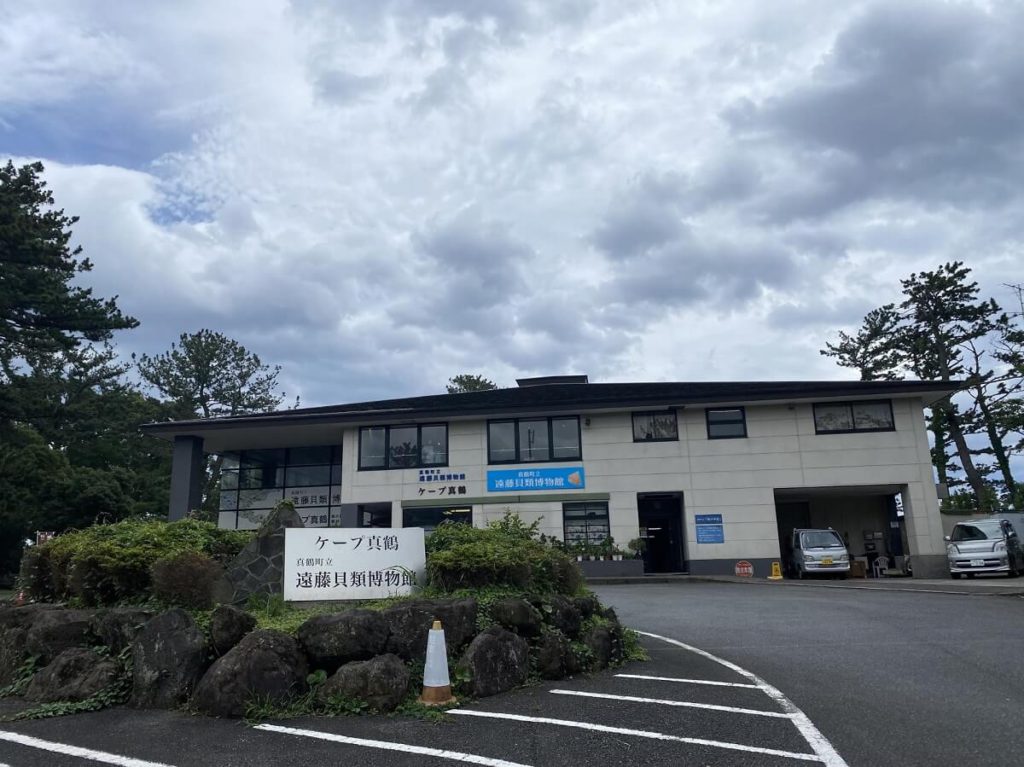 4. Komatsu stone of Manazuru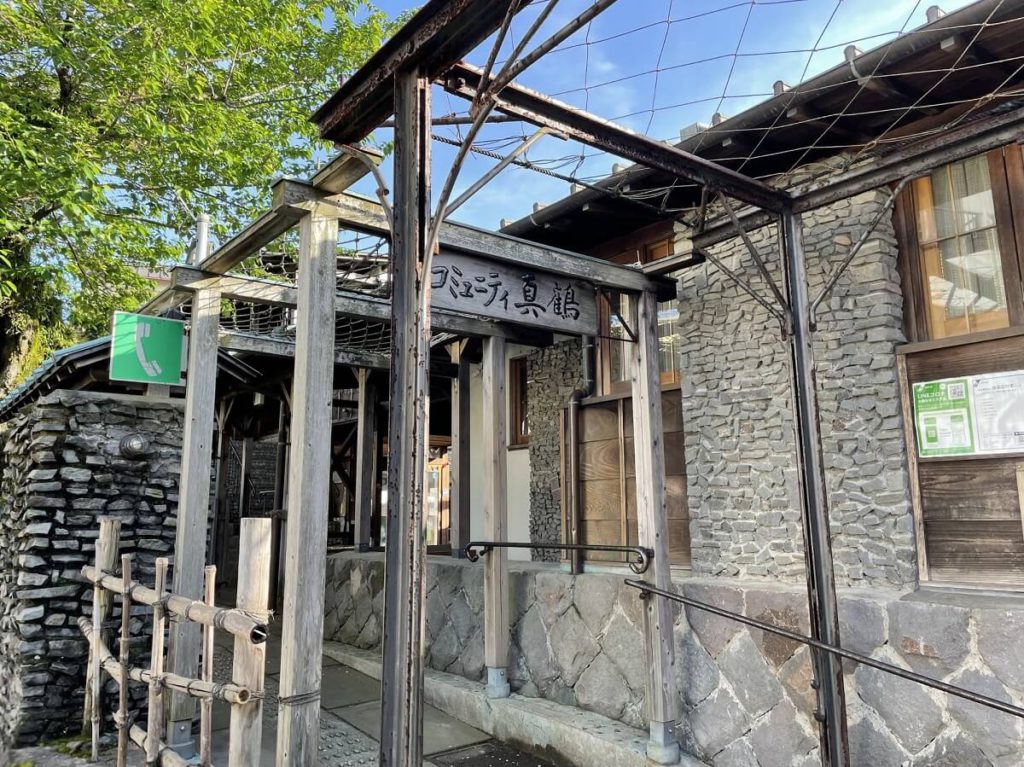 Manazuru is known for Komatsu-Ishi or Komatsu stone. The quarry is the oldest among the active digging spots. Walking around the town, you can see statues and walls made of stones. Komatsu stone is rock that was formed from quickly solidified lava of the Hakone volcano eruption about 150,000 years ago. The stone name comes from Mount Komatsu, where quarry sites are located. Komatsu-ishi is used for tombs and monuments. It's so old that the stones were used in building Edo Castle and Odawara Castle, the stone walls of the imperial palace, and tombstones of the Tokugawa family and the Hojo family.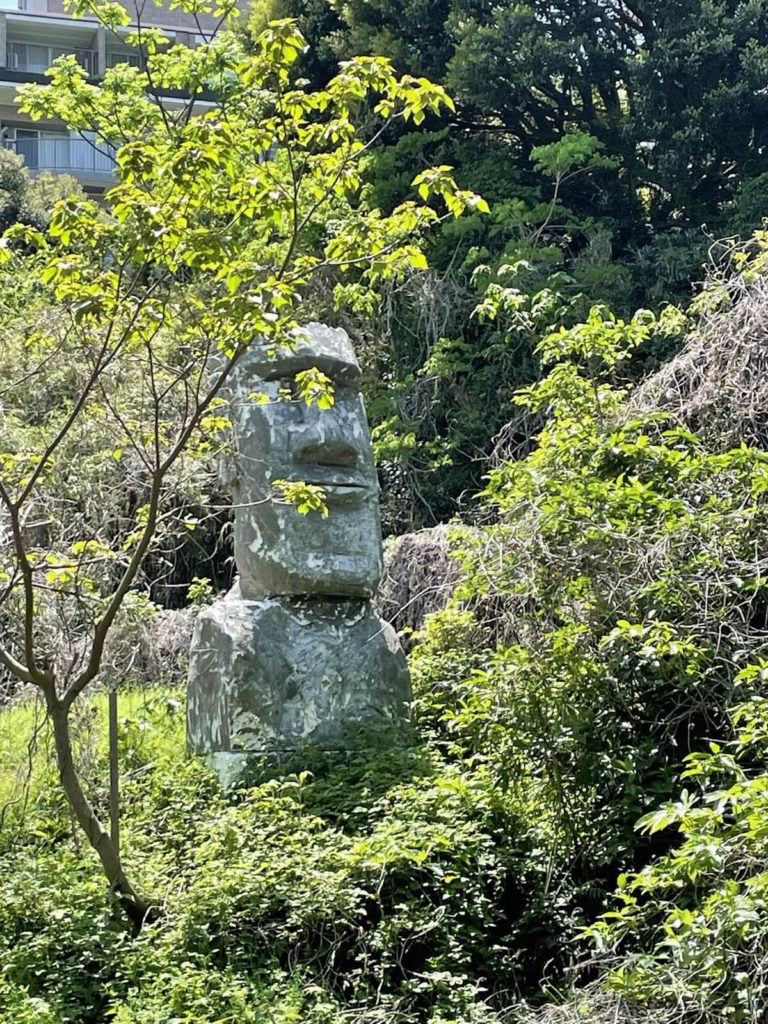 Manazuru is a stone town. So you think it's a stone Moai statue? Actually it's made of styrofoam. Who made it?
5. Kibune Shrine 
It's a Shinto Shrine – 5 minutes by bus from Manazuru Station. The nearest bus stop is "Miyashita"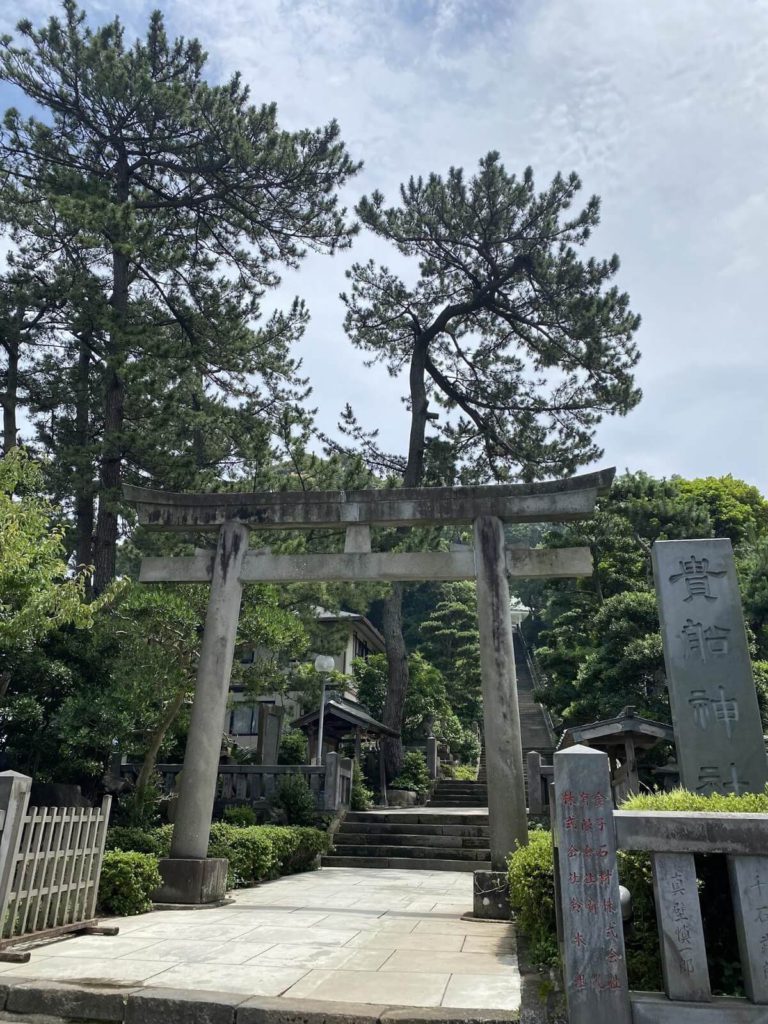 Kibune Shrine is located near Manazuru Port as a power spot to get rid of evil spirits. It is a historic shrine built over 1100 years ago. From the "Torii" gate to the main shrine, you will climb 108 long stairs. At the top, you look back and see the beautiful sea. Kibune Festival held every year in June is one of Japan's three major ship festivals. This festival is designated as an important intangible folk cultural property. There is a model display of festival ships parading on the sea.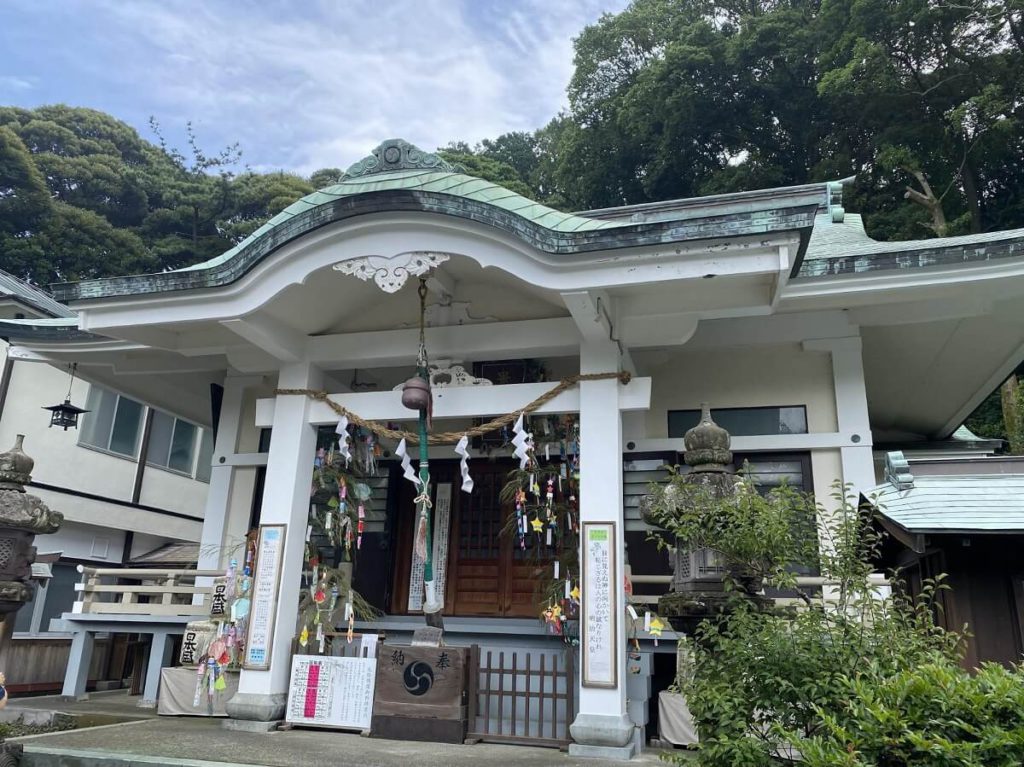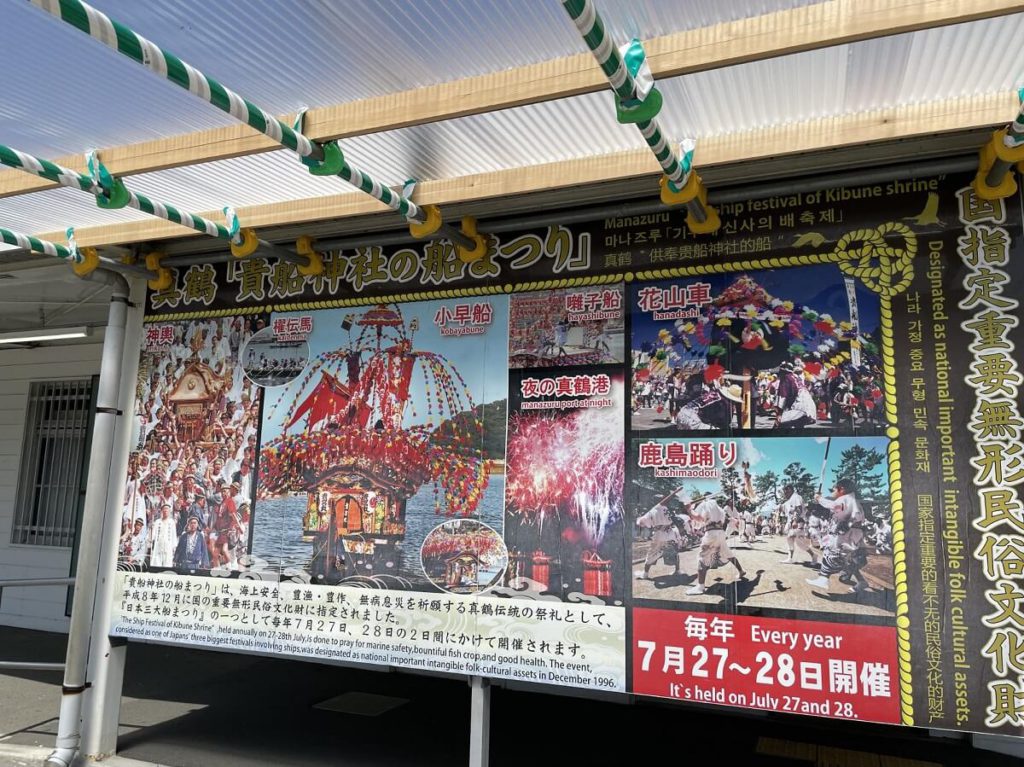 6. Manazuru Port
Manazuru Port is a 15-minute walk from Manazuru Station.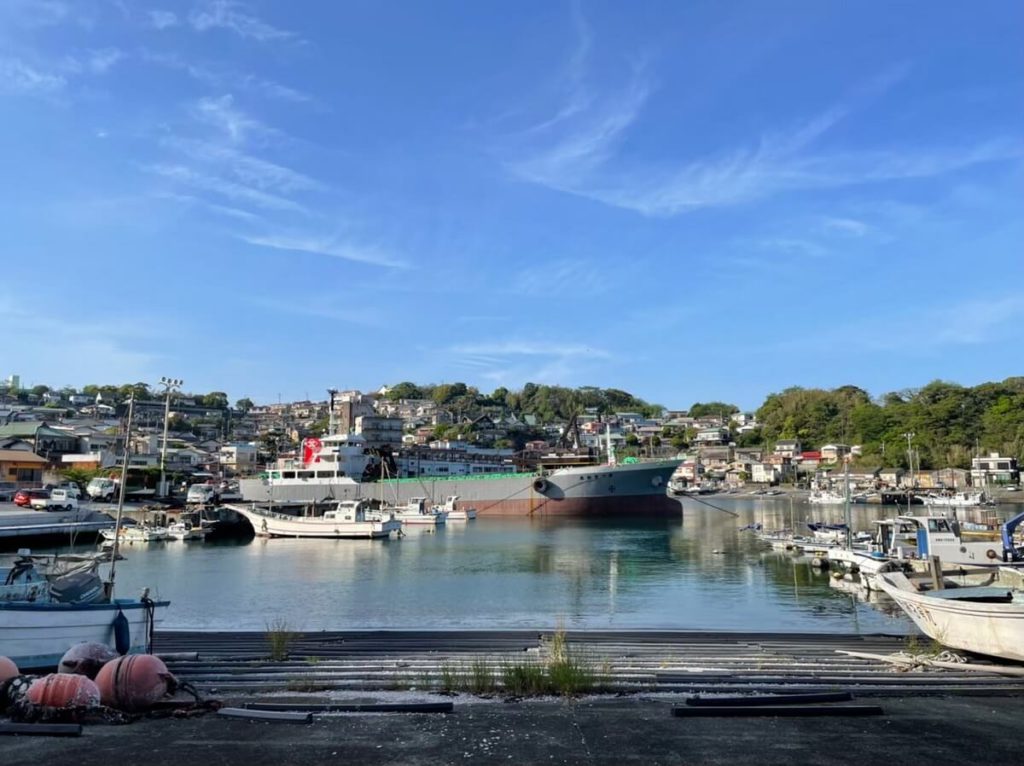 The seabed near Manazuru port suddenly becomes deep, shaping a natural fish basket. It's a treasure trove of fish. Manazuru fish is considered to be delicious at Tsukiji Market. The reason for such acknowledged taste is the "forest". It is called Ohayashi right next to the coast and is cherished as a "preserved forest for fish".
Trees make shade to keep the sea away from direct sunlight which affects the water temperature. Since rain pours into the sea through the forest, there is little change in seawater temperature. That is good for fish. The forest also sends withered leaves and dead insects into the sea. That makes good conditions for plankton to grow for fish to eat. If you are interested, there are local fish stores selling fresh catch of the day.
The Manazuru town Tourism Association, located near the port, provides paid town guides, and also rents fishing equipment and bicycles. There are cafes and restaurants near the port. You can eat fish dishes while enjoying the beauty of the laid-back sea.
真鶴観光協会
https://www.manazuru.net/
Japanese History: Genji
If you are interested in the Japanese history of Genji, there are four historically related places in Manazuru. They are Shitodo No Iwaya, Koshikakeishi, Uozaka, and Genryo Asahi Funade no Hama. Minamoto no Yoritomo, who established the first Samurai government, lost the battle of Mt. Ishibashi and hid in a rock cave called Shitodo No Iwaya. You can't enter the cave but you can look at it from the outside.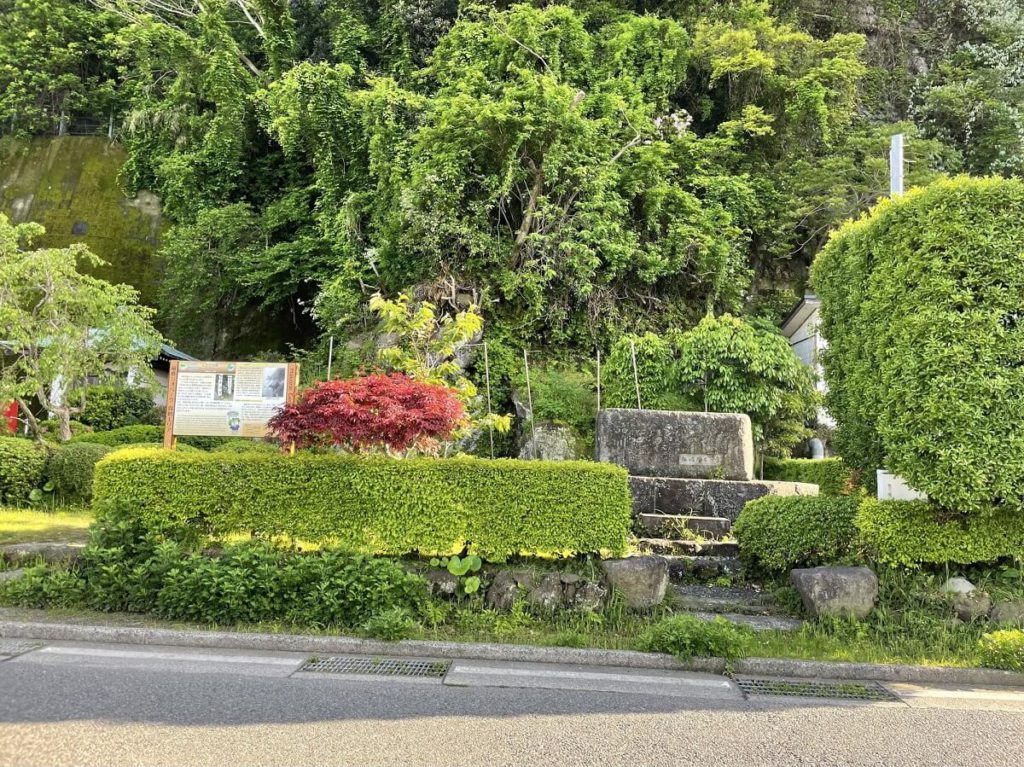 Let's have FRESH FISH, HIMONO, and OYSTER in Manazuru!
Himono
When you visit Manazuru, I would recommend eating fresh fish, particularly Sashimi. Also, I want you to try Himono, half-dried fish. In the past, many Himono stores were lined up in town, but now there are only three such stores that sell homemade products. Sashimi and Himono are a must in Manazuru!
Himono is a half-sun-dried fish. Prepared fresh fish is marinated in salt water and then dried under the sun. You grill it. You can eat grilled Himono as it is. And it goes well with grated daikon radish. Drying makes fish taste richer and better.
Oyster: Rock oyster "KAKU-HOU"
Manazuru started a new business in 2015. It's the "Iwagaki KAKU-HOU" cultivation project. In 2021, the cultivation of rock oysters really began. Shipments started on April 29, 2022. The harvesting period ends in the middle of July. I visited Manazuru on April 28, one day before. Unfortunately, I couldn't eat any.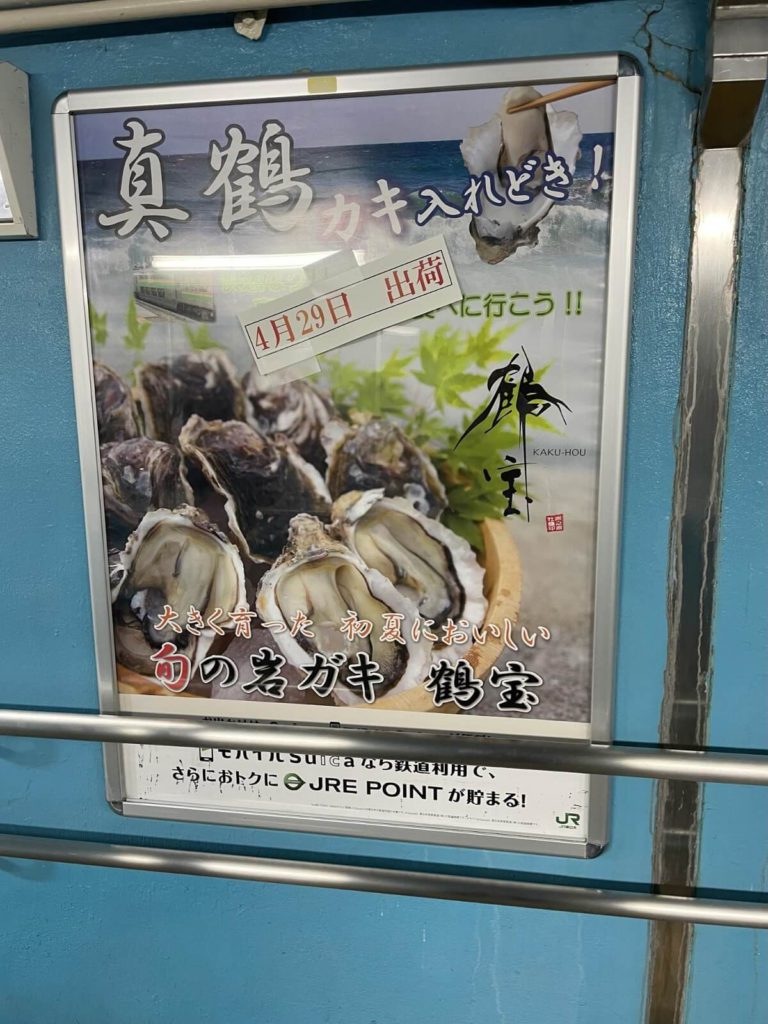 Postscript:
I go out on an excursion every month with my friends. We choose places we can reach by train from home in about 1.5 hours. Before my visit this April, I had already been to Manazuru by car a few times. I found it's quite fun to walk around Manazuru. I am hoping that I can communicate the atmosphere of the town through my words together with the photos I took. In Manazuru, I am sure you will feel the power of big trees and a pleasant touch of sea breeze. Next time I will visit Nakagawa Kazumasa Museum of western painting. Also I want to try fishing. Now I am planning to stay at a guest house to experience more in the town. I hope I can introduce more interesting local places and good restaurants soon.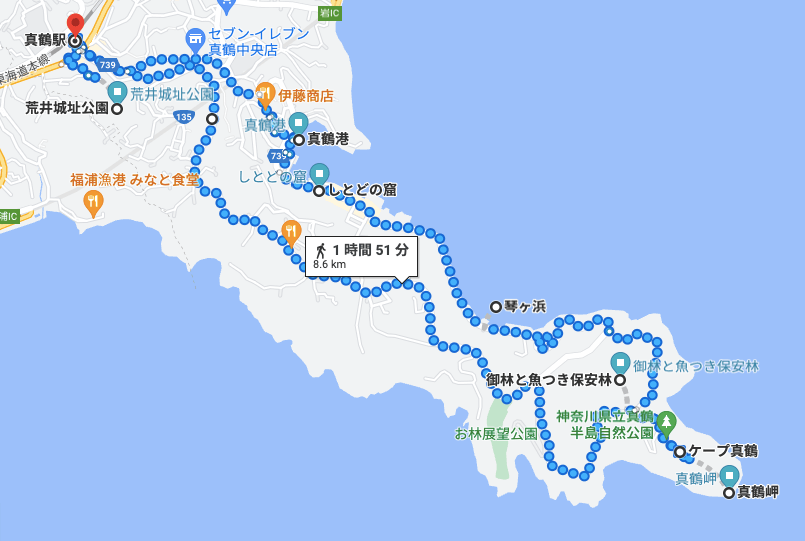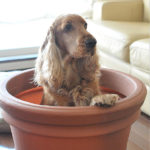 I was born, raised, and have been living in Kanagawa prefecture for more than 50 years. I like trekking and eating local food with my friends. We plan to go somewhere on a one day trip once a month. I want you to know the good local places I went to.