It's natural that chefs cook meals that you order and you eat that when you go to a restaurant. But how about a restaurant where you cook for yourself? That's a Japanese style yakiniku and shabu shabu restaurant. If you come to Japan, I highly recommend going to this Japanese style all-you-can-eat yakiniku and shabu shabu restaurant. Unlike BBQ style, Japanese all-you-can-eat is a meal that will get your stomach full all the way!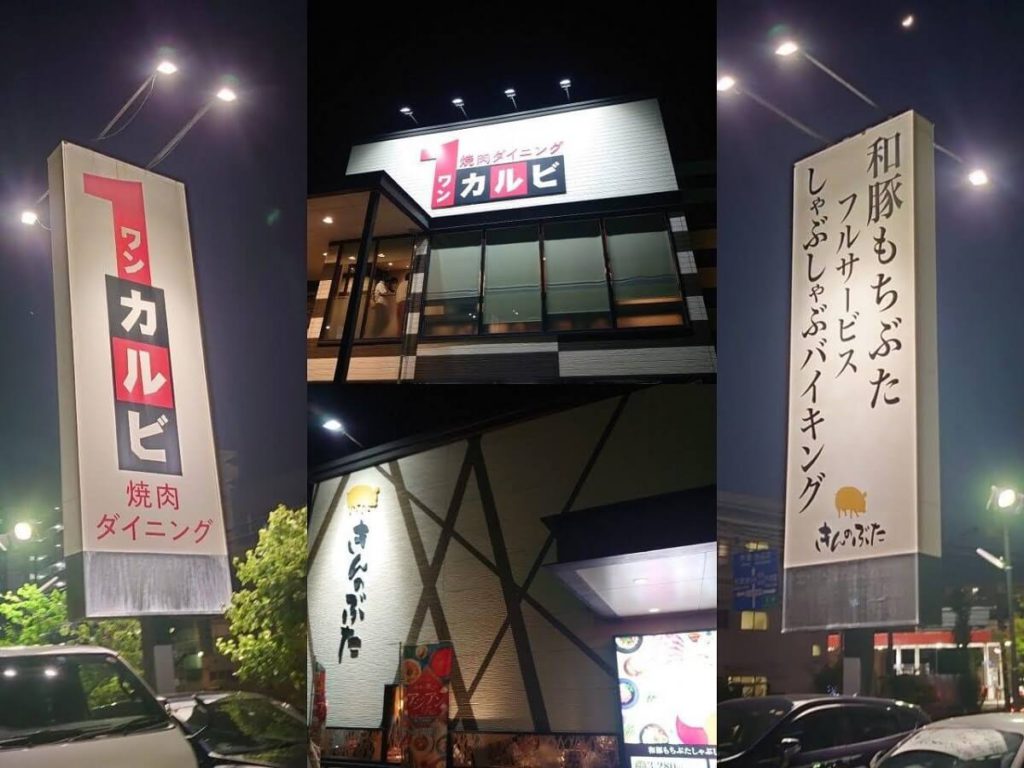 You know, there are many types of yakiniku restaurants for families, for groups, for couples, good-old ones, reasonably priced ones, and expensive ones for special days here and there in Japan. They are all unique in their own way. Today, I'll introduce two all-you-can- eat restaurants which are managed by One Dining. The head office is in Osaka. The names are One-Calbi (ワンカルビ) and Kinno Buta (きんのぶた).
A Little History Behind Yakiniku
In Japan, boiling meat was more common than grilling it. It was not until after World War II that yakiniku, or grilling meat over an open fire, became popular. There was one more thing that led to its popularity. That is the invention of the smokeless roaster. In the past, it was commonplace to eat at a yakiniku restaurant in a silent cloud of smoke, which tended to put women off. Since the introduction of this roaster in 1979, it has become standard equipment in yakiniku restaurants nationwide.This roaster was developed and patented by the Japanese company Shimpo, which has the largest market share in the world.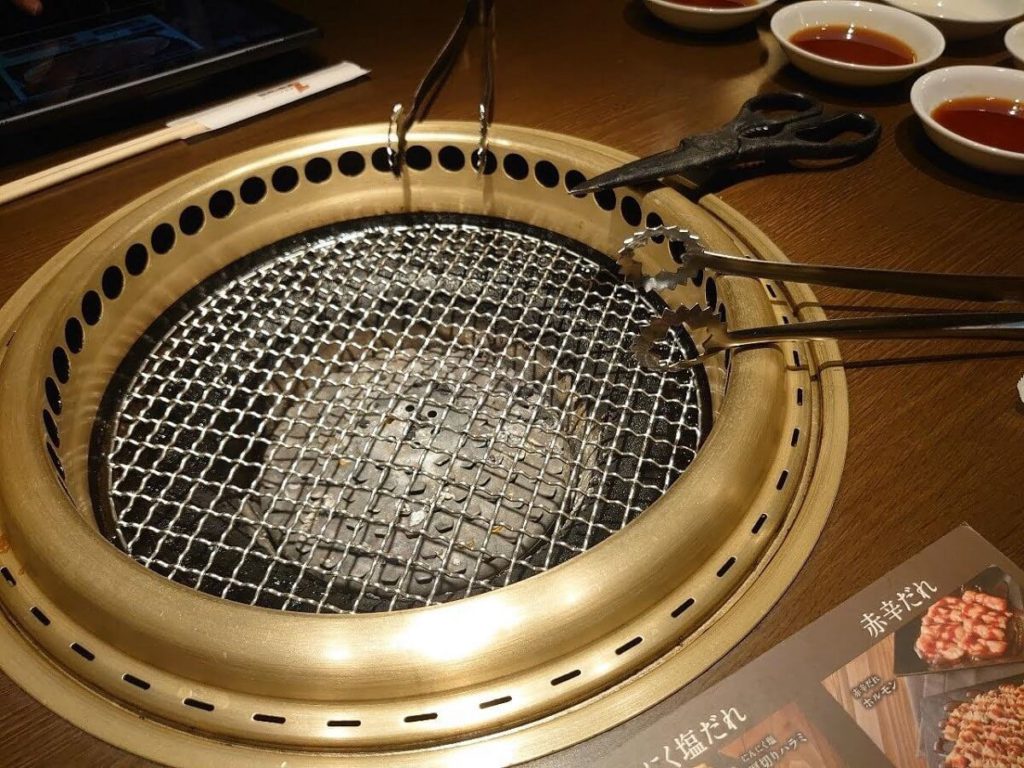 Popular All-you-can-eat Chains: "One Calbi" and "Kinno Buta"
Now let me explain the system of One Calbi and Kinno Buta.
One Dining manages these restaurants; they have 89 One Calbi restaurants and 23 Kinno Buta restaurants. These two restaurants have the most common style of this kind of dining. Here is how it works.
1. Choose a course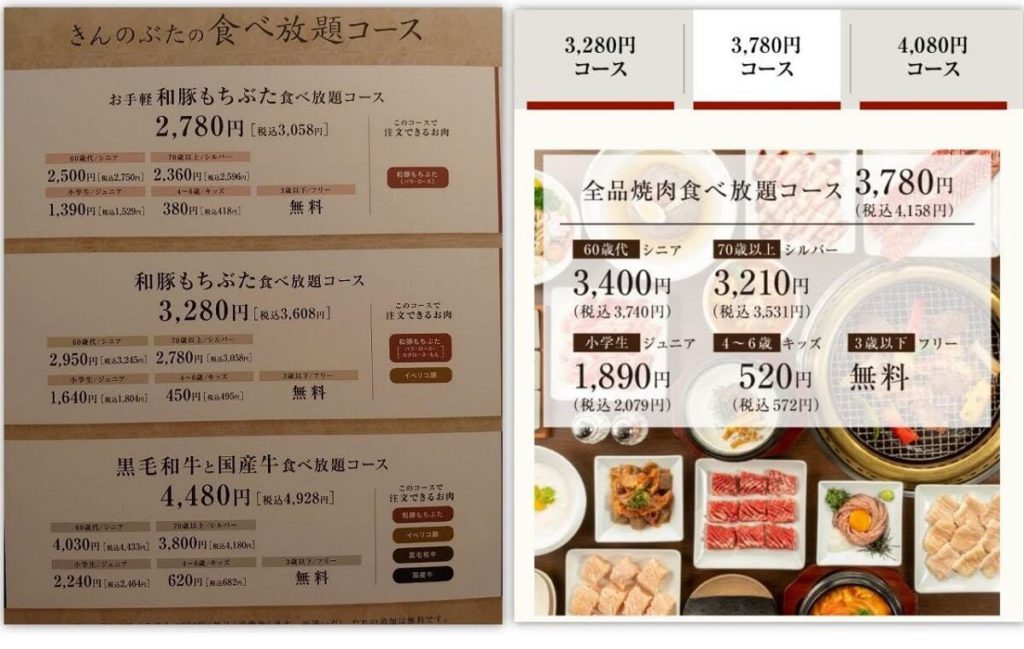 There are several different courses you can choose from. The types of meat and side dishes will vary depending on the course. You need to add an option if you want all-you-can-drink at the same time. Each course has several prices depending on the age of the customer.
2. All-you-can-eat for 2 hours
The last order can be made in the last 30 minutes before the course is finished.
3. Semi-private tables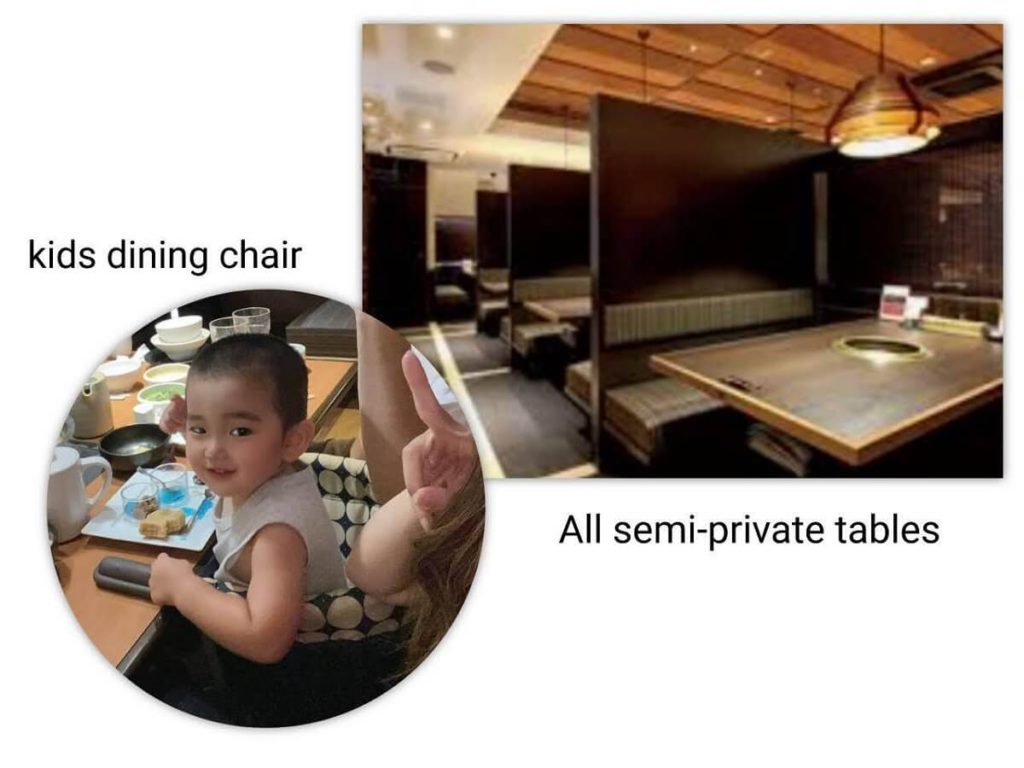 All tables are semi-private and seat up to 6 people. This is for families and loved ones to enjoy the company (Danran: 団らん) of each other. (By the way, I think that the most luxurious time is when the family gathers around the dining table to enjoy a meal together while laughing and chatting. It's called danran (団らん) in Japan.) Even if you go for two, you also have the same table. Of course, they have a child's tableware, spoons, folks and also kid dining chairs. So you can go with little kids.
4. Menu
New side dishes are updated every two months. The menu is full of dishes that both look and taste very satisfying.
5. All dishes, from main meat to side dishes, are prepared in the kitchen of each restaurant carefully. They serve fresh and delicious dishes and give great service whenever you go there.
6. Desserts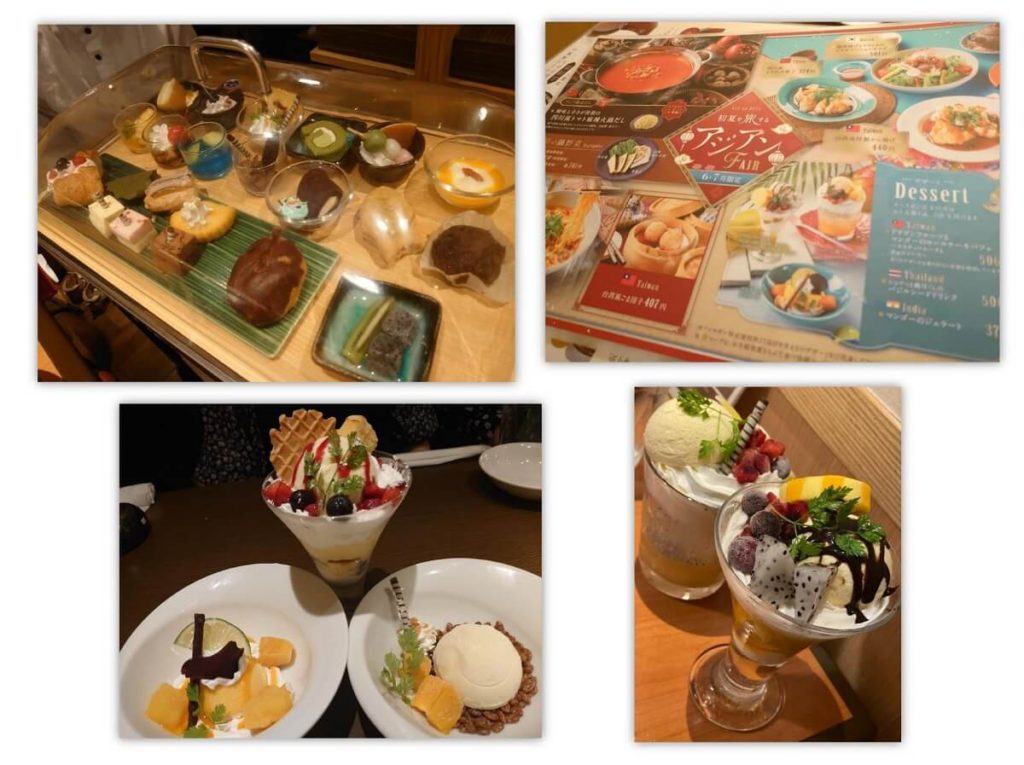 There's dessert waiting for you after the main meal! You can choose one dessert on the menu. All desserts look so nice and delicious.
One Calbi Yakiniku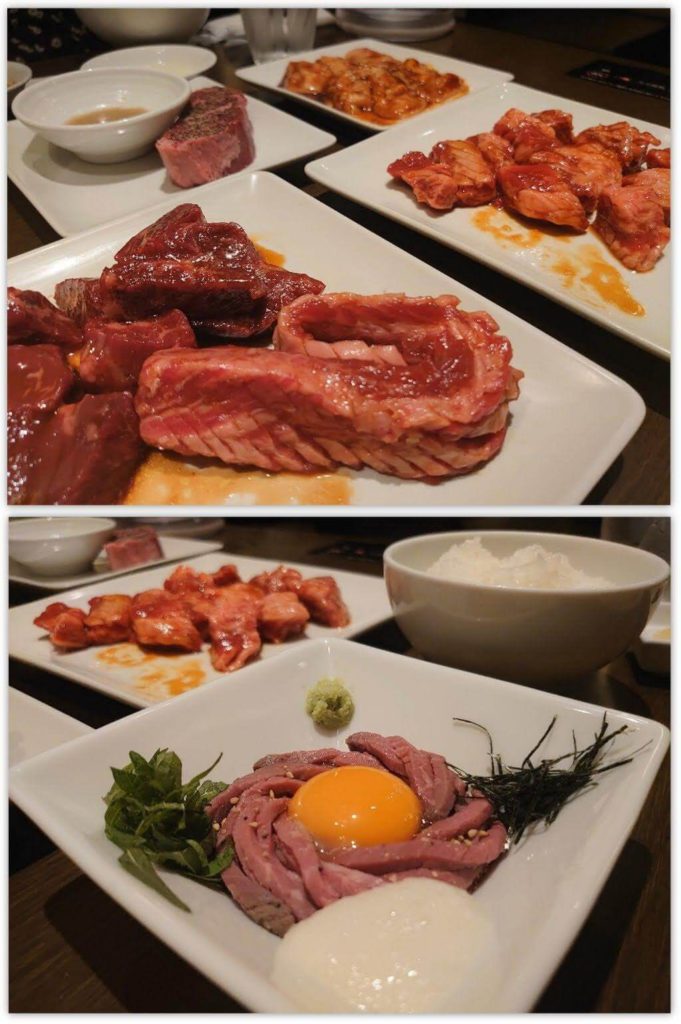 Yakiniku meat is thinly sliced and cut into easy bite-size morsels, so guests can control how much to eat easily. You can share many types and parts of meat with your family and friends. Overeating is not a concern. Many delicious side dishes are one of my favorite things there. I really love the meat as well as side dishes. There are many dishes that are pleasing to both the eye and the palate. No matter how many times I go, I never get tired of it.
Their Meats and Horumon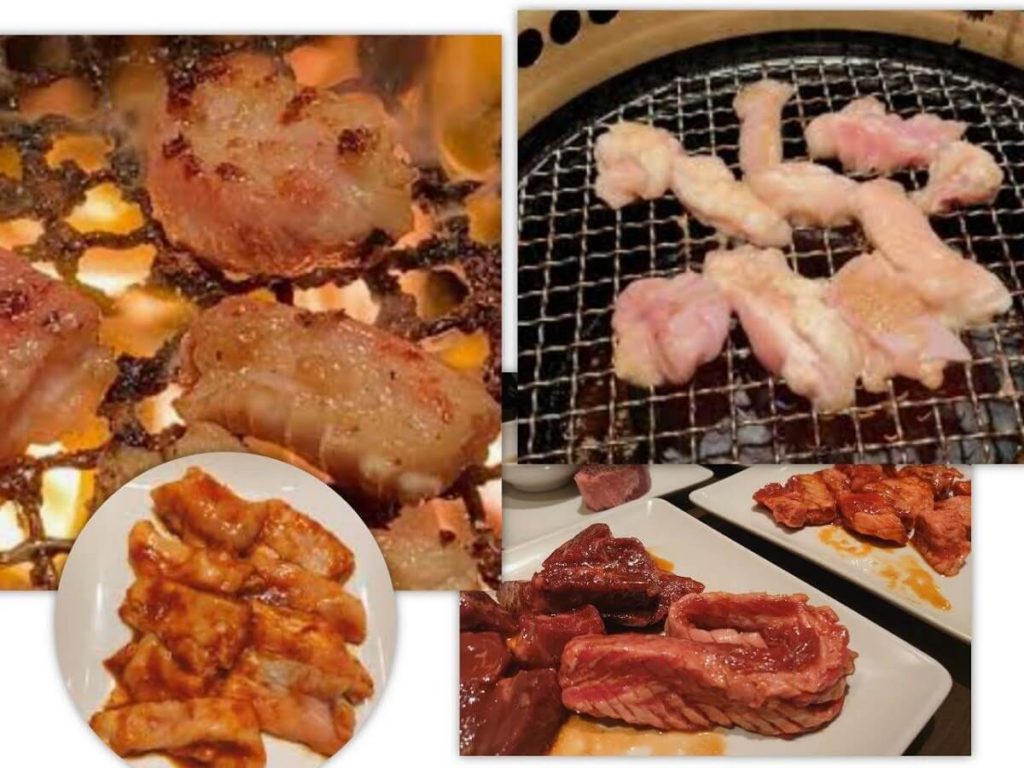 There are many parts of meat. They prepare mainly beef, but you can also order pork, chicken, and seafood. And I know you are especially curious to know about horumon (ホルモン: offal). When you hear that horumon is animal intestines and guts that are used for food, you don't want to eat it. However, it's worth a try. You will enjoy these fatty flavors and its slightly chewy texture. You should take time to grill horumon well and eat it.
I would like to recommend some of my favorite ones that you might avoid based on their image or impression. Please give it a try!
・Calbi (カルビ)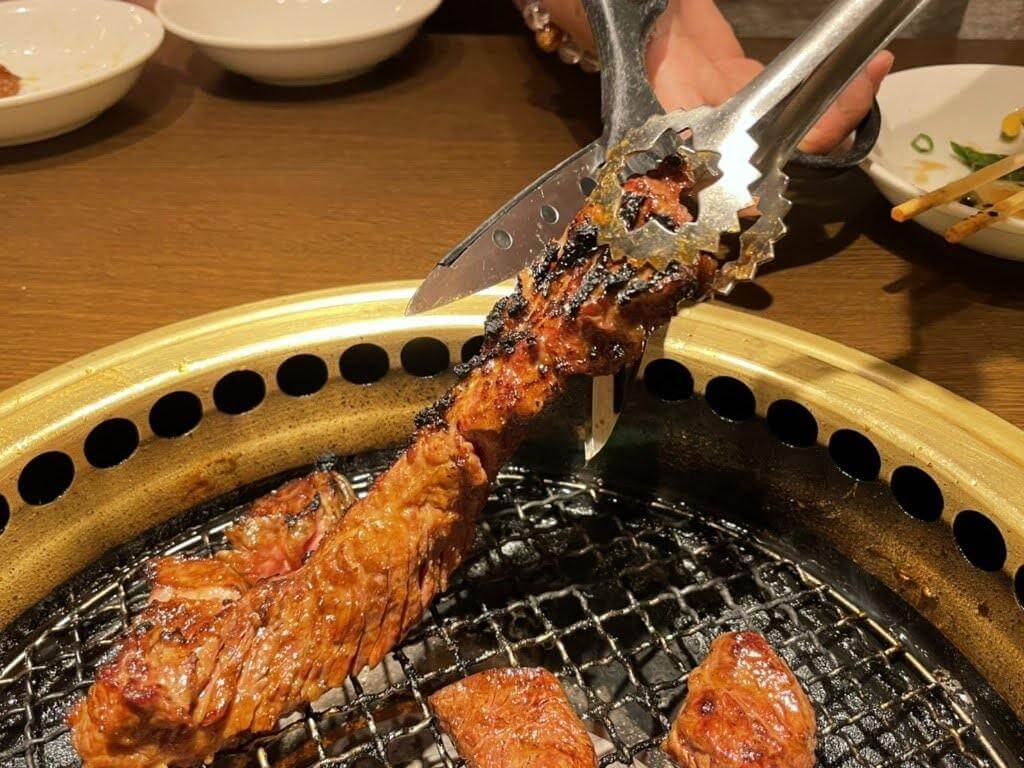 I like calbi, which is boneless rib steak. There are several types of calbi on the menu. One calbi is a delicious and unique one. It's a big piece of meat. After grilling, you cut it with scissors.
・Harami (ハラミ)
It is one of the offal, but don't get scared. It does taste like meat and is delicious. It has moderate texture and is fatty but healthier than calbi. It's very popular.
・Tan (タン)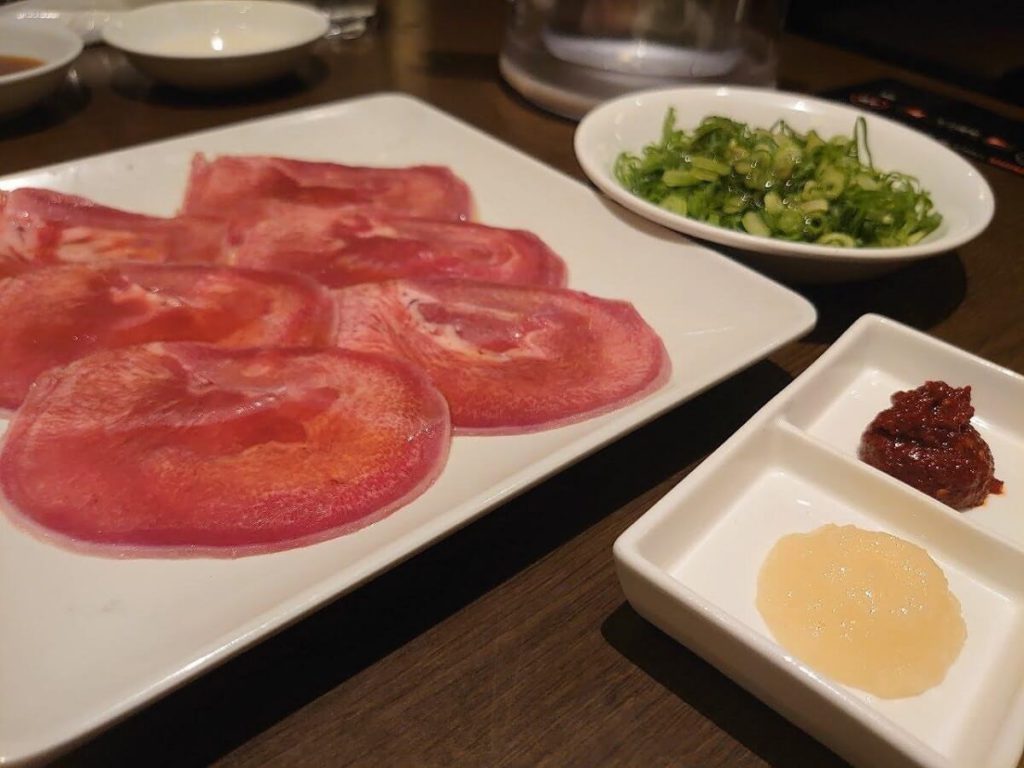 It is, you know, the tongue part. Very thin slice tan is a little chewy and very popular.
I love Shio-Tan(塩タン: salty tongue) with lemon juice. It's the best combination.
・Mino (ミノ)
It is the first of the cow's four stomachs. It is noted for its thick and crunchy texture.
・Tetchan (Shimacho) (てっちゃん)
It is the large intestine of the cow. It is noted for its thick and crunchy texture, with just the right amount of fat.
・Aka senmai (Giara) (赤センマイ)
It is also called Giara, the fourth of the cow's four stomachs. You can enjoy the rich flavor of this meat with the fat on it.
Kinno Buta ShabuShabu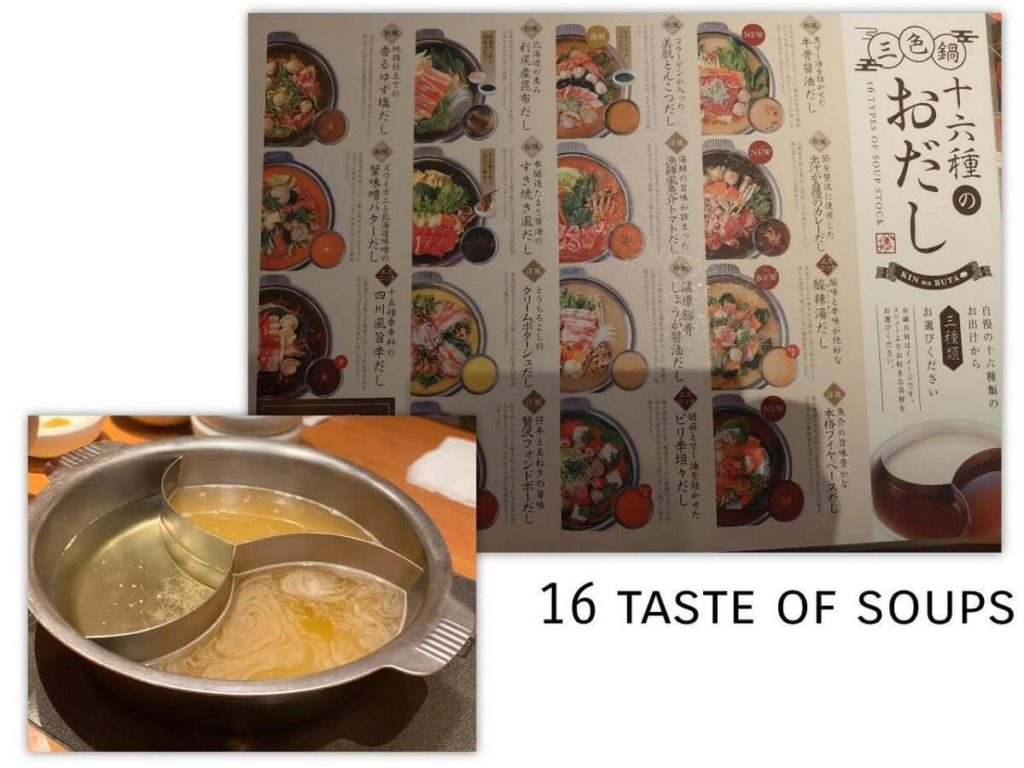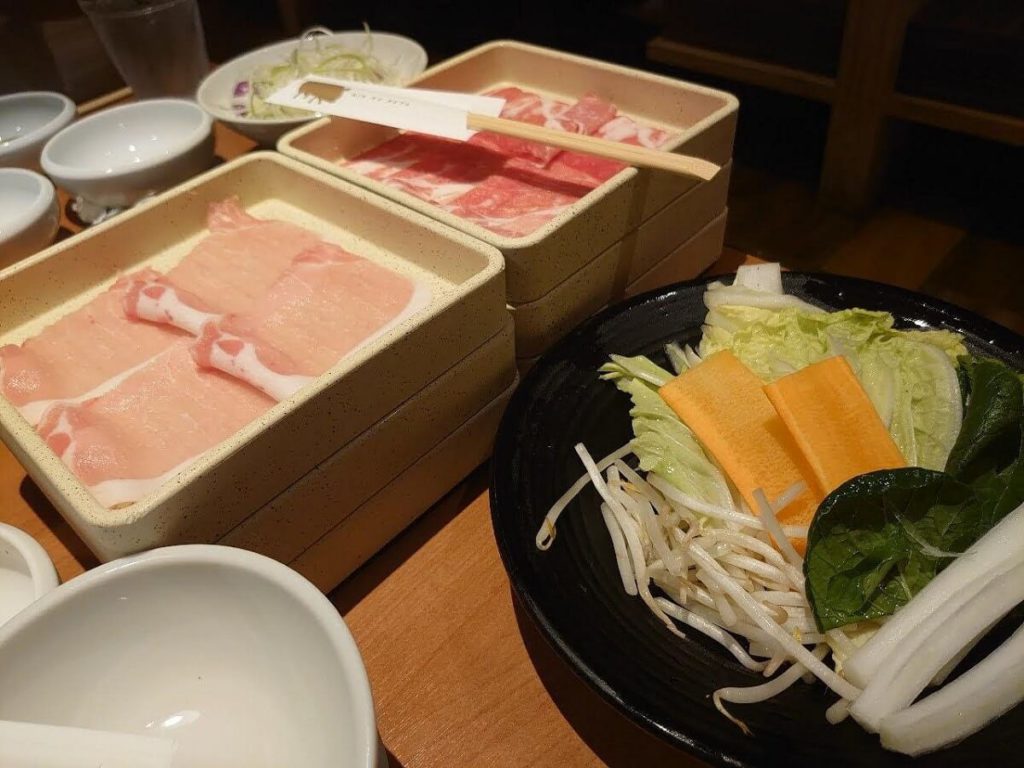 You think shabu shabu is a winter dish to warm up, but we eat it all year long. All tables have a built-in IH cooking heater. You can eat delicious chilled Japanese pork called Mochi-buta (もち豚", which is sliced into 0.2mm slices in the kitchen. They bring all the meat to your table with the best timing for your dining experience. First, you can choose three types of soup, and they pour three types of soup in a pot which has three sections. It means you can enjoy eating three flavors of shabu shabu at once. When each soup begins to run out, servers will add the same flavor soup to it. Of course, some kinds of desserts, different from One Calbi restaurants, are prepared for the diners. All the services are wonderful.
What do you think about my article this time? One Calbi and Kinno Buta are my family's favorite restaurants. All the waitstaff are smiley and courteous. All the meats are very tasty, the side dishes are plentiful and delicious, and the food presentations are wonderful and even more pleasing to the eye. The desserts are also enjoyable as they are different every time we go, with nice-looking ones that are exciting to choose from.
When you are grilling a lot of meat, the fat is dripping off the meat and flames are suddenly rising right in front of your eyes. Or when you mixed three soups of shabu shabu by mistake, you are confused about which soup is what. That's so fun too. I really want you to enjoy everything. It's such an entertaining experience!
Enjoy danran with your precious person there!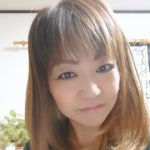 I'm a clay artist, and have my own shop in Ikaruga town, Nara, which is near Horyuji temple: world heritage site. And I'm a volunteer English tour guide there. I enjoy learning English everyday.