Somen is the most representative noodle of summer in Japan.
Somen, with its pure white, delicate noodles and refreshing taste, is a typical summer dish in Japan.
Japan is home to a large number of somen producing regions, each with its own unique characteristics.
Map of Somen production areas in Japan.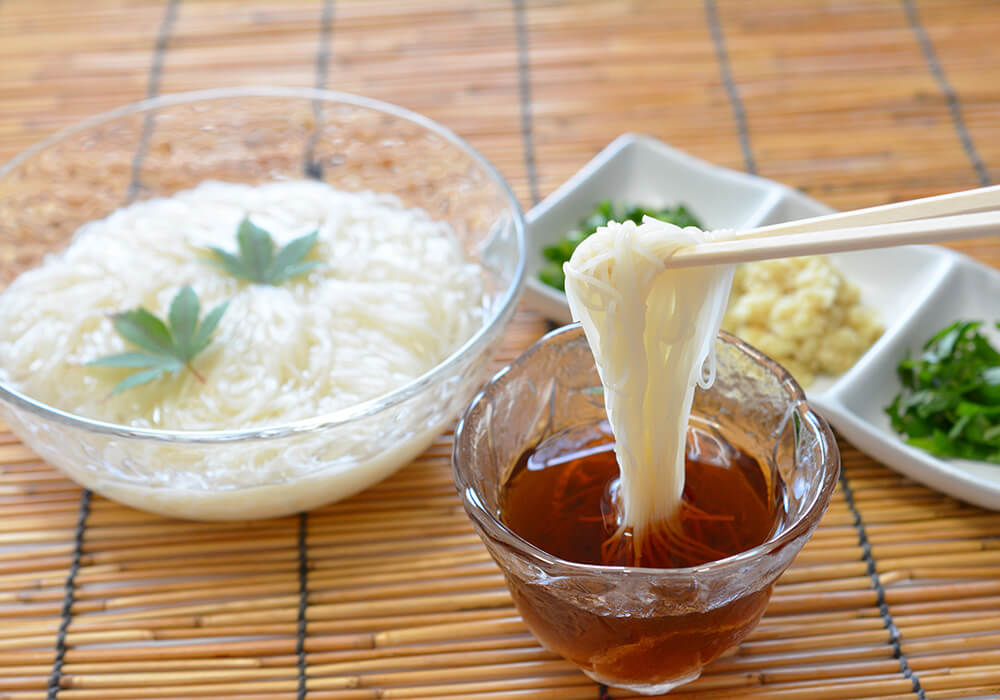 Hand-pulled noodles〜The origin of Handa Somen
The process of making hand-pulled somen originated in Nara Prefecture, famous for Miwa somen, and from here spread throughout Japan.
In Tokushima, Shikoku, there is a hand-pulled somen called "Handa Somen".
It is said to have been introduced to Handa from Nara Prefecture via Awaji Island and the Naruto Straits, and through the Yoshinogawa River.
Its history is long and boasts a 200-year tradition.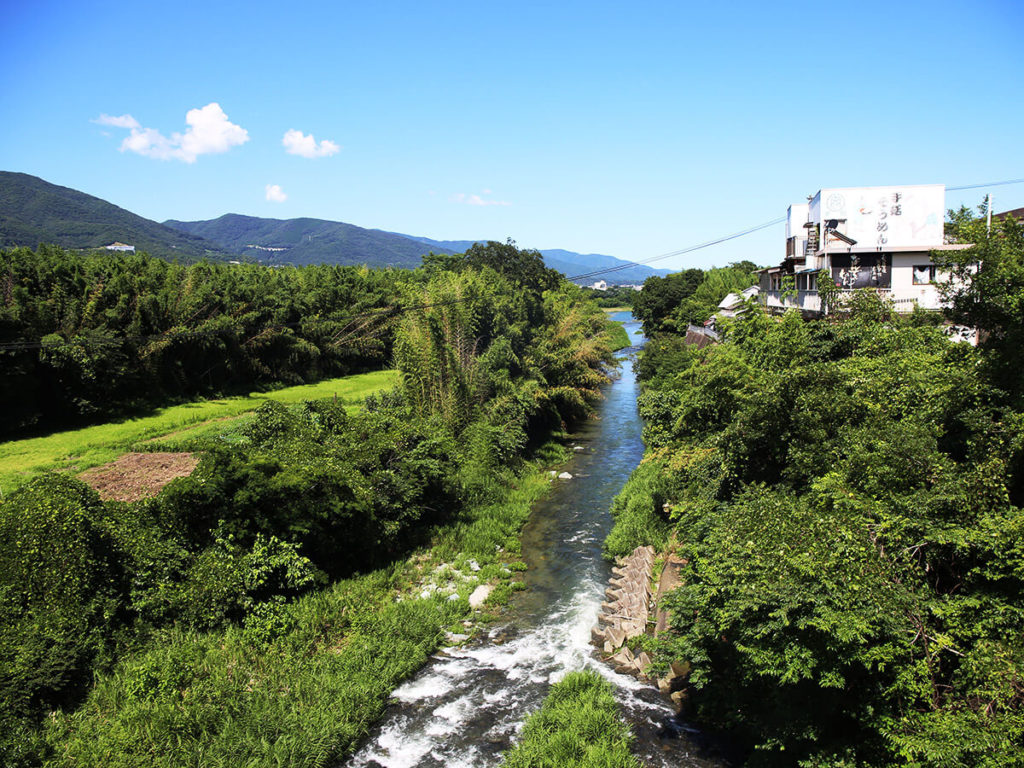 Handa somen is characterized by its thickness and chewiness.
Handa somen, made by the traditional "hand-rolled" method of repeatedly "stretching" and " maturing," is characterized by its firmness, smooth texture, and thick noodles.
Handa is a river terrace town surrounded by steep mountains on three sides.
Villages are scattered along the Handa River, which flows into the Yoshinogawa River that runs east to west through Tokushima Prefecture, and noodle factories are dotted along the mouth of the river, where it fans out, to higher elevations.
Shirataki Seimen
I visited "Shirataki Seimen," a noodle factory located in the mountainous area.
From in front of the Handa Branch Office of Tsurugi Town Hall, take the town-run community bus to the upper stream of the Handa River.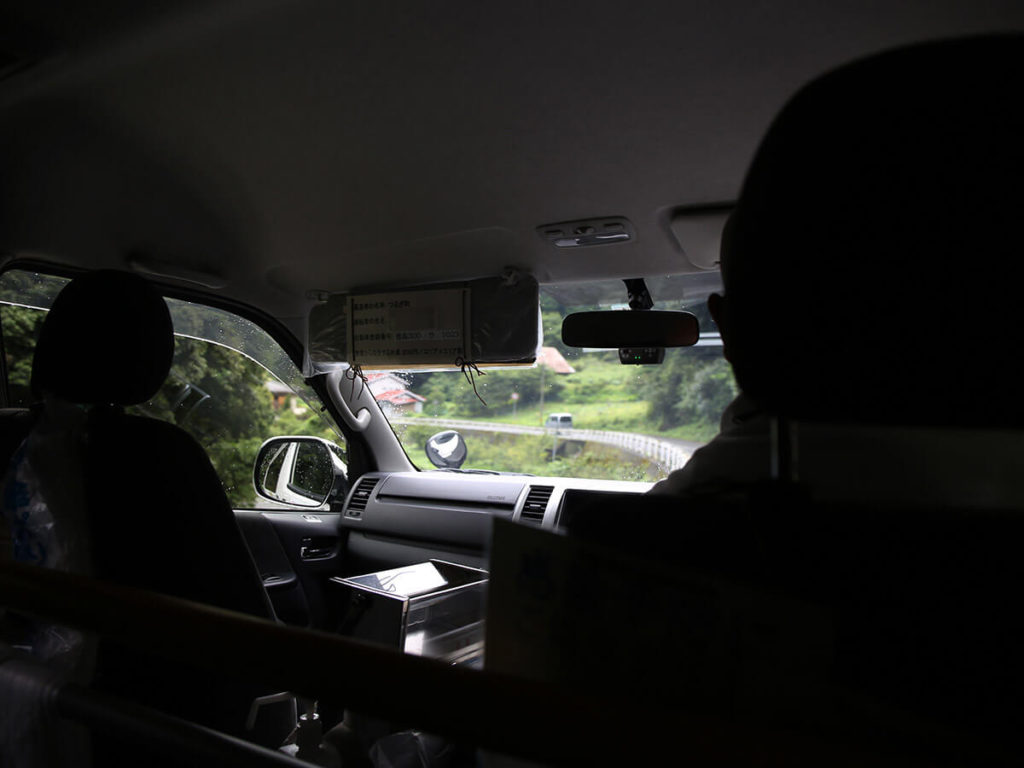 I was the only passenger.
The driver tells me, "In the old days, there used to be a bonnet bus on this street, and lots of people rode it."
There are several closed schools along the way, indicating that many people once lived in each of the villages.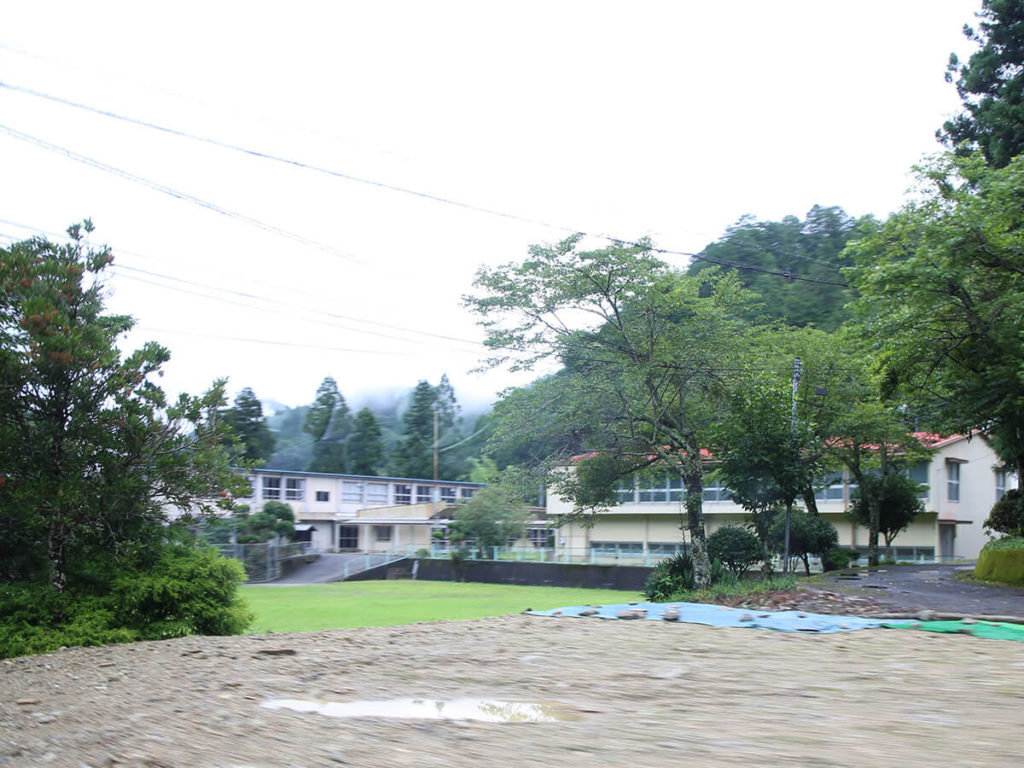 After a 30-minute bus ride and a five-minute walk along a mountain road, I arrived at "Shirataki Seimen".
CEO Daiko Morioka welcomed me with a big wave of his hand.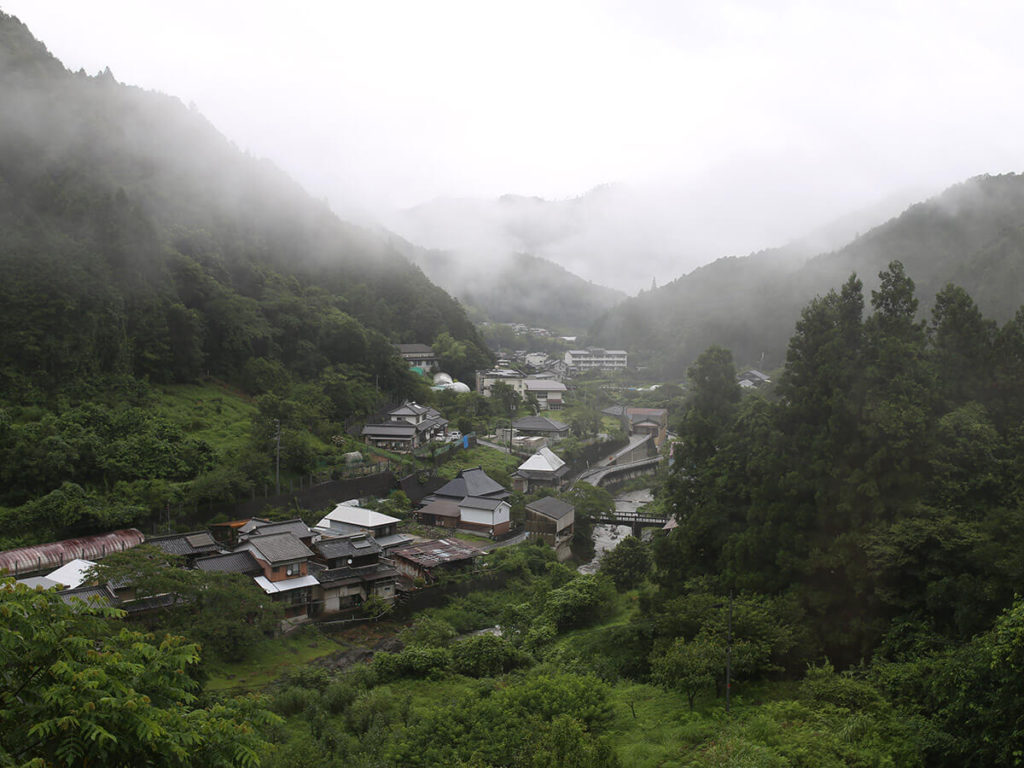 The dough, which had been kneaded since 3 a.m., was ripening to a good state and was about to undergo the "oiling and dusting(油がえし・ほそめ)" process. Handa Somen is made using the "hand-pulled(手延べ" method, and its ingredients are wheat, salt, water and oil.
The Process of Making Handa Somen Noodles
1. Kneading, dumpling kneading, and itagi こね・団子ふみ・いたぎ
Mix the flour and salt water together and knead while airing out the mixture well.Then take it into a container in a spiral shape with a thickness of 10 to 15 cm.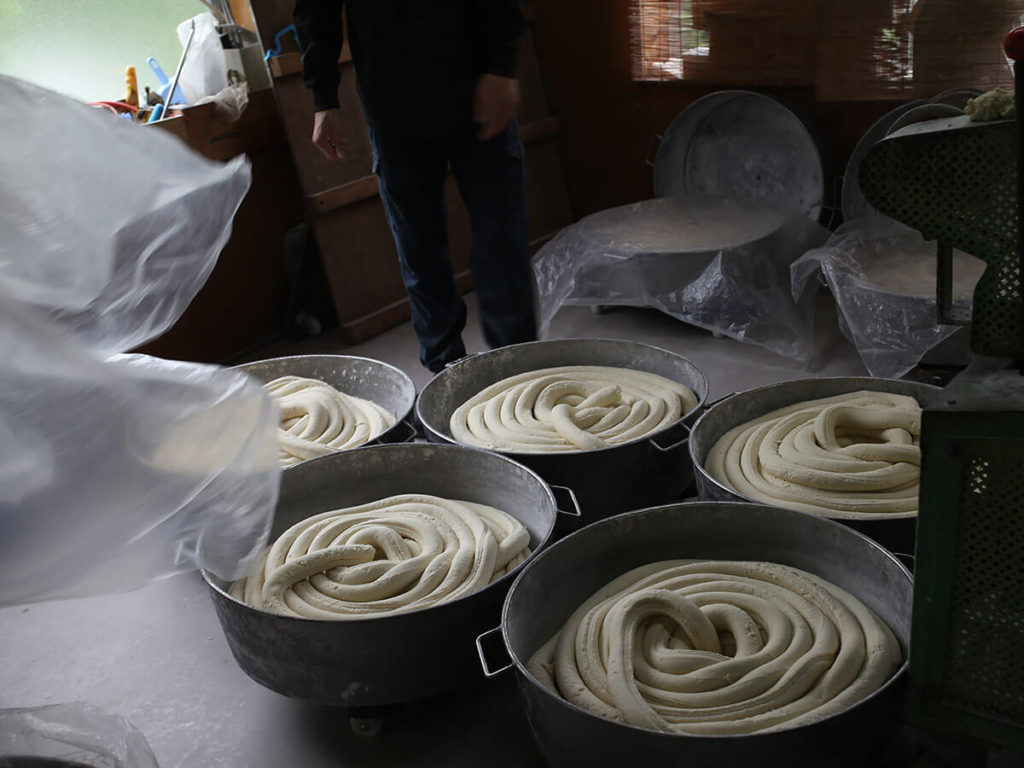 2. Aburagaeshi Hosome 油がえし・ほそめ
After stretching the noodle base made in the previous process to about 5 cm in diameter, the noodles are coated with oil to prevent them from drying out and to give them a rich flavor.
Then it is stretched even thinner.
At this point, the diameter is about 3 cm.
The first noodle base will be a long, long single noodle.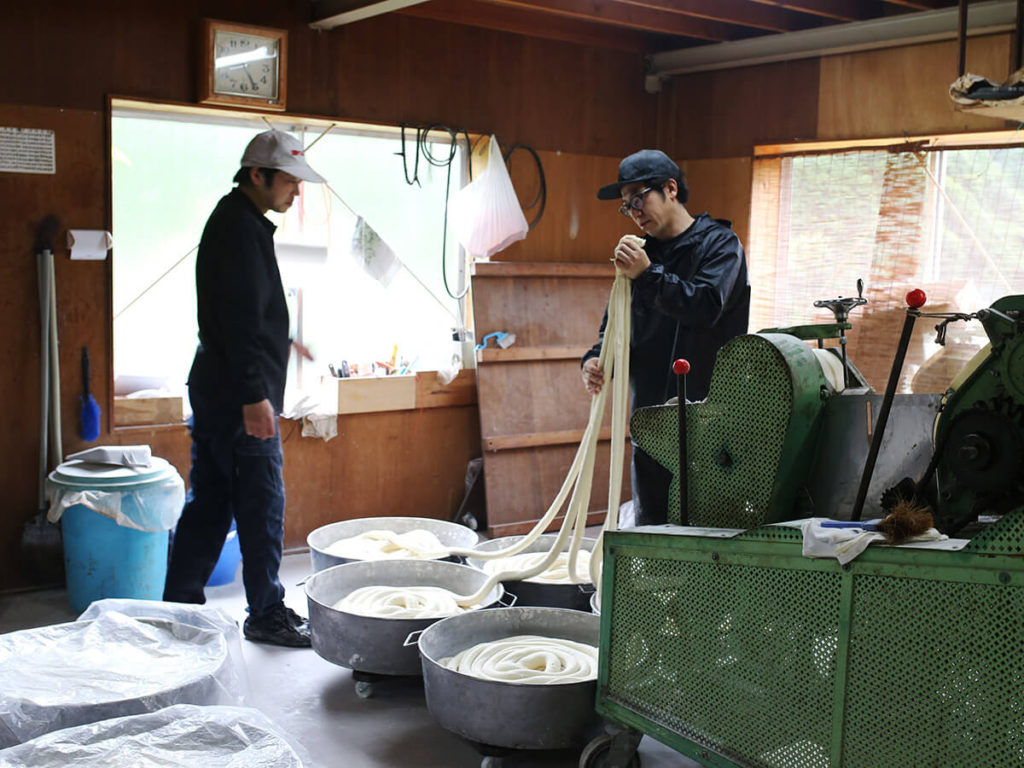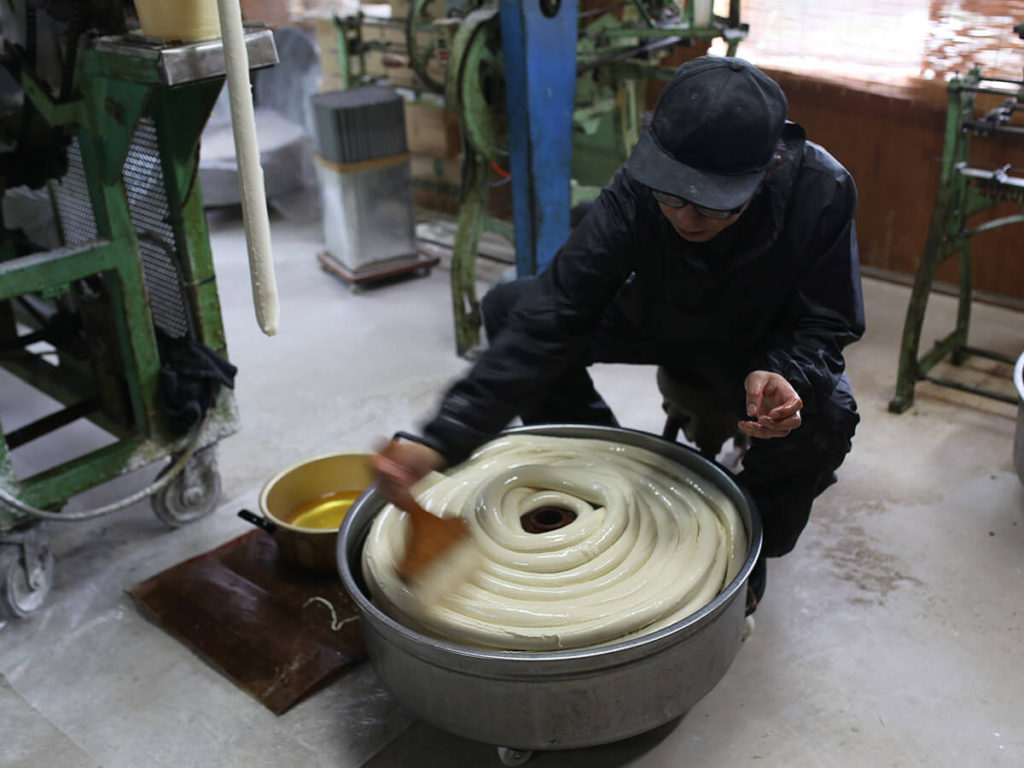 3. Kakeba かけば
Twist the long, thin noodles and hang them over the two bars in a figure 8 pattern.
The noodles are then allowed to rest and mature while monitoring the temperature and humidity of the day.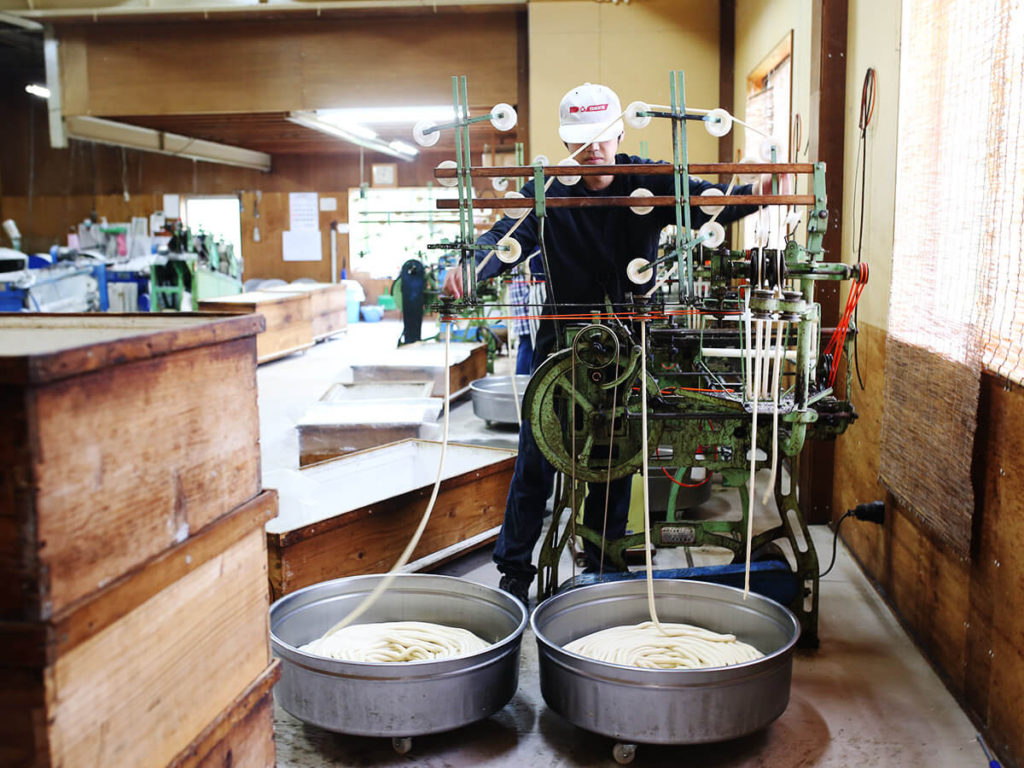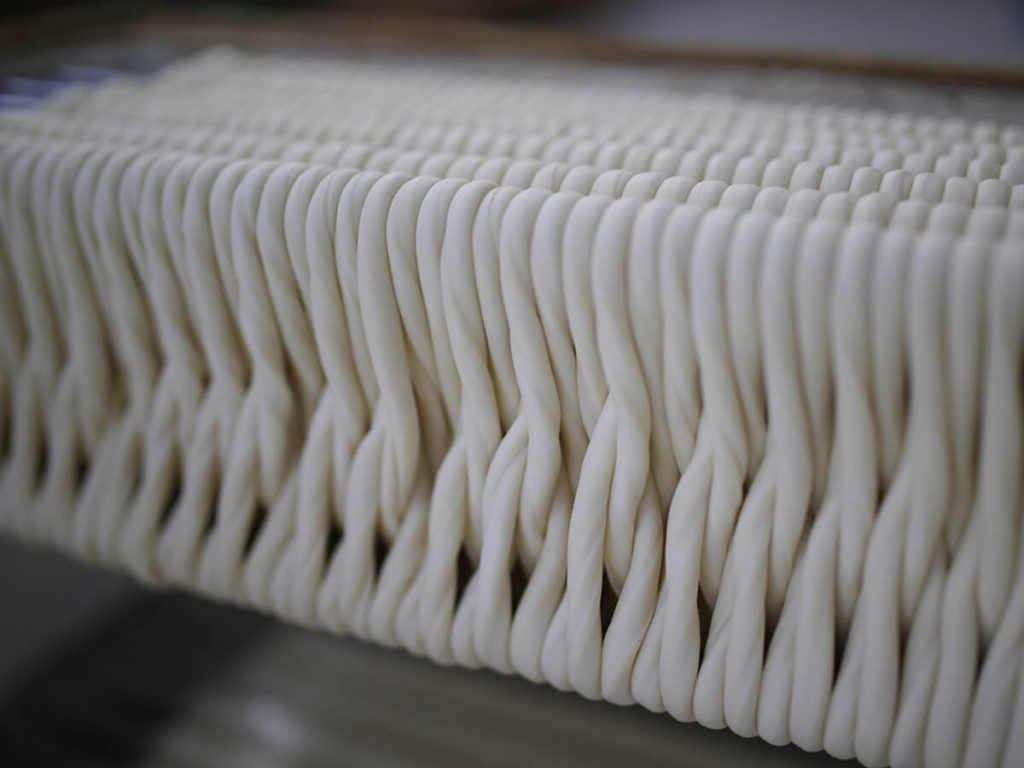 4. Kobiki 小引き
Pull and stretch the noodles after they have matured moderately.
One noodle is gradually transformed into a "hand-pulled noodle.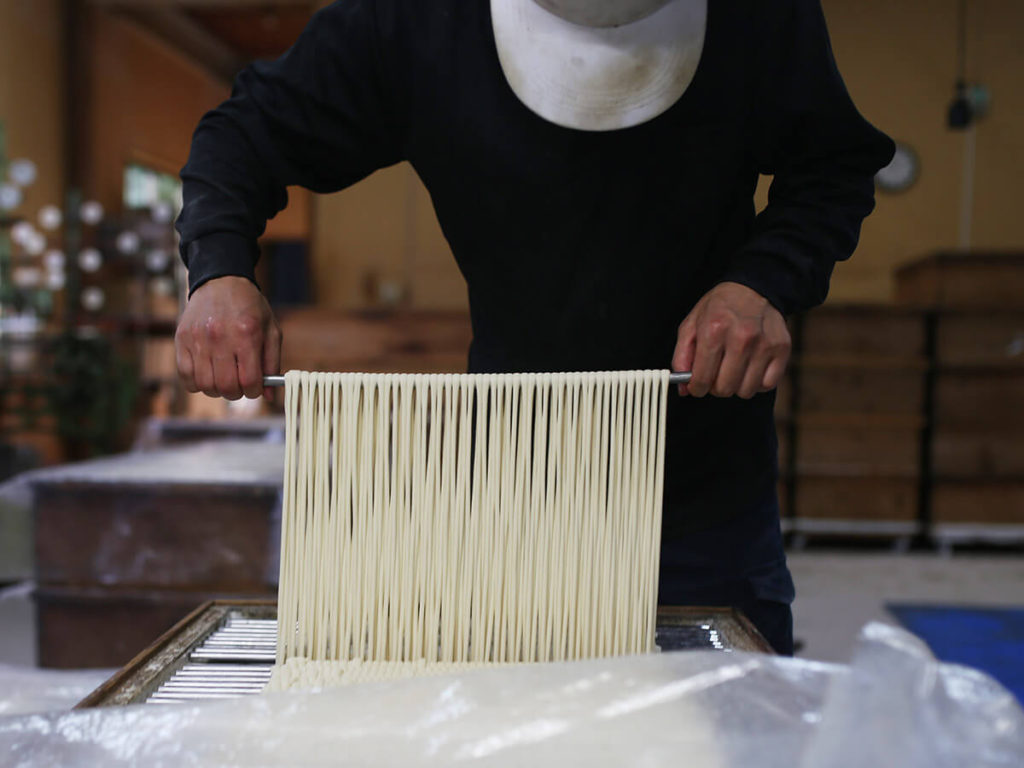 5. Kadoboshi, Hashiire かどぼし、箸入れ
Once the stretched noodles are matured again, they are stretched longer at the same time.
At this point, the noodles still contain a lot of water, so they are carefully separated with chopsticks to prevent them from sticking together.
Once they are thoroughly dried, they are ready to be soldered into hand-pulled noodles.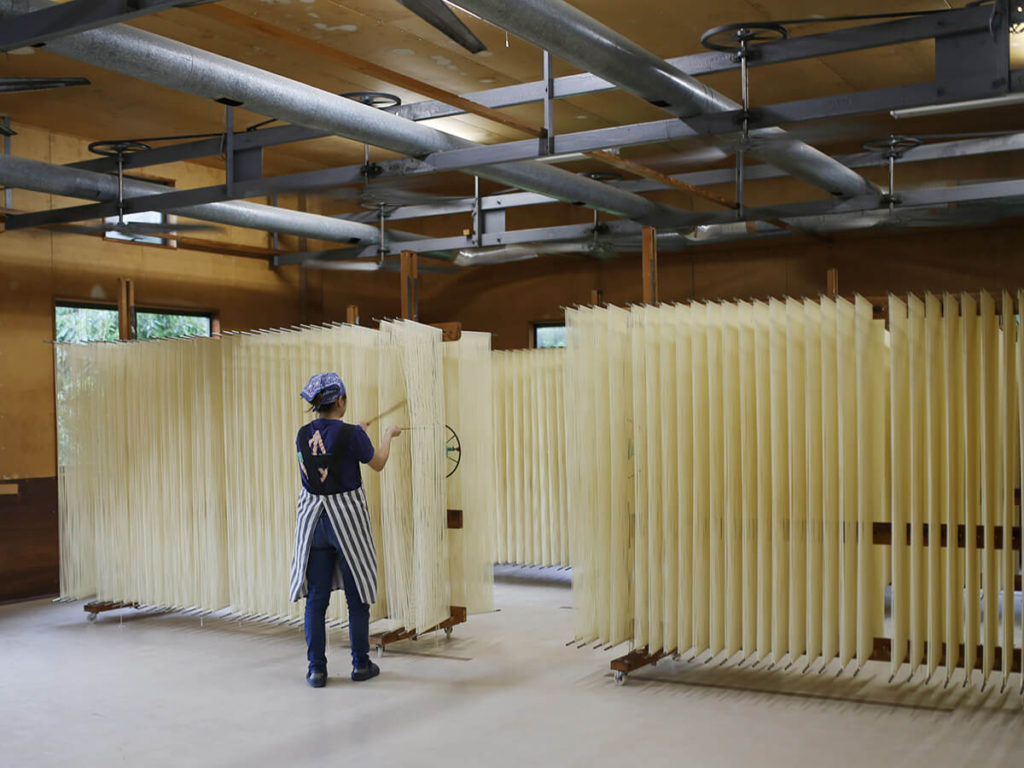 6. Kowari こわり
The noodles are dried overnight and cut into regular lengths to complete the process.
The resulting somen noodles are thick, firm, and chewy.
When made into "cold somen", their thickness and firmness make it a very satisfying dish.
The noodles do not get limp, so they can be used like pasta or added to casseroles and soups.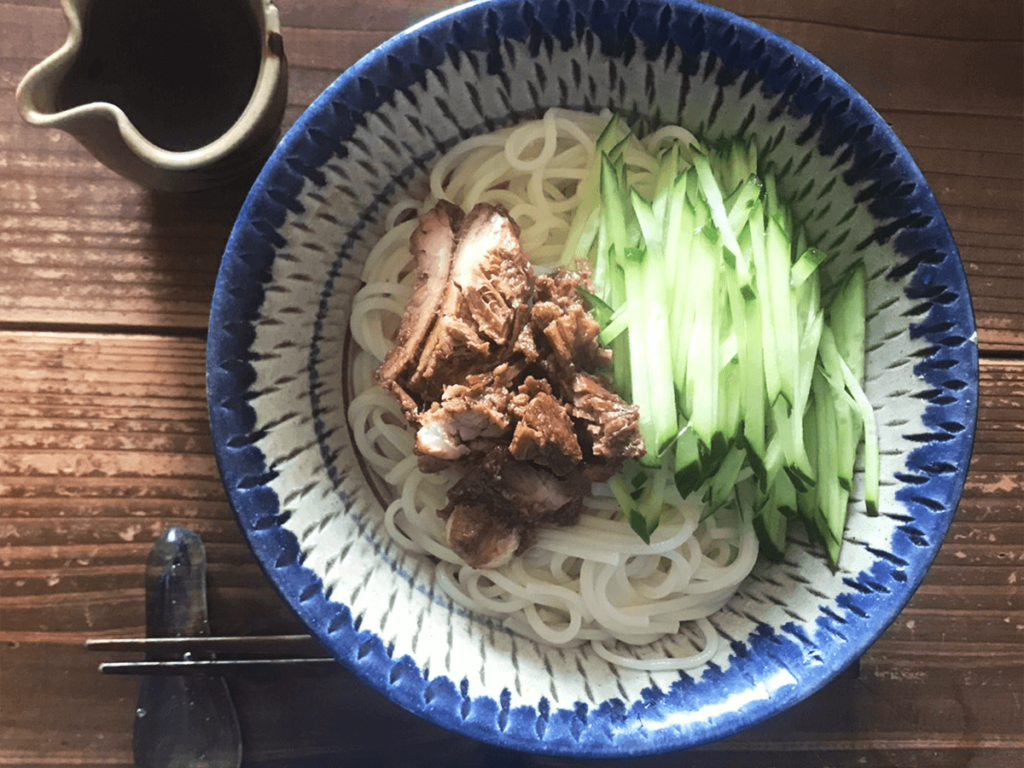 Handa Somen Then and Now
Currently, there are about 30 noodle makers in the Handa area, each producing Handa somen noodles using their own unique methods.
The Handa Handa Somen Association's store along Route 192 sells somen noodles made by producers belonging to the association, and people from inside and outside of the town visit the store to buy them.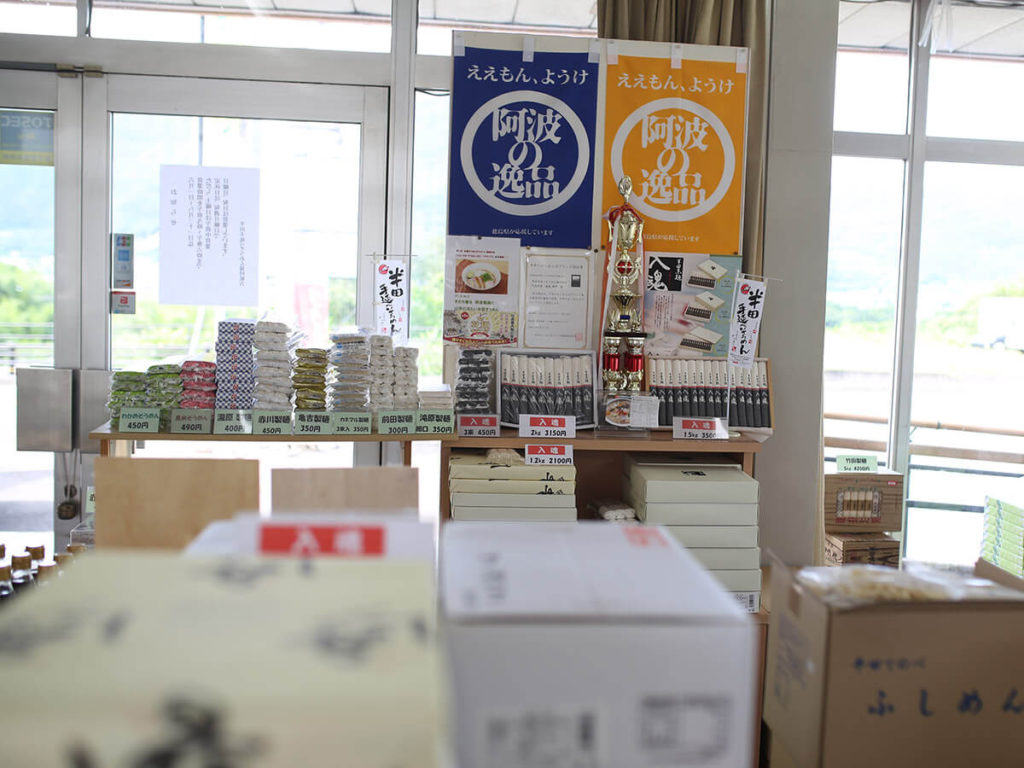 "We used to sell only boxes of a few kilograms, but since we started selling two or three batches, more and more people are buying noodles from different noodle makers," says a staff member who works as a sales representative.
In the old days, the gift-giving culture was very active, and the more somen noodles were made, the more they were sold.
However, with the passage of time, the gift-giving market has shrunk and demand has shifted toward individual meals.
Many of the more than 100 noodle mills that once existed have closed.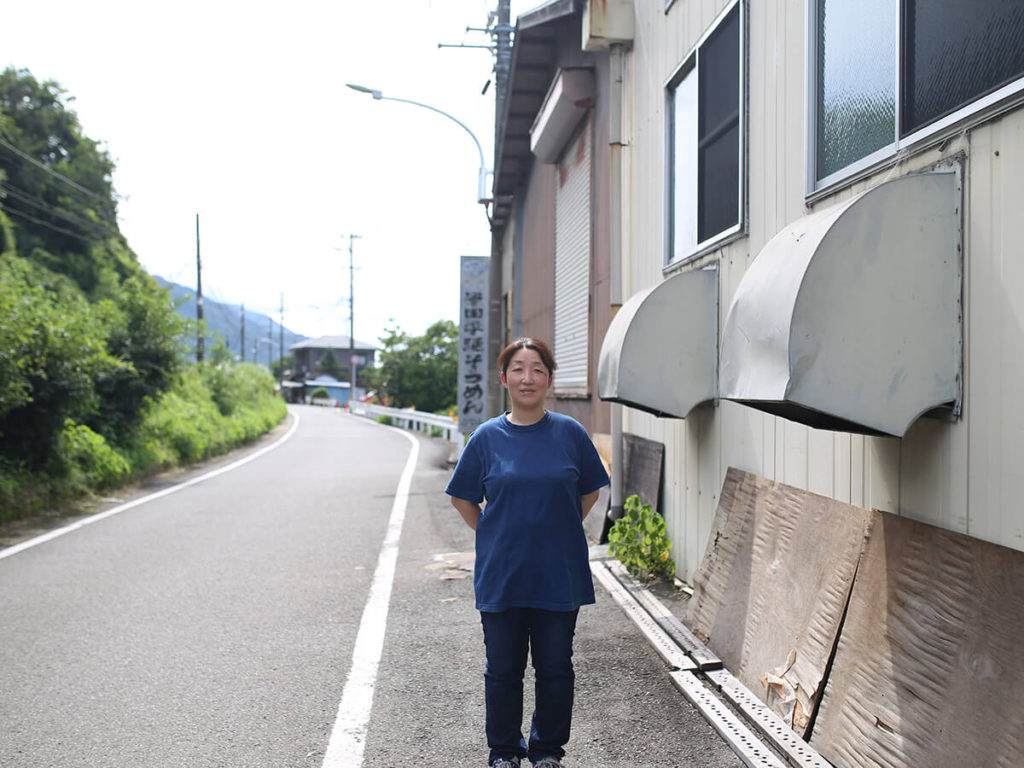 Junko Kitamuro, who serves as director of the Handa Handa Somen Cooperative Association and also produces her own somen at Kitamuro Hakusen, realized the crisis: "If this situation continues, consumption will only grow thinner and thinner.
Ms. Kitamuro also requested support from the government, and took her friends to open a stall at the popular "Meguro Sanma Festival" in Tokyo. After that, she actively took young producers out into the "world outside of Handa," such as by setting up a food booth at a music festival.
She also focused on using social networking sites to communicate her message and lead others around her.
Then, in 2018, she and her fellow noodle makers participated in the "Dried Noodle Grand Prix(乾麺グランプリ " and won the grand prize. These steady efforts have paid off, and the younger generation has come to nominate and buy "Handa Somen" as their favorite.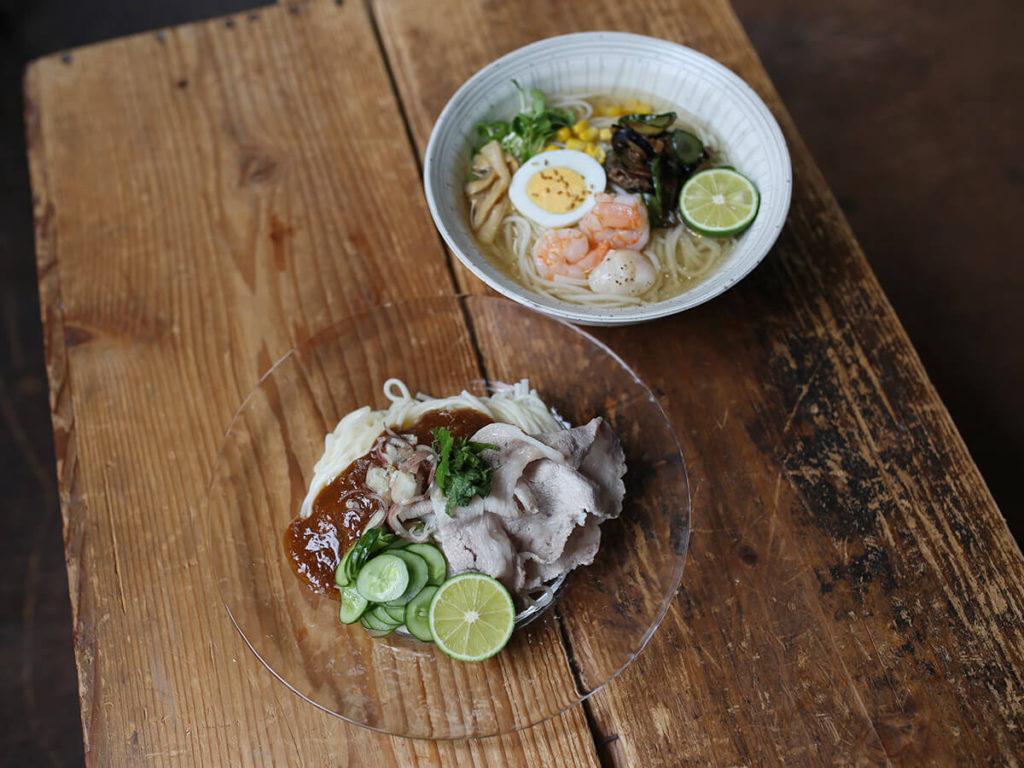 "That is how Handa Somen has become known over the past 10 years," says Kitamuro.
In the future, she says, it will be necessary to propose various "ways of eating" Handa Somen.
Handa Somen is a type of hand-pulled somen that is nurtured in the Handa region and made slowly through a process of repeated maturing and stretching.
Please enjoy the unique texture of hand-pulled noodles.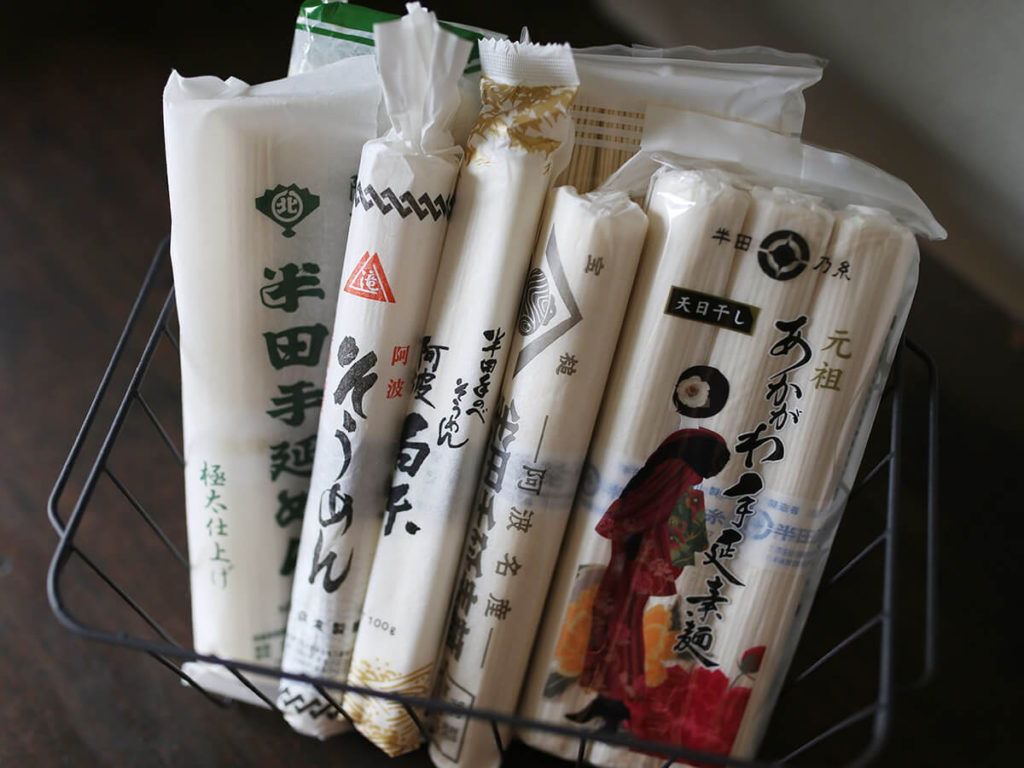 Methods vary from noodle factory to noodle factory. It is fun to find the one you like.
Shirataki Seimen
https://shirataki-seimen.com/

Kitamuro hakusen
https://www.kitamuro.co.jp/

Handa Hand-pulled Somen Cooperative Association
https://handasoumen-kumiai.jp/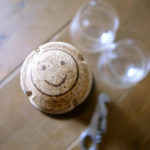 I'm a freelance editor and director based in Tokushima, Shikoku.
Travel is my passion.I love the time when the extraordinary life of a traveler and the everyday life of the people who live there intersect.
I mainly would like to share with you the lifestyle of the people of Shikoku and the sights to see.