What do you do when you are tired of walking around town or shopping and want to kill some time? Do you want to find a stylish cafe in which you can rest? That's a good idea, but why not take a break in a place where there is greenery and the sky is close at hand? I'll introduce you to some rooftop gardens where adults as well as children can relax together, which were recently established near a downtown train station.
(1) SHIBUYA : 渋谷
In recent years, the area around Shibuya Station has undergone major changes due to urban redevelopment. Among those changes are two rooftop garden spaces that have been getting a lot of attention lately.
■ SHIBUYA SKY 渋谷スカイ on "SCRAMBLE SQUARE"

The rooftop of "Scramble Square", built in 2019 and directly connected to Shibuya Station, is now an observation space that offers a 360-degree panoramic view of the city of Tokyo. You are surrounded on all sides by clear glass and nothing covers your head. You might feel as if your hands are reaching for the sky. If there is good weather, you'll be able to see as far as Chiba, Saitama and Mt.Fuji, etc. When I visited, I was overwhelmed by the breathtaking scenery and gradually felt my heart fill with a sense of openness.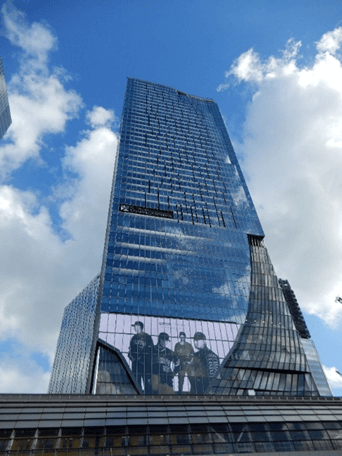 ★Access
1. Take the elevator to the 14th floor of "Scramble Square"
 → 14F : Purchase tickets at the ticket counter (2,000 yen)
2. Take the elevator to the 45th floor
  You can arrive there feeling like time-traveling in seconds.
 → 45F : Leave everything except your cell phone and camera in locker for a100 yen deposit, and go to the rooftop
★Time 10am – 10:30pm
★Extra
– Advance online ticket :10% off
– This is the only place that has a fee in this article, but it's worth it.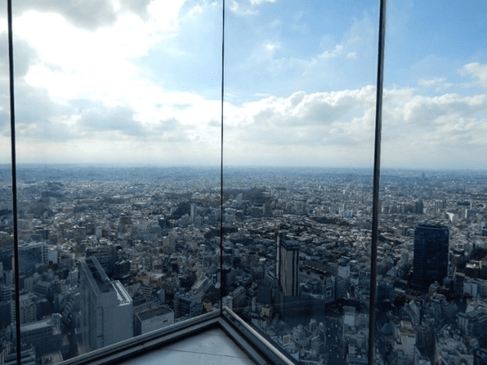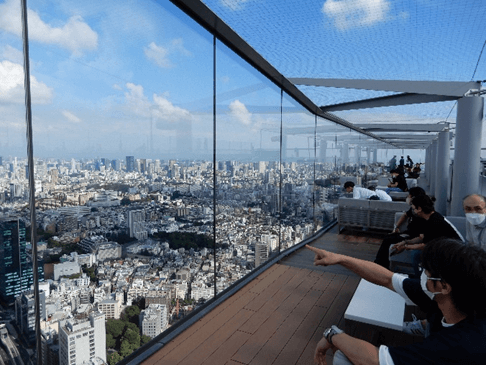 Sofa seats are set up there, and you can relax and enjoy the beautiful view. There is also a stepped plaza in the center where you can sit, lie in hammocks and watch the sky.

■ MIYASHITA PARK, Shibuya Ward : 渋谷区立宮下公園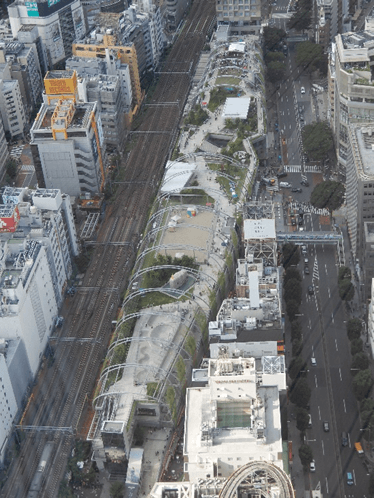 Previously Miyashita Park used to be called the slum of Shibuya, but it was transformed into a bright and open rooftop park on the four-story shopping mall in 2019.
-the 1st floor : "Shibuya Yokocho" with izakaya (Japanese style pubs) from various regions
-the 2nd floor : fashion stores
-the 3rd floor : casual restaurants in a food court style.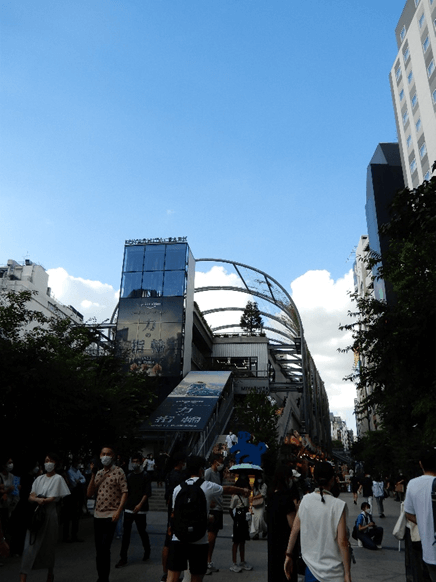 ★Access
From Shibuya Station, a few minutes walk toward Meiji Dori
★Time 8am – 11pm
★Extra
–You can see trains from both the south and north connecting corridors because it is located along the JR Yamanote Line,
-There is an elevator for dogs.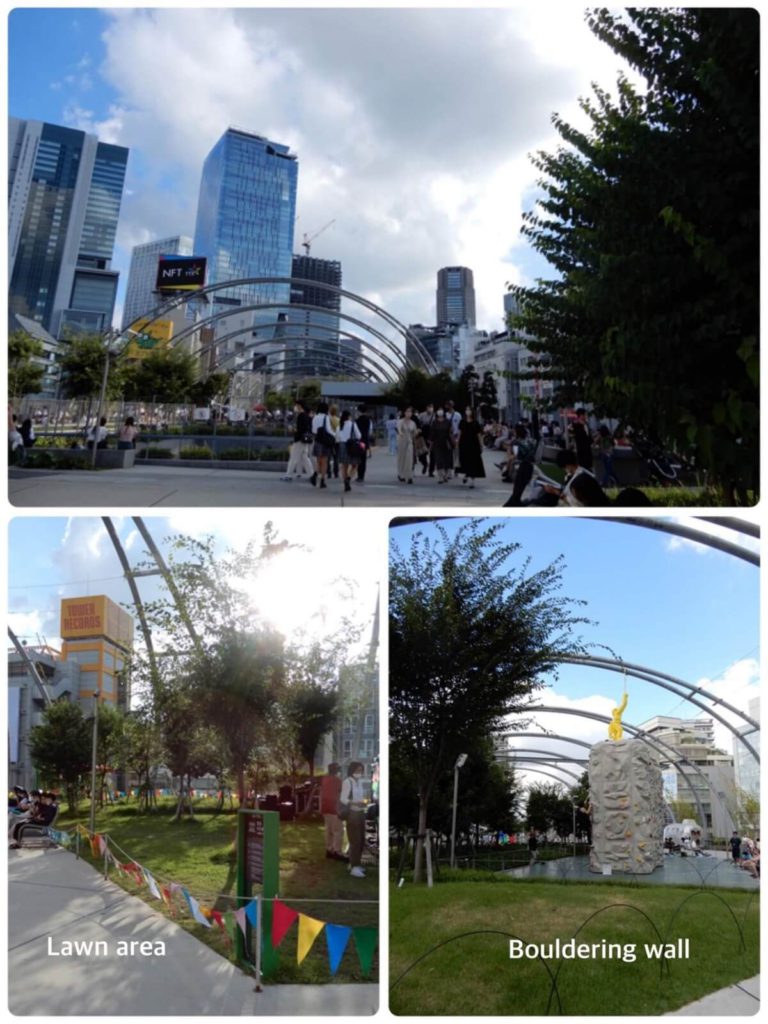 The long, narrow, ship-like site has not only a large lawn but also a skateboarding park, a bouldering wall, and a sandy multi-purpose sports area, where you can enjoy beach volleyball, basketball, etc. There is also a Starbucks in the park where you can buy a drink and relax. So, this park is a great place where adults and children can relax and enjoy exercising together to the fullest. Walking along the paths in the park, it is hard to believe that the park is on top of a building.
(2) GINZA : 銀座
■GINZA SIX GARDEN on "GINZA SIX"
Ginza six is a 14-story commercial building, the largest in the Ginza area, and Ginza Six Garden is the rooftop garden that covers approximately 4,000 square meters on its rooftop. The entrance to the garden is decorated with stylish ornamental plants. It is truly a sophisticated space befitting Ginza as the adult district. Of course, children can play there, but it's also a place of relaxation for adults who want to spend some time quietly.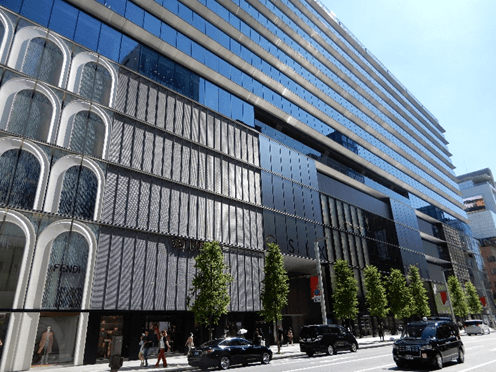 ★Access
A few minutes walk from Tokyo Metro Ginza Station, Exit A3.
★Time 7am – 11pm
★Extra
"Ginza six" has a Tourist Service Center that provides tourist information, currency exchange, duty free, temporary baggage storage, and other services.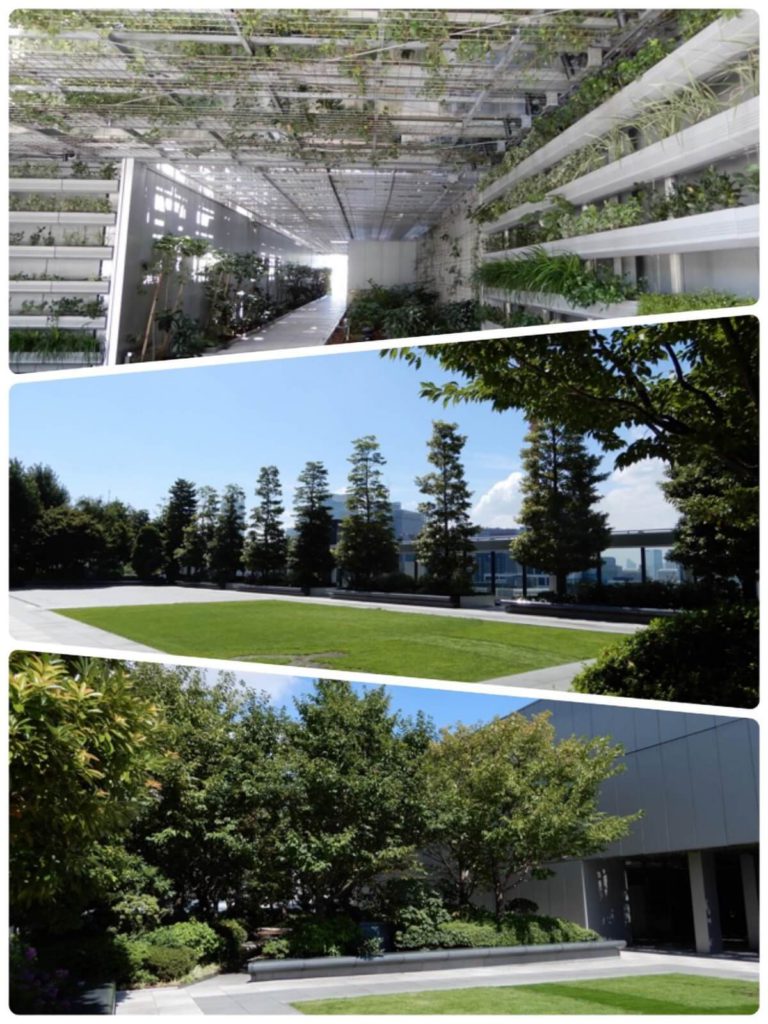 The entrance of the garden
Lawn area in the center, and on both sides, there are wooded areas with benches
There is a passage around the garden where you can see the streetscape of Ginza through glass

There are small resting areas with dense broad-leaved trees that provide shade even in summer. You can spend your time under the shade of the trees, eating your lunch or reading a book.
(3) YOKOHAMA : 横浜
■UMISORA DECK うみそらデッキ on "YOKOHAMA TOWER"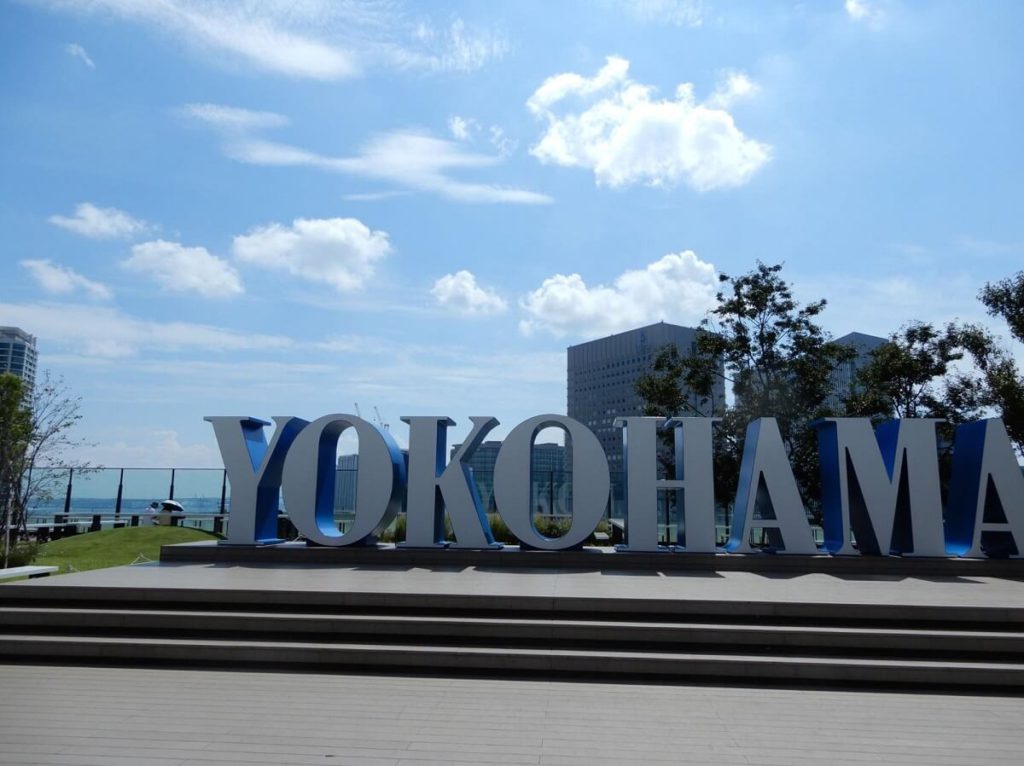 Although Yokohama is known as a port city, you actually have to go to the next station, Sakuragicho, to feel the ocean close at hand. However, UMISORA means "sea and sky" in Japanese. There is the rooftop garden on the 12th floor of "Yokohama Tower", which was built in 2020 and is directly connected to the west exit of Yokohama Station, offering a view of Yokohama Port and the Yokohama Bay Bridge etc. You can enjoy either alone or with the family. Surrounded by glass, you can sit on benches and look down on Yokohama Station and see trains running on the tracks, cars on the highway, and the Port of Yokohama.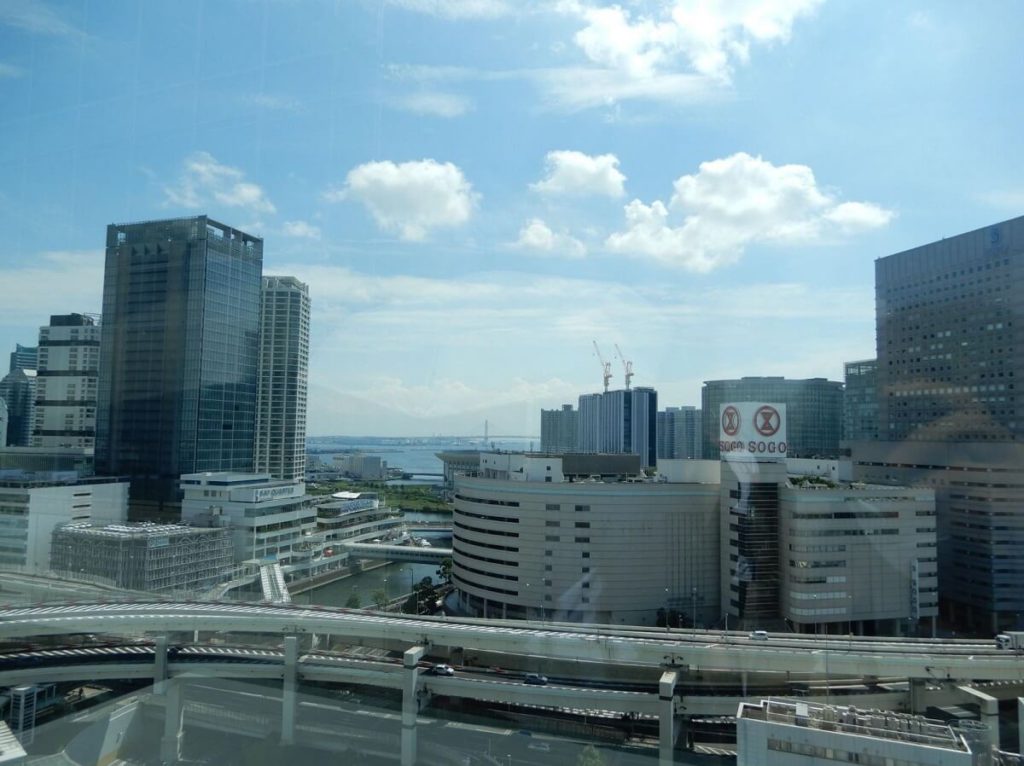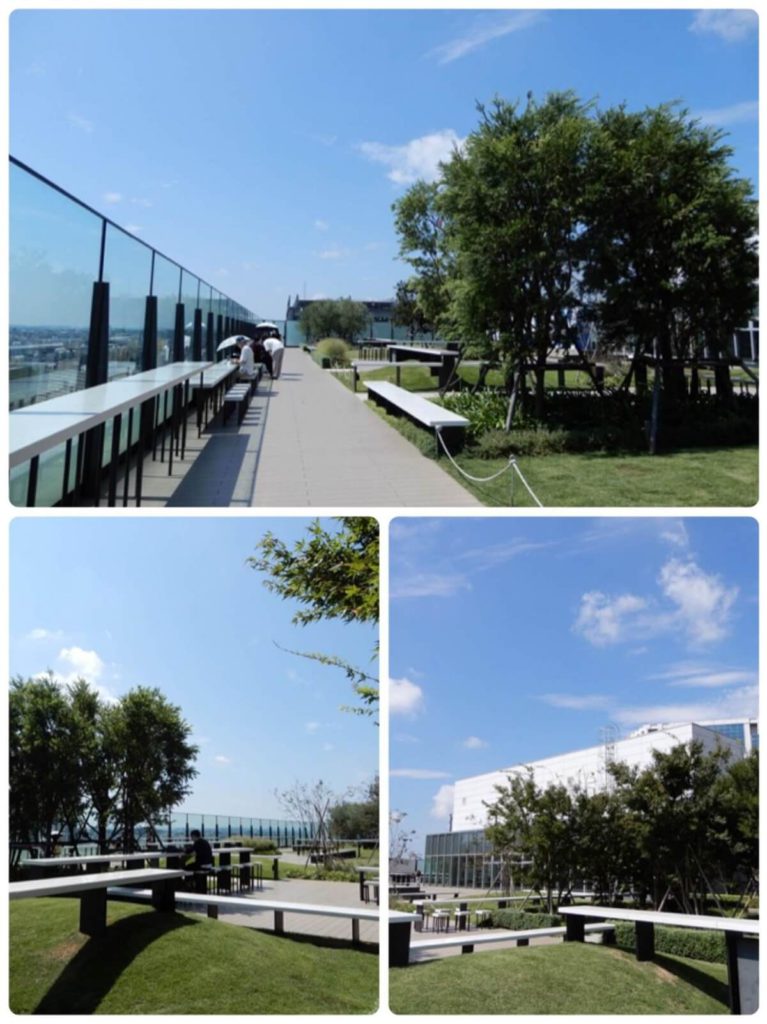 The spacious area, with its lawn, green trees, a lot of benches, tables, and counters, is a place to relax
★Access
A few minutes walk from the West Exit of JR Yokohama Station. Enter the commercial building "NEWoMan" on the right side of the west exit, and take the elevator to the 12th floor.
★Open 10am – 9pm
https://yokohamastationcity.com/jr_yokohama_tower/

★Extra
A nice point of this garden is that there is a convenience store called "Gooz" right next to it, where you can get food and drinks to take outside. You can also rest at the dine-in space of "Gooz" on windy or foul days. The 12th floor and above are used as offices, and there is also a rental space for teleworkers on the same floor. So you can see people working on their laptops in the garden. How about taking a break on "UMISORA Deck" when you come to Yokohama Station?
Conclusion
These days, especially in urban areas, the amount of greenery has been decreasing, and causing problems such as the current urban heat island situation. Therefore, the national government, local governments, and corporations are working on the greening of cities. They have set the greening rate for buildings at 25%. Therefore, buildings with rooftop gardens are being created one after another. As a resident of Yokohama, I personally really appreciate having a place to rest and relax so close to the station, and I often use the UMISORA Deck to kill time and chat with my friends. It also makes me really happy to see the smiles on the faces of all the people visiting the rooftop garden, both adults and children. Unfortunately, I can't include photos of the night view this time, but you can enjoy a wonderful night view at night. I highly recommend that you visit at night as well. Find your favorite rooftop garden!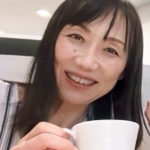 Business training instructor. I'm originally from Takarazuka in Hyogo Prefecture in the Kansai area. Now I live in Yokohama. I love exercising, traveling, watching movies, art, and nature.