One of the traditional Japanese New Year's customs is sending New Year's greeting postcards called nengajo (年賀状). Many people write and send nengajo to their friends, relatives, and coworkers in December and look forward to receiving nengajo on New Year's Day. Nengajo have a long history, and the way of writing cards has been changing along with our lives. Today, I'd like to dive into it.
The beginning of Nengajo
First of all, Japanese people value and celebrate the New Year, and there has always been a custom of visiting and greeting people at the beginning of the year. In the old days, they used to send letters to those who were far away if they could not meet. This is said to have been the beginning of the nengajo. Later, when the postal system was established and official postcards appeared in 1873, the number of people sending nengajo gradually increased and became common around 1887 (Meiji 20).
Later, in 1949, at the initiative of a citizen, New Year's postcards with a lottery (お年玉付き年賀はがき otoshidama tsuki nenga hagaki) were introduced and became an instant hit, which cheered the hearts of the devastated postwar population. As people wanted their nengajo to be delivered precisely on January 1 (元旦 Gantan), a large number of nengajo were mailed at the end of December, which caused the amount of work at post offices to get out of hand. In order to make things more manageable, some changes were made over time.
Current system of nengajo
Sales of nenga postcards begin on November 1.
Post offices begin accepting nengajo from December 15, when a separate postbox slot for nengajo is available.
Nengajo sent by December 25 are supposed to be delivered on January 1.
The drawing for the nengajo is held on January 15.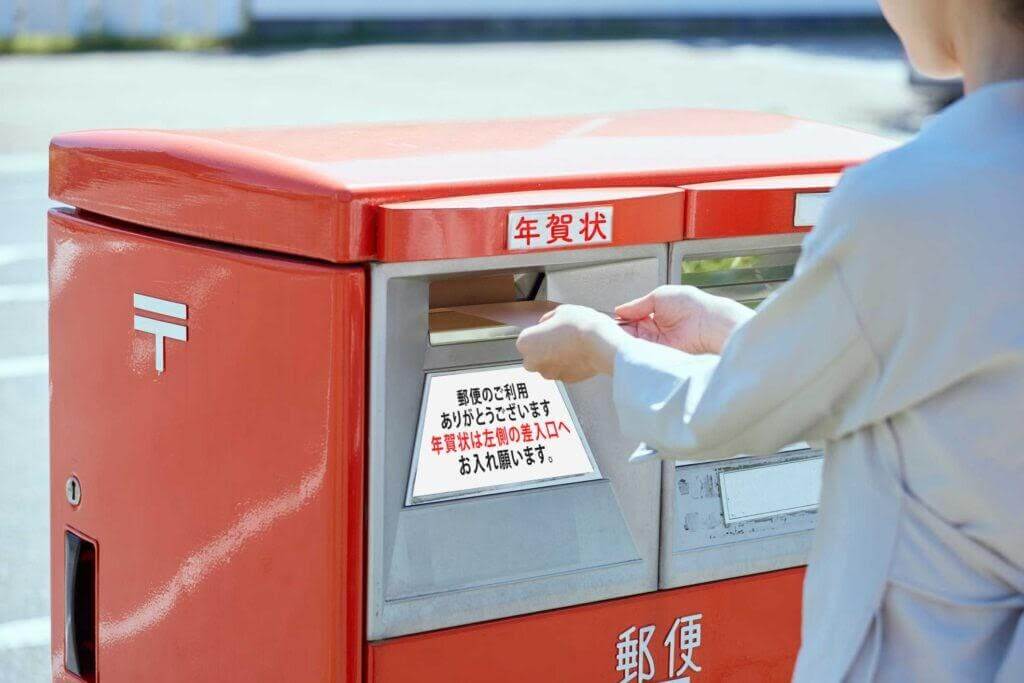 When sending a New Year's card from overseas, the word "年賀" (nenga) should be written in red under the postage stamp. The post office then takes care of it and delivers it on January 1. Unlike Christmas cards, nengajo do not arrive before New Year's Day.
On the morning of January 1, many motorcycles leave the post office all at once to deliver nengajo, a well-known event that is broadcast on TV news.
Nengajo with lottery numbers (お年玉付き年賀状)
It is a very lucky and exciting feeling when you win a prize in a drawing from the nengajo you received. Looking at past prizes, like sewing machines, televisions, cameras, bicycles, microwave ovens, laptop computers, and so on, they seem to tell a story of people's lives in that era. The grand prize in 2023 is supposed to be 300,000 yen in cash or gift cards.
Nenga postcards 2023 from Japan Post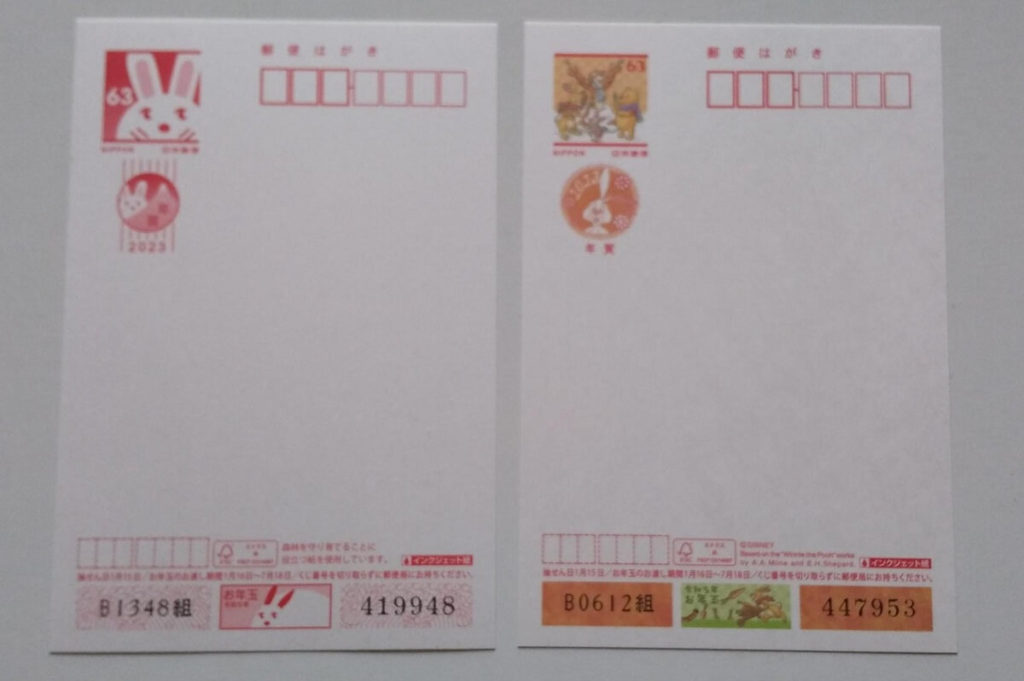 On the left is the standard blank New Year's postcard, printed with a stamp of a rabbit, the zodiac animal for 2023. On the right is the Disney stamp version. Lottery numbers are printed at the bottom. Each cost 63 yen.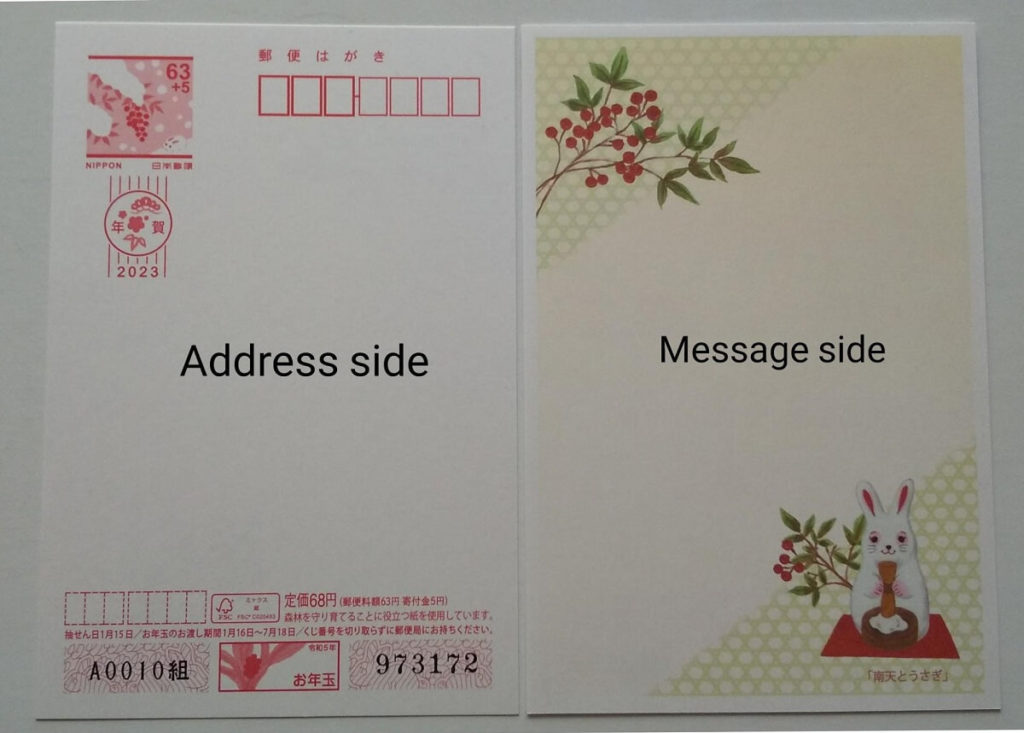 This is the donation-paid postcard illustrated with a rabbit and a celestial bamboo with a donation of 5 yen per postcard.
These postcards are postage-paid and made of eco-friendly paper approved by the FSC (Forest Stewardship Council).
The changes in how to write nengajo
In the past, it was a lot of work to write addresses and messages individually by hand. With the spread of home printing, addressing nengajo has become easier and more presentable. Nowadays, you can buy blank prepaid cards from the post office and print a design of your choice on the front using a free app, which offers a wide variety of designs to choose from. In addition, Japan Post has an online page in Japanese from which you can create cards to be printed at home or design them on your smartphone and print them at a convenience store. Some people still enjoy writing with a brush, some put their family photos on nengajo, and others order them from a print shop. Also, you can buy pre-designed nengajo with standard phrases and pictures at some stores.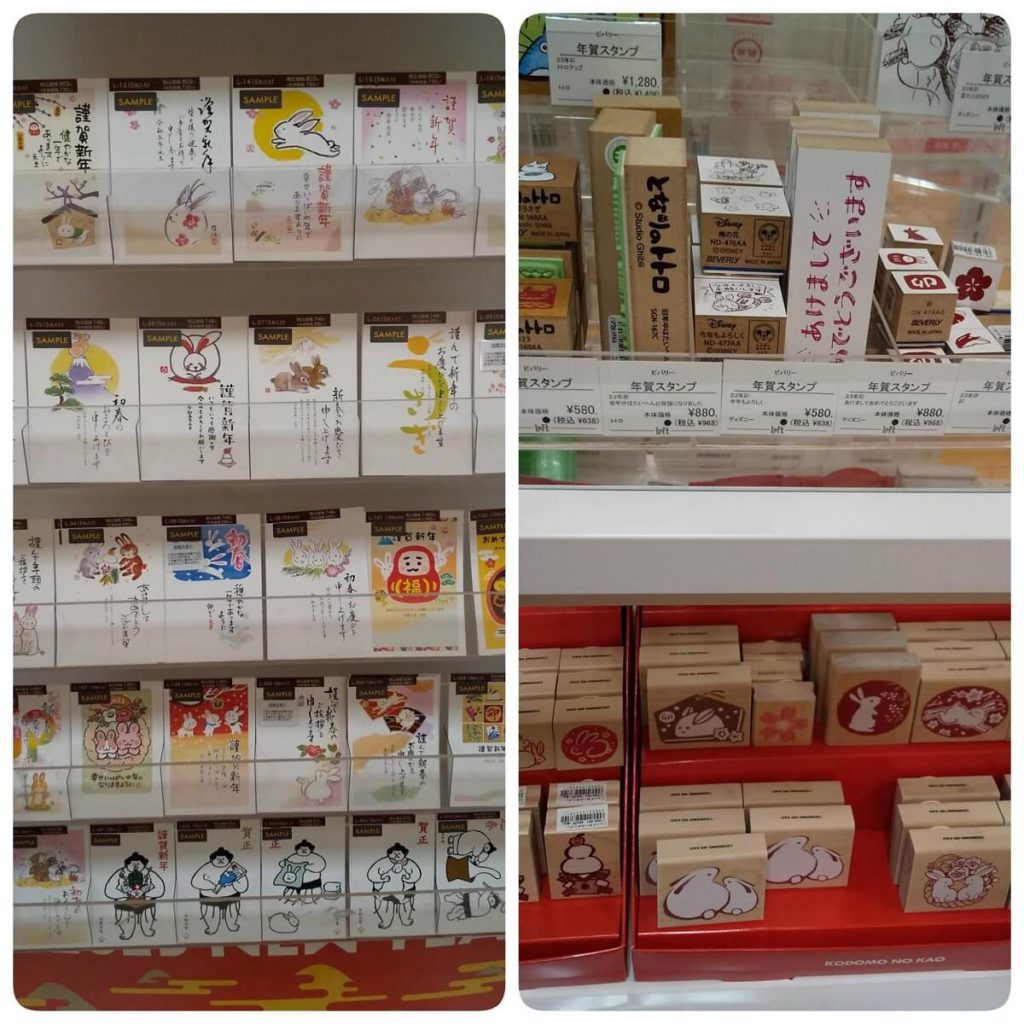 Why not try writing a nengajo?
There are several greeting phrases for nengajo. I'll introduce you to a very common set phrase.
① 明けましておめでとうございます。② 今年もよろしくお願いします。
① Akemashite omedetou gozaimasu. ② Kotoshimo yoroshiku onegaishimasu.
① means "Happy New Year!" "Yoroshiku onegaishimasu" is a convenient phrase used in different situations, but in this case, ② means "I look forward to another year of working with you," or "Let's have fun this year too." This set phrase can be used in both formal and casual styles, as well as verbally. A picture of the Chinese zodiac animal of the year (干支 eto) is often used as a symbol of the year. Other auspicious pictures, such as Mt. Fuji, sunrises, turtles, and other New year's decorations, like kagami mochi and kadomatsu, are also often used.
Here are some other common expressions and phrases.
| | | |
| --- | --- | --- |
| Phrases | Japanese pronunciation | Meanings |
| 謹賀新年 | Kinga shinnen | New Year's greeting |
| 迎春 | Geishun | New Year's greeting |
| 新春のお慶びを申し上げます。 | Shinshun no oyorokobi wo moushiagemasu | New Year's greeting |
| 昨年は大変お世話になりました。 | Sakunen wa taihen osewani narimshita | Thank you for everything throughout the year. |
| 皆様のご健康とご多幸をお祈りいたします。 | Minasama no gokenkou to gotakou wo oinori itashimasu | Wishing your family good health and happiness. |
If you are learning Japanese, why don't you try writing nengajo on your own? Postcards addressed in Japanese should generally be written vertically from right to left. Remember to write the person's name in the middle, followed by the honorific "様" (sama).
If you make a mistake on a postcard, take it to the post office, and they will exchange it for a new postcard or stamp for a fee of 5 yen.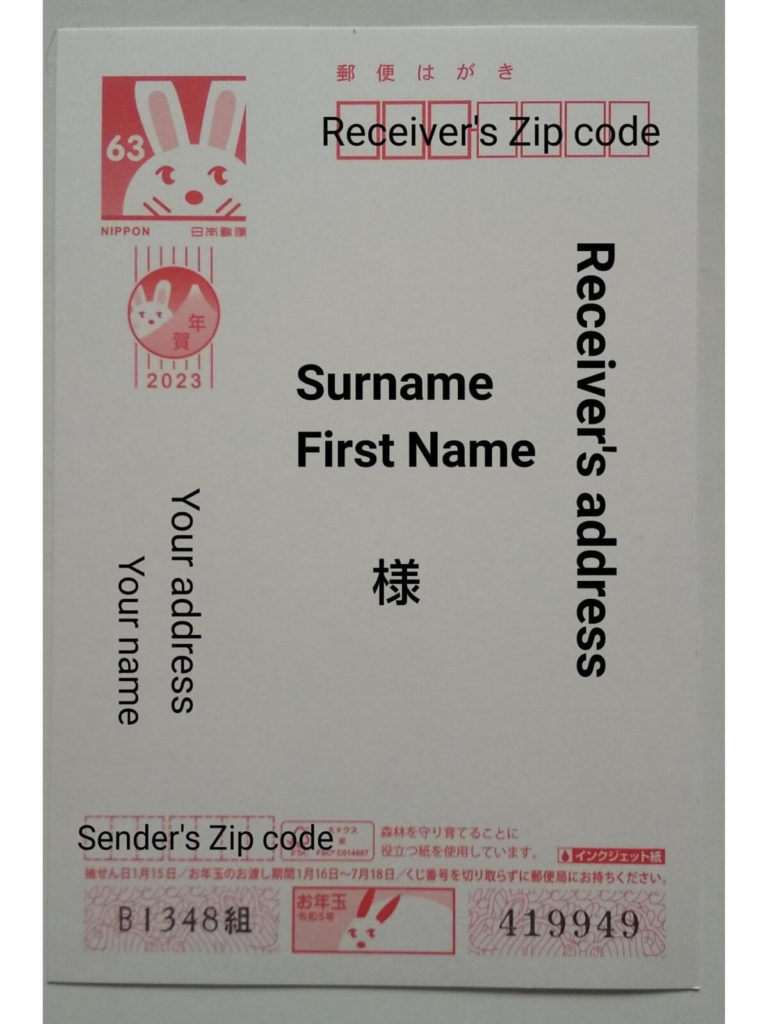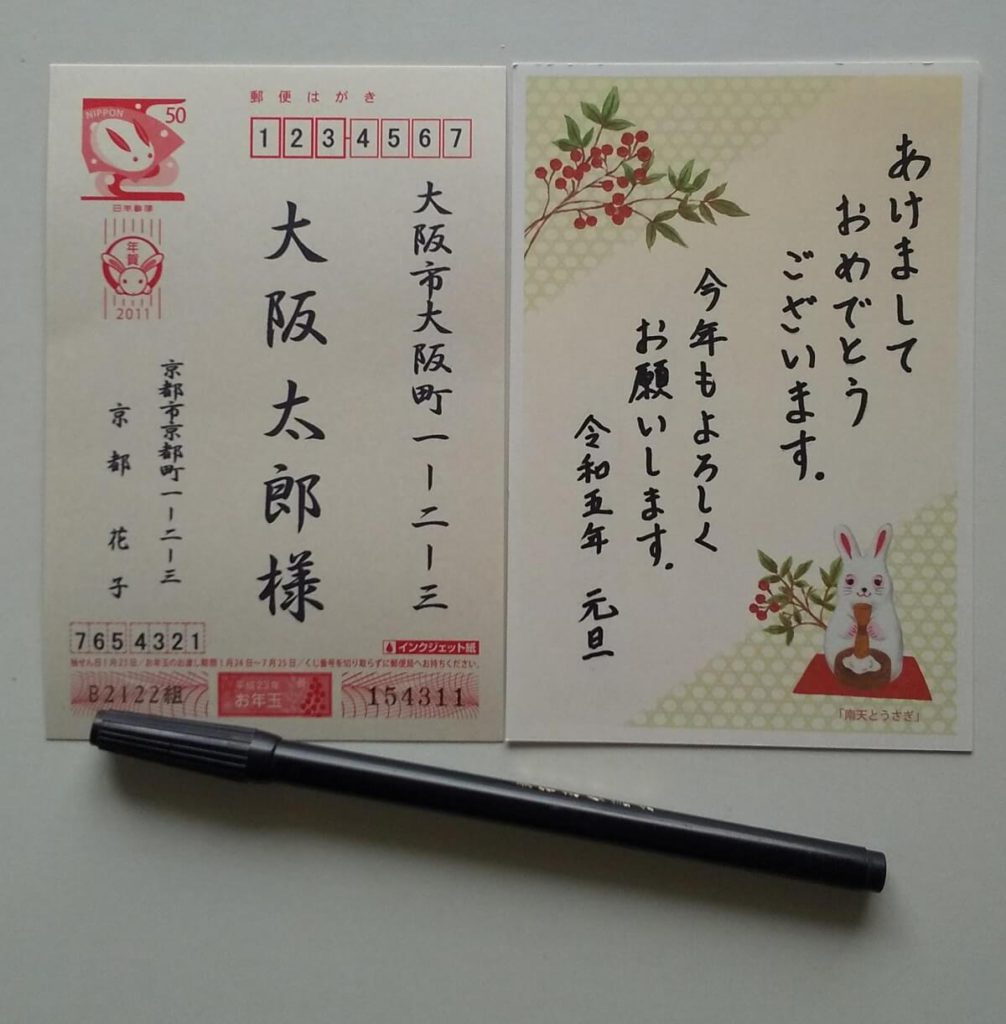 Mourning postcards (喪中はがき mochu hagaki)
People who have lost a family member during the past year don't exchange nengajo. They send "mochu notice" in early December instead. This is to let people know that the sender is in mourning. If you receive a "mochu notice," it is better to refrain from sending a nengajo to the person in mourning.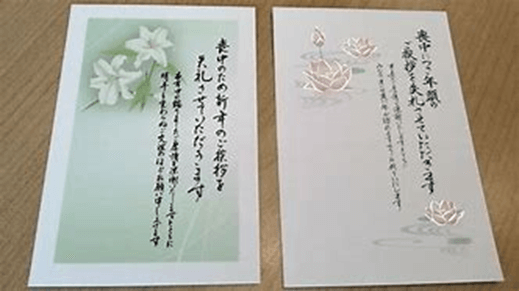 Personal note
New Year's greeting cards are not only a way to express gratitude to those who helped us during the year but also a way to connect once a year with people we rarely see. Now, with the development of social media, it feels like we are always connected to people. Writing even one short message on each card while thinking of that person will make it a valuable piece.
The number of New Year's postcards issued has been declining since its peak in 2003. Even though they can now be easily sent via email or messenger apps, I believe handwritten cards still hold an undeniable magic.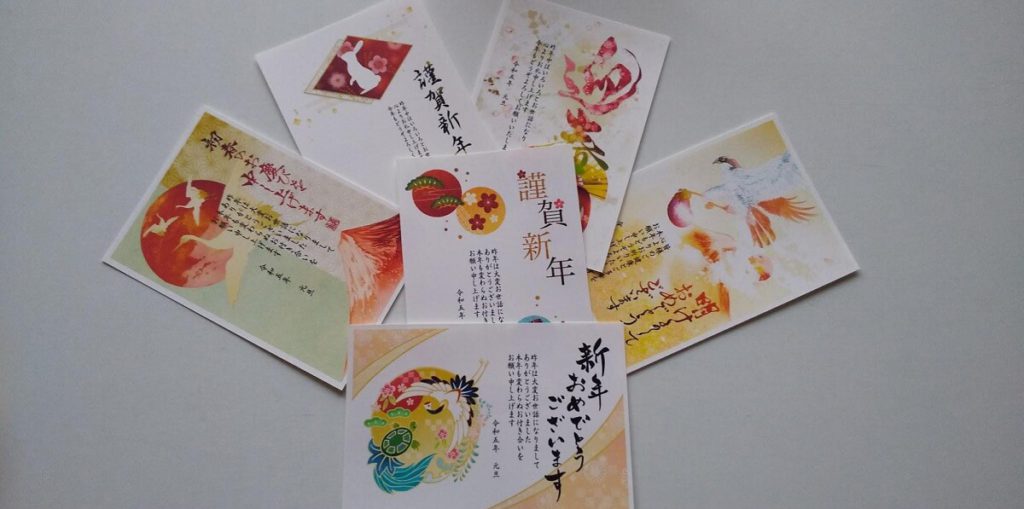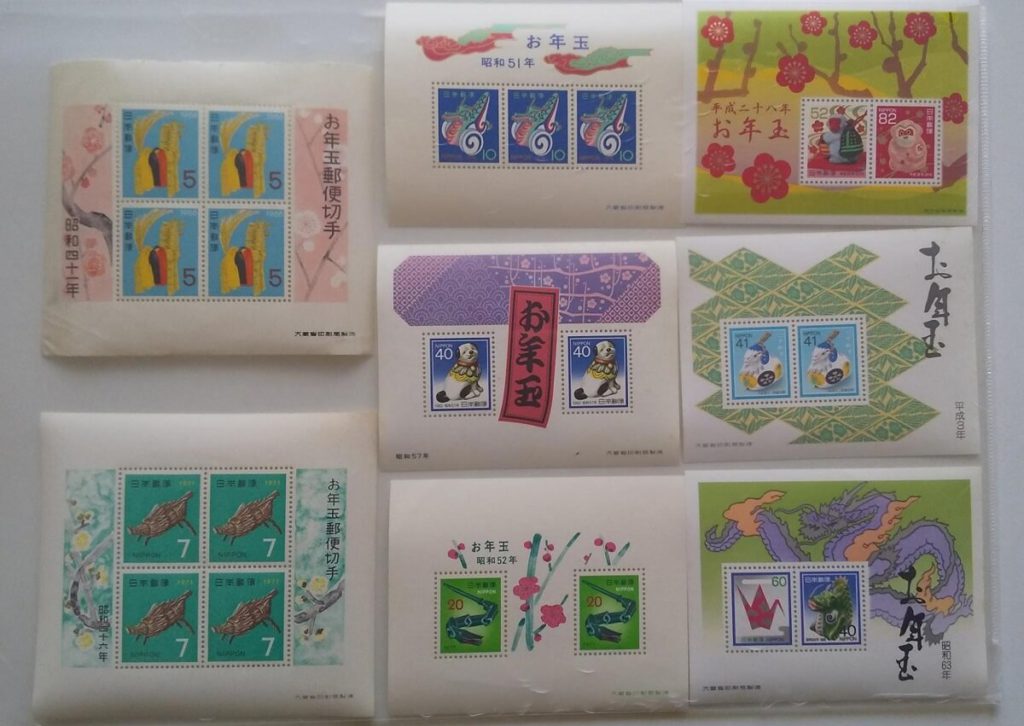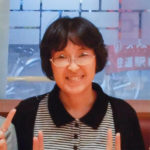 Lives in Takatsuki city, Osaka. Has been engaged in English for work and fun for years.