Total area of this station is about 182,000 square meters. 460,000 people use it per day on average, and around 4,000 trains run per day. The most famous station in Japan is Tokyo Station. It seems like really complicated shopping malls, so even Japanese people don't know much about it. Post pandemic, it looks like tourists are getting back to Japan. You might come here and go to your destination. Today, I'm going to share how to enjoy it here from my experience. As this station is so complicated, I can't cover it all, so I can tell you just a part of this station. Let's get started!
1. The Landmark of The Station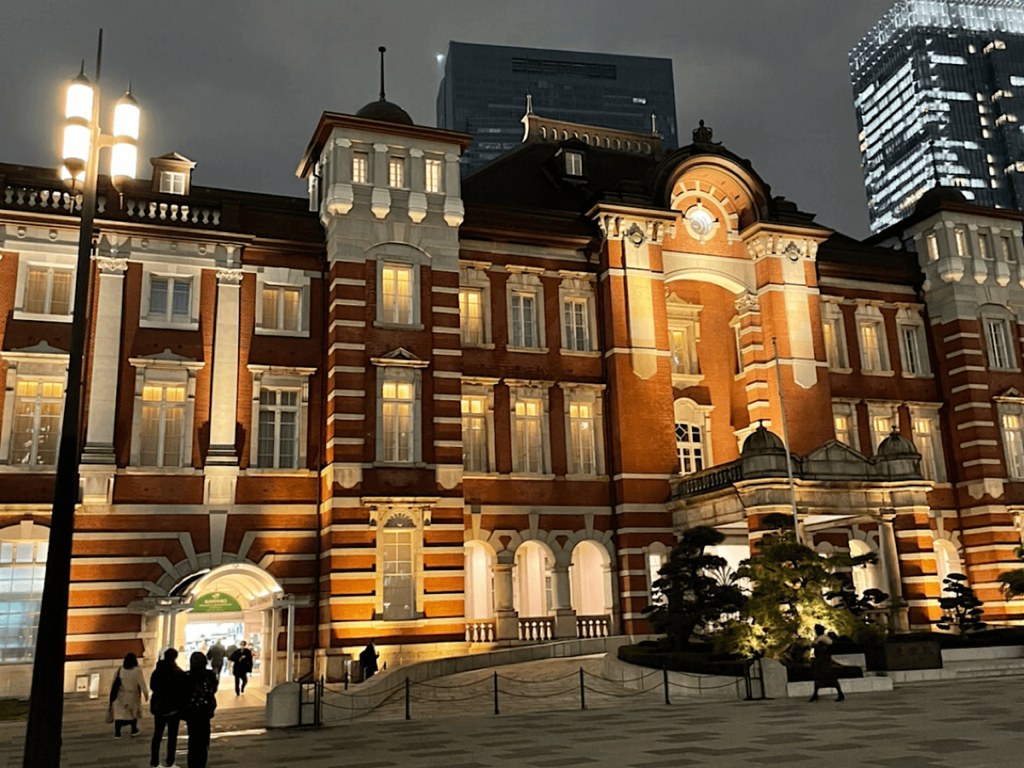 Let's dig a little into the history of the station. Tokyo Station has been around for more than 100 years since it was built in 1914. Since then, the roof has damaged by the World War II in 1945; the restoration and the preservation was finished in 2012. Tokyo Station is a crucial hub in Japan.
One of the most favorite places for me is here, the red brick Marunouchi Station building. Probably you have seen this building as many tourist guide books introduce it. It goes without saying that this building is amazing, but I'm not talking about it today. I want you to tell about some scenery from where you stand with your back to the brick building. Imagine this: you can see a beautiful clear sky between two buildings. Oh, wait! How could you imagine that in the center of Tokyo?  It is supposed to be surrounded by many skyscrapers, isn't it? This is because there is the Imperial Palace. Tall artificial towers are not allowed to be built around the palace. More often than not, I love watching this wonderful scenery standing with my back to the historical red brick building.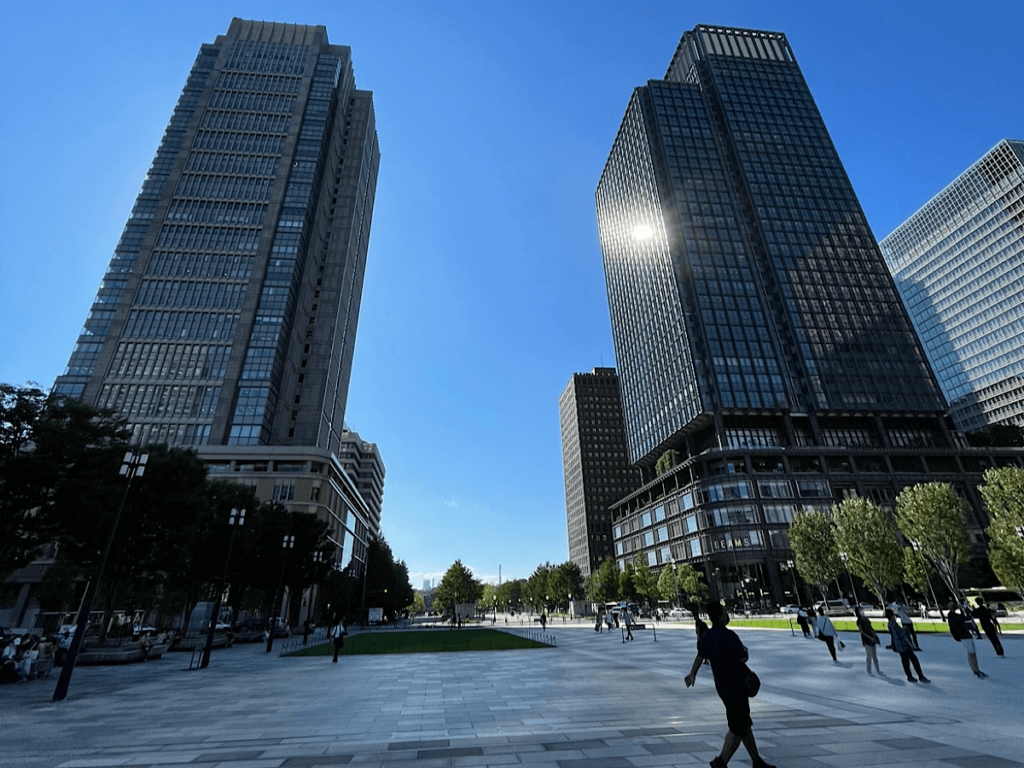 2. Gifts and Souvenirs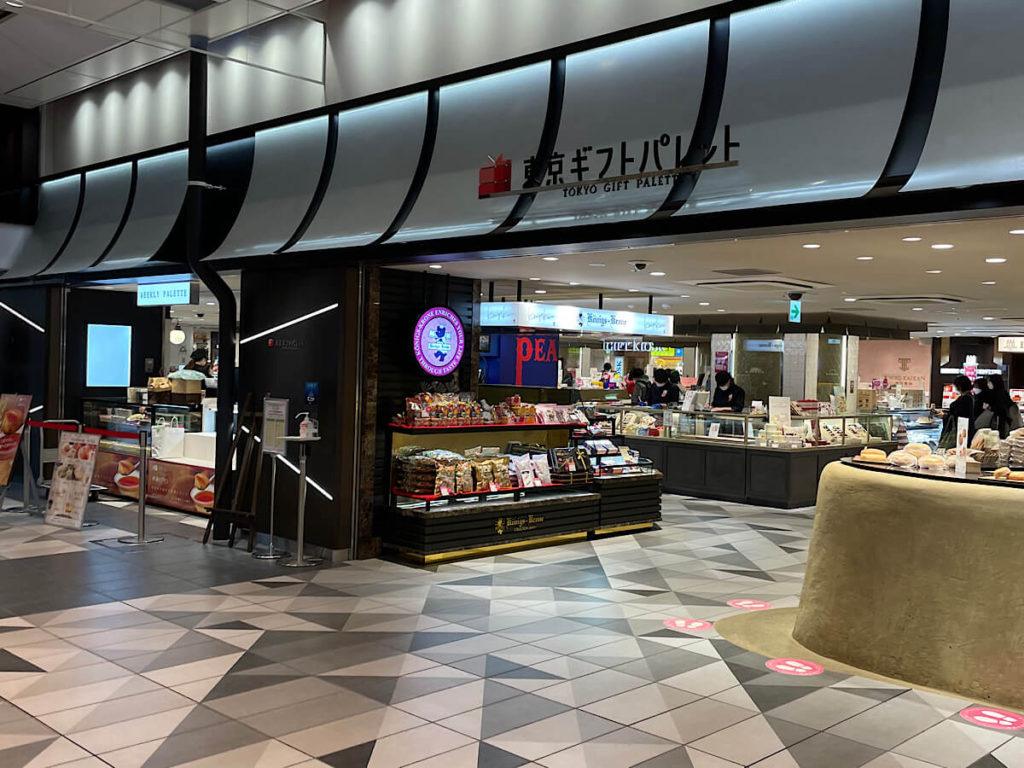 There are many gifts and souvenirs shops around the Yaesu North Exit. A variety of cakes, cookies, and pastries are going to make your mouth water. Also, you can choose fancy pastries from Daimaru department stores. It is located close to the Yaesu North Exit. You can find what kind of pastries are popular in Japan. You might have to wait a long line to get it sometimes.
https://www.tokyoeki-1bangai.co.jp/en/?area=area7&floor=1f
3. Café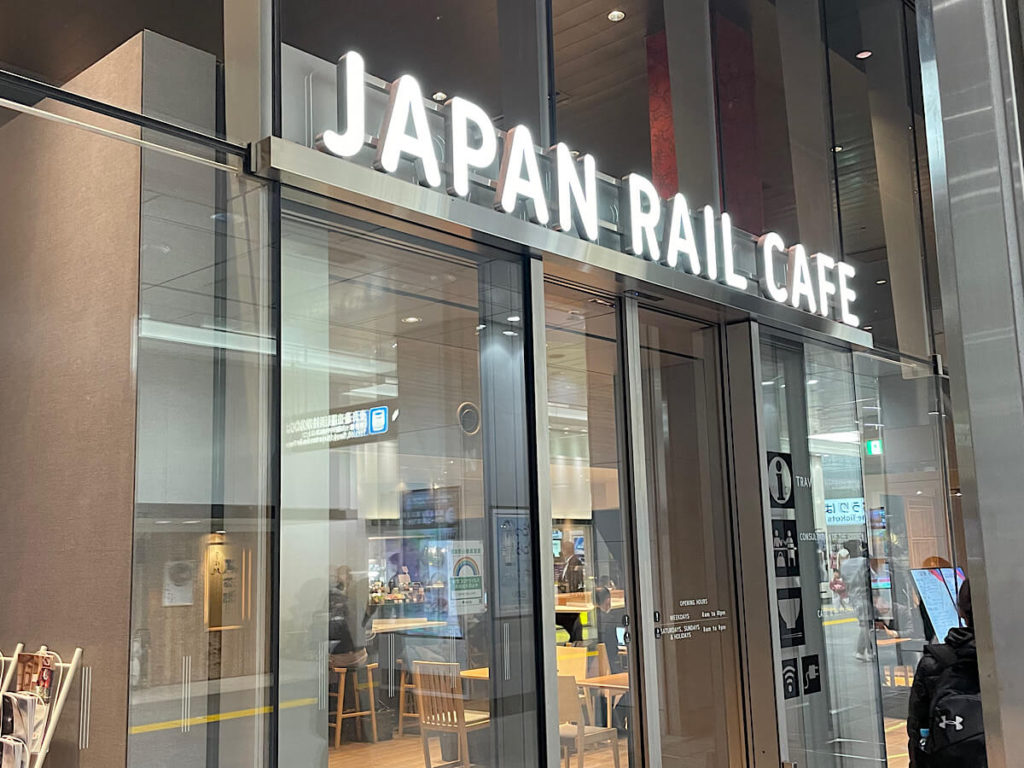 Not only Starbucks but also a railway station offers their own coffee shop. It's helpful to use for having a break or working for a while. It's a hidden spot that is tucked away close to Yaesu Central Exit. Japan Rail Café Tokyo also offers ticketing, free wifi, outlets, currency exchange, and events for foreign guests. You can ask what you want to know about your destination at an information desk. They also have branches in Taipei and Singapore.
https://www.jreast.co.jp/e/japanrailcafe/tokyo/
4. Feel Japanese Craftsmanship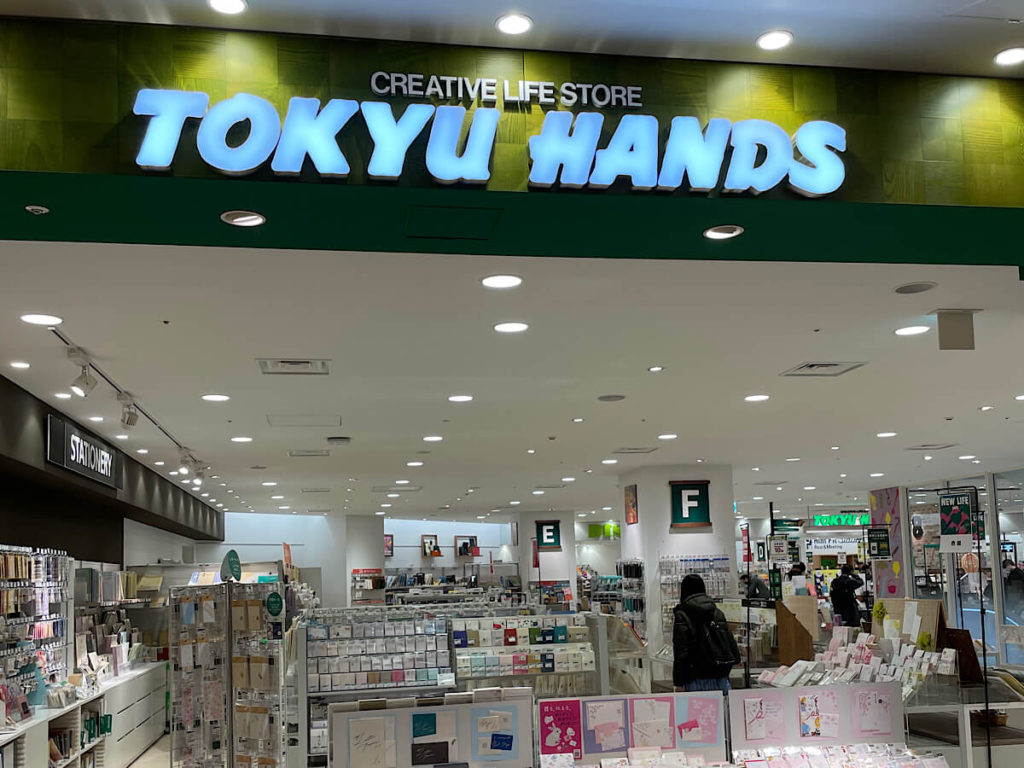 When you get out of Yaesu North Exit, you can find Daimaru, one of the famous department stores in Japan. Tokyu Hands is on the eighth floor. You can find many items such as stationary, toys, travel goods, kitchenware, household items, cosmetic items, and so on. Unlike a dollar store ("Hyakkin"), they are a little bit pricey as many companies are competing with others because Japanese customers are really picky about things. So they never overlook a customer's subtle complaint and improve their items. If you're looking for a unique item from Japan, this store is perfect for you.
https://info.hands.net/en/list/tokyo/
5. For Ramen Lovers – Beginners and Advanced!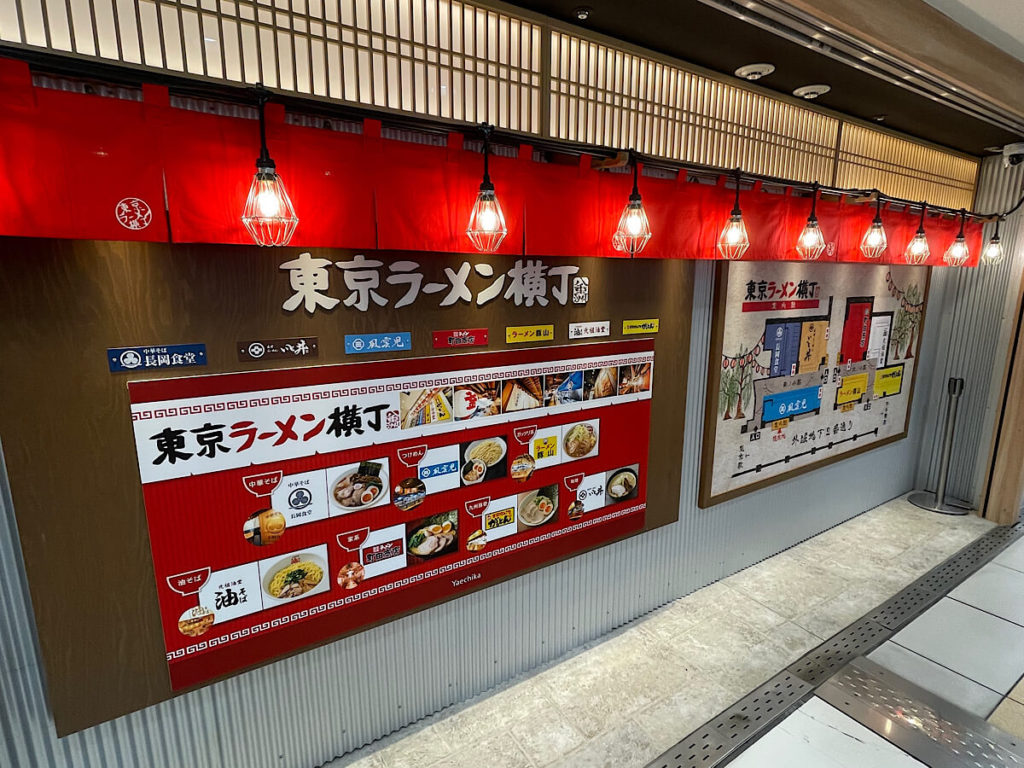 For Tokyo Ramen yokocho: https://tokyo-ramenyokocho.com
For Tokyo Ramen street : https://www.tokyoeki-1bangai.co.jp/en/?area=area3&floor=b1f
The soups have a lot of flavor like, soy sauce, salt, miso, tonkotsu, fish stock, and the styles also have variations like noodles with soup, tsukemen, and mazesoba. Ramen is an iconic junk food in Japan. For me, I'm not going to lie, nothing beats ramen after drinking. If you come to Japan, you won't want to miss it. The taste varies from place to place, but you don't have to travel all over Japan. There are two of these shops in this station. They offer a seasonal ramen stand, so you might want to come multiple times to find an unforgettable one. When it comes to ordering, most of the time, you can order with a meal ticket machine. If you're not familiar with those machines, please visit my article below.
6. Yokocho(横丁)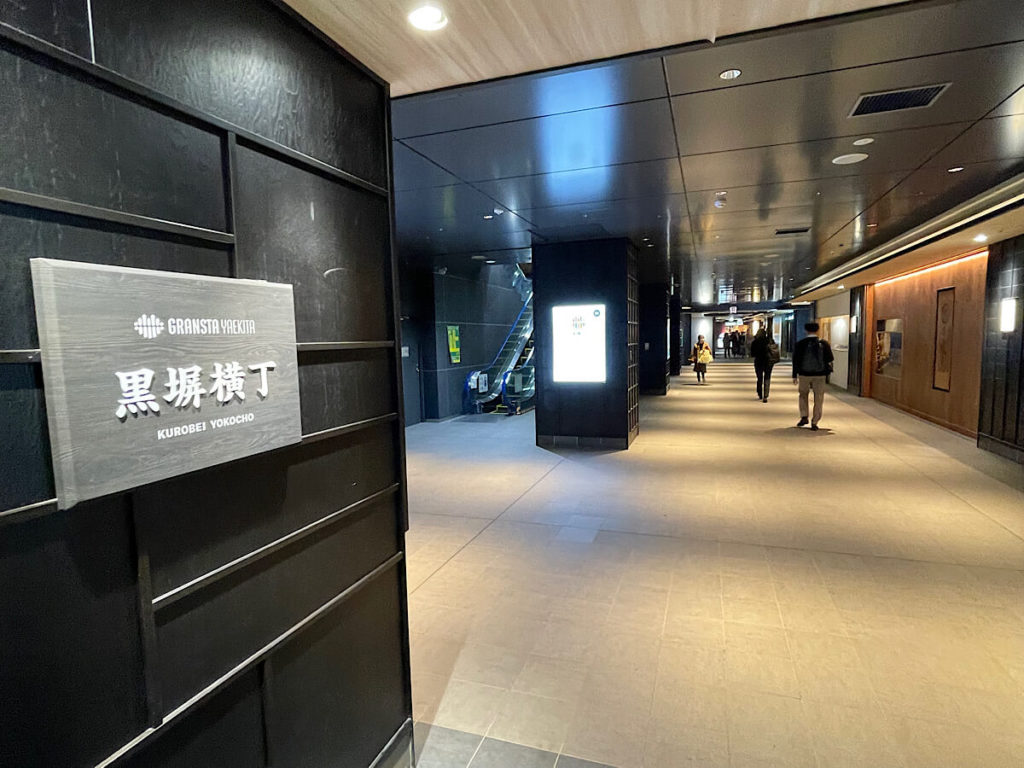 What is yokocho? It means a bar area away from the main street and you can see a lot of izakaya and bars along the street. Unlike the busy ground floor, it has a nice and calm ambiance. I'd rather go to such an area than fancy bars and restaurants sometimes. They offer many things: from traditional Japanese food to casual ones like yakitori, unagi, soba, and so on.
7. For Anime Lovers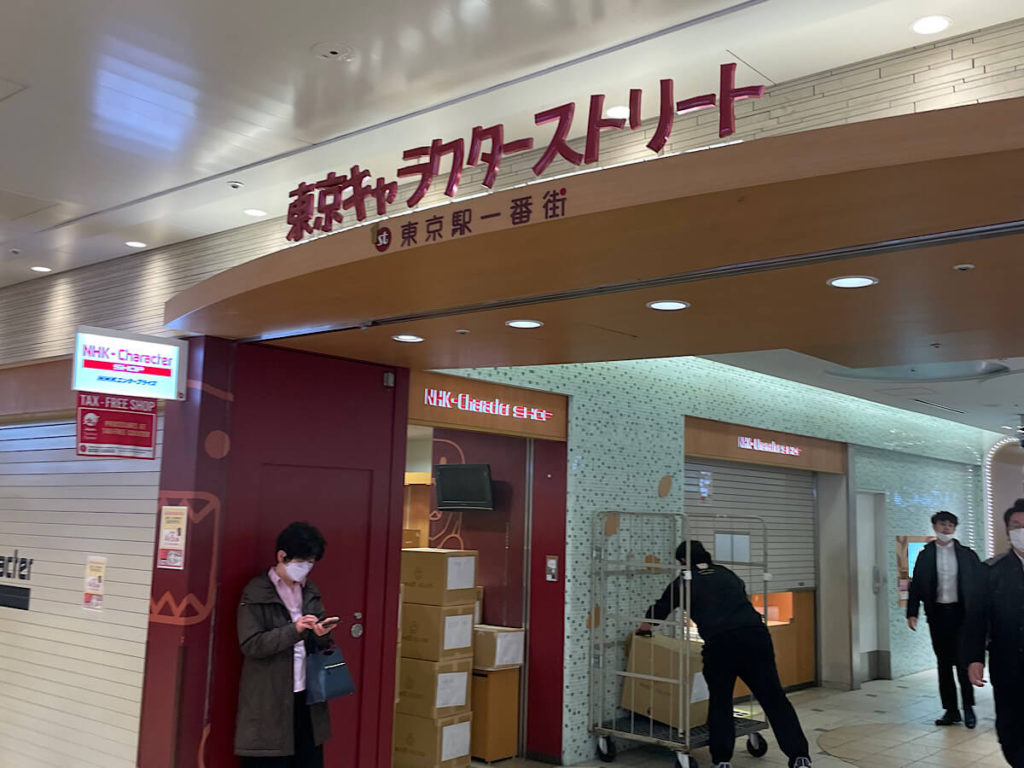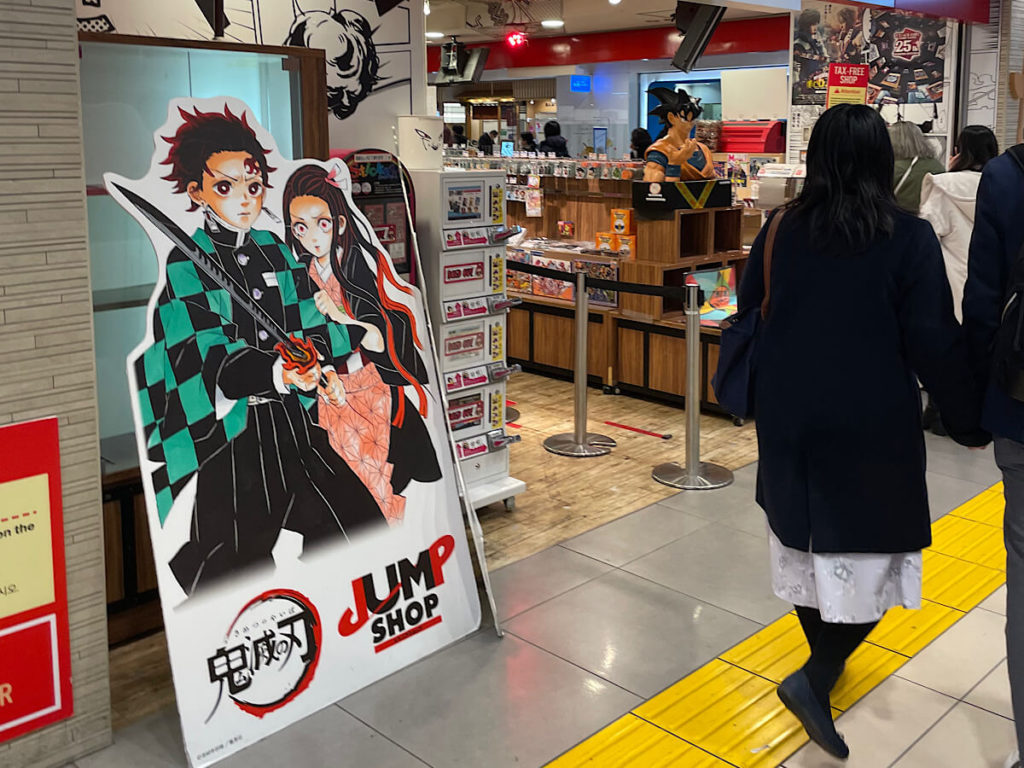 Kimetsu no yaiba, Jujutsu-Kaisen, Pokémon – it is called "Tokyo Character Street." If you're an anime lover, this street is a perfect spot for you. You can enjoy just hanging out. They offer some goods that are only available here.
https://www.tokyoeki-1bangai.co.jp/en/?area=area2&floor=b1f
Thank you for taking time to read my article today. Since Tokyo Station is really big, I can't tell you about everything in the whole station. So I mainly talked about the Yaesu Exit area. When you get a chance, you might want to go to other areas. See you in my next article!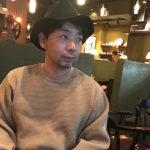 I've been working at a trading company for many years. I live in Tokyo with my wife. Love skiing, traveling, IPAs, wine , X-treme sports, fashion, and learning English and Chinese.