Hirakata City is located in the northeastern part of Osaka Prefecture, about halfway between Osaka City and Kyoto City on the Keihan Railway. Hirakata is famous for its amusement park, Hirakata Park. However, less is known about its culture and other areas of the city. So, why not explore the area around Hirakata City Station to get a glimpse into the life of the locals?
In fact, Hirakata City has a mix of Edo period atmosphere, including a historical highway called Kyokaido and fashionable commercial facilities represented by HIRAKATA T-SITE.
HIRAKATA T-SITE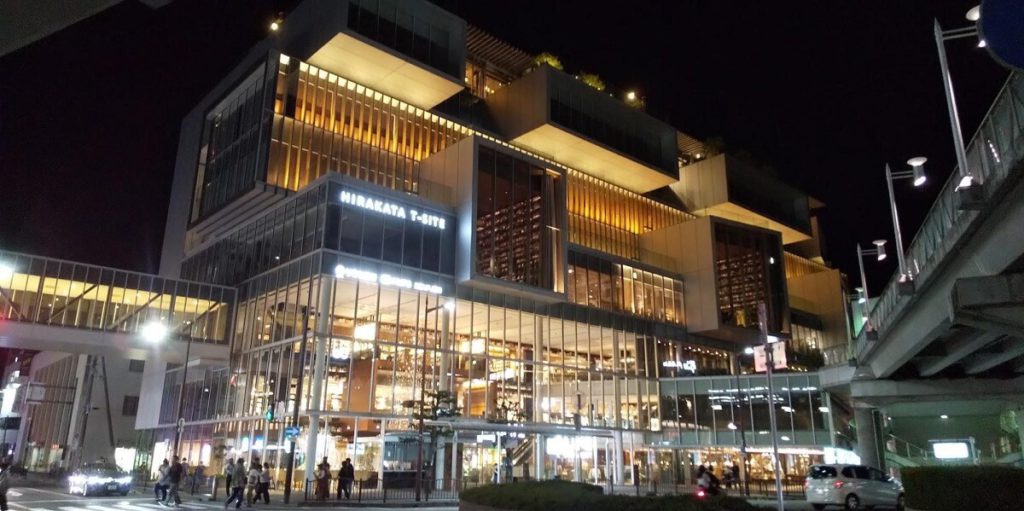 Just south of Hirakata City Station rises a stylish glass-walled building, Hirakata T-SITE. Built in 2016 as a commercial facility, it is at the core of a building called TSUTAYA. While TSUTAYA is now well known as a bookstore and DVD rental chain throughout Japan, the first store actually opened in Hirakata in 1983.
On the third floor, a Starbucks Café offers an open space where many people read or work on their studies. Since Kansai Gaidai University is located nearby, a lot of international students can be seen there. Additionally, there are some other shops on each floor where stationery, fashion items, commodities, groceries, restaurants, and so on can be found.
https://store.tsite.jp/hirakata/english/
Kagiya Museum (鍵屋資料館)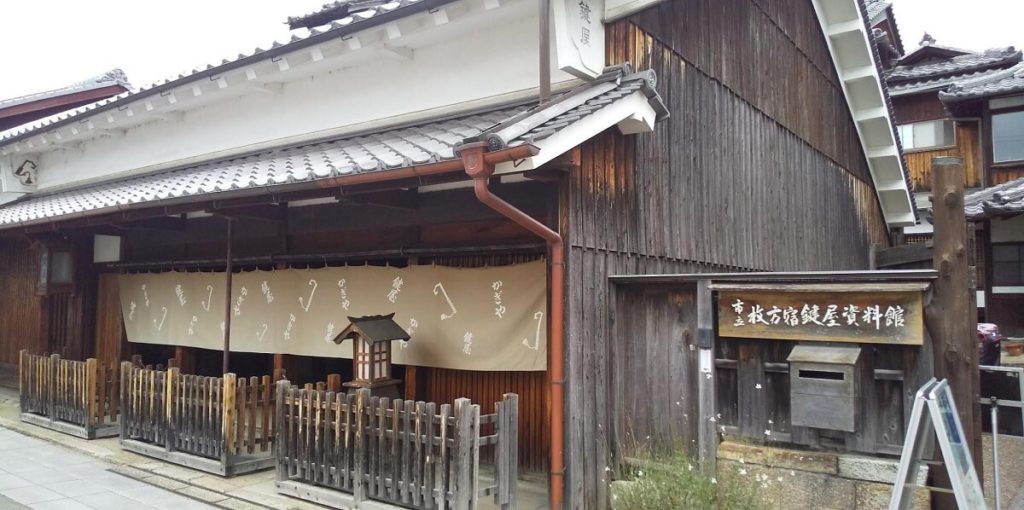 Kagiya used to be a lodging facility for samurai, travelers, or merchants to stay at. In the Edo period (1603-1868), Hirakata was a busy post town (枚方宿 hirakata-shuku) on the main transportation route called "Kyokaido"(京街道) and was also a transit port for the Yodo River boat traffic, which connected Fushimi and Osaka. The main building of Kagiya was designated as a historical building and a tangible cultural property of Hirakata City. It is now open to the public, and you can catch a glimpse of the interior layout and way of life during that period. Another building of Kagiya is now used as a museum and exhibition hall, where historical materials, excavated artifacts, and a boat model are displayed.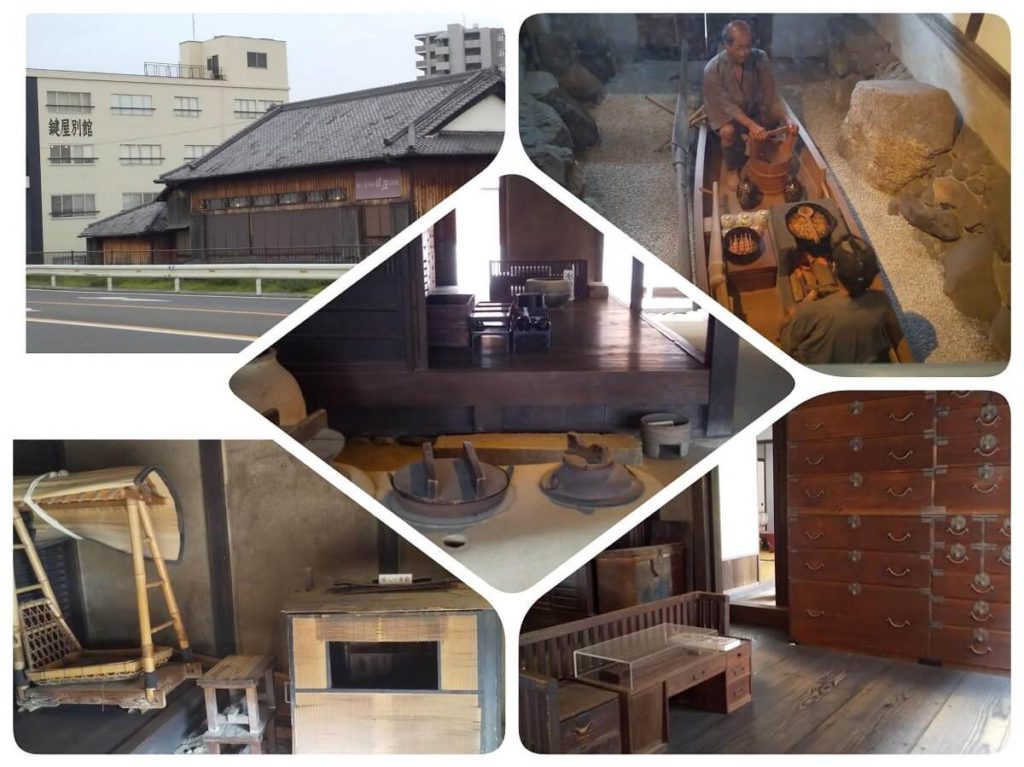 Kyokaido Hirakata-shuku (京街道・枚方宿)
Toyotomi Hideyoshi, who built castles in Osaka and Fushimi (in Kyoto), also developed the Bunroku Embankment (文禄堤) along the Yodo River in order to connect the two castles via the shortest route. This embankment later became known as Kyokaido, a vital transportation hub along which inn-towns and shops developed and flourished. Hirakata-shuku was one of them.
Although many of the traditional buildings called "machiya" along the Kyokaido Hirakata-shuku are gone, some which were made of wood and clay still remain. You can also find stone lanterns (常夜灯) and signposts (道標) from that time.
If you go west under the elevated railway from Hirakata City Station, you will soon find an AEON Mall. Passing by it, you will get to Kyokaidou.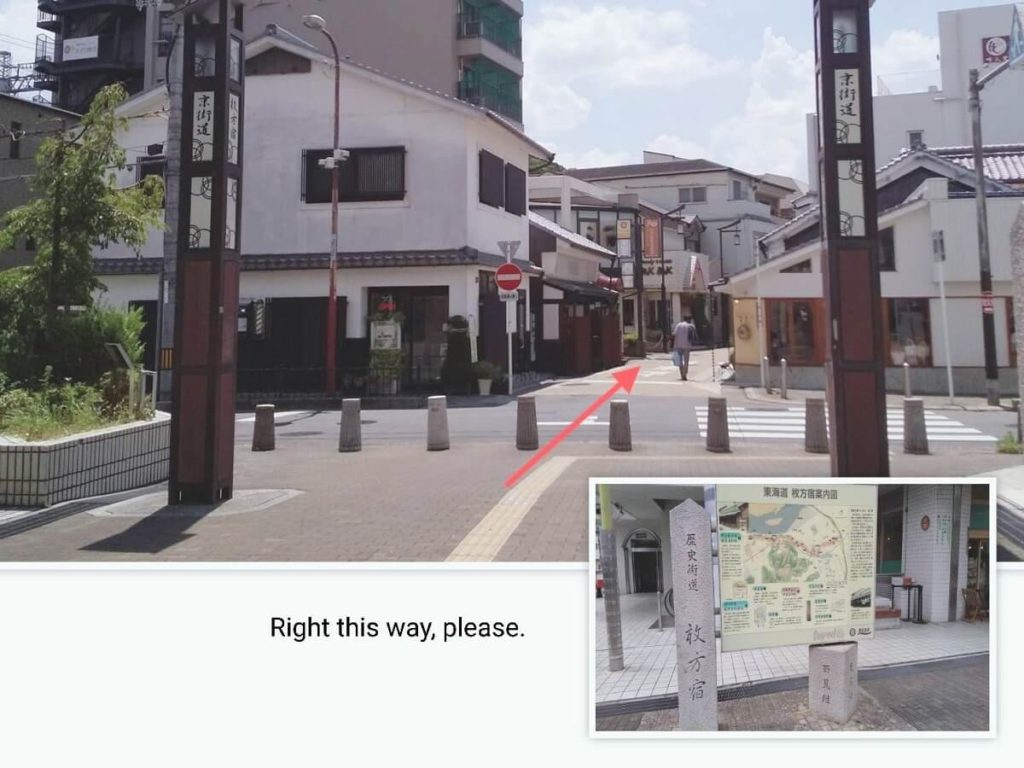 Now, I'd like to introduce some of the spots while walking down the Kyokaido from here to the Kagiya Museum. On this quaint historical street, traditional buildings and newly renovated shops are blended together.
Café Cocoru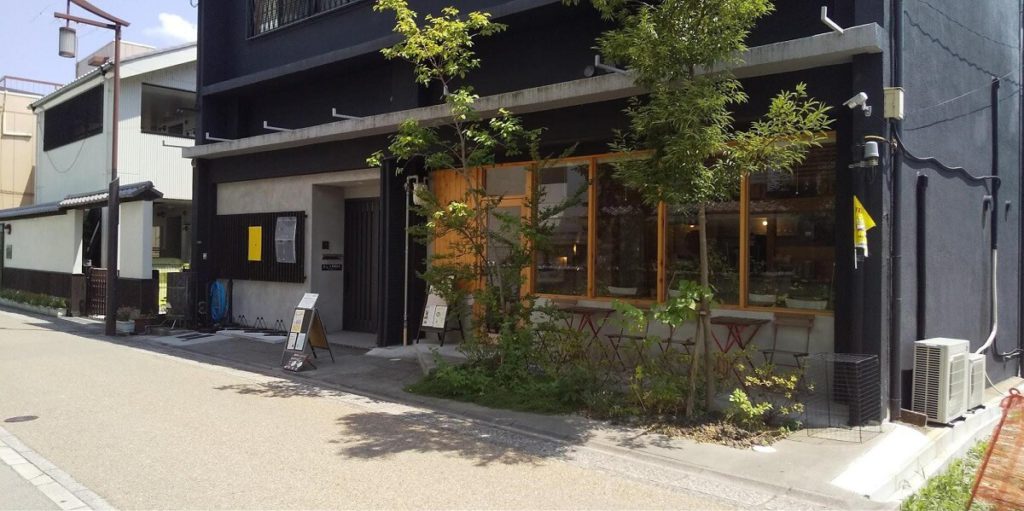 Part of an old house was renovated into a café, which offers a pleasant and cozy space with a bright white wood interior, a high ceiling, and a stairwell to the second floor. As a picture book reading café, the wall is covered with picture books from all over the world. How about a cup of coffee carefully brewed with a flannel drip while flipping through a picture book written in simple Japanese? The Keema Curry is also highly recommended.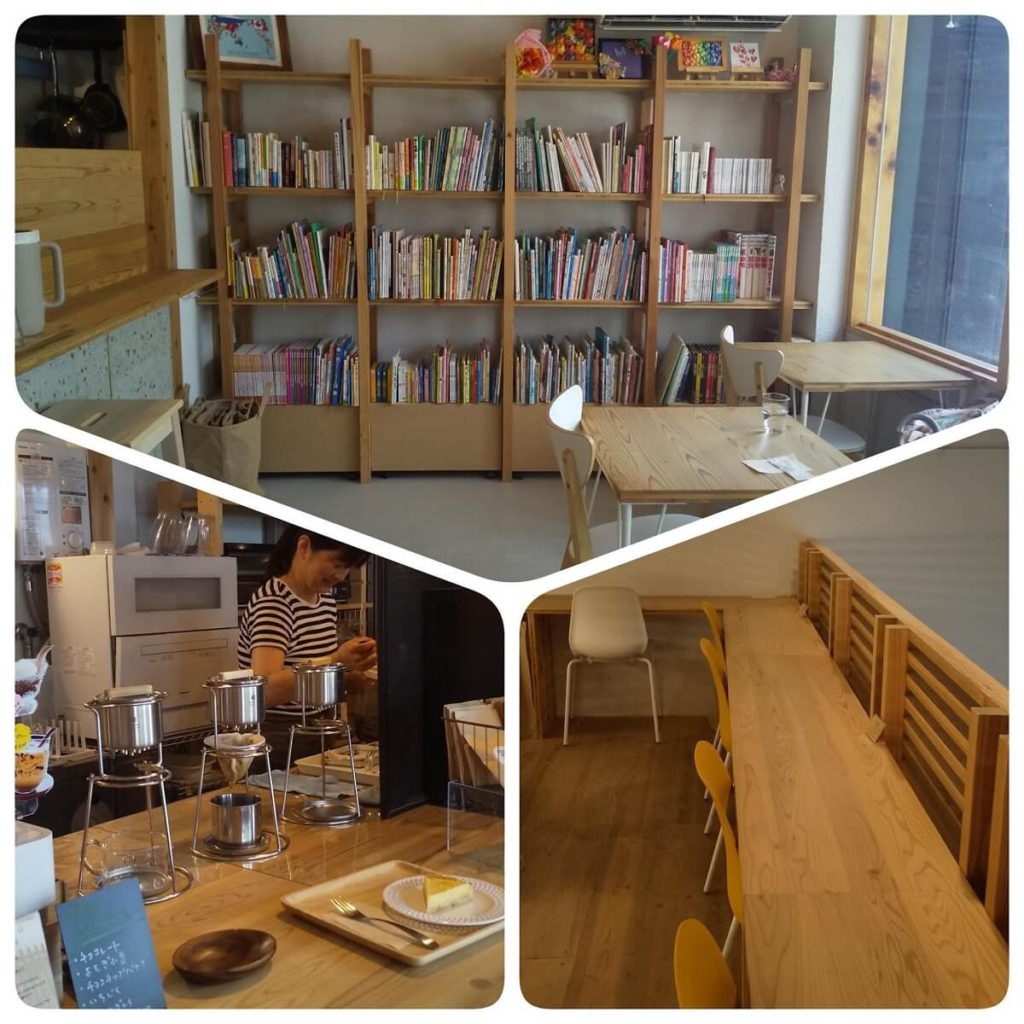 Café Smile
The second floor of the building is used as an English school. The first floor was originally a place for students to relax, but now, it is open as a café where anyone can drop in and have a drink. It is also a gathering spot for English lovers. So, why not stop by and have a chat? The owner's personality and home cooking create a friendly Showa-era atmosphere.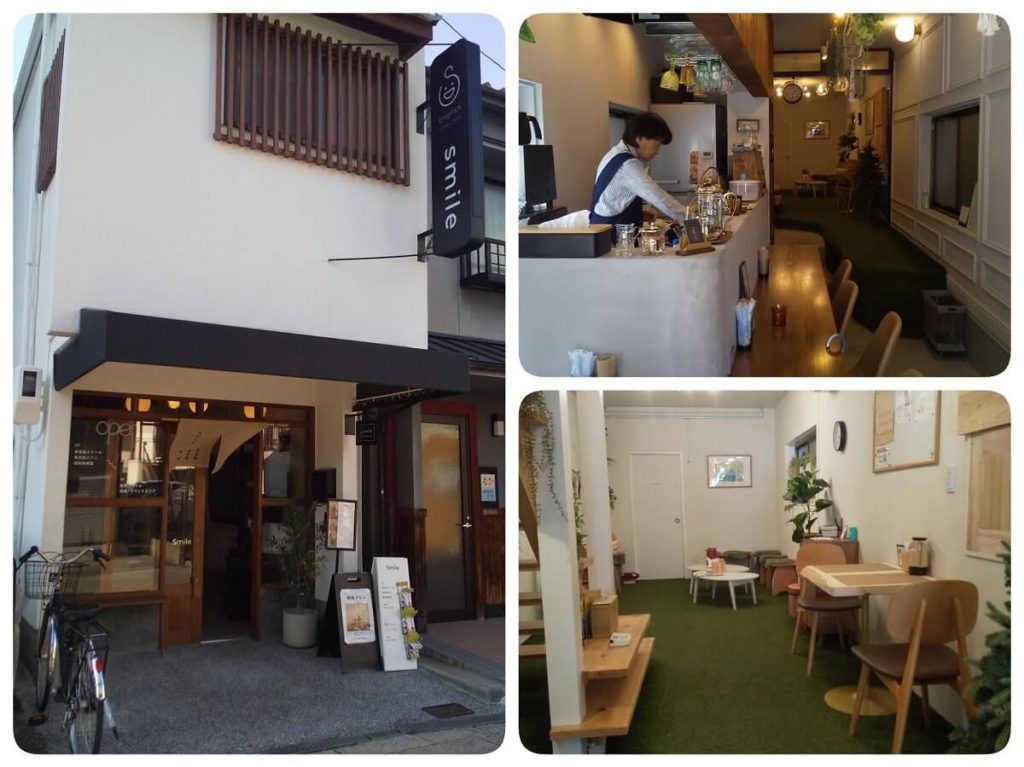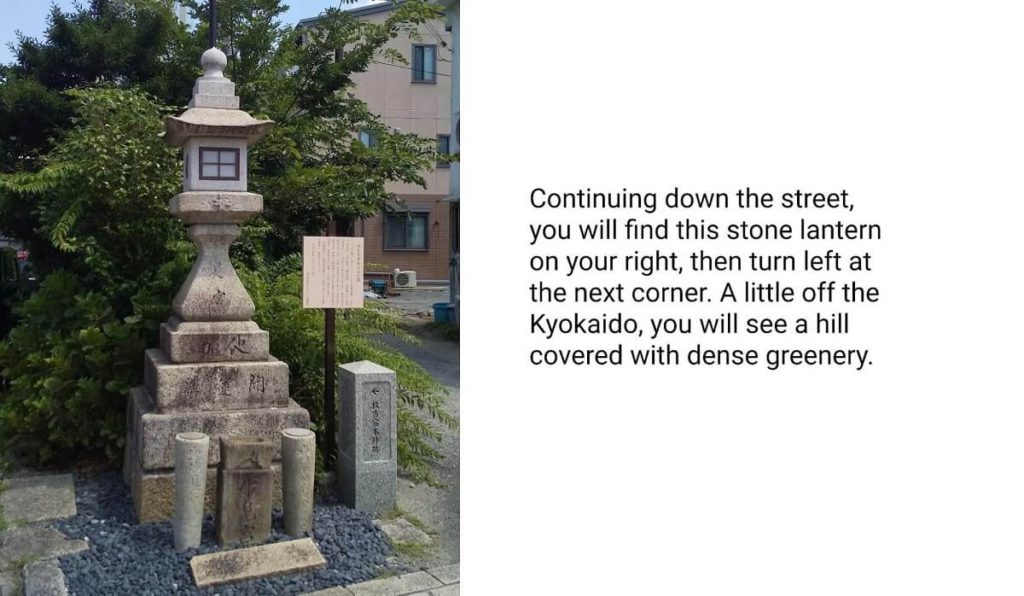 Look at this flight of steps. For some reason, it makes you want to go up. Climbing up, you may feel as if the air has changed, and you will reach the observation square (万年寺山の緑陰). There used to be a tea palace (御茶屋御殿), built by Toyotomi Hideyoshi, where tea ceremonies were held in the 1600s. Much later, in 1904, the existence of a burial mound, kofun (古墳), was revealed at the site, which is now part of the grounds of the Okami Shrine (意賀美神社). There is also a plum garden, which attracts many visitors every year from February to March.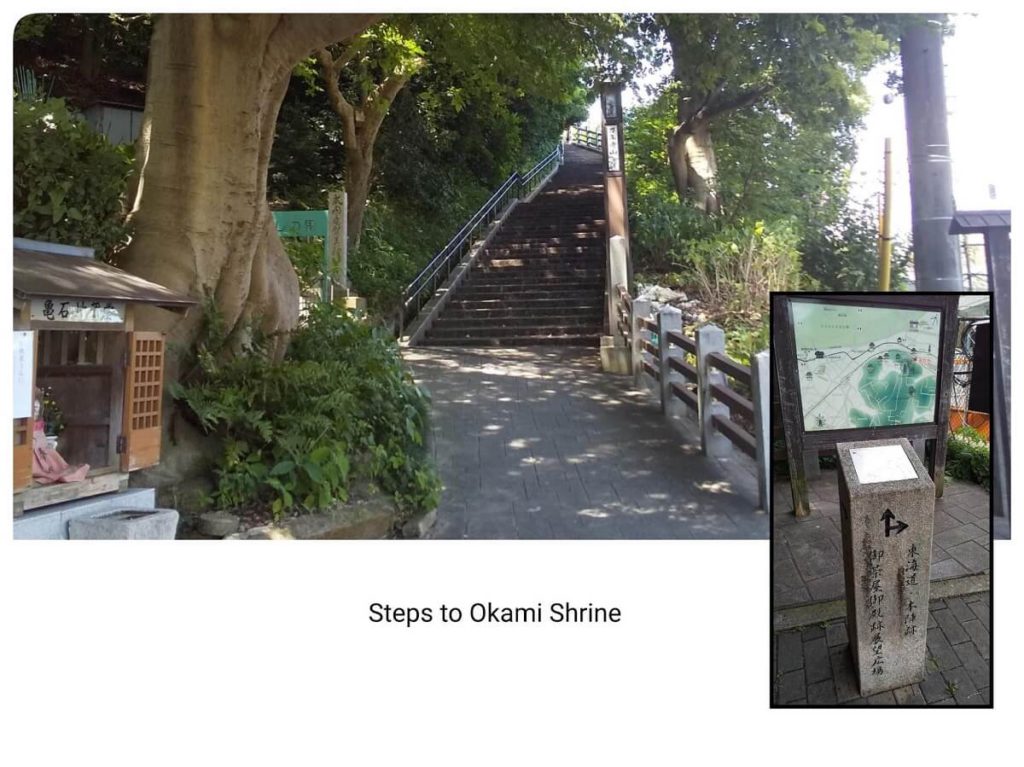 Okami Shrine (意賀美神社)
The shrine, situated on a burial mound, has a complex history and is said to be a hidden power spot known as the zero magnetic field, offering a unique environment believed to promote relaxation and well-being. The zero magnetic field power spot is, simply put, a place where a directional magnet does not point north because the magnetic influence of the earth is exceptionally weak.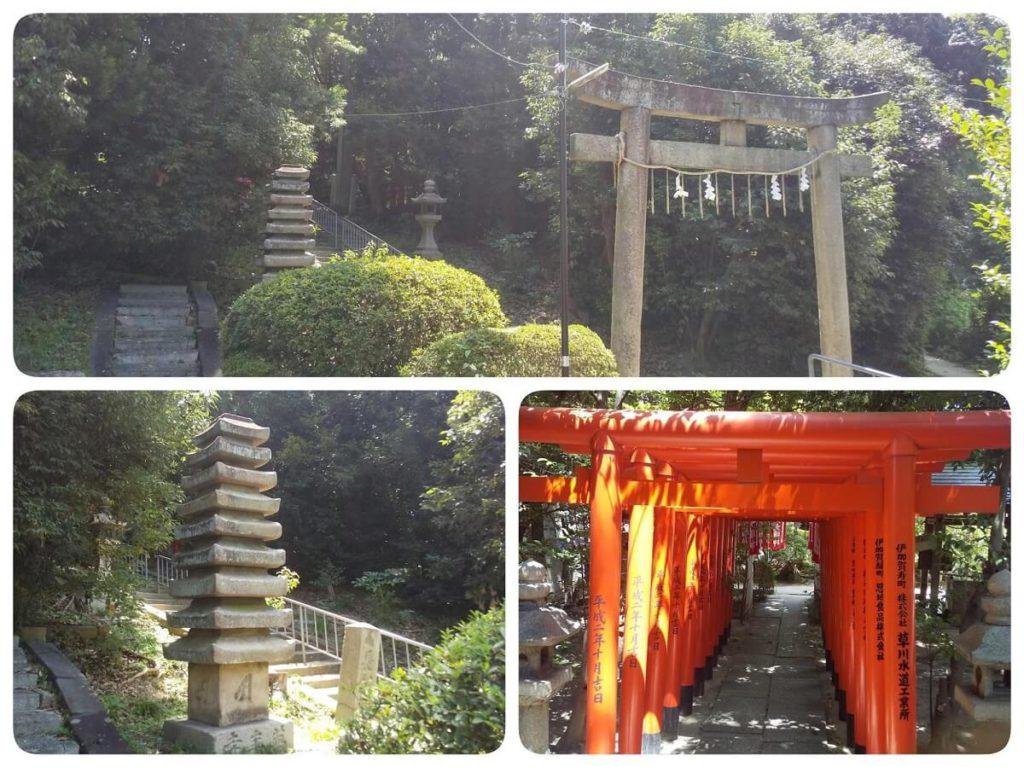 HIRAKATA TOHYO (枚方凍氷)
This shaved ice shop has been in business for 71 years. Recently reopened after renovation, it offers a more leisurely and comfortable place. Of course, the shaved ice is made from the finest pure ice, shaved to fluffy perfection. There are 11 flavors priced at 400 yen each. The condensed milk topping will make your mouth water.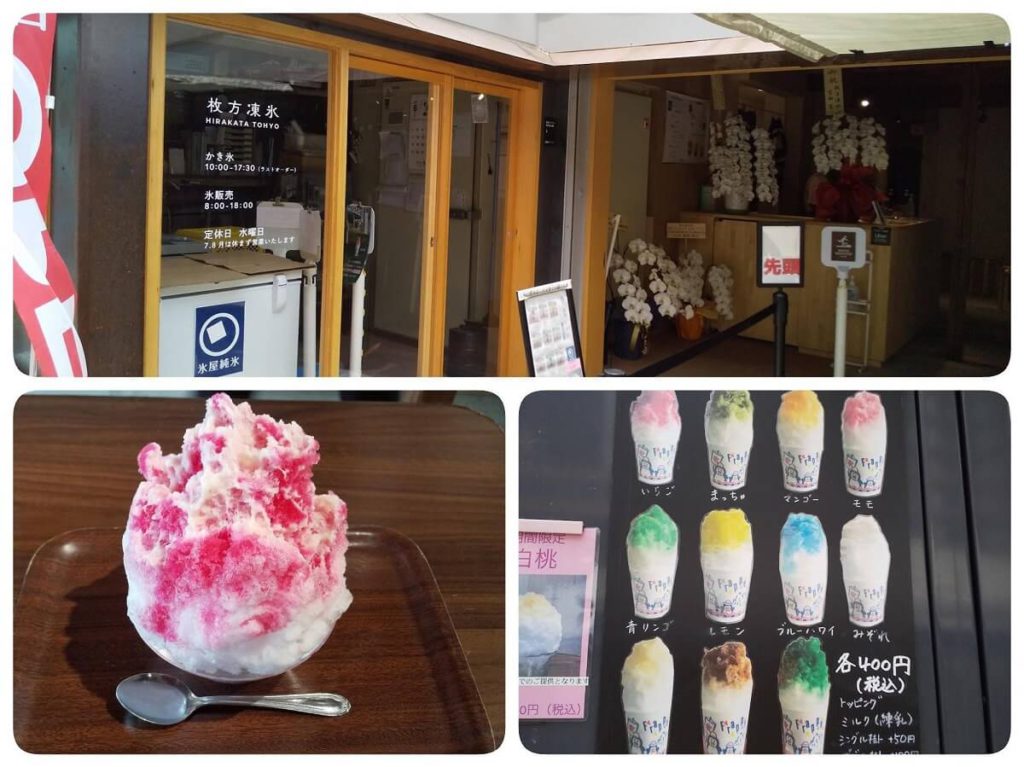 Shop Shiokuma (塩熊商店)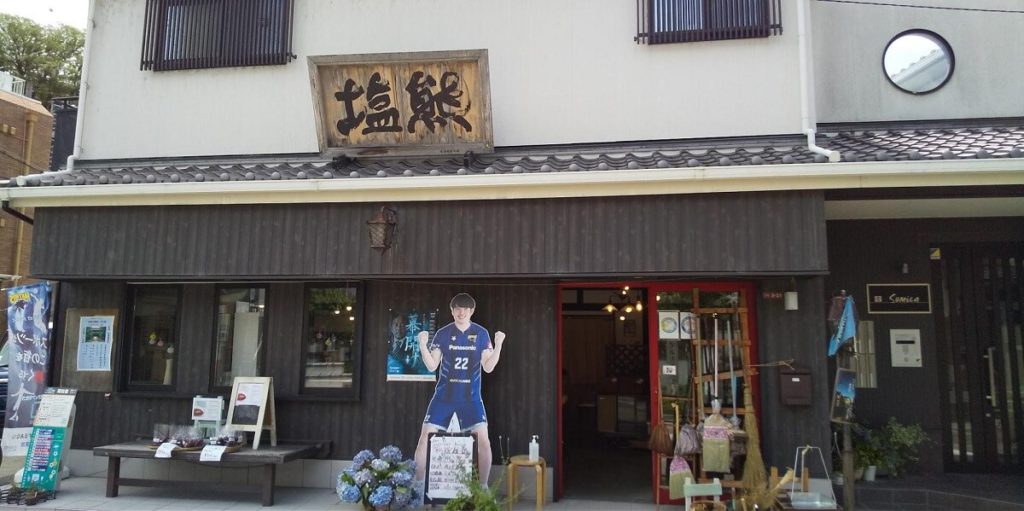 Founded around 1600 in the early Edo period as a salt shop, this long-established store has been passed down from generation to generation. Today, the store offers a variety of retro-style goods, pottery, and carefully prepared food products, inviting visitors to swing by to look for their favorite items.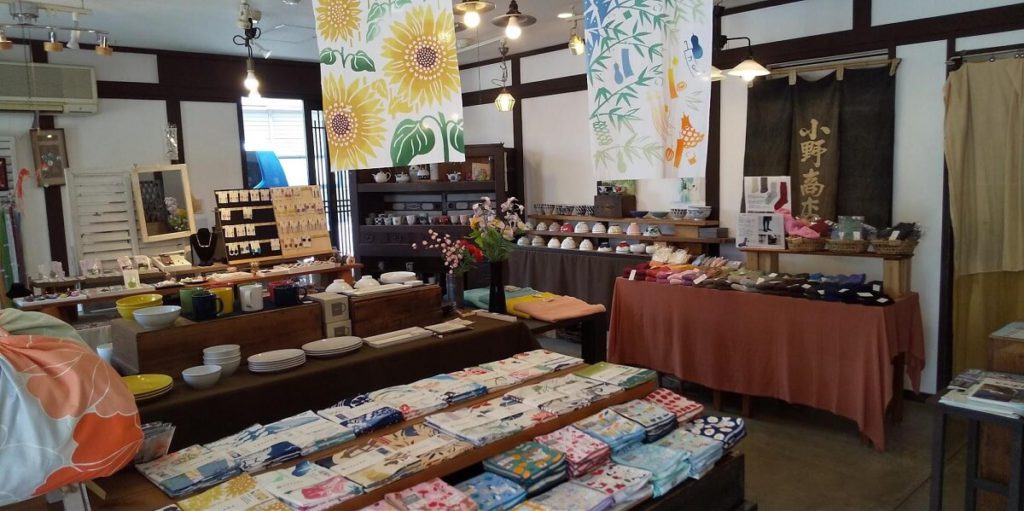 Goroku-ichi Market (五六市)
On the second Sunday of every month, a wide variety of events are held along the Kyokaido Hirakata-shuku as residents try to recreate the bustle of the old days. It is called Goroku-ichi and includes many stalls selling handmade goods, pottery, and foodstuffs.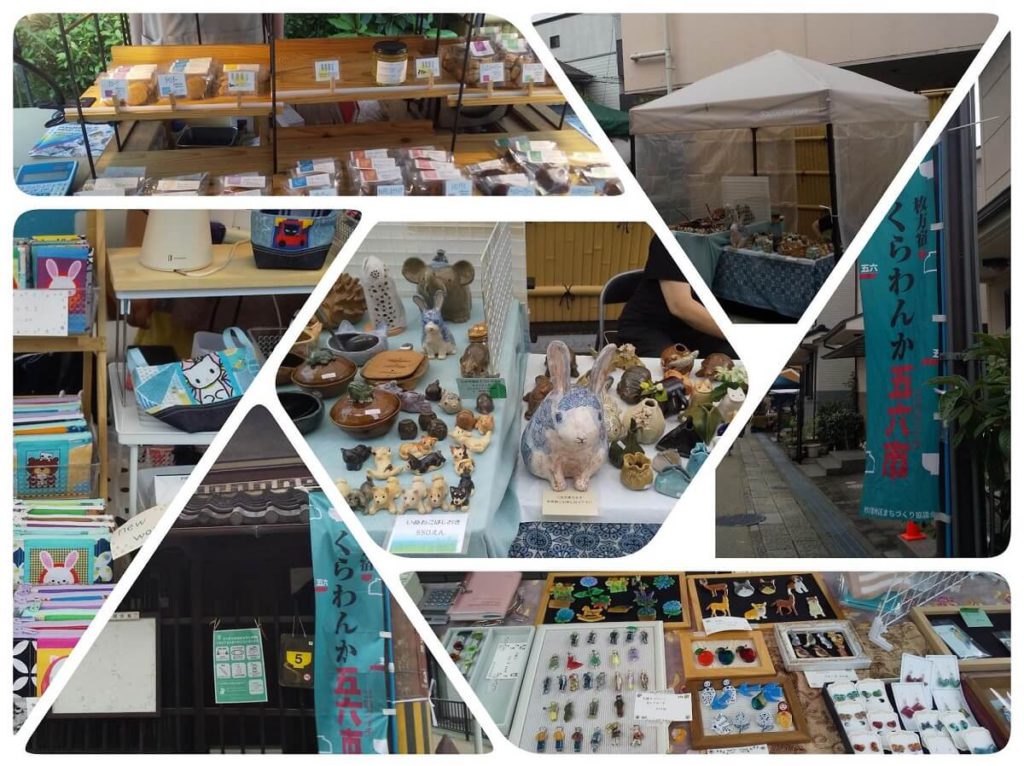 Goroku (五六) means the numbers 5 and 6, and ichi (市) means market. The name Goroku-ichi comes from the fact that it is located at the site of the former 56th post-town. Interestingly, Japanese people learned in history class that there were 53 post-towns on the Tokaido, a significant highway connecting Edo (Tokyo) to Kyoto. However, later on, the Tokaido was extended to Osaka, adding the 54th post-town in Fushimi, the 55th in Yodo, the 56th in Hirakata, and the 57th in Moriguchi. Hirakata-shuku was exactly the 56th post-town on Tokaido.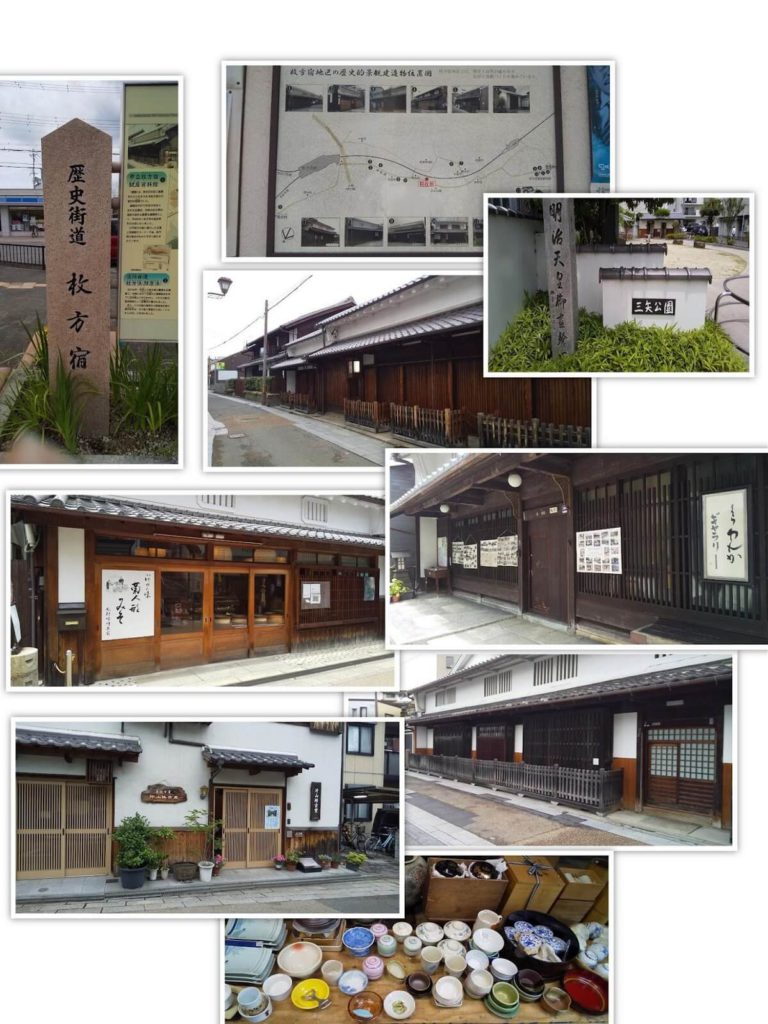 If you walk along Kyokaido from Hirakata City Station and reach Kagiya Museum, Hirakata Koen Station is just around the corner. You can turn left at the next corner to head for the station. Or, why not turn right and go up on the embankment? You can see the Yodo River flowing across the wide-open area in front of you. Although the people and the town may have changed, the river still flows as it did in the past. Watching the river from the embankment, you can imagine the days when the river was once busy with water transportation.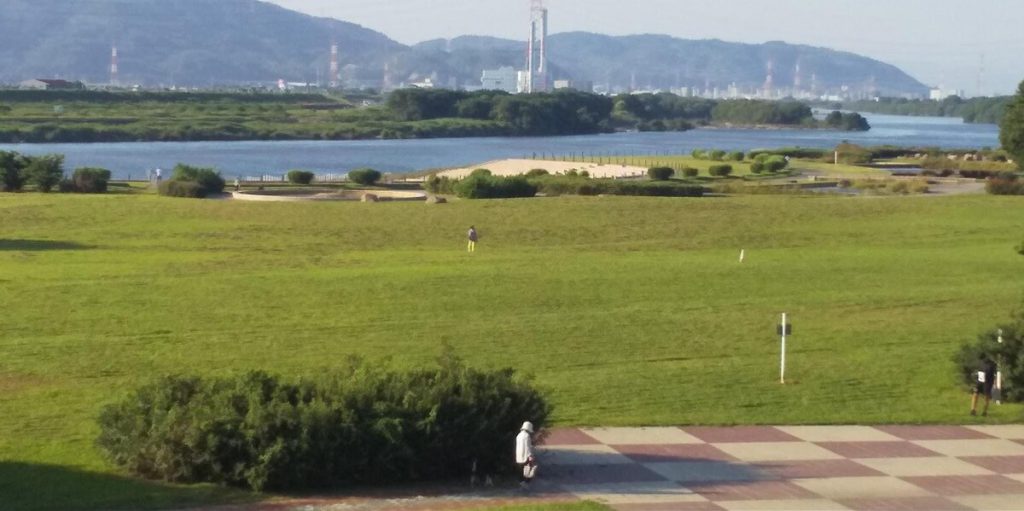 You can go back to the Hirakata City Station by bus from here.
If you are interested in Hirakata Park, here is the link to my past article.
"Hirakata Park" – Amusement Park in Osaka – How To Japan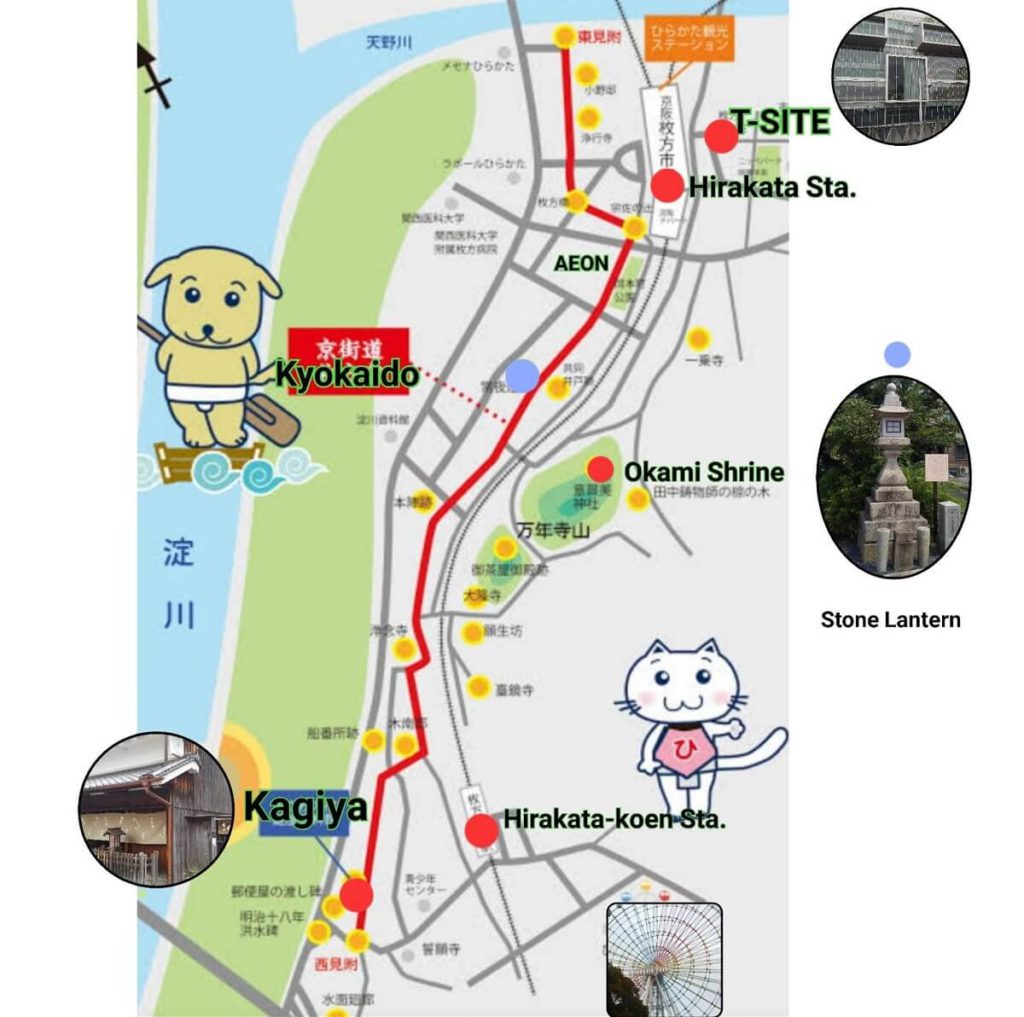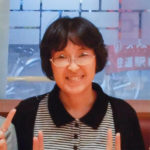 Lives in Takatsuki city, Osaka. Has been engaged in English for work and fun for years.