Kyoto Tower: the iconic landmark of Kyoto that stands right in front of Kyoto Station. Can you guess what inspired its design? You might think it resembles a candle since Kyoto is famous for its many temples, but that's not the case. Kyoto Tower, which can be seen from far away, is meant to symbolize a lighthouse illuminating the city of Kyoto, though it has no sea.
Kyoto Tower was built in 1964, a year of great change and progress for Japan, as it marked the opening of the Shinkansen trains and the hosting of the first Tokyo Olympics. However, not everyone was happy about this "un-Kyoto-like" tower that contrasted with the traditional image of the city. As was the case when Kyoto Station was built in 1997, Kyoto seems to have a disposition not to welcome new and eccentric things.
Anyway, it is surprising that this eye-catching structure with a cylindrical body, the tallest tower in Kyoto at 131 meters, is the first tower in the world to adopt a monocoque structure without using any steel frame.
Now, let me take you inside Kyoto Tower, the most convenient tourist spot from Kyoto Station!
1. Observation Deck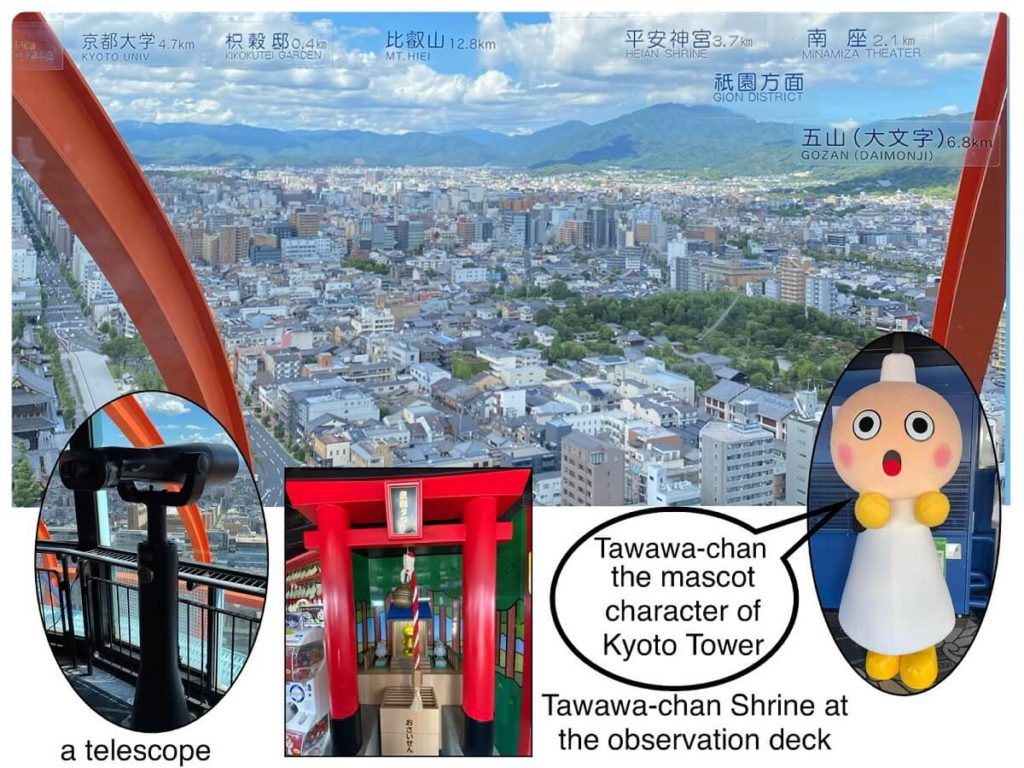 Don't miss the chance to visit the observation deck, the highest point in Kyoto City, 100 meters above the ground! You can enjoy a panoramic view of the entire city of Kyoto, and spot the famous landmarks of Kyoto, such as Fushimi Inari Shrine, Nijojo Castle, Toji Temple and even people on the stage of Kiyomizu-dera Temple, about 2.4 km away, through a telescope (free of charge).
You can admire the temples and shrines that didn't make it into your schedule and feel like you've been there! On a clear day, you can even see as far as Osaka.
Admission fee: 900 yen
<Trivia Q1>
The streets in Kyoto City stretch almost straight, east-west and north-south, like a grid. In fact, it is this grid-like layout that has made Kyoto famous for being so easy to navigate. The same is true of Karasuma-dori street, which runs north-south through the center of Kyoto. However, if you look from the observation deck, you will notice that it curves in front of Higashi Honganji Temple. Do you know why?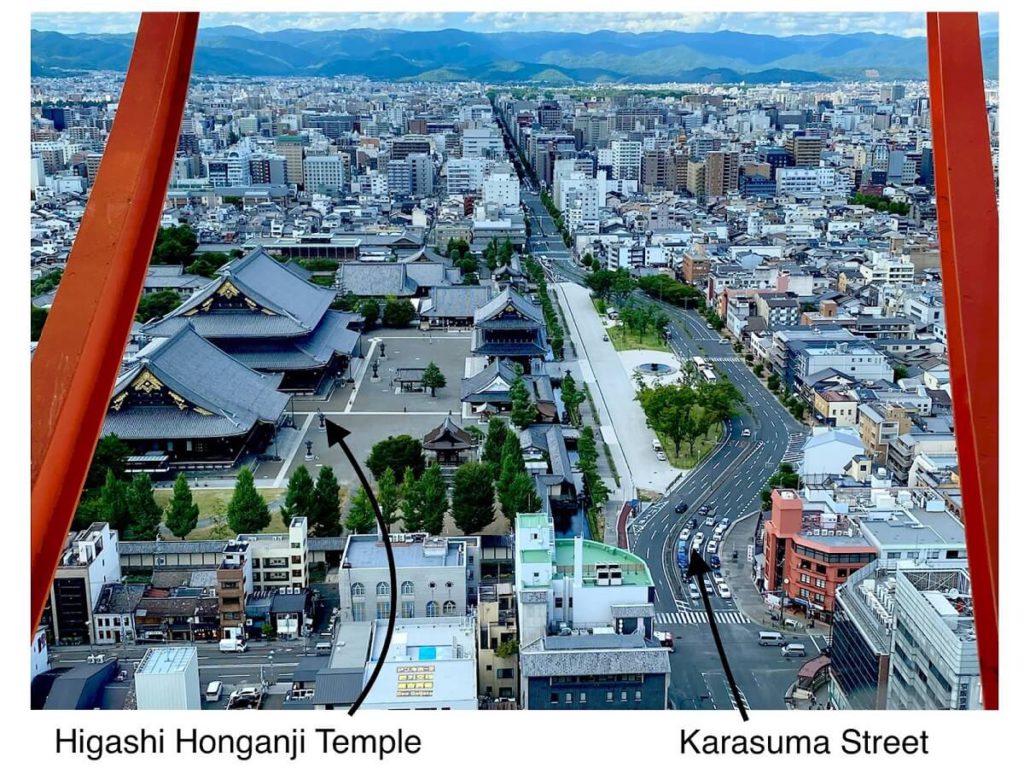 This bend was created in the middle of the Meiji period (1868-1912) when Karasuma Street was widened to accommodate the Kyoto City Tram. The Higashi Honganji Temple was worried about the safety of its worshippers. To avoid accidents, the temple agreed to bend Karasuma Street into a bow by donating part of its land on the east side of the street owned by the temple.
In the spring of 2023, this area in front of the temple was transformed into a green space where people can gather and enjoy various events and flea markets.
2. BBQ on the rooftop (10F)

What could be better than having a delicious BBQ on the 10th-floor rooftop of the Kyoto Tower building while admiring the panoramic view of the city? The barbecue facilities are fully equipped, reasonably priced, and weather-proof. You don't need to bring anything, just show up and have fun! You can also bring your food and drinks if you prefer. Reservations are required by 5 p.m. the day before. The rooftop BBQ is open from mid-April to mid-October. For more information, please visit the link below.
BYOBBQ (bring your own ingredients) plan: 1500 yen
All included BBQ plan: 3650 yen
3. Kansai Tourist Information Center (3F)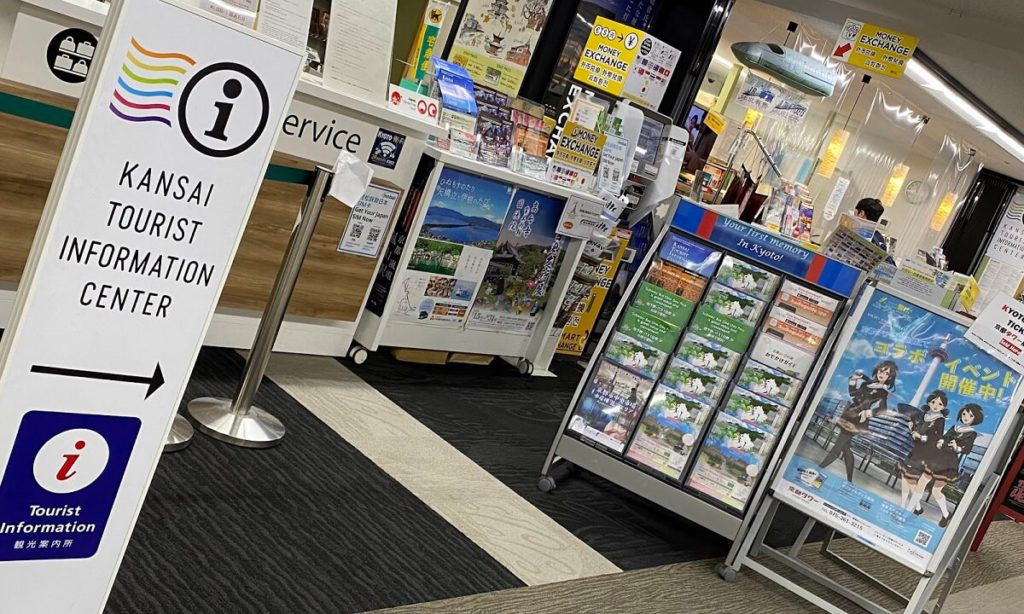 If you need any information or assistance on tourism, transportation, or cultural experiences in the Kansai region or throughout Japan, please visit the information center on the 3rd floor. They even offer a prayer room for your convenience. They are happy to help you with all of the following matters.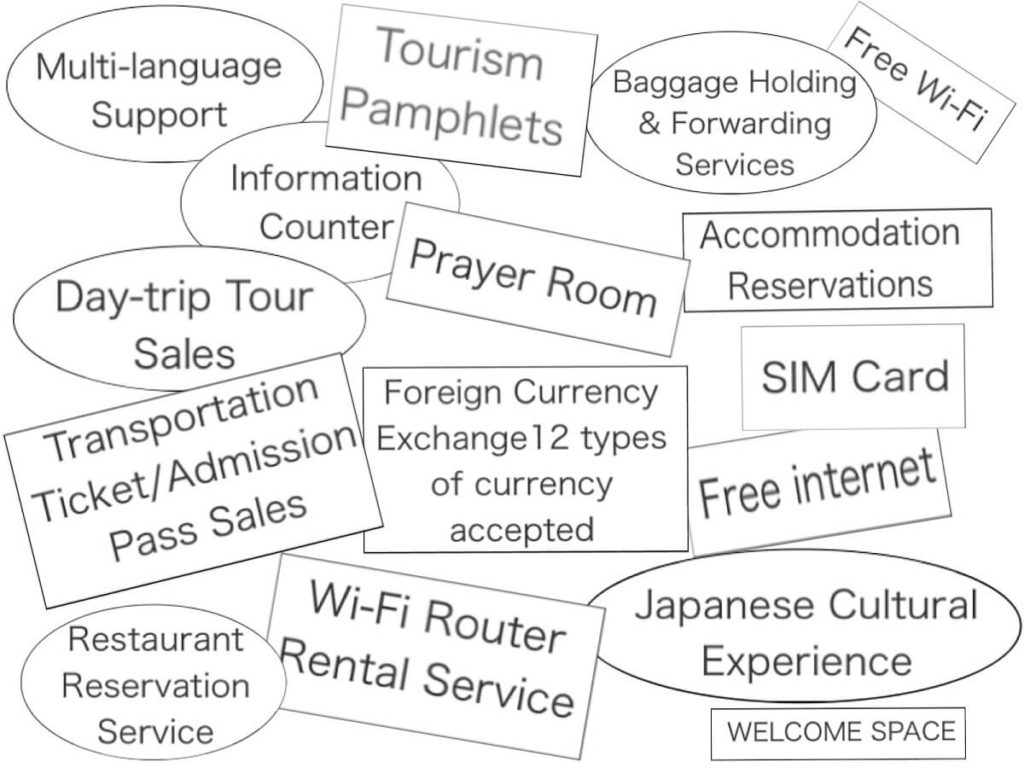 KYOTO | KANSAI TOURIST INFORMATION CENTER
4. Experience Japanese culture (2F)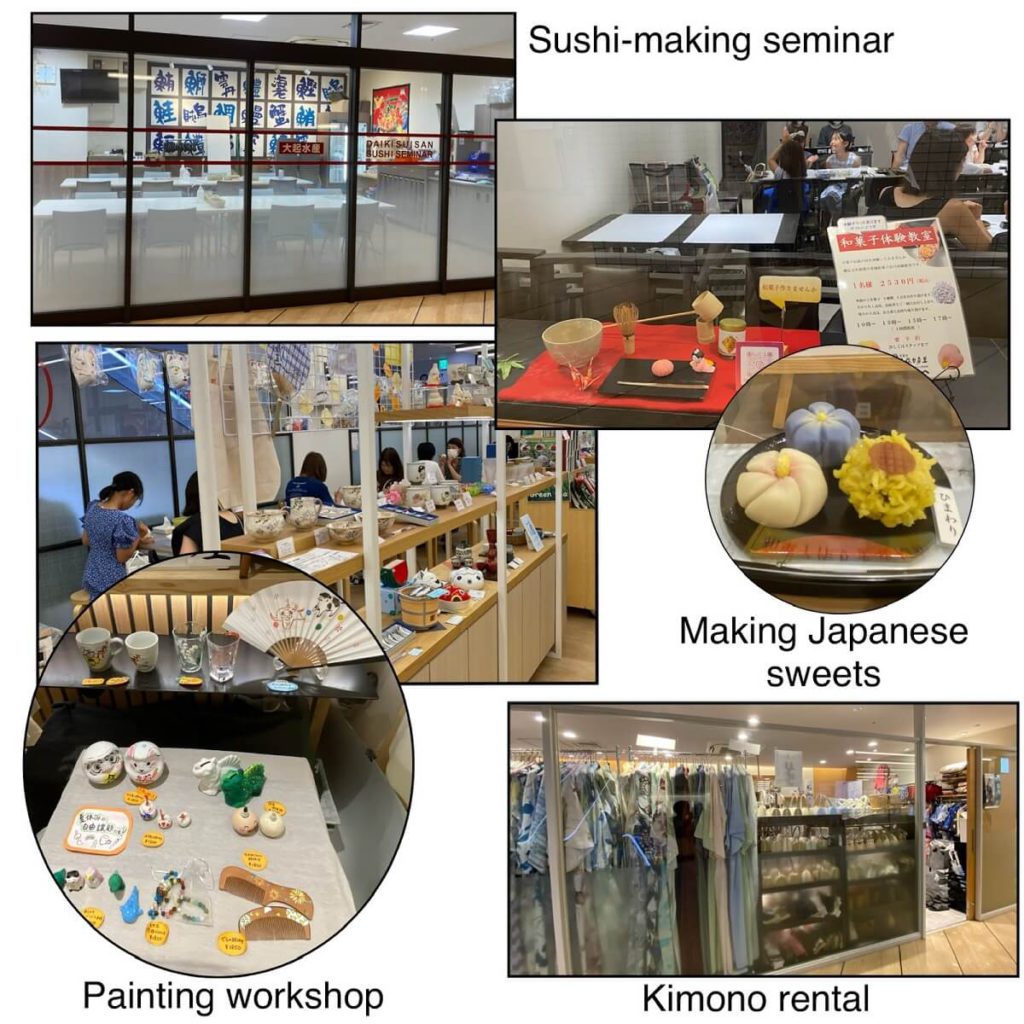 On the 2nd floor, you can immerse yourself in the art of making sushi, Japanese sweets, and Kiyomizu-yaki pottery. You can also dress up in a kimono. Whether you are a beginner or an expert, you will find something to enjoy and learn from their friendly instructors. You don't want to pass up this opportunity to experience the rich and diverse culture of Japan!
☆ Sushi-making seminar
Learn how to make delicious sushi from a professional chef. The seminar lasts for about 80 minutes and is held five times a day. Please book in advance since they do not accept walk-ins.
☆Making Japanese sweets
Create your own traditional sweets with seasonal motifs. The workshop is held four times a day and takes about 60 to 90 minutes. Reservation is possible on the same day.
☆Kiyomizu-yaki pottery painting workshop
Paint your own design on various pottery items, such as teacups, mugs, and earth bells. The workshop takes about 60 minutes and you can take home your masterpiece.
☆Kimono rental
Dress up in a beautiful kimono and explore the city of Kyoto. They have a wide range of styles and colors to choose from. No reservation is required.
For more information about these experiences above, please open this link.
5. Souvenirs of Kyoto (1F)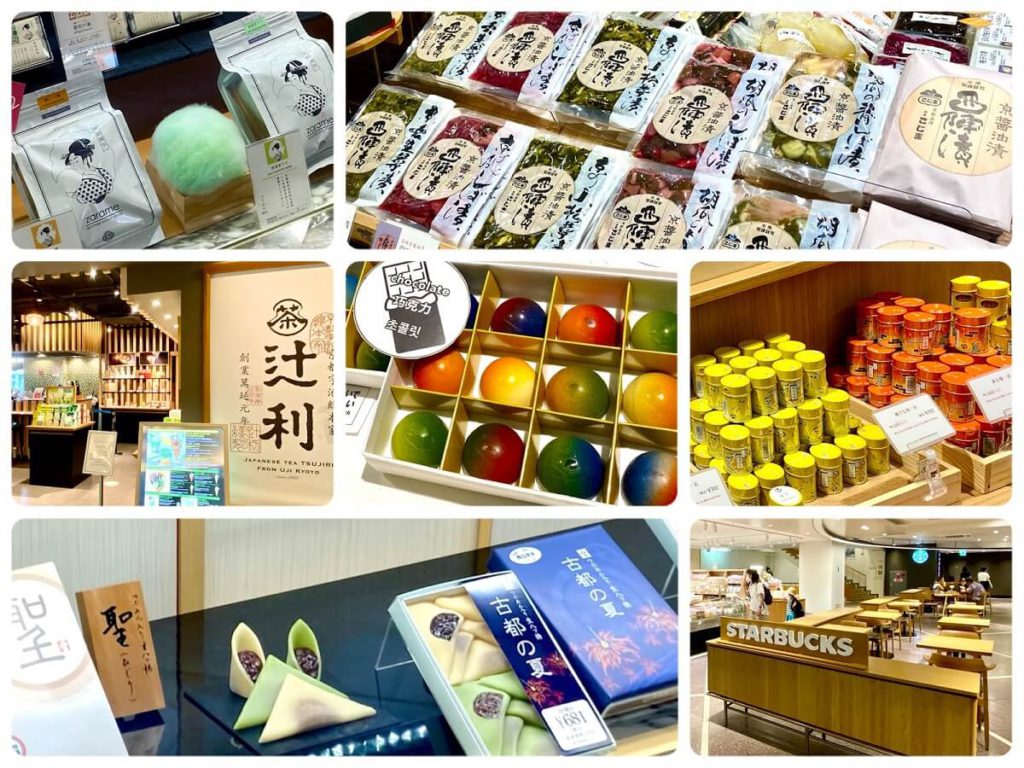 The first floor is lined with stores selling Kyoto's representative sweets, pickles and others. In addition to standard Kyoto souvenirs, you will find a wide variety of products, including one-of-a-kind items, and limited-edition items available only here. This is the place to go for Kyoto souvenirs!
6. Food Hall (B1F)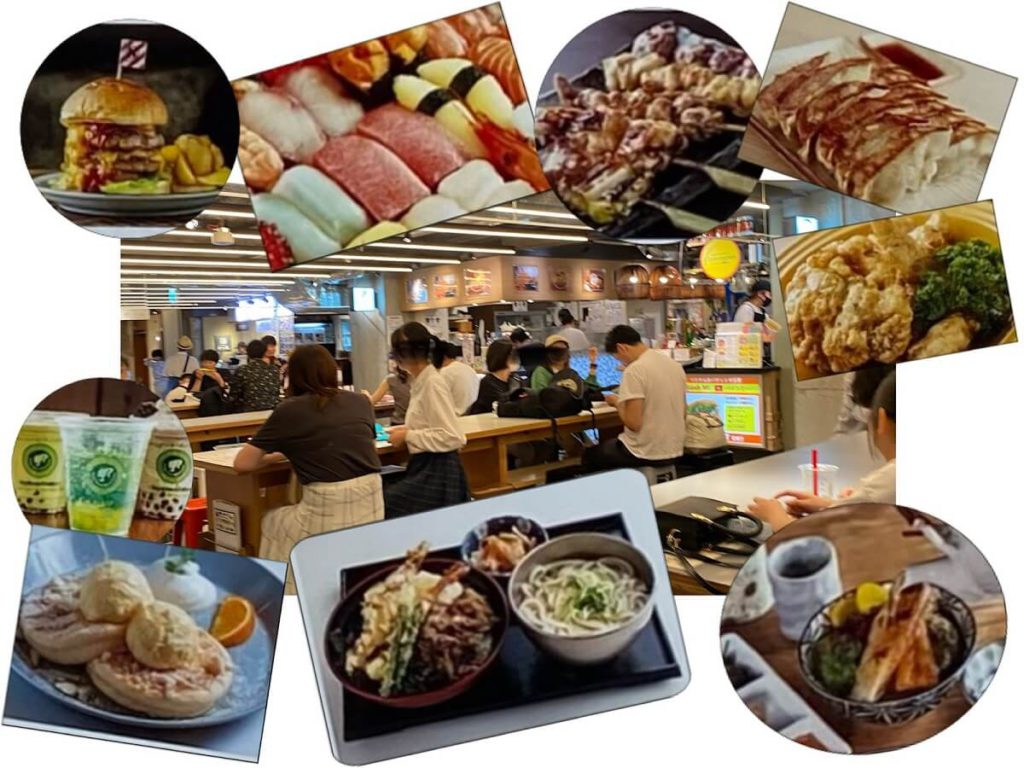 What do you feel like eating? Sushi? Gyoza, tempura, yakitori, udon, or wagyu? Do you want to drink starting at noon? It's okay even if everyone has different opinions on what they want to eat! All your wishes can be fulfilled in this basement food hall! On this food floor, visitors can enjoy Kyoto's cuisine from 17 restaurants and cafés at once.
<Trivia Q2>
Sometimes Kyoto Tower is illuminated in colors other than white. Do you know why?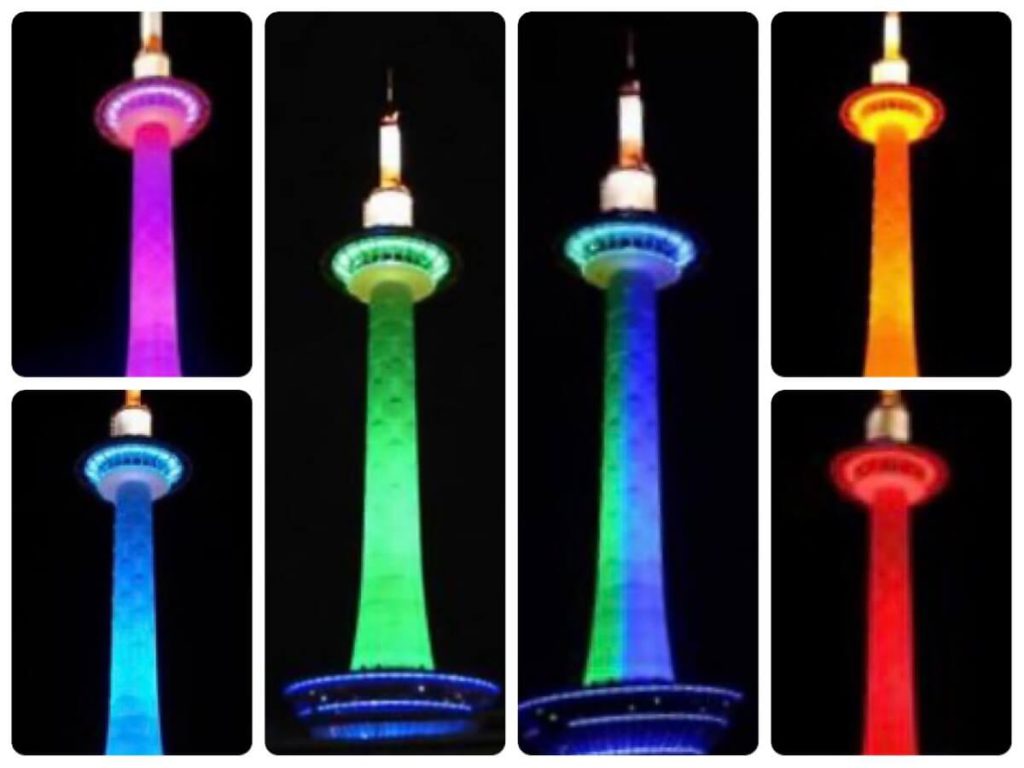 Kyoto Tower is usually lit up white from sunset to midnight, but sometimes it changes color for special occasions. For example, it turns red and green for Christmas, pink for Pink Ribbon Day, and blue for World Diabetes Day. If the Kyoto Tower lights up in different colors, it is a message of some kind.
Furthermore, you can also make it shine in your own personal color by choosing one color from 15 options or two colors from 3 combinations. The price is 30,000 yen for one color, or 45,000 yen for two colors (for 30 minutes of illumination).
Why not make the Kyoto Tower your color for a marriage proposal, a surprise, or just to create a buzz?
Did you decide what to see, do and eat in Kyoto Tower? In my previous blog, I introduced Kyoto Station.→ Explore the hidden gems of Kyoto Station! – How To Japan
Kyoto Tower is directly connected to Kyoto Station via an underground passageway.
When you visit Kyoto, please fully enjoy Kyoto Tower for yourself, as well as Kyoto Station!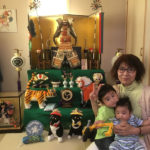 Born and raised in Kyoto. A private tutor and a volunteer tour guide in Kyoto. Love sewing, kimono remaking, traveling, cooking, gardening, playing the shamisen(三味線), making stained glass and grandparenting as well.