Welcome back to my blog about Japanese lifestyle in October.
Autumn has just begun, and it is said to be the best season for reading, appetite, sports and art in Japan.
October, we have another saying"神無月" which means "month without gods".
In Japan it is said that many gods are living everywhere, and in this month they have a big meeting at Izumo-Shrine, so there are no gods near our hometown during that time. Thankfully, Ebisu-sama protects us during this time and some shrines hold a festival related to Ebisu-sama.
In addition to this topic, I will introduce some other seasonal events in October in Japan.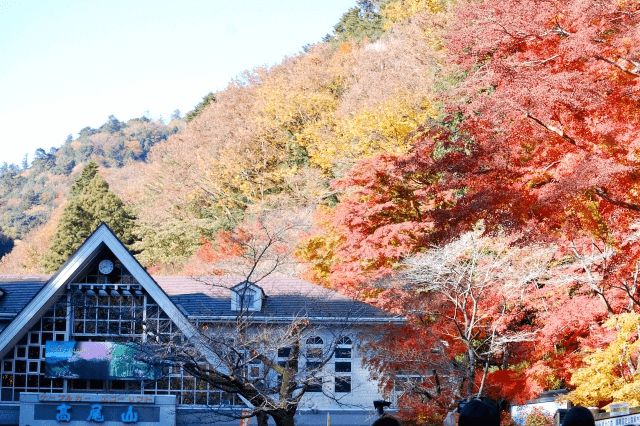 Seasonal events Part Ⅰ: National Sports day "体育の日"
In 1964, The Olympics were held in Tokyo on October 10th, and it was decided that the 2nd Monday of the month would be designated as a national holiday.
Fall is a good season to play sports, so some schools choose to hold a sports festival in this month.
When I was young, I cheered for our team events during the sports festival.
For example, we play Tug-o'war using a rope. When the referee tells them to start, each team pulls it to their side with all their might.
Sprints and relays are popular and enthusiastic contests, mostly between students and their parents.
Sometimes we dance a local traditional dance or an original one with trendy music.
We have lunch with our families in the field of our schools.
It is not only a school event but also a neighborhood association event.
Actually I am going to take part in an association event this year, and it may be the first time in 30 years or so that I have joined a sports festival.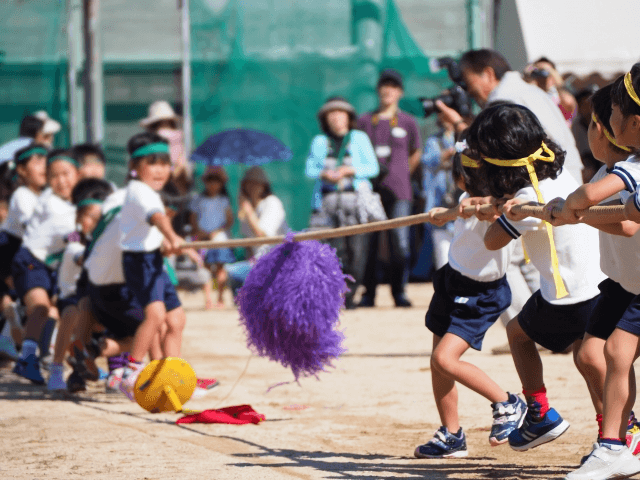 Seasonal events Part Ⅱ: Leaf-peeping "紅葉狩り"
Leaves turn yellow and red in Autumn, and we like to go and see the leaves at a mountain or valley.
"狩り" means hunting, but we just watch them while admiring their beauty.
I tend to visit a Japanese hotel in the autumn to see nice scenery, especially leaves, take a dip in a hot spring and have a delicious dinner.
I recommend Mt.Takao if you live or stay near the Tokyo area.
It is easy to access there in about one hour or so.
Mt.Takao was given three stars from Michelin, the same as Mt. Fuji in 2007.
Its height is 599 meters. It is said that there are almost 3 million hikers a year.
There are cable cars and lifts, and it is easy to climb.
However, if you want to walk up without assistance, you can choose several routes. You can find an English pocket map at the train station and tourist office.
In my case, I chose the 1st route. It took about 100 minutes to walk up, 80 minutes to walk down, and then my muscles were sore after walking.
Luckily, there are several gourmet food and souvenir shops, and you may feel fine as if you were just shopping.
I ate soba with mountain herbs, drank a gourmet coke and had Tengu yaki.
It looks like a Tengu which is a famous red long‐nosed goblin.
Inside its face, there are black sweet beans that taste sweet.
I got enough energy from it to descend the mountain.
I went for hiking…not eating… but it was so nice to do anything.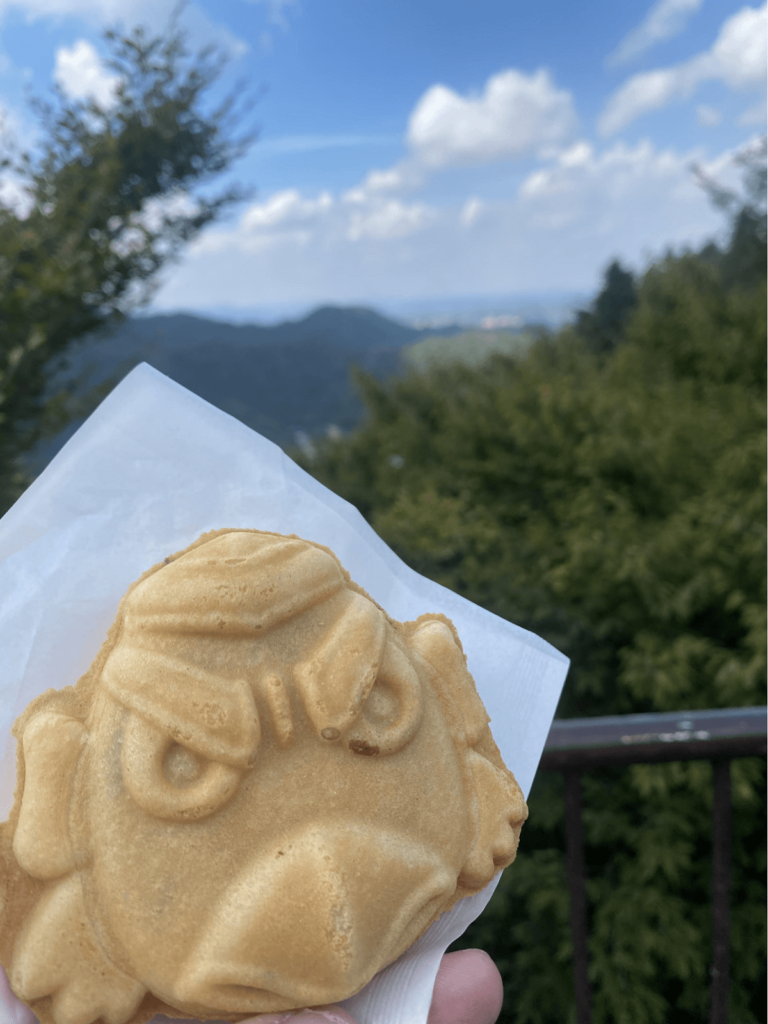 I would say that the top season for observing autumn leaves at Mt. Takao is in the middle of November.
Seasonal events Part Ⅲ: Book week "読書週間"
As I said before, autumn is a good season for reading.
This idea comes from an old Chinese poet and famous writer Soseki Natume who introduces short sentences like this:
"Autumn nights are ideal for reading by light."
"Summer night with a torch is too hot to read books; Autumn becomes cooler which is suitable for night reading."
Book week started in 1947, two years after World War Ⅱ. It is said that reading books is for keeping peace and making a cultural nation.
It starts from the 27th of October to the 9th of November. It resembles children's book week in the U.S.
I am not a fan of reading books, but I sometimes drop by a bookstore on my way home.
I sometimes buy books after seeing recommendations from bookstore staff, which are often displayed in front of the books.
They are brief comments, but they are very appealing to me.
Perhaps through reading, the staff can learn to write comments that captivate people, and I also want to be able to write such comments.
Seasonal events Part Ⅳ: Ebisu-shrine festibal "日本橋べったら市"
As I said at the beginning of the article, Ebisu-sama protects.
A shrine holds an event on the 19th and 20th of October in Nihonbashi, Tokyo near Kodenmacho station.
There are 500 shops to eat and that sell something like a market or festival, mainly for べったら漬け.
べったら漬け is pickles that are made from Japanese white raddish, starch syrup and malt. It must have a sweet taste. It may have a strong smell, so you should bring some plastic bag which zips.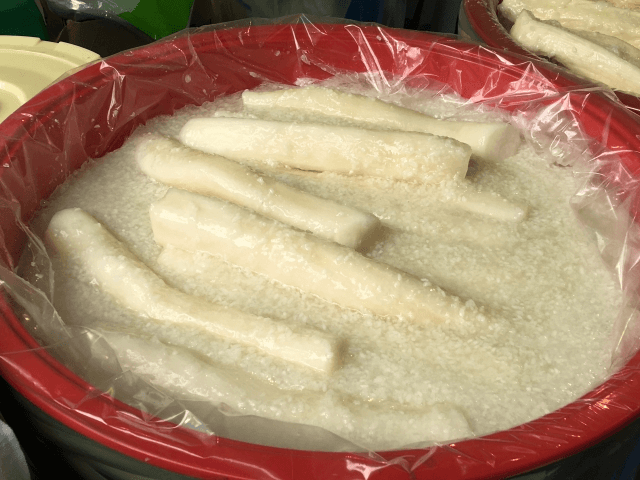 In conclusion, after covid, some festivals opened and sightseeing spots are packed again for the first time in three or four years, so many people are joining and enjoying every place.
Small and large events are open in Japan these days, and everyone enjoys joining them if they have the time.
I have been learning English for about 3 years. I have joined many kinds of English schools or social networking to get knowledge and skills for English since then.
My target for learning English is not so clear but my curiosity leads me to make a conversation with everyone in the world with English.
See you somewhere!