If you come to Japan, Osaka is the place to be.
You will not be able to resist but will fall in love with Osaka when you meet the friendly, fun-loving people and enjoy the lively town and delicious food. And if you want to experience the atmosphere of Osaka up to the hilt, Shinsekai is the most wonderful place to do so.
It is lively, bright, fun, and a bit noisy, offering a retro Showa-era atmosphere. Shinsekai is the representation of Osaka, where people are so friendly to each other.
Today, I would like to introduce you to what we call "deep dohade Osaka."
So, do you know a word "Dohade, どはで"?
This Osakan word means it's very dynamic and very flashy.
Yes! That's Shinsekai! Let's go check the "New World".
◎What is Shinsekai?◎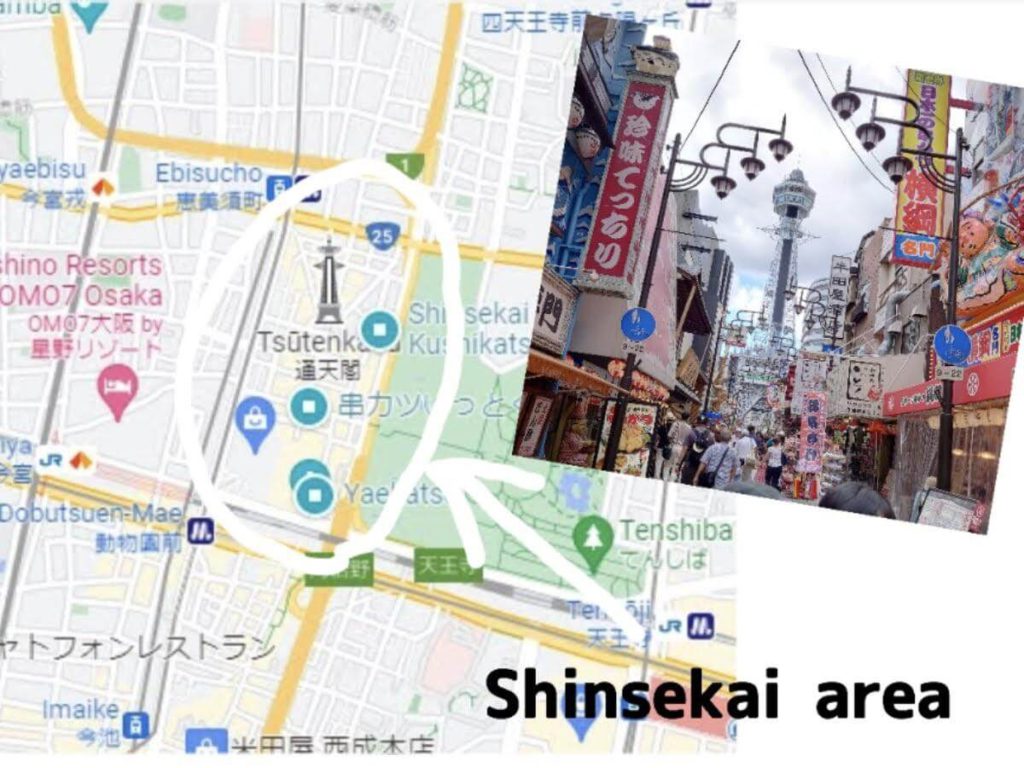 Shinsekai, literally translated to "the new world" in English, is a downtown area in Naniwa-ku, Osaka City. It was the site where the National Industrial Exhibition was held in 1903. The exposition was similar to the World Expo in that it showcased the latest technology from Japan and abroad, and was a great success, drawing 5.3 million visitors in five months.
Later, in 1912, an amusement park called Luna Park was built around "Tsutenkaku Tower. The name "Shinsekai" was probably from the idea of people making the area modern by introducing new culture and technology that did not exist in the old world (Tokugawa samurai era).
After the famous Tsutenkaku Tower was torn down during the war, the area became deserted. At one time, it even had an image as a slightly scary neighborhood with homeless people and bars as its main attractions, but it has now been completely cleaned up and is a place where not only foreigners but also Japanese tourists can enjoy Osaka to the fullest.
Shinsekai has an iconic character called Billiken. And you can find statues of it everywhere. Try to count them if you're around.
◎Billiken◎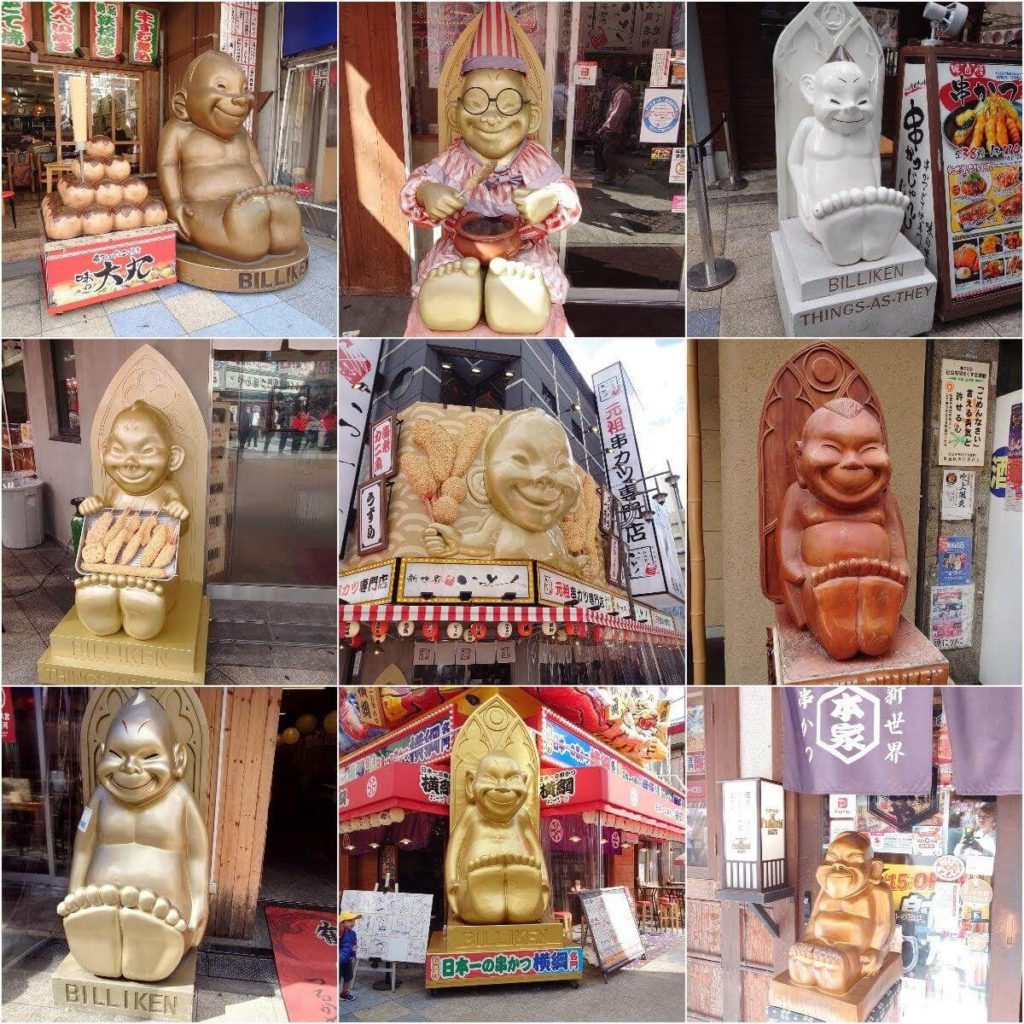 Billiken is an iconic Osakan deity statue with a humorous appearance who presides over the way things should be. We Osakan people call him Billiken-san out of affection.
"Things as they ought to be" on the pedestal is the so-called "God of things as they are."
This means that God watches over us so that we can think and act for ourselves and be happy as we should be.
Billiken-san is characterized by his chubby body shape and slanting eyes. He has large ears and a pointy head. He is a god with a charming expression on his face, with his short hands held straight down.
Billiken is the god that an American artist named Florence Pritts saw in a dream in 1908. She named him Billiken after the president's nickname at the time, Billy, and Ken, meaning small. He became popular around the world and was first exhibited in Shinsekai when Luna Park was opened. As a god of fortune that brings good luck, Billiken became popular in Japan as well, with his lovable expression. It is said that if you stroke the soles of his feet, your wish will come true. The reason for this is that Billiken has short hands and a protruding belly, so he cannot reach the soles of his feet.
Therefore, if you rub the soles of his feet instead, he is very happy and grants the wishes of those who touch him.
What a cute and grateful god!
In Shinsekai, there are big ones and small ones. Some are wearing a mask, others are holding kushikatsu (skewers). Billiken-san sits here and there.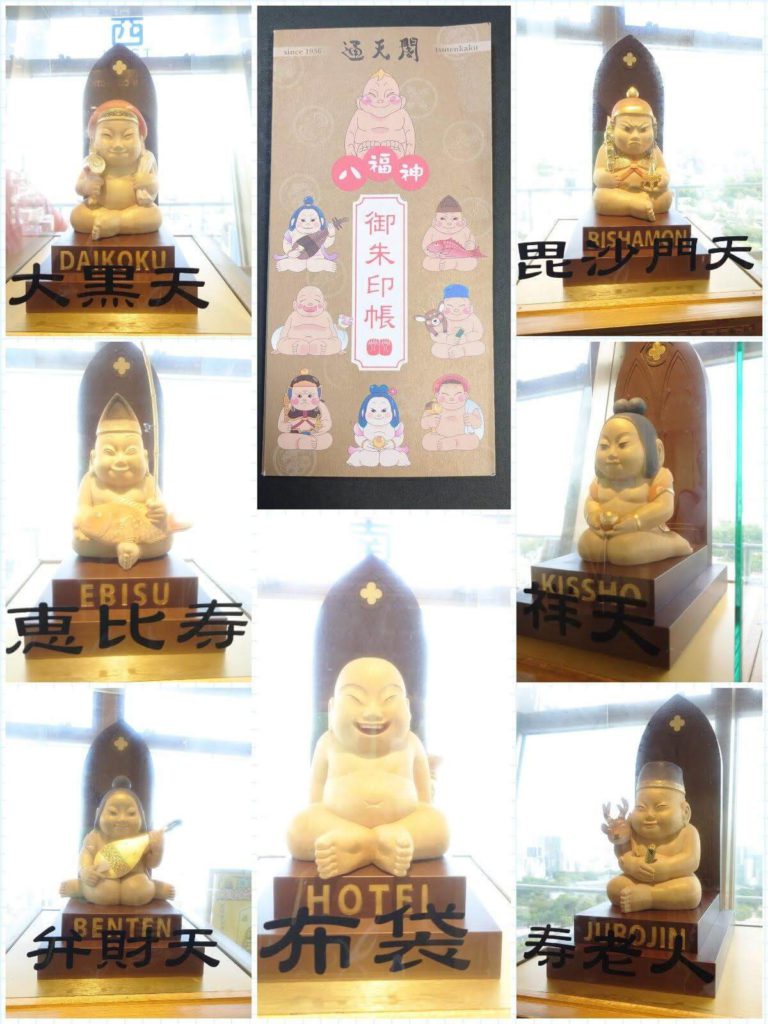 There is also a statue of Billiken of version of * Shichifukujin,七福神, on the observation deck of Tsutenkaku Tower.
Just looking at the Billiken-san everywhere will make you feel happy and cozy.
If you find him, please rub the soles of his feet and tell him your wish.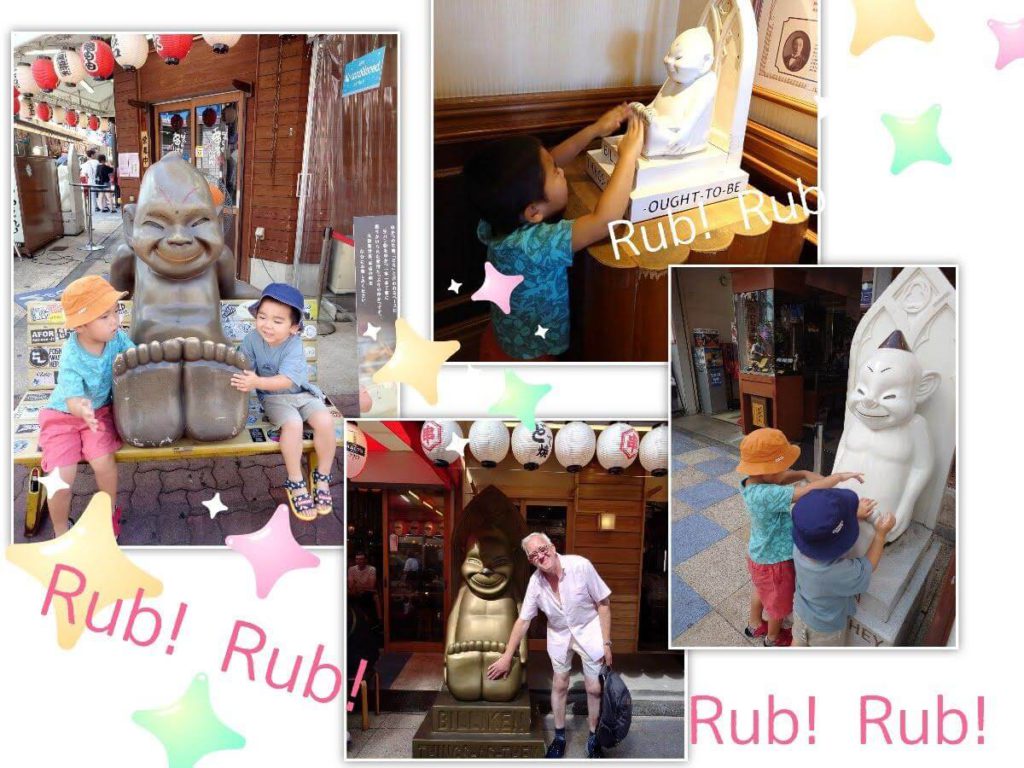 *Shichifukujin
Shichifukujin, Seven Lucky Gods, are seven deities which are named Jurojin, Ebisu, Hotei, Benzaiten, Bishamonten, Daikokuten and Fukurokuju. They bring good luck and prosperity. It is said if you worship all seven deities, you will be blessed with seven happinesses and prevent seven misfortunes.
◎Tsutenkaku Tower◎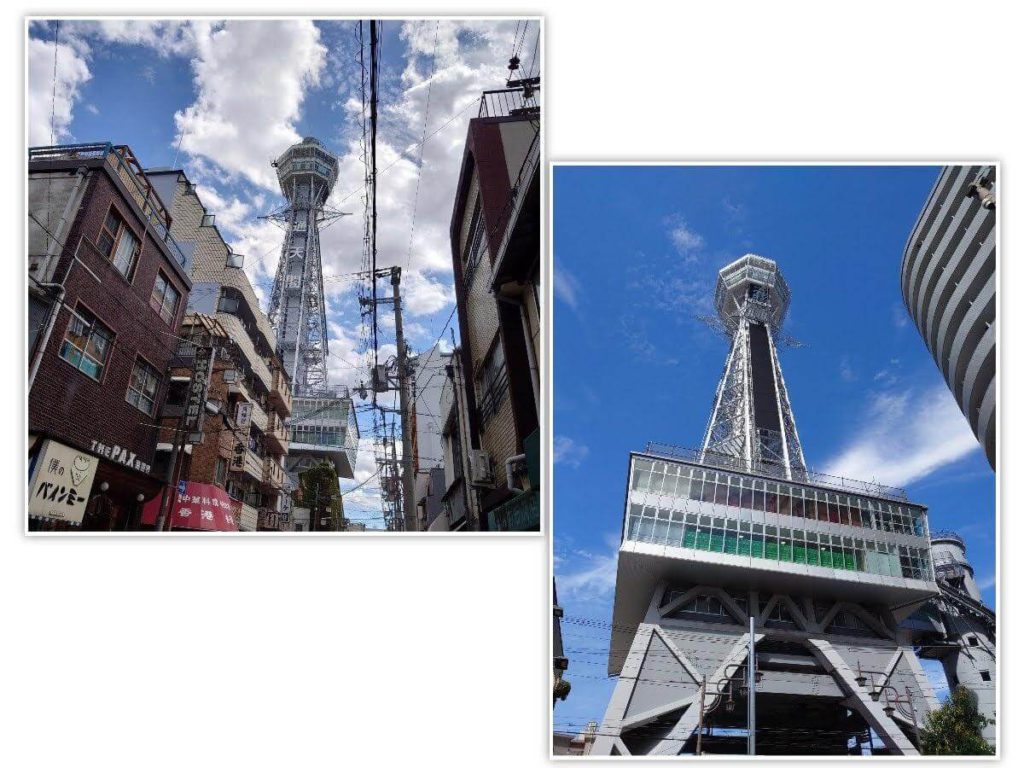 Tsutenkaku Tower was named with the meaning "a tall building that leads to heaven."
The first Tsutenkaku Tower was modeled after the Arc de Triomphe in Paris at the bottom and the Eiffel Tower at the top, and was the tallest building in the East at the time. Once demolished due to fire and war, it was rebuilt as the second Tsutenkaku Tower in 1956.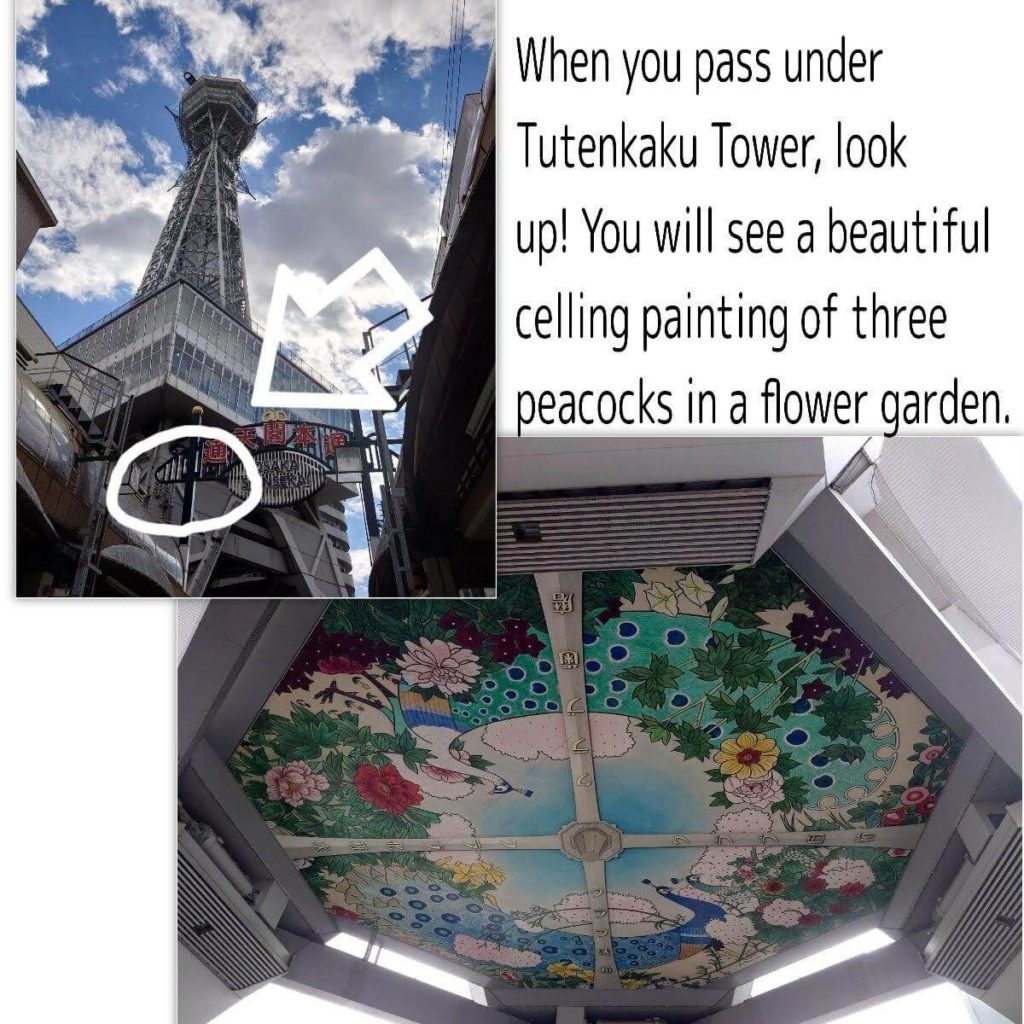 It is 103 meters high, and there is an observatory on the fifth floor from which you can look out over the city of Osaka. It is still called the Eiffel Tower of Naniwa and has become a symbol of Shinsekai.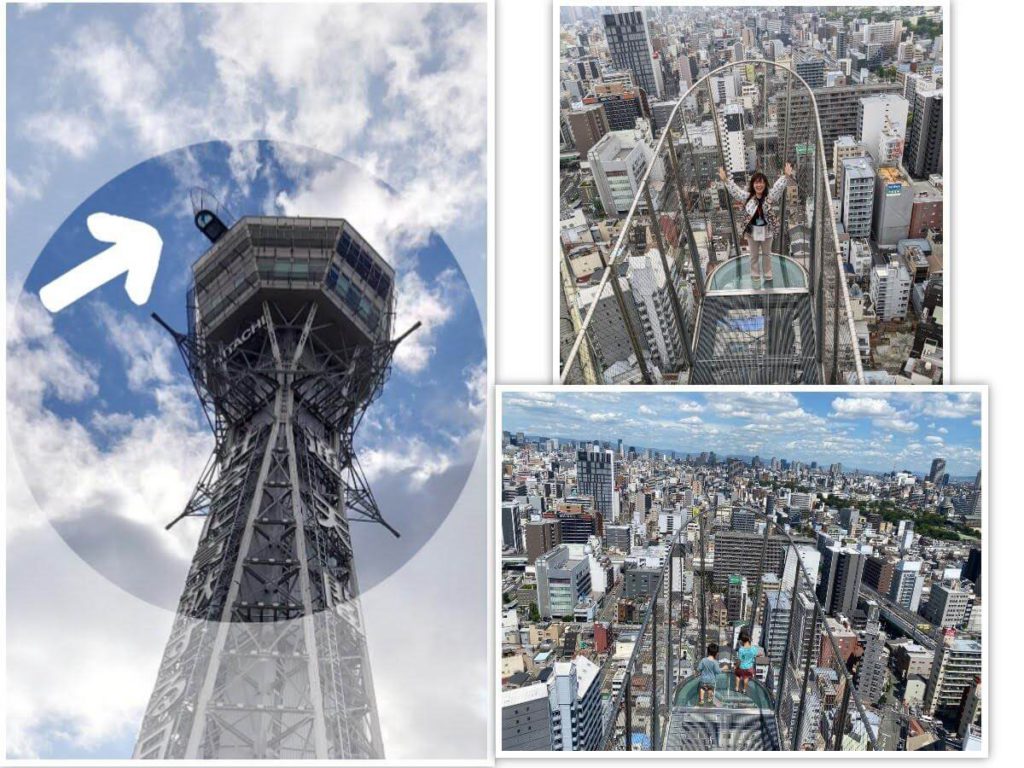 For an additional 300 yen, visitors can also go up to the observation deck called "Observation Paradise". The flip-up observation deck has a see-through floor that provides a thrilling experience. The wonderful view of the city of Osaka can be seen from there.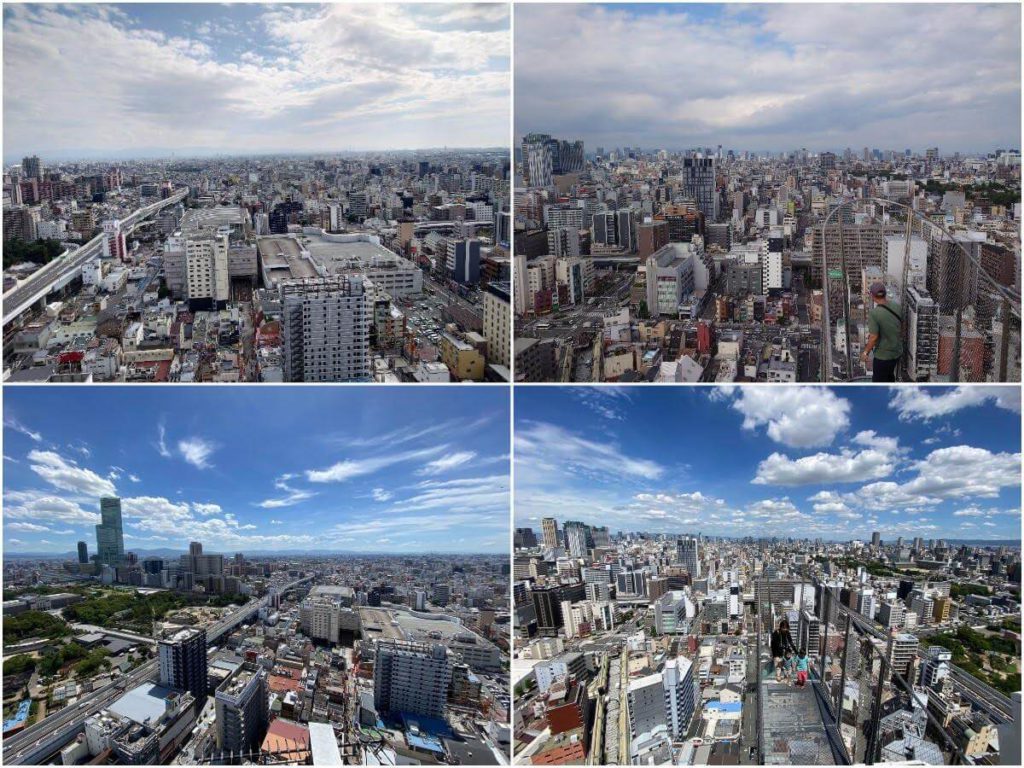 ☆Tower Slider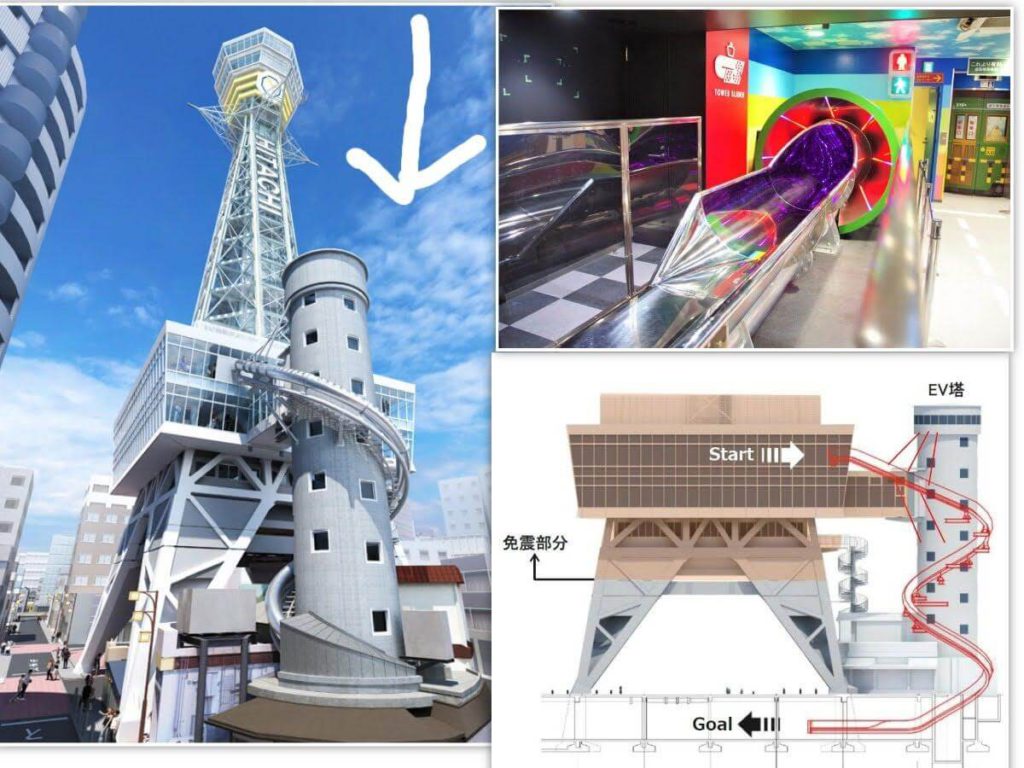 As you go up the spiral staircase from the second floor to the third floor, ta-da! You are at the entrance of the new interactive attraction, "Tower Slider"! This is a 60-meter long experiential slide that goes from 22 meters above the ground to the first basement floor in about 10 seconds, while going around the perimeter of the EV tower. Slide, slide, slide while looking up at Tsutenkaku Tower!
☆Souvenir area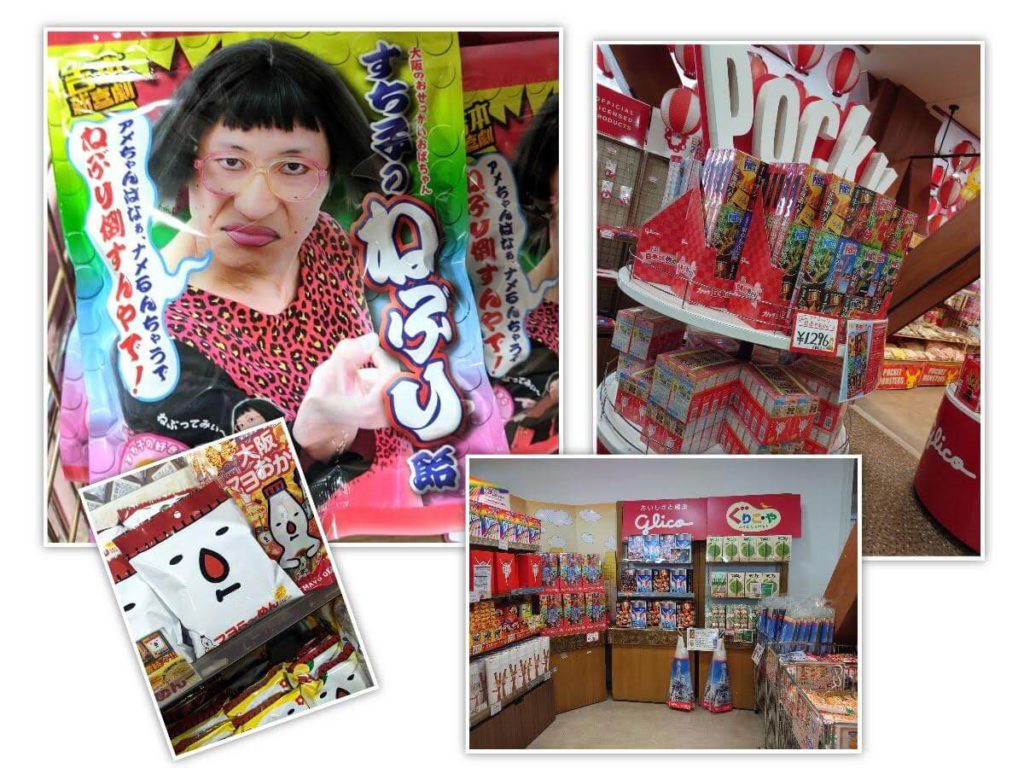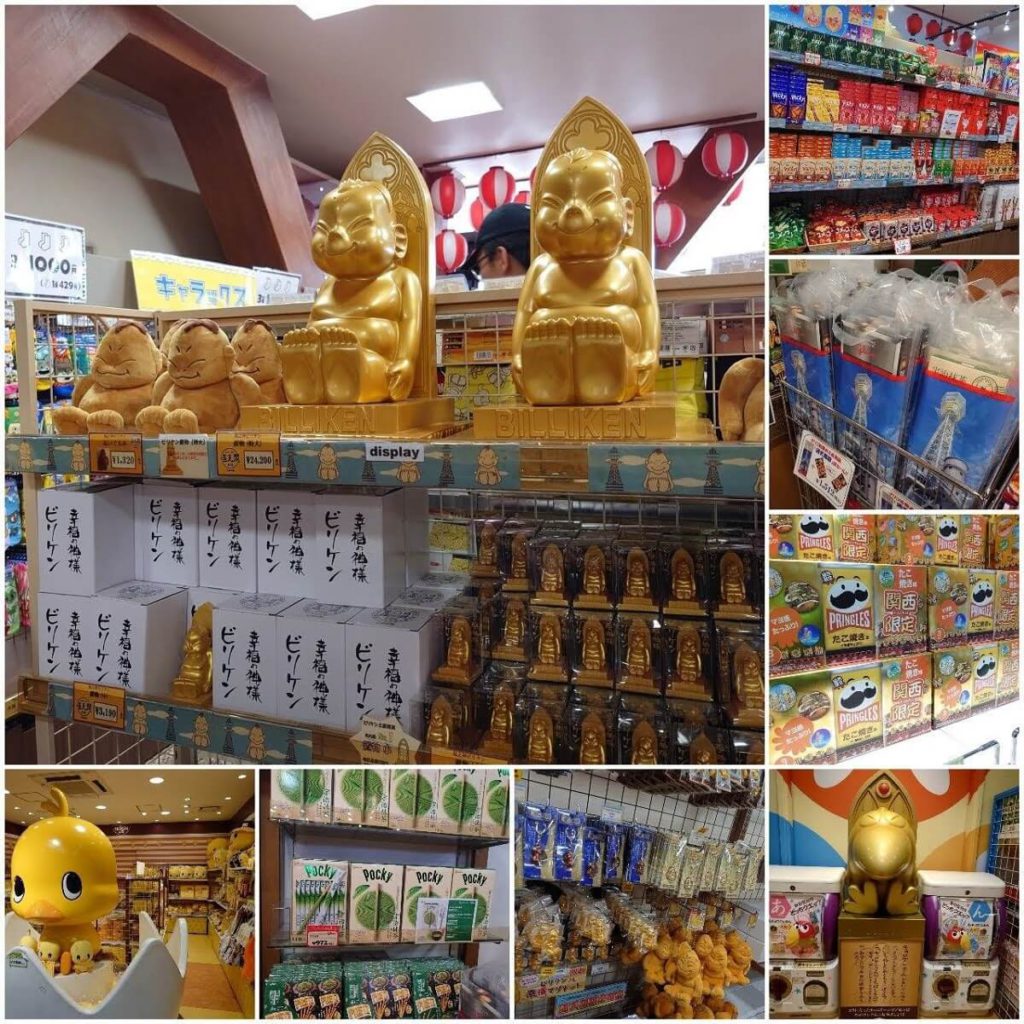 There are souvenir areas on the third and the first basement floors of this tower. 
You can enjoy looking around and buying some unique character's products there.
☆Interesting exhibits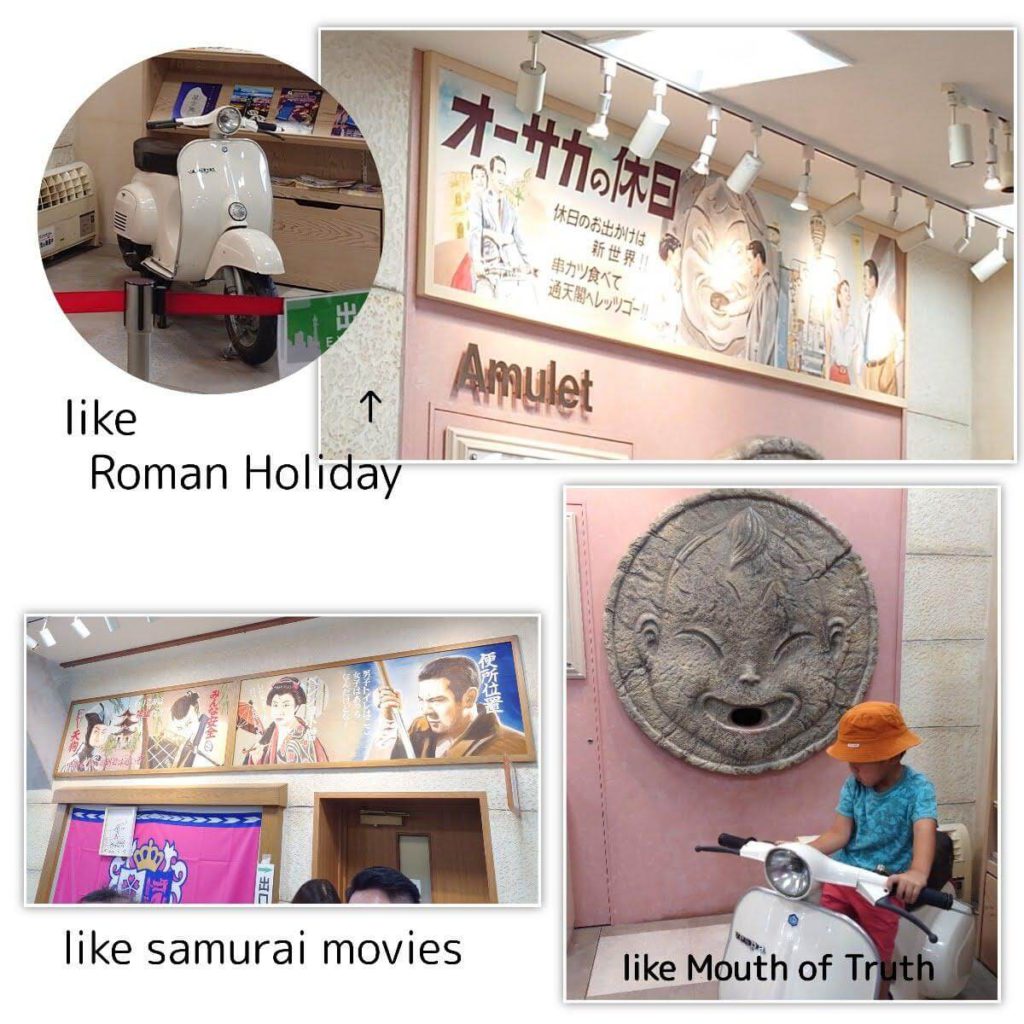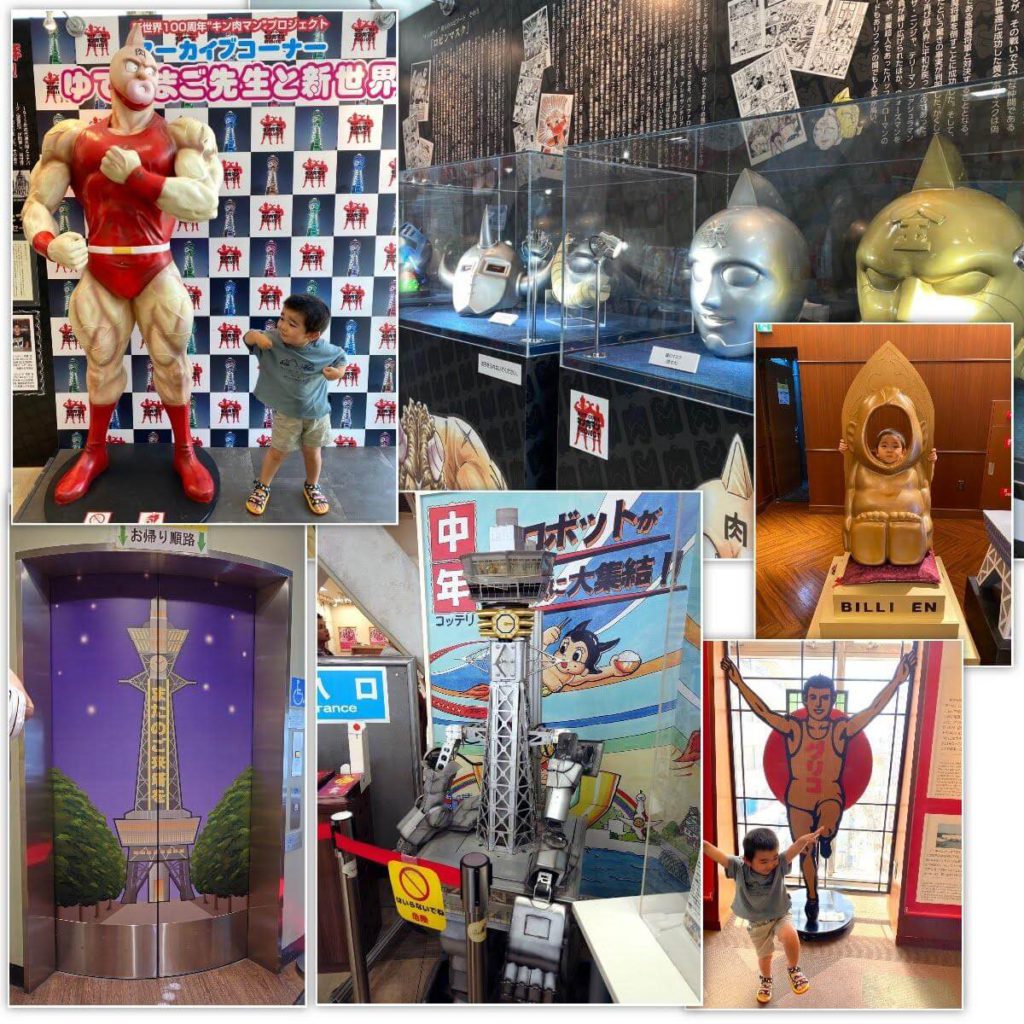 ◎Jan-Jan Yokocho◎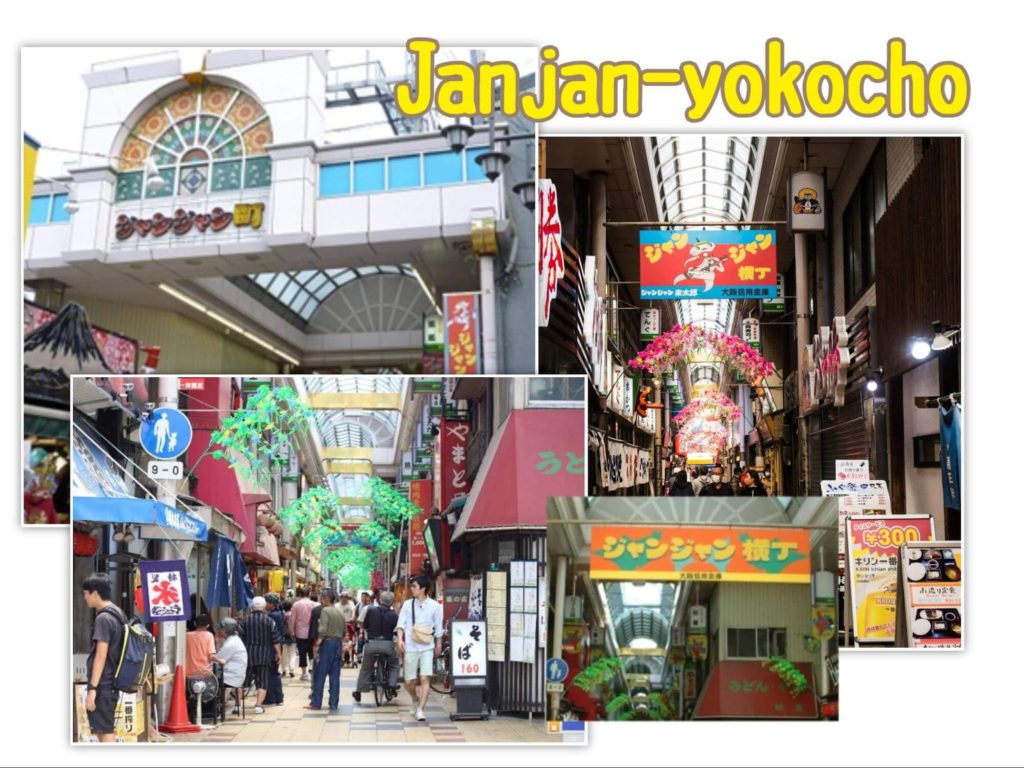 In the corner of Shinsekai that stretches to the knee of Tsutenkaku Tower, there is "Jan-jan Yokocho" spreading approximately 180 meters from north to south. The name "Jan-Jan Yokocho" was given to the street because of the sound of the shamisen (a three-stringed Japanese musical instrument) and taiko drums that were used to call people to come and go.
About 50 stores, including kushikatsu restaurants, line the narrow alley. If you come to Shinsekai, you must eat kushikatsu. The rule of eating kushikatsu is that you must not dip it twice! It is different from ordinary sauce. Dip the kushikatsu in a lot of sauce and eat it! It tastes better that way.
☆My recommended Stores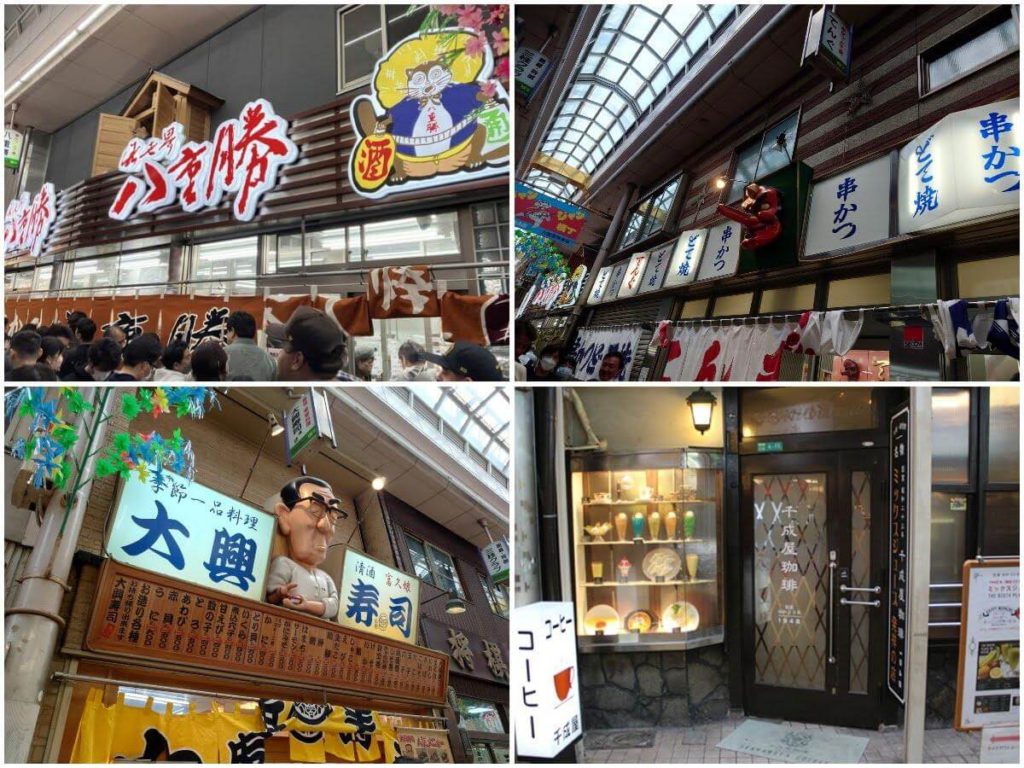 ◎Amusement center◎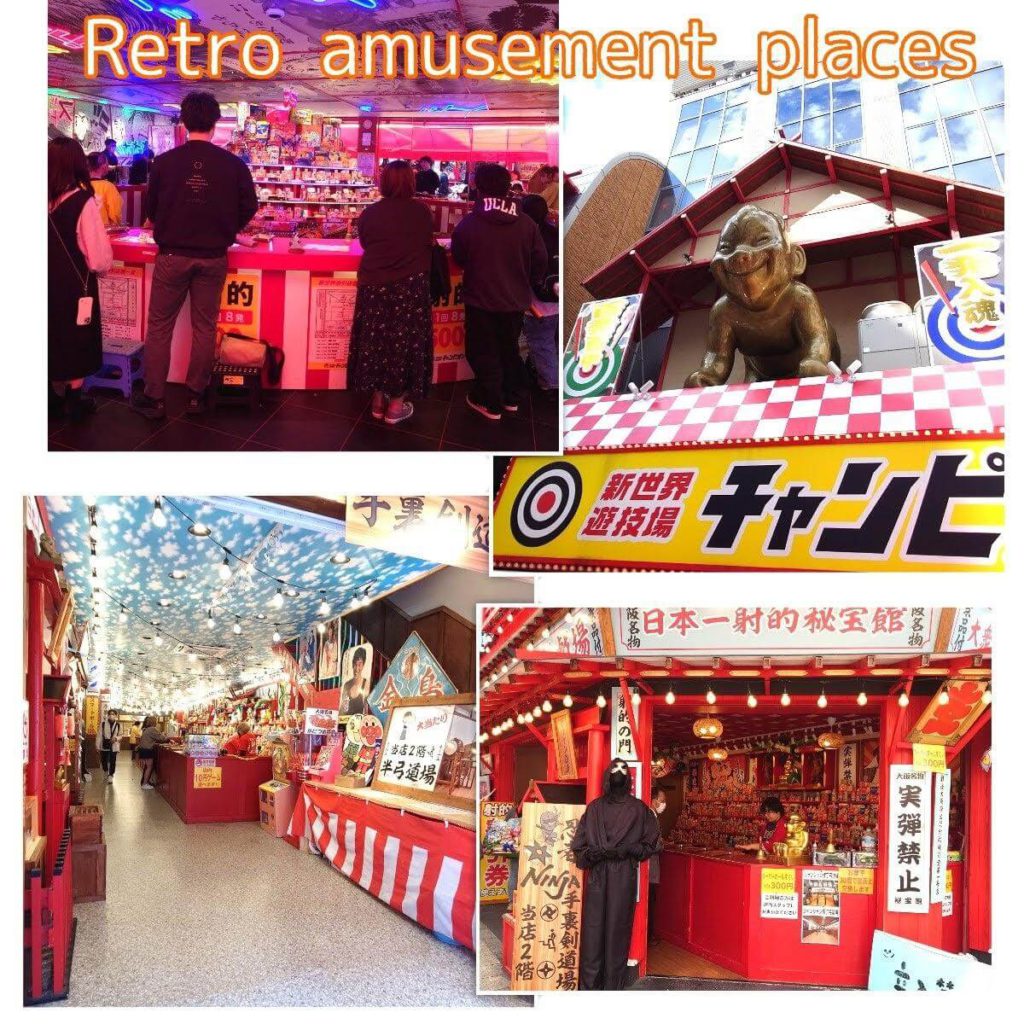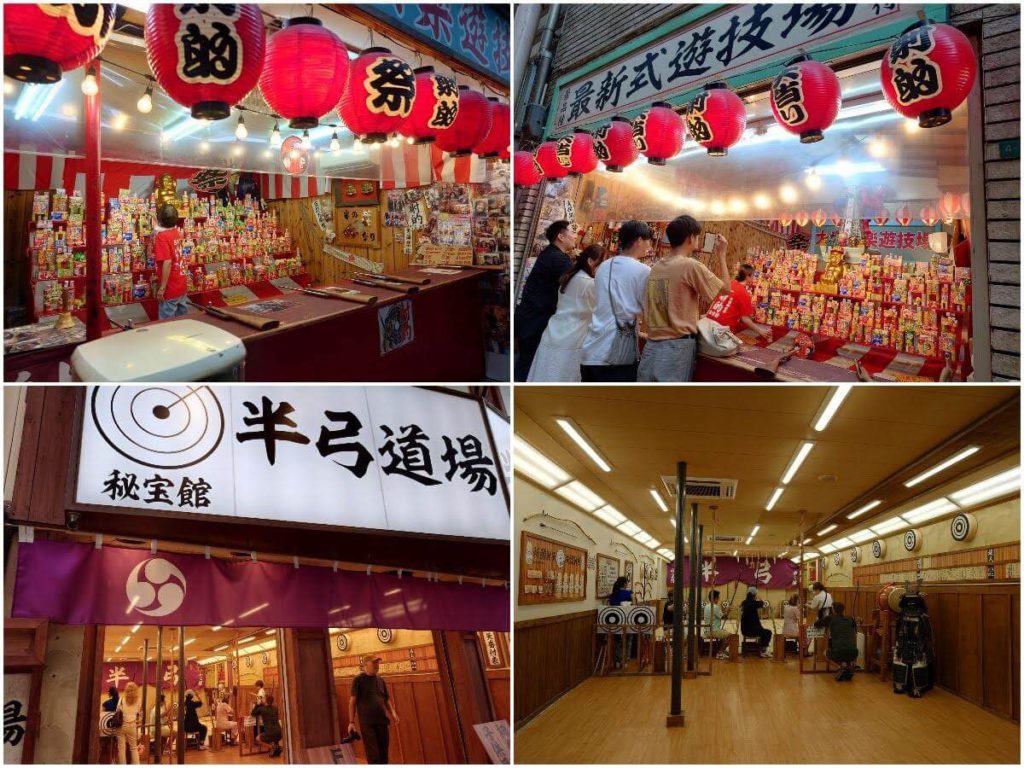 In Shinsekai, there are many amusement arcades here and there, which used to be called Yu-gijou "遊技場" amusement centers which have a Showa-era retro vibe. You can enjoy playing retro games there. Let's try them!!
Thank you for reading to the end. Shinsekai is a town where you can not only enjoy looking at the huge eye-catching ad-wall over the entrance :Dohade, but also experience delicious Osakan food and friendly people. That is Shinsekai. If you come to Osaka, come here first. In Osaka, we say 待ってるで~!Matterude~! We'll be waiting for you!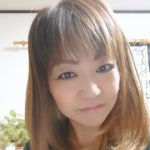 I'm a clay artist, and a master of Japanese calligraphy "Onore-sho". I have my own shop in Ikaruga town, Nara, which is near Horyuji temple: world heritage site. And I'm a volunteer English tour guide. I enjoy learning English everyday.