Kotteri (こってり) means "rich and condensed taste" in Japanese. However, among ramen lovers, the taste that crosses their minds when they hear "kotteri" would be a ramen by Tenka Ippin (天下一品). Tenka Ippin is well known as one of the most famous chain restaurants, and it was established in Kyoto. Now, they have their restaurants all over Japan. People are called it Tenichi (天一) for short. If I'm being truthful, I'm a big fan of Tenichi. So, I'm going to share what makes them different from other ramen stands today. Let's get started.
What Is Tenka Ippin (天下一品)?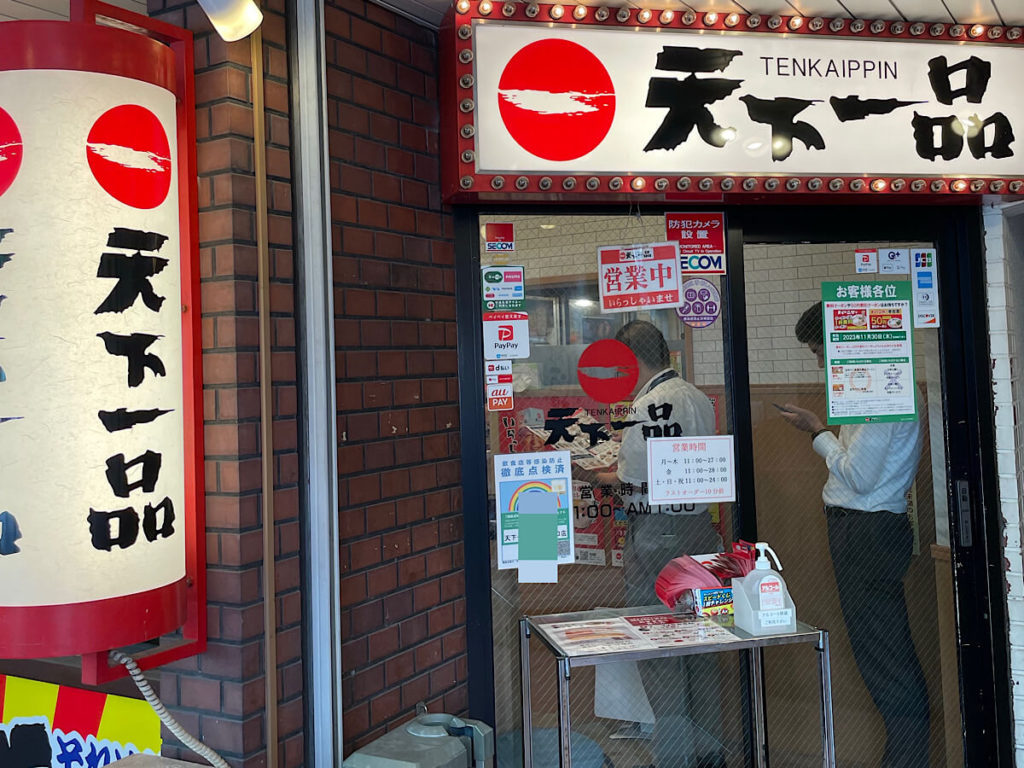 The term Tenka Ippin (天下一品) originally meant a thing that is extraordinarily and incomparable in Japanese. That's why the owner named his restaurant's name after the desire to serve an incomparable taste of ramen for his customers. He started his own business a stall he pulled in 1971. As of October in 2023, Tenka Ippin operates 218 ramen restaurants in Japan. If you're in Kyoto, you might want to visit the first headquarters in Shirakawa. You can taste ramen that is cooked to perfection in the temperature of the soup, the taste and the texture of the noodles, not to mention the well-trained staff. The area is also known for being home to many ramen stands. If you have another room for ramen, you can go to other ramen stands. Oh, sorry for going off on the tangent, Tenichi is one of the chain restaurants. It doesn't have the highest number of ramen restaurants, but it has a unique taste for me, which means it's incomparable. That is why the name is Tenichi, I'd say.
The Future of Taste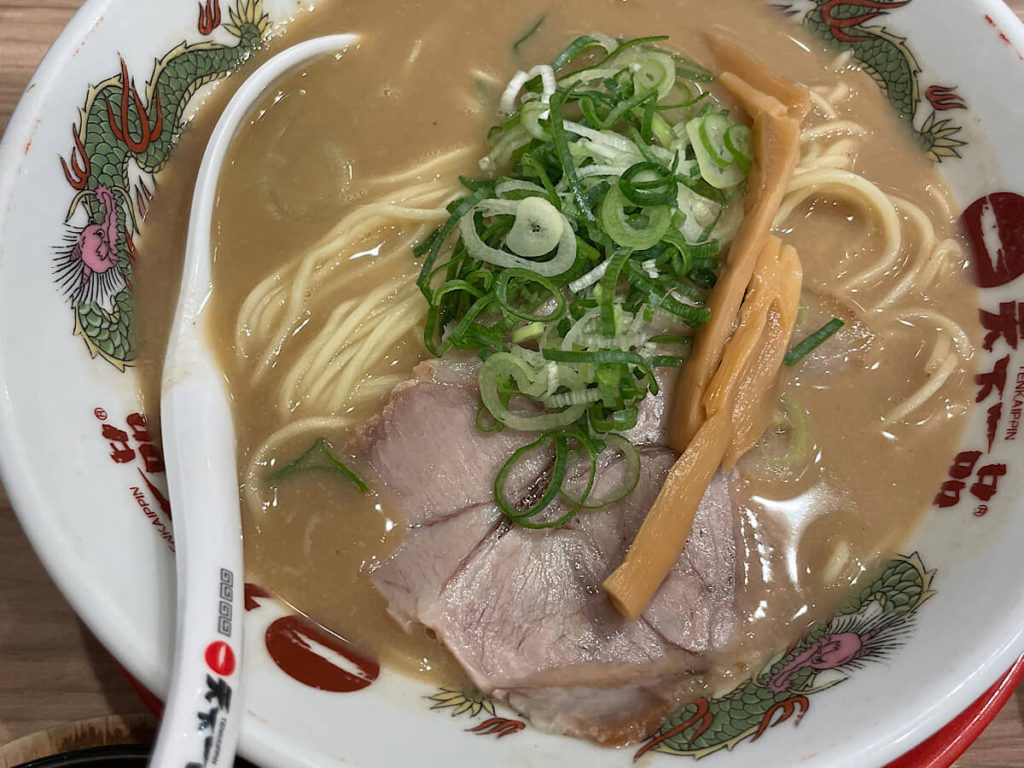 It goes without saying that the taste of soup embodies what Tenichi is. The soup has a slightly cloudy white and brown color because of the chicken stock, and is simmered for a long time with more than ten kinds of vegetables. So the soup has a rich taste but a refreshing aftertaste. Unlike tonkotsu soup, it doesn't have an uncomfortable smell. Needless to say, the recipe is a secret.
When you order, the server asks you if you want to have kotteri (rich taste) or assari (light taste). I highly recommend kotteri first. Of course, assari ramen is delicious, but I want you to choose kotteri because that's what Tenichi is. Other than that, there are the franchise restaurants and the company-operated restaurants,and the franchise restaurants offer their own set menus except for the ramen. You can enjoy the set menu from place to place.
How To Order
-Men- no- Katasa (麺の硬さ): Hardness of the noodle
Yawarakai (柔らかい): soft
Hutsuu (普通): normal
Katai (硬い): hard, I like it.
Balikata (バリ硬): very hard
-Ninniku (にんにく): Garlic
Ali (有り): Add Garlic, please.
Nashi (無し): No, thanks
People don't choose "Ali" in a business meeting because of its smell.
-スープ: Soup
Kotteri: Most people order this taste.
Assari: When you order this, you probably will be a master of Tenichi.
-Popular combo menu
Ramen rice set: Ramen and rice combo. It's delicious to eat rice with the soup.
Charhan set: Ramen and fried rice combo. One of the most popular combos, fried rice goes with ramen.
Karaage set: It's called "K" set. Ramen, rice and fried chicken combo. This is my favorite one here. Nothing beats freshly fried chicken, the rich taste of ramen, and rice. Ignore calories that you take today.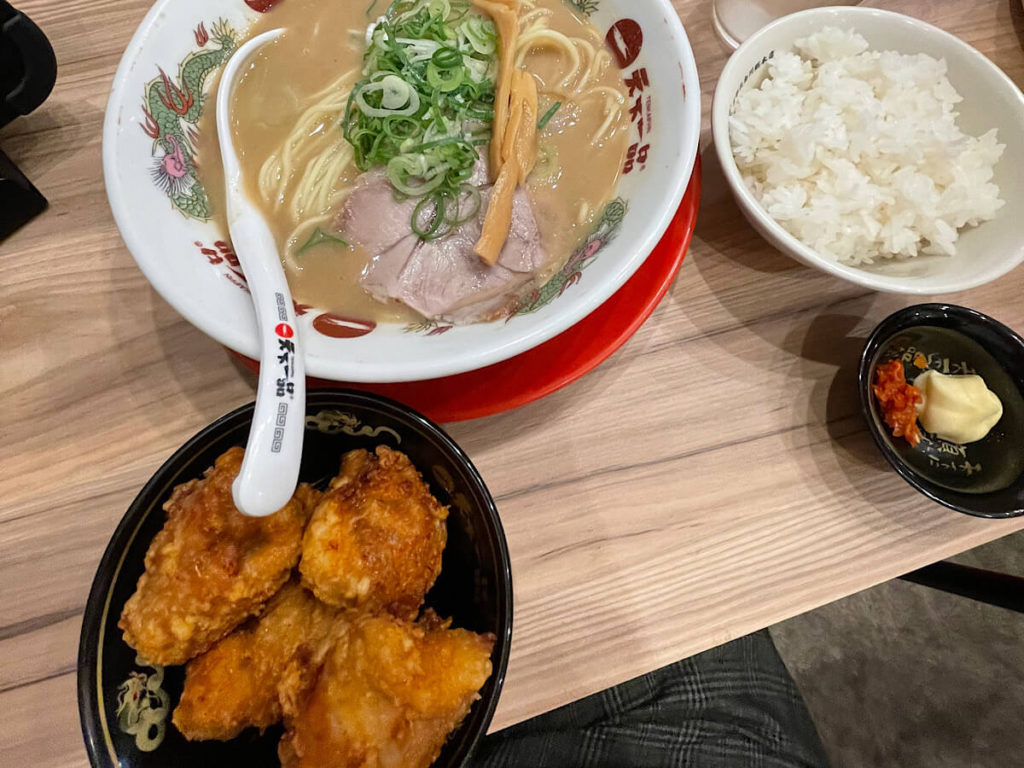 Let's say the perfect combination is the K set, Kotteri, men katame, and Ninniku ali. That's perfect!
Festival: Tenichi Matsuri (天一祭り)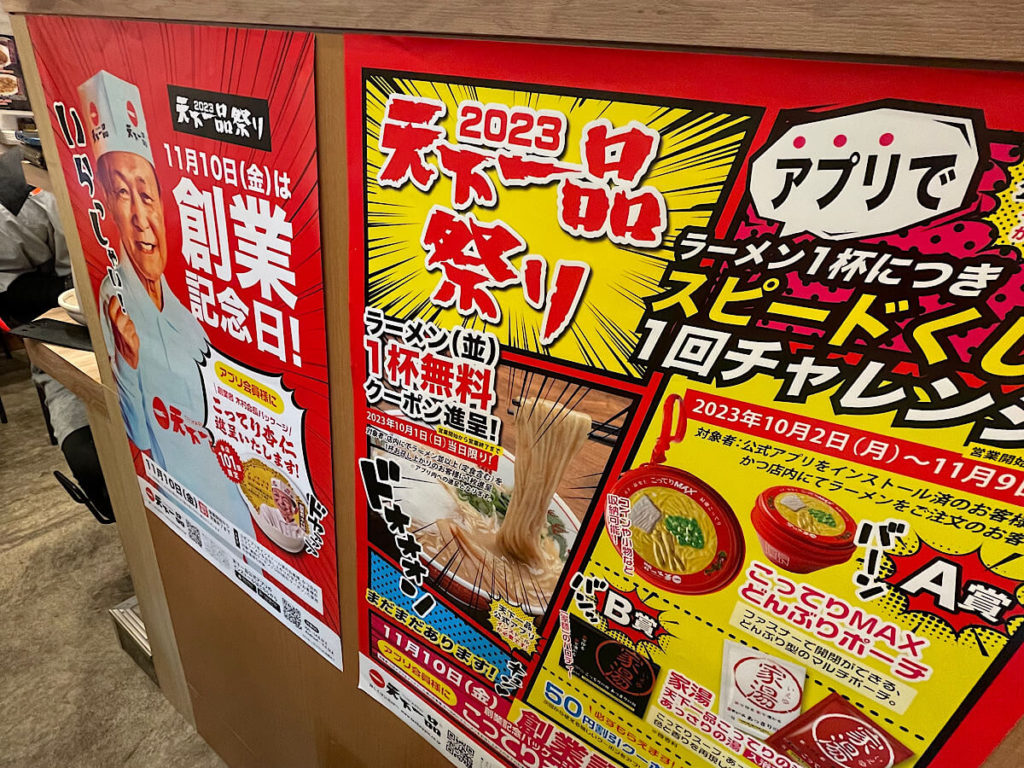 Don't miss a day that celebrates Tenichi if you are in Japan. Ten means 10, and ichi means 1, so from October 1st, Tenichi Matsuri will take place all over the restaurants. Matsuri means festival, too. On October 1st, you can get a coupon for a free bowl of ramen. From October 2nd, you can get special items. Just to let you know, you can't get both on October 1st.
Unique Giveaway
I remember that after eating ramen, the server brought the lottery box to me and took a paper lottery. I was really excited to see if I could get a special giveaway. Nowadays, it is through the app. Starting October 2nd, when you pay for your meal, you will find out if you can get the limited items through the app. The items are really interesting and intriguing. From stationery to toys, they have all the items for Tenichi lovers.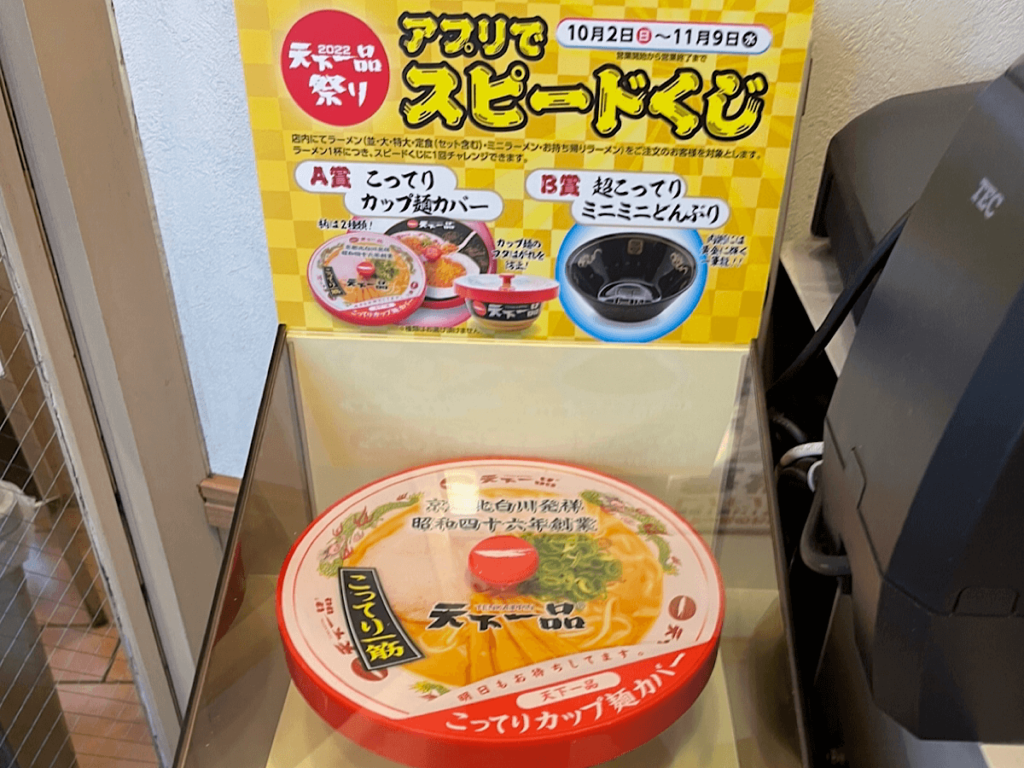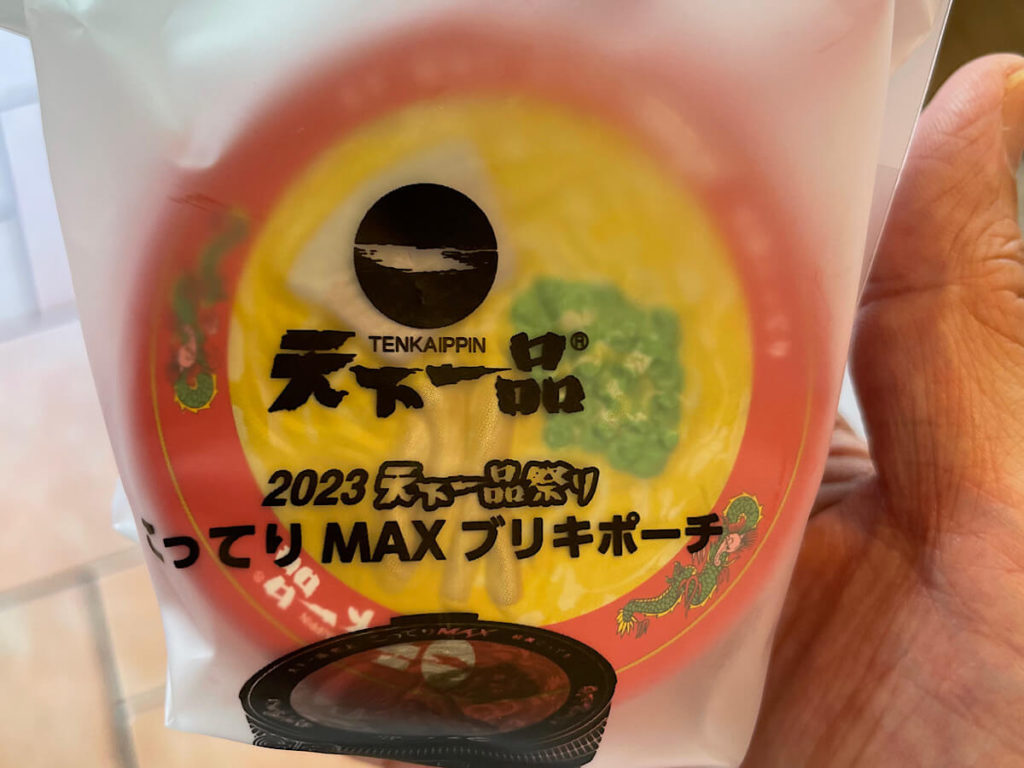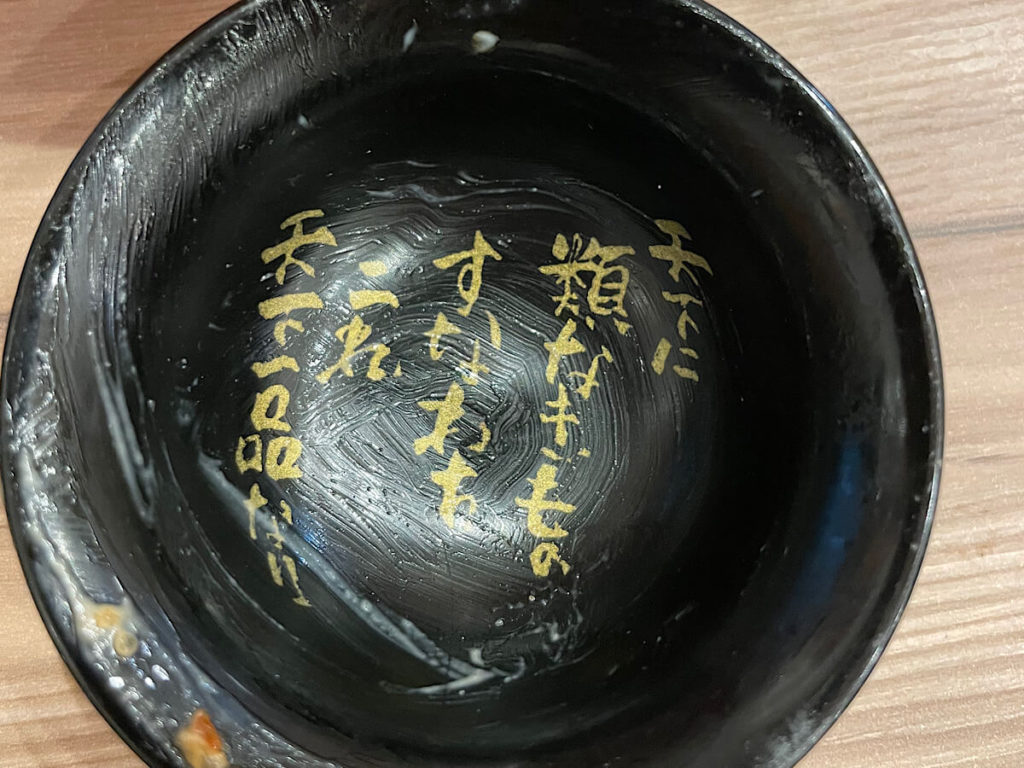 Lastly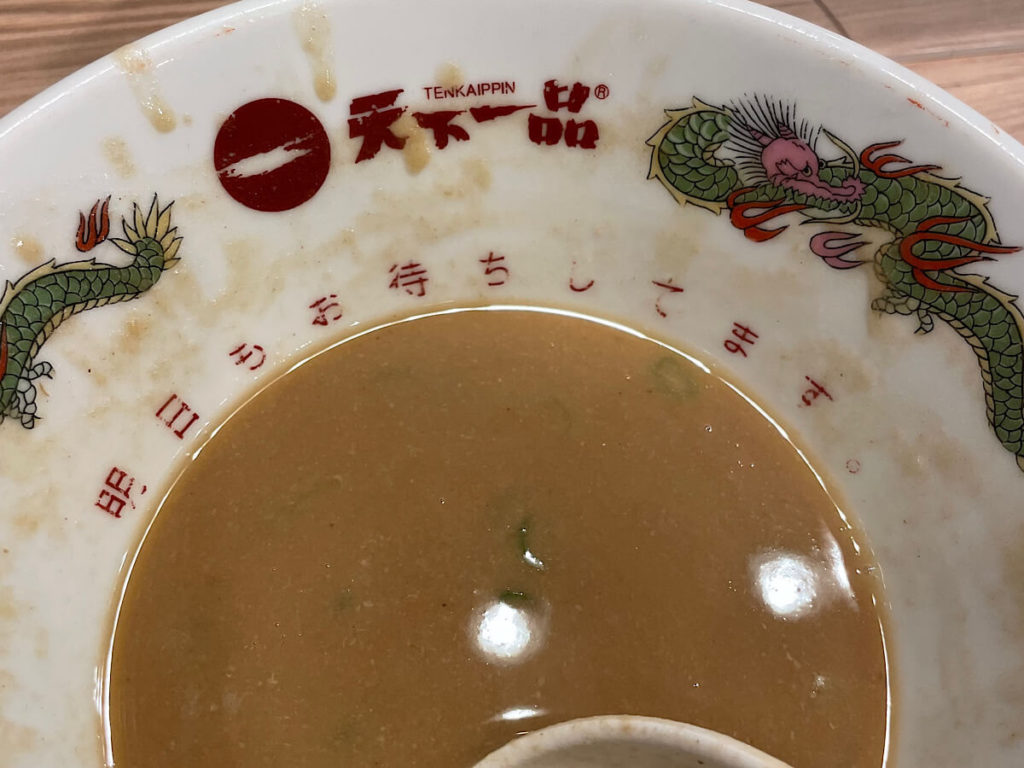 After sipping the soup, you can see a Japanese phrase "明日もお待ちしております," at the bottom of the bowl which mean means "see you tomorrow." Drinking the soup is a guilty pleasure for me because of its high calories, but I catch myself drinking until this phrase.
How was it today? There are a lot of chain ramen restaurants in Japan. In my book, Tenichi established itself as one of the most unique ramen restaurants. Looking back, when I was younger, I could eat it three times a week, but I can't now. That being said, I would kill to eat it once a month.
You might wonder why you would eat Tenichi when you come to Japan from all the way from abroad. Acutely, it's worth it because the taste of kotteri is incomparable. I'd like you to enjoy it. If you're in Japan in October, you might want to join the Tenichi Matsuri. Thank you for taking time to read my article to the end. See you soon!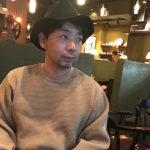 I've been working at a trading company for many years. I live in Tokyo with my wife. Love skiing, traveling, IPAs, wine , X-treme sports, fashion, and learning English and Chinese.