Kyoto is known as the most popular tourist spot in Japan because you can experience a whole bunch of historic locations and various traditional Japanese activities. But at the same time, it offers very urban aspects in its downtown area.
Actually, I am a kind of digital nomad worker who just lives in and around downtown Kyoto and goes there almost every day to work. So I'm going to share my 3 favorite places to work for free in downtown Kyoto, which can also double as studying spots.
Just so you know, all of the places I list here are not co-working offices that you have to pay to use, but just my go-to cafes and Wi-Fi hotspots. That means that these places are completely FREE to use, but you usually have to order at least a coffee or something to use them.
1. Ace Hotel Kyoto (lobby)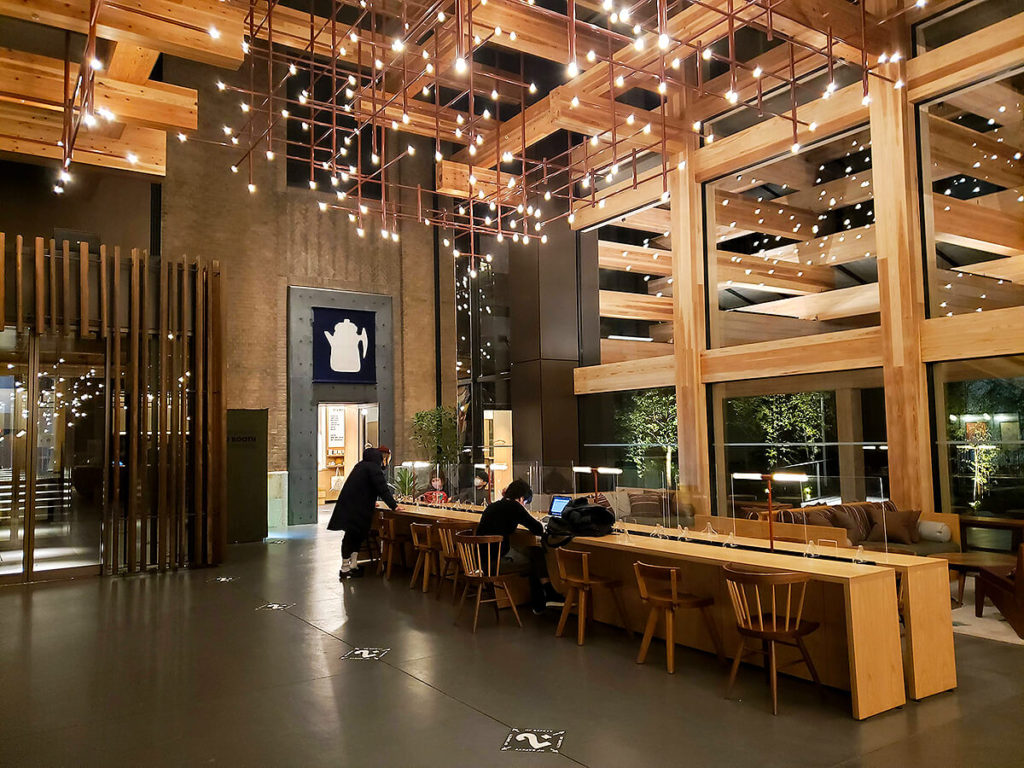 Ace Hotel Kyoto is adjoined to a shopping mall named "Shinpuhkan" and it's attached to a main subway station called "Karasuma-Oike." So, it's a place that is easily accessible to everyone. On top of that, Shinpuhkan has free bike parking for 2 hours. You should know that most of the shopping facilities and cafes in downtown Kyoto don't have their own bike/motorcycle/car parking, or if they do, they are pricey to use.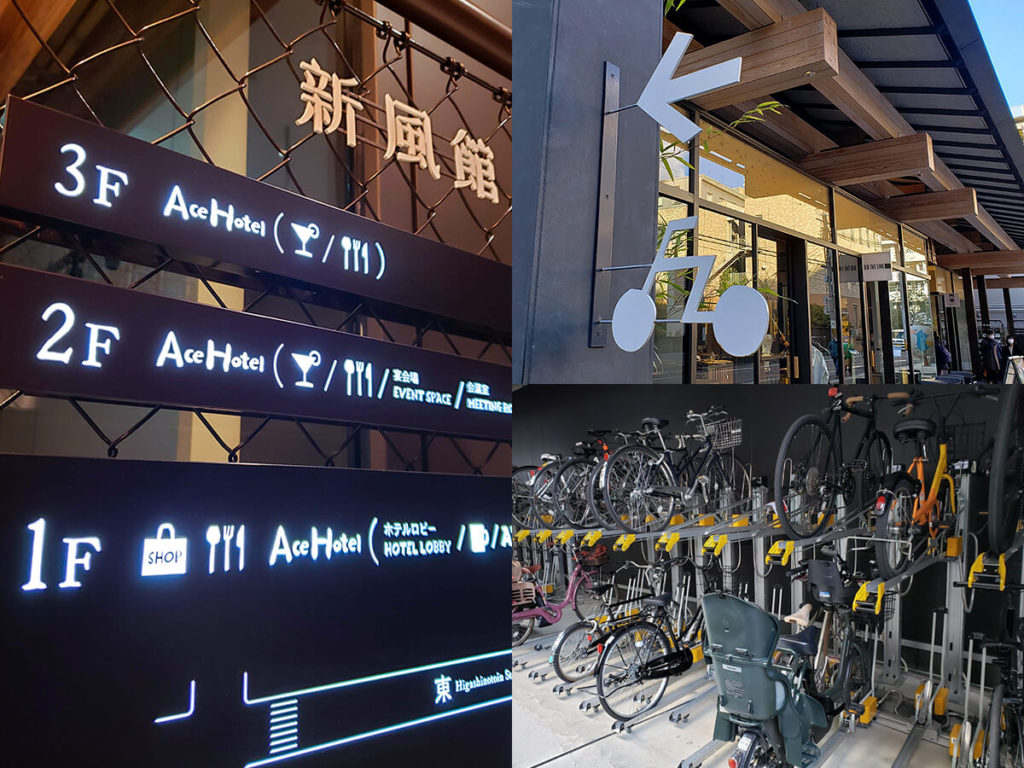 I actually had a chance to get to know this hotel chain when I stayed in NYC for a month because Ace Hotel New York was offering their lobby and its services to everyone for free, including non-guests. So the lobby was known as a great place to work among digital nomad workers. Of course, I went there too, but I unfortunately couldn't use it due to it being full at that time.
But guess what? I luckily just happened to have another chance to work at an Ace Hotel lobby in my neighborhood! By that I mean Ace Hotel opened their first Asian branch near where I live in Kyoto in the summer of 2020. What a coincidence!
So I immediately went there once they opened it and had a mind-blowing moment. It was love at first sight. The design of both the hotel's interior and exterior was so cool and their lobby was huge and a really fancy ambience. On top of that, their tables have outlets and stable Wi-Fi connections. I mean, this place was both practical and stylish.
Since it seemed too good to be true for me, I asked them if we could really use their lobby for free, like the Ace Hotel New York, just to be sure. They said, "Yes." Furthermore, I learned another incredible fact about their lobby at the same time. You might not believe it, but they allow you to bring food and beverages inside. Although there is a coffee shop in the lobby, you don't necessarily have to order anything there. But I always order at least a coffee at the coffee shop, though.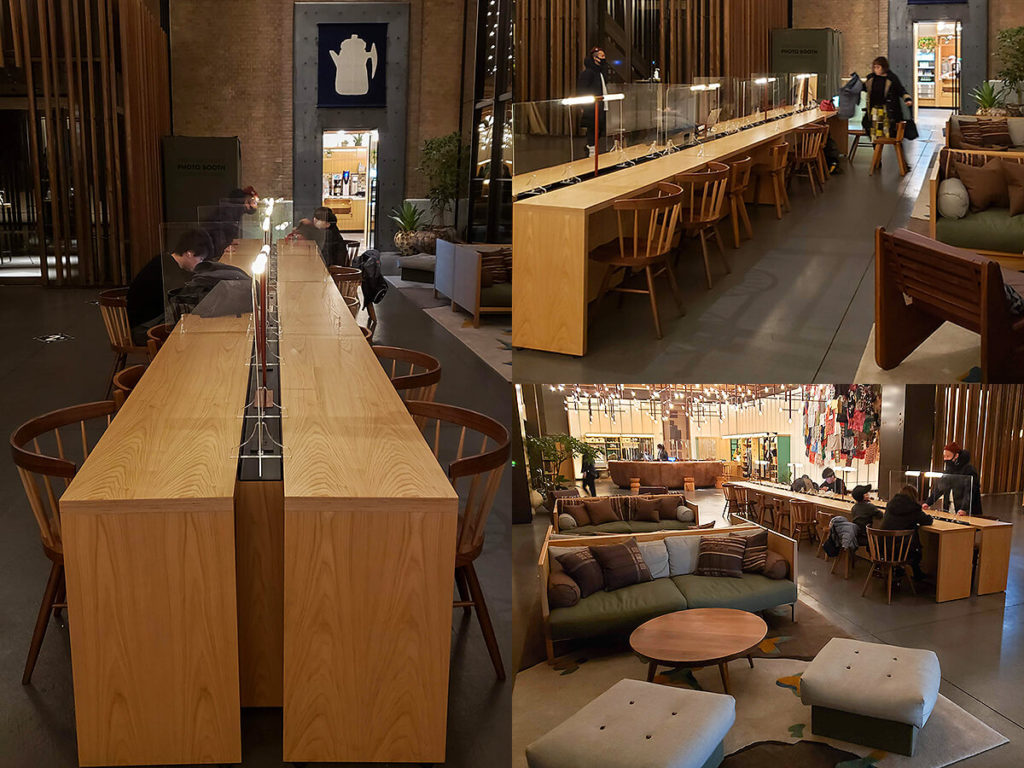 So technically speaking, the lobby of Ace Hotel Kyoto can be a completely free place to work surrounded by practical equipment and a cool ambience. And the icing on the cake is that most of the hotel staff speak both English and Japanese.
In my eyes, this is by far the best free place to work I've ever had in Japan. It's been half a year since I discovered this sick place but I haven't still found any serious downsides other than two personal and seasonal things that are mosquito bites in the summer and slight colds in the winter.
I wonder why it is not more crowded, even though most of the other free Wi-Fi work/study spots are usually pretty busy. I don't know exactly why, but I think most people still just don't know about this unconventional business style. To be honest, I have mixed feelings about sharing my secret spot here because I want to keep it to myself to prevent crowded situations.
Ace Hotel Kyoto
245-2 Kurumayacho, Nakagyo Ward, Kyoto, 604-8185
Closest station: Karasuma-Oike(subway)
Wi-Fi: Yes
Outlets: Yes
https://www.acehotel.com/kyoto/
2. Starbucks Coffee LAQUE Shijo-Karasuma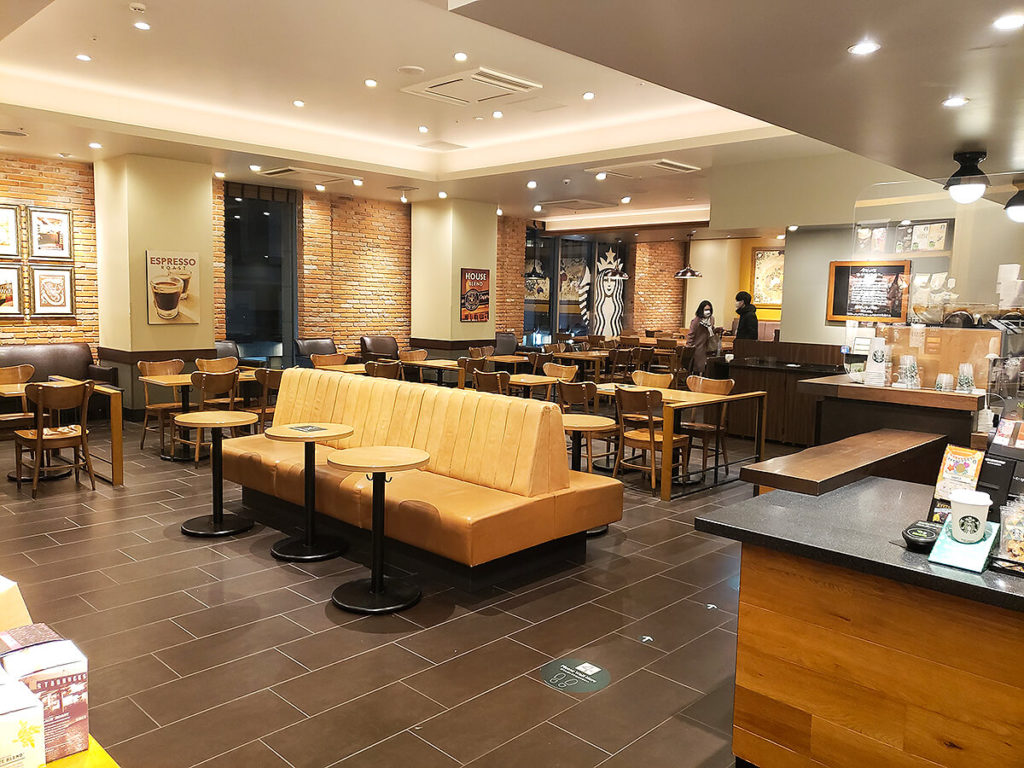 This Starbucks is on the 2nd floor of a shopping mall named "LAQUE" that is attached to a main subway station in Kyoto called "Shijo-Karasuma." I don't think it would be an overstatement to say that Shijo-Karasuma is the most famous station after Kyoto station because it's at the intersection between 2 popular train lines: Hankyu and subway Karasuma. So it's also easily accessible to everyone, just like the Ace Hotel.
This had for a long time been my go-to spot to work that I always went to before discovering Ace Hoel Kyoto. Actually, there is a bunch of Starbucks within a small region of downtown Kyoto. That means that you have so many options when looking for free places to work or study. They even have their own unique and individual atmospheres. However, this Starbucks is just a literal modern Western store. So it wouldn't suit those of you who are expecting spots with "Japanesey" or "Kyoto-ish" vibes.
So then, why has it become my go-to Starbucks? First of all, it's very spacious. I personally prefer tables that have plenty of space and don't like situations where you have to work facing toward a wall. In those regards, most of the tables here fulfill my picky requirements. As you may already know, Japan is a small country, and you'll find many cafes and restaurants that arrange their tables tightly together in tiny spaces, especially in urban areas.
But there are some things about it that might let you down. If you want to work with your laptop plugged into an outlet, your choice of table becomes much more restricted. There are only 7 seats with outlets available, and those tables are all facing walls, which I dislike. That said, it won't be a big deal for those who are not as particular about it.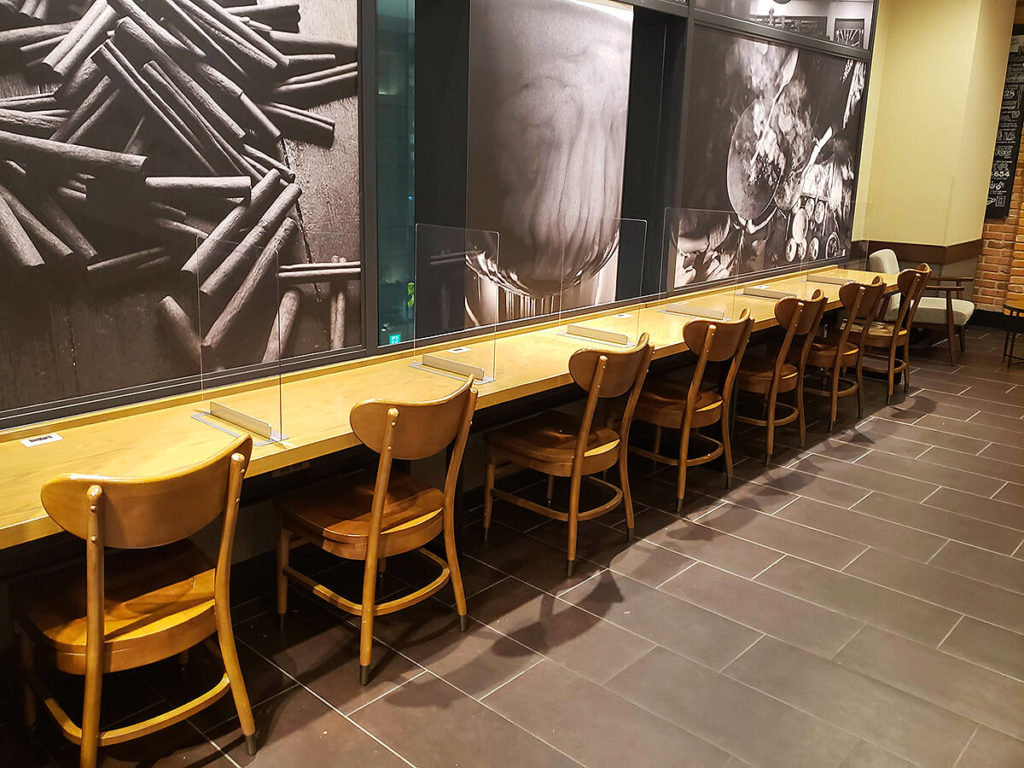 If you need Wi-Fi, Starbucks Wi-Fi is suitable for most foreign tourists as long as you don't have pocket Wi-Fi connections, SIM cards, or things like that. I don't mean to complain about Starbucks Wi-Fi. The quality is actually pretty good, but you have to reconnect to it once every hour.
The biggest thing that you should consider before going is their busy hours. The funny thing is that studying at Starbucks seems to be a trendy practice among school students in Japan. So quite a few tables are usually occupied by them for long periods of time, even during rush hour. And on top of that, competing for your tables is a common behavior that happens at many Starbucks in Japan when they're packed. Therefore, you'd better avoid their busiest times if you don't want to participate in the competition. But every now and then, they make waiting lines so visitors can get tables in the order that they came into the store.
The table layouts for outlets, Wi-Fi conditions, and the competition for tables are all things that apply to almost every Starbucks in Japan, though. If you have tasks to do that tend to drain your laptop battery easily, or if you need a stable Wi-Fi connection, you should just go with Ace Hotel or Shake Shack, the latter of which I will detail in the next section. Changing workplaces depending on your situation or how you feel is one of the most important and beneficial aspects of nomad work, right?
Last but not least, LAQUE has a somewhat pricey paid bike parking area. If you don't want to waste money on bike parking, you can park at a nearby bike parking area called "Eco Station 21," located 3 minutes' walk away from LAQUE. Just for your information, it's free for the first 3 hours (150 yen for 4 hours, and then 50 yen for every additional 4 hours thereafter).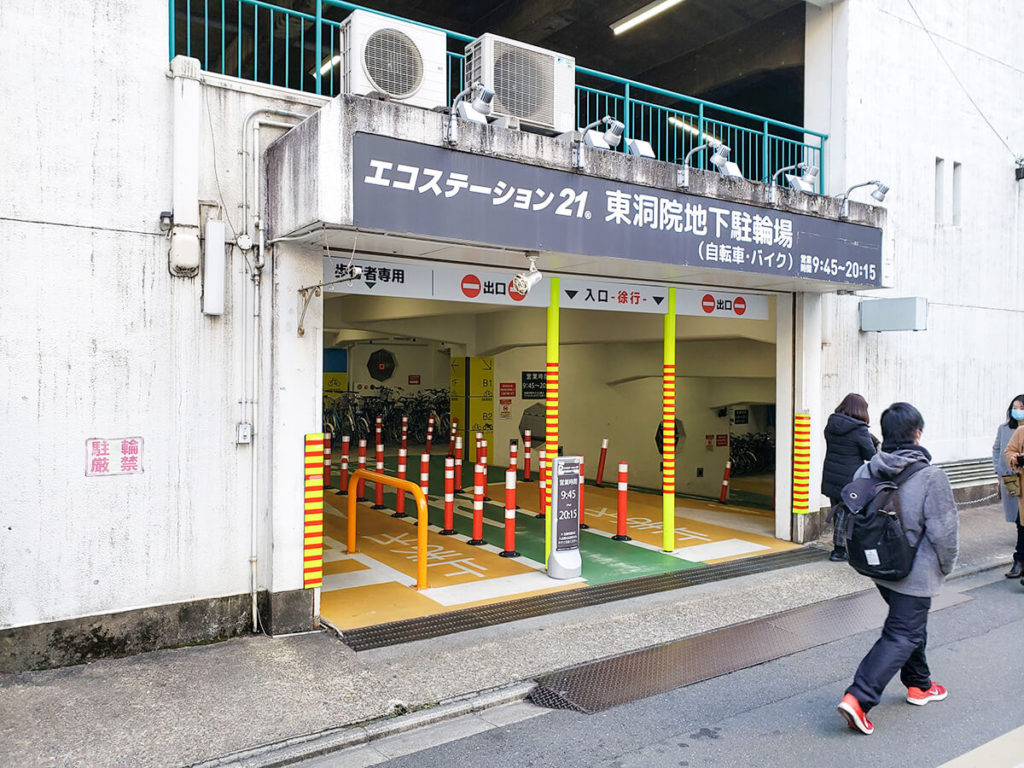 Starbucks Coffee LAQUE Shijo-Karasuma
LAQUE 2F, 101 Kankobokocho, Shimogyo Ward, Kyoto, 600-8009
Closest station: Shijo-Karasuma(subway), Karasuma(Hankyu)
Wi-Fi: Yes (Need reconnecting every hour)
Outlets: Yes
https://store.starbucks.co.jp/detail-1318/
3. SHAKE SHACK Kyoto Shijo Karasuma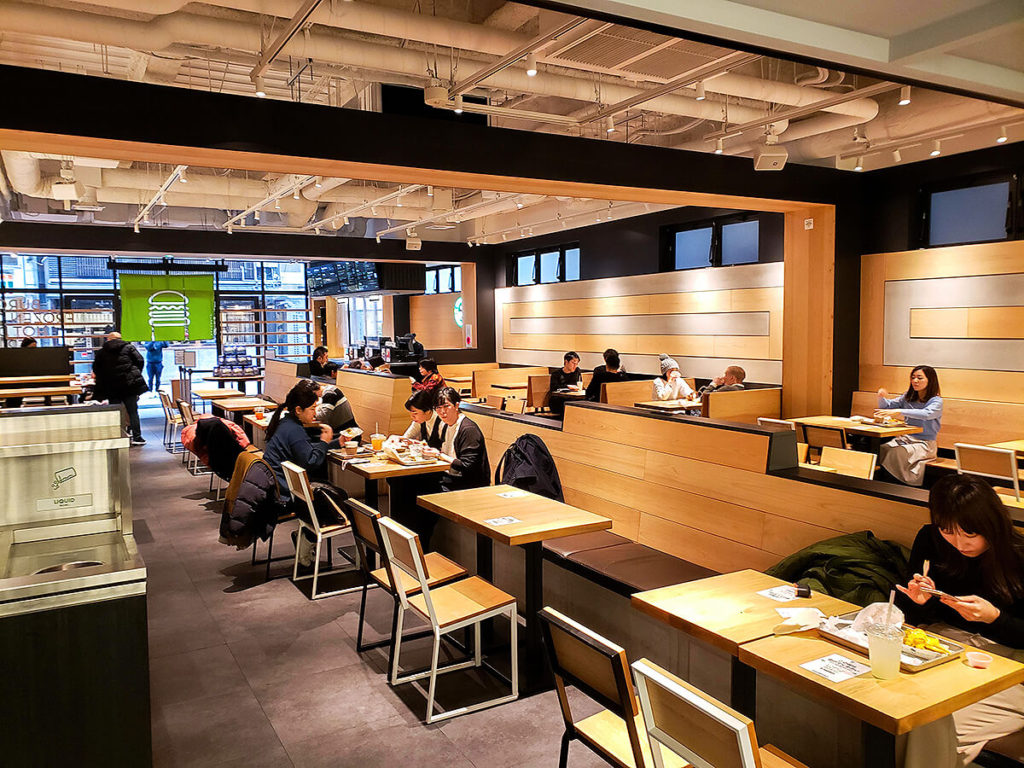 Shake Shack is a well-known hamburger restaurant chain from New York and one of their locations is in Kyoto. It's located in the Shijo Karasuma area that the Starbucks I mentioned previously is in. It's approximately 5 minutes' walk away from the Starbucks and the main subway station "Shijo-Karasuma." They don't have their own bike/motorcycle/car parking area but the parking spot I introduced in the Starbucks section above (Eco Station 21) is just a one-minute walk away.
For some of you, working at a burger shop might sound weird. But working or studying at fast food restaurants like McDonald's is actually kind of a trendy practice in Japan, as it is with Starbucks. I think the main reason for that is very simple: they have free Wi-Fi and outlets. Of course, this Shake Shake also has both. Nowadays, it is increasingly common for fast food restaurants and cafes to have both of those qualities, but I'd have to say that it's still not that widely accepted in Japan yet.
From the perspective of cost, McDonald's is absolutely cheaper. In addition to that, Shake Shack is higher quality fast-food. But for those reasons, you can usually find a comfortable table here easily, while many students are competing for tables at McDonald's, Starbucks, or other inexpensive cafes. Shake Shack nevertheless still tends to be crowded during busy hours.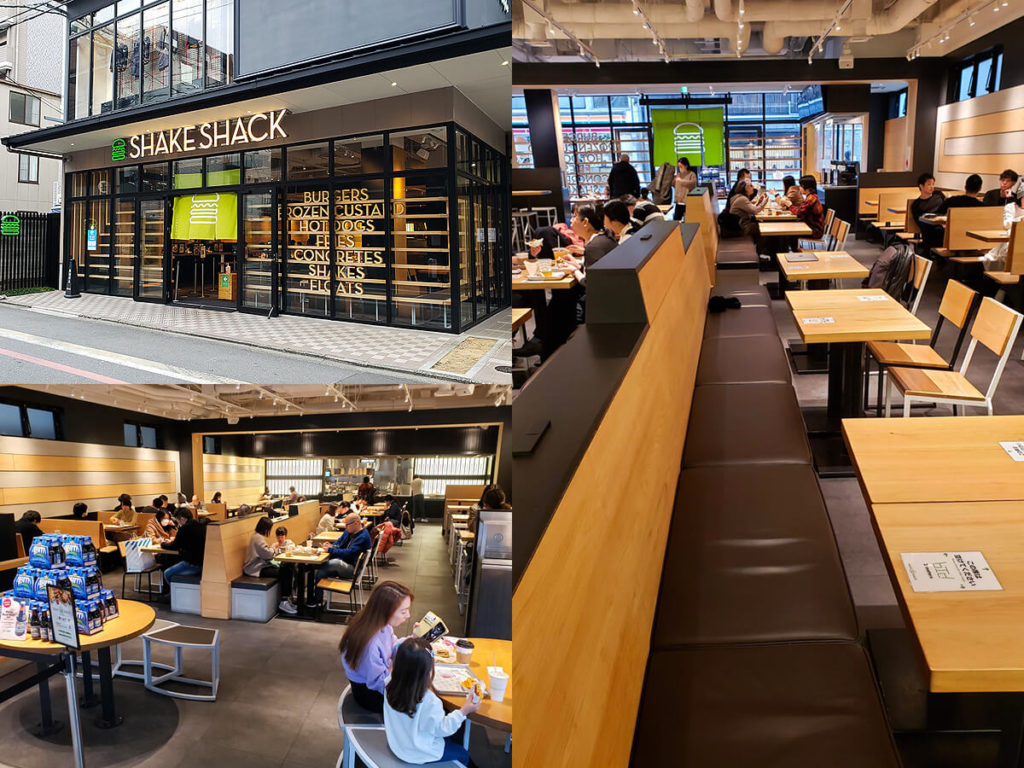 I always work here while eating their meals because I'm a big fan of their burgers, fries, and shakes. But for people who want to use as little money as possible, I'll tell you this. If you order just a soft drink (fountain soda), then you can work with that drink for quite a long time because soft drinks are the only menu you can get free refills for.
Another reason why I like it here is because every table that is available with outlets doesn't face toward any walls and the free Wi-Fi they offer is really stable. So Shake Shack can even be a rather comfortable as well as practical working spot where you don't have to spend that much money, unless you feel the urge to eat something. Although I highly recommend you to try their meals and shakes anyway if you haven't had them yet because they're the bomb!
SHAKE SHACK Kyoto Shijo Karasuma
643 Hitashinontouin, Mototakedacho, Nakagyo Ward, Kyoto, 604-8145
Closest station: Shijo-Karasuma(subway), Karasuma(Hankyu)
Wi-Fi: Yes (Need reconnecting every hour)
Outlets: Yes
https://www.shakeshack.jp/location/kyoto-shijokarasuma
Those are my 3 best free working spots in downtown Kyoto. As far as I know, there are other locations or cafes in downtown Kyoto that offer free Wi-Fi and outlets, such as McDonald's, Doutor Coffee, and Holly's Cafe. They may even be much cheaper than these three I picked out here. But besides practicality, if you put importance on coziness and laid back ambience that stirs up creative emotions within yourself when you work, these three spots are perfect for you!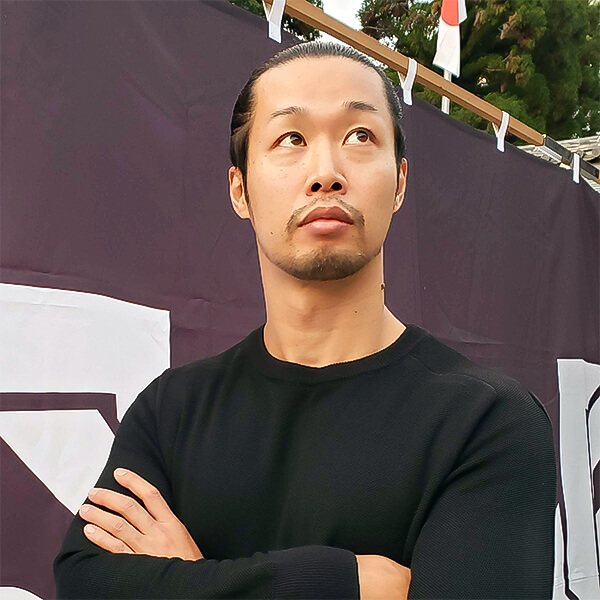 Entrepreneur, freelance web/graphic designer & a fitness enthusiast that lives in downtown Kyoto with a wife and three kids. Started out as both a graphic designer and music producer in Osaka. Studied abroad in L.A at 20 years old and worked in Seattle in my early 30s.