Do you like izakaya? Have you experienced one before? Are you interested in going to one?
Izakaya is a Japanese bar culture where you can not only enjoy alcohol and food but also local specialties. Especially in rural areas, it's also fun to communicate with the locals. Additionally, each izakaya has its characteristics and strength, so finding your favorite izakaya is one of the pleasures.
Today, I'll explain how to enjoy Japanese izakaya in 3 ways along with introducing 7 tips.
How to Enjoy Izakaya in 3 Ways
Izakaya is a Japanese-style bar that mainly serves Japanese liquors such as sake, shochu, or awamori, as well as sour and chu-hi, which are shochu with soda or juice. Of course, there is also beer, but most of them are made in Japan such as Asahi or Kirin.
There are many types of izakaya, for example, "Taishu-sakaba / 大衆酒場 (gastropub)", "Tachinomi-ya / 立ち飲み屋 (standing bar)", "Kaku-uchi / 角打ち (A space adjoining with a liquor shop for drinking liquors you buy there)," etc. You can choose the type by your desired purpose.
1. Enjoy an izakaya without speaking Japanese: at a major chain of "Taishu-sakaba"
Taishu-sakaba is an izakaya that has a wide variety of drinks and dishes. They are often used for parties. Since they are often used by groups, the amount of one dish is a bit large. They have appetizers, entrees, and desserts, so even non-drinkers can enjoy their meals.
If you're worried about understanding Japanese, you can go to a major chain of Taishu-sakaba, such as Torikizoku (鳥貴族), Isomaru Suisan (磯丸水産), or Watami (和民). There are tons of izakaya chains in Japan, and you can enjoy a wide variety of food and drinks at a low price.
You might be surprised at the variety of the menu, but don't worry and enjoy it. Most of the chains have adopted an ordering system with a touch panel, and the menu list is available in English, Chinese, etc. In addition, there are lots of pictures on the menu list, so you can view what kind of food they have even if it's available only in Japanese.
2. Enjoy local sake, delicacies, and a lively atmosphere: at a privately-owned Taishu-sakaba
If you want to enjoy having local sake, delicacies, lively atmosphere, or communicating with locals, you should go to a privately-owned Taishu-sakaba. Red lanterns or a Noren (a shop curtain) at dusk, where you can feel the nostalgic "Japaneseness", will welcome you.
If you are staying in Tokyo, there are many izakayas in the downtown area that serve regional cuisine from all over the country, so it's a good idea to enjoy regional sake and cuisine while staying in Tokyo. Or if you stay or visit in the suburbs or rural areas, look for izakaya near the train station or hotel. If you can't find one, ask the hotel staff or a taxi driver. You can expect to find a hidden spot.
When you enter the izakaya, you can see the menu posted on the wall. Most izakayas have a menu on the table, but if there is no menu , you can ask the staff for recommendations. It would be a good time to start speaking with locals.

【Let's speak! Izakaya phrases】
Osusume no jizake to, sore ni au chinmi wa ari masuka? / おすすめの地酒と、それに合う珍味はありますか?
(Do you have any recommended local sake and delicacies that go with it?)

Sashimi ga taberare masen. Oniku kei de osusume wa ari masuka? 刺身が食べられません。お肉系でおすすめはありますか?
(I don't eat sashimi. Do you have any recommendations for meat?)
3. Enjoy Japanese liquors in a short time or enjoy izakaya crawls
If you want to enjoy Japanese liquors in a short time or enjoy "Hashigo-zake (izakaya crawl)", Tachinomi-ya / 立ち飲み屋 or Kaku-uchi / 角打ち is the best.
"Tachinomi-ya" serves some liquors and small plate dishes that can be served quickly and eaten easily. In general, there are not so many kinds of menus because it's assumed that you will enjoy a few drinks and go to the next izakaya (or back home). The inside is small and many customers visit alone.
"Kaku-uchi" is a drinking space adjoining a liquor shop. There are simple tables in part of the liquor shop, and you can drink the alcohol you buy there. In general, there are no seats, only standing bar style. They have snacks or light meals as well. Since you can easily drink and compare various types of local sake, sometimes tourists who like sake stop by.
7 Tips for Enjoying Izakaya
1. Smoking
Smoking was allowed in public places in Japan, but the law was amended in 2020 to ban smoking in most public places. However, some smaller restaurants and izakayas are allowing smoking. If you are concerned, check for signs reading "Smoking allowed" or stickers before entering an izakaya.

2. Otoshi / お通し
"Otoshi" is one of the Japanese traditional habits you experience in most izakayas. When you order the first drink, it's served at the same time as (or before) the drink.
It is served without you ordering it, so you may think "is it for free?"
However, it's charged as a service charge. Originally, it's said that it was born from Japanese hospitality, such as "enjoy sake until your meals are served" (there are various theories though). Please enjoy it as one of the Japanese customs.
By the way, if you are offered otoshi that you can't eat or you don't like, please tell the staff. In many cases, you can change it even if you can't choose.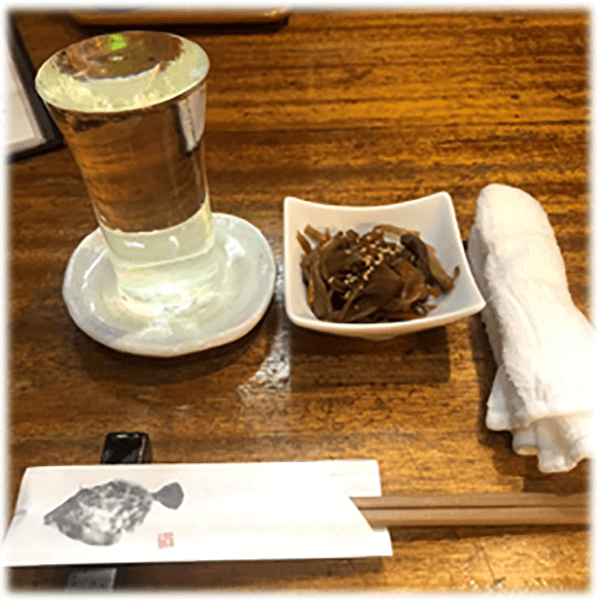 3. Course meals
Many Taishu-sakabas offer course meals. Some of them are available to order for a small number of people (2-4) with advance reservations. They are convenient because you can save the trouble of ordering, but one of the features of izakaya is various kinds of menus. I recommend you take a look at the menu and find your favorite one.
4. All-you-can-drink plan
Many Taishu-sakabas, especially chains, offer an all-you-can-drink plan. It's one of the unique drinking cultures of Japan. On these plans, you can enjoy various kinds of alcohol and beverages at a very low price, such as "500 yen for 1 hour".However, most all-you-can-drink plans are limited to cheap drinks, and in most cases, it doesn't include delicious Japanese draft beer or local sake. If you want to enjoy izakaya with delicious Japanese liquors, I recommend that you don't use these plans.
5. "Senbero" culture
"Senbero" means an izakaya where you can get drunk for 1000 yen. Some of Tachinomi-ya and Taishu-sakaba offer a "Senbero set" where you can choose 2 to 3 cups of drinks and 1 or 2 dishes for 1000 yen. However, after you get drunk for 1000 yen and feel fantastic, you might make an additional order and eventually, the sum might become over 5000 yen … It's something that often happens, so please be careful!
6. Payment
Most of the payments are made at the table. Sometimes they are made at the cashier or a cash-on.
7. Water for free
Water is served for free (with some exceptions). Make sure to drink plenty of water so you don't get drunk!
Please enjoy izakaya culture!!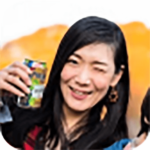 I enjoy sake, craft beer, wine, whiskey, etc. depending on the mood, and I enjoy communicating with people I meet at izakaya or bars. One of my dreams is to share the deliciousness of Japanese sake with people overseas.