Japan's oldest hot-spring resort is Arima Onsen, located partway up Mt. Rokko near Kobe and to the west of Osaka, it takes about one hour and 30minutes to go to Arima Onsen from Osaka station or Shin Osaka station (the station where the Shinkansen stops) by express bus. It's the easiest way to go there without transfer. If you want to go there from JR Sannomiya station (Kobe), that's OK, but you need to change trains three times to go there.
Being close to Arima Onsen, you can find a lot of big Hotels, or Onsen ryokan, a small inn, and many souvenir shops along the busy streets. Actually, many visitors are crowded and lively in Arima still now.
Arima Onsen has a long history since ancient times. Why is it? You know that the minerals found in onsen are well known for their healing qualities.  That's it. I hear Hideyoshi Toyotomi (豊臣秀吉) loved the Arima Onsen and visited here so many times during the Azuchi-Momoyama Period (1583-1600) to take care of his health.  So, you'll actually find his and his wife's(ねね) statues there.
Moreover, his bath has been left preserved at Gokurakuji temple in Arima. ( 太閤の湯殿館) I bet Arima was surely active on those days, owing to Hideyoshi, who is best known for uniting Japan in 1590. Speaking of Japanese culture, Arima has a high grade on tradition, treasure, and formality.  Did you know that the Arima spa is mentioned in the Heian-period classic Makura no Soshi (Pillow Book by Sei Shonagon)?
Now, I'd like to tell you about hot spring water again. There are two kinds of Kinsen, Gold  (金泉) and Ginsen, Silver (銀泉). How gorgeous to take a bath like that!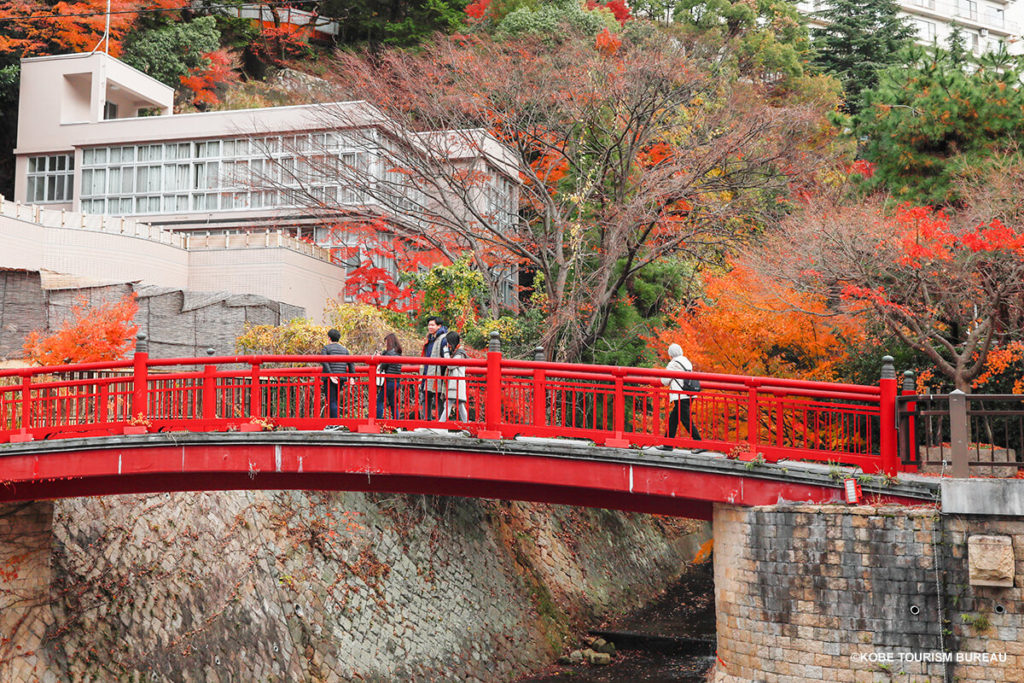 Now, I'll introduce the hotels you can go to hot springs with a one-day pass with Lunch at the eminent hotels
1. Hyoe KOYOKAKU
Among Arima Hot Springs, Hyoe KOYOKAKU boasts the largest scale of public baths, three characteristic expansive public baths; authentic Japanese-style bath 'Ichi no Yu', unique Roman-style bath 'Ni no Yu', and therapeutic bath with the nostalgic feel of good old days 'San no Yu'. You can leisurely enjoy various kinds of baths, I personally love an open-air bath using Gold color hot spring water, 'San no Yu'. They have various courses depending on meals from 3000yen~6300yen(lunch). Time: 11:30AM~16:00PM.
Moreover, they have courses for dinner and day-use hot springs.
Time:16:00~ 21:00( dinner: 17:30~21:00 at restaurant)
Please ask the reception if you want to know about it. It is necessary to make a reservation for it.
Hyoe KOYOKAKU 
1904 Arima-cho, Kita-ku, Kobe, Hyogo 651-1401 
Tel:078-904-0501
Fax:078-904-3838
URL: http://www.hyoe.co.jp/
2. ARIMA GRAND HOTEL
ARIMA GRAND HOTEL is located on the hill, so you can enjoy a fine view and day-use hot springs. It boasts two characteristic expansive public baths: B2F ゆらり large public bath and 9F fine view baths. Both of them have fine views and you can leisurely enjoy the hot springs. 
Time: 11:00~ 15:00 Typically you can choose one of the various courses. It is necessary to make a reservation for it.
B2F only course (bathing fee + coupon¥2,000) =¥3,700(¥4,200 Sun)
B2F(ゆらり)+9F(雲海)+lunch:  You can enjoy lunch in a dining room looking at a beautiful garden. 旬菜時記:¥6,500(Mon-Sat )¥7,000(Sun)
There are dinner courses from 15:00 to 22:00 with a guest room. Please ask the hotel if you want to know about courses for dinner. 
ARIMA GRAND HOTEL
1304 Arima-cho, Kita-ku, Kobe, Hyogo 651-1401
Tel:078-904-0181
Fax:078-904-0297
URL: https://www.arima-gh.jp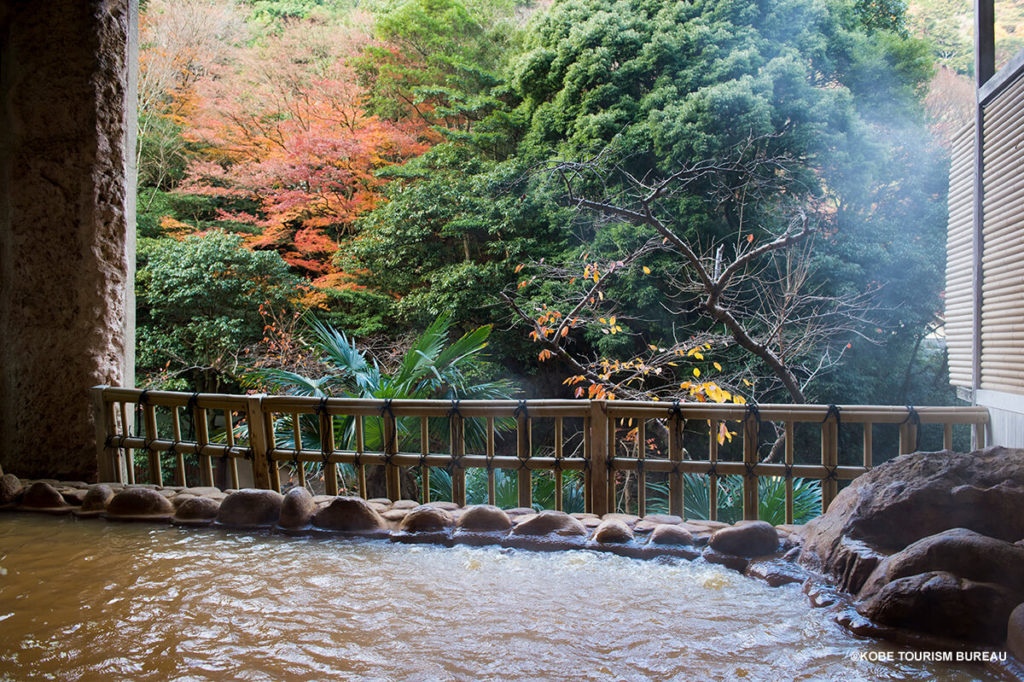 Now, I'd like to tell you some tips that you have to keep in mind while using onsens in Japan. 
<Tip 1>
Use the changing rooms to undress and the lockers or storage areas provided to leave your clothes and belongings. If you have any valuables, ask at the reception if they have secure storage facilities.
<Tip 2>
Thoroughly clean and wash yourself before entering the Onsen. There is a small shower area outside the main bathing area where you are required to wash your body thoroughly with soap and water before entering the main onsen pool.
<Tip 3>
You should be naked. You should not wear a swimsuit, underwear, or any other kinds of clothing into the Onsen. Upon entering most onsens, you'll be provided a small hand towel that you make take with you inside the Onsen, but it's best to just use it to cover up while walking and not to take it into the hot water with you. Some people place it on their heads while relaxing in the pool.
<Tip 4>
No running or swimming. It's best to walk slowly when in an Onsen as the floors may be slippery. And the pools are strictly for bathing only, not for swimming.
<Tip 5>
Although quiet social chatting is fine, you should avoid yelling or being too loud while in the Onsen. Please remember most people come to the Onsen to relax and unwind in a peaceful atmosphere.
<Tip 6>
No alcohol. The temperatures in Onsens can be extremely hot so it can be quite dangerous to drink while bathing.
<Tip 7>
No tattoos. In Japan, tattoos are often associated with Japan's mafia, the Yakuza. If you have a small tattoo you can often use a waterproof bandage to cover it up.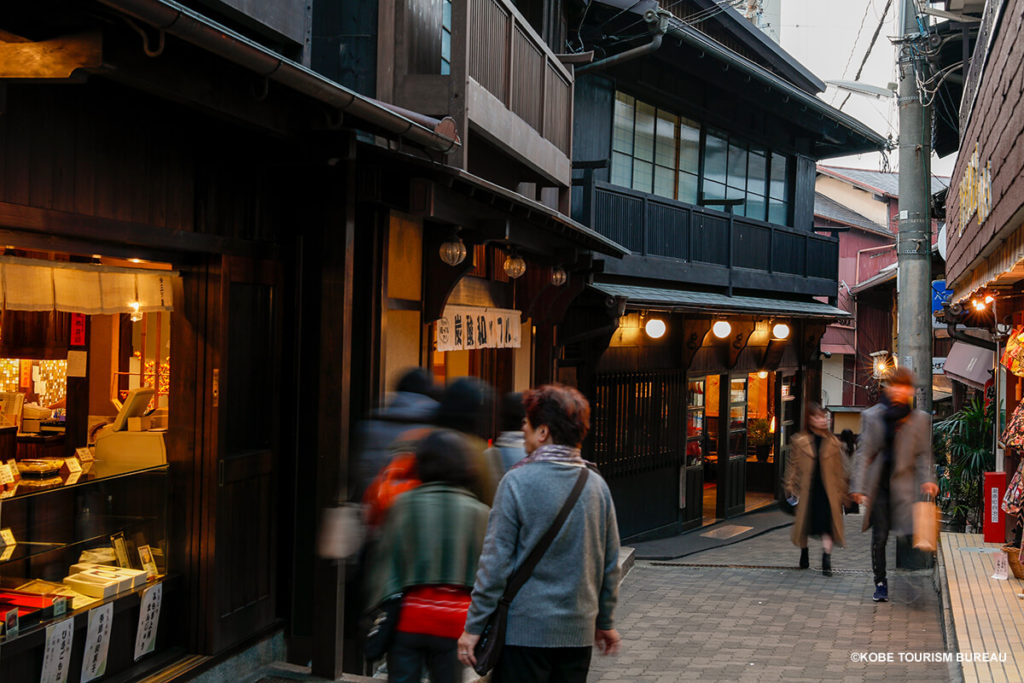 Souvenirs in Arima
 Finally, I'd like to recommend some popular souvenirs in Arima. 
[ Sweets ]
Tansan-senbei, a thin rice cracker, is made using soda and is very popular.
Arima Pudding,  有馬プリン, is made using salt from the Arima Gold hot spring, specifically from the Gosho Fountain in Arima.
Kinsen- yaki,  金泉焼, is also made using this salt.
[ Beer, Wine, Japanese Sake ]
KOBE CRAFT BEER
KOBE WINE
Japanese SAKE (Nishinomiya, Kobe)
[ Daily Goods ]
Beautiful skin soap
Bath salts
[ Traditional crafts ]
Bamboo baskets, Arima Kago (from Azuch- Momoyama period) has a long history and was loved by Hideyoshi 太閤秀吉 and Sen no Rikyu 千利休 as tea utensils.
Arima Kago Kutsuwa Honten
Address: 1049 Arima-cho, Kita- ku, Kobe, Hyogo 651-1401
Tel: 078-904-0364
Fax: 078- 904-2453 
Closed on Wednesdays. 
URL: https://arimakago.jp/
Arima Ningyo Fude, Doll brush, Nishida-Fude Ten (from the Edo period) makes doll brushes. You can visit and learn how to make a doll brush for free.
Haifukiya Nishidafudeten
Tel: 078-904-0761
Fax: 078-904-0761
Closed on Wednesdays.
URL: www.arimahude.com
 [ Foods ]
Pickled vegetables and foods boiled in soy sauce are popular with visitors. Since Arima is near the mountains, it is full of vegetables. Japanese mushrooms are made to Matutake Konbu, 松茸昆布, as a  souvenir. You can buy good things at the souvenir shops along the Onsen streets. Why don't you try some?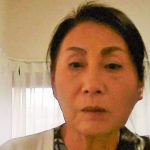 I'm retired and enjoy my life going to wonderful hot springs in Japan. Actually, I love hot springs. Among them, my favorite is Arima hot springs. I live near Arima and I always go there so that I can get away from the hustle and bustle of everyday life and rejuvenate by taking hot springs, eating delicious lunch, and walking around the onsen streets. I'm very happy to visit Arima and live in nature leisurely