When you hear the word "camper," what's the first thing that comes to mind? You might think of a big camper, like a house on wheels with a bedroom, kitchen, shower, and living room. Hmm, that makes sense… But I would like to introduce you to more unique campers designed specifically for Japanese lifestyle.
Miniature Cruise Henro
Produced by Oka Motors in Kagawa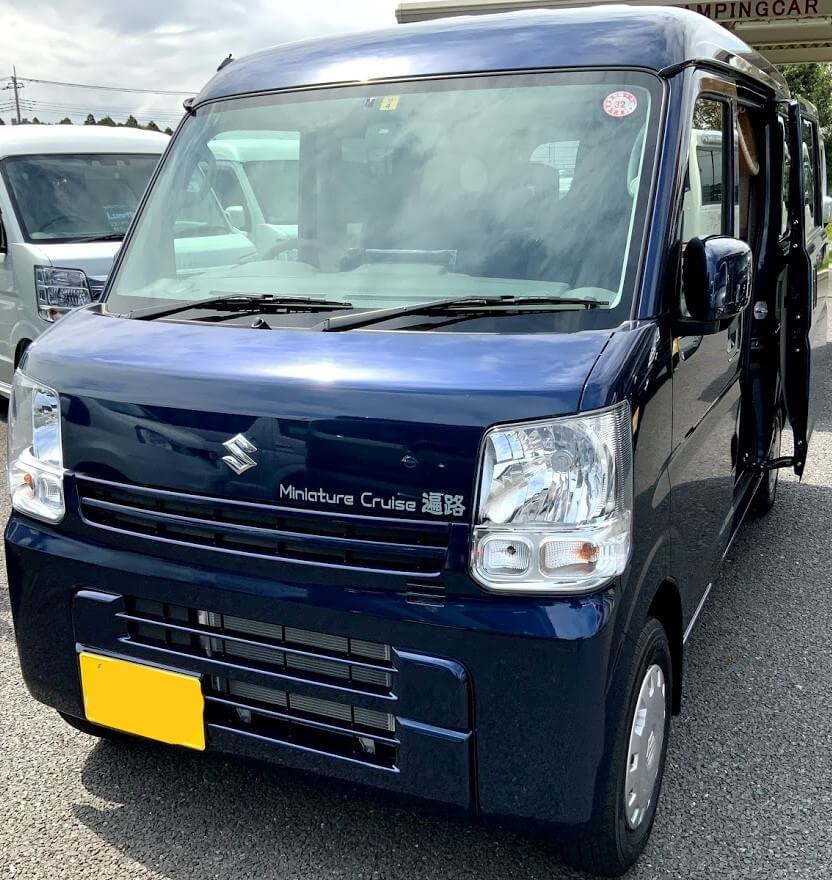 This camper was made for a pilgrim tour in Shikoku. On the outside, it looks like a perfectly normal Kei car (which is the name of the Japanese category for "small vehicles"). However, once you open the door, you are transported to the world of Japan.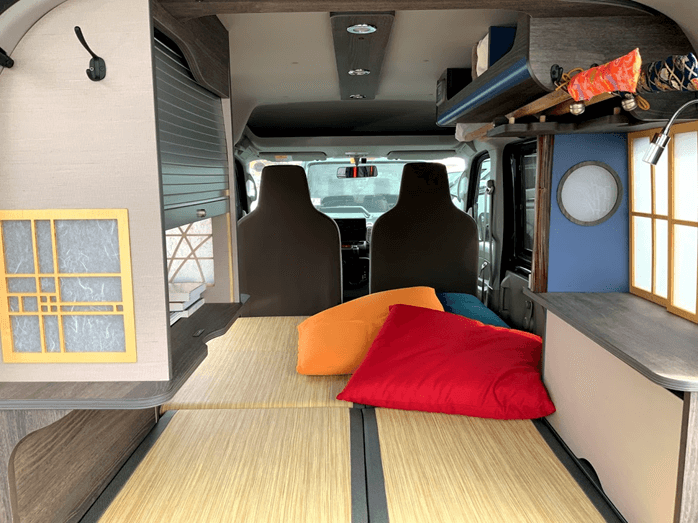 Surprisingly, there is a bed mat of tatami-style fabric, which is 5 cm thick. It will help you to wind down after a long day. There are shoji-style windows here and there. The windows are made of acrylic resin, so it's more durable than a real one. The left shelf has a shutter with a key. We can store valuable stuff in this compartment, such as the "Goshuin Cho," which is a notebook for collecting stamps as proof of visiting temples or shrines, and so on. This camper makes you feel like you're in Japan.
If you would like to know more about "Goshuin Cho," please check this article written by Mrs. Chisato A.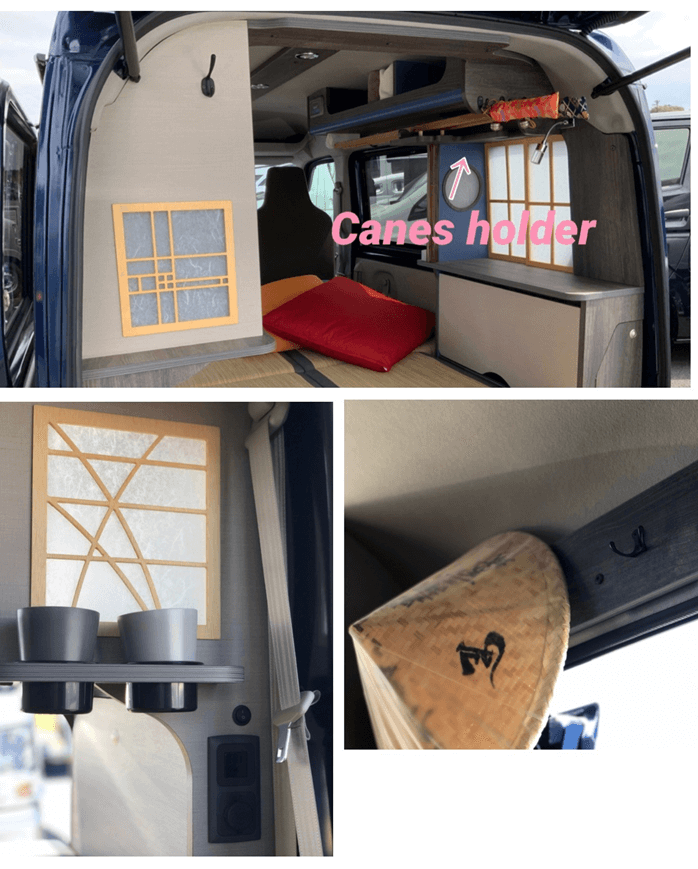 There is a holder that can store two canes and straw hats, which are indispensable for pilgrimage. The canes, or walking sticks, are called "Kongo-zue" (金剛杖), which are often used by pilgrims. It is said to be the incarnation of Kobo Daishi (弘法大師), or Kukai (空海), who is the founder of Shingon Buddhism.
Therefore, the important cane storage area has been set up at the top of the camper.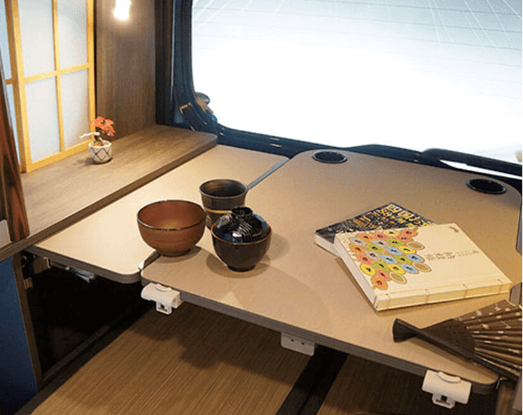 You can set the table inside or outside, and it's also able to be stored under the tatami-style mat. So, you can enjoy chatting with people over a cup of tea outside, or you're able to let your hair down inside. You can enjoy your own style.
If you would like to know more about the Pilgrimage called "Ohenro," please check this article written by Mrs. Rieko Azuma.
Quokka
Produced by Mishima Daihatsu in Shizuoka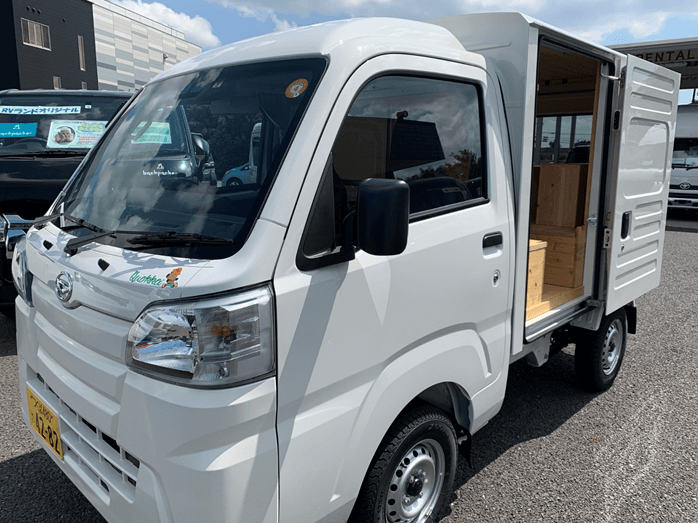 This camper was made based on a Kei truck. When Kei trucks are mentioned, you might think of cargo vehicles for work. However, it's often used as a base car for campers. Let's take a look inside.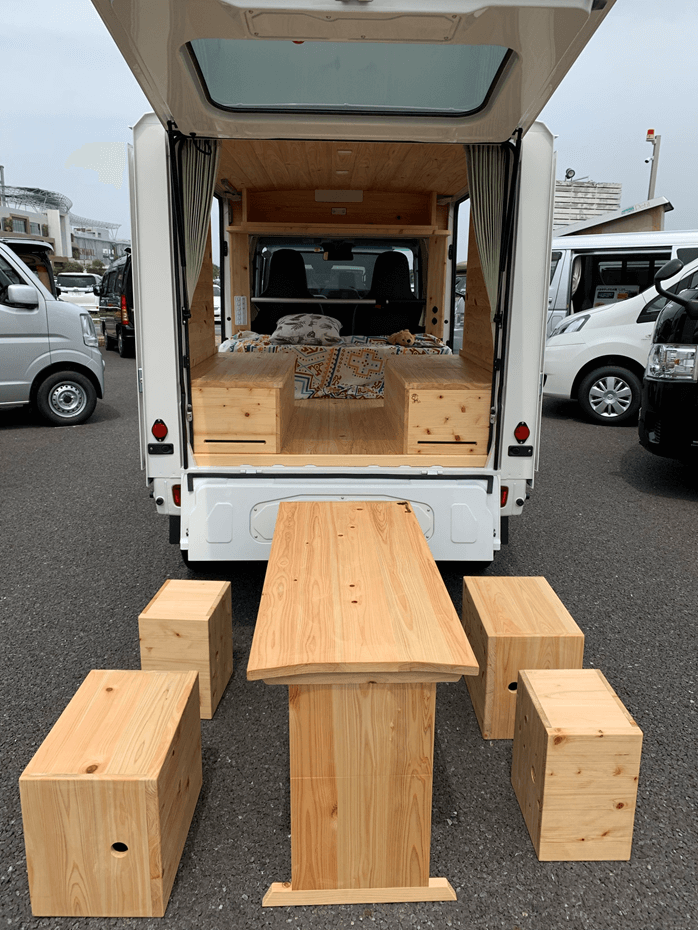 The interior is made of wood. The chairs and a table fit snugly into the interior and easily convert into a bed. Those chairs are hollow, so you can also use them as shelves. Moreover, the wood used is Fuji Hinoki (cypress), which has excellent strength, durability, and humidifying properties. Have you ever heard of the cypress bath (ヒノキ風呂)? It's famous for its scent and they say it calms the mind. Hopefully, this camper may relax you as well.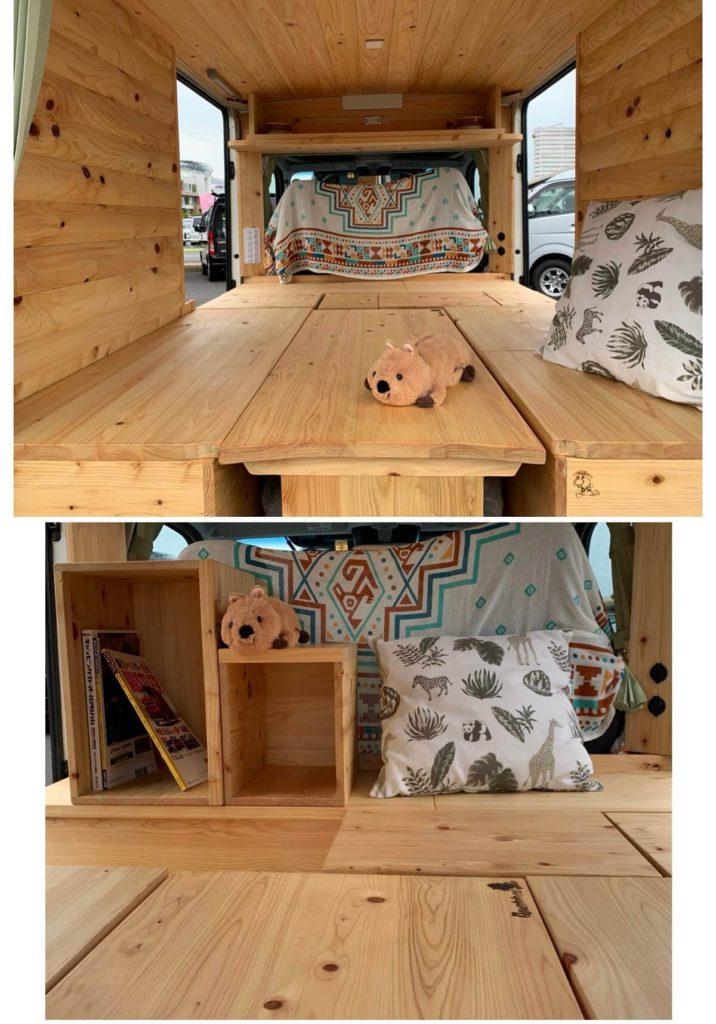 You can also install a refrigerator under the seat. After a long drive, an ice-cold beer would really hit the spot… but don't drink and drive!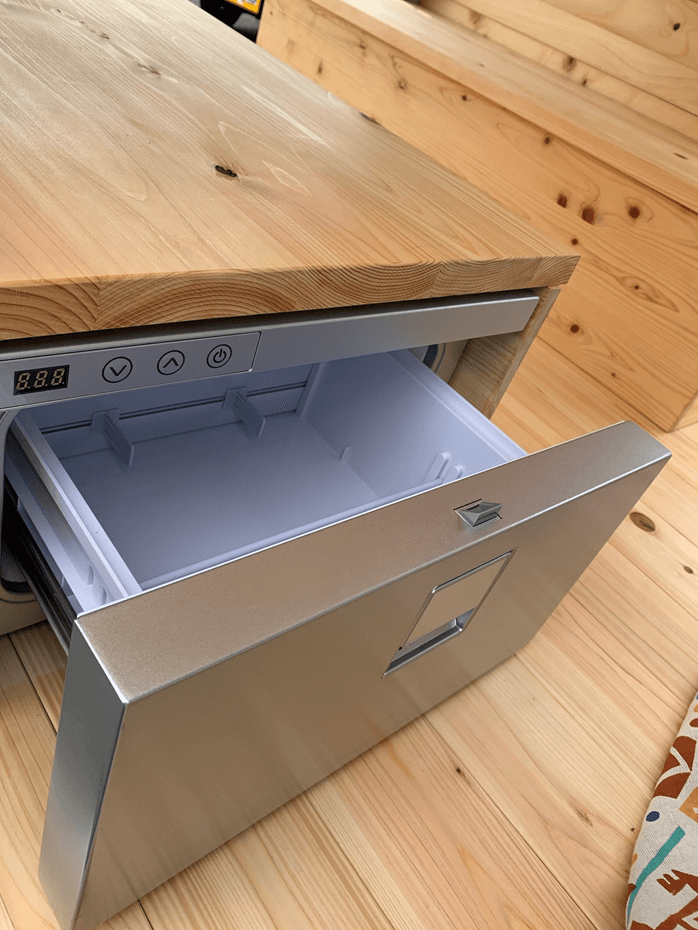 "Quokka" was named after an animal that lives in Australia, and it looks like it inspired a model for the Pokémon, "Pikachu." Looking at its smile, it would heal your heart.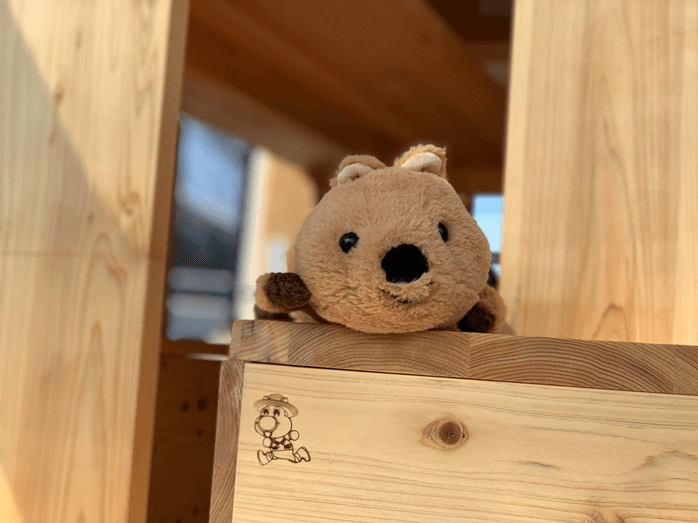 BALOCCO
Produced by FIELDLIFE in Gunma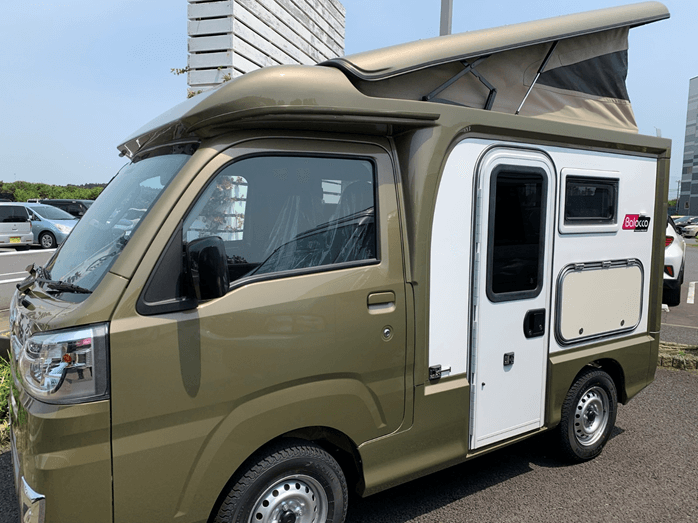 This camper was also made based on the Kei-truck, but it seats four people. Its body uses a Hydro vac panel which provides excellent heat insulation and great durability, and the floor is also insulated, so you can travel very comfortably. Can you see the roof rising like a tent? If you so choose, you can sleep under the roof as well. It does not open/close automatically, but you can easily do that on your own.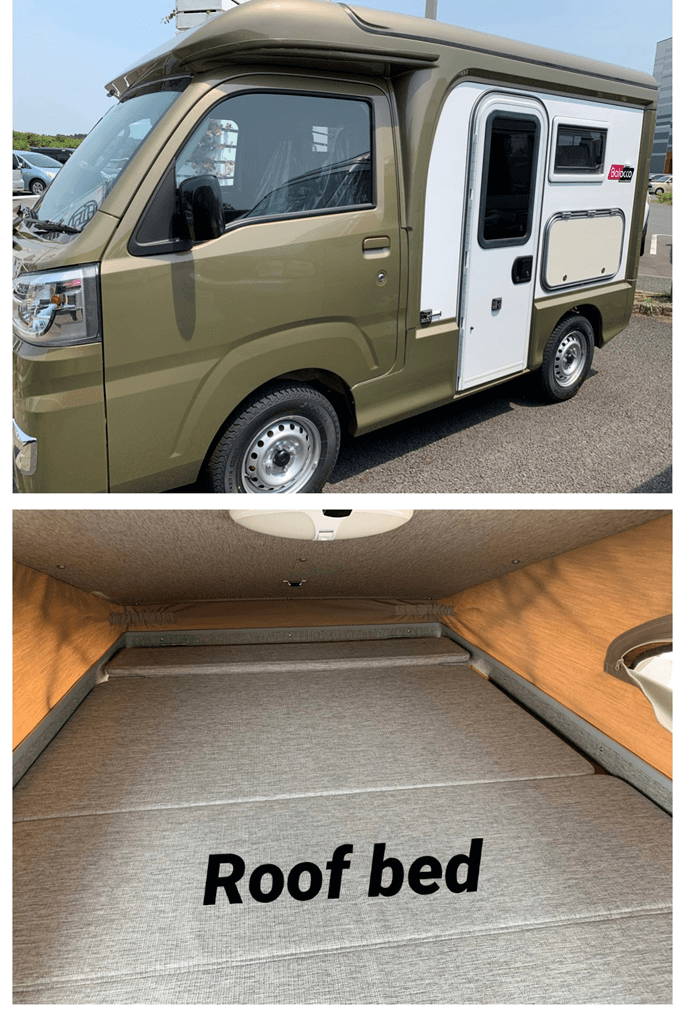 You could work remotely from here or you could just sit back, relax and enjoy your "Me Time." The height of the room is 182 cm with the pop-up roof open. It's the height that allows most people in Japan to comfortably stand. Another characteristic of Barocco is that the seats transform into the bed very easily. Just remove the table and slide the seats.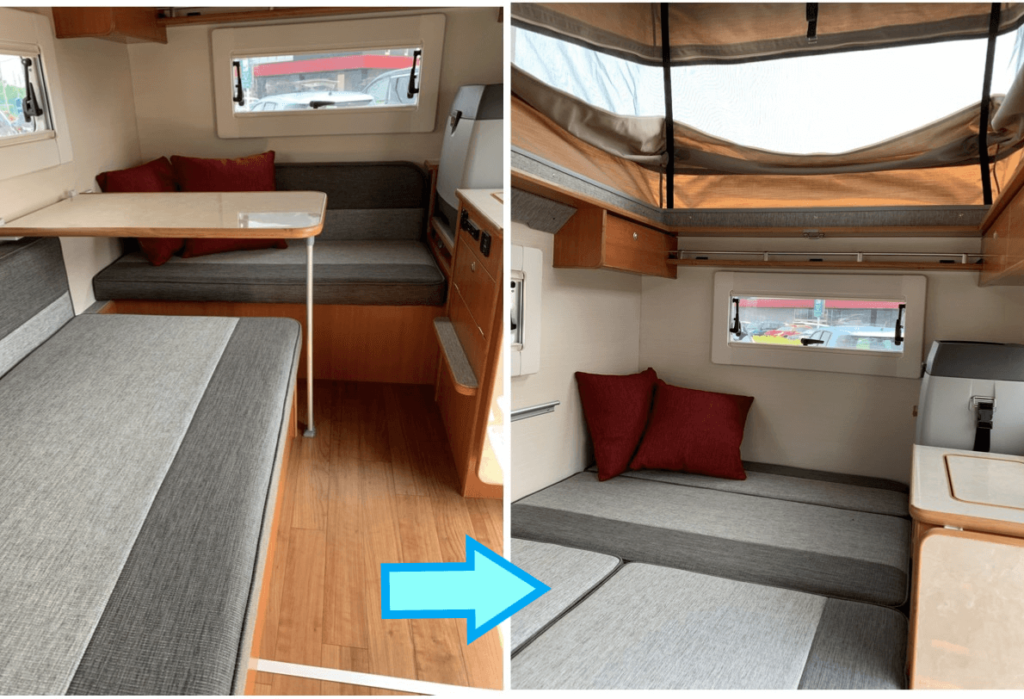 The room features a kitchenette with a table, sink, refrigerator, and a portable stove. With this camper, it seems that you can go on a trip anywhere whenever you want.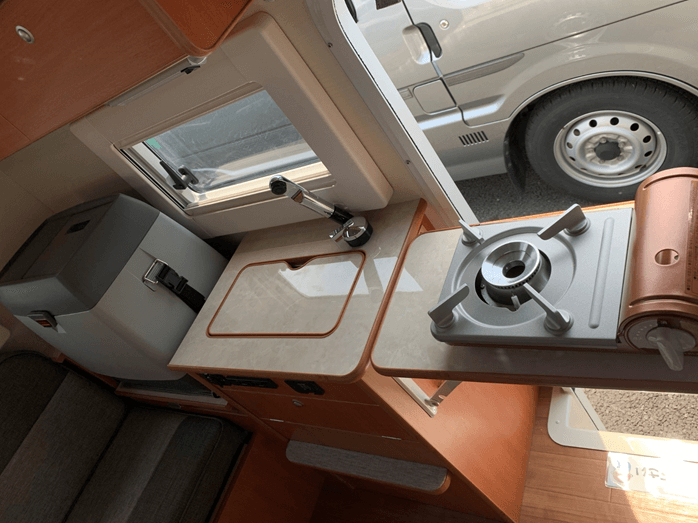 I introduced you to three campers that I'm interested in. Kei campers are very compact. Their most attractive point is that they are cheap to run. You don't have to worry so much about where to park, and they're super practical, so you can use them in everyday life.
Thank you for reading!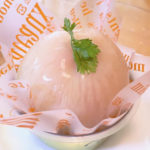 Born in Tokyo, raised in Saitama. Currently, I live in Ibaraki. I've been doing Pilates once a week with like-minded people since 2007. Back when I was young, I traveled a lot. I'm looking forward to traveling again after all my kids graduate.