Introduction
This will be a continuation from part 1. In this section, I will be introducing flowers that are commonly seen in fall and winter. In order to blooming flowers, fall and winter are tough season but flowers that appear in such harsh environment make people encourage to live on.
Let's focus on some flowers that bloom in the cold season across Japan and possibly learn about them in a little more detail.
♡My previous article

〜 Fall 〜
Cosmos
They are one of the typical flowers in fall that are well-known around the world. Their swaying shapes in the wind are peaceful and tell us fall has come. You can see fields of cosmos everywhere in Japan. There are many varieties of color such as pink, white, orange, yellow etc.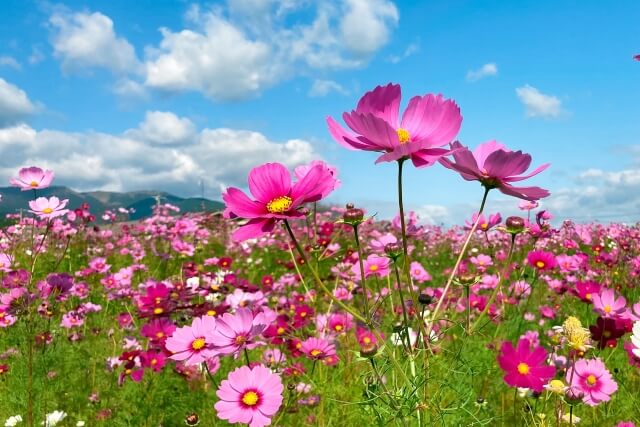 Well, then I'm going to introduce a unique one. It's a chocolate cosmos which have dark red to brownish red and have a scent similar to chocolate. There is another kind of strawberry cosmos too. They are in the middle of evolution and vulnerable.
Recommendations
Yoshimi-cho 埼玉県吉見町
https://www-town-yoshimi-saitama-jp.translate.goog/?_x_tr_sl=ja&_x_tr_tl=en&_x_tr_hl=ja&_x_tr_pto=nui

Hitachi Seaside Park 茨城県ひたち国営海浜公園
https://hitachikaihin.jp/en/

Nokonoshima Island Park 福岡県のこのしまアイランドパーク
http://nokonoshima.com/en/

Sanko Cosmos Garden 大分県中津市 三光コスモス園
https://tourism.nakatsuyaba.com/

Blumen Hill 滋賀県ブルーメの丘
https://www.blumenooka.jp/
Lycoris (彼岸花 Higanbana)
Have you heard of Lycoris before? You might be familiar with this flower if you watch the movie 'Demon Slayer' or ' Tokyo Ghoul.' In most cases, Lycoris appears in the last scene as a symbol of sadness. They look splendid and attractive in a rural landscape. That beauty reminds people of blood and makes people excited. They've been defined as an evil flower in Japan despite its beauty.
They have a lot of names such as Red spider lily, Red magic lily, Corpse lily but are called Higanbana which means equinox flowers in Japan. They bloom in the equinoctial week when the Buddhist memorial services on the autumn equinox are just observed. Some legends have sorrowful stories. Higanbana tends to plant along the path of Sanzu River and that is an entrance for the afterlife called Gokuraku Jodo. It's said Higanbana has a role to guide people to heaven or hell. That's why Japanese people neither pick Higanbana nor use it for a bouquet.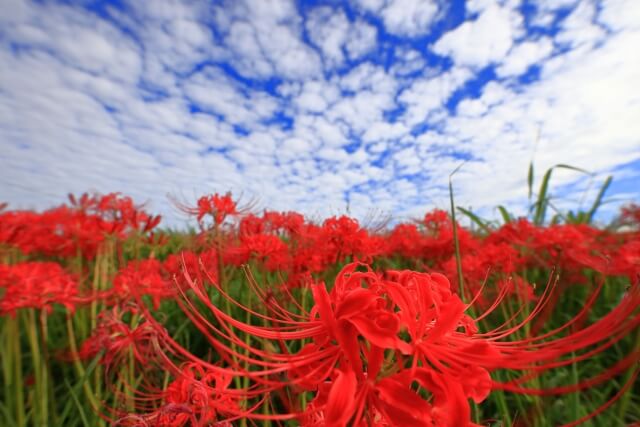 On the other hand, they are very popular in western countries and considered useful for arranging flowers. The origin of Lycoris is a nymph who has blonde hair from Greek myth. I'd say they are recognized as a symbol of beauty and a blessing. Everyone is fascinated with their mysterious figure.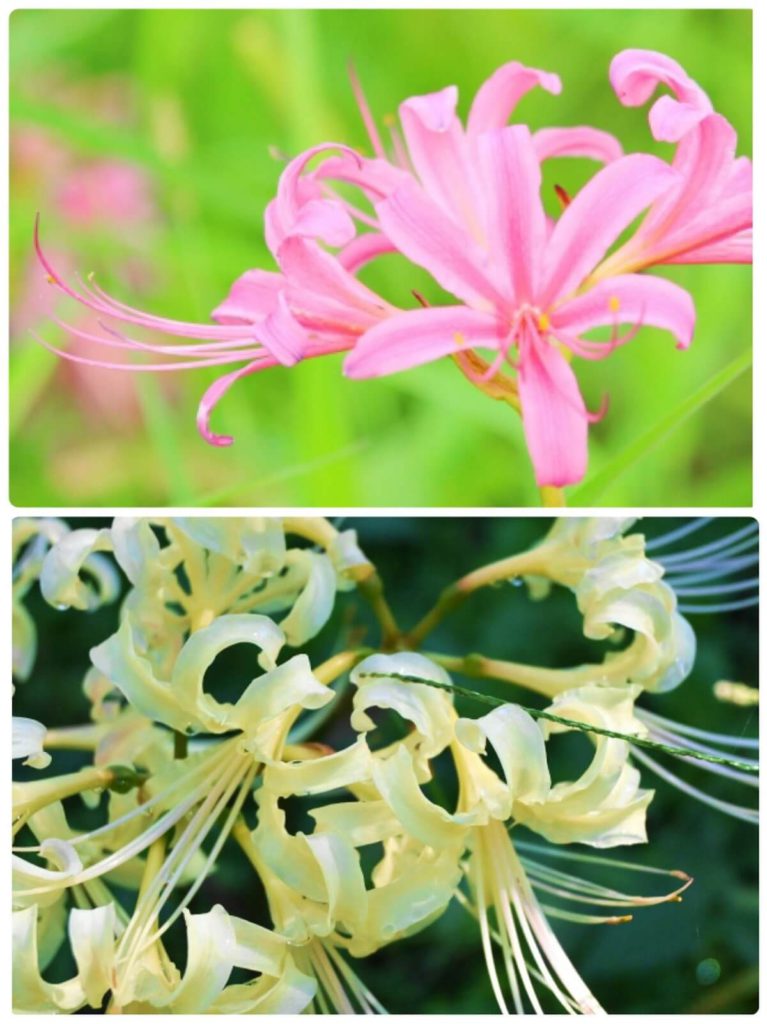 Recommendations
Fox Gon's Village 愛知県矢勝川ごんの秋まつりhttps://www.city.handa.lg.jp/kanko/kanko/event/akimatsuri.html

Kinchakuda 埼玉県日高市巾着田
https://lovelycountryside.web.fc2.com/

Jyosenji Temple 神奈川県大和市 花のお寺 常泉寺http://www.jousenji.com/main/english/english.html

Katsurahama Park 滋賀県高島市 桂浜園地
https://takashima-kanko.jp/en/
Chrysanthemum (菊 Kiku)
Everyone feels an affinity for chrysanthemum as a Japanese national flower with cherry blossoms but it's not an official approval. However, almost all Japanese people are familiar with them from ancient times. They would be a living necessity. For example, we usually offer chrysanthemum on a grave and Buddhist altar at home, let alone a funeral. They have been set a high value on daily life as a sacred flower because they are used in the crest of the emperor and the imperial household.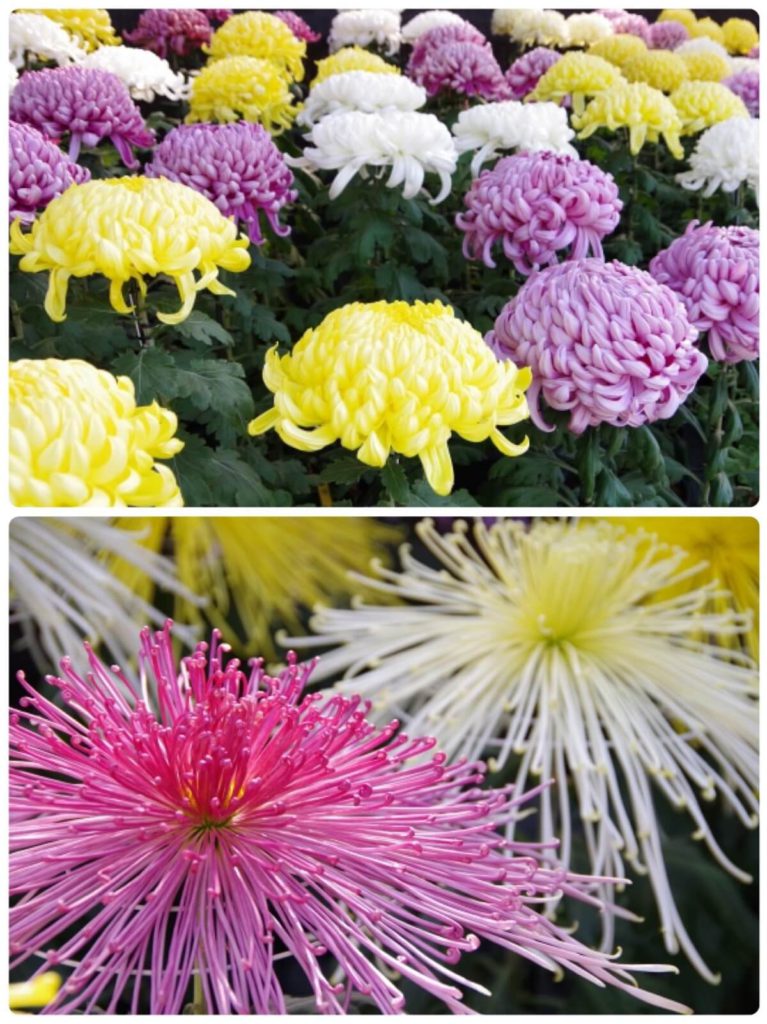 There are a lot of kinds for the composite family such as Marguerite, Daisy, Sunflower, Dahlia, Gerbera, Marigold and so on. Chrysanthemums are widely cultivated in Japan, you can enjoy an exhibition or competition here and there. Their magnificence attains the level of arts beyond your expectation.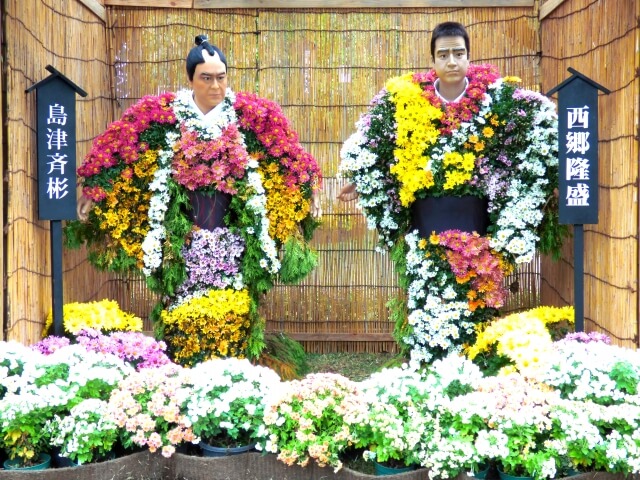 Recommendations
Nihonmatsu Kasumigajyo Castle Park chrysanthemum festival 二本松菊人形展
https://www.nihonmatsu-kanko.jp/?p=4879

Sengenen chrysanthemum festival 鹿児島県 仙厳園 菊まつり
https://www.nihon-kankou.or.jp/kagoshima/462012/detail/46201ba2212054780
In my opinion, a luxurious one is worth seeing but I prefer the wild small kind that blooms in nature.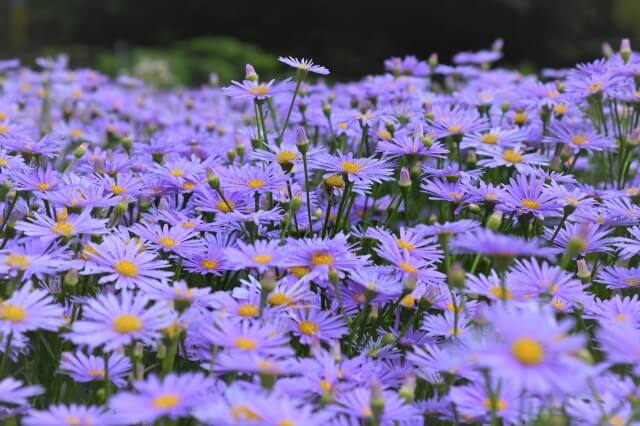 Kitayama New York Aster 北山友禅菊
https://www.city.kyoto.lg.jp/sankan/page/0000286632.html
〜 Winter 〜
Narcissus (水仙 Suisen)
As you may know, Narcissus was named after a beautiful boy from Greece Mythology. Of course, it originates from the word 'narcissist'. In Japan they are called Suisen which is from Chinese character 水仙 and Chinese phonetic sound. In most cases, their color is white and part of the center is yellow. They look quite cute and come across admirably because they bloom in severe winter. They smell fresh strongly as if they insist on their existence.
In western countries, they are recognized as a symbol of wishes for cancer patients. Everyone knows Narcissus endured the cold winter and long for spring to come.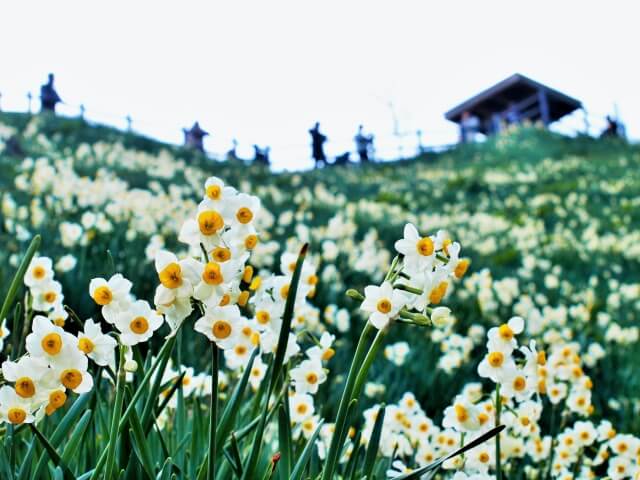 Recommendations
Nadakuroiwa suisen kyo 灘黒岩水仙郷
https://www.city.minamiawaji.hyogo.jp/site/suisenkyou/

Echizen Narcissus Land 福井県越前水仙ランド
https://www.town-echizen.jp/pages/?id=7

Urikizaki Suisen Road 静岡県下田市瓜木崎
https://www.shimoda-city.info/event/suisen.html
Frost flowers
As you know, they are not real flowers but I can't help telling you about them. I won't let you down.
There's an incredible natural phenomenon at Lake Akan in Hokkaido that occurs during the months of December to March, where the surface of the lake starts to develop small crystals that resemble small flowers. It looks like a carpet of flowers without fail. However, there are certain conditions that must be met in order to see them which are : It must be minus 15°C, windless and it must not be snowing. What a miracle gift from nature! It's recommended that you search for a tour with a guided expert.
This is a phenomenon that I personally would like to see within my lifetime and hopefully you can too!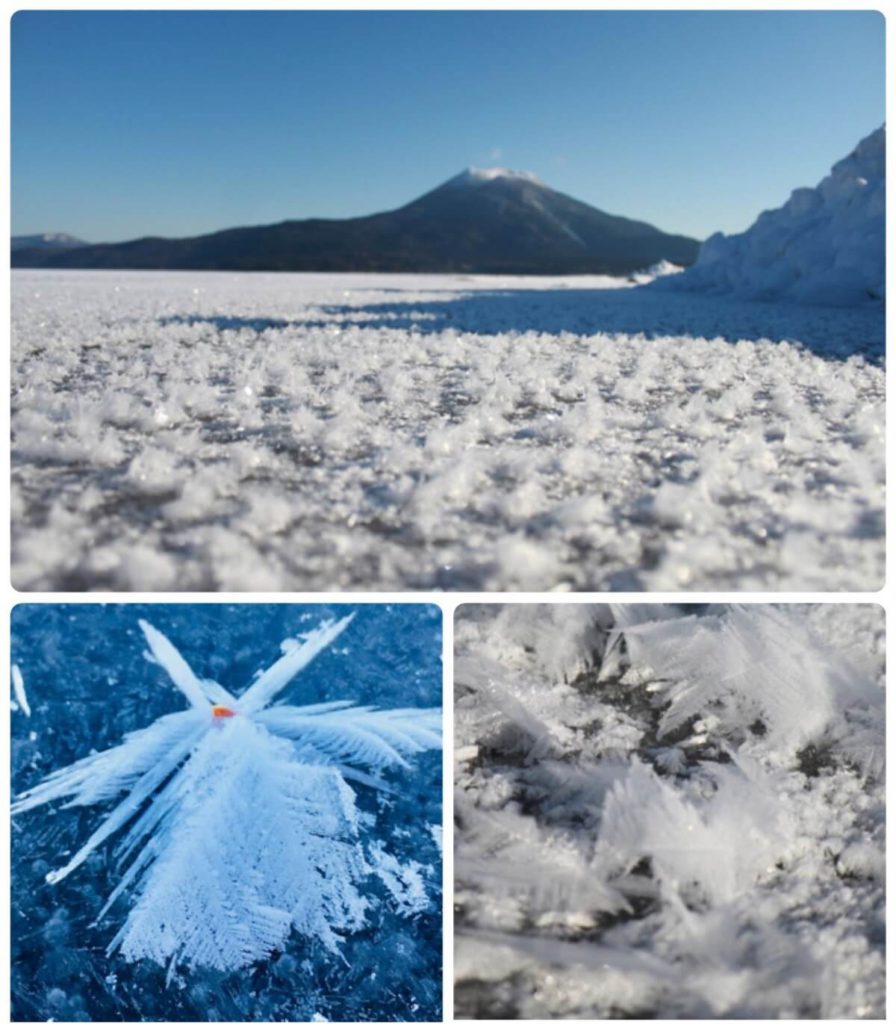 Lake Akan Frost Flower 北海道阿寒湖フロストフラワー
https://hokkaido-labo.com/area/kushiro/lake-akan-frost-flower
Stock and Snapdragon (金魚草 Kingyosou)
They are cultivated plants which are strongly resistant to cold environments. They bloom in winter to early spring and appear on the market.
Recently, they are found useful for flower arrangement because of their lasting effect.
Would you like to see them firsthand? You can experience picking flowers in a farm in Chiba prefecture, if you're interested, please visit the link below. This area faces the Pacific Ocean and has good conditions for products and flowers.
By the way, Do you know the difference between Stock and Snapdragon? There is a close resemblance between the two. but you can tell by the flowers and shape of leaves.
Chiba Prefecture sightseeing site 千葉県観光サイト
https://maruchiba.jp/miryoku/shun/2020/hanatsumi2021.html
An Extra Article 〜Flowers in Our Daily Life
Have you ever wondered about the connection that humans have with flowers? Also, why do humans have a particular flower associated with a festival or event? I'd like to think that flowers are messengers that could tell someone what's on our mind.
Through the good times and the bad times, flowers always advocate for humans.
I'm going to do something where flowers float on the water. I'm sure you'll like them.
Washbowl in shrines or temples (花手水 Hanachozu)
Hanachozu is a place where people clean their mouth and hands before worship. Originally, ancients used dewdrops on a grass or flower when there was a water shortage. In 2017, Yokokuji temple in Kyoto started to put hydrangea on the Washbowl, it has spread all around Japan. Within the past few years, visitors have not been able to use washbowls due to the pandemic. However, this gave shrines and temples the opportunity to decorate their washbowls with flowers that were donated by various patrons.
-This is a good system to reuse flowers instead of just disposing of them and this trend could possibly gain more traction in the future.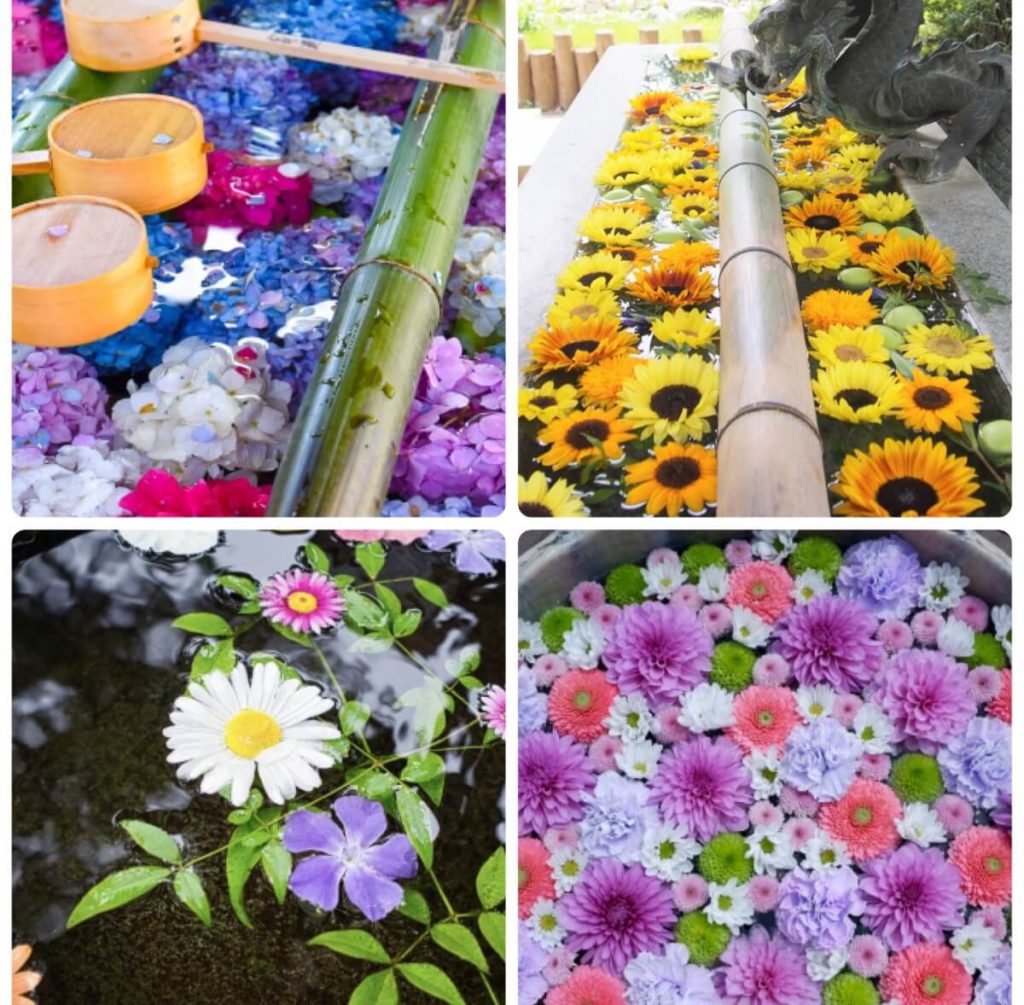 Recommendations
Yanagitani kannon Yokokuji Temple 京都府長岡京市 柳谷観音 楊谷寺
http://www.nagaokakyo-kankou.jp/html/sightseeng/s05.html

Katsurinji Tofukuji Temple 京都府 東福寺
https://shourin-ji.org/

Okadera Temple 奈良県 岡寺
https://www.okadera3307.com/sp/
Floral Raft (花筏 Hana Ikada)
Have you ever seen a floral raft when you took a cherry blossom viewing? That's when the cherry blossom petals cover the water. They look like a raft and are photogenic. If you get a chance, have a look at this once. Personally, they look like nothing but a carpet.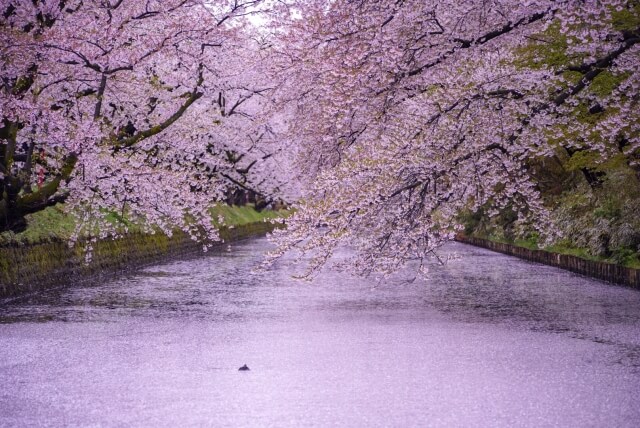 Recommendations
Hirosaki castle Park 青森県弘前城公園
https://www.hirosakipark.jp/

Tokyo Chidorigafuchi 東京都 千鳥ヶ淵
https://visit-chiyoda.tokyo/app/spot/detail/446

Tokyo Meguro River 東京都 目黒川
https://www.city.meguro.tokyo.jp/smph/gyosei/keikaku/torikumi/megurogawa_sakura_ansin.html
Conclusion
Thank you for reading my article to the end. How did you like it? If you have any opinions or questions, feel free to leave your comment. I enjoyed the process of writing this because I felt like I was surrounded by flowers all the time. I assume that each flower is different, one by one, like human beings. They all are beautiful and valuable. All we have to do is accept the differences of people and hold each other in respect. See you next time!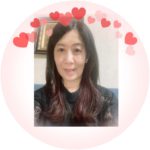 Brand Ambassador of kyoto Denim company, Kimono dresser, Japanese flower arrangement instructor I was born and raised in Osaka, I know this area like my backyard. I'd like to introduce Japanese culture and good points to someone from overseas. That'why I study English every day. Please feel free to ask me if you need anything.