What is "Ginza?"
In general, "Ginza" is a district of Chūō City, inside Tokyo. This is a popular upscale shopping area which has numerous internationally renowned department stores, boutiques, restaurants, and coffee shops. And it's also one of the famous touring destinations for those coming to visit the Tokyo area.
Please check this link:
Tokyo Ginza district | high-class shops
https://youtu.be/jvf6SYPyjfE

SHOPPING IN GINZA – PEDESTRIAN PARADISE IN TOKYO JAPAN
https://youtu.be/5m-4tMEJqxY
However, the word "Ginza" reminds us of multiple meanings or images which have been created in people's minds.
What does "Ginza" originally mean?
The word "Gin" means silver metal and "za" means a place or an organization. Actually, Ginza (銀座) had been a place of producing and controlling silver coins in the Edo period (1603-1867) in Japan. Then a simple question is coming up. If Ginza means the place of silver-currency control, was Kin (Gold) or Dou (Bronze) controlled by a special branch office in Japan?
This question is relevant. There also existed Kinza (金座) , and Douza (銅座) in Japan. Tokugawa Ieyasu, the first governor of the Tokugawa Shogunate, had a vision to recreate a rural place called Edo (Tokyo) into a great capital and reign over Japan as a whole. Currency was one of his big issues to control.
"Kinza"「金座」, the gold currency plant, was established in 1595 at Edo (Tokyo), Kyoto, Shizuoka, and Sado Island. Later they were integrated at Edo (Tokyo).

"Ginza"「銀座」, the silver currency plant, was established in 1601 at Kyoto (Fushimi), in 1606 at Shizuoka (Sunpu), in 1612 at Edo (Tokyo), and in 1614 at Nagasaki.
"Douza"「銅座」, the bronze or copper currency bureau, was established in 1697 at Nagasaki. This organization mainly deals with import and export of the bronze currency.
"Zeniza"「銭座」, the bronze or copper currency plant was established in many places around 1620-1630.
"Ohbanza" 「大判座」, the temporal institute for producing larger sizes of coins called "Ohban."

These currency plants were closed in 1868 at the time of the Meiji restoration under the reign of the new imperial government. But their names partially remain as a place or town. You can see "Kinza" Town「金座町」 in Shizuoka Prefecture inside the Tokai area of Japan and "Douza" Town「銅座町」 in Nagasaki Prefecture inside the Kyushu area of Japan. Among them, the "Ginza"「銀座」 in Tokyo is the most famous example.
A Brief History of "Ginza" in Tokyo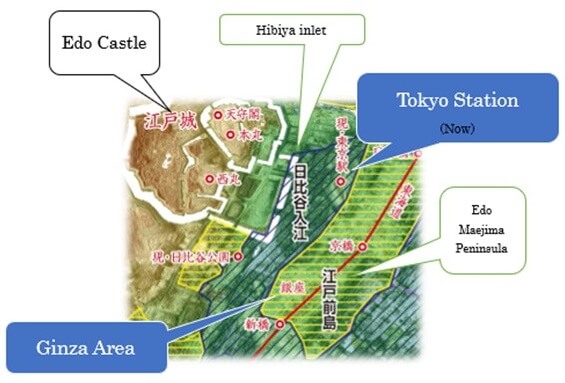 Around 1590, when Tokugawa Ieyasu took possession of Edo castle, the relationship between the land and sea of the Kanto area of Japan was quite different from now. The shallow waters of the long cove called Hibiya Inlet 「日比谷入江」came almost as far as the Edo castle. Over that waterfront, a peninsula called Edo-maejima 「江戸前島」existed. Tokugawa Ieyasu established a new silver currency bureau at the area in the vicinity of Edo-maejima's tip, which is now the Ginza district.
After the Meiji restoration and westernization and the fire disaster at that time, the Meiji government built a brick building in the Ginza area which is called "Ginza Brick City"「銀座煉瓦街」. This fire-resistant building was not familiar to Japanese people to live in, as a result, newspaper companies and imported item sellers gathered in Ginza. That determined the characteristics of Ginza as fashionable, state-of-the art, and full of the latest trends. In 1923, Ginza Brick City was destroyed in the Kanto Earthquake.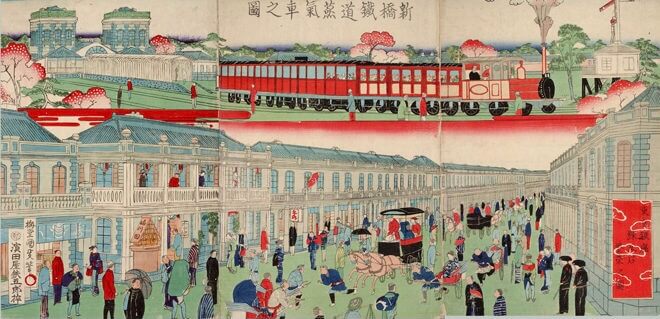 Even through the disasters including World War II, "Ginza" keeps on growing and continues to be an upscale shopping area. Eventually, the word "Ginza" came to indicate a place of hustling, bustling streets where people get together.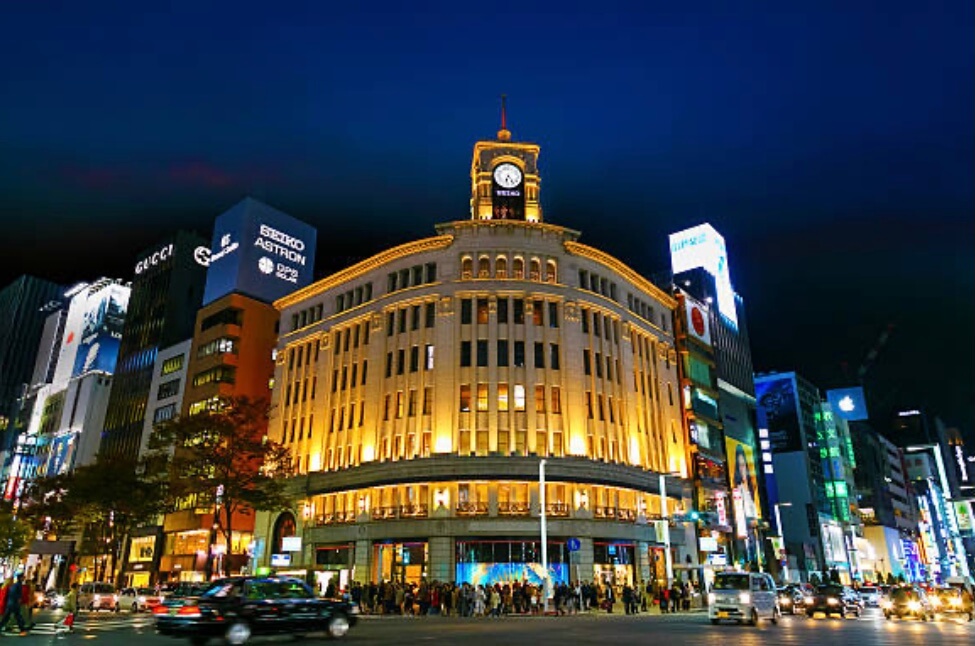 Siblings of "GINZA"
After the Kanto Great Earthquake in 1923, Togoshi Shopping Street, located in the far west of Edo (Tokyo), suffered from urban drainage problems. Togoshi inherited the debris of "Ginza Brick" and restored their infrastructure. Because of that, Togoshi Shopping Street changed its name to "Togoshi Ginza," the first sibling of "Ginza" in Japan.
Togoshi Ginza is a well-known "go-to" spot for food-savvy locals and visitors alike.The neighborhood is made of three shopping streets with an array of nearly 400 vendors. It is recognized as one of the longest shopping streets in the Kanto Area.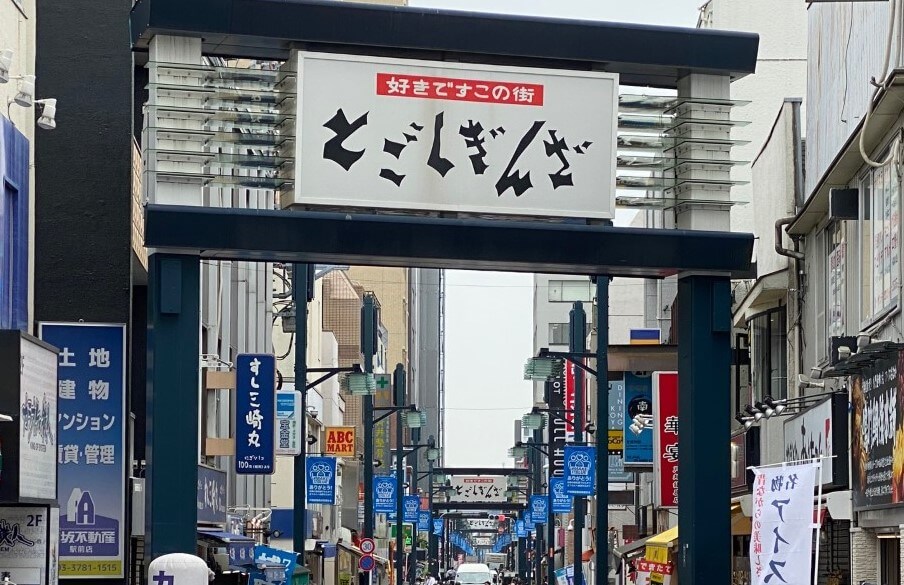 Please check this link:
Togoshi Ginza
https://youtu.be/Z1DatjR4pPA
Now there are over 300 places which carry the name of "Ginza" all over Japan. Among them, shopping arcades for our daily life with old-fashioned and hustling, bustling streets are very popular. "Yanaka Ginza," located near the Ueno district in Edo (Tokyo), is one example.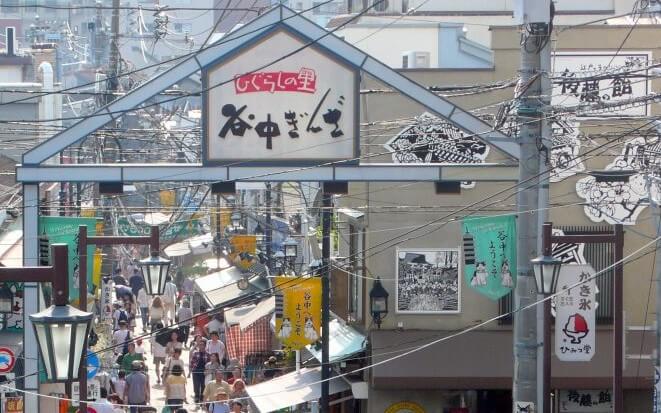 Please check this link:
Yanaka Ginza
https://youtu.be/MEIGN3C28zk
Conclusion
The word "Ginza" now has multiple meanings which have been growing in people's minds. I'm wondering what image comes to mind when you think of "Ginza".
I hope you can savor its history and the people who cherish their "Ginza".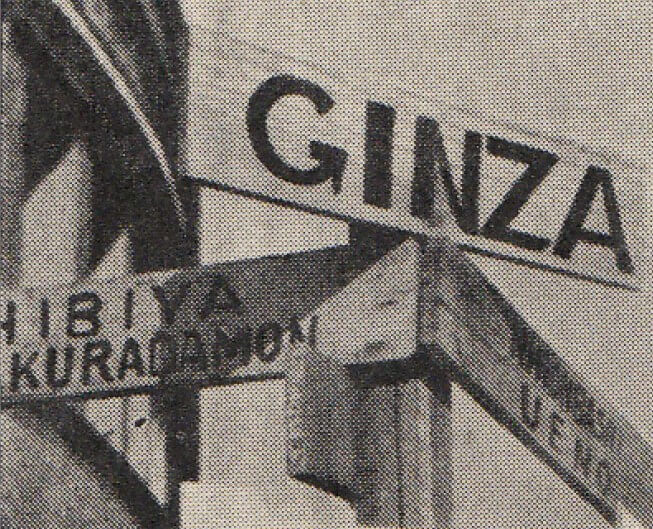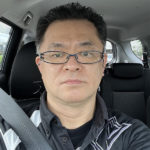 National Tour Guide (English), Eiken Grade 1, TOEIC A rank. Have been studying and teaching English for over 30 years.