General Overview of Shinjuku
Shinjuku is regarded as the metropolitan city of Tokyo. There is the metropolitan government office on the west side of Shinjuku. Shinjuku Station is the world's busiest hub station with several major railway lines such as JR East, Odakyu, Keio, and several subways.
Probably it is the place that most people imagine when they think of Tokyo. TV news crews report from Shinjuku station in times of severe weather, natural disasters, political elections, and transport disruption. Actually, Shinjuku was not the center of Tokyo; however, this "new town" has grown into a metropolis where people can feel the pulse of this nation.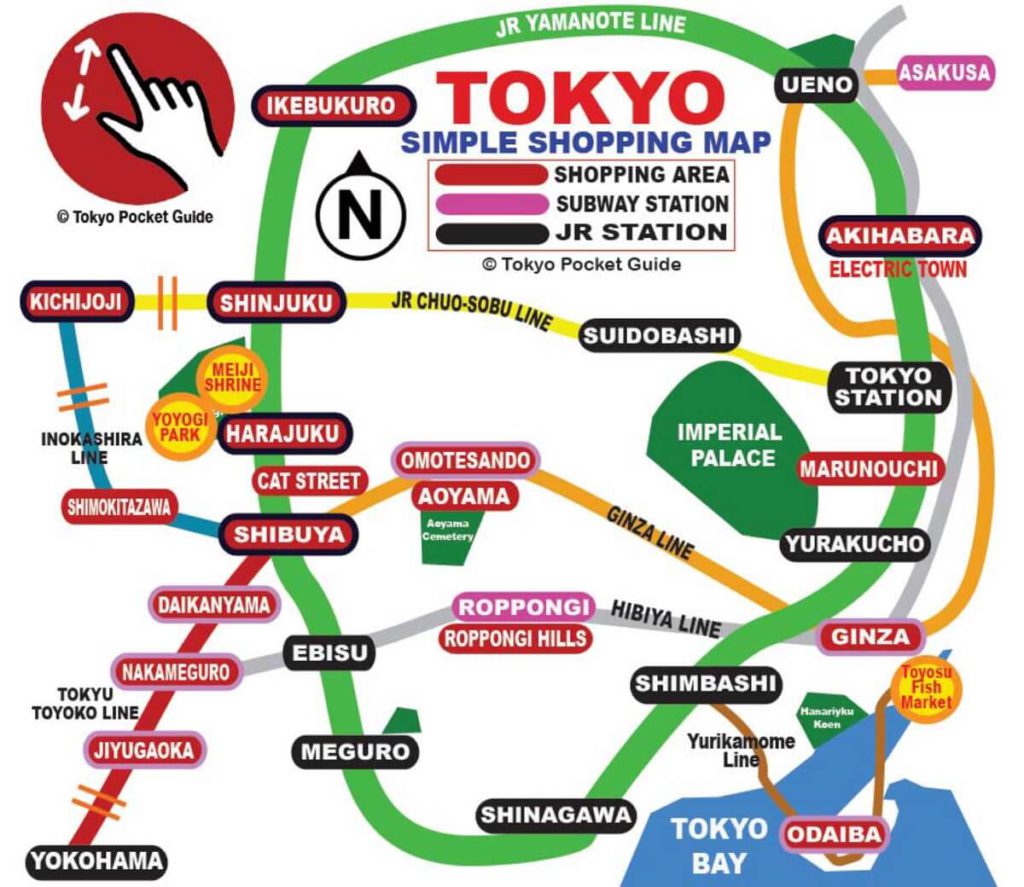 Shinjuku has two faces: the east side and the west side. On the east side of the Shinjuku station, we can find all the neon lights, crowds, restaurants and bars that we associate with modern Tokyo. The east side of Shinjuku was the first parking place for horses on the road from Edo (Tokyo) to Kofu, Yamanashi Prefecture. It was called the Koshu Kaido highway, one of the five major routes extending from Edo (Tokyo).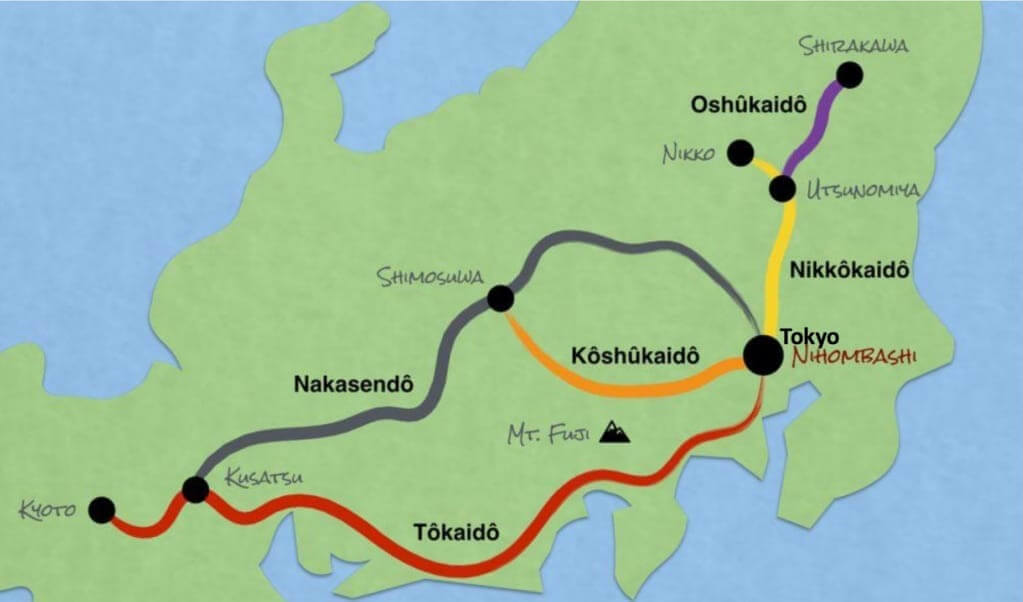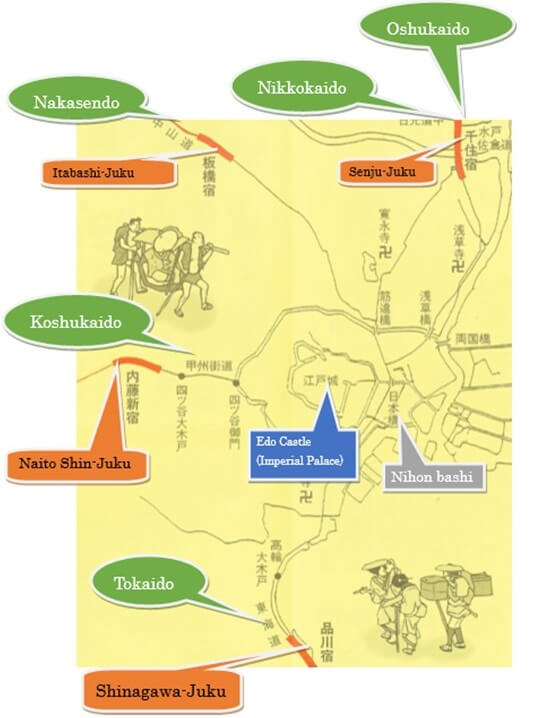 This post town was called Naito Shin-juku(内藤新宿).
Naito (内藤) is a family name. The Naito clan held a large part of the land in this area.
"Shin (新) means "new," and "juku" (宿) means "post town" or "lodge" in this case.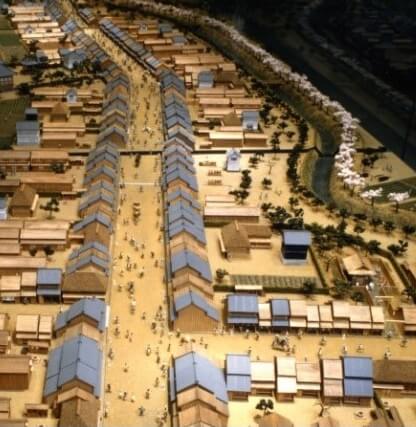 On the west side of the Shinjuku Station, there are a lot of high-rise business buildings, the metropolitan government building, and gorgeous hotels. The west side of Shinjuku was a rural area and a scenic spot with waterfalls, ponds, and dragonflies.
In the 1400s, the Kumano Juniso Shrine (熊野十二社) was established and adored as the guardian of this area. In the Edo period (1603-1868), the Tokugawa Shogunate had extensively supported this shrine and paid homage after their falcon hunting in the surrounding area.
Please check this link for more information:
https://www.kanko-shinjuku.jp.e.xm.hp.transer.com/spot/kw-%E7%86%8A%E9%87%8E%E7%A5%9E%E7%A4%BE/article_359.html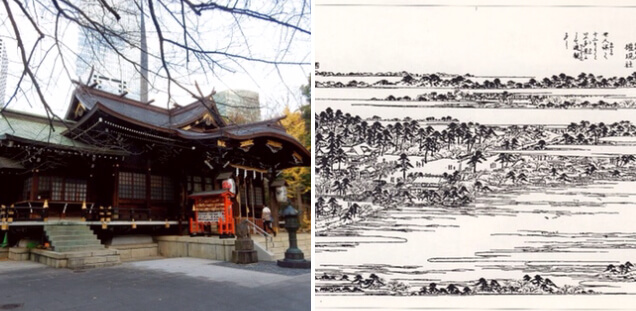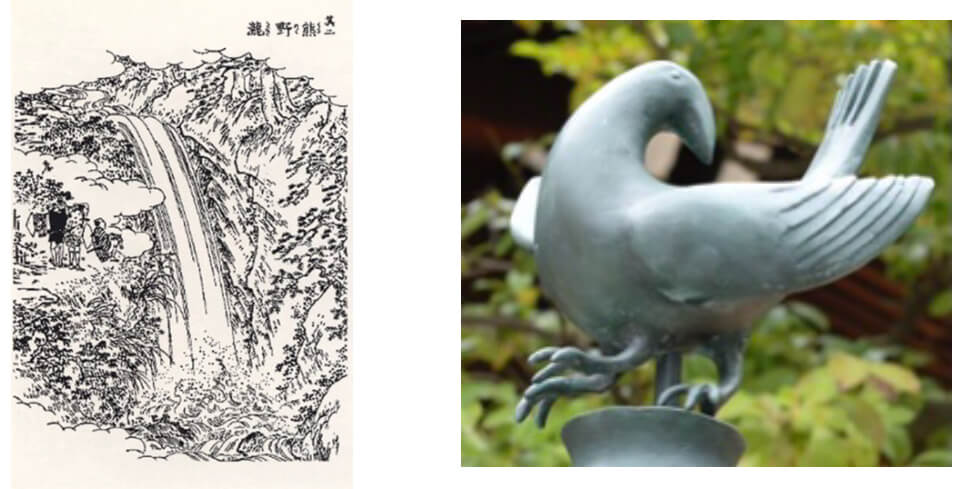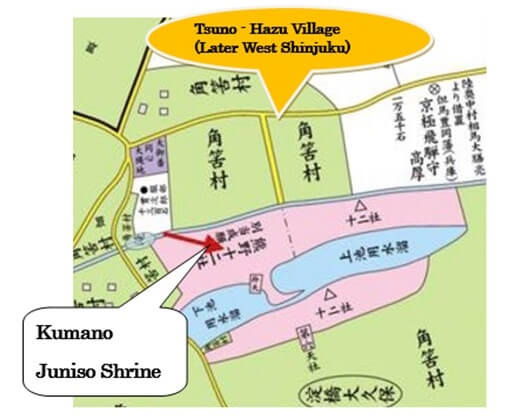 This area used to be called Tsuno-Hazu village (角筈村, later it was called Yodobashi ard (淀橋区), and now is called Shinjuku Ward (新宿区). Shinjuku was originally not the center of Tokyo. It is a planned city district which has been changing its appearance. Let us focus on the west side of Shinjuku with high-rise buildings and find out some stories behind these skyscrapers.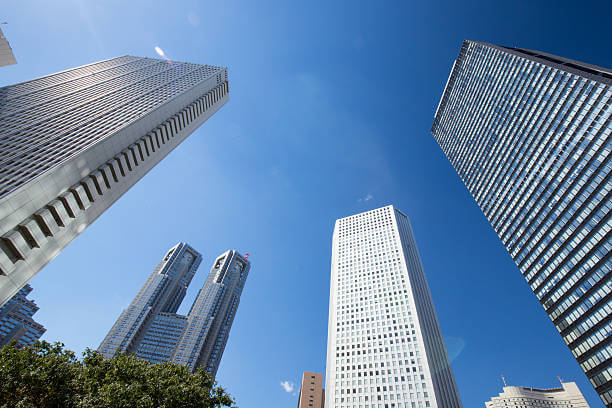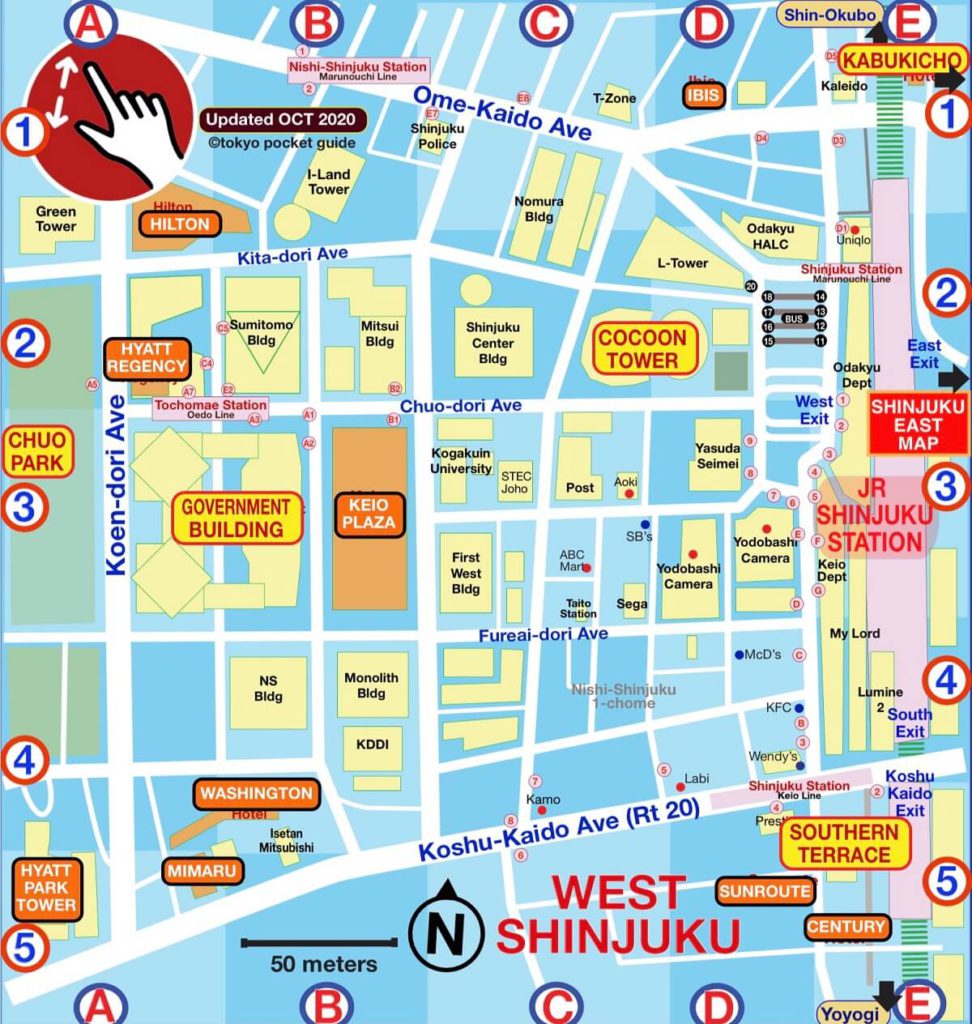 Please check this link for a virtual tour of Shinjuku skyscrapers:
https://youtu.be/2JHqXz3lqXg
Shinjuku Subcenter Project (新宿副都心計画)
In 1923, when the great Kanto earthquake hit Tokyo, Chiyoda City, the center part of Tokyo which is just around the Tokyo station area, suffered terrible damage. Afterwards, a relocation of city function and governance was an urgent issue to solve.
The Shinjuku area suffered from relatively scarce damage because it was a rural area and had firm ground compared to the Chiyoda district of Tokyo. So Shinjuku was targeted as a new place for residence and for a business district to relocate the capital function of Tokyo.
In 1960, "Shinjuku sub-center project" was announced to the public. This project was to decentralize Tokyo's urban function. Shinjuku (新宿), Ikebukuro (池袋), and Shibuya (渋谷) were called sub-centers of Tokyo. In Japanese, these three cities are called Fuku Toshin (副都心). "Fuku" (副) means "sub," and "Toshin" (都心) means "the center of Tokyo."
Before this project, industrial plants such as a cigarette plant and a camera and film production plant were there. For energy resources, a big gas tank of Tokyo gas company was also there to support the air conditioning in this area. These industries gradually disappeared and the image of the west Shinjuku was changing.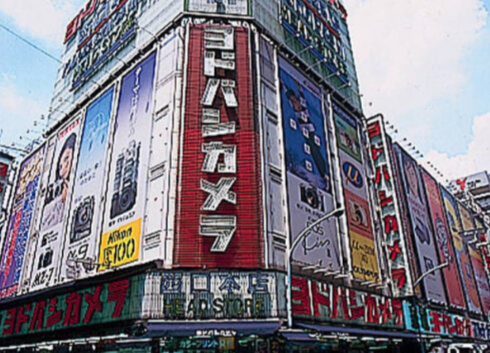 In 1985, a relocation of the metropolitan government office building was announced, and in 1991, a building designed by Kenzo Tange was completed and started acting as the government office. Then Shinjuku became Shin Toshin (新都心): a new central district of Tokyo.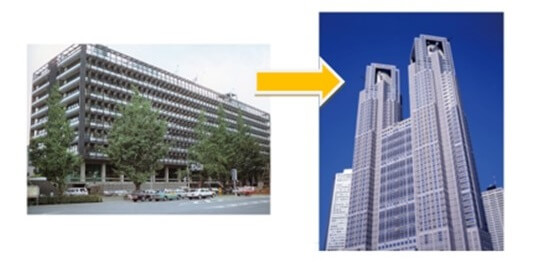 Now we can see a lot of skyscrapers in the west Shinjuku area, and among them, ten buildings are over 200 meters high. Can you imagine what was there before these skyscrapers were built?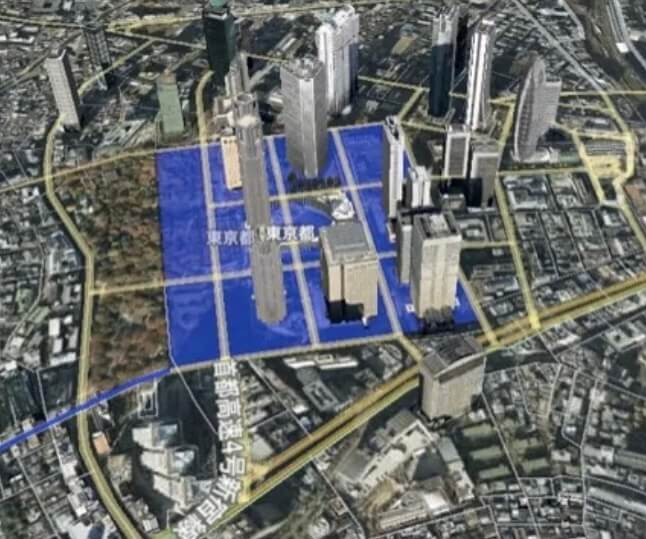 The blue area on the picture above was a Yodobashi water purification plant which was running from 1898 to 1965. After the announcement of the Shinjuku Sub-Center Project, this plant was closed and preparation for construction of high-rise buildings began.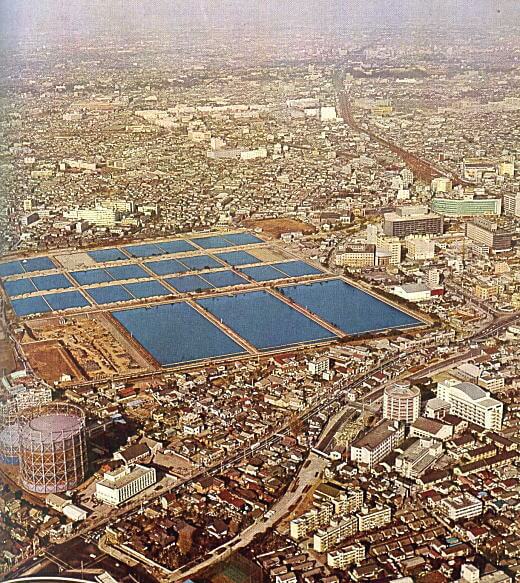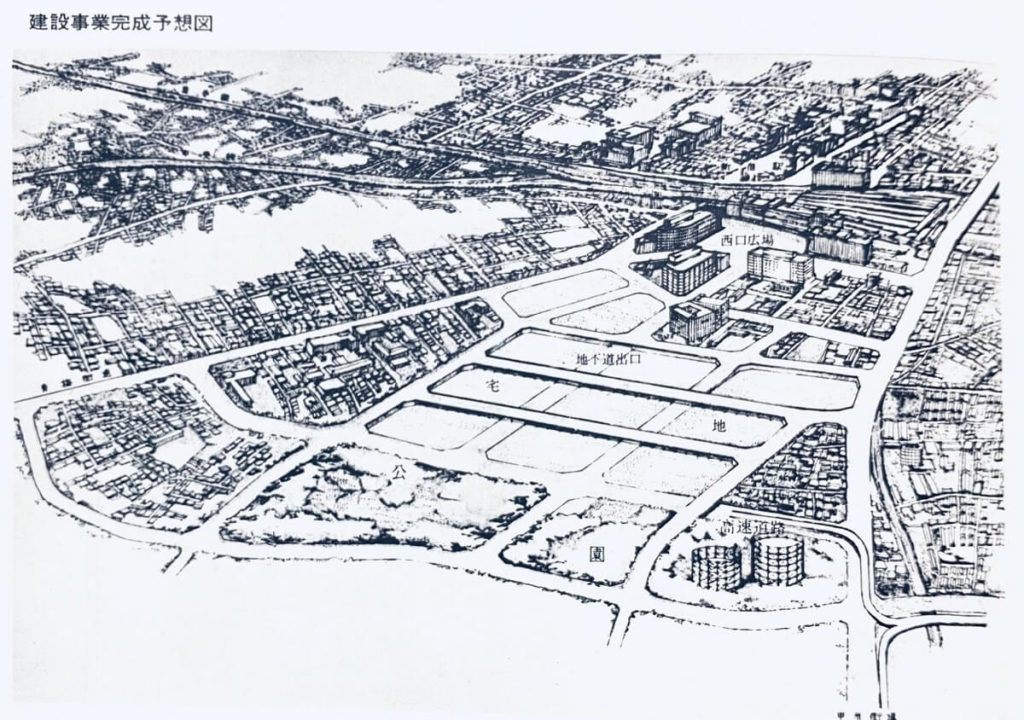 Based on the idea of relocation, which needed low-cost business space, and the intention of creating a new city which would attract many people, the construction of high-rise buildings started. At the same time, one of the basic ideas to reconstruct this district was to create pedestrian-vehicle separation to avoid heavy traffic jams.
It left a great impact on the people who live around the Kanto area and had changed the image of Shinjuku, which used to be a rural countryside.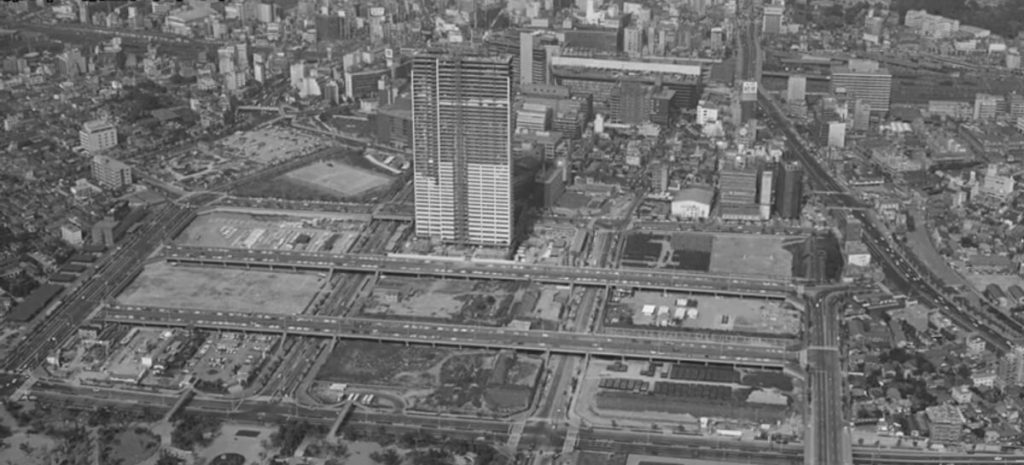 A Planned Business District with High-Rise Buildings

It took over 30 years to construct these high-rise buildings there. So this city district has been giving us various messages and leaving different impressions to each person. It looks like a giant pulse of Tokyo.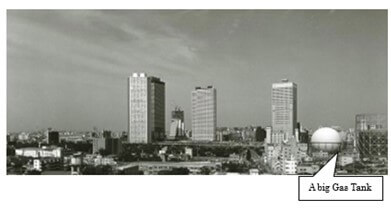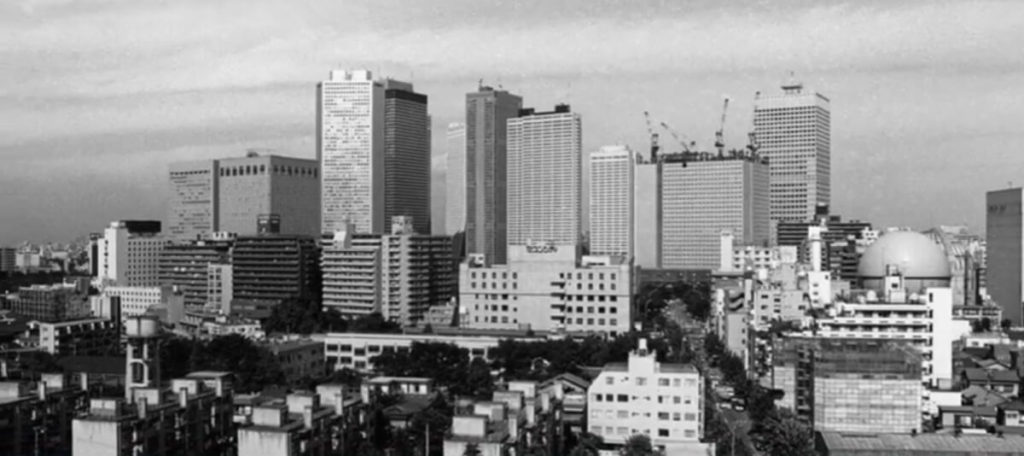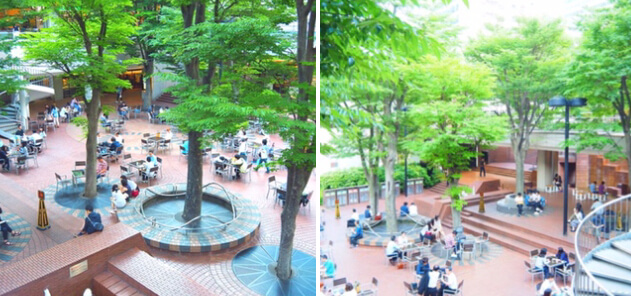 Please check this link to see construction of some of the skyscrapers!
https://youtu.be/laPU0bS8JOc
Future of West Shinjuku
Some more high-rise buildings are planned to be built in West Shinjuku. And some renovations are also planned or already completed because several buildings are over 30 years old and need to be repaired or reconstructed. Where is west Shinjuku heading? What will happen in Shinjuku in the next decade?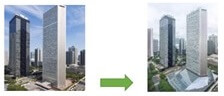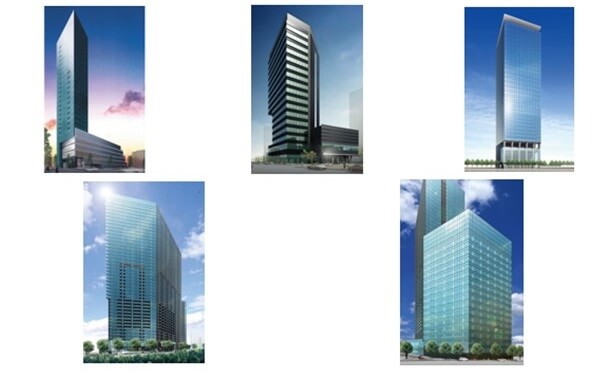 Conclusion
Shinjuku started as a post town and has been changing its appearance in many ways and acting as a representative of Tokyo, Japan. It is a tough task to catch up with its evolution. However, it is an exciting, entertaining, and somewhat overwhelming city.
For some reason, I will keep watching this city from a distance and accept its message. Shinjuku has been and always shall be a central part of Tokyo.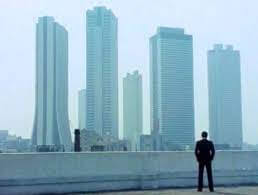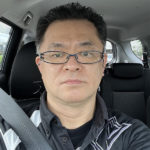 National Tour Guide (English), Eiken Grade 1, TOEIC A rank. Have been studying and teaching English for over 30 years.