If you visit Japan, you'll have a lot of places you'll want to go. You may want to go to some famous sightseeing spots, however, when you have time and want to walk around on a whim, I know the best spots to recommend. Today, I'll tell you about my neighborhood, Sumiyoshi.
Sumiyoshi Park (住吉公園)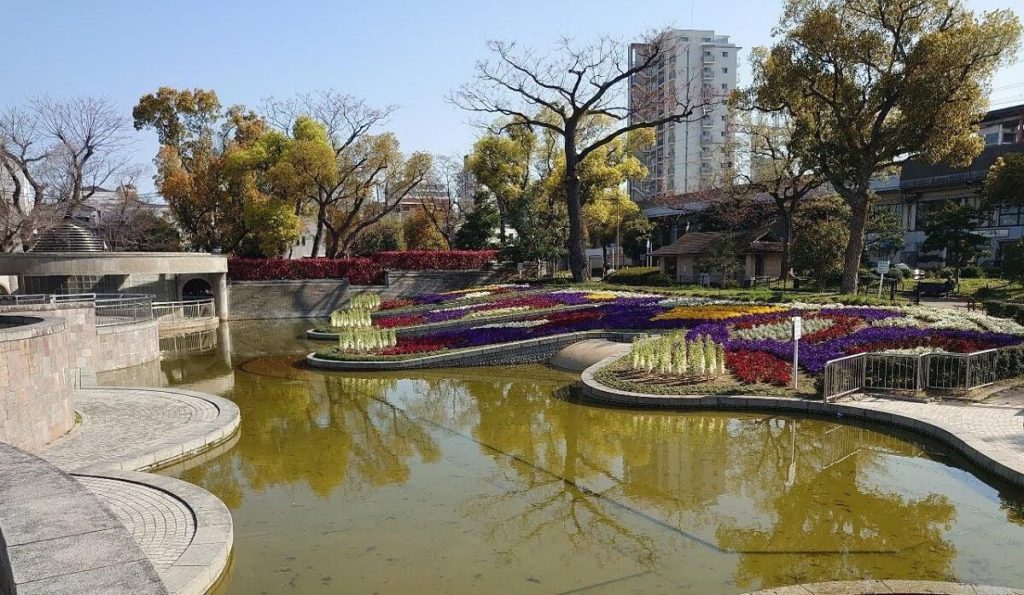 ~History~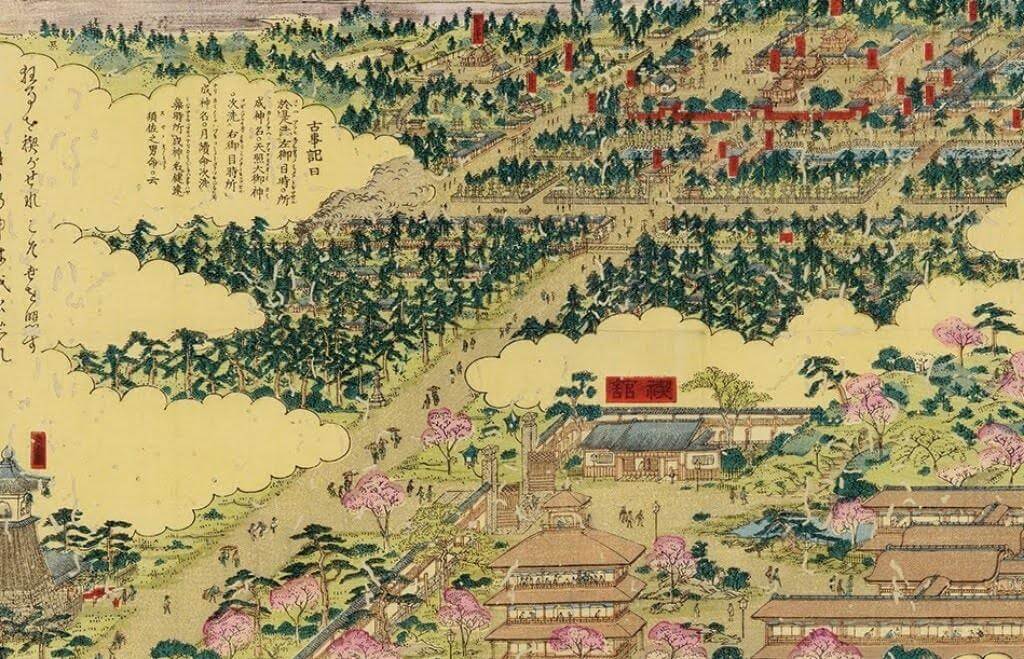 In the past, a beautiful beach with many pine trees spread out to the west of Sumiyoshi Taisha shrine. That port, where many big ships came and went, was a base of operations for Osaka merchants. Later, although it lost its function as a port, people still visited Sumiyoshi Taisha shrine and those who came to see the beautiful scenery never faded away. In the Meiji era, 1868-1912, Sumiyoshi park was created. Now it is a public park with a lot of sections, including flower gardens, a pond, tennis courts, baseball field, children's playground, etc. Sumiyoshi park is the oldest Osaka prefectural park, and it's a historical park which will mark its 150 anniversary next year, 2023.
~Map~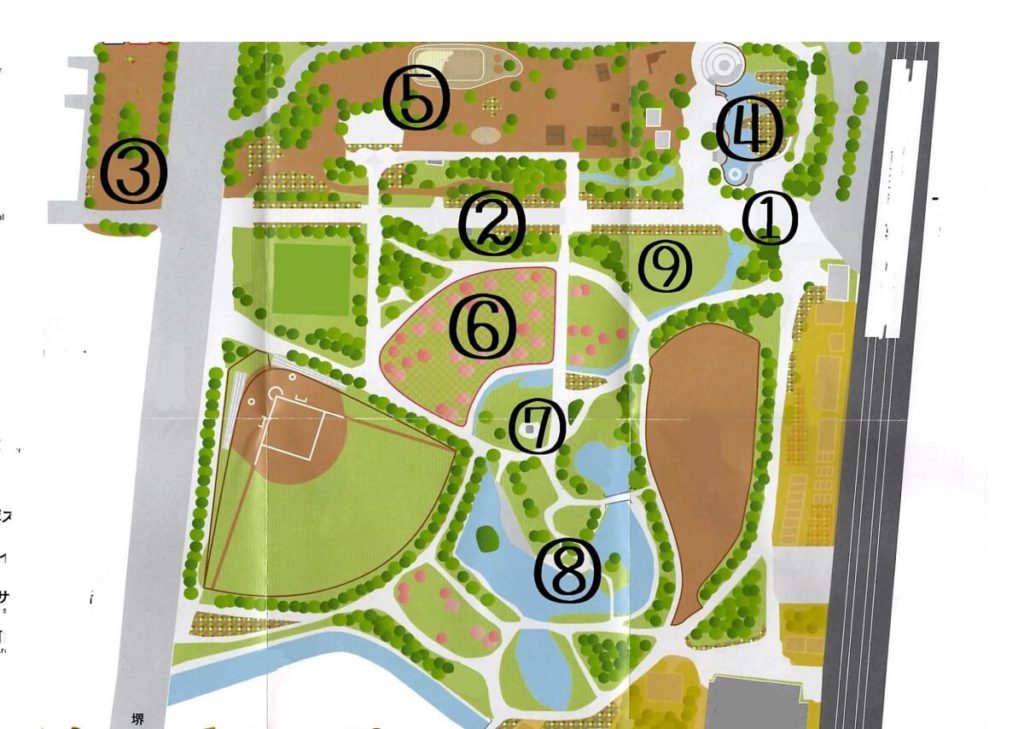 ①Komainu:狛犬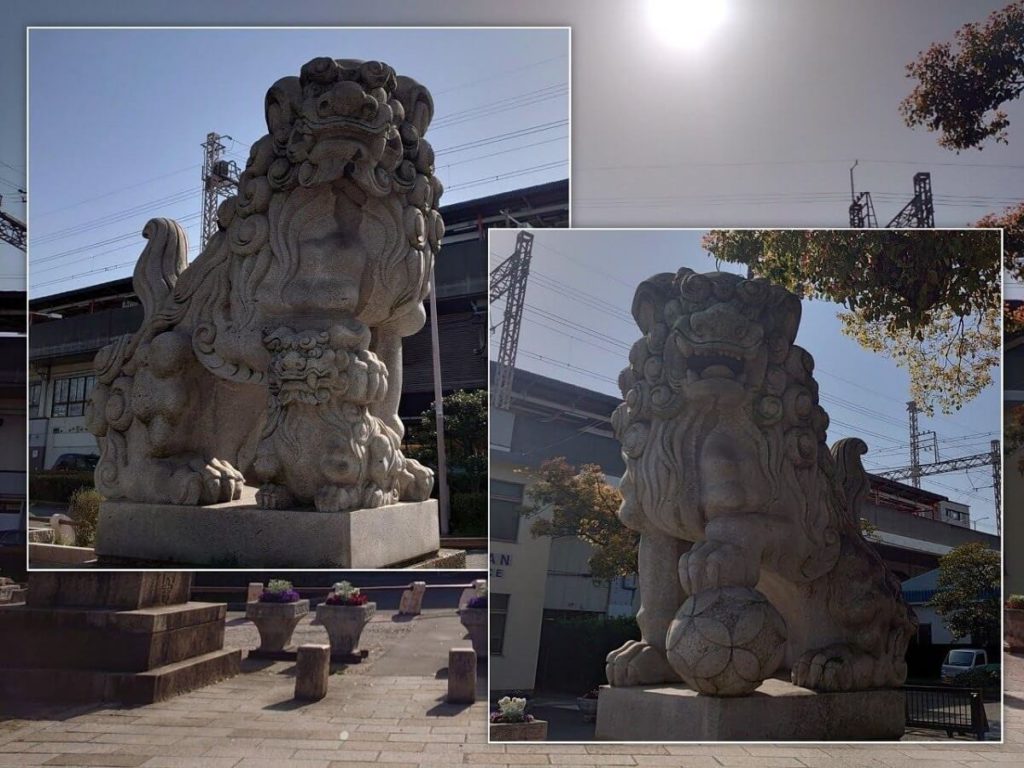 A couple of stately Komainu*1 are set to face towards the park at the east entrance. The tourou lanterns are standing here and there in this park. Usually, Komainu and lanterns are standing at a shrine. What do you think is the reason for them standing in the park? The reason is that this area was a part of the grounds of the Sumiyoshi Taisha shrine at that time. So these two Komainu are sitting at the back of this shrine to protect it.
*1: Komainu is considered a sacred animal and has served as an amulet to prevent evil spirits from entering the sacred space.
②Shiokakemichi:汐掛道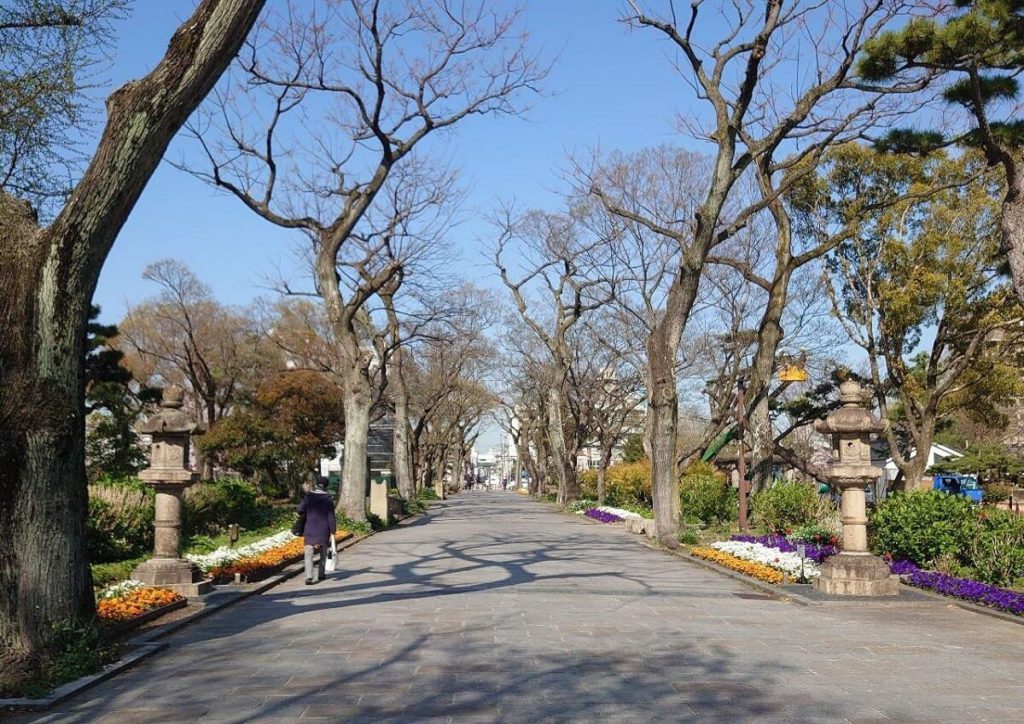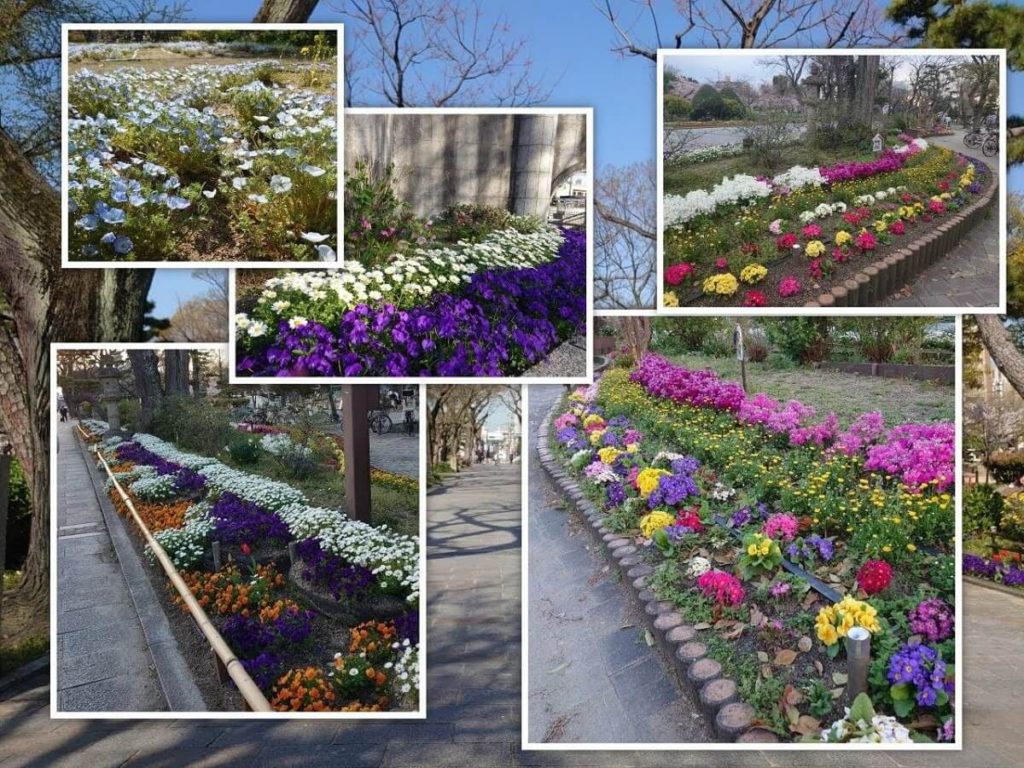 There is about 120m of cobbled street running from east to west in the middle of this park. It's called "Shiokake-michi". Originally, this street was in the front approaching Sumiyoshi shrine. Many kinds of flowers for all seasons are blooming beside this street, and it's called "Hana-Kairou:花回廊" which means flower road. You can see the monument of Matsuo Basho and the stone monument with the history of this park on it. It's really comfortable to walk in the shade here while listening to the sound of wind.
③Taka-tourou :高燈籠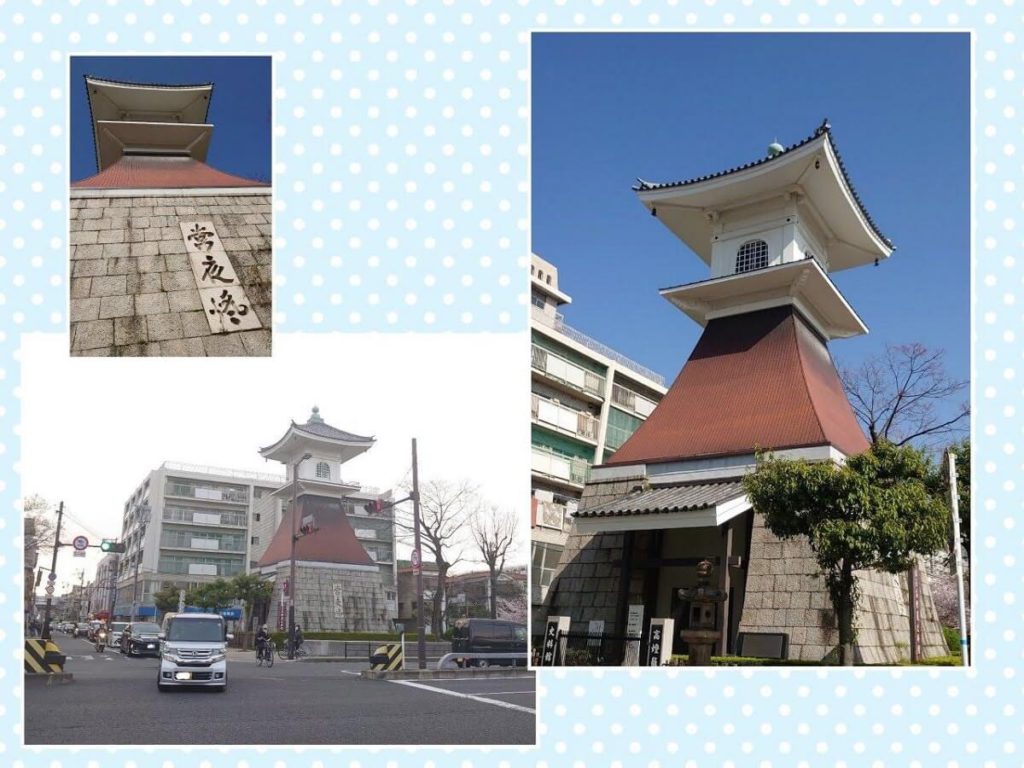 You can see a big night-lit lantern Jouya-tou:常夜灯) standing beside Route 26, when you face west on Shiokake-michi. It's called Sumiyoshi-Taka-Tourou. As mentioned above, this area has a harbor and a beautiful beach. This lantern is the oldest one with roots from the Kamakura era (1185-1333). Inside is a museum of its history.
④Botanical and Water garden:花と水の広場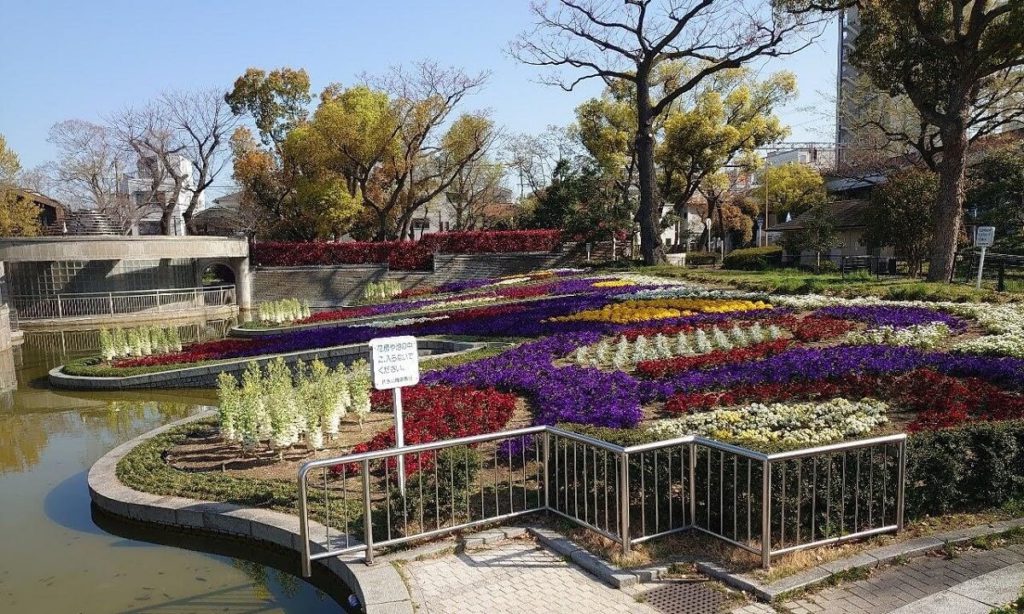 It is a square of flowerbeds integrated with a fountain. Flowers of each season are planted in a variety of colors, making it a place where you can enjoy beautiful flowers no matter what season you come. The water curtain can be viewed for 20 minutes three times a day, at 10:30, 13:00, 15:30.
⑤Children's Playground:子供の遊びの広場
There is a variety of playground equipment for children, but it is nice to see they have thoughtfully divided the equipment into areas that are age-appropriate for use. The bench area near the entrance of the park is a good place for elderly people to gather and enjoy playing Shogi (将棋), Japanese chess, or Igo(囲碁), Go, and is also a good place for socializing.
⑥Cherry blossom square:桜広場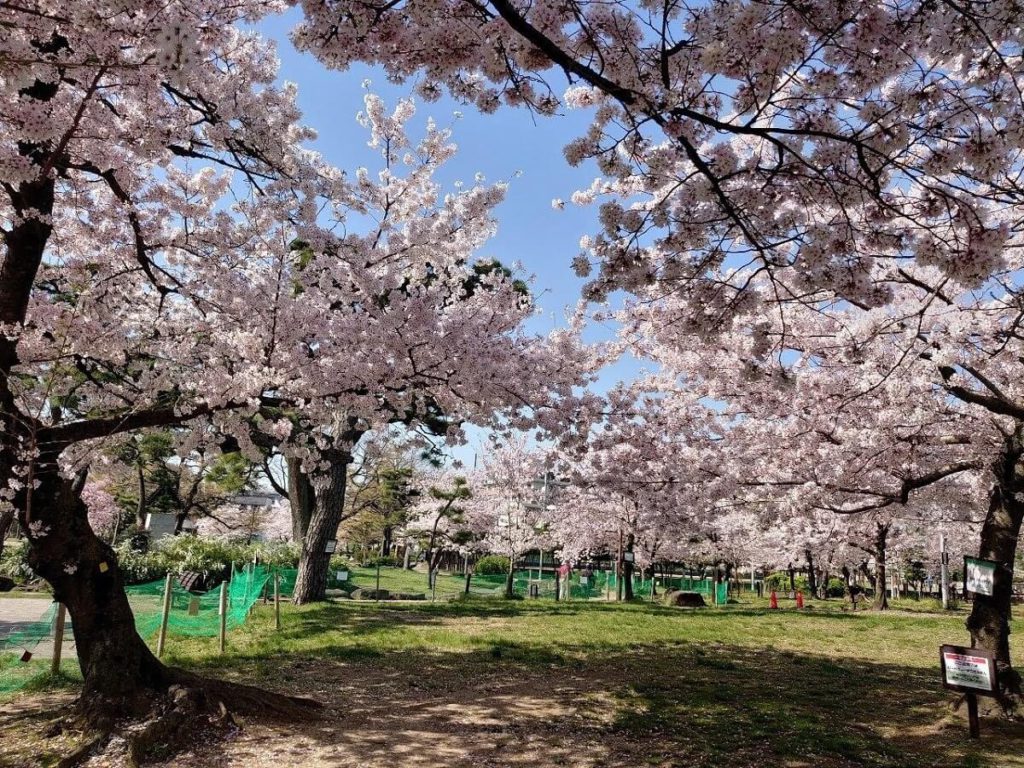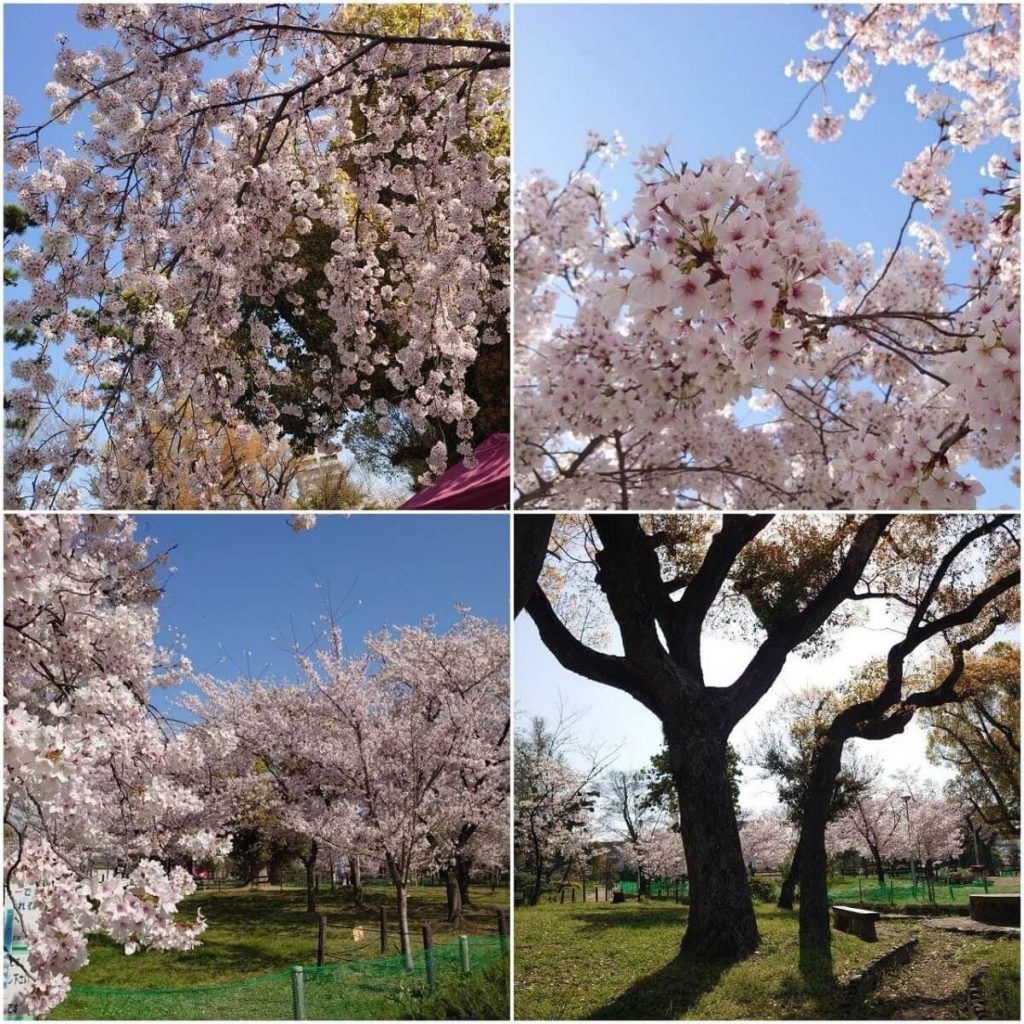 Many cherry trees are planted in the cherry blossom plaza, and many visitors come to see these beautiful cherry blossoms during the spring cherry blossom viewing season. There are several varieties of cherry trees planted, so visitors can enjoy a variety of cherry blossoms. The cherry blossoms seem to be less impressive now than they used to be ever since the Typhoon hit Osaka in 2018 and destroyed many of the cherry trees. But the cherry blossoms in full bloom are still spectacular!
⑦Radio Tower:ラジオ塔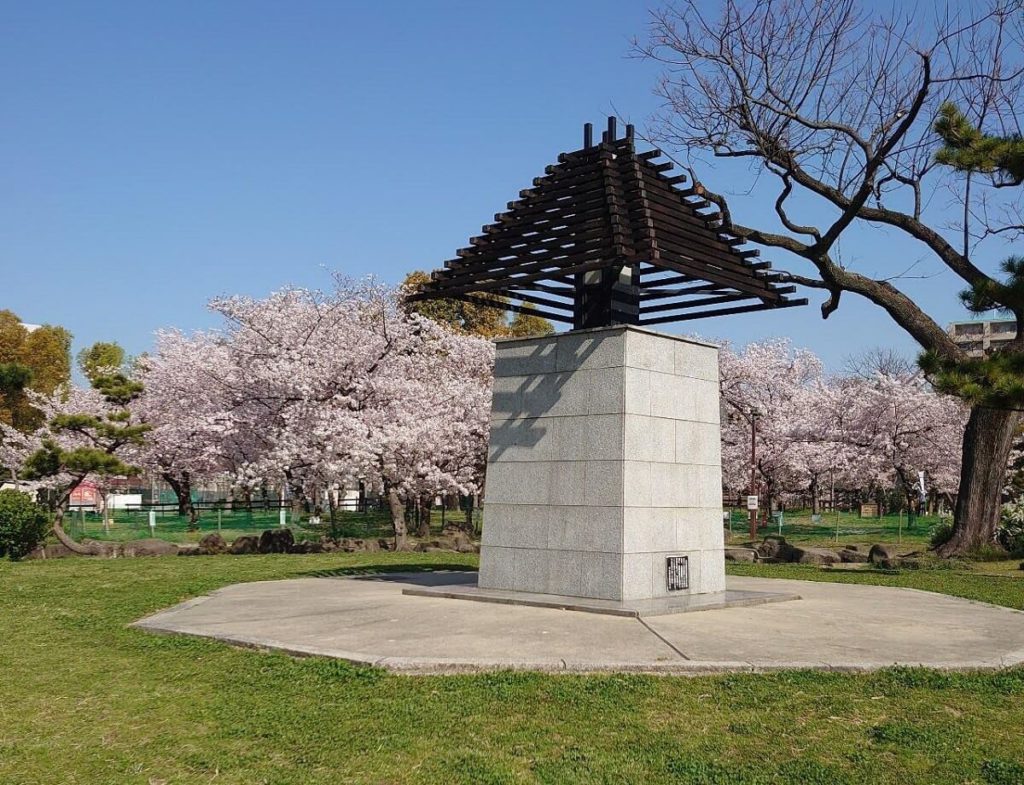 The oldest radio tower in Japan is located here. The current radio tower was rebuilt in 1993 to commemorate the 120th anniversary of the park. It is still used for radio exercises, which is a common morning exercise that lots of Japanese people do following along with the radio program. If you come here at about 6:30am, you will be able to have an enjoyable atmosphere where many local people gather early in the morning to enjoy the radio exercises.
How to Do "Rajio Taisou" Exercises – How To Japan
⑧Shinji-ike pond:心字池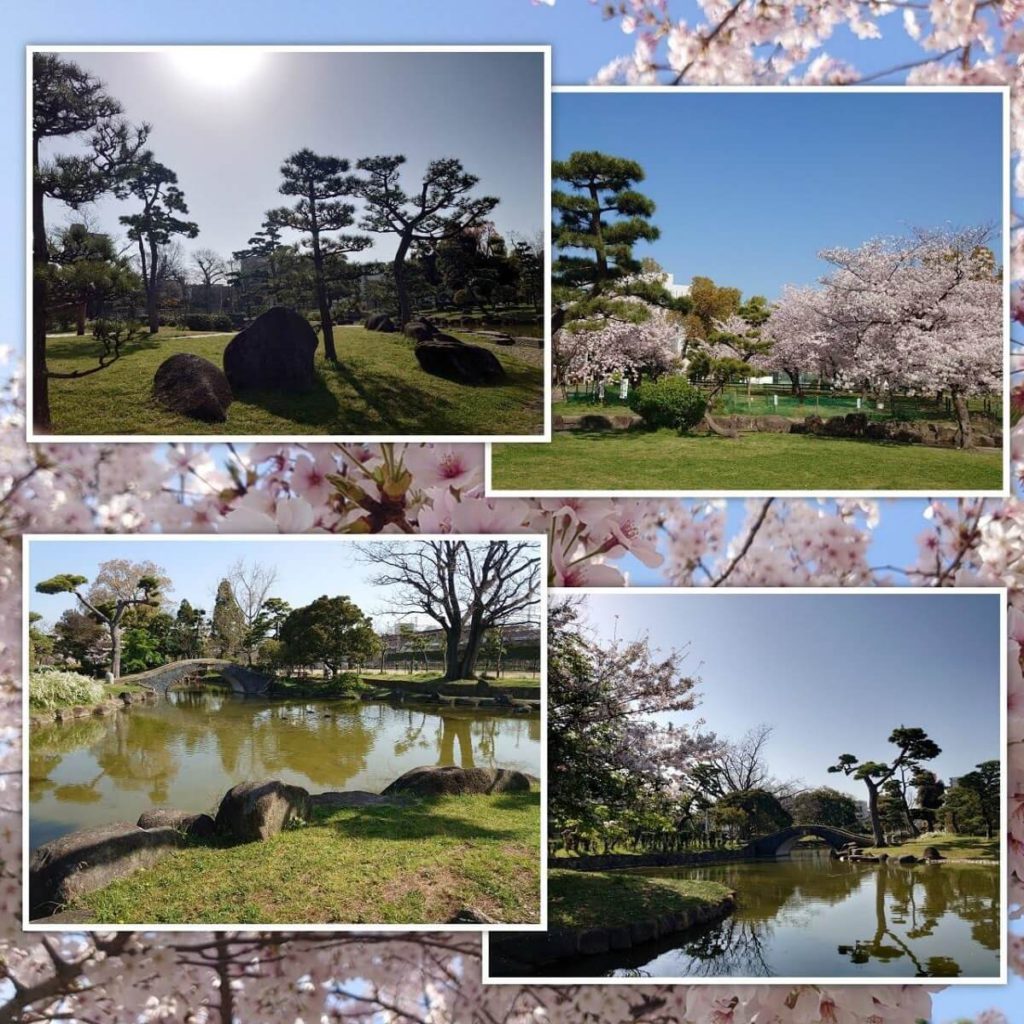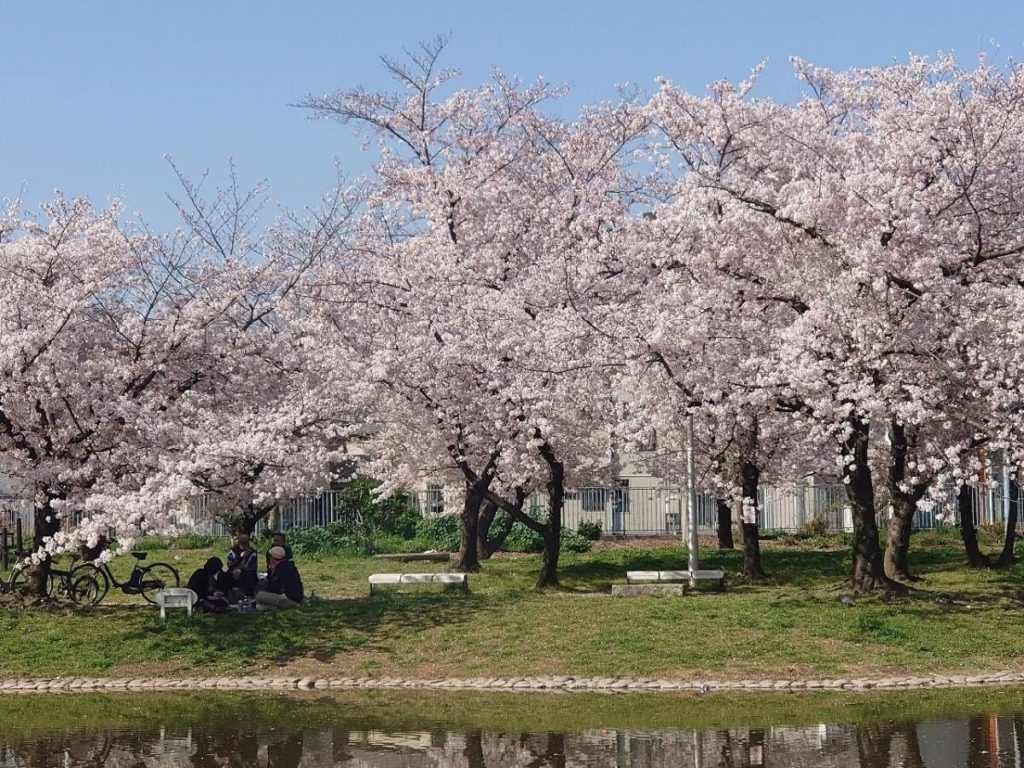 This area, with a pond named after the Kanji character for heart(心), is a Japanese garden with beautifully planted pine trees. There is a small stream, and this pond is home to many fish, shrimp, and other water creatures. It is a relaxing place to walk your dog, read a book, or take a nap.
⑨Information center:公園管理事務所
Here you will find details on the flowers that bloom in Sumiyoshi Park. Bicycle rental service is also available, allowing visitors to rent bicycles for free and explore the park. While Osaka has good transportation, it is also fun to explore the city by bicycle. This is a service that we hope you will take advantage of.
Sumiyoshi park
https://www.toshi-kouen.jp/staticpages/index.php/sumiyoshi_top
Sumiyoshi Taisha Shrine(住吉大社)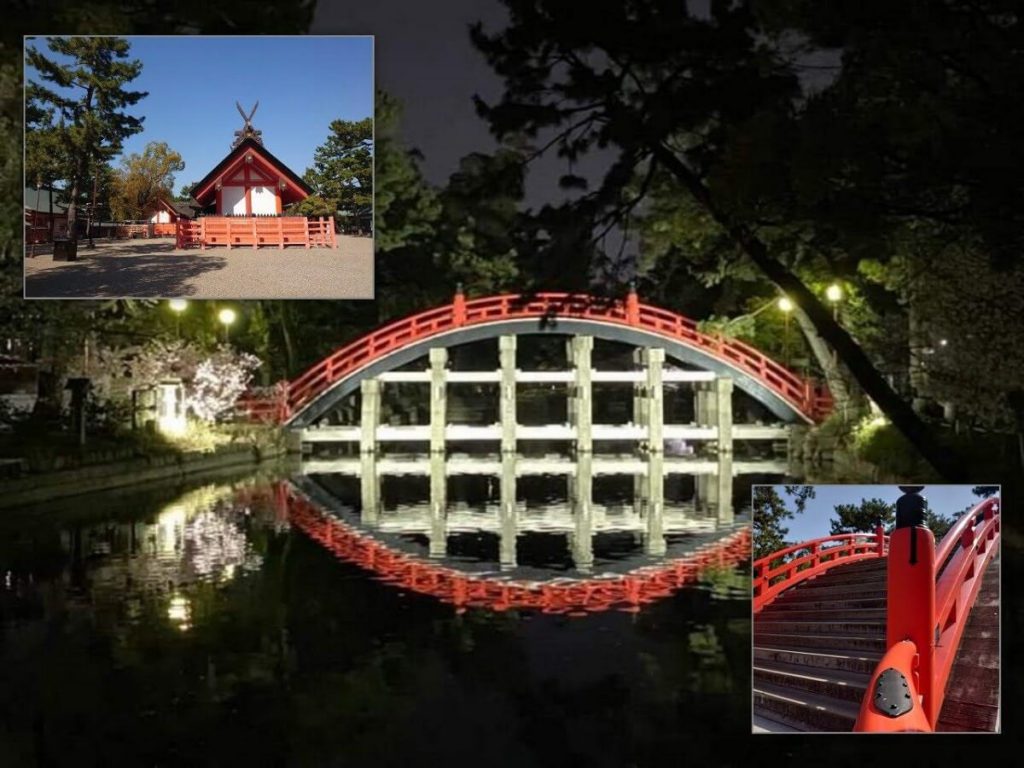 Walking east from Sumiyoshi Park, you will find the Nankai Railway Sumiyoshi Taisha Station. Go past it.
Further east is the famous Sumiyoshi Taisha shrine. It is the head shrine of about 2,300 Sumiyoshi shrines in Japan. There are many places of interest at Sumiyoshi Taisha Shrine, which are introduced on its website, but today I would like to introduce three of them.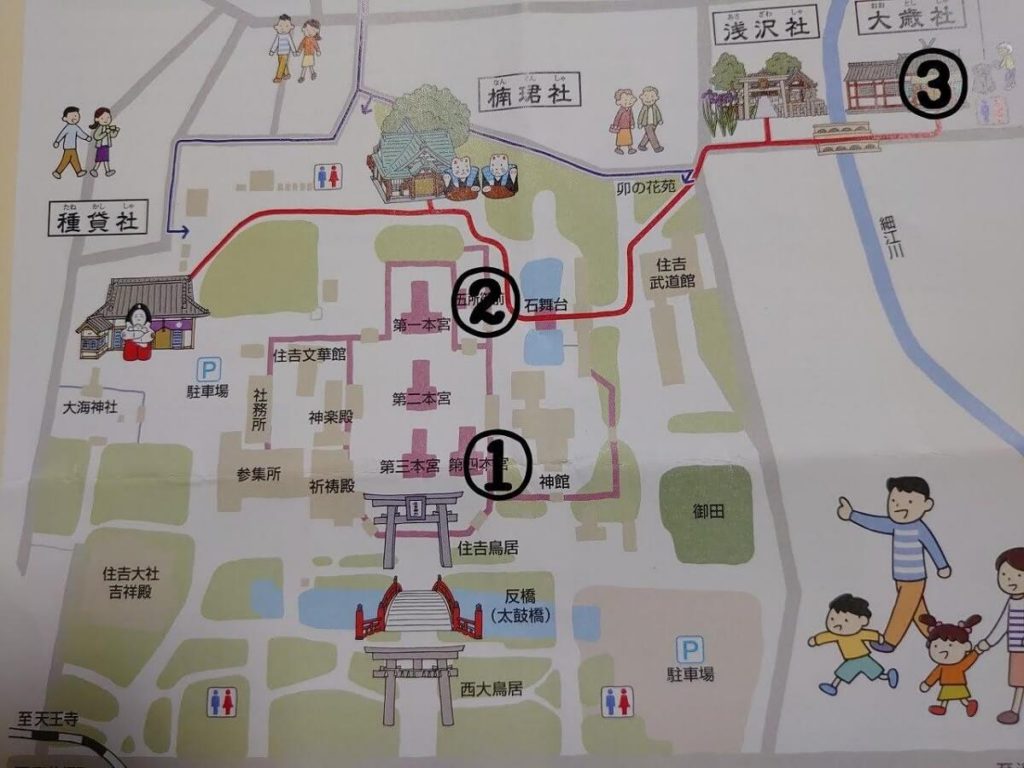 ①Sumiyoshi-Usagi:住吉神兔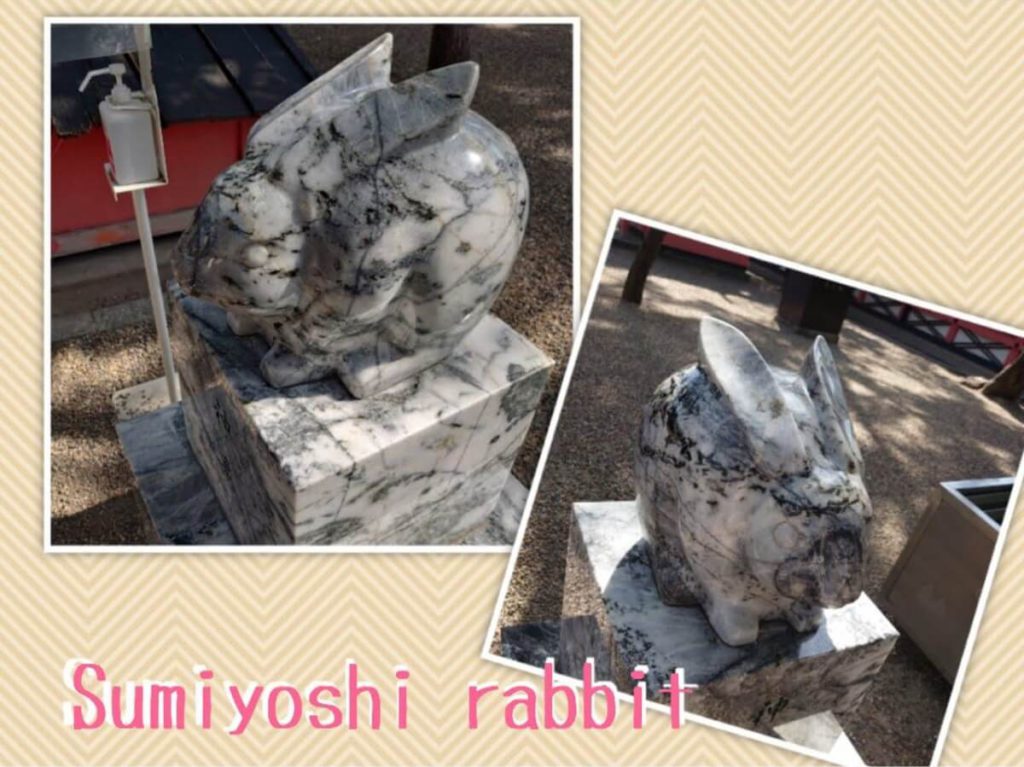 Sumiyoshi-usagi are called Nade-usagi "なでうさぎ". At Sumiyoshi Taisha shrine, rabbits are considered to be messengers of the gods. You can pray for good luck and health by stroking this Nade-usagi made from jade.
②Godairiki:五大力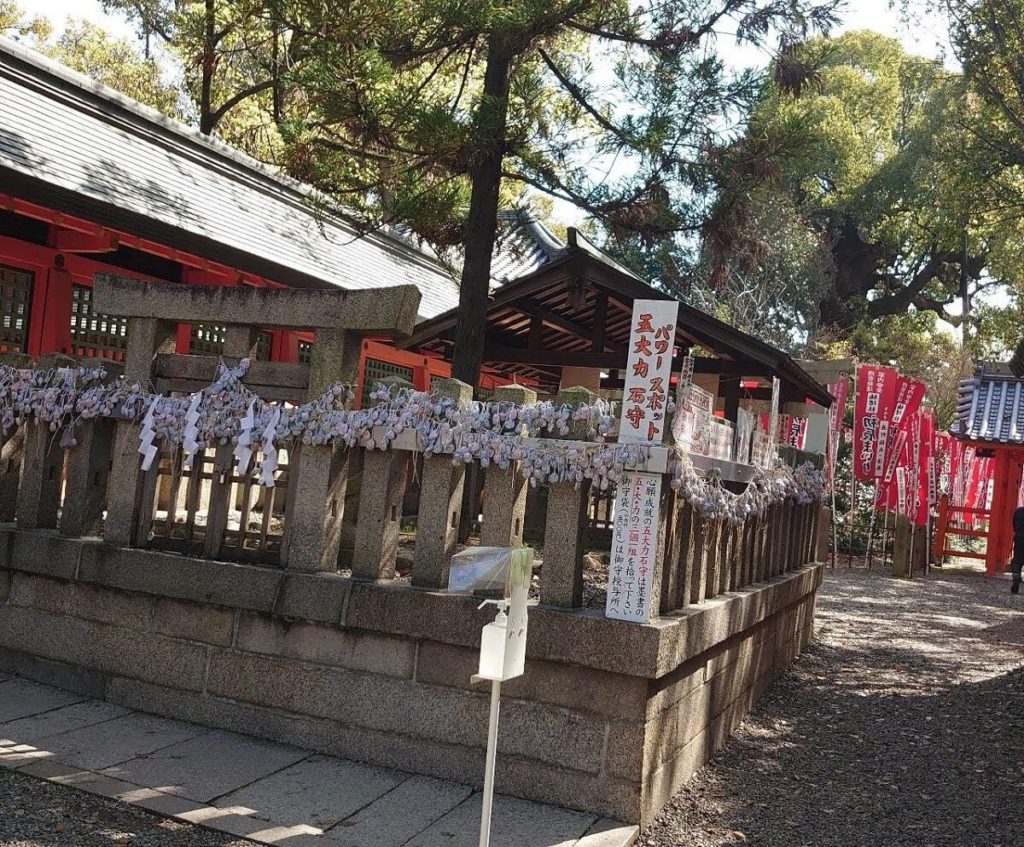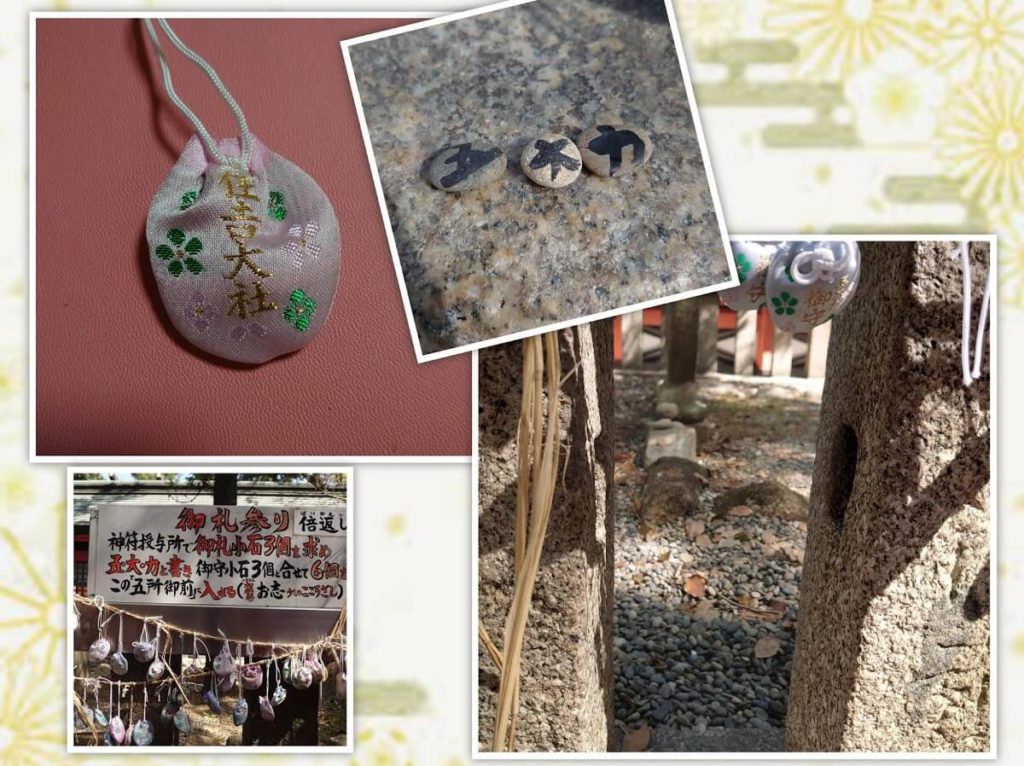 Gosho-Gozen is one of the areas full of spiritual energy. There is a place covered with a lot of pebbles, surrounded by stone pillars in front of Gosho-Gozen. It said that your wish will come true if you look for these three stones written with the Kanji characters "五(five):Go", "大(big):Dai", "力(Power):Riki", called "Godairiki" on them, and keep them as a lucky charm. Godairiki means "5 powers", which are stamina, intelligence, wealth, happiness, and vitality. Would you like to get them? When your wish is fulfilled, write down the words "五, 大, 力" and pay back double with the stone you picked up! We double the happiness we have received and give it back. It will make someone else happier. How wonderful!
③Omokaru-ishi:おもかる石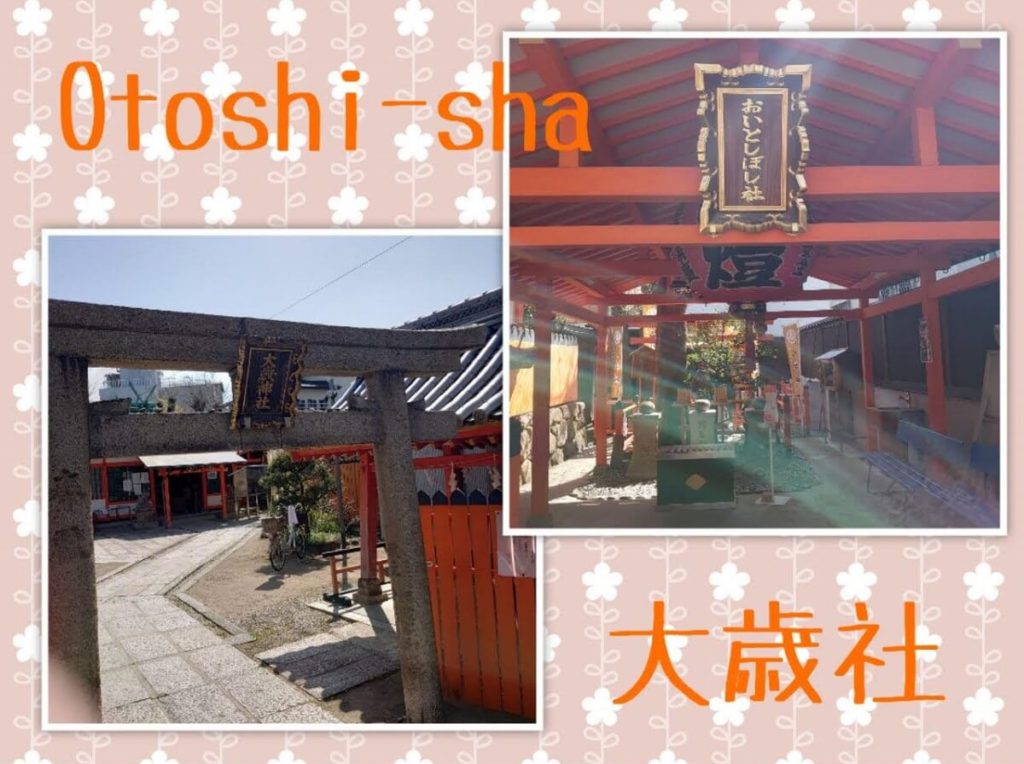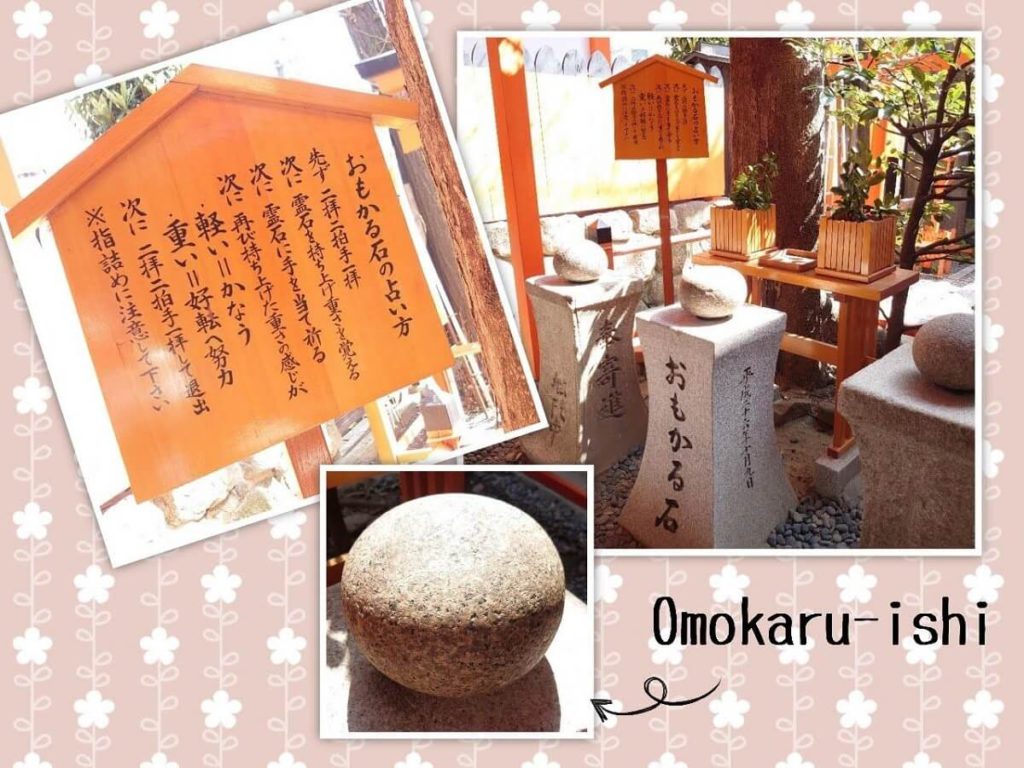 Sumiyoshi Taisha Shrine has a number of shrines nearby and on its grounds that are closely associated with the shrine. One of them is the Otoshi Shrine, located a few minutes walk away outside of Sumiyoshi Taisha shrine. The origin of this shrine is shrouded in mystery, and it is said that a meteorite that fell from the sky was enshrined as a guardian deity for wishes. The Omokaruseki is a sacred stone that is used to divine whether or not a wish will come true. To find out, lift up the sacred stone to feel its weight, place your hand on the stone, pray, and lift it up again. If the stone is lighter, the wish comes true. If the weight does not change, the message is that you still need to make an effort.
Sumiyoshi Taisha shrine
https://www.sumiyoshitaisha.net/en/

Youtube Sumiyoshi Taisha shrine
https://youtu.be/bfT6JteFR34
Are you interested in them? There are many sightseeing places in the Sumiyoshi neighborhood. Please try to go to these places I recommended. I'm pretty sure you will love them. Thank you for reading until the very end. See you next time.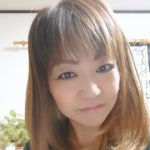 I'm a clay artist, and have my own shop in Ikaruga town, Nara, which is near Horyuji temple: world heritage site. And I'm a volunteer English tour guide there. I enjoy learning English everyday.