When you hear Japanese Traditional Crafts "Dentou Kougei" (伝統工芸), what items or techniques come to mind? There are various traditional crafts called "Kougeihin" (工芸品) in Japan, such as Kokeshi dolls which are popular Japanese souvenirs, textiles and dyed products used for kimono, glass work, wood work, and even buddhist altars. Today, I will explore those certified traditional craft products called "伝統的工芸品" and also some of Okinawa's traditional textiles.
What Are Traditional Crafts?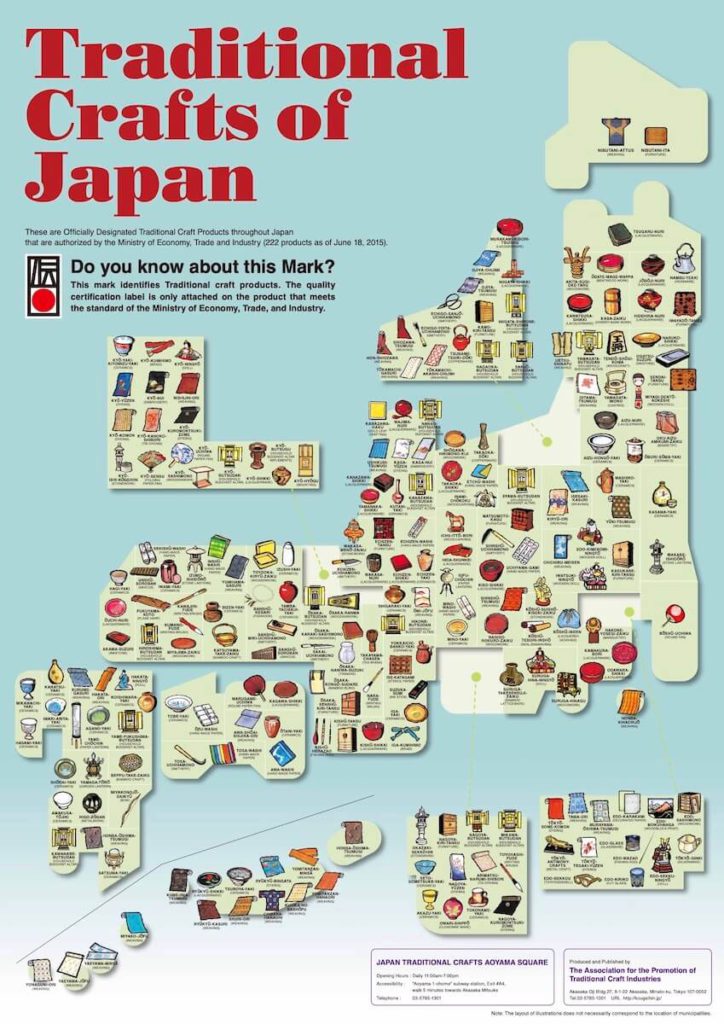 "Dentou kougei" (伝統工芸) refers to crafts and also techniques that have been passed down for many years. All of these are called dentou kougei and there are about 1300 types of traditional crafts nationwide. Furthermore those which meet the conditions are recognized as "Dentou teki kougei hin" (伝統的工芸品). A total of 237 items have been officially registered by the Minister of Economy, Trade and Industry as of 18 March, 2022. The official label is usually displayed on the items for recognition.

Criteria
The five criteria for Traditional Craft Products are as follows:
The craft item must be used mainly in daily life.
The main part of the manufacturing process must be done by hand.
The craft item must be manufactured by traditional techniques having a history of over 100 years.
The main raw materials must be those that have been traditionally used.
The craft item must be manufactured in a certain area and needs to be engaged by many people.
Categories
The most registered items are textiles with 38 woven and 13 dyed items, the second is wood or bamboo crafts with 33 items, and the third is ceramics with 32 items by category. I know you are also interested in other categories. The number in parentheses shows the number of items.
The certified traditional craft products are sorted into fifteen categories that include: Woven textiles(38), Dyed textiles(13), Other fiber products(5), Ceramic(32), Lacquerware(23), Wood/bamboo crafts(33), Metal works(16), Household buddhist altars(17), Traditional Japanese paper(9), Writing tools(10), Stonework(4), Semi Precious stone craftwork(2), Dolls and Kokeshi dolls(10), Other crafts(22), Industrial art materials and tools(3).
Which Prefecture has the Most Registered Items?
All prefectures have certified traditional crafts, but which do you think has the most? I would say the highest ranked places are popular destinations. First place is Tokyo with 18 items and second is Kyoto with 17 items. Third place has 16 items for which Okinawa and Niigata are tied. Products from Tokyo, Kyoto, and Niigata include various categories though in my place Okinawa, 13 out of 16 items are textiles.
Traditional Crafts in Okinawa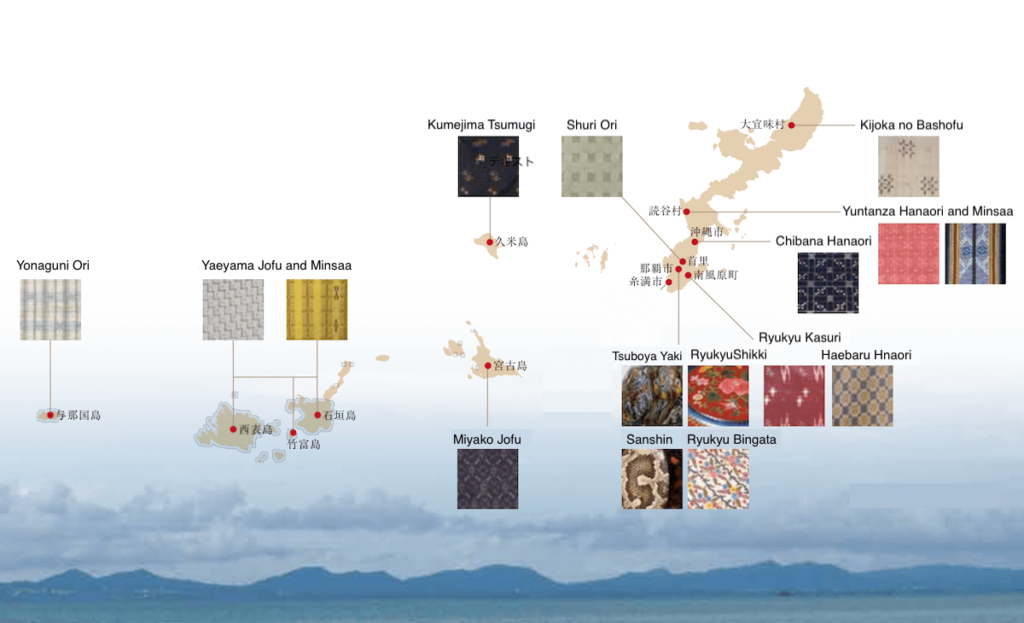 There are 16 items that have been designated in Okinawa. Tsumugi is pongee, Fu means fabric and Jofu represents high quality fabric, Ori means weaving, Hanaori represents a pattern of weaving, and Minsaa represents a narrow sash used for kimono. Now, you'll be able to find many types of woven textiles in the list below.
KUMEJIMA Tsumugi (久米島紬) pongee
MIYAKO Jofu (宮古上布) fine ramie fabric
YUNTANZA Hanaori (読谷山花織) silk/cotton textile
YUNTANZA Minsaa (読谷山ミンサー) cotton textiled sash
TSUBOYA Yaki (壺屋焼) pottery
Ryukyu Kasuri (琉球絣) splashed pattern fabric
SHURI Ori (首里織) silk/cotton/ramie/banana fiber textile
Ryukyu Bingata (琉球びんがた) Okinawan dying technique and fabric
Ryukyu Sikki (琉球漆器) lacquerware
YONAGUNI Ori (与那国織) silk/cotton/ramie/banana fiber textile
KIJOKA no Bashofu (喜如嘉の芭蕉布) banana fiber fabric
YAEYAMA Minsaa (八重山ミンサー) cotton textiled sash
YAEYAMA Jofu (八重山上布) fine ramie fabric
CHIBANA Hanaori (知花花織) cotton/silk textile
HAEBARU Hanaori (南風原花織) silk/cotton/ramie textile
Sanshin (三線) stringed instrument
History of Crafts from Okinawa
Okinawa was an independent Kingdom for 450 years from the 14th to 18th centuries. They established a unique traditional culture through trade with Japan, China and other Asian countries. Crafts in Okinawa have evolved by incorporating the good aspects of crafts from other countries and their greatest feature is the diversity influenced by various cultures of Asia. They were inherited and developed throughout Okinawa from the Ryukyu Kingdom era through to modern times.
In addition, there was a poll tax system in the Ryukyu kingdom after the invasion and under the control of the Satsuma Domain (薩摩藩), current day Kagoshima prefecture, of Japan. Many fine fabrics called "jofu" (上布) for kimono were woven in small islands as a form of tax, and were presented to high ranking people. So the cloth had to be beautiful and required advanced techniques. As a result jofu was so valuable that only a few people could wear it.
Poll tax is a very strict tax system in which people have to pay a fixed amount of money per person regardless of their income, age, gender, etc.
This method was practiced not only in Ryukyu but also in Japan at that time, but the one taken on the small southern islands such as Miyako island and Yaeyama islands were particularly strict. Men paid the tax with crops and labor, and women had to pay with woven textiles and labor as well. It was very rare to impose taxes on women at that time. They wove under surveillance of government officers from early in the morning to night. From the year of 1637 to 1903, for 266 years, people living on those islands had to pay poll tax even after Ryukyu Kingdom became Okinawa Prefecture in 1879. I can say that these long periods of the strict system improved weaving skills on the islands.
"Jofu" (上布), fine kasuri-pattern fabrics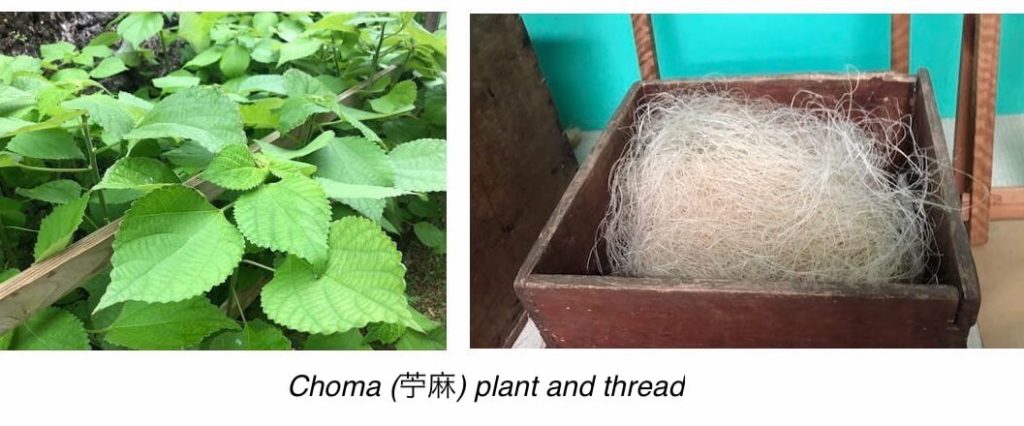 I've already mentioned how their techniques on jofu have improved, so now let me introduce two types of jofu from the traditional crafts of Okinawa.
It takes approximately fifty days to make the warp (parallel) thread and forty days to make the weft (perpendicular) thread, so more than three months are required to spin up enough thread for one roll of the textile or one piece of kimono. The fibers for the threads of jofu are pulled out from the "choma" (苧麻) plant by hand. Choma, a kind of ramie, belongs to the nettle family and is a perennial plant. It has been native to Okinawa and grows in approximately forty days and can be harvested around five times a year. The fabrics woven from these threads have a good air permeability and are strong enough to last over generations.
Miyako jofu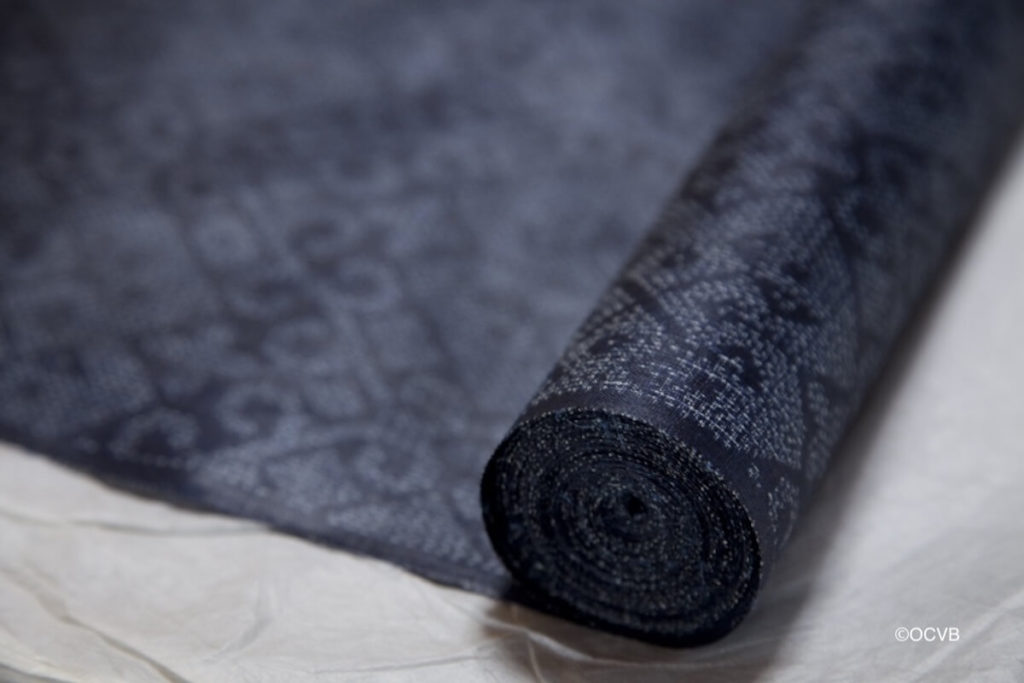 Being dyed with Ryukyu indigo, native to Okinawa, Miyako jofu has a fine kasuri pattern, and a smooth, lustrous texture. They are produced on Miyako island. The warp thread is repeatedly dyed with Ryukyu indigo using the tie-dyeing method, and is formed with more than 1120 threads. When weaving a fabric, a turtle shell or flower pattern appears as kasuri patterns. Weaving takes at least three months. From being hammered for about three hours, which is the final production step, the cloth gains a soft and wax-like texture.
Miyako jofu is one of Japan's three major fiber textiles. As a high quality indigo-dye textile, it has been designated as an Important Intangible Cultural Asset of Japan. It is valuable even today and a kimono made of Miyako jofu costs a few million yen. 
Yaeyama jofu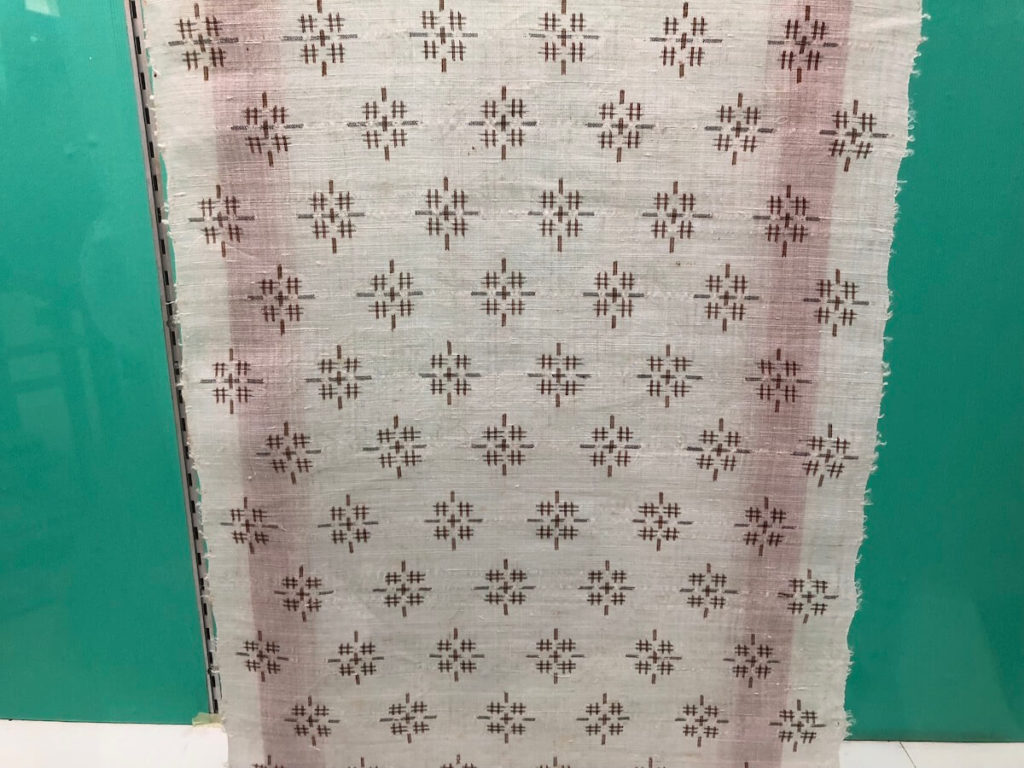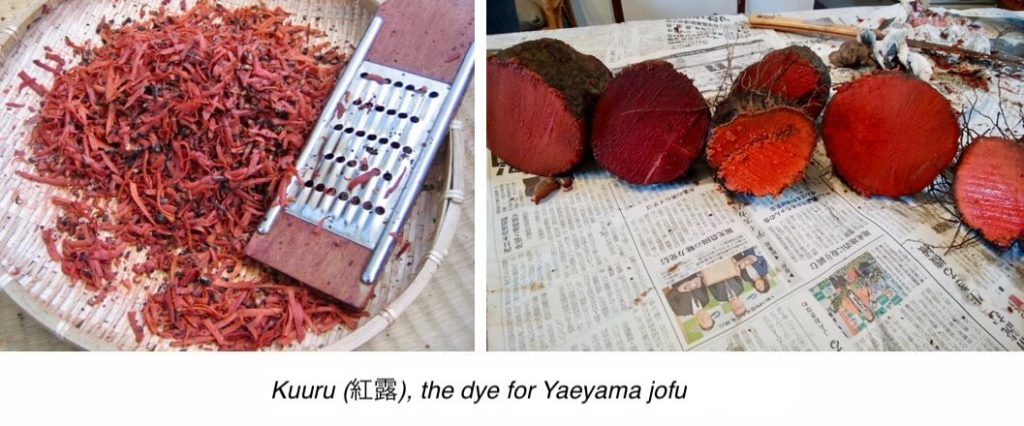 Yaeyama jofu is the only fabric in Okinawa that uses a rubbing and printing technique, and its base is white with dark brown kasuri patterns. They are produced on Ishigaki island and the Yaeyana region. The dye used for this fabric comes mostly from the plants grown on the island, for example, kuru (a kind of yam found in Okinawa), fukugi tree, mangrove tree, acacia confusa, and indigo. After the fabrics are woven, they are dried in the sun for about ten days and then soaked in the sea for five hours, which is unique to Yaeyama jofu. These processes remove impurities from the fabric. The intense sunlight deepens the color and the seawater makes the white become lighter, making the kasuri patterns look even more vivid. The kimono made of Yaeyama jofu is full of the blessings of nature.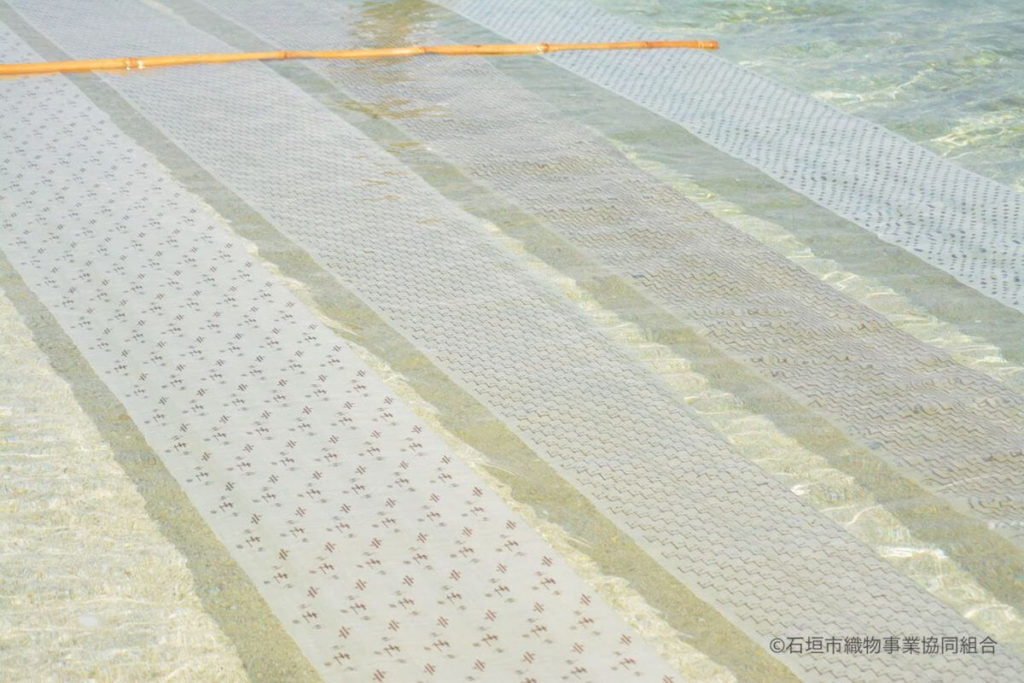 Other traditional crafts of Okinawa
The traditional crafts of Okinawa have features of each region, and have their own historical and cultural backgrounds. You can find a lot of techniques locally rooted to the climate of Okinawa. They are really interesting and I wonder if I could introduce other wonderful products someday in another article.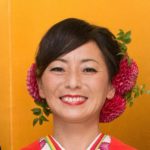 Diving instructor, tour conductor, and officially licensed Okinawan interpreter and tour guide. Yuka was born in Hiroshima but graduated from the Institute of Technology in Tokyo. After a few years of working as an engineer in Ibaraki, she settled down on a southern island called Ishigaki, which is located between Okinawa and Taiwan. For over 15 years, Yuka has been a guide and interpreter between nature and people. She is interested in cats, dolphins, traveling, spacecrafts, MARVEL, and Disney.