If you want to see night views in the Kansai region, we all recommend you see the night view from the top of Mt. Rokko. It seems to be in the top three night views in Japan. However, I dare to recommend two other places if you come to Osaka. Today, the places I'll tell you about are totally different types of the picturesque night views. One is simply to have fun. The other one is a place for you to go with courage and determination. First, let's start with the fun one!
Sakai Senboku Waterfront Industrial Zone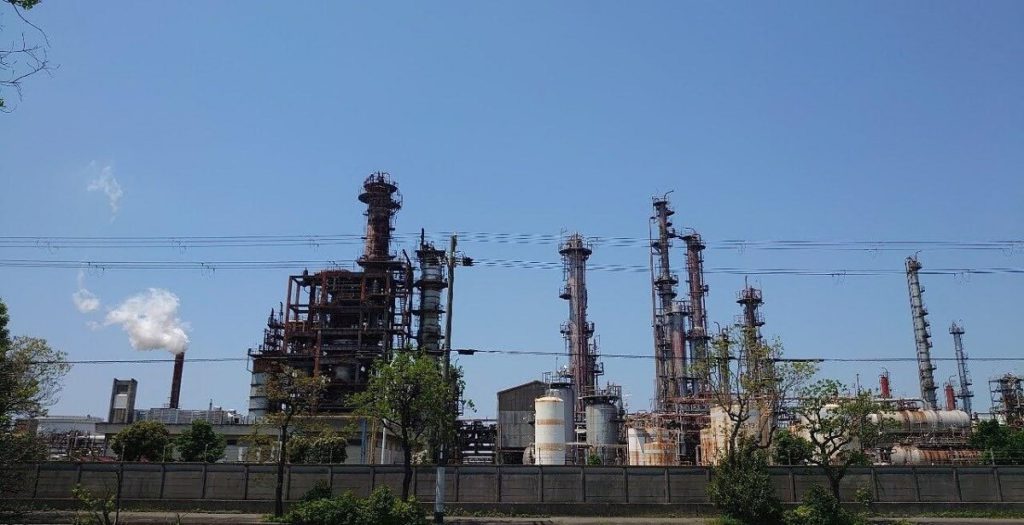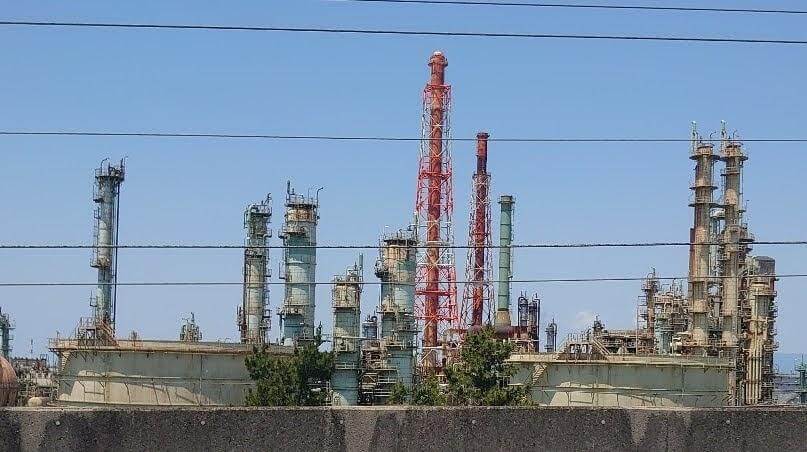 When you land at Kansai International Airport, if you are taking a limousine bus, you will be heading for Osaka along the Hanshin Expressway Bayshore Route.
The Sakai-Senboku Waterfront Industrial Zone, located in Sakai City and Takaishi City in the south of Osaka Prefecture, is densely packed with many large factory plants. If you take the Bayshore Route during the daytime, you will see only an old factory area spreading out. It is hard to imagine that this is a place with a great night view. However, once the sun goes down, this place changes completely. If you want to enjoy the night view, it's best to have someone else drive you. Once you see the fantastic night view, you will definitely want to see it again, as if you are watching a scene from a sci fi movie unfold before your eyes.
The Factory Night View Tour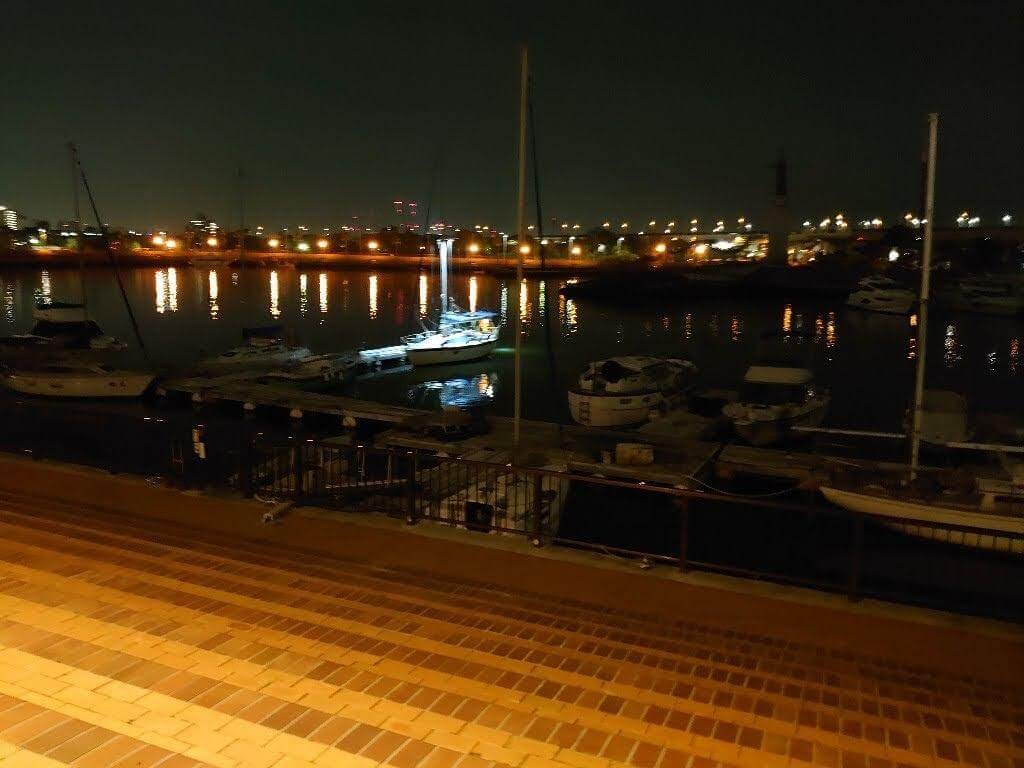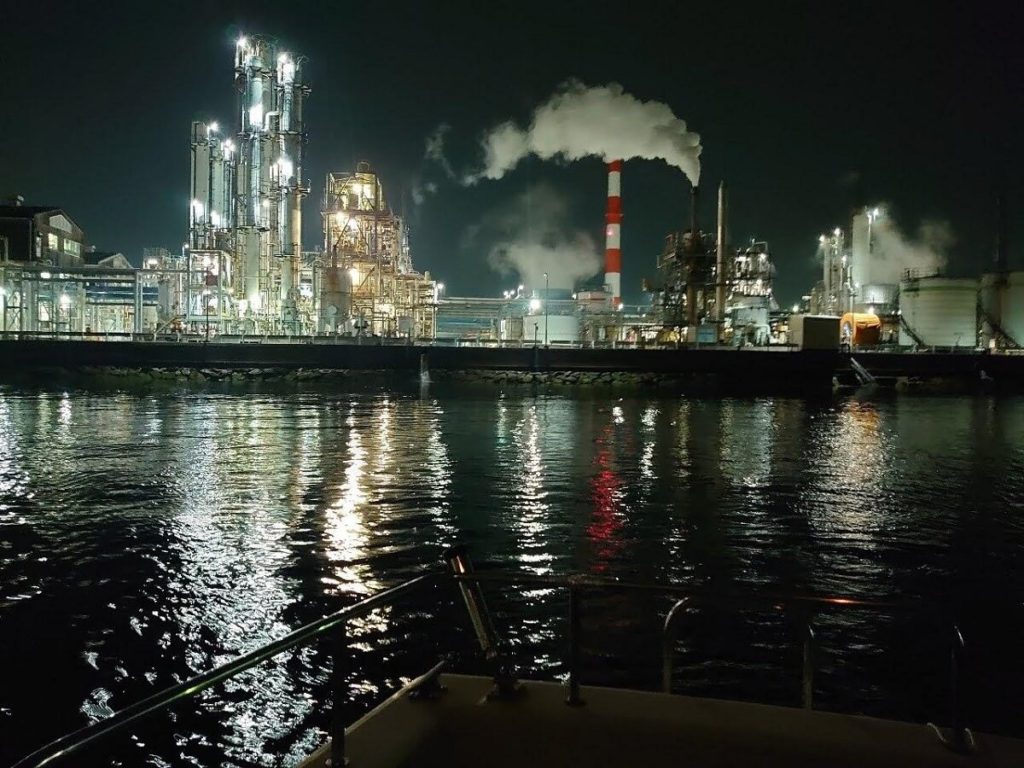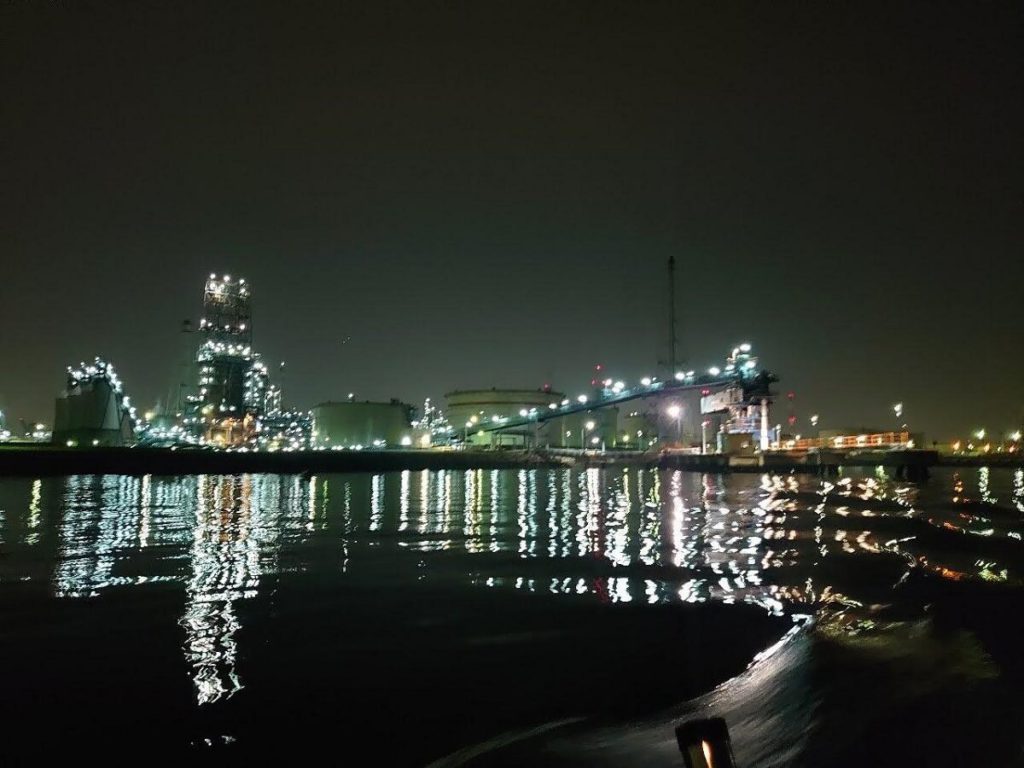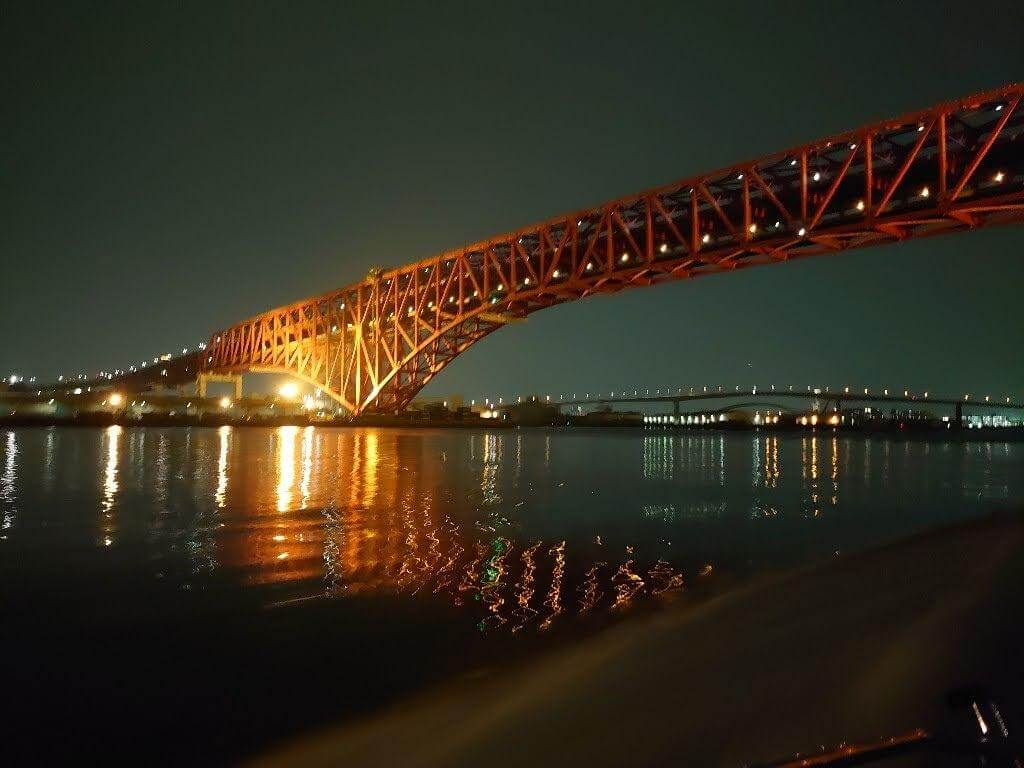 I'm always satisfied with the night view from my car on the Hanshin Expressway Bayshore Route, but this time, I found a new pleasure in writing this HTJ article. It's a factory night view cruise.
You can enjoy the amazing night view of factories from the sea in a relaxed way with the chartered cruise for four to eight persons.You can have fun on the relaxing cruise from around the Universal Studio Japan area to the Sakai industrial complex in about an hour and 45 minutes.
The night view of the factories in the darkness of the sea at night is breathtaking, and the unusual situation of being on a ship makes you even more excited.
Well, let's move on to the next night view spot with courage and determination.
Kuragari Touge (Kuragari Mountain Path)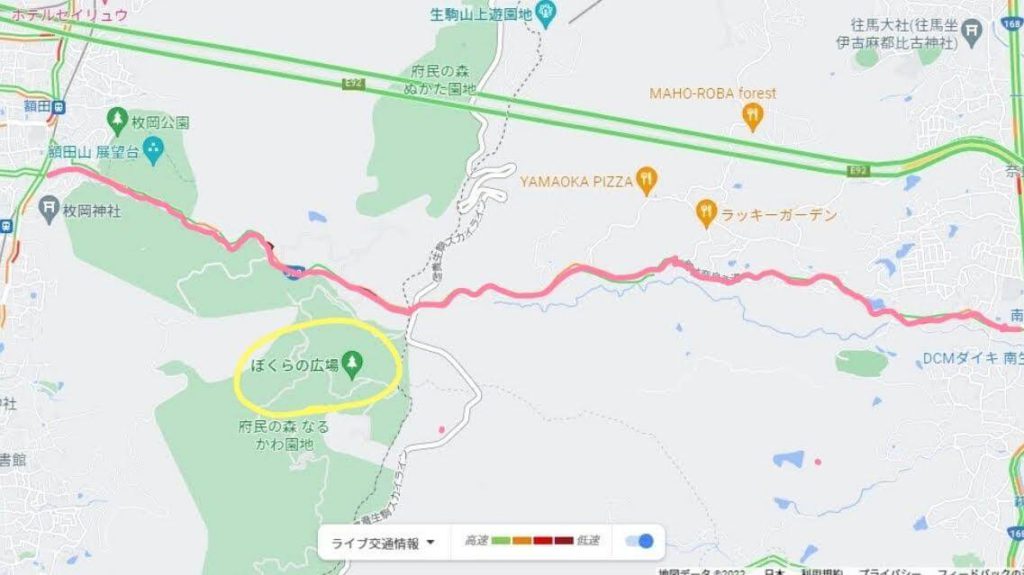 This is a national route called Kuragarigoe Nara Kaido (暗越奈良街道) that people formerly used for traffic and transport as the quickest route between Nara and Osaka. It's a pathway through Mt. Ikoma, located between Osaka and Nara. The name "Kuragari," "dark pass" in English, was derived from the fact that it was so thickly wooded that it was dark even in the daytime. Another reason is that the slope was so steep that even a horse's saddle (kura 鞍) would tip over (kuragaeri zaka), hence the name dark pass. The arduous path that was once walked up on foot has been kept and is now used as Route 308. It has been featured on TV and other media as a difficult place for car traffic. The curves and gradients are just barely steep enough to allow cars to pass through. The maximum gradient is said to be as high as 31 or 37 degrees. However, in the daytime, this route is famous as a bike tour route and hiking course with a historical and quaint atmosphere.
How to get to the night view?
First of all, it is located in a place where you must drive to see the night view.
There are two courses to go up the dark pass, one from the Osaka side and the other from the Nara side. I recommend 100% the one from the Nara side. There are some steep parts, but it is possible to climb up to the top normally. The spot to see the night view is called Bokura-no-Hiroba, "Our Square," which is the destination.
After parking the car on the street, you need to walk on a narrow mountain road in the dark for about 20 minutes. It is too dark and you will probably need a flashlight. After walking up in pitch-darkness, Bokura-no-Hiroba opens up. A spectacular view of the entire city of Osaka emerges from the darkness! Because of the difficulty of access, there are few people, which makes the mountain path scary, but the night view that appears after that fear is truly impressive. It is so stunningly beautiful that I think the night view here is the best.

Please read the following carefully. The reason why I mentioned that you need your courage and determination when you go to Kuragari Touge is the following.
This place is also one of the haunted places. It's like a sketchy place.
The road is a really arduous path from Osaka. I recommend that you have a Japanese person drive you to the destination, taking the following precautions.

It is tucked away in the area with an arduous path. If you go there, be prepared for it.
If you are going by car, you should consult your driving skills and weather conditions carefully. The Osaka side of the dark path is so steep that even if the road surface is dry, tires often spin out of control and you may get stuck.
My Experience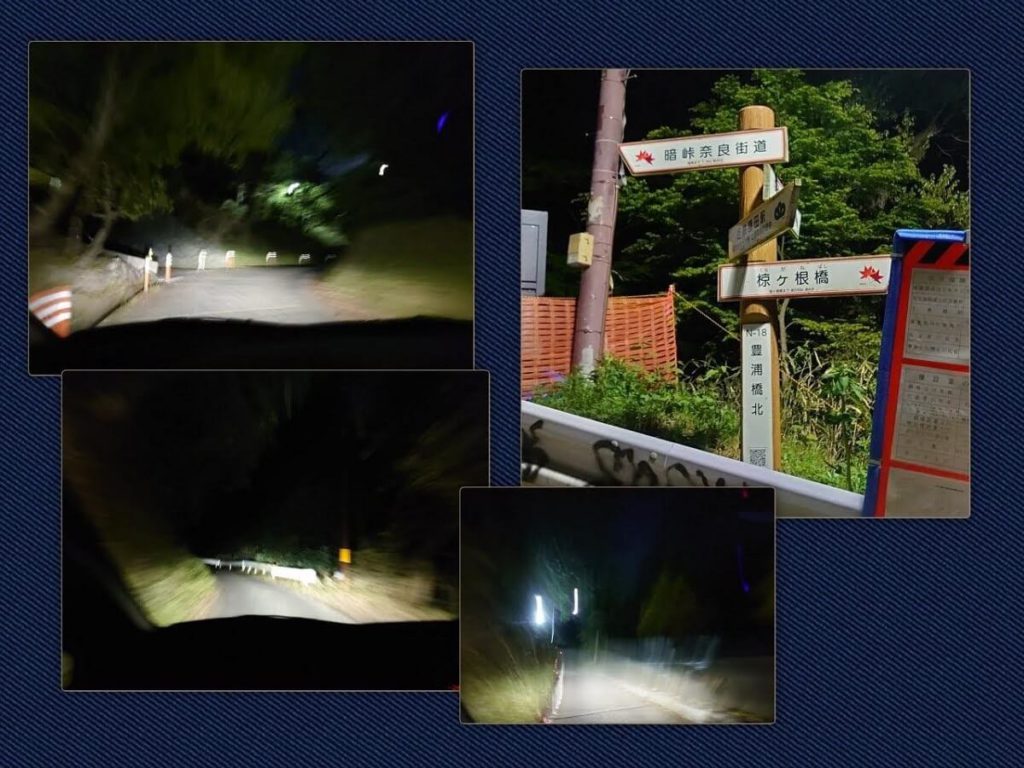 I asked my son to go Kuragari Touge with me because I was scared,and I was not confident to drive as I wrote above. My son had never been there, but he recklessly took on the challenge by car from the Osaka side of the path. As the name implies, it was too dark, and most of the time we only had the lights of the car to guide us. It was so steep that I was worried from the bottom of my heart whether we would be able to climb up. I suppressed my anxiety and continued on. National Route 308 (Kokudou 308 国道308) is a road so bad that it is called "arduous route 308 called Koku dou 酷道 in Japanese. It was so narrow, steep, and dark that there were no places for cars to pass each other. On the way… It was our doom that I stopped to take a picture of a signboard. After that, the car got stuck, and couldn't move no matter what I did. We even said to each other, "It's over." I managed to back up a little and put the car in low gear and tried again. Finally, I was able to move, and it was nonstop from there. So, this is the only picture I took when I came up from the Osaka side.
I feel I'll never go up any more from the Osaka side again. However, please don't feel so scared, and you'll be fine if you take the Nara side and have a Japanese person drive you to enjoy the night view.
Spectacle Over Fear
Did it scare you away from wanting to go there? No, as long as you take precautions, you can enjoy a truly beautiful night view. If you want to see the night views clearly, the winter season is the best because of the clear air. In Japan, summer is very humid, and winter is cold and windy. So, I highly recommend that you visit these two spectacular nightscapes in spring or fall when the weather is good and the roads and ocean are in good condition. It will definitely be a memorable night view tour in many ways.
Thank you for reading to the end.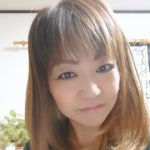 I'm a clay artist, and a master of Japanese calligraphy "Onore-sho". I have my own shop in Ikaruga town, Nara, which is near Horyuji temple: world heritage site. And I'm a volunteer English tour guide. I enjoy learning English everyday.