☆Legend of Enoshima Island
Once upon a time, there was a dragon called Gozuryu (五頭龍). It ruined mountains, caused floods and scared people. One day, after a ten-day earthquake, a tennyo, a heavenly maiden called Benzaiten (弁財天) appeared, dropped stones from the sky and created a new island. Gozuryu fell in love with Benzaiten and proposed to her. She refused it because of his wrong deeds and went back to a cave on the island. The next day, Gozuryu made up his mind to start off with a clean slate and swore it to her. Benzaiten believed him, and they got married. After that, Gozuryu worked his tail off for local people. At the end of the day, he left his last words, "I'll be a mountain and protect this area!" and passed away.
The island that Benzaiten made is called Enoshima Island. This is a legend of the island, according to a book collecting local old tales, "Kanagawa no Mukashibanashi Gojyussen (かながわのむかしばなし五十選)."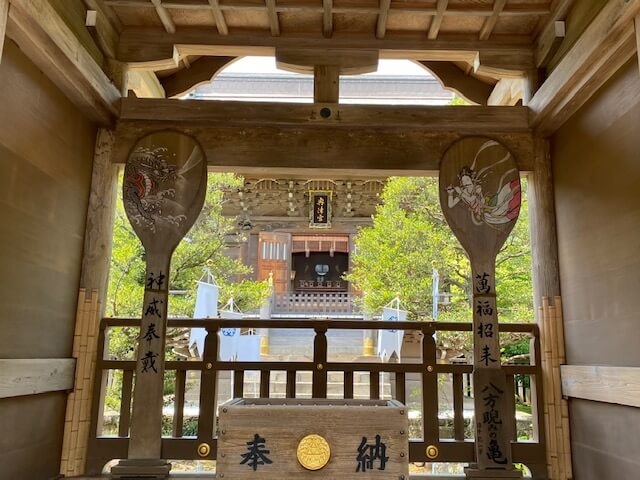 ☆Let's enjoy Enoshima Island!!
Enoshima Island is located on the southern outskirts of Kanagawa Prefecture facing the Pacific Ocean. The island and the beaches around it are definitely popular coastal areas for both locals and tourists. Also, Enoshima Yacht Harbor was used as a venue for sailing during the 1964 and 2020 Tokyo Olympics.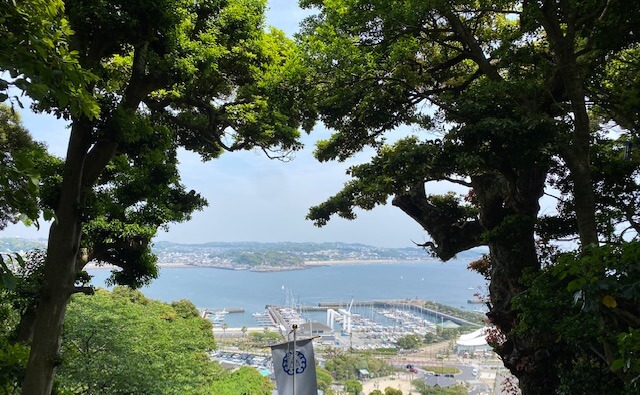 Today, let me introduce my favorite things on this mystical island!
First off, this area is jam-packed during the summer, so let's explore before the holiday season comes!
1) Nishiura Fishing Port~Nishiuragyoko (西浦漁港)
The main street on the island is filled with a lot of restaurants and souvenir shops, and you can enjoy the hustle and bustle with delicious street foods. However, if you feel like relaxing while seeing the sea, don't miss turning the corner to a narrow street. Although there's no easy-to-understand signs there, if you're on the way up to the island, please turn right between Harumi Shokudo (ハルミ食堂) and Iwamotoro (岩本楼). This narrow street excites me, an adventurous gal, and somewhat makes me feel nostalgic. Go straight, and you can see a hidden beach.
If it's sunny and clear, you can see Mt. Fuji over the sea. Just walk around or find your favorite dry rock to sit on and listen to the sounds of ripples and kites' unique songs. This is my favorite way to unwind!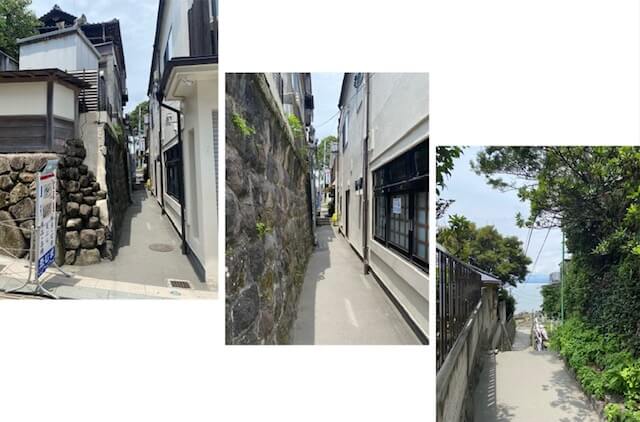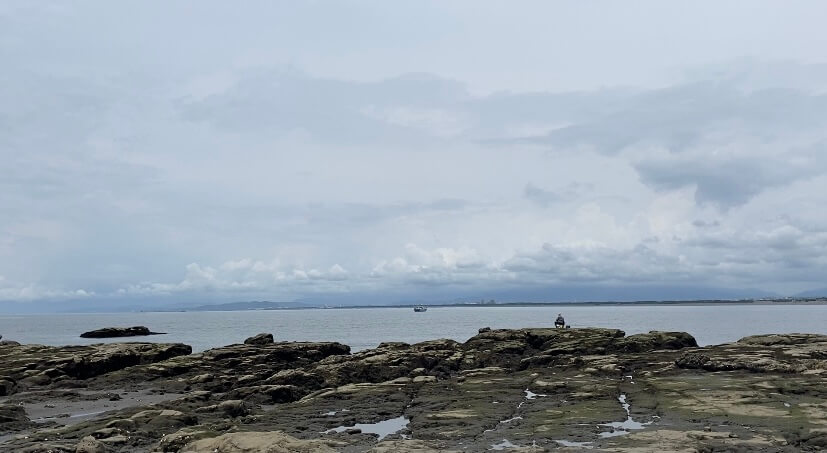 2) Dragons
As the legend shows, this island has a lot to do with dragons, and there are plenty of statues of dragons here. Among them, there are two dragons that are especially outstanding. One is in the depths of the cave, Iwaya. It's lit up as if it's a hero of this island. The other one is at Wadatsunomiya (龍宮). It's just above the cave. Both of them are popular as power spots.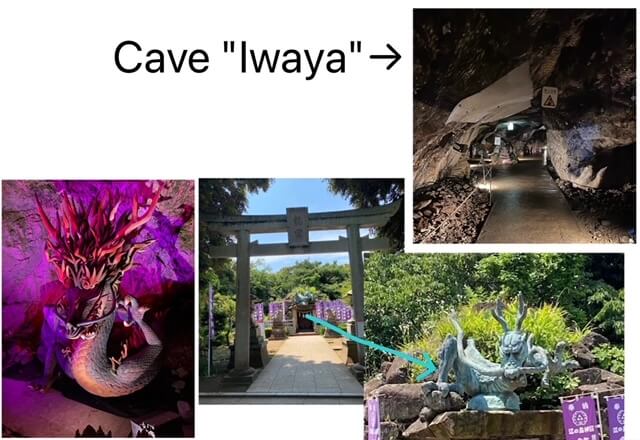 Most tourists will see these dragons. However, my favorites are not here. Sorry, they are not on the island but at the nearest station, Katase Enoshima Station. First, if you look up at the ceiling of this station building, the wood-carved dragons will wow you!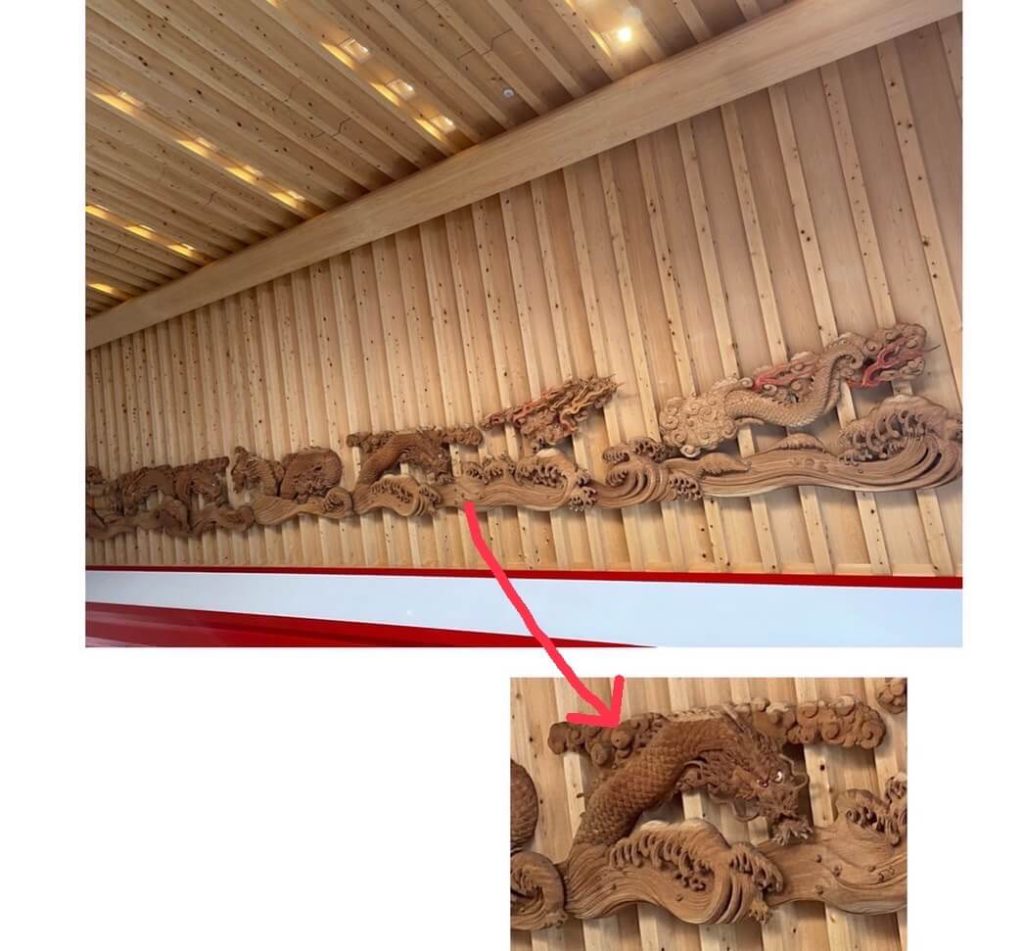 Also, you'd be amazed that this station is designed as a motif of a castle called Ryugu Castle in an old tale "Urashima Taro." When you go outside, don't miss looking back and find the golden dragon up in the center of the station gate! In my eyes, it looks like it welcomes guests. By the way, although it's unrelated to dragons, you can see the golden dolphins on both sides of the roof too!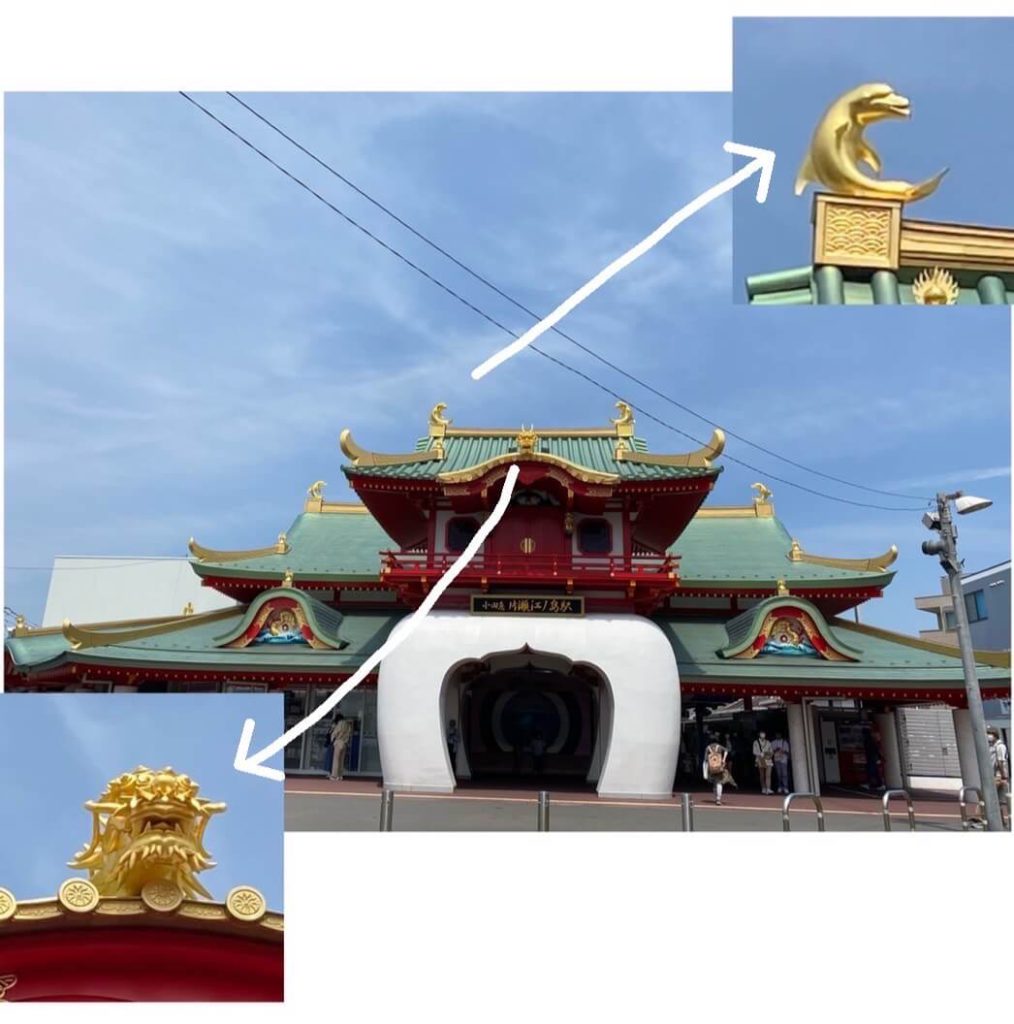 3) Views
Thanks to its geographical conditions, we can enjoy a variety of beautiful views on and from Enoshima Island. The vast scenery of the Pacific Ocean from the observation deck on the lighthouse will surpass your expectations. The two caves of Iwaya bring you a mystical world! My favorite view is the picturesque sea from the cave. Actually, this angle was used for a poster advertising the Enoshima area. The rocks right and left are like the frame of this picture, aren't they?
Let me share one more photo. Between two caves, we can see an interesting sea turtle-like rock. It is called Kameiwa (亀岩), and it literally means "Turtle rock." In the story of "Urashima Taro," a sea turtle plays an important role, taking the main character Taro to Ryugu Castle in the deep sea. Although this rock is not natural but created by a local stonemason, Kametaro Nakamura, it makes us feel as if we are in the tale.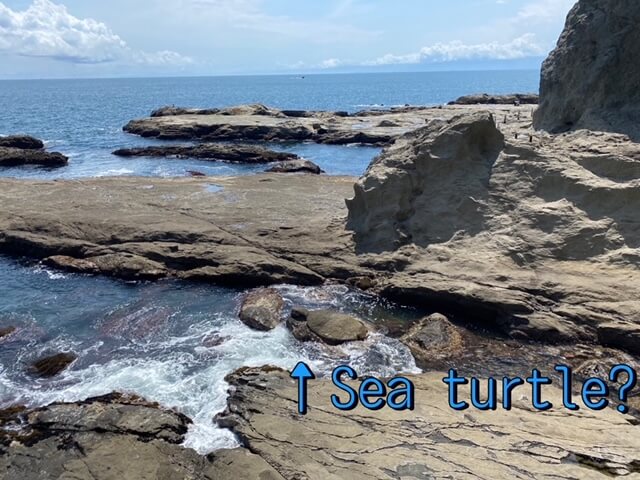 ☆How to enjoy Enoshima Island
I introduced just a few things that I like on Enoshima Island today. I hope you get interested in this island. There are plenty of attractive things here. How to enjoy this island is up to you!
By the way, there are escalators called "Escar (エスカー)" to go up to the top of the island. I often see many tourists lining up to get tickets to take them, but if you don't mind walking, I highly recommend not using them. Just put on your comfortable shoes and enjoy finding your favorite things while walking around! This island has a lot to offer, so you'll become enamored with it!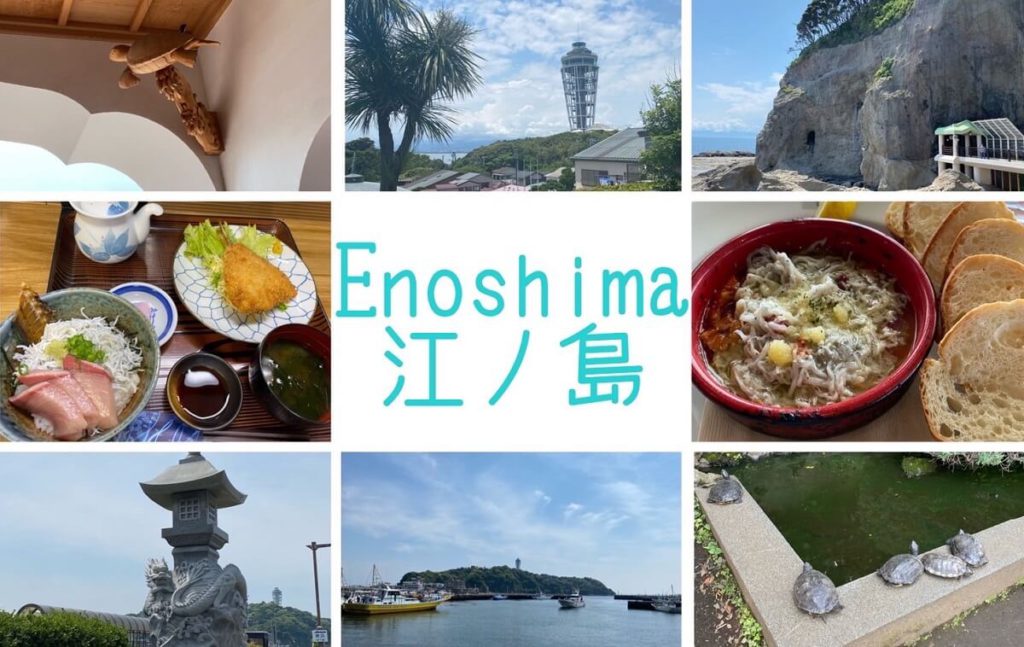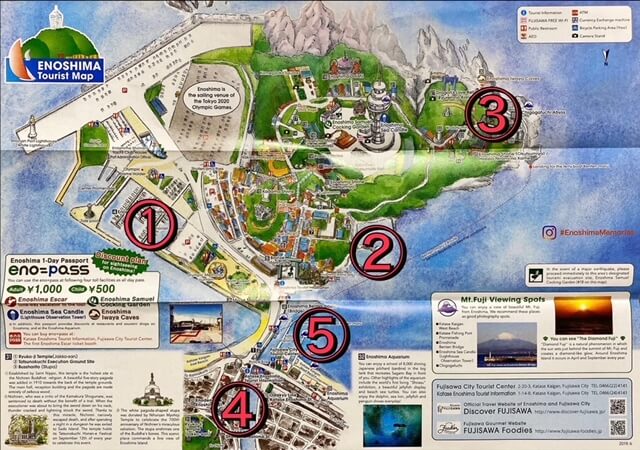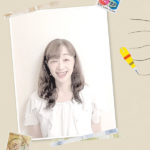 Working for an English language school. My source of energy is our students' smiles full of curiosity. I love visiting my friends in and outside of Japan.