Introduction
Nowadays, curry and rice are very popular regardless of age or gender and are considered national dishes in Japan. You can find good curry shops here and there easily. Then, I'll be introducing to you a dish known as "Spice Curry" that originates from Osaka.
You would think using spices for curry goes without saying, right? It's totally different from the ways found in either India or Thailand. Owners aren't bound by tradition in any way, so, basically, anything goes when it comes to spice curry. I'm sure it will surpass your expectations, so let's dig in!
Background
Spice curry shops have become widely known since around the 2000s. At that time, the Kansai area was suffering from an economic depression, largely due to the effects of the Big Hanshin Earthquake. Some restaurants had to cut costs in order to survive. During this time, new ways to continue their shops began to appear.
As some of us know, many Japanese bars or pubs close during the mornings and afternoons and open in the evening. These curry shop owners took this into consideration and came up with a plan to use these kitchens during the daytime to continue with their curry shops.
However, as time passed, many former musicians and people working in show business also became interested in the curry business. Because of their background, they had no prior knowledge of the traditional way of making curry, so a new style and an unorthodox variation of curry was born: this was the birth of spice curry.
For that reason, spice curry is referred to as "rental room curry," or magari-curry (間借りカレー) in Japanese.
What's Spice Curry like?
Generally, it's served on a plate with two kinds of curry called "Ai-gake"(合がけ) and is arranged with salad, pickles, fried vegetables, and so on. It looks gorgeous and is highly nutritious, so once you start eating, you can't put it down until it's all gone.
The most notable point about the curry is that the owner will focus on a particular spice to base the flavor on. Unlike the common Japanese style of curry, spice curry could contain any of the following spices: turmeric, coriander, cinnamon, cumin, black pepper, etc.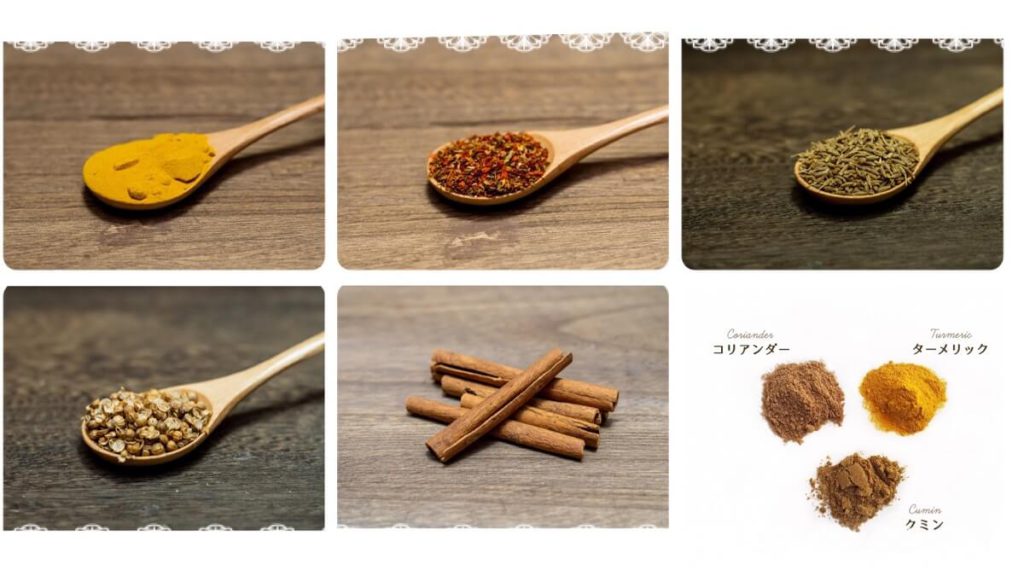 There are some styles that closely resemble the Japanese taste and some styles that could be closer to a more Chinese flavor.
Almost all restaurants aim to profit and offer dishes as long as they make. However, most spice curry shop owners prioritize maintaining high-quality dishes, even if it means they aren't able to make as many dishes each day and therefore aren't able to meet consumer demands. Therefore, each shop has a limited amount of curry available, so instead of thinking about profit, they are more focused on the availability of high-quality meals, which is also a unique quality of this kind of business. Pretty rare, right? This prioritization is referred to as Urikire Gomen (売り切れ御免), or, in English, "Sorry, sold out."
Recommendations
Kyu-yamtei (旧ヤム邸)
They were established in Karahori shopping street in Osaka City in 2011. This area would be considered a Mecca of spice curry. They offer "Yakuzen-curry" a kind of Chinese dish using traditional herbal medicine.
Looking closely at yakuzen-curry, we notice a slight difference from the traditional styles.
First, the spices are finely grounded after going through the process of being dried and roasted. Next, there are two varieties of curry in use. The first type is often found in soup-curry dishes, and the second type is the keema which usually uses minced meat. We can often find both curries on either side of the rice. This is where the term "Ai-gake" first originated from.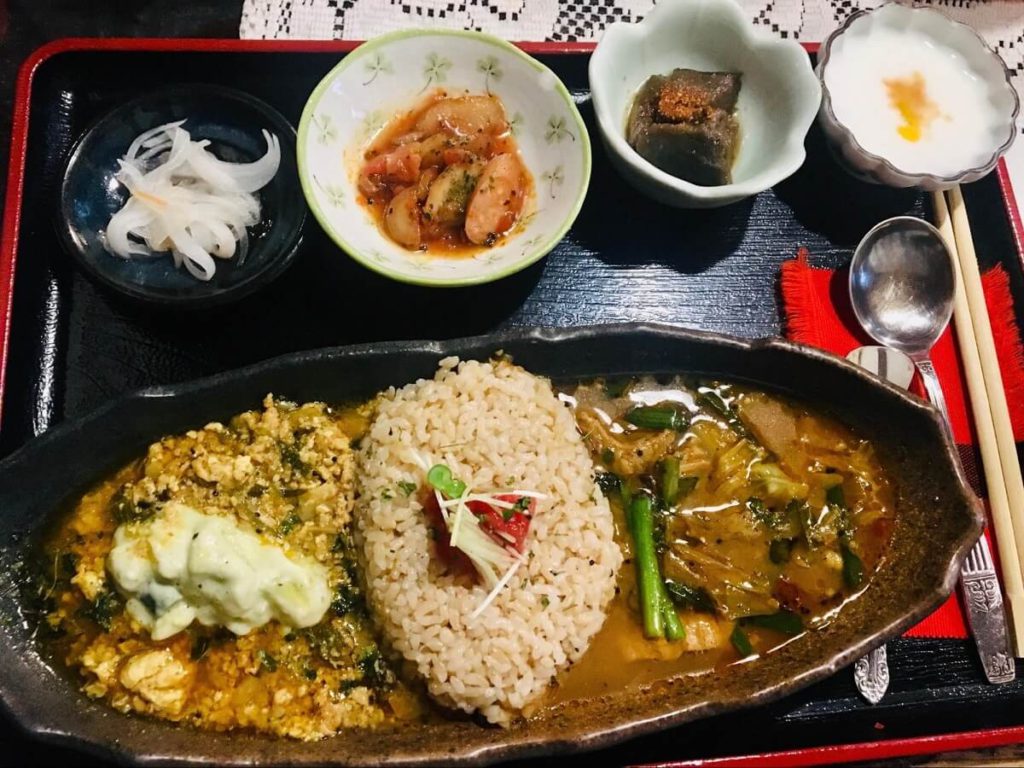 The curry has a unique flavor because they use Japanese ingredients into the broth, such as seaweed, mushrooms, and bonito flakes. Then, once the flavoring is complete, the final touches are added to the taste, including the use of salt, soy sauce, and soybean paste (miso). Finally, it is topped with seasonal vegetables and a carefully selected type of meat that is cooked to perfection.
On a side note, this shop always posts its daily menu on its Twitter account. However, please be aware that the number of dishes will be limited, so there is a chance that they will be closed if you go too late. Furthermore, they have branches in Tokyo, so please check them out.
MARUSE (マルセ)
Just looking at the picture of their spice curry is enough to make your mouth water. The shop is bustling with huge fans of spicy food every day. It's located in Nakatsu, close to Umeda, and is conveniently accessible by any train line.
They offer scrumptious spice curry for lunch with three standard types: chicken curry, Thailand green curry, and pork keema curry. As I mentioned above, you can choose two or three flavors, which are called "Ai-gake."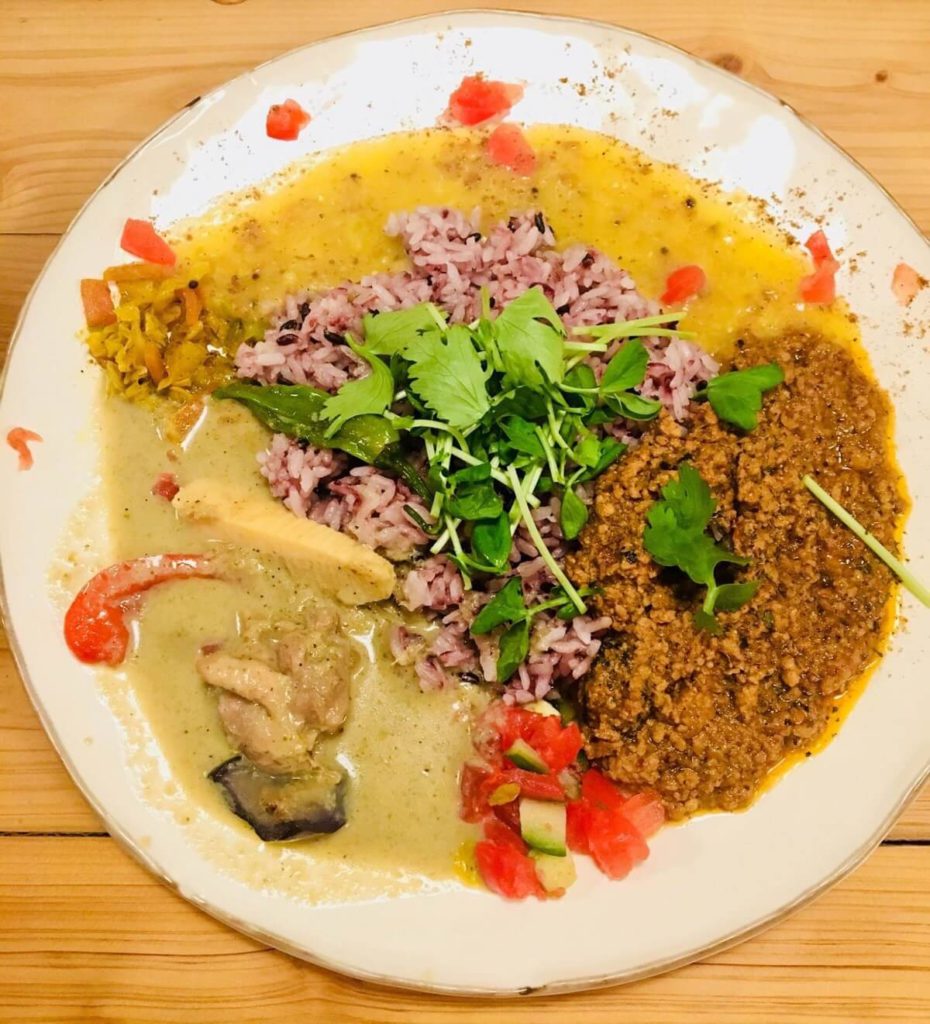 They also offer Eastern Indian dishes at night. Therefore, customers enjoy various kinds of spicy food depending on the time. I'm positive the BBQ plate, and their special menu won't let you down.
On top of that, they have a great selection of alcoholic beverages, which go well with their dishes. Why don't you have a party in a private room with your family or friends?
MARUSE
https://www.currymaruse.com/
NOMSON CURRY (ノムソンカリー)
This curry shop has a long line of people waiting every day. You might want to check their status on social media in advance. They are located in Nihonbashi, a famous place of subculture and electrical gadgets like Akihabara in Tokyo.
They serve four kinds of daily specials, and the most popular is three flavors on a plate, which is called "a triangular love affair," or, in Japanese: Sankaku Kankei (三角関係). It's quite a funny name, isn't it?
Of course, it doesn't hurt to order two flavors on a plate which, as you know already Ai-gake(愛×).
Their standard flavor is chicken curry, but bisque shrimp curry and bonito broth keema are really nice too. Also, you should try topping it with things such as fried shrimp, baked cheese, or salted cod roe.
After eating curry, you can enjoy Taiwanese shaved ice. You couldn't ask for a better meal!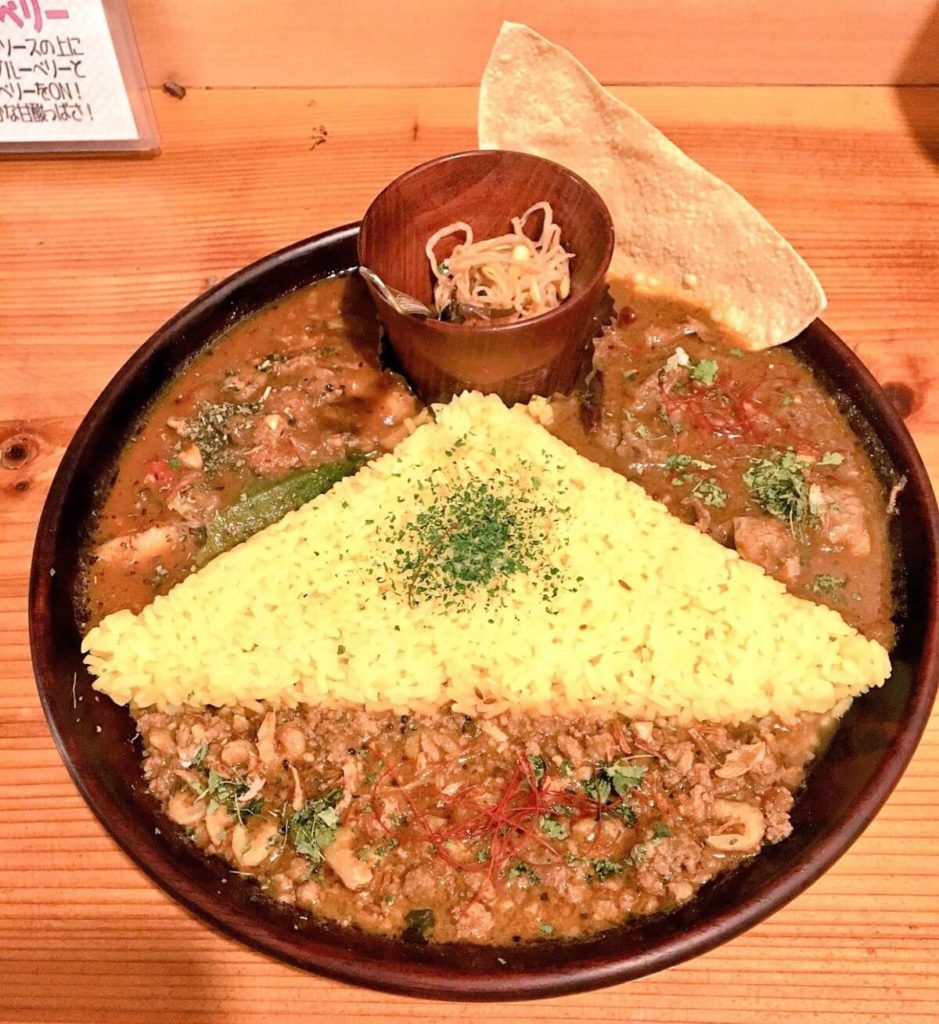 NOMSON CURRY
https://m.facebook.com/%E5%91%91%E5%B0%8A-%E5%92%96%E5%96%B1-1000099696687045/
Food Festival
In recent times, many kinds of food festivals have been held here and there in Japan. People enjoy various kinds of dishes at a reasonable price all at once.
Then, I'll introduce one of the biggest curry festivals named "Curry EXPO," which is held annually in the EXPO'70 commemorative park.
First, you need to get a few tickets that are used for rice and two flavors of curries. You would come across a hard time choosing them.
Not deciding quickly and looking around might also be very enjoyable. Now, all that is left to do is taste the different kinds of curry and enjoy the festival's atmosphere. Nothing beats spice curry on the grass with a fresh breeze!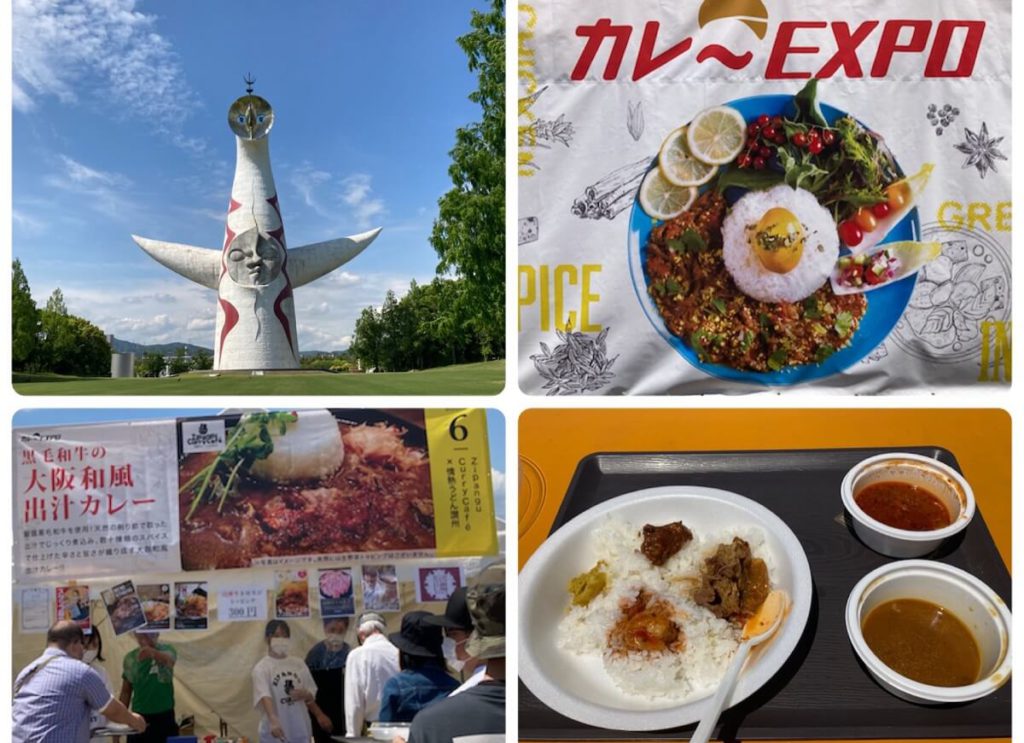 Conclusion
Thank you for reading to the end. How did you like my article? Have I interested you in spice curry, or Are you getting hungry? So, if you happen to be in Osaka, please visit a good spice curry shop at least once during your time here.
It's time to spice up your daily life!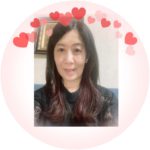 Brand Ambassador of kyoto Denim company, Kimono dresser, Japanese flower arrangement instructor I was born and raised in Osaka, I know this area like my backyard. I'd like to introduce Japanese culture and good points to someone from overseas. That'why I study English every day. Please feel free to ask me if you need anything.