Introduction
Today, I'll be introducing Fujiidera City, where I currently live.
The total area of the city is calculated to be about 8.89 ㎢, which is the smallest city in Osaka and the 5th smallest city in Japan.
However, for such a small city, it has a very deep and important role in Japanese history. So let's dive into the mystique of the city known as Fujiidera.
History
As you might know, Nara Prefecture was a region with a thriving high culture introduced from overseas. The Fujiidera area was located on the other side of a mountain from Nara, and prospered under the influence of the Asuka culture.
During the 4th century, tons of burial mounds were built and dotted the area. It's a story of the origin of Japan as a country. I'll tell you the details afterwards.
In the middle of the 8th century, Fujii-Muraji, who was a family member of authority, founded a temple after receiving assistance from the Imperial Court. The temple was named Fujiidera after their family name.
This area has flourished as an agricultural region through many years. In the warring states period, Hideyoshi Toyotomi, who was a Daimyo, accomplished national unification and settled in Osaka. However, the winter siege of Osaka and then the summer siege of Osaka broke out after Hideyoshi passed away. Part of the Fujiidera area became a battlefield, and fierce battle continued. The story of the battle of Domyoji has been handed down for a long time.
World Cultural Heritage Site Mozu-Furuichi Kofun Group: Mounded Tombs of Ancient Japan (百舌鳥・古市古墳群)
In 2019, Japan saw a series of their ancient burial mounds being recognized as a world heritage site. The locals were in a jubilant mood with the big news. The people concerned received the reward for their long years of effort.
These areas were mainly in Mozu located in Sakai City and Furuichi, which consists of Habikino and Fujiidera City. Today, we will be focusing only on the Furuichi area in this blog.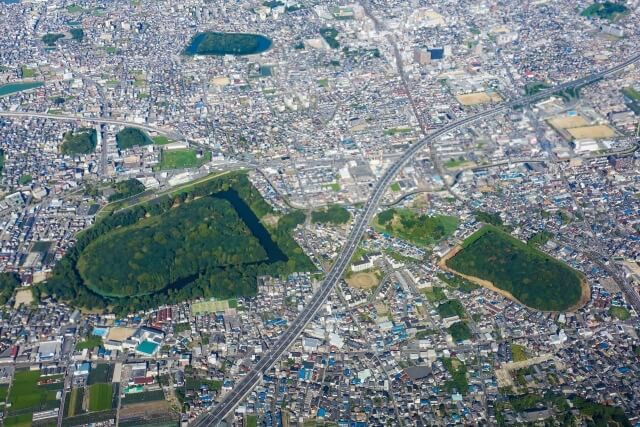 For many years, a lot of Japanese people have wondered who and for what reasons were these burial mounds made? There are two popular theories regarding this question. The first major theory is that over time, the areas in Osaka gradually developed power, thus forcing the Imperial family to move into parts of Osaka. The second theory is that the Imperial family itself did not move. However, the tombs of their relatives were relocated to different parts of Osaka instead.
But you might be wondering, "why Osaka?" Well, as people may know, there was a major port in the Sakai area that used to transport goods and people from China to Japan. By having these burial mounds relocated to Osaka, it gave the diplomats coming to Japan a very positive view on the power that Osaka had at that time.
There are 123 tumuli recognized in the Furuichi Kofungun cluster of tumuli, but now only 87 have survived. They come in various shapes and sizes, such as keyhole, circular, square and undetermined. I'll show you a few impressive Imperial tombs and my favorite one in Fujiidera City.
☆Mausoleum of Emperor Chuai (仲哀天皇陵)
I would say it's the most notable burial mound in Fujiidera City. The locals call it "Goryo-san" with affection. It has a very mysterious and sacred atmosphere. On the other hand, the beauties show up in each season.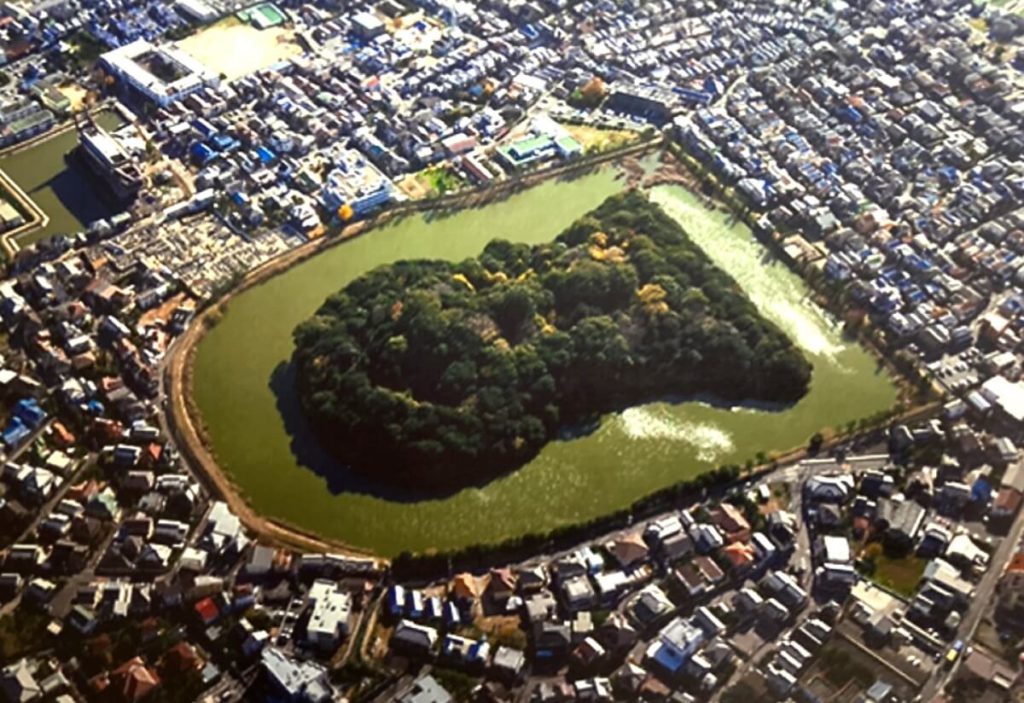 ☆Mausoleum of Empress Nakatsuhime (仲姫命陵古墳)
This is an extremely rare Empress tomb in Japan. She was an Empress of the Emperor Ojin (応神), who was buried in the biggest tomb in the Furuichi kofungun cluster of tumuli. The two tumuli look as if they rest in peace close together.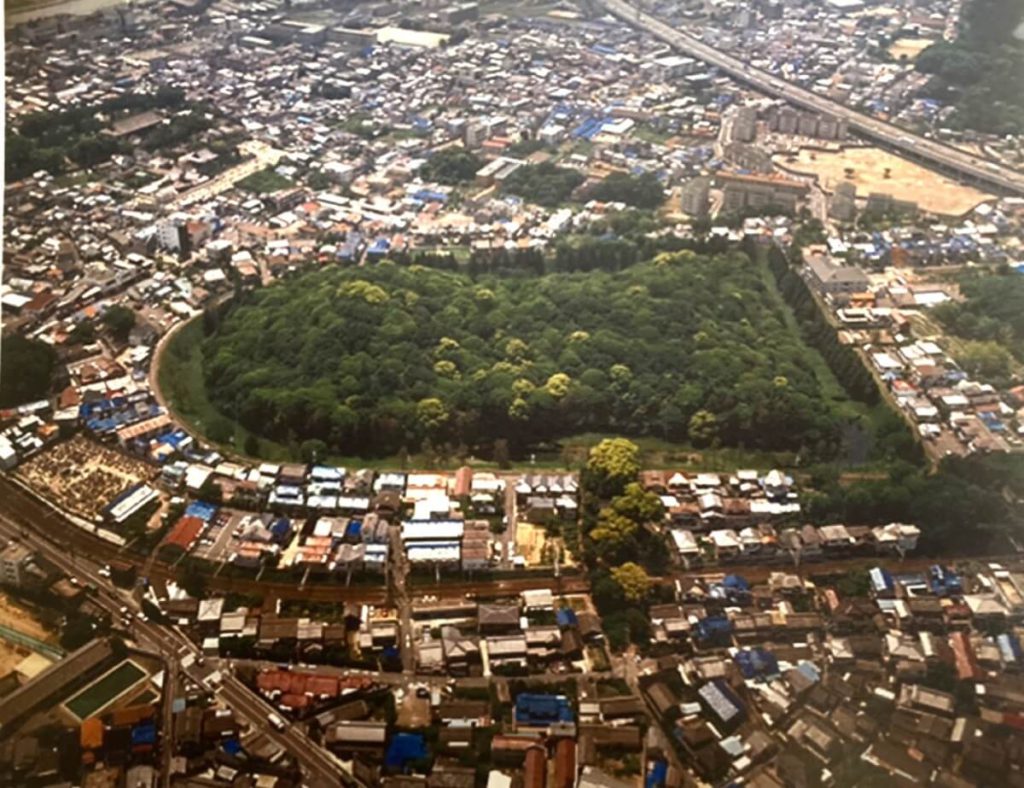 ☆Tsudo-Shiroyama Mounded Tomb
This is an unidentified tomb, but it is said that someone of authority is buried there. The three waterfowl-shaped haniwa have been discovered and designed as national important cultural properties. In recent time, it is used for a park, anyone can go in. You can enjoy seeing seasonal flowers all year round.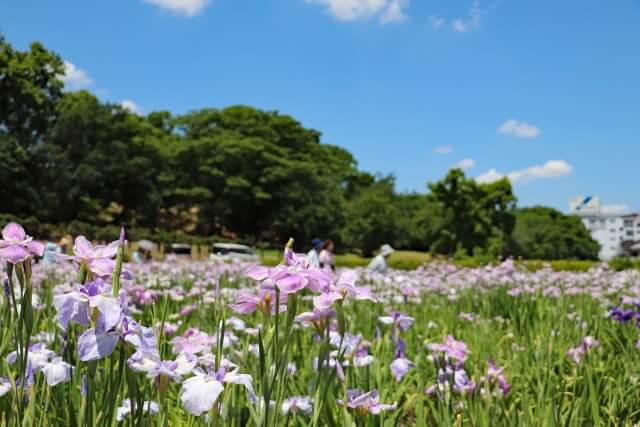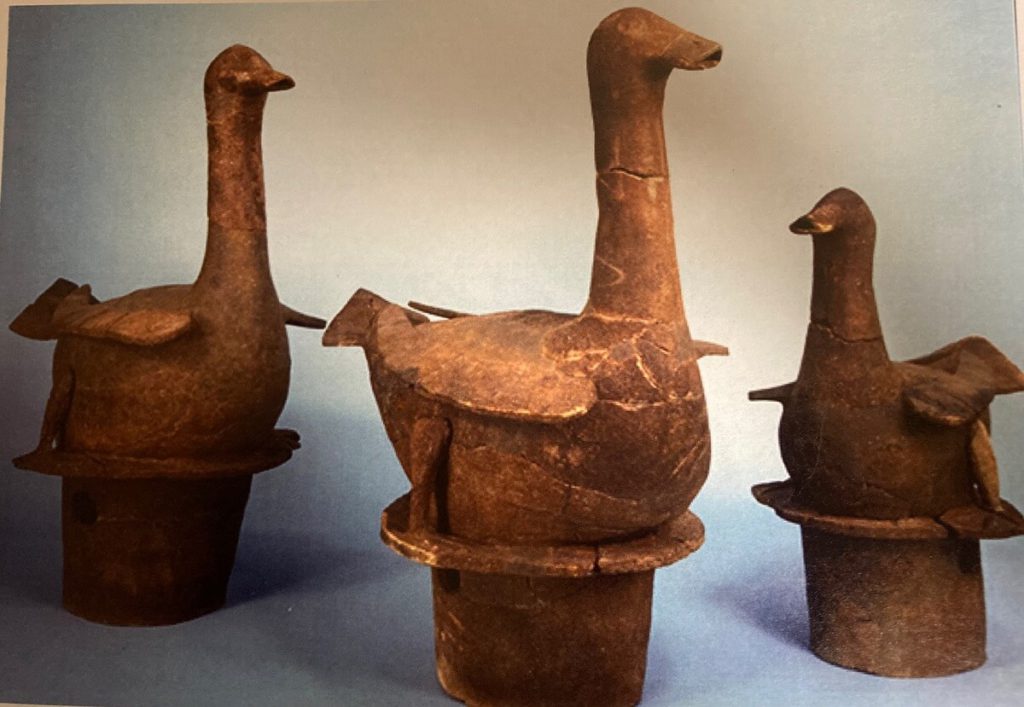 All images used with permission of Fujiidera City
Sightseeing
Fujiidera Temple (紫雲山葛井寺)
Fujiidera Temple is associated with Shingon Buddhism and is recognized as the fifth temple on the Thirty three-Saigoku Kannon pilgrimage.The main object is a Thousand-armed Kannon which is designed as a national treasure.
As the name suggests, wisteria flowers, "fuji" in Japanese, bloom in spring.
It was established on the order of Emperor Shomu as one of the provincial temples for the protection of the nation and the Imperial House. After that, by the authority of the Fuji family, who were the descendants of the royal family of Paekche, it was rebuilt and took under their protection.
The south gate, which has four legs, was built by Hideyori Toyotomi, who was the highest authority in Japan. Two guardians are set up on both sides. They look as if they have protected the temple and the region.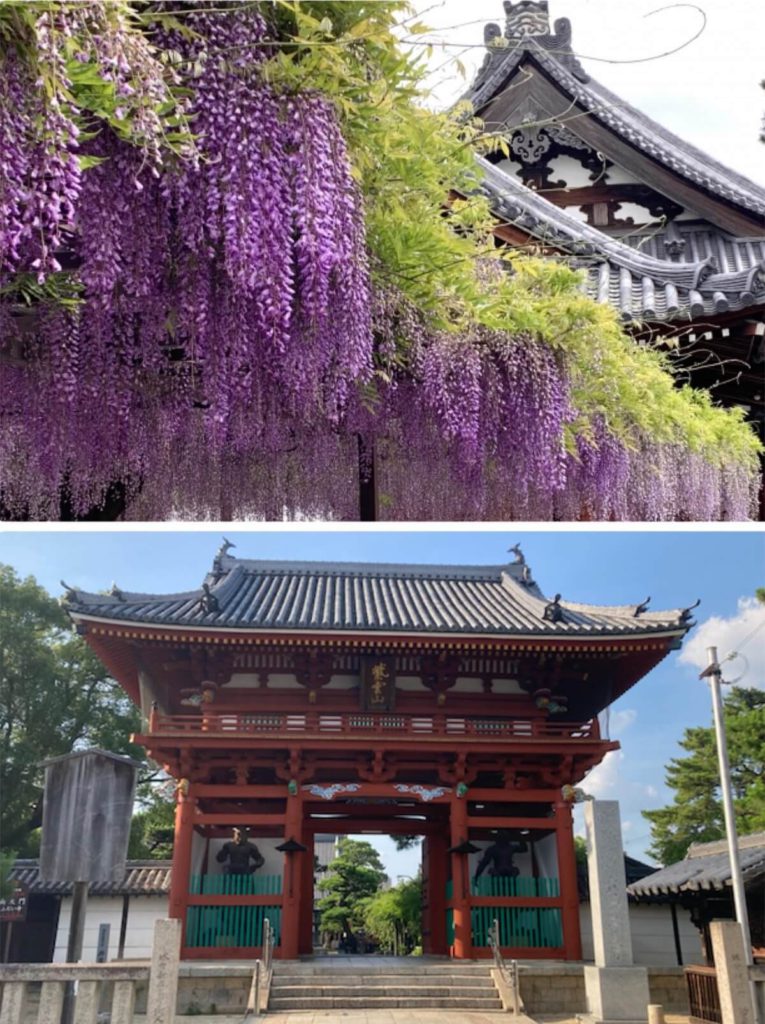 Domyoji Tenmangu Shrine
Domyoji Temple was established as a family temple of the Haji clan in the 7th century. As time went by, Michizane Sugawara was dedicated to the study of the deity and constructed the Tenmangu Shrine. The temple gradually turned into the shrine and was renamed Domyoji Tenmangu.
The main object is a standing figure of the Eleven-Headed Kannon that is designated as a national treasure. Also, the seated ox statue that has close ties to Michizane was set up on the grounds and has been worshiped until now.
In early spring, a lot of people visit there to appreciate plum flower viewing or because they wish to pass an entrance exam.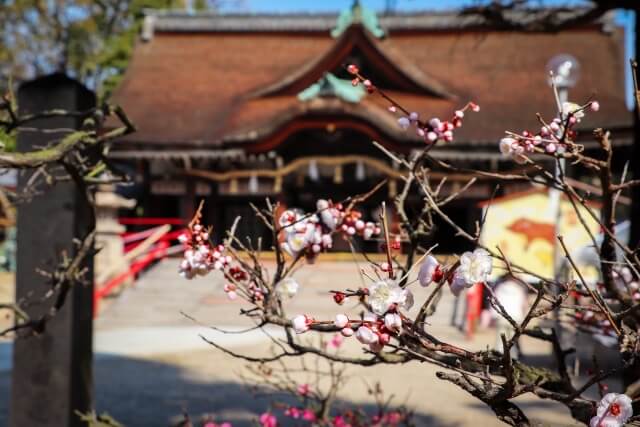 Karakuni Jinja Shrine (辛國神社)
This shrine was founded for the Mononobe Clan in the 10th century. It's listed in the Engishiki category of Japanese shrines. The approach to the main hall was selected as one of the best green spots in Osaka Prefecture. Surrounded by deep greenery, it has a calm and quiet atmosphere. you can enjoy walking around there.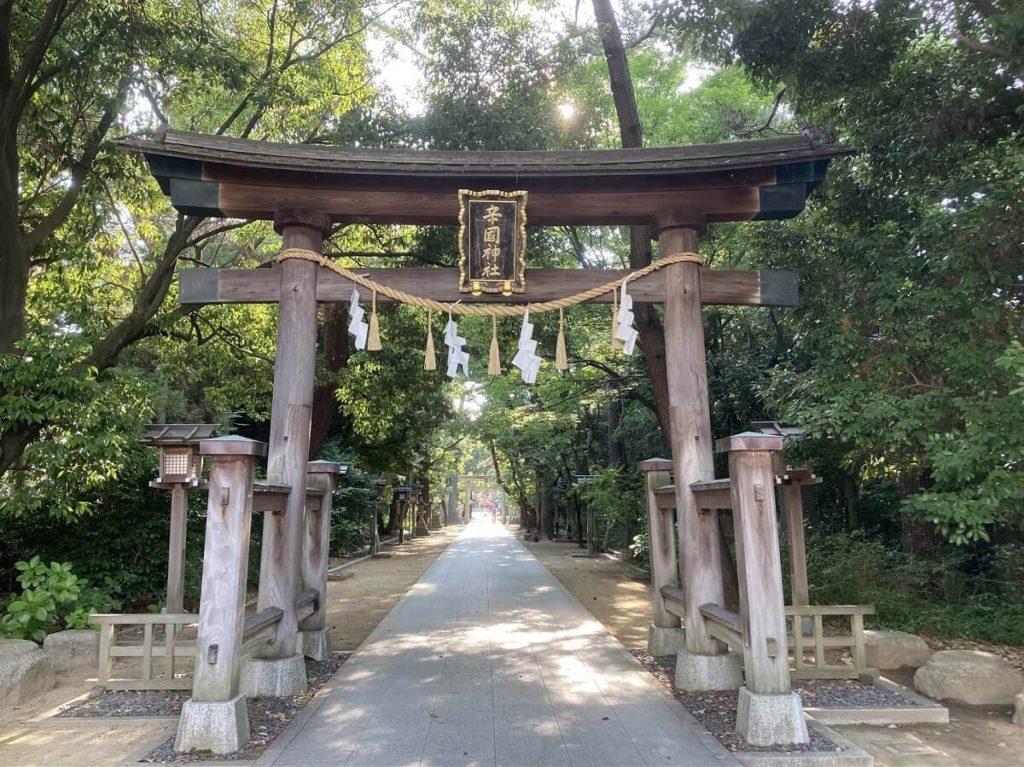 Learning center: AICEL Shura Hall
As you can see from the picture below, Shura Hall is a very unique shaped building that was established as a learning center of Fujiidera City.
AICEL stands for Activity, Information, Consultation, Exchange, Learning and shura is a carrier of big stones. The hall design is based on the shura and the hollow clay in a shape of a big ship. The hall itself serves many purposes, such as being used for an office for the city hall, as an exhibition floor, as an indoor sports facility, and it also contains a library and a multipurpose room.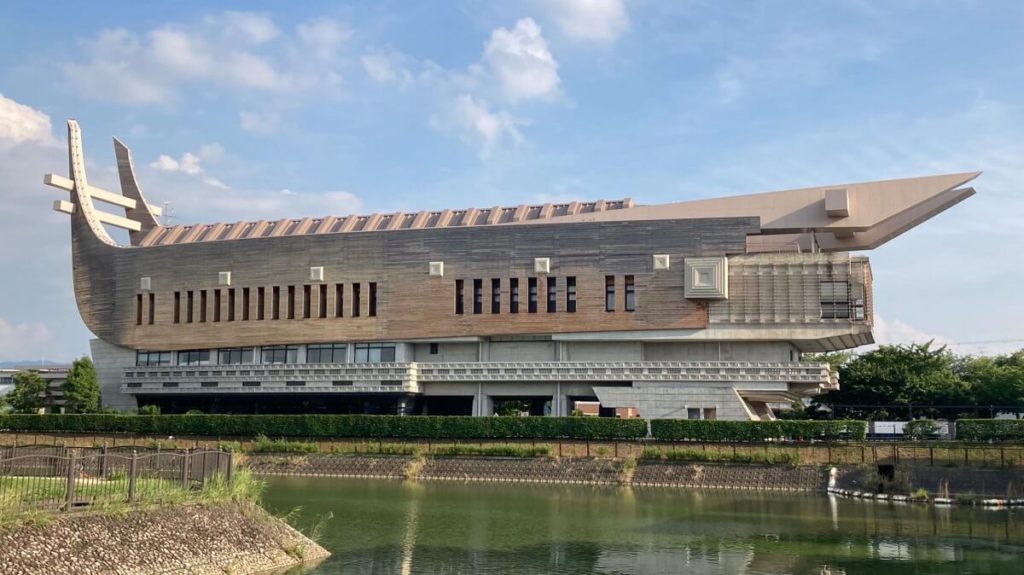 City's mascot: Manari-Kun
His real name is Manari Ino, or 井 真成 in Japanese, who was born in the Fujiidera area in 698. He went across to China to study abroad along with the famous sage Abeno Nakamaro in 717. He wanted to learn a lot of things in China to help develop his own hometown. But sadly he couldn't come back to Japan and passed away at the age of 36 full of regret.
In 2004, His existence was confirmed from a tomb stone in Xi'an (西安). After that, he was selected to be the city's representative officially and has been popular among the locals.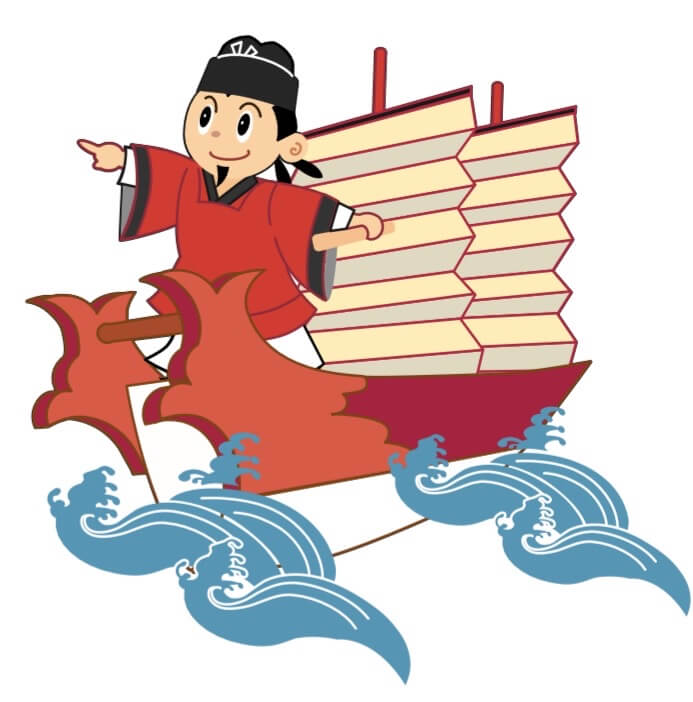 The Kintetsu-South Osaka Line Fujiidera Station
Fujiidera Station saw its 100th-year anniversary this year. Some events and ceremonies were held, the most notable among them was a wall painting that depicts the scenery from Fujiidera all the way to Domyoji Station, done by the famous writer of picture books Yoshifumi Hasegawa (長谷川義史). He claimed that he was the only one who could take on such a task because he was born and raised in Fujiidera City and had a lot more knowledge than other artists. The way of his drawing comes across kind of nostalgic and makes people warm.
Why don't you come to see his wall painting?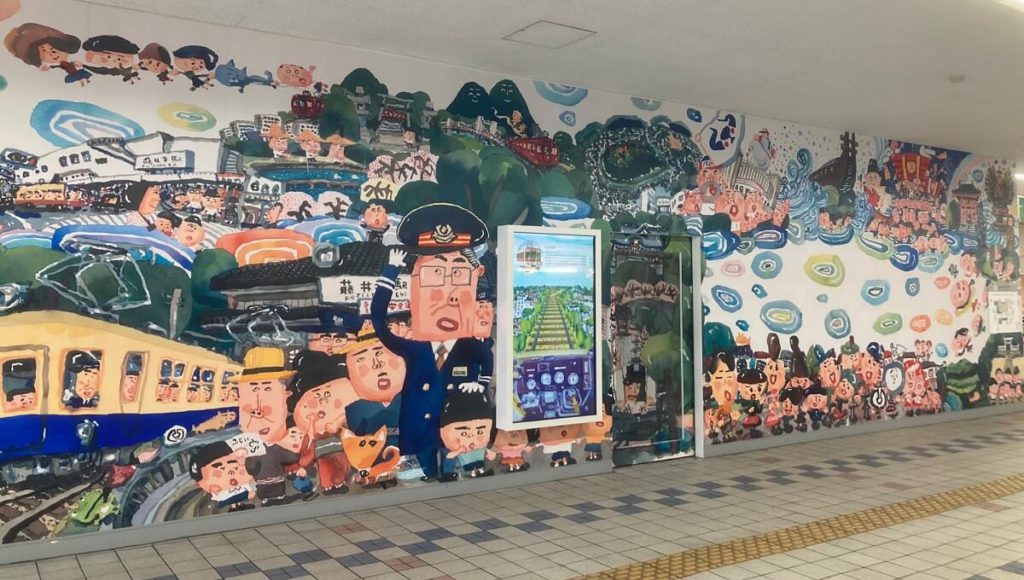 The Kintetsu Railway company runs trains with a unique design for promoting sightseeing. They are worth seeing.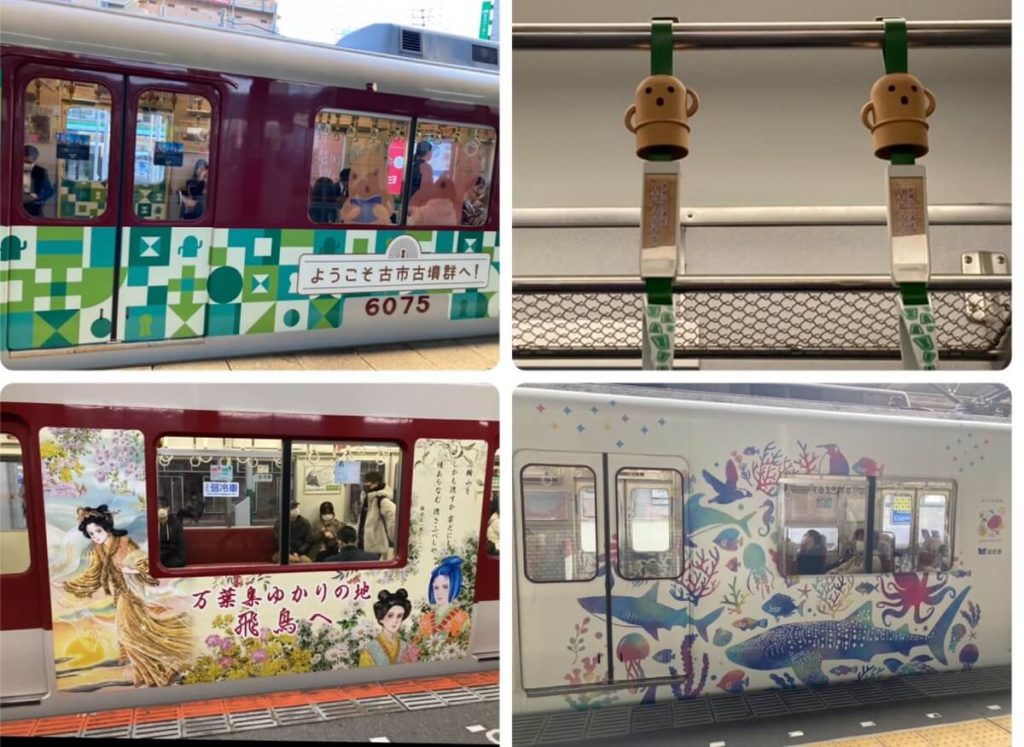 Recommendations
Japanese Sweets Shop Yoshinoya (吉乃屋)
Yoshinoya was founded in 1967 and has been loved among locals. Their motto is to treat customers with a thought that every meeting is a once-in-a-lifetime experience. They offer suitable gifts for any occasion and tell people Japanese traditions through Japanese sweets,or wagashi.
They come in all shapes and sizes, such as a formal gift, refreshments, western style baked sweets and so on.
Among these, fruit daifuku is particularly famous, and they're always sold out immediately.
Fruit daifuku is a kind of soft rice cake filled with fruits and sweet bean paste. They must be a pioneer for making fruit daifuku in Japan.
Recently, they are making a contribution to promote the world heritage site for making kofun shaped florentin.
If you happen to come to Fujiidera, please drop by and taste Yoshinoya's Japanese sweets.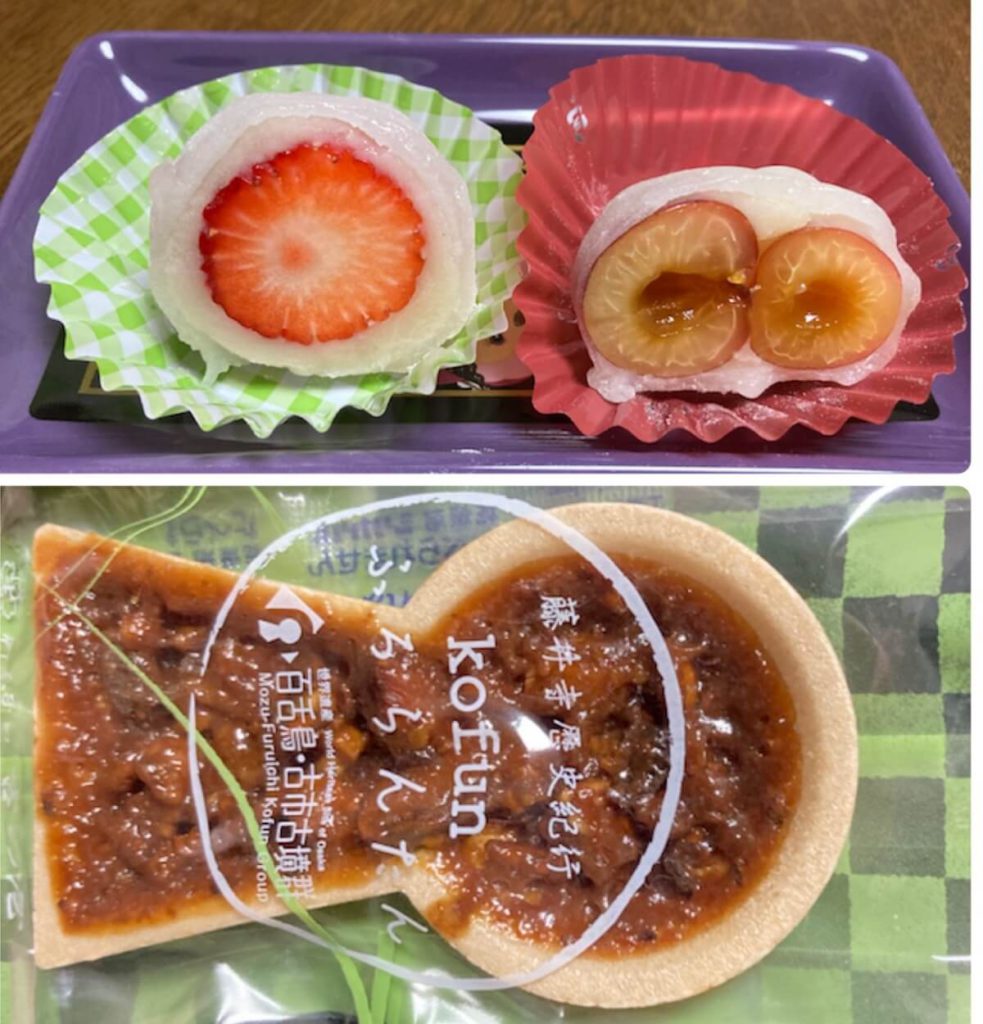 Yoshinoya official website
https://ichigo-daifuku.com/commitment/
Udon Restaurant Tanagokoro (掌)
I'll be introducing an awesome Udon shop in Fujiidera. The owner has a qualification as a vegetable sommelier and is particular about vegetable. Of course, their handmade udon noodles are amazing too. They provide seasonal dishes in cooperation with farmers or fish markets. A lot of people make a line, so please check the condition on their website in advance.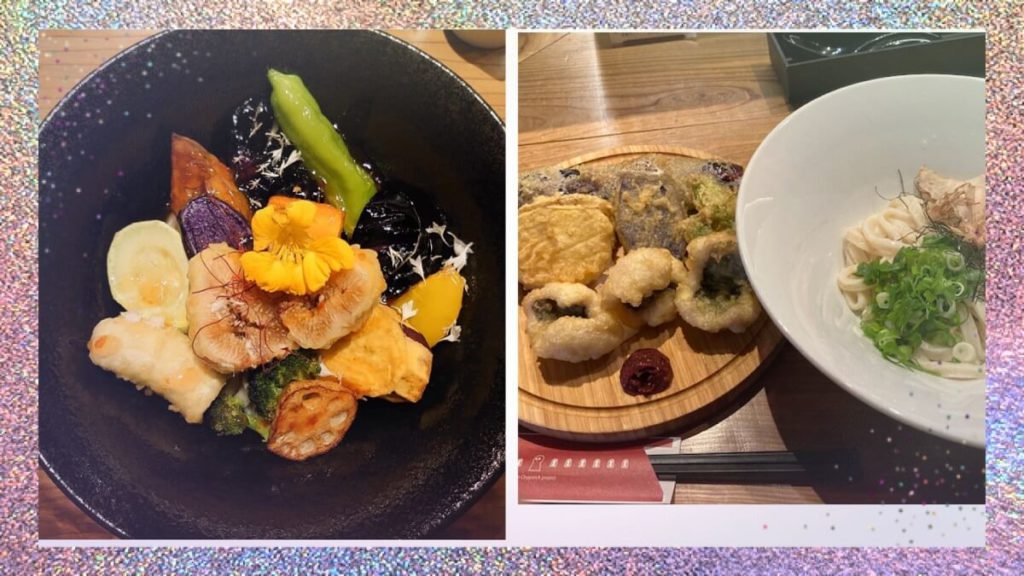 If you need more information, please check the Tanagokoro's Instagram.
Tanagokoro's Instagram
https://instagram.com/tanagokoro_tsusin?igshid=YmMyMTA2M2Y=
KASUYA (加寿屋)
They offer kasu-udon, which is fried entrails of beef on udon. From ancient times, people living in south Osaka have eaten beef innards, so they took them for daily dishes. You can get rich broth from them and not waste food. Kasu-udon tastes mild and sweet and goes well with udon noodles. Why not try it at least once?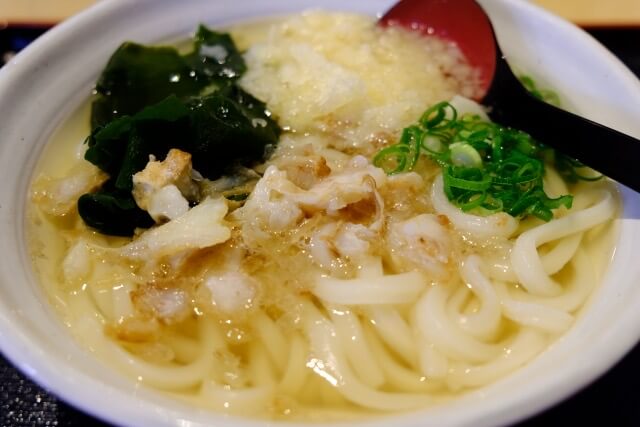 KASUYA
https://aburakasu.com/71592/%E5%BA%97%E8%88%97/
Conclusion
Many people come to Japan to appreciate what they see in the modern world. When we think of Japan, we have the image of bright neon lights, big skyscrapers and the latest technologies on display all around us. However, Japan has a lot to offer that is not always seen on the surface but buried deep in one of these quiet burial mounds. To truly appreciate Japanese culture, it's important to visit buildings but also to know what secrets lay underground, like in Fujiidera City. Thank you for reading to the end.
In addition, Fujiidera City announces a lot of information, please visit the link below.
Fujiidera City
https://www.city.fujiidera.lg.jp/index.sp.html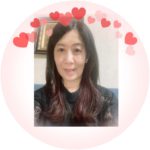 Brand Ambassador of kyoto Denim company, Kimono dresser, Japanese flower arrangement instructor I was born and raised in Osaka, I know this area like my backyard. I'd like to introduce Japanese culture and good points to someone from overseas. That'why I study English every day. Please feel free to ask me if you need anything.