Do you want to try Randoseru? Or do you want to know how kids use Randoseru in Japan?
Actually, I'm a mom of two kids, so I'd like to share my thoughts on Randoseru as a mom in Japan
I can also share the actual experience of using Randoseru and the status after using it for six years.
Many kinds of RANDOSERU
As everyone who is interested in RANDOSERU may know that various kinds of materials are used for them, such as Cow leather, Cordovan, and Clarino (artificial leather), etc.
Here are the features of each material. You can choose the material according to your preferences and demands.
| | | | |
| --- | --- | --- | --- |
| Material | Price | Weight | Feature |
| Clarino / artificial leather | Reasonable (10.000yen to 90.000) | 1,200g | Light, strong, various kinds of designs, waterproof |
| Cow leather | A bit expensive (50,000 to 90.000yen) | 1,400g | Strong/could be processed, waterproof. |
| Cordovan | Expensive (90.000 yen or over) | 1,500g | Stronger than cow leather and lustrous and firm |
The recent trend of choosing RANDOSERU
Do you know RANKATSU?(ラン活) It means the activity and the process of choosing and buying Randoseru.
I would like to share the schedule for Rankatsu and the schedule for buying Randoseru.
If you get a chance to buy Randoseru, why don't you follow this schedule?
General timeline for buying Randoseru in Japan:
[The second year of kindergarten/nursery, Aug – Dec]Requesting catalog
[The second year of kindergarten/nursery, January – March]Listing up Randoseru candidates
[The third year of kindergarten/nursery, April – June] Checking the real Randoseru at exhibitions
[The third year of kindergarten/nursery, April – August]Purchasing Randoseru
When is the right time to buy?
Basically, people actually buy Randoseru the previous year of getting into elementary school. The chart below signifies the timing of purchasing Randoseru in Japan. Because of the pandemic, June and July were the peak times to purchase Randoseru in 2020. 77% of buyers tend to buy them till the end of August.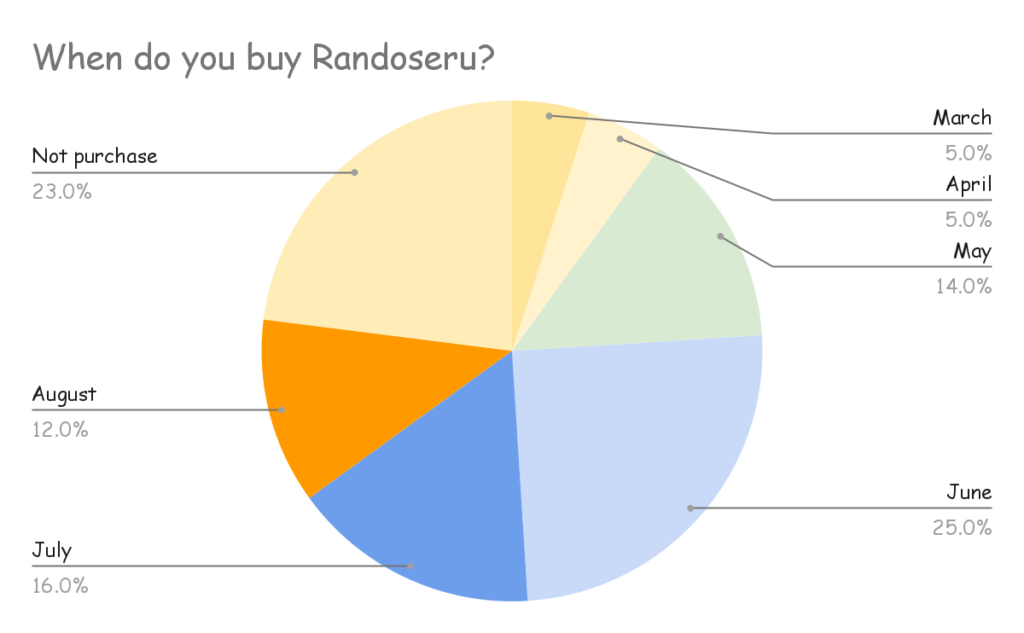 Budget for Randoseru
Making a purchase is one of the biggest events for Japanese families. According to the survey below, the budget for Randoseru is pretty high. Most families purchase Randoseru that cost around 50,000 yen to 70,000 yen. This high average cost for Randoseru reflects Japanese culture, in that Japanese families tend to choose quality Randoseru for their kids and have a strong affinity for the traditional Randoseru. You can check the history of Randoseru in Mami Yamamoto's Randoseru article in HTJ.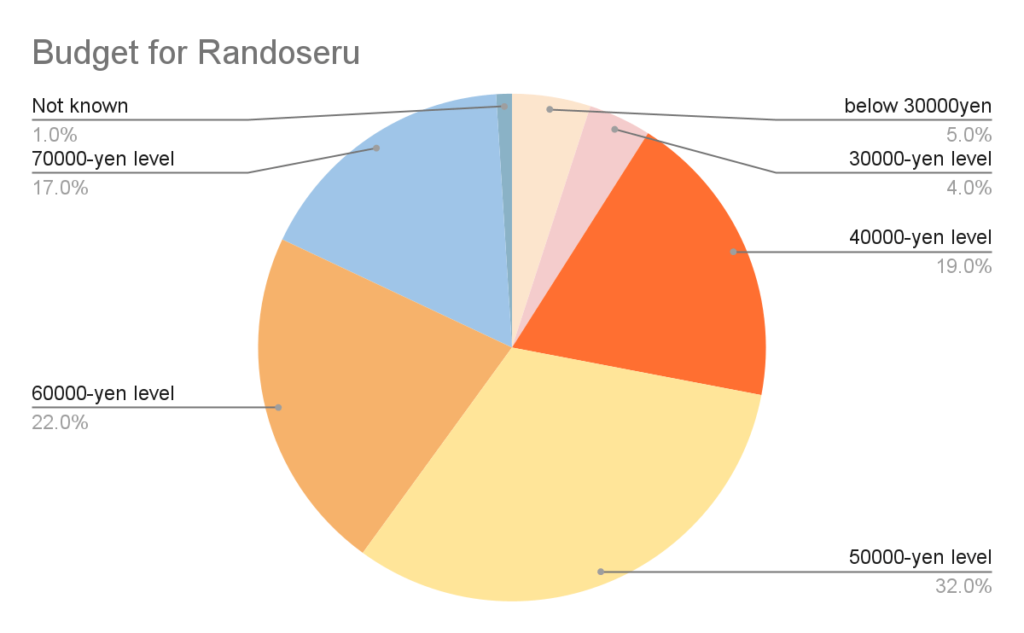 Who buys Randoseru?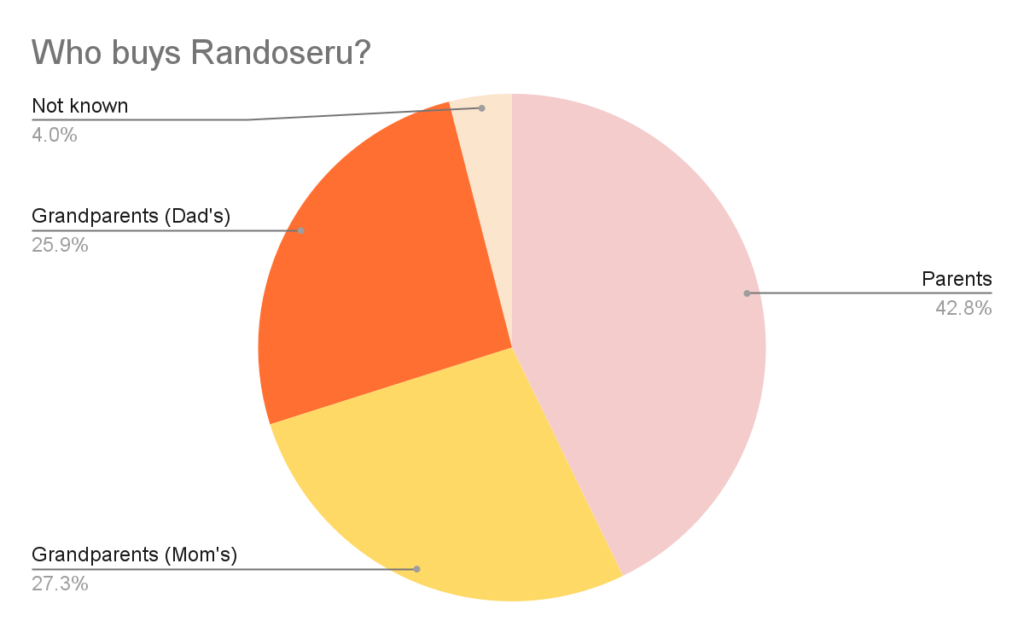 Reference:ランドセル工業会
What kinds of materials do they choose?
What types of Randoseru do they choose actually? Here is the data on people's preferences about materials.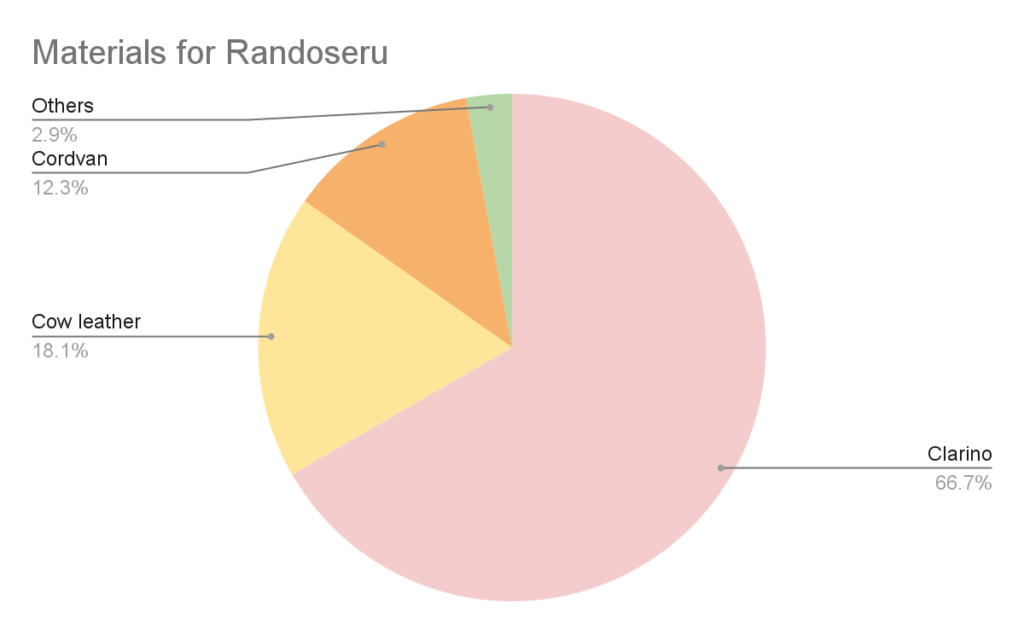 66.7% of people choose Clarino due to its light weight, variety of designs, and how easy it is to take care of.
From this data, people tend to choose Randoseru based on their practical usage. Functional features are prioritized overall.
Talking about my daughters' Randoseru, I chose them based on the functions and features which could suit their body sizes. They were not big girls, so it might be hard for them to carry heavy bags on their backs every single day. They have to carry textbooks, tablets, drinking bottles, and other stuff no matter how bad the weather is. Considering these recent demands from children, the size of Randoseru has been adjusted to cater to their needs.
Survey Period: August 2020
Survey Target: Families who have children starting elementary school in 2021 (n= 1660)
Survey Method: internet
reference: https://www.seiban.co.jp/hiroba/detail/95
What do they carry with Randoseru?
Do you know how much weight textbooks they have to carry every single day? According to the survey, the average is 5.6 kg! And the heaviest case is 11 kg! Except for the stationary, they have to carry heavy bags every day, so what do they have to take to school?
Let's take a look at the items they carry every day.
・Textbooks
According to the survey, they're supposed to carry about 17 textbooks every day. Since the free-pressured education system was upgraded to a more intensive and cramming one, the number of pages of each textbook has increased and is getting heavier. Also, in 2020, English became a required subject starting in 5th grade of elementary school, so now they end up using more textbooks, especially thicker textbooks.
・Tablets
Since the pandemic started, elementary school students in Tokyo started to use their tablets to do homeschooling or online lessons in the case of emergency declaration. Because of this pandemic, IT technology is being introduced actively in schools. So tables are necessary items for students to take to school.
In order to cater to the demand that students have to put a lot of textbooks, a tablet, and drink bottles in Randoseru, the length, width and depth are getting wider than before. Other than that, they have to carry tote bags to take extra items they need to use in school. It's understandable that many parents tend to choose as light Randoseru as possible.
Randoseru Accessories
・Tablet cases
There are various kinds of items students use with Randoseru. For tablet cases, Randoseru covers are most people's go-to choice. You can easily buy these covers at shopping malls or in stationery stores.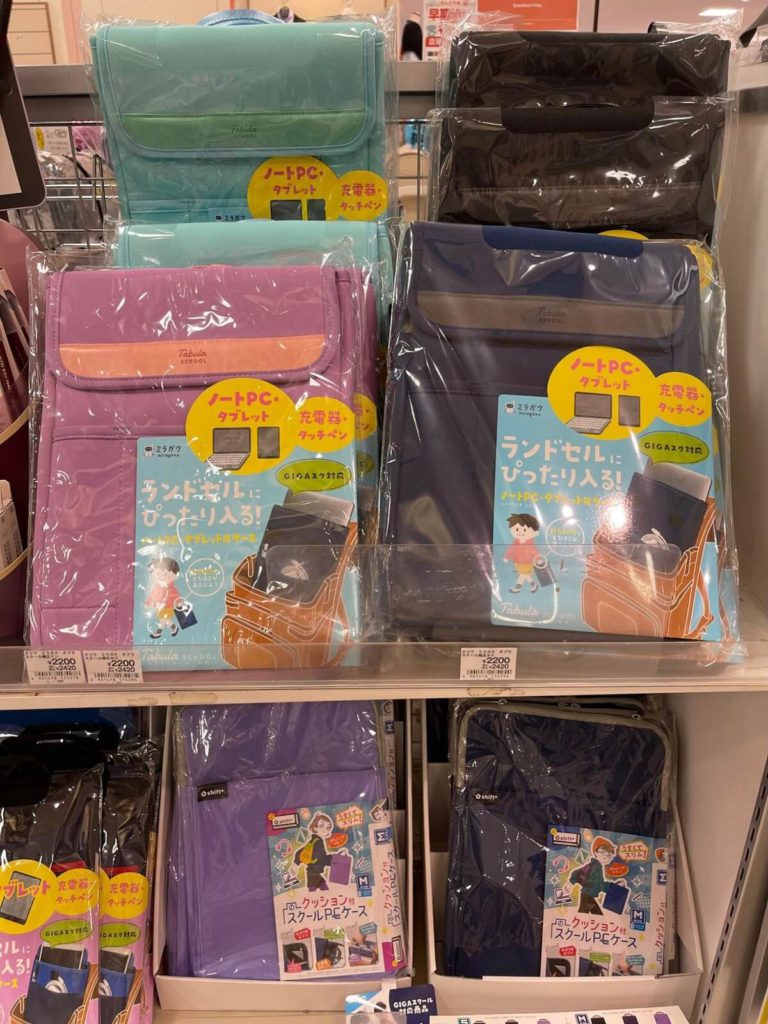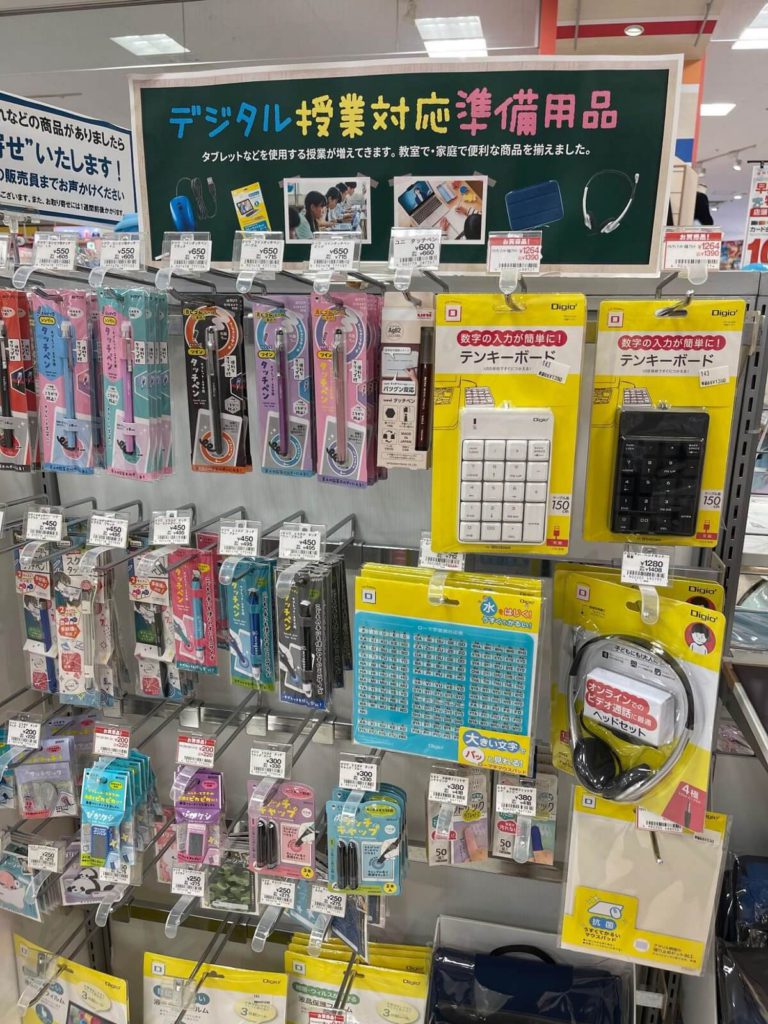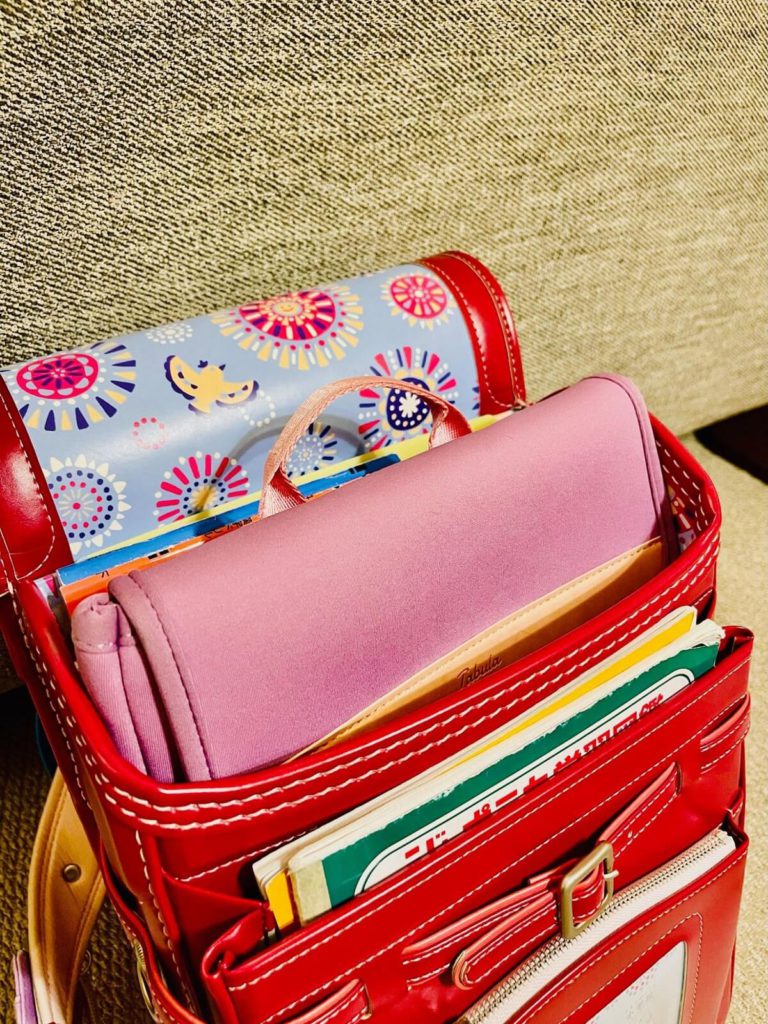 ・Randoseru Covers
For protecting the surface of Randoseru, there are various kinds of Randoseru Covers.
Some of them are made of plastics or fabrics.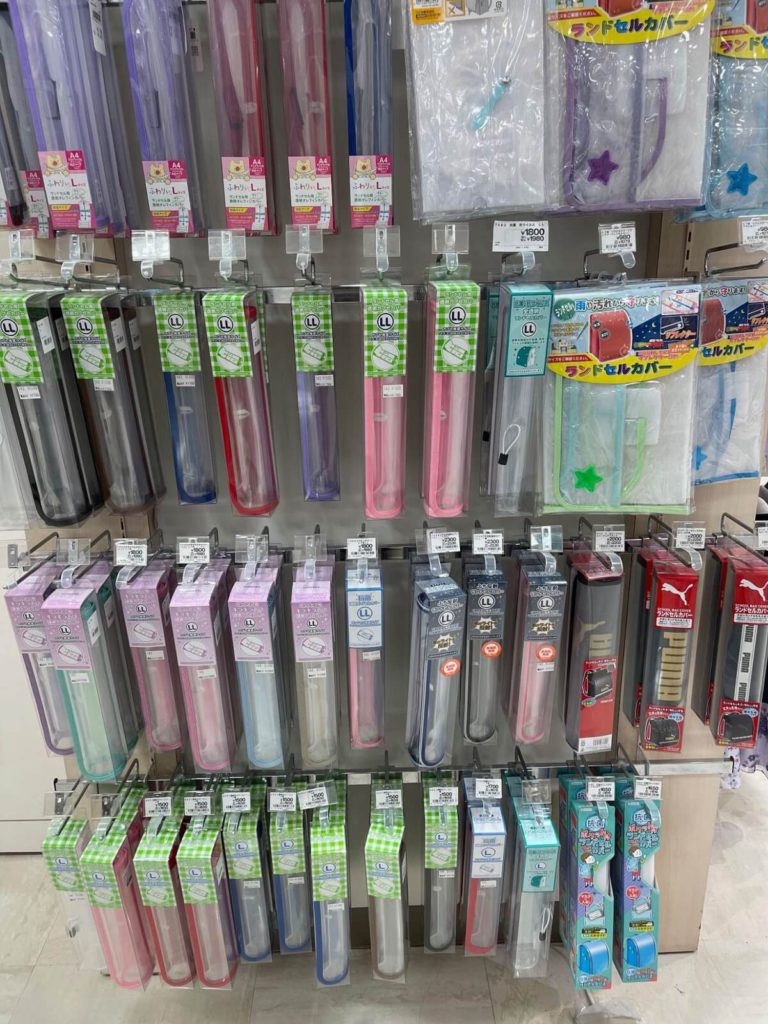 How strong Randoseru is??
If you have an idea of purchasing Randoseru, you must have been wondering how tough and strong Randoseru is.
Let's look at the actual status of use and appearance of Randoseru, brand new status, and the one which had been used for six years without any covers or protectors.
You may not be able to see the brand new Randoseru from this picture that much, but you can see its toughness from the picture after six years of use. It still looks beautiful and looks as if it is new. My first daughter used it for six years, every single day carrying heavy textbooks. It's amazing! This artificial leather, called Carlino, is a product of Tsuchiya Kaban.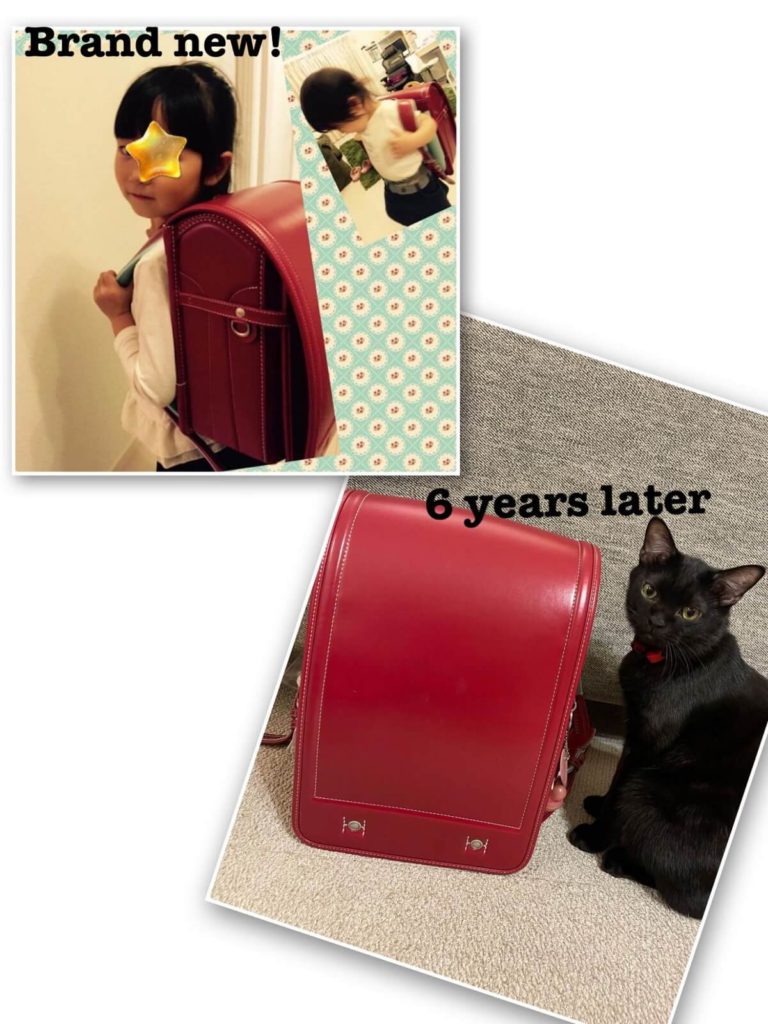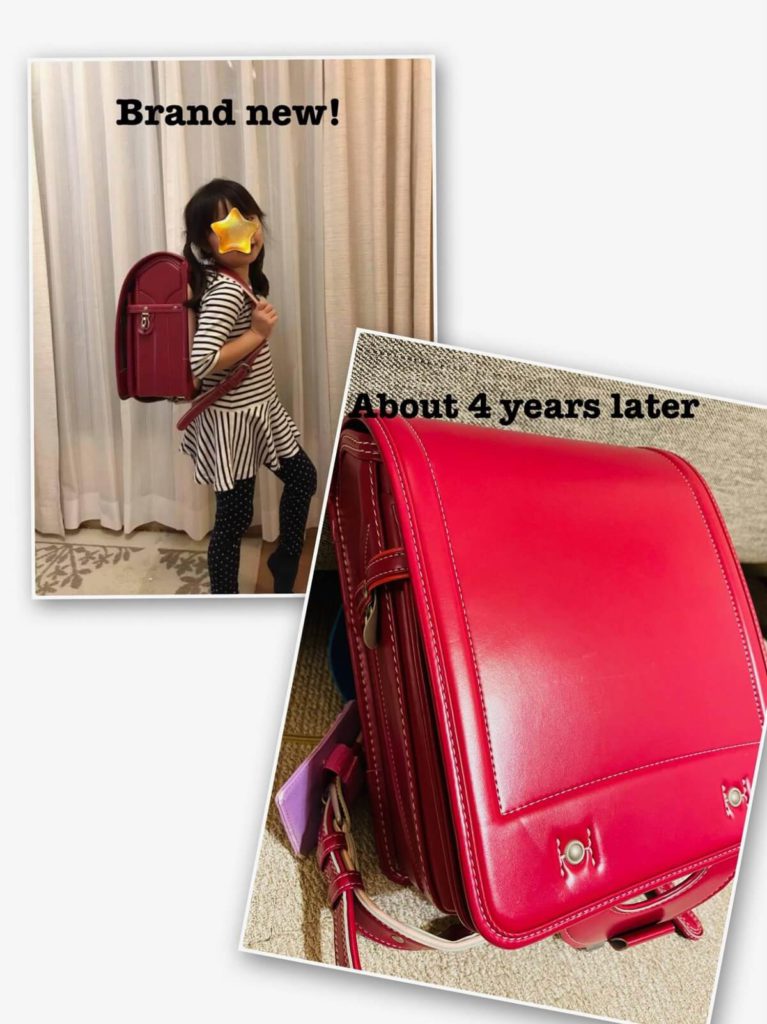 The comment after using Randoseru for six years.
Quite pricey but worth paying that amount of money.
In my case, buying the Randoseru made of clarino was a great choice.
Getting the information as early as possible.
Choosing Randoseru, depending on your preference and demand.
Choosing Randoseru with your children.
Did you enjoy reading this article?
It is true that purchasing popular Randoseru is getting competitive in Japan these days, especially in urban areas. If you don't mind any brands, you don't need to worry about it, though.
Lastly, I would like to share some of the famous manufacturers of Randoseru.
Top 17 Randoseru Makers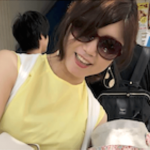 I live in Tokyo with my husband and two daughters. I am an English teacher for kids. I love taking pictures, drawing, and learning languages. Strolling various spots and exploring the hidden cafes or restaurants are my favorite.