Finally, the hot, scorching summer is over in Japan. Fall is the best season to enjoy food, nature, and strolling towns.
Look! I'm in Minatomirai today. Minatomirai is a beautiful port area in Yokohama, Kanagawa Prefecture. It has a lot to offer and attracts a huge number of tourists and locals. I have an idea!! Why don't we cut loose and look for something related to the sea?
☆Anchors and…
Speaking of the sea, I can imagine a lot of marks and pictures of anchors that I've seen off the top of my head. Truth be told, you can find many anchors in Minatomirai – some of them are real, and some of them are not! Will you join my jaunt to find anchors just like treasure hunting here? Let's head out!
1. Nippon Maru Memorial Park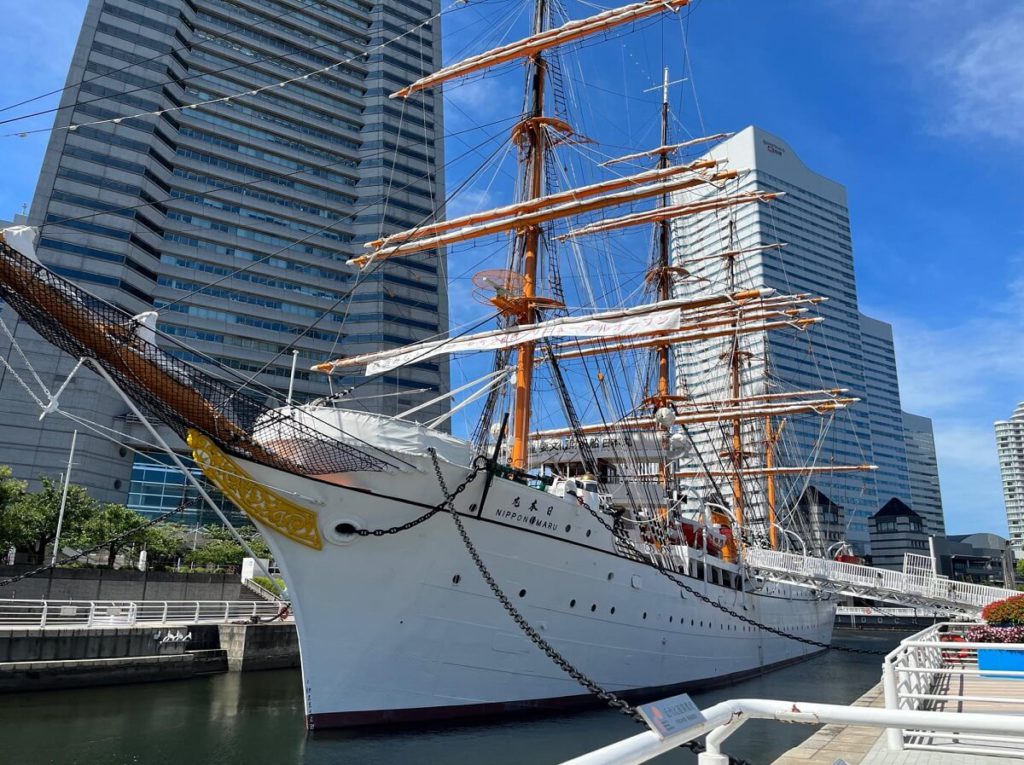 This is the best place to start this strolling. Nippon Maru is a sail-training ship built in 1930. After her retirement in 1984, she has been placed here and open to the public since 1985. She was designated as a National Important Cultural Property in 2017. Can you see an anchor in this picture?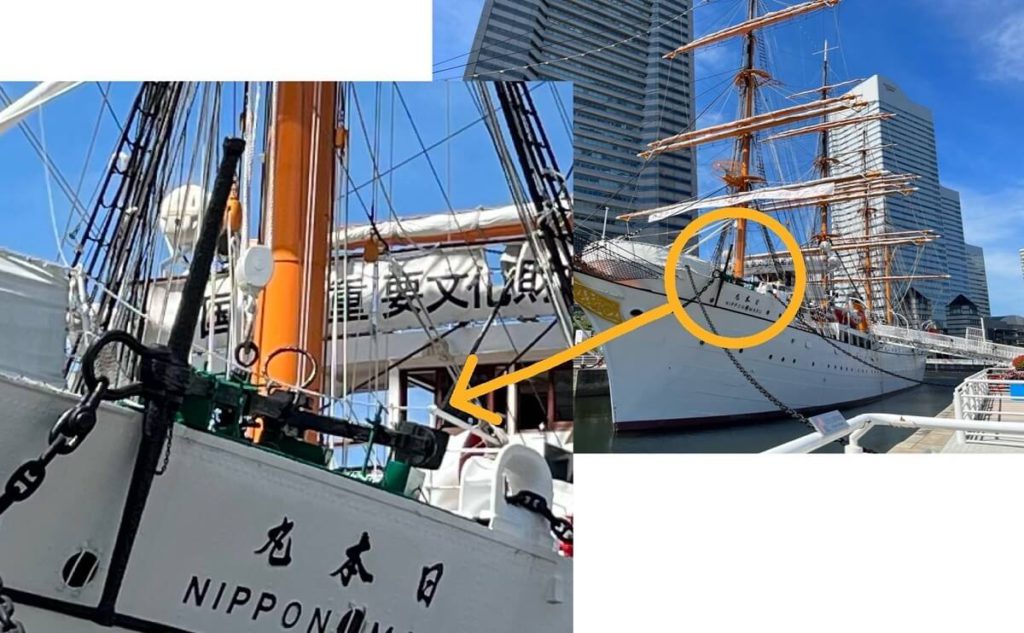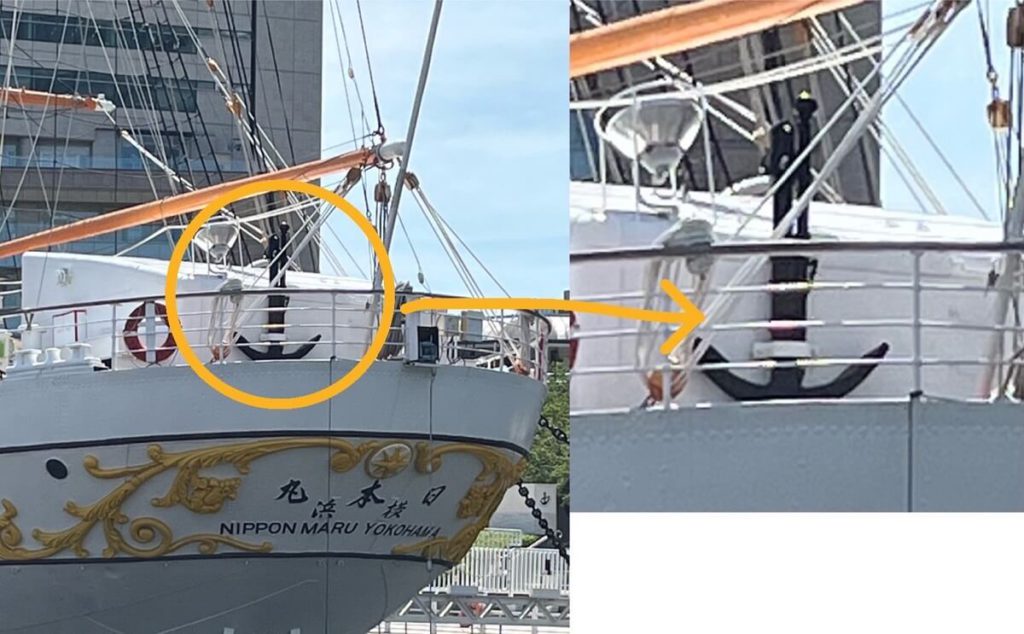 I highly recommend that you buy a ticket and enter the ship. Actually, it caught me by surprise to see all the details inside this ship!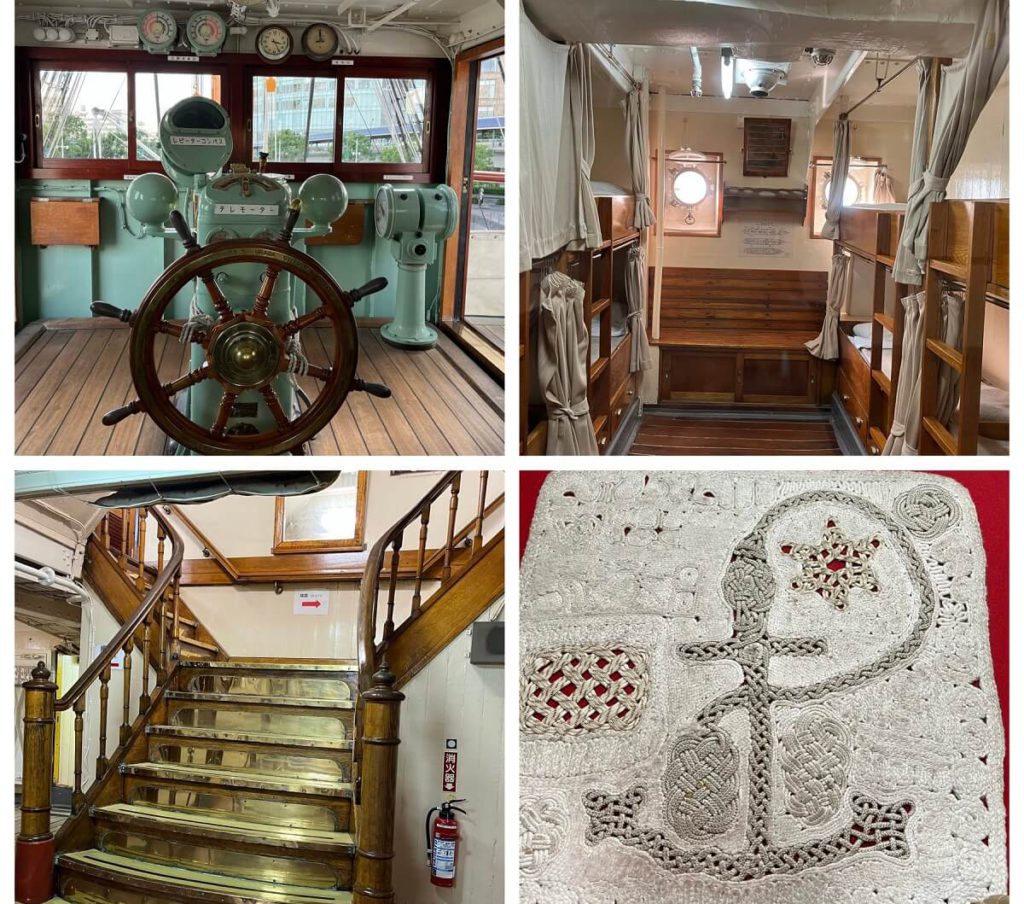 In this park, you can find one more anchor outside. Look at the photo below. This anchor was a gift from the Port of Hamburg in Germany, which is a sister city of Yokohama, in memory of 10 years of their relationship. I heard this anchor was really used over 100 years ago.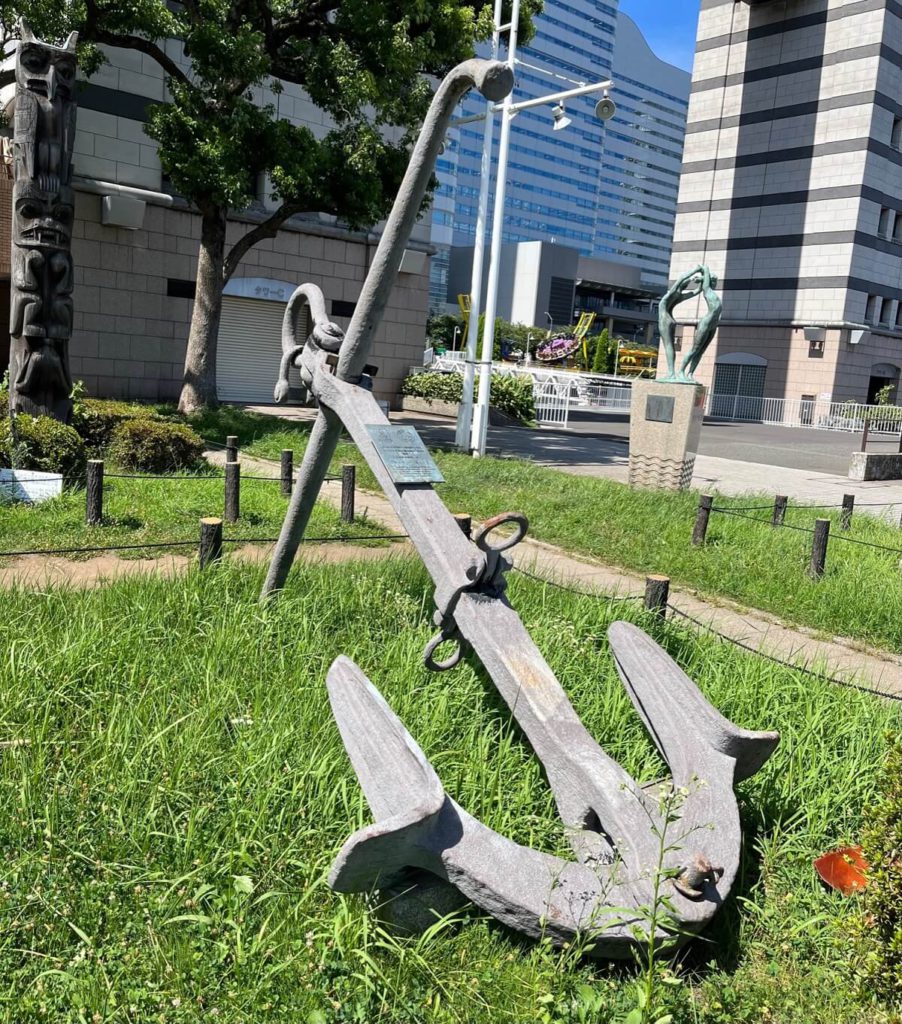 If you want to know more about Yokohama as a port town, there is the Yokohama Port Museum in front of Nippon Maru. The logo of the anchor is so cute, isn't it?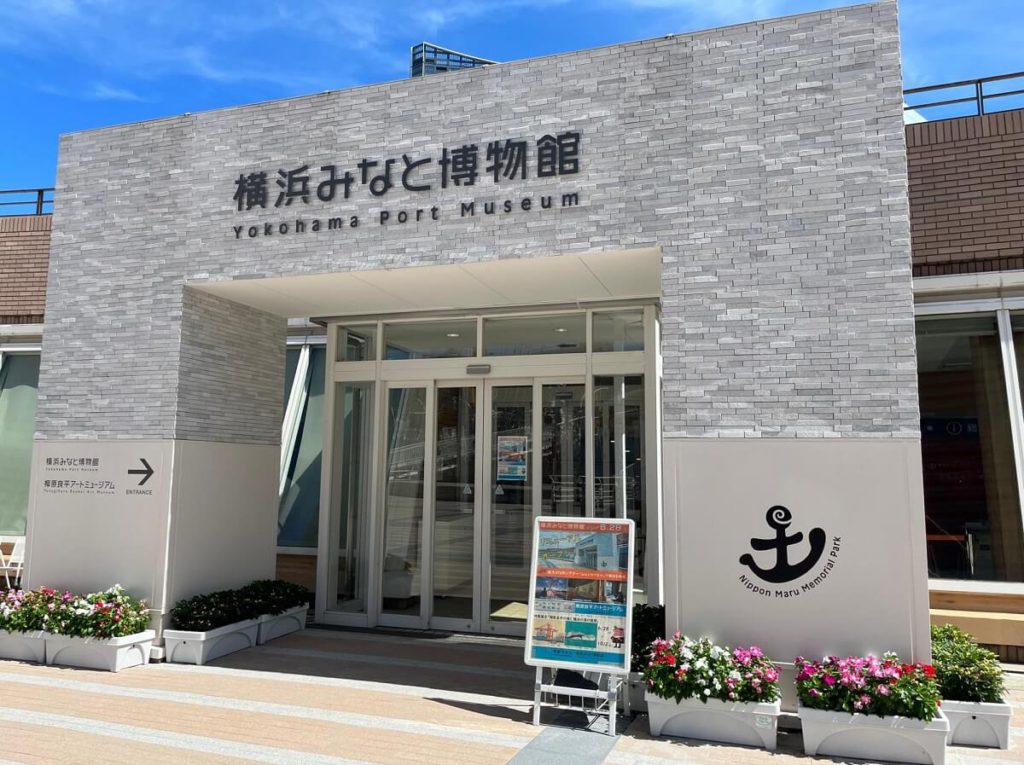 Information about Nippon Maru and Yokohama Port Museum
2. NAVIOS YOKOHAMA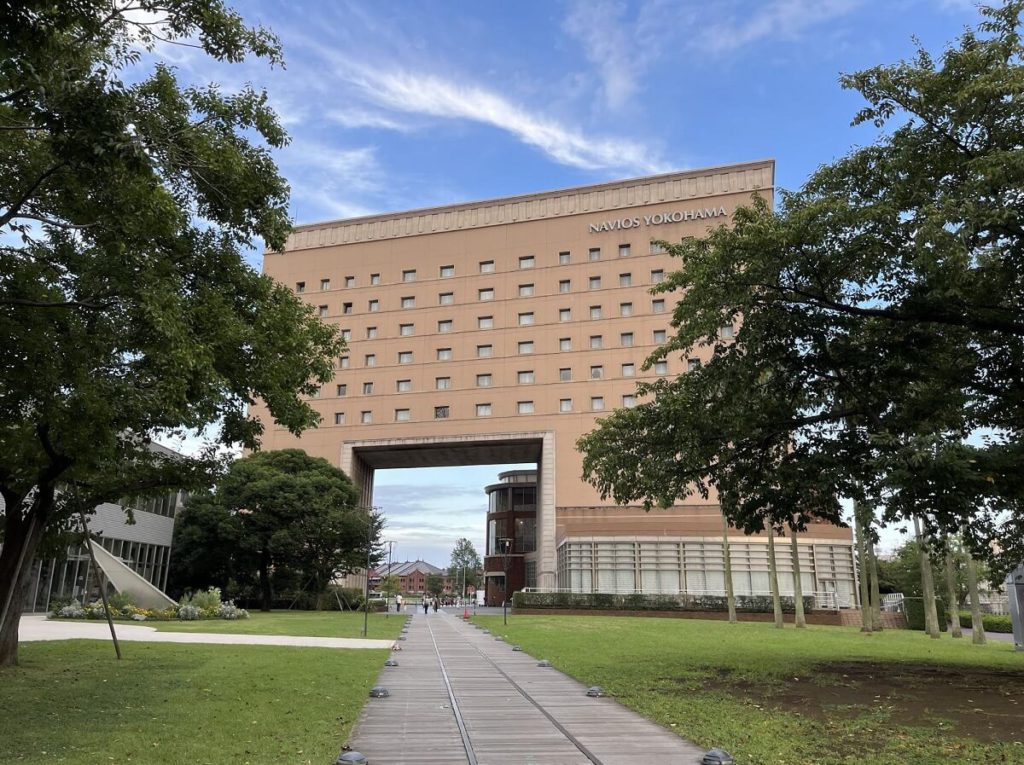 This is a hotel located within a ten-minute walk from Nippon Maru. The Arch of Triumph-like building might make you think what it is. From here, you can enjoy the best night view, and not to mention that it's a popular spot for many couples. And there, you can find an anchor!
According to the signboard, it weighs 18.27KT (​​about 40,278,455 lbs!), and its length is 4.8m. It is said that this size is the same as the one on a large crude oil carrier!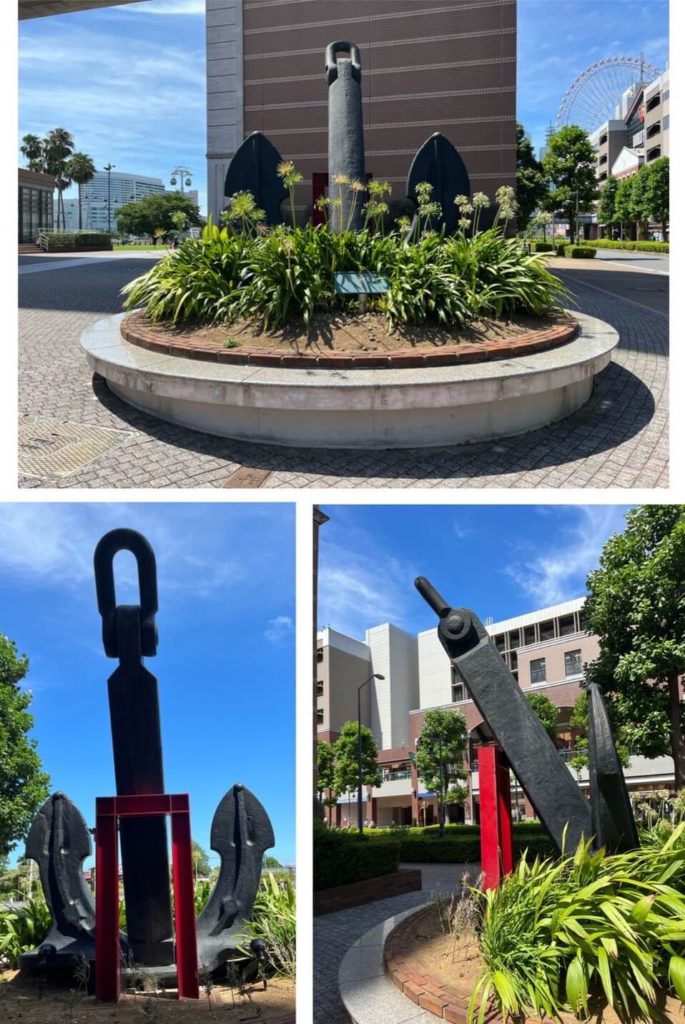 3. Rinko Park
Behind Pacifico Yokohama (National Convention Hall of Yokohama), there is the largest park in Minatomirai. A lot of family, couples, and friends are enjoying themselves in their own ways on this huge grass field with the vast sea scenery. This is also one of the best places to see Yokohama Bay Bridge. It must become a weekend's gateway if you walk or sit and chat while seeing the ships come and go and hearing the sound of boats' steam whistle. The anchor there will help you to feel the sea more! Without question, this is an instagrammable spot!!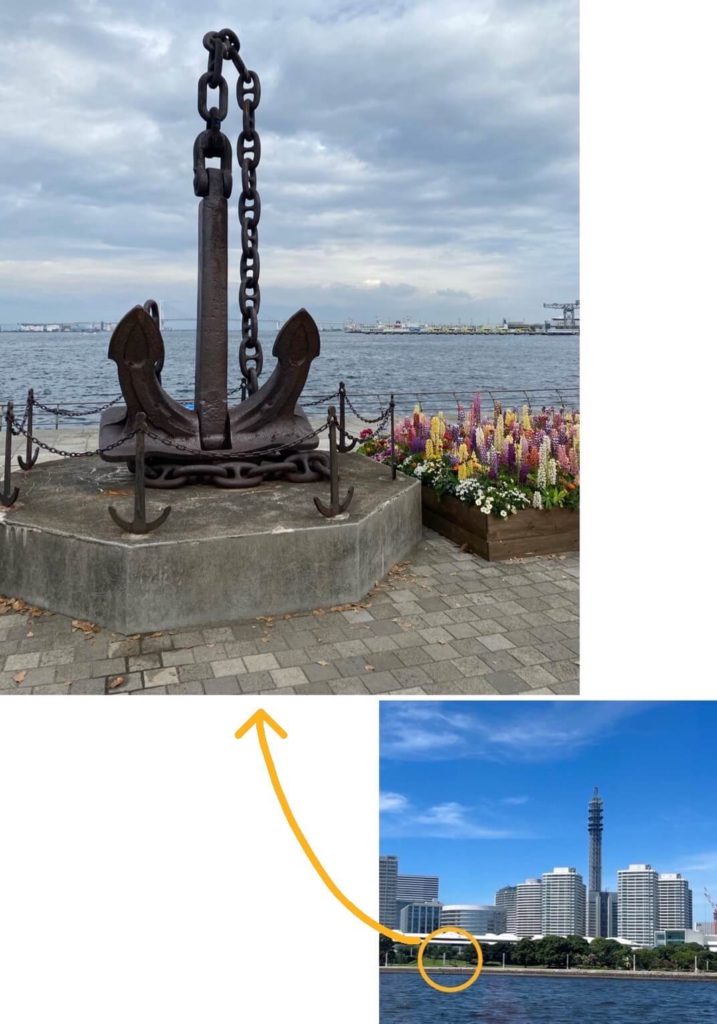 4. Sea Bass
Although the easiest way to go to Minatomirai is by train, why don't we take a waterbus called Sea Bass today? You can enjoy the cruise from Yokohama station to Red Brick Warehouse in Minatomirai for about 20 minutes for 800 yen. By the way, the name Sea Bass, not Sea Bus, was named after the fish. Just a few steps away from the land, let us go into a bit of a different world as if we become fish.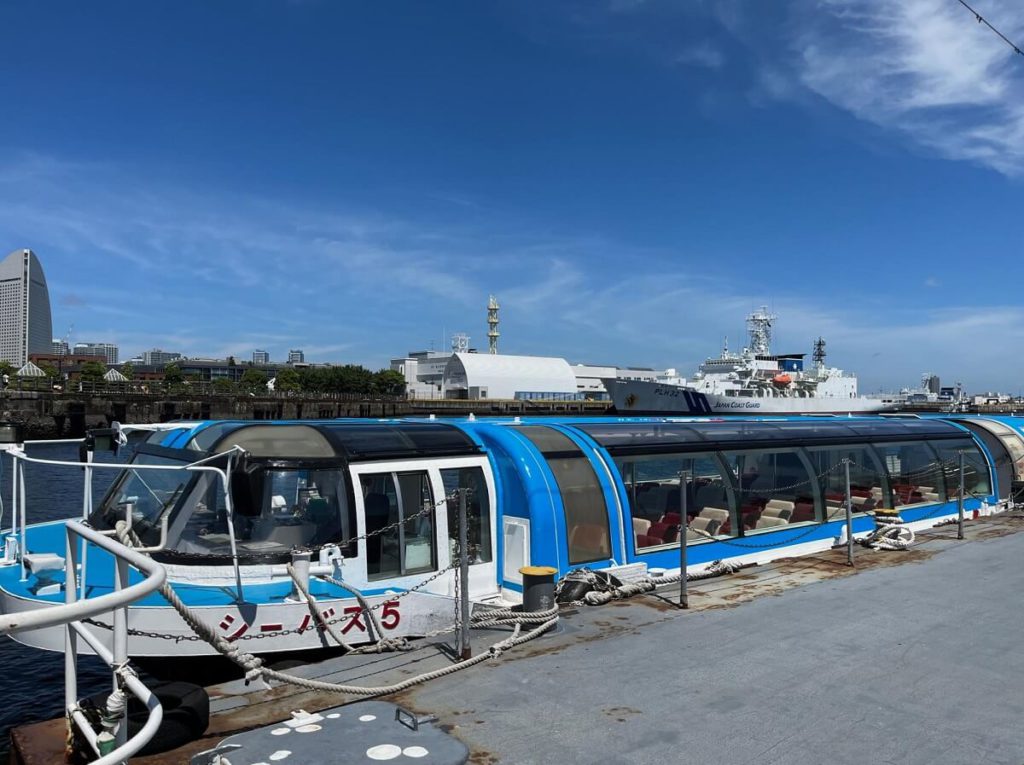 Don't forget today's mission! Can you see the anchor on the patrol vessel of the Japan Coast Guard? From Sea Bass, you can see it clearly.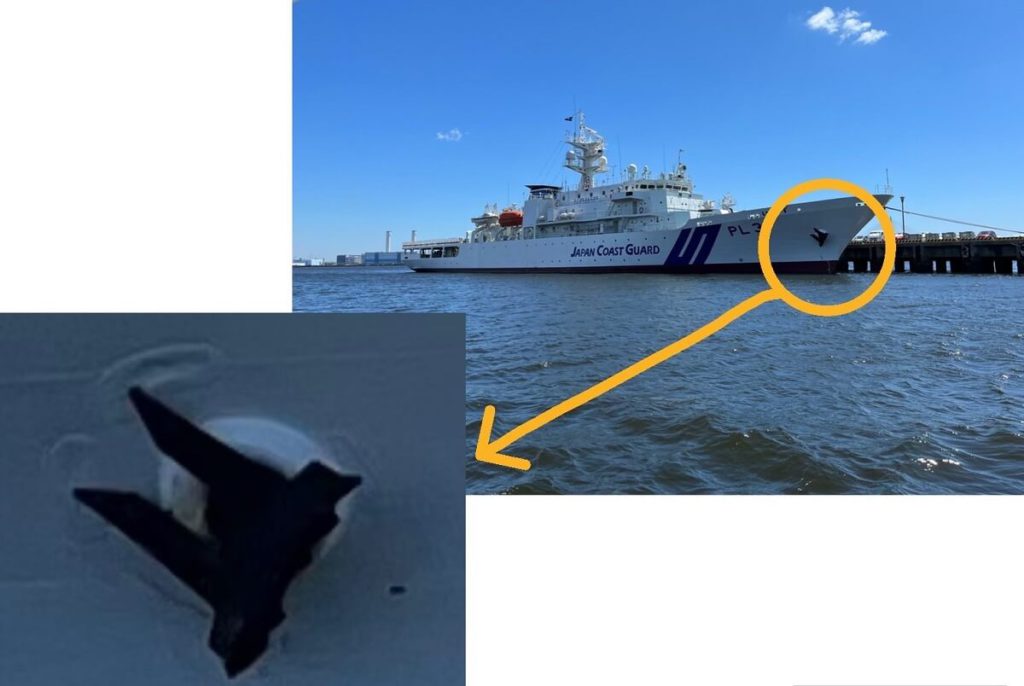 Please check the time schedule and the boarding fee for Sea Bass!→Sea Bass
5. Dockyard Garden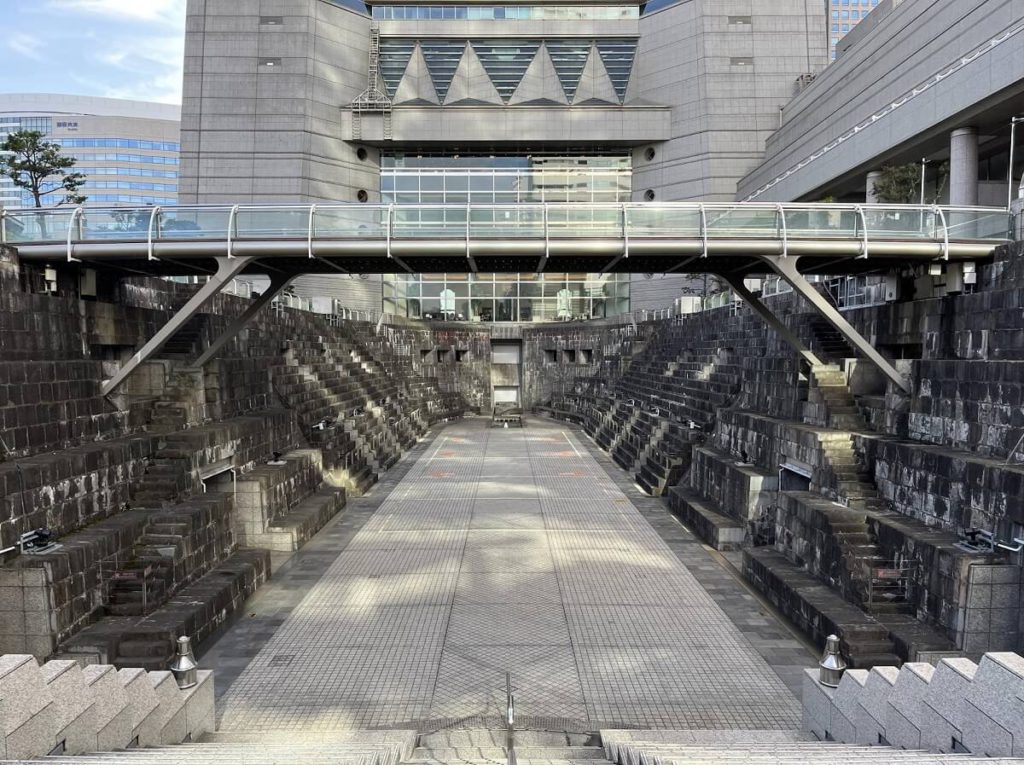 Last of all, let me introduce a special place, Dockyard Garden. This dock used to be used for building and repairing ships. It was designated as an Important Cultural Property in 1997. Sometimes people enjoy events held here or just look at the lights at night.
To be honest, I always just walk by this dock without thinking about anything. However, since there was nobody here, I stood in the center of this dock and spent some quiet time in a while today. Surprisingly, I felt a mythical breeze from the sea as if I could hear the long story of this port town. Believe me or not, I hope you can visit here when it's not crowded.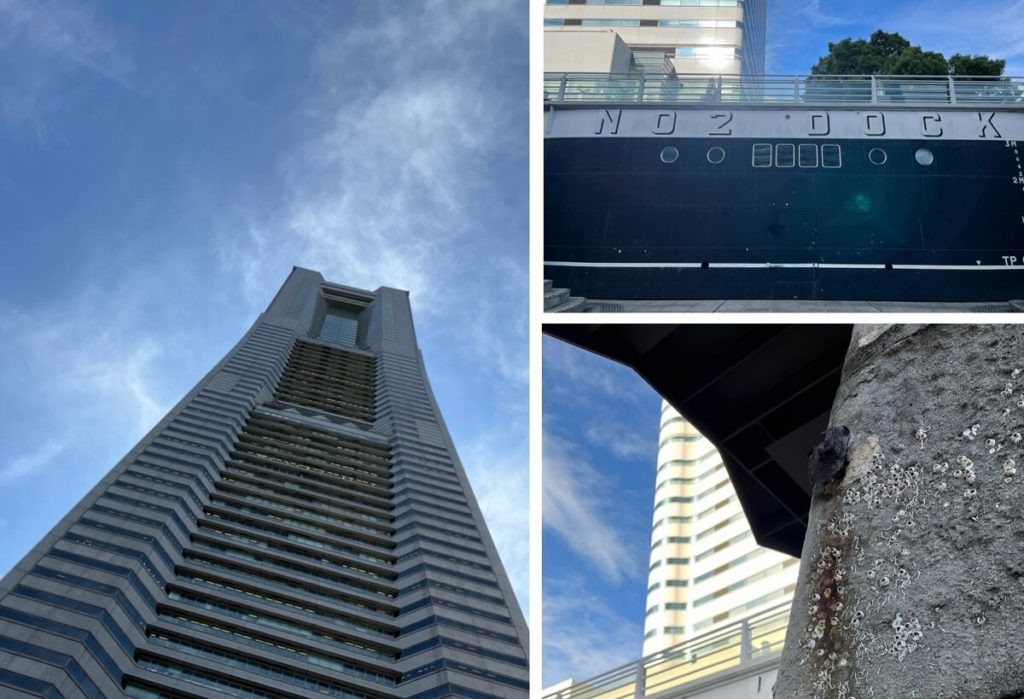 ☆Thank you for spending time with me!
Now how do you feel about Minatomirai? If you see the photo below and think "Here's an anchor," you're already obsessed with anchor hunting! Please enjoy some delicious food and get enough energy for your next voyage!!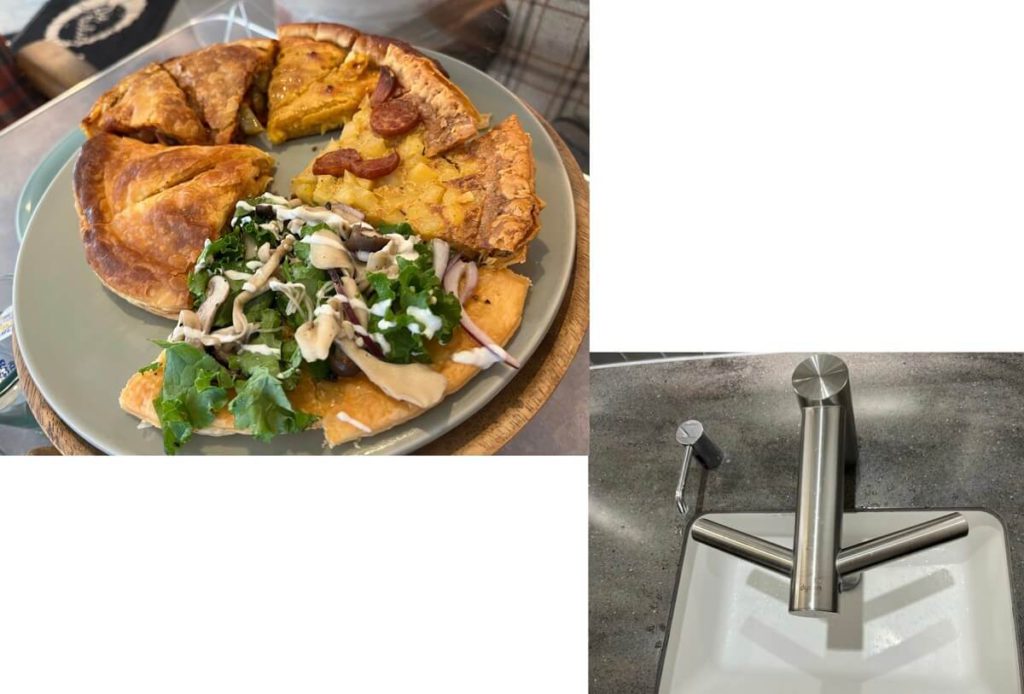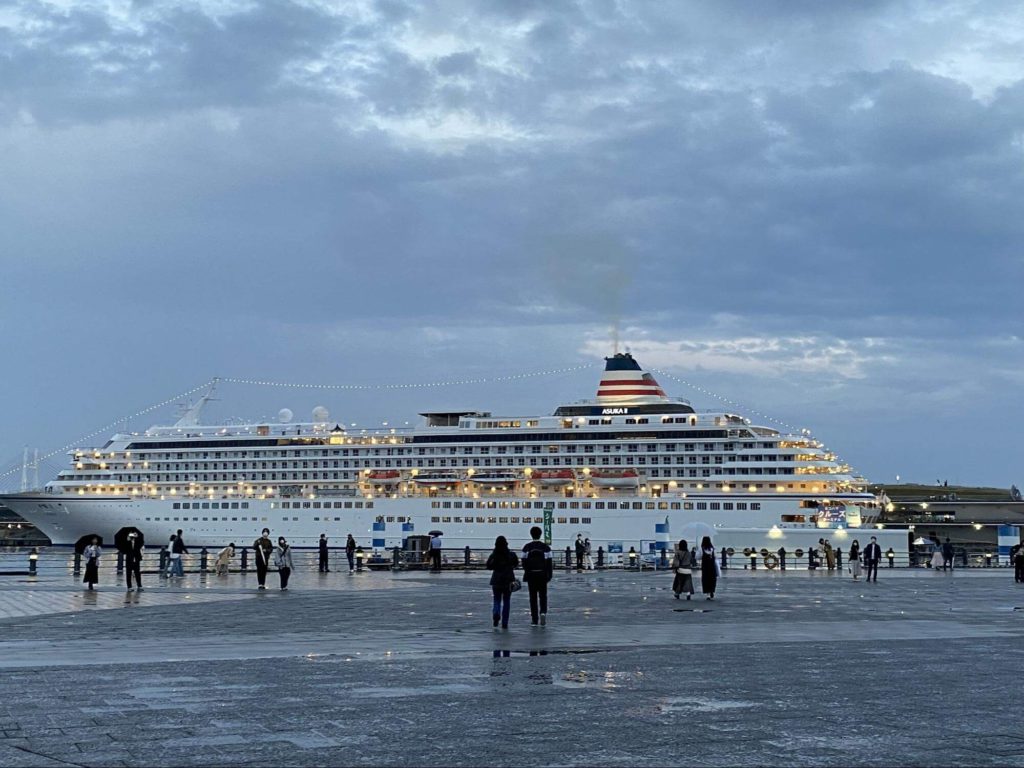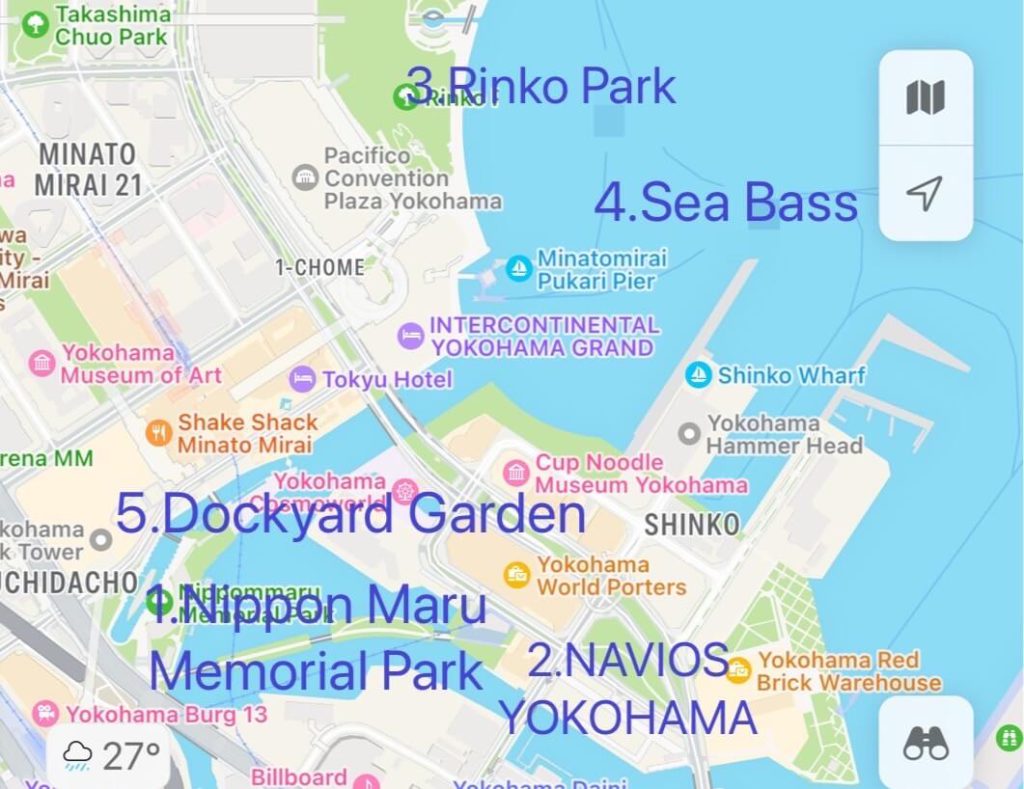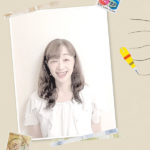 Working for an English language school. My source of energy is our students' smiles full of curiosity. I love visiting my friends in and outside of Japan.