I introduced several spots in the center of Arashiyama in "Explore Arashiyama to your heart's content ~part 1~."
In this part 2, I'll share some beautiful and deep sites in Hozukyo (保津峡) and the north Sagano(嵯峨野) area, just a little further from Arashiyama.
〜Hozukyo〜
1. JR Hozukyo Station (JR 保津峡駅)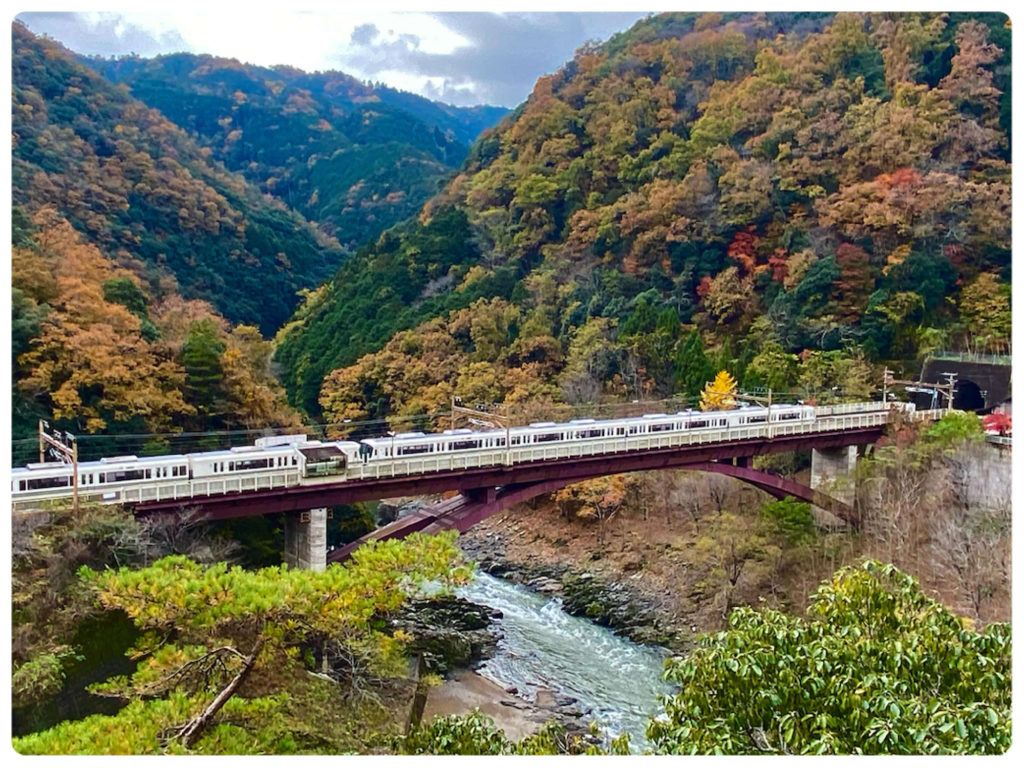 JR Hozukyo Station, a secluded and also very unique station on the bridge over the Hozu-gawa River, is the next station after JR Saga-Arashiyama Station, only 4 minutes away.
Be careful, rapid trains do not stop at this station, only local ones do.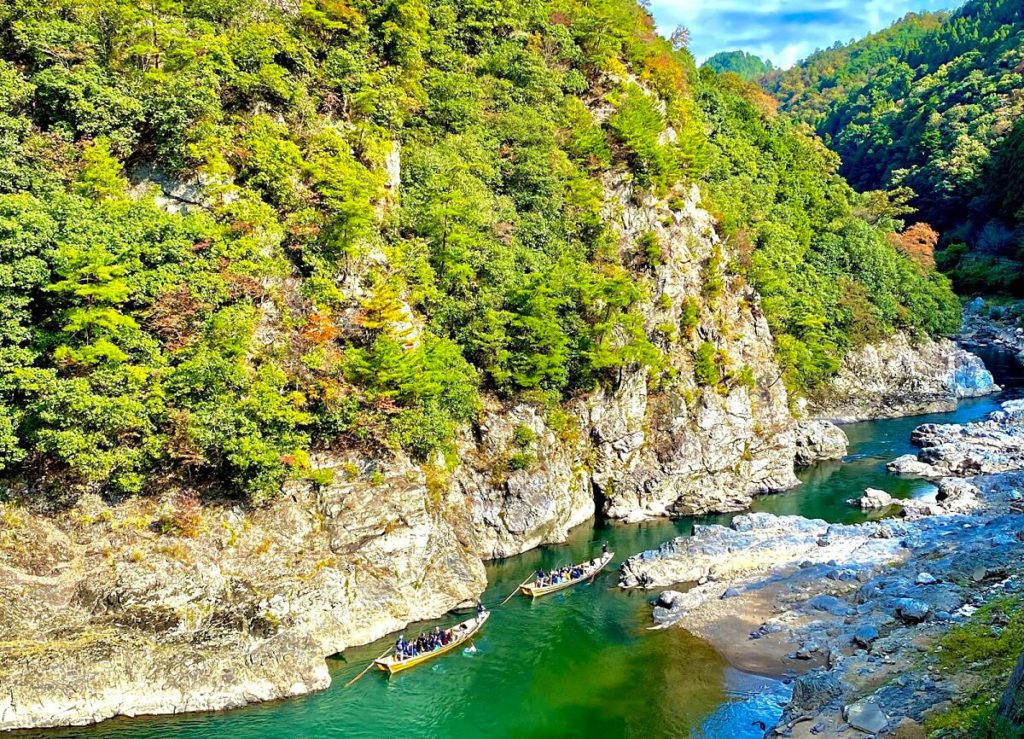 You can take in this view from this station platform. Its scenery may surpass even that of Arashiyama!
The area around this station is also a hiking trail, so you can enjoy a stroll.
The train usually comes every 20 minutes. After taking pictures of the breathtaking view, you may board the next train towards Kameoka (亀岡).
Wouldn't it be a good idea to go back down the river by Hozu River Cruise from Kameoka to Arashiyama?
2. Hozu River Cruise (保津川下り)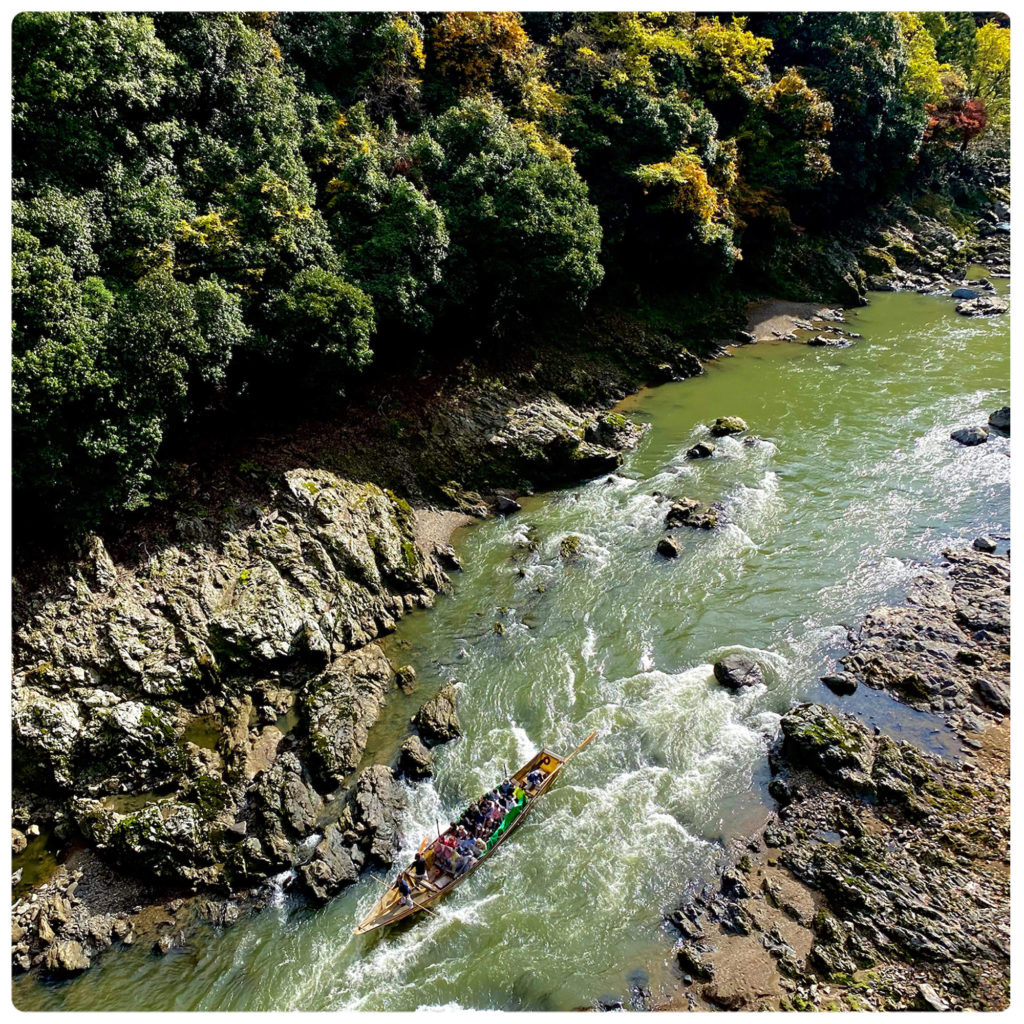 The Hozu River Cruise is a thrilling 2-hour boat ride down a 16-kilometer mountain stream from Kameoka to Arashiyama.
This river cruise has a 400-year history as a sightseeing boat for enjoying the stunning beauty of the gorge in each season.
The boarding area is about an 8-minute walk from JR Kameoka Station.
You can also enjoy rafting. See the link below for more information!
Hozugawa River Cruise
https://www.hozugawakudari.jp/
3. Sagano Scenic Railway (Trolly Train or Torokko Train)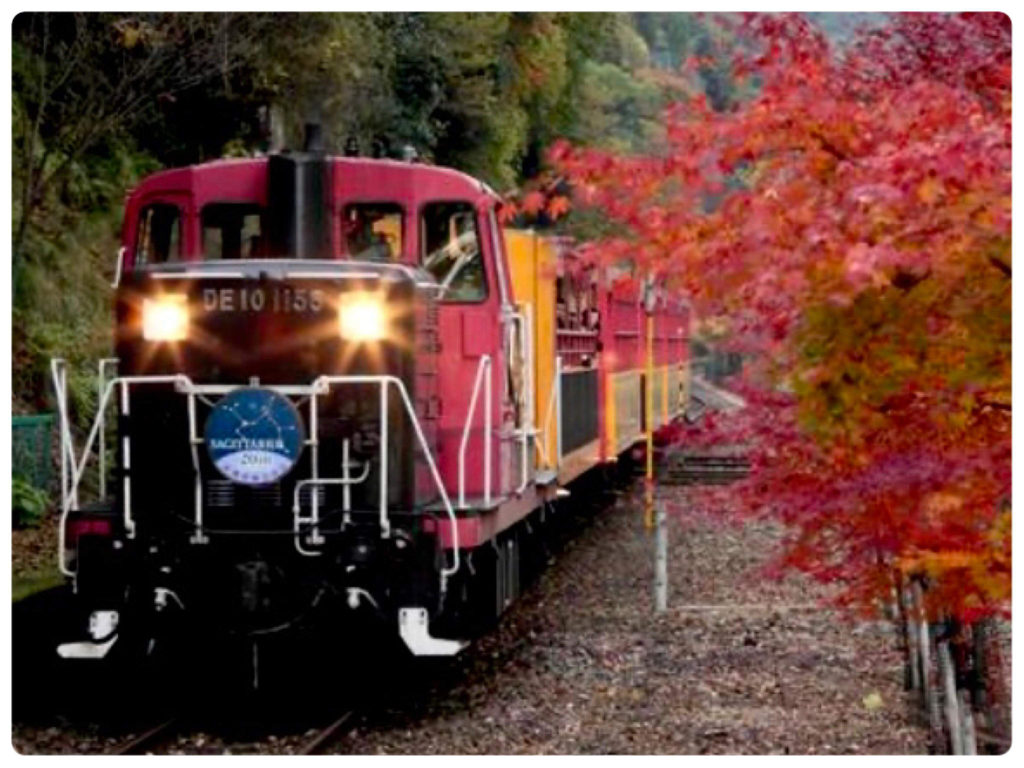 This tram is a sightseeing train that runs between Arashiyama and Kameoka along the Hozu-gawa River, taking about 25 minutes to make the 7-kilometer journey.
The line has only four stations;
Torokko Sagano Station (next to JR Saga-Arashiyama Station)
Torokko Arashiyama Station (near Okochi Sanso)
Torokko Hozukyo Station
Torokko Kameoka Station (near JR Umahori Station)
No matter which station you board from, the one-way fare remains the same (880 yen). This line is not covered by Japan Rail Pass.
Sagano Scenic Railway
https://www.sagano-kanko.co.jp/index.php
〜North Sagano〜
Proceeding north from Okochi Sanso (the arrow in the map below), the number of people is becoming much smaller. I think you'll enjoy this peaceful north Sagano area at your own pace!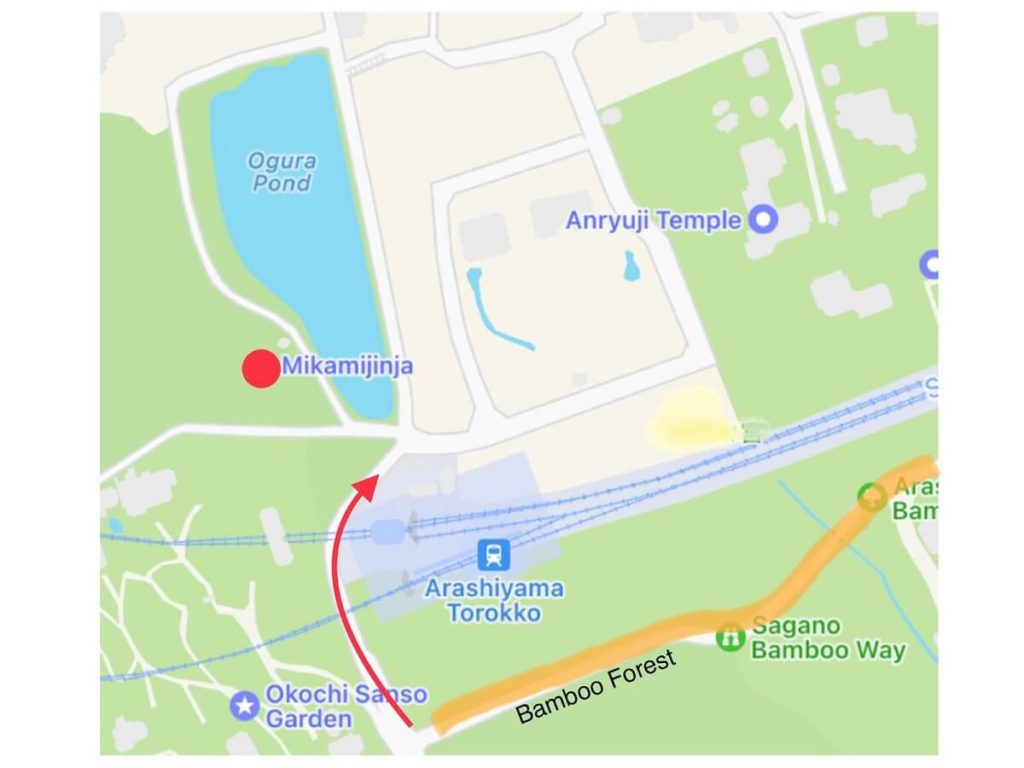 1. Mikami-jinja Shrine (御髪神社, "髪"kami means hair)
This shrine is said to be the only shrine in Japan that has the power to give you beautiful hair. If you are worried about your hair, you may benefit from stopping by here! It also seems a lot of people who work with hair like hairdressers, barbers, and wig companies visit this shrine.
Usually in Japan, temples require a fee for admission, but shrines do not.
2. Jojakko-ji Temple (常寂光寺)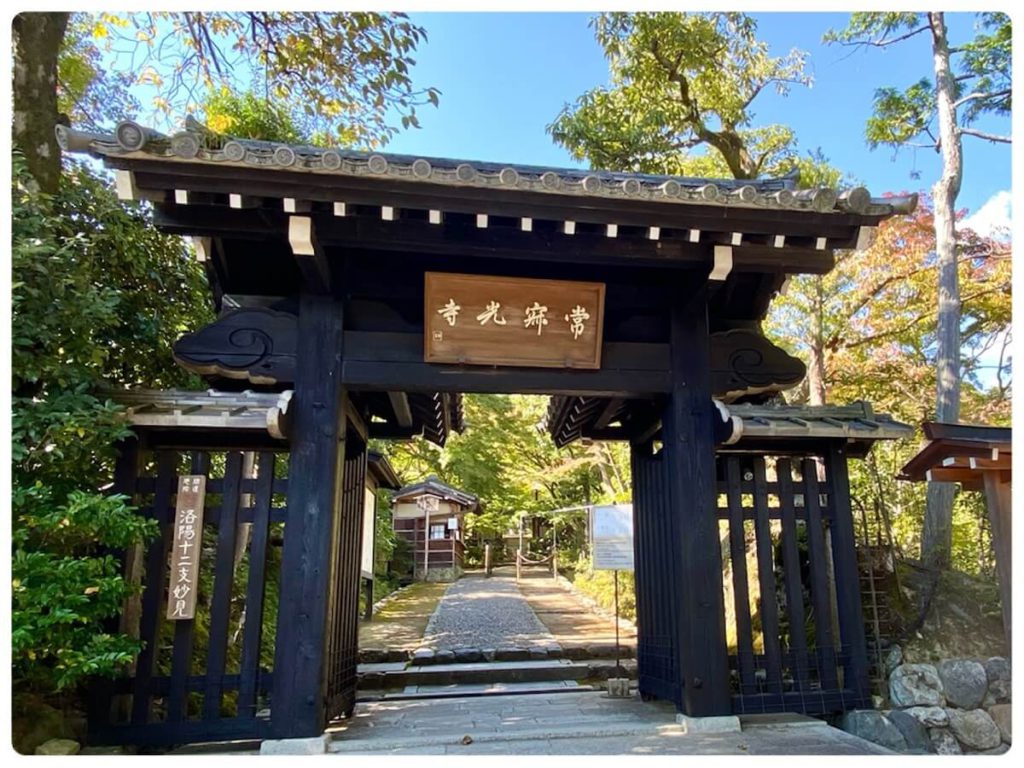 It's one of the must-visit temples regardless of the season and is also one of the most famous places in Sagano, especially during the season of autumn leaves. The temple offers a breathtaking view of Kyoto city as well!
Jojakko-ji
https://jojakko-ji.or.jp/
3. Rakushisha (落柿舎)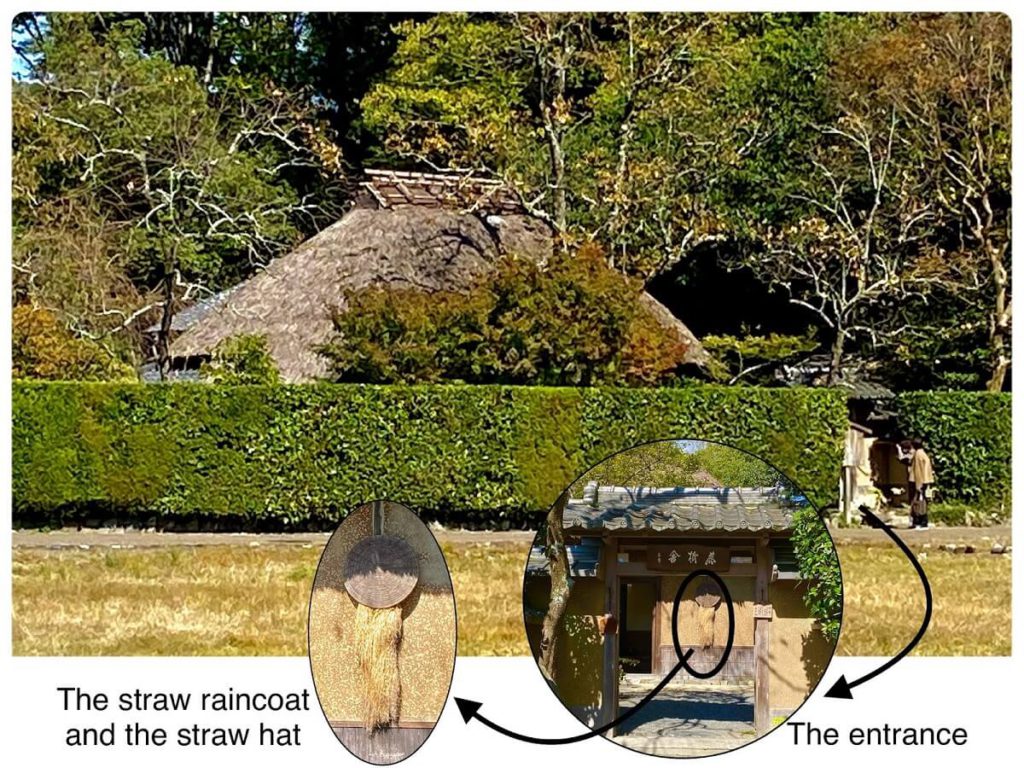 Heading a little east from the entrance of Jojakko-ji Temple, you can see a thatched hut on your left.
The hut is called Rakushisha, haiku poet Mukai Kyorai's (向井去来) villa, which is a sacred place for haiku poets. The world-famous haiku poet Matsuo Basho (松尾芭蕉) also stayed here to write.
There used to be about 40 persimmon trees in the garden, and all the fruits fell off the trees in a storm the night after he agreed to sell them. This is the origin of the name "Raku-shi-sha," (fall-persimmon-hut, 落-柿-舎).
The straw raincoat and the straw hat are the symbol of Rakushisha.
4. Nison-in Temple (二尊院)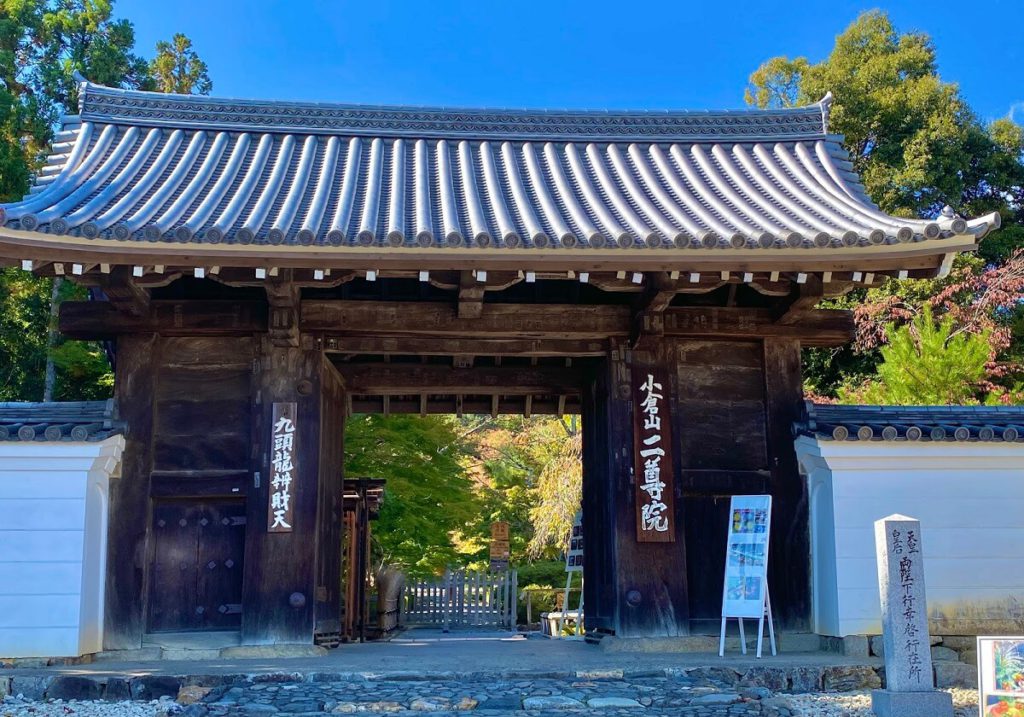 Mostly each temple enshrines one principal Buddhist image in its main hall.
However, Nison-in Temple has two principal image statues, Shakamuni Buddha (釈迦如来) and Amida Nyorai (阿弥陀如来) in the main hall. That's why this temple is called Ni-son-in (two-main image-temple, 二-尊-院).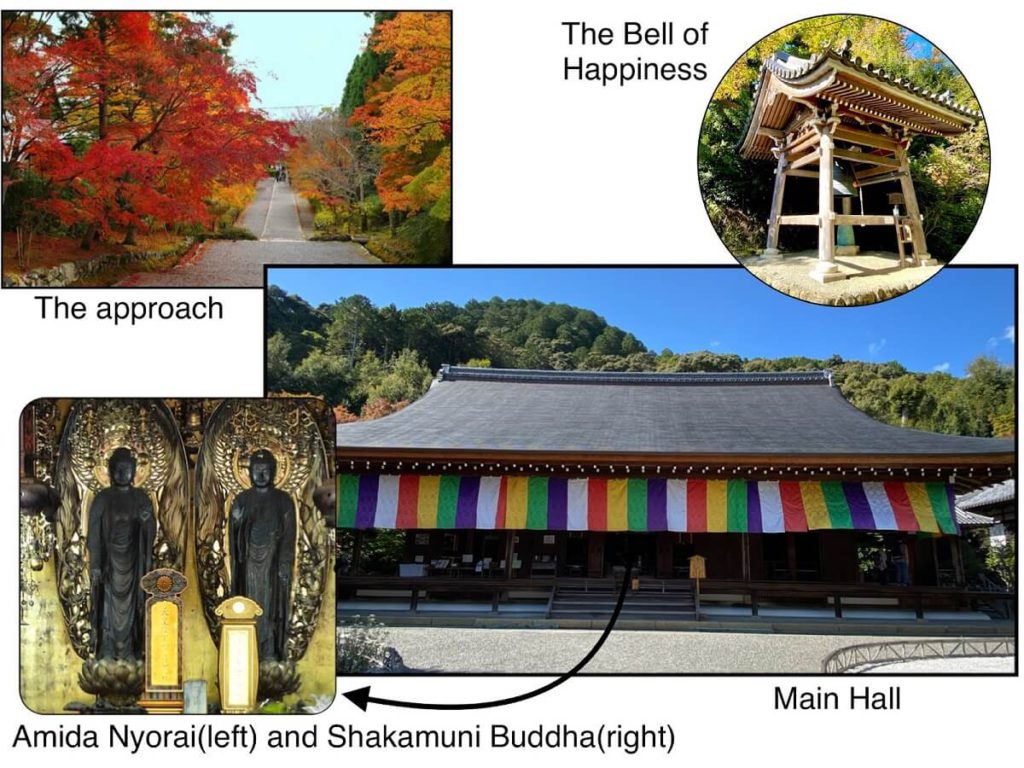 Nison-in
https://nisonin.jp/visit/?lang=en
5. Gio-ji Temple (祇王寺)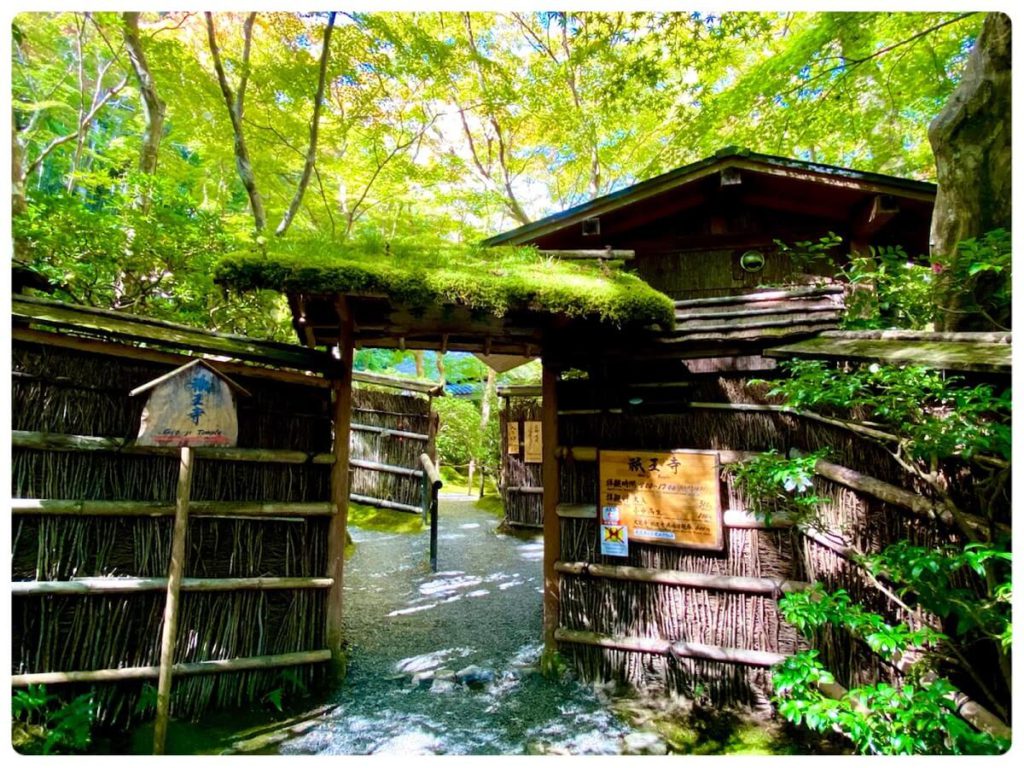 Gio-ji, also known as the convent (building where female monks live) of the tragic love story in the Tale of the Heike (平家物語), has a small thatched house and an beautiful moss garden.
If you are interested, check out the link below for the sad love story related to Gio, who was once favored and then abandoned by Kiyomori Taira (平清盛, 1118-1181) because of Hotoke Gozen.
There are similar love stories in any period, aren't there!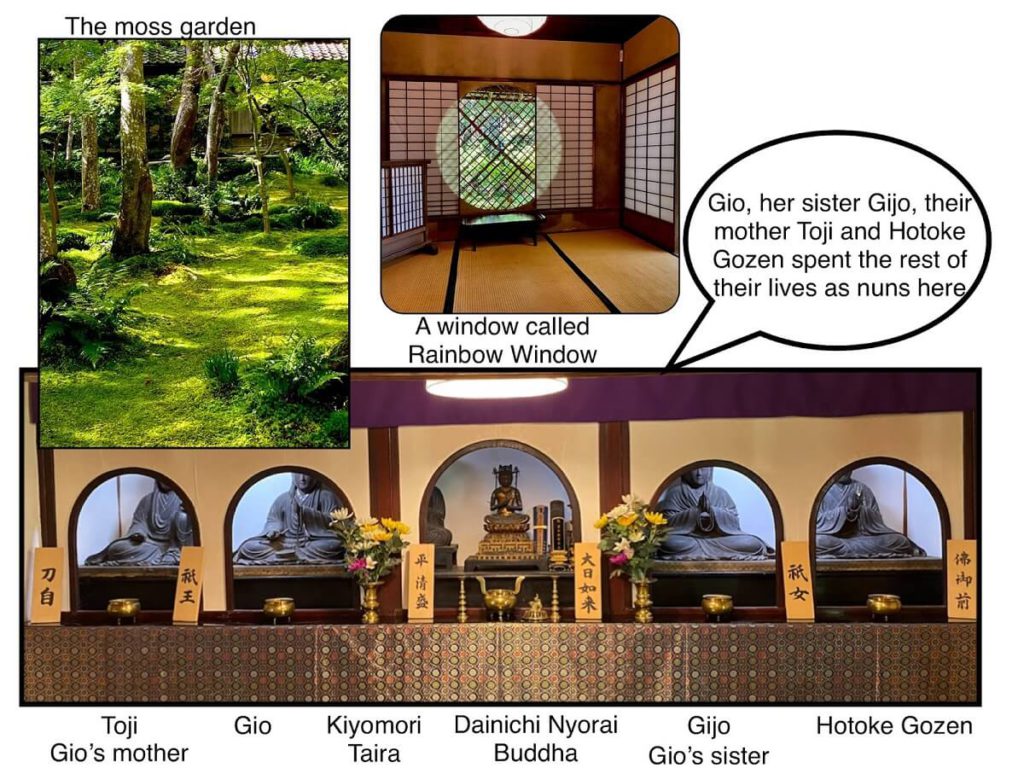 Gio-ji
https://www.discoverkyoto.com/places-go/gio-ji/
〜 Saga-Toriimoto (嵯峨-鳥居本) Preserved Street 〜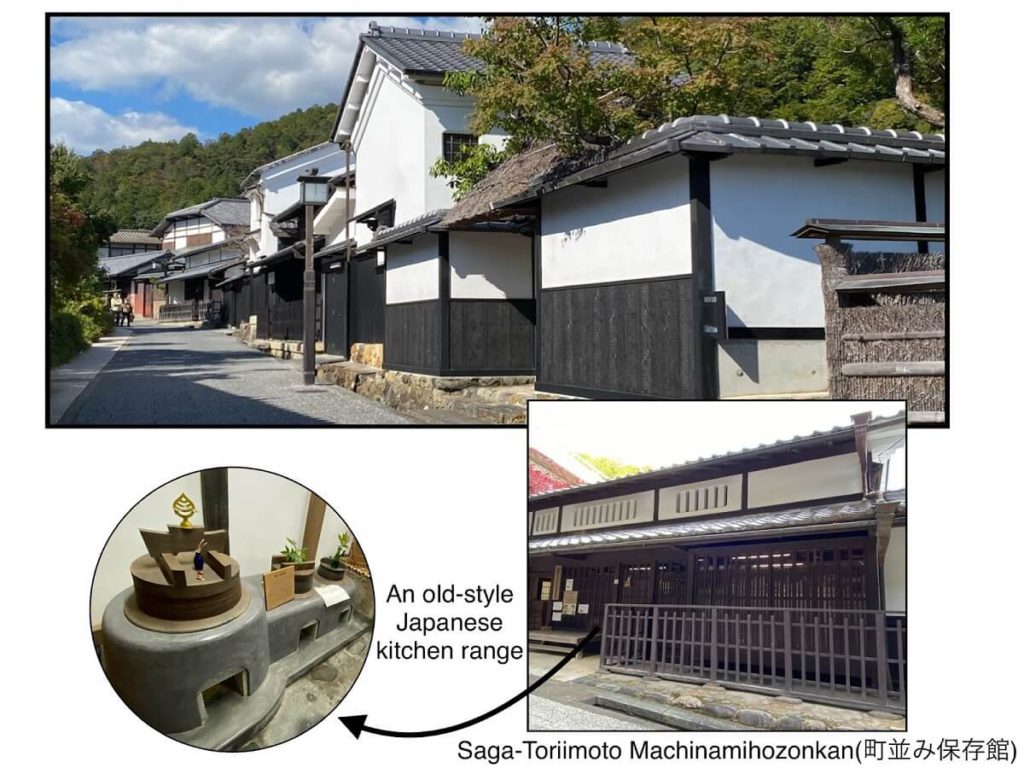 Walking further north for a while after Gio-ji, you will find yourself on a quiet, stone-paved street lined with quaint, wooden houses. This street is called Saga-Toriimoto Preserved Street, a preserved street from the Meiji period (1868-1912). Traditional machiya-style houses create an air of nostalgia.
I'd like to share two more temples off the beaten path for a more mystical experience.
6. Adashino-nenbutsu-ji Temple (化野念仏寺)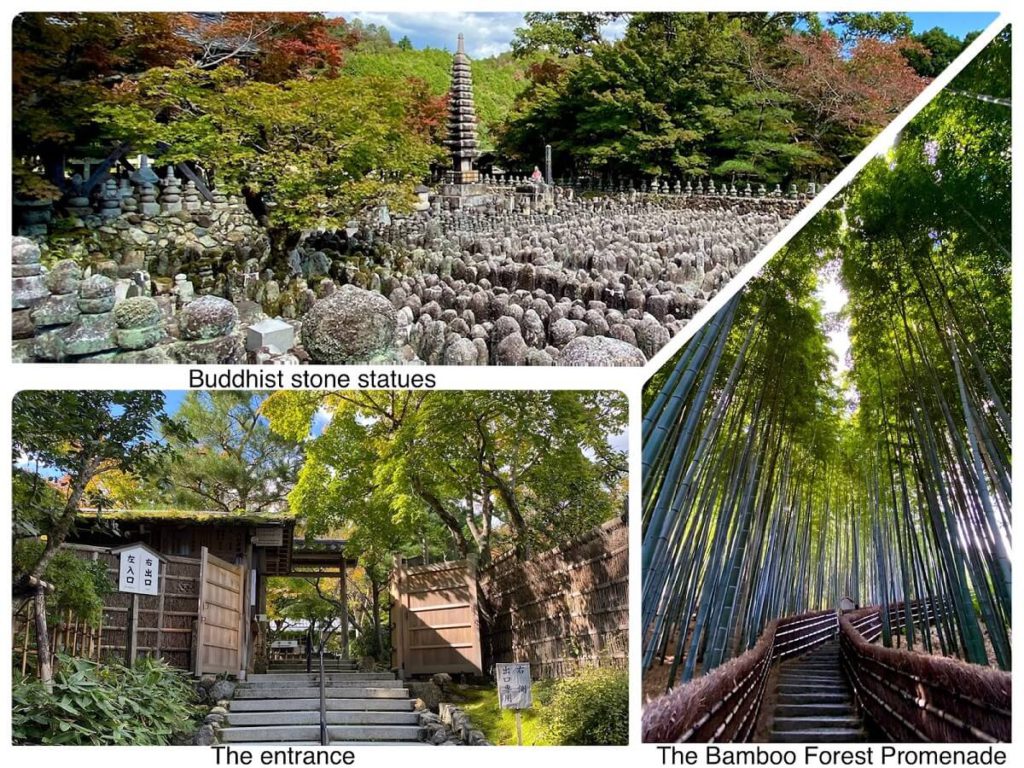 This temple has some 8000 Buddhist stone statues, which had been scattered and unattended throughout this area called Adashino and then were collected by the locals about 120 years ago to memorialize the souls of the dead.
Adashino-nenbutsu-ji
https://en.wikipedia.org/wiki/Adashino_Nenbutsu-ji
7. Otagi-nenbutsu-ji Temple (愛宕念仏寺)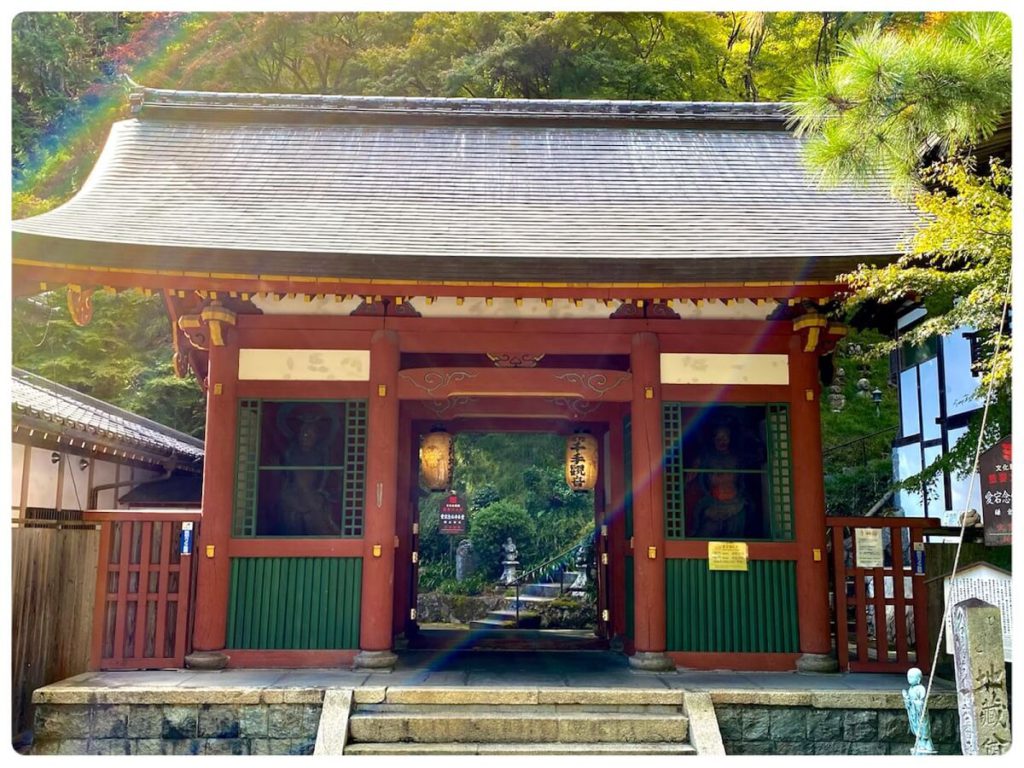 This is another hidden temple with 1200 unique and whimsical statues of Rakan (羅漢), or Buddha's disciples.
This temple had been ruined by many natural disasters for a long time. In 1955, Kocho Nishimura (西村公朝), the former Buddhist monk of this temple and also a Buddhist statue sculptor, began renovating the temple with the idea of having visitors carve their own statues under his guidance.
Just looking at their funny faces is a pleasure!
Otagi-nenbutsu-ji
https://www.otagiji.com/story-en
If you visit Sagano, you must come this far. It takes about 30 minutes from Mikami-jinja Shrine to Otagi-nenbutsu-ji Temple, if you walk directly.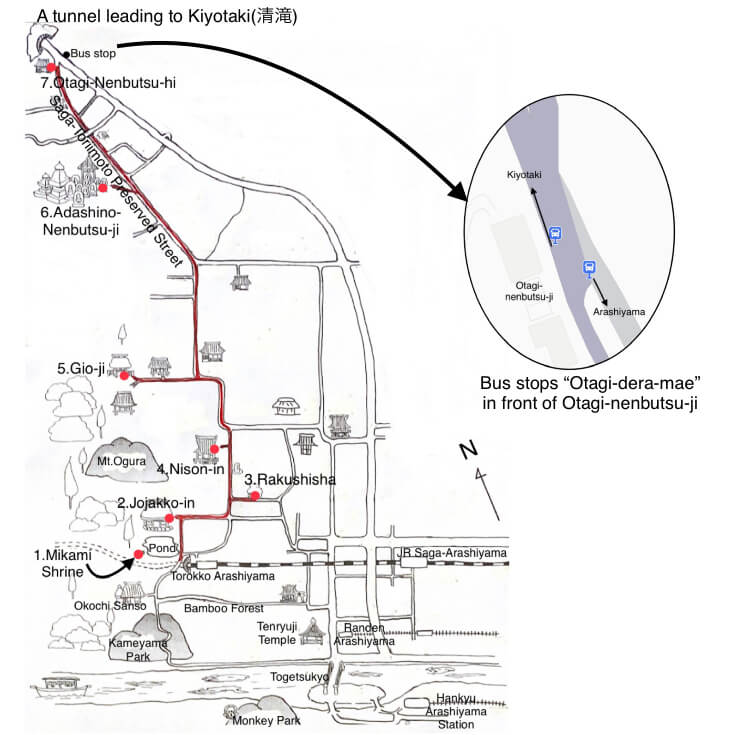 To go back to Arashiyama, you can walk or take a bus. There is a bus stop (Otagi-dera-mae, 愛宕寺前) in front of Otagi-nenbutsu-ji, and bus No. 92 or 94 (bound for Hankyu Arashiyama Station) takes you back to the center of the Arashiyama area. Be careful: the bus runs only once every hour. The last one leaves around 6pm.
〜Kiyotaki〜
Or, it might be a good idea to take a bus to Kiyotaki(清滝), which is just past the tunnel and the next bus stop after Otagi-dera-mae. The tunnel is narrow and not recommended to walk through.
Kiyotaki is a hiking trail and rarely visited by tourists. The locals take a hike to cool off in summer and to enjoy the changing leaves in fall.
You can walk around Kiyotaki for a bit, and then take a bus back toward Arashiyama.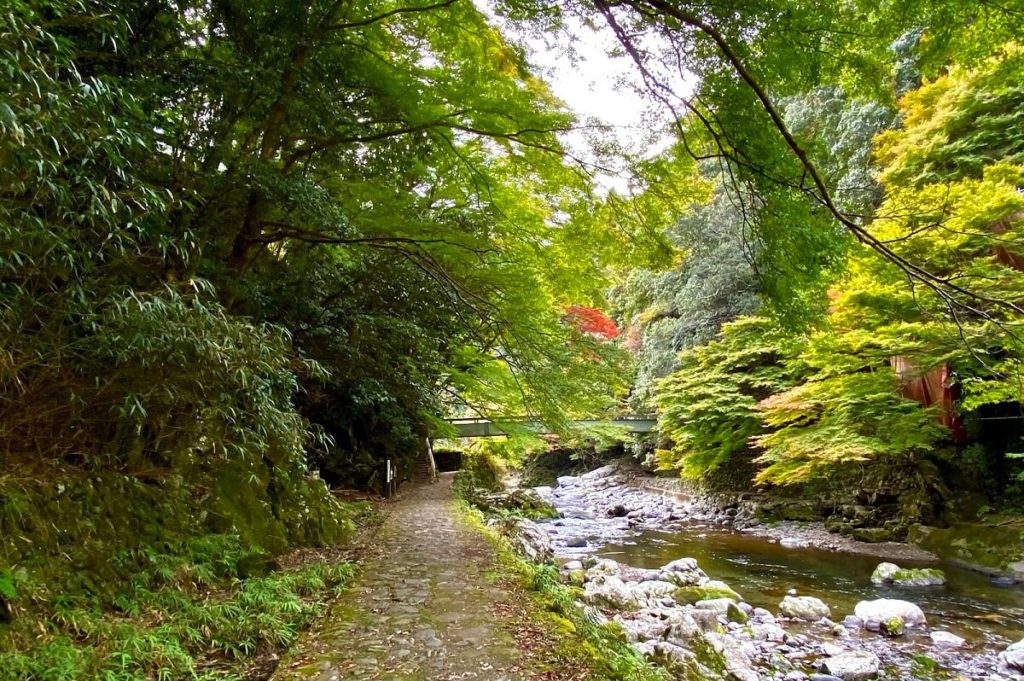 Kiyotaki is also connected along the river to Hozukyo, which I introduced at the beginning of this article. It's a hiking trail that we can reach in about one hour, from the Kiyotaki bus stop to JR Hozukyo station.
I hope you enjoyed Arashiyama to your heart's content through my blogs, part 1 and 2.
You can't miss the Bamboo Forest and Togetsu-kyo Bridge, which I shared in part 1. However, the only thing is they are really crowded, especially in fall. I highly recommend those who get tired of the crowds to explore Hozukyo and the north Sagano area I introduced in part 2. I'm sure you can immerse yourself in the true Kyoto, an ancient city rich in nature and history!!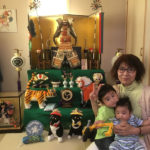 Born and raised in Kyoto. A private tutor and a volunteer tour guide in Kyoto. Love sewing, kimono remaking, traveling, cooking, gardening, playing the shamisen(三味線), making stained glass and grandparenting as well.