In August, 2023, I climbed Mt. Fuji, and this is my record. If climbing Mt. Fuji is on your bucket list, I hope this article will help you.
☆Who am I?
Office worker in my 40s
Have climbed to the top of Mt. Fuji once when I was 20
Not so much exercising regularly
Like walking and doing yoga
☆What did I do to climb Mt. Fuji?
First, my friend booked a two-day tour with a mountain guide for us in April. Since then, I've walked and used stairs instead of escalators or elevators as much as possible in my daily life. Also, we climbed several mountains to practice beforehand.
Besides, I gathered information and prepared items I needed.
Things to bring
| | | | |
| --- | --- | --- | --- |
| 1 | backpack | 2 | water |
| 3 | towel | 4 | plastic bag |
| 5 | raincoat/pants | 6 | down jacket |
| 7 | hat | 8 | wet tissue |
| 9 | sun screen, medicine, etc | 10 | trekking poles |
| 11 | sunglasses | 12 | headlight |
| 13 | gloves | 14 | change of clothes |
| 15 | snack, energy drinks | 16 | mask |
| 17 | waist pouch | 18 | purse, 100 yen coins |
| 19 | portable charger | | |
The thing I should have brought: Gator→An ankle cover to prevent pebbles or rain from getting in my boots.
☆What routes did we use?
There are four routes to climb Mt. Fuji: Yoshida, Subashiri, Gotemba, and Fujinomiya. We used the Fujinomiya route to go up and a part of the Gotemba route to go down. Compared to the popular Yoshida route, the Fujinomiya route was not packed. And it is the shortest route to the top.
☆Three tips I learned to avoid high altitude sickness
Going up slowly. Our guide, Kana-san, made a perfect pace for us!
Breathing in through the nose and out from the mouth. Especially, breathing out slowly like blowing candles is important.
Drinking water frequently.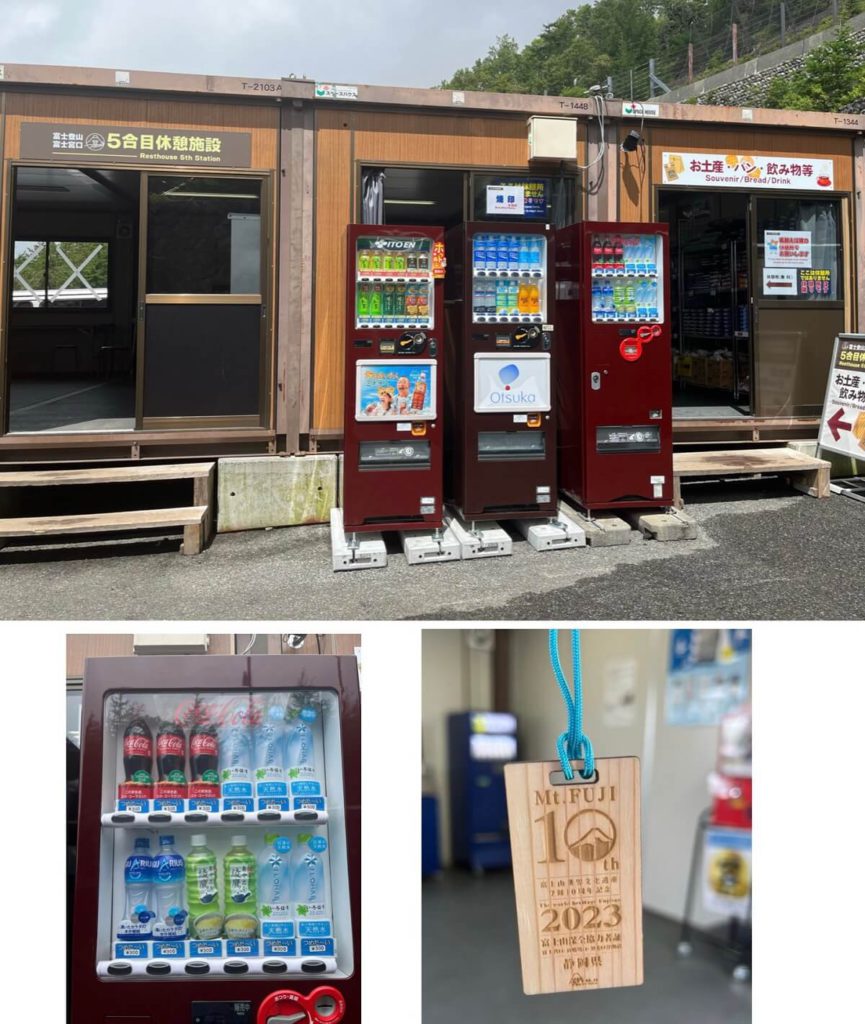 ☆Let's get started!
Our challenge started around noon from the 5th station. It's already 2400 meters high.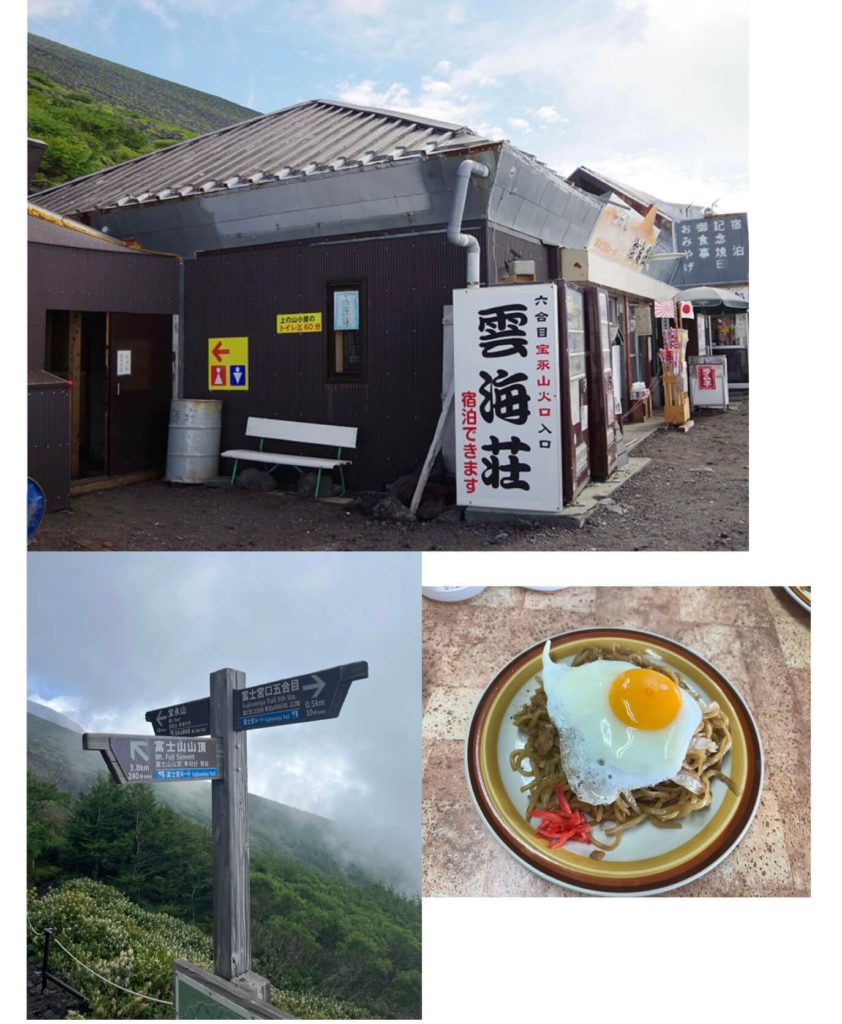 We had "Fujinomiya yakisoba" for lunch and stayed there for a while to adapt to the high altitude.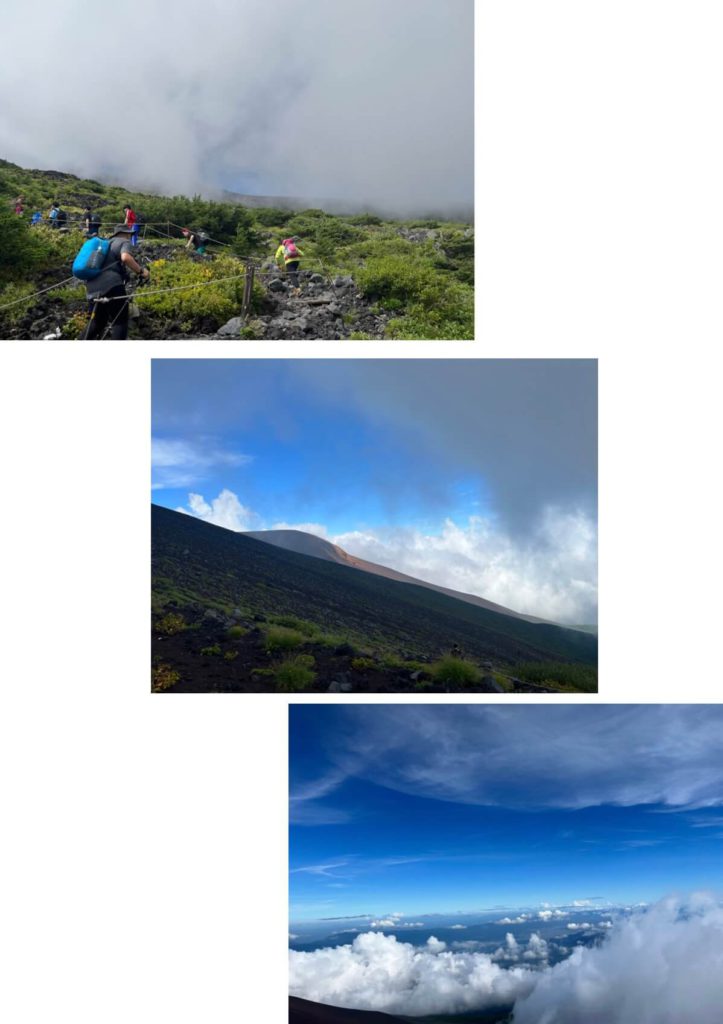 Apparently, Mt. Fuji is a high mountain, and climbing it is a repeat of gravel paths or rocky paths again and again. I heard somebody say, "It's a battle against yourself." It might be, but fortunately, the weather was perfect on these two days, so the vast sea of clouds, blue sky, and Surugawan Bay below helped me move forward.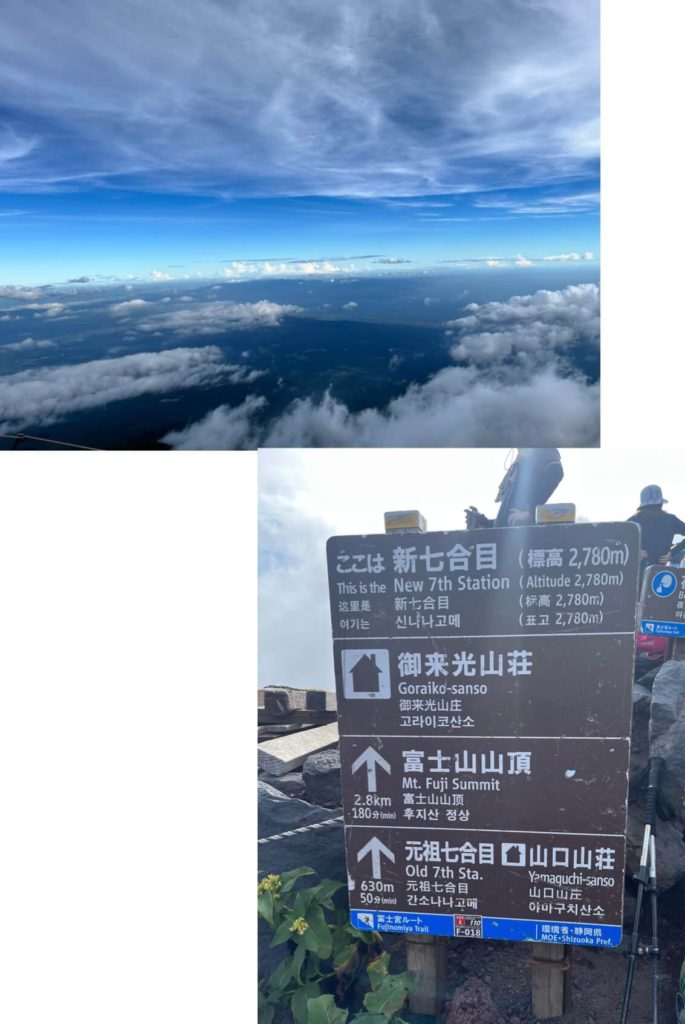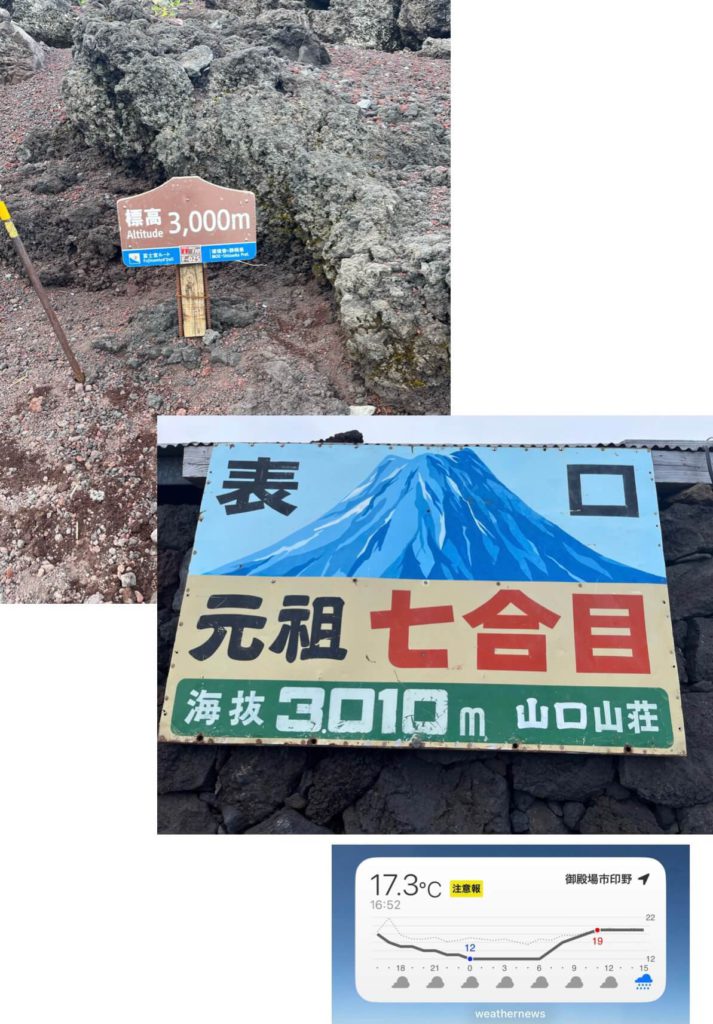 The small signboard on a rock showed we were at 3000 meters high. Finally, we arrived at our first goal, Original 7th Station! We stayed at this lodge "Yamaguchi Sanso." It was around 5 PM and 17.3℃. I guess it was about 30℃ in the lower world, so you can imagine how cool it was!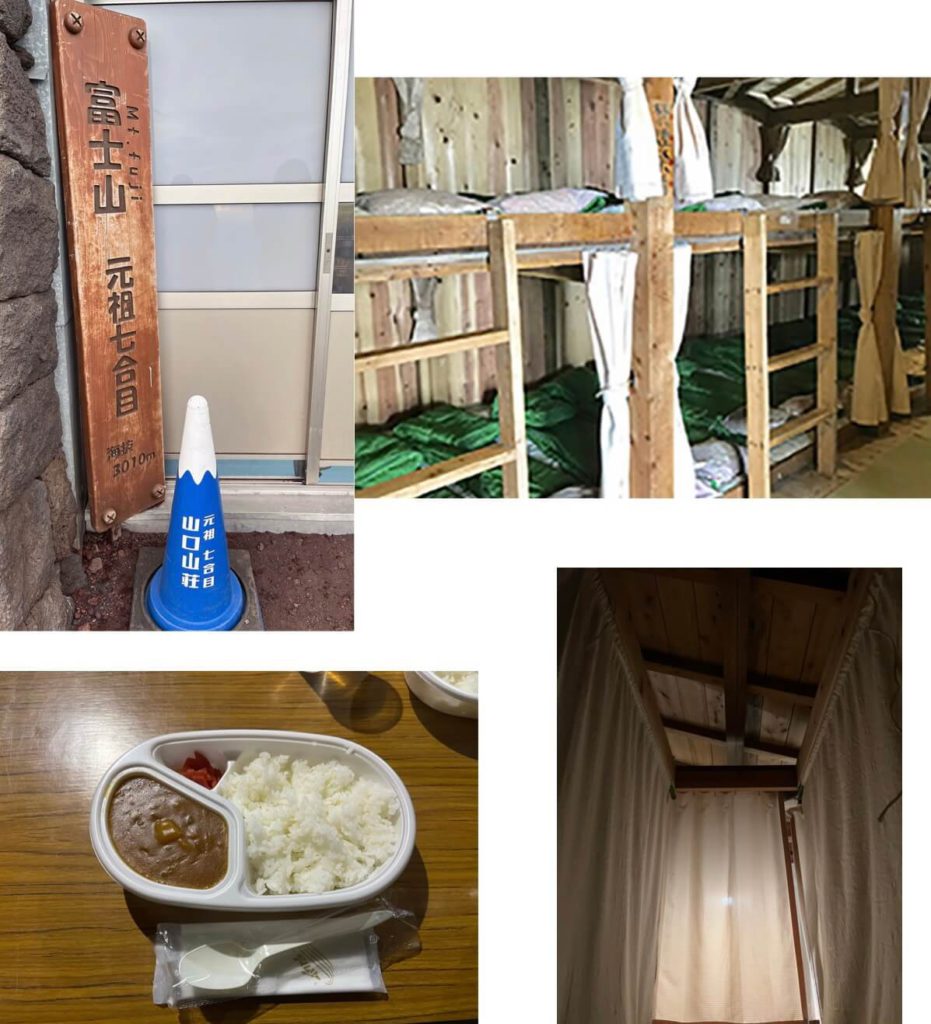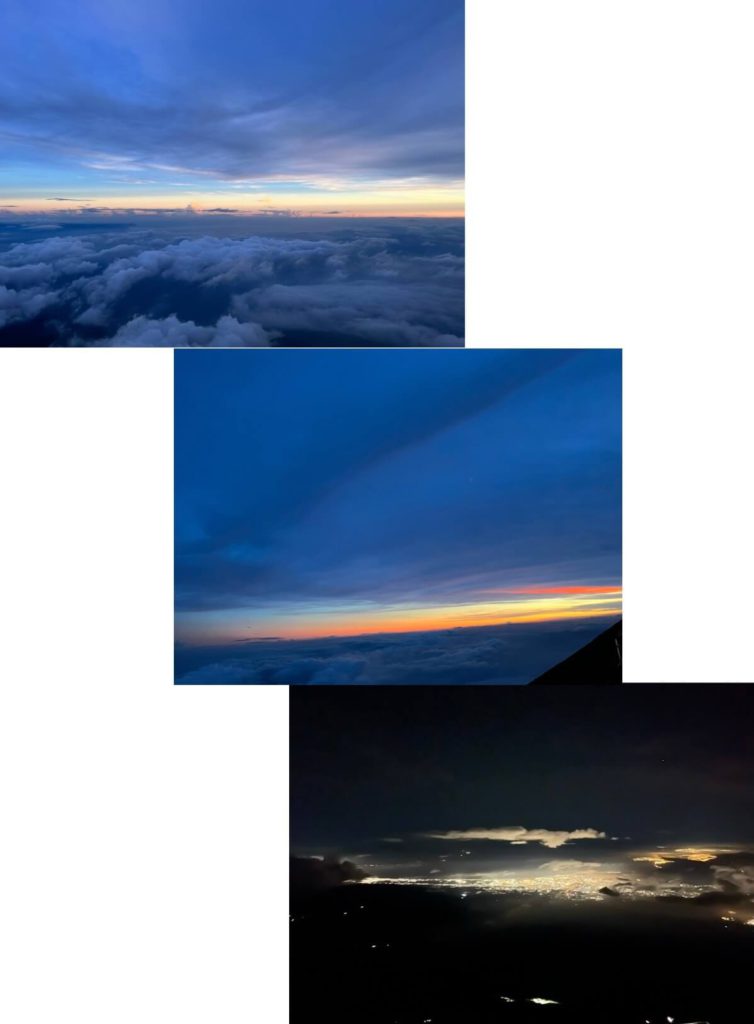 I can't express how blessed I was! The gradation of blue, white, yellow, orange, and more, which only nature can create, will never fade in my mind. When I looked up, thousands of stars were watching over us! I usually find Orion up above, but here, it was at my eye level. Furthermore, some shooting stars welcomed us too!!
Around 7 PM, we went to bed. Although I couldn't sleep well, we got up at midnight and started walking again at 0:30.
A headlight played an important role in walking up the rocky path at night. By passing the 8th station, we reached the 9th station!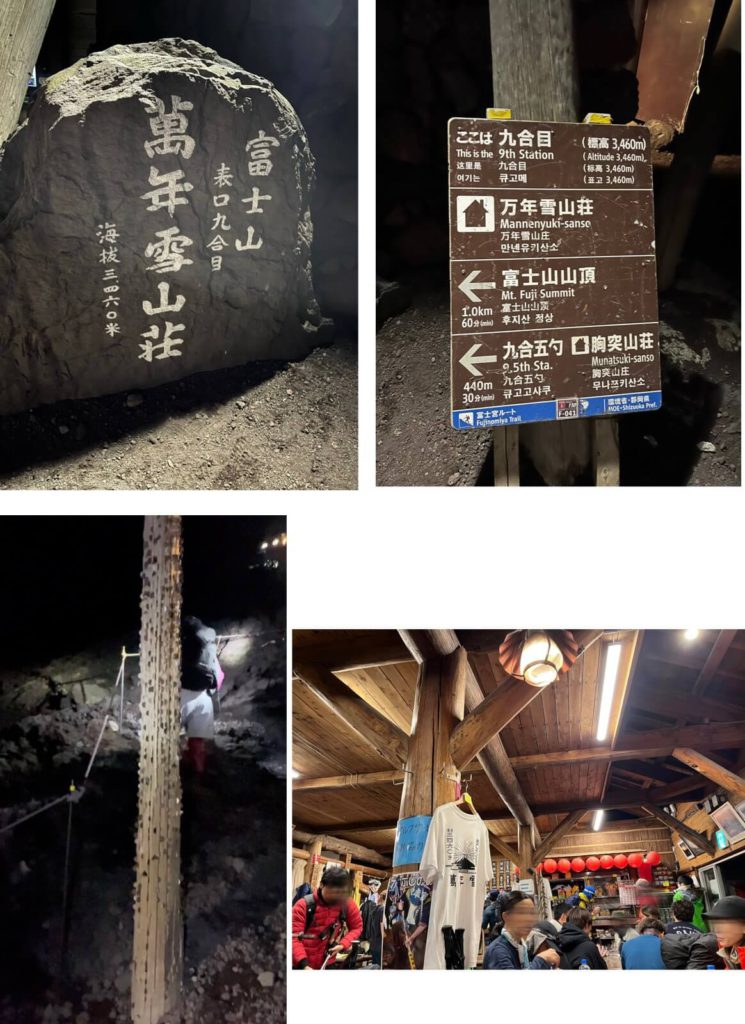 You can see the wood in the bottom left picture above. This wood used to be a torii gate, and now people put coins between the cracks.
This lodge was vibrant with many climbers and looked like an izakaya, a Japanese bar!
By the way, did you know which prefecture we were in? Mt. Fuji straddles both Yamanashi and Shizuoka Prefectures, and the Fujinomiya route is in Shizuoka Prefecture. However, all the land above the 8th station belongs to Fujisan Hongu Sangen Taisha Shrine. I couldn't help but feel the divine power while climbing there. At the same time, it was the hardest part of this challenge. Kana-san's advice, "Let's take a deep breath!" helped me a lot!!
After passing the 9.5 station, finally, the time had come! I passed through the final torii, a sacred arch of the shrine!! Kana-san and other buddies gave me five, and soon, I welcomed other buddies too!!
Soon after that, Kana-san took us to the best point to enjoy goraiko, sunrise!
And what I saw was…!!!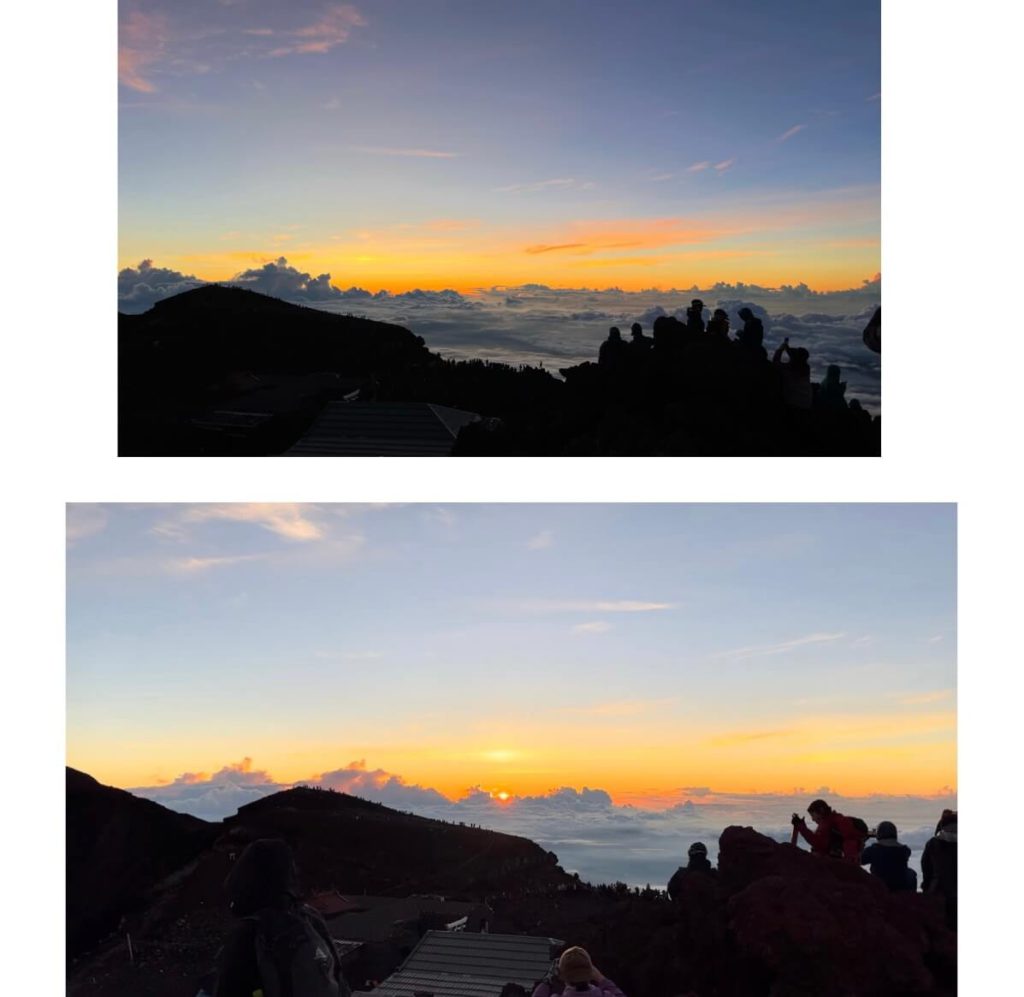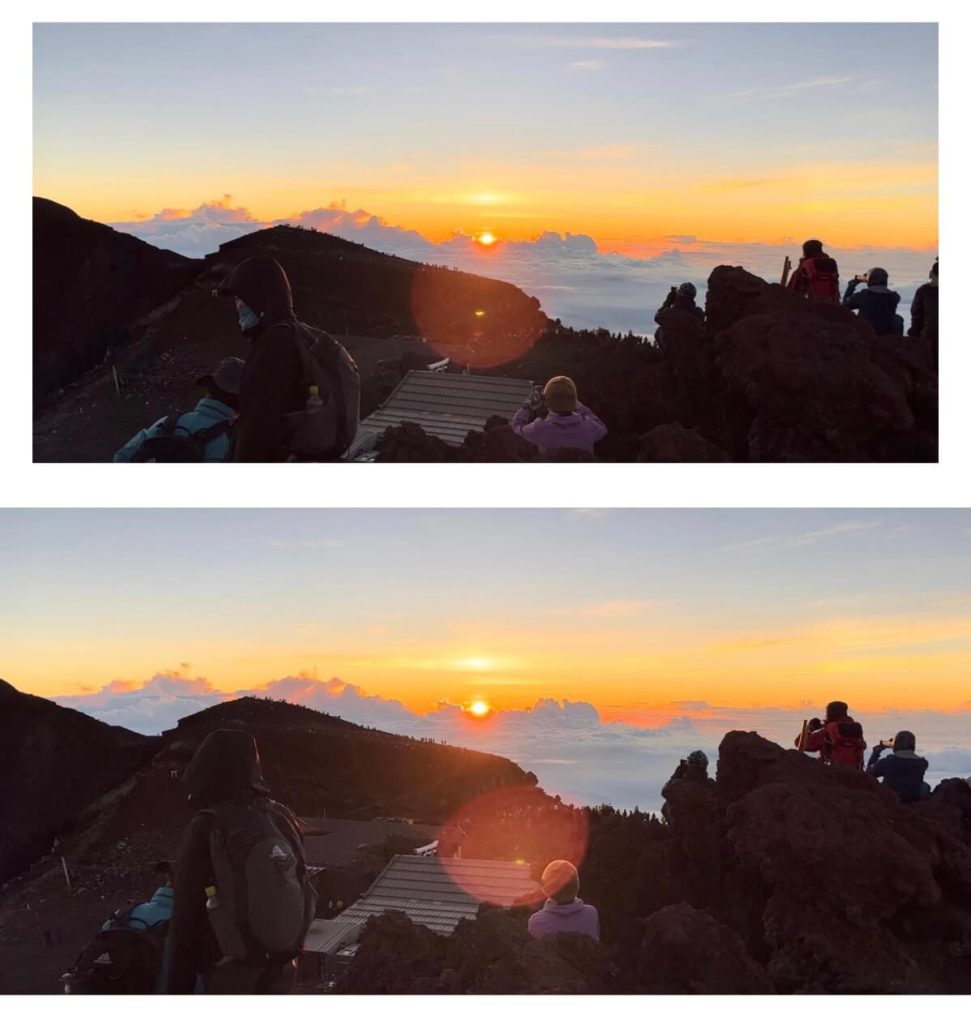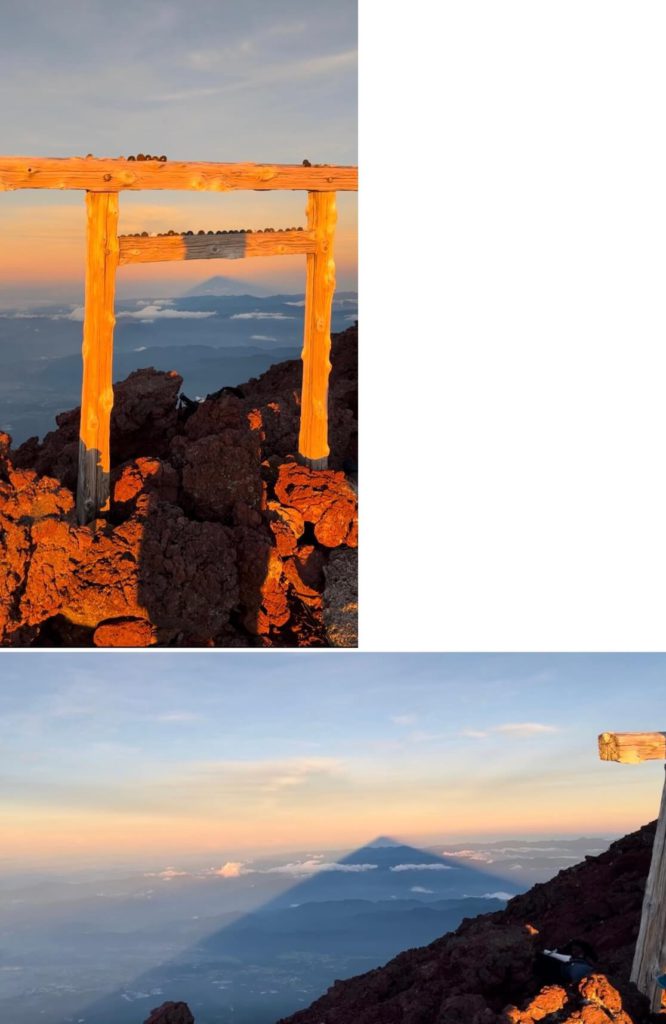 According to Kana-san, this is the only spot where we can enjoy both the sunrise and Kage Fuji, the shadow of Mt. Fuji, at the same time. The higher the sun rose, the bigger the shadow became, and it showed the perfect shape of this mountain.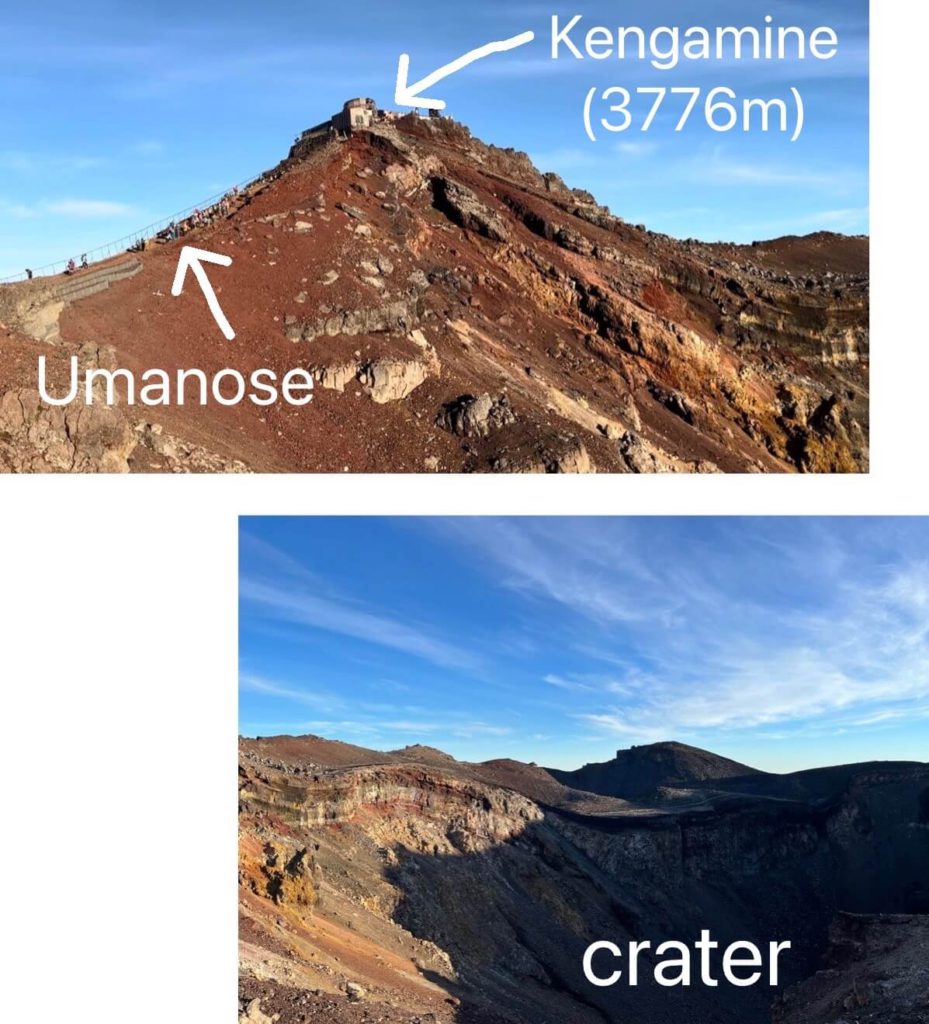 You can see the steep way at the left side of the mountain in the picture above. It is called umanose, the back of a horse. It was really tough to walk up, but after that, I was finally able to reach the highest point, Kengamine!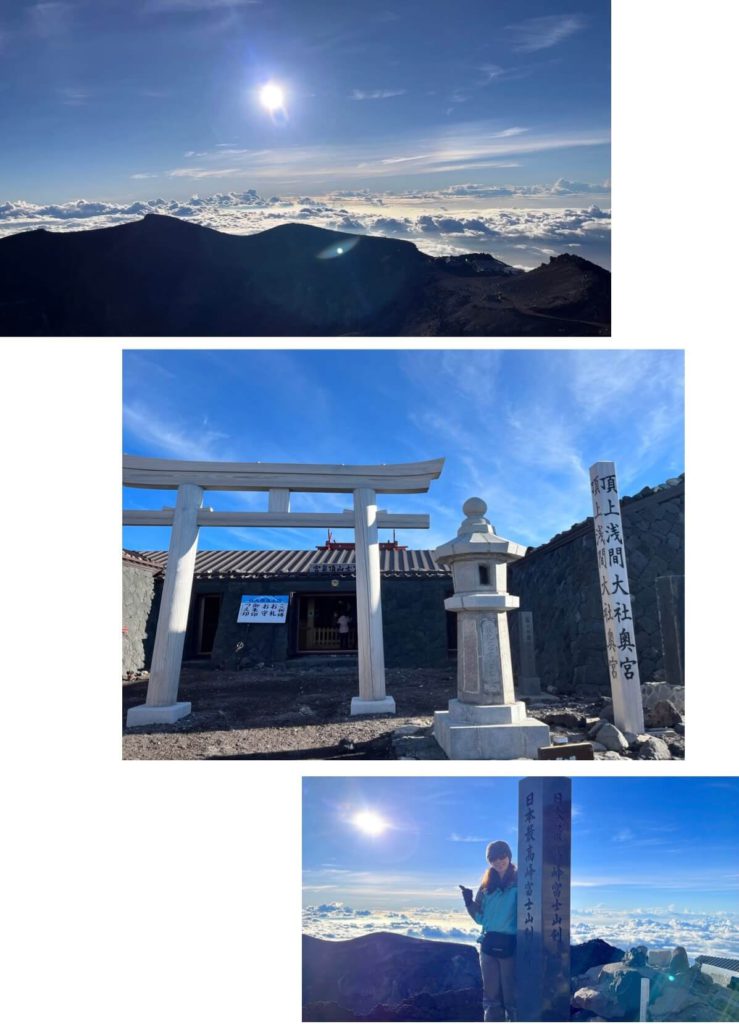 As you can imagine, this is not the end of my journey. Of course, there was tons of drama on my way back too.
We used the Gotemba route and the Prince route to go down. I learned that the route between the Gotemba route and the Fujinomiya route was named Prince route because a Japanese emperor climbed here when he was a prince. Many people enjoy running down this steep slope, and it is called "Osunabashiri." But it turned out to be the hardest way for me!!
I remember Kana-san's words, "We can enjoy this beautiful scenery with the crater of Hoeizan Mountain on this route, and I hope everyone enjoys it!" Thanks, Kana-san! Now I know what you meant!!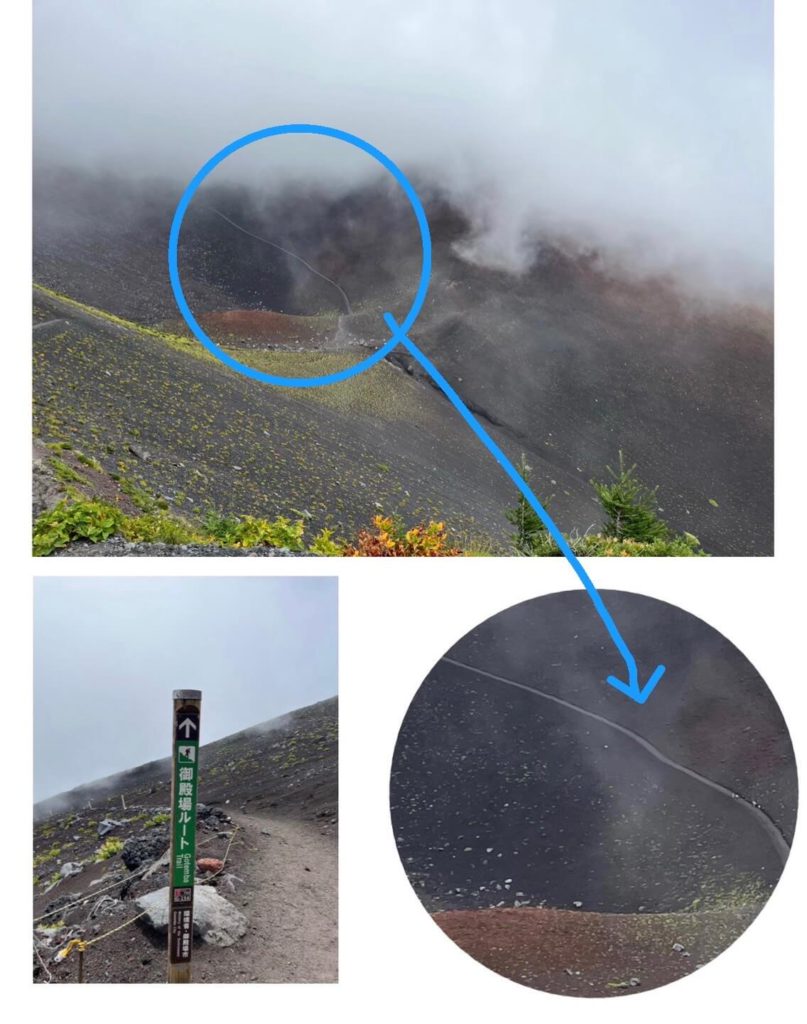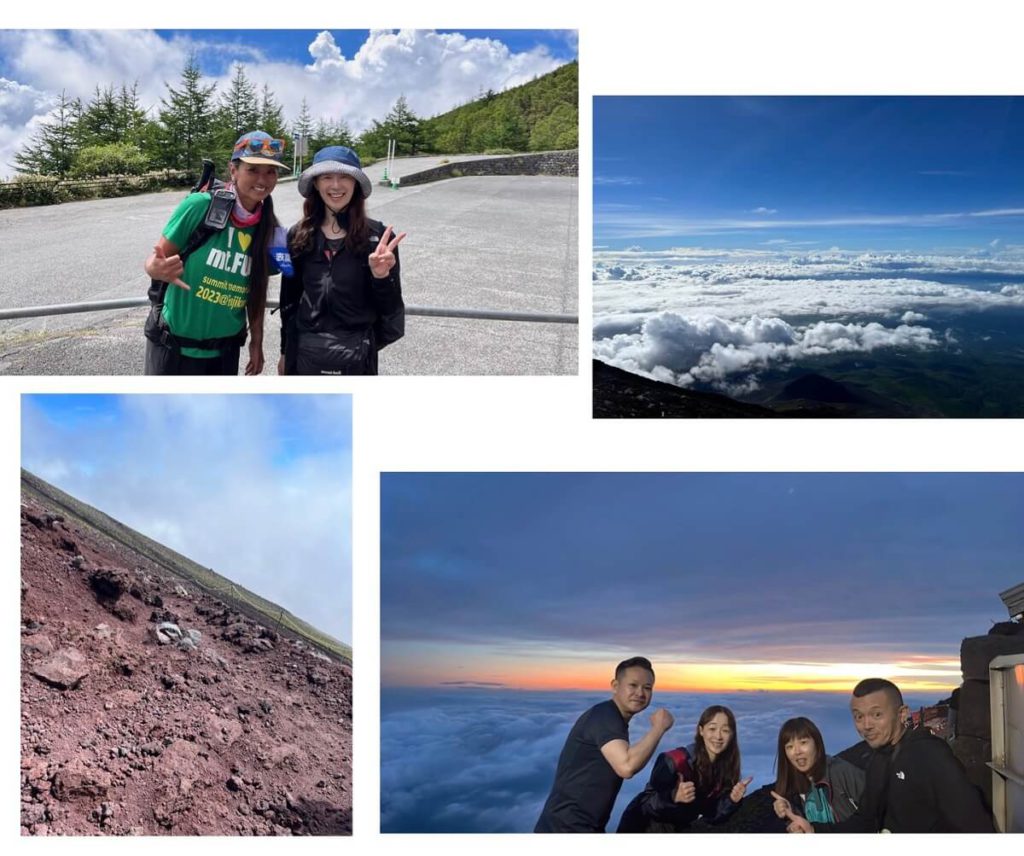 There were ten members in our group. We spent about 25 hours together, and I felt a bond was created among us. We talked, laughed, and shared plenty of memorable moments together.
I see some people climb Mt. Fuji without being prepared well nor without mountain guides. Unfortunately, some people pass away here every year. This is not a museum. We have to take good care of ourselves to enjoy nature to the fullest.
★★★The tour I joined is here! → mountain guide service JIYUSHA
★★★My past article about Mt. Fuji → "I can see Mt. Fuji!"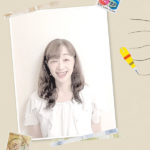 Working for an English language school. My source of energy is our students' smiles full of curiosity. I love visiting my friends in and outside of Japan.