As you know, in recent years, the frequency and intensity of disasters, heat waves, torrential rains, wildfires, etc., are on the rise worldwide due to climate change. In addition, there have been reports of earthquake damage not only in Japan but also in other parts of the world.
Do you think you will never encounter such a disaster yourself? If you were to encounter such a disaster, would you be confident that you would be able to respond appropriately without panic? Natural disasters often cause unexpected damage.
As you know, the Japanese archipelago is an earthquake-prone country because of a chain of volcanic belts in the center of the archipelago, and we were often hit by a big earthquake. It has also suffered damage from major typhoons on a number of occasions. It is said that the risk due to natural disasters is high. Experiencing the fear of earthquakes, fires, storms, and other disasters on a daily basis will ensure your risk management skills against disasters. In fact, there are three facilities to learn about disaster prevention, Honjyo, Ikebukuro and Tachikawa, in Tokyo, Japan, where anyone can experience realistic earthquake and storm experiences for free. Why not learn about disasters and gain disaster awareness while having fun at that facility? Today, I'd like to introduce one of these facilities, "Honjo Bosaikan" located in Kinshicho, Tokyo. "Bosaikan" means "a center for learning to protect lives from disasters." in Japanese.
1. Honjo Bosaikan

【Access】
About 10 minutes walk from Kinshicho Station North Exit on JR Sobu Line or Exit 4 on theHanzomon Line
Closed day: Wednesdays, 3rd Thursday of every month / December 29-January 3
Open: 9:00 a.m. to 5:00 p.m.
How to use:Advance reservation required
2. Disaster Prevention Experience Tour
You can learn about four disasters in 1 hour and 45 minutes, while listening to your instructor (now a firefighter) explain them in a tour format. In order to avoid overlap between each tour, there is no set order in which they will be in.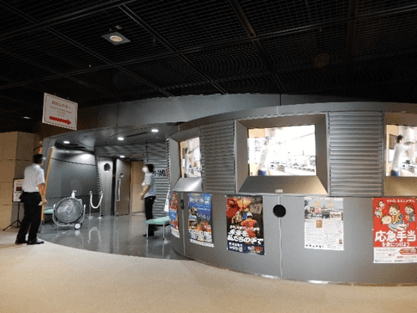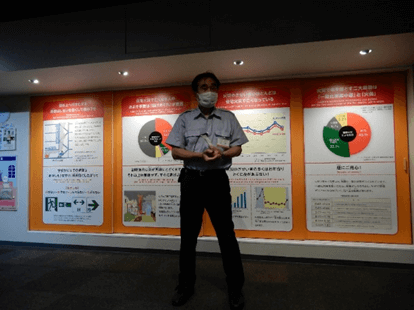 First, at the disaster prevention theater, visitors will watch a 20-minute animated film and learn about earthquakes that have occurred in the past in an easy-to-understand manner.
▶ Smoke Experiences
Do you know what you fear most when a fire breaks out? It is said that the most common cause of death is monoxide poisoning caused by the smoke from a fire.
First, you can learn how to get away from smoke in a fire by watching the video. Next, you'll have a simulated experience of how to escape from the smoke which is harmless. After passing through the smoke room, the next room is dark, and you need to grope your way out of there. Honestly, I didn't realize how scary total darkness could be because I didn't know which direction I had to go. At that time, it is important that you use your own hands to move along the wall and look for emergency exit signs. But once you experience it, you'll know how you should act.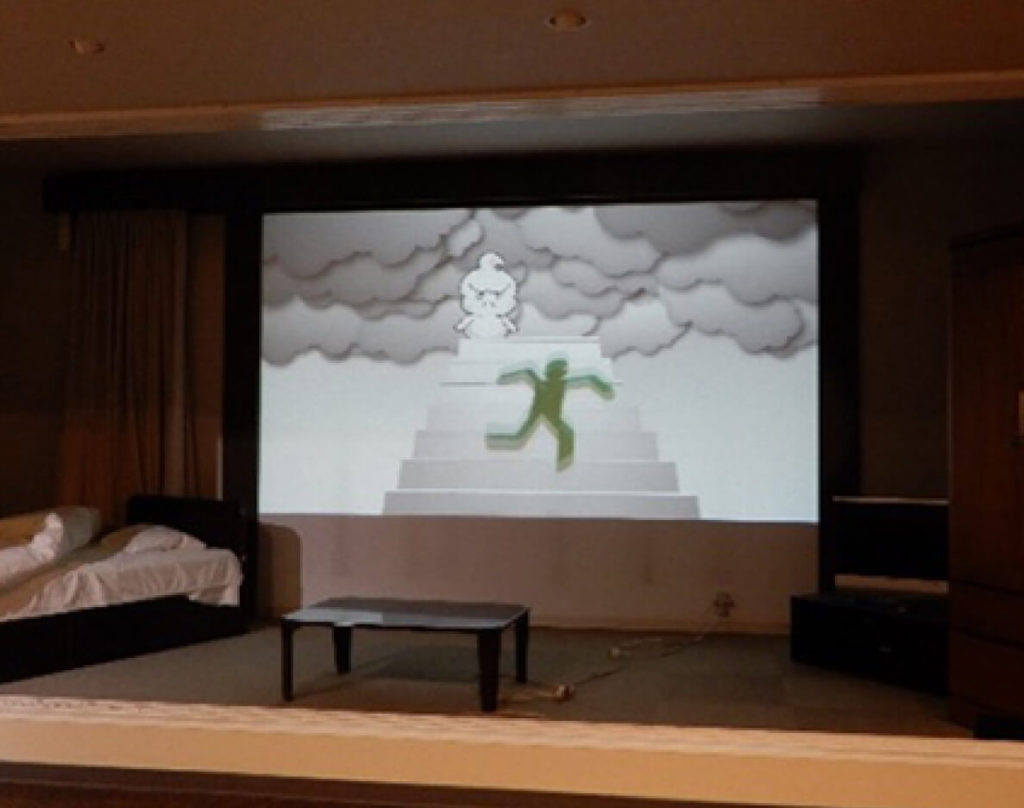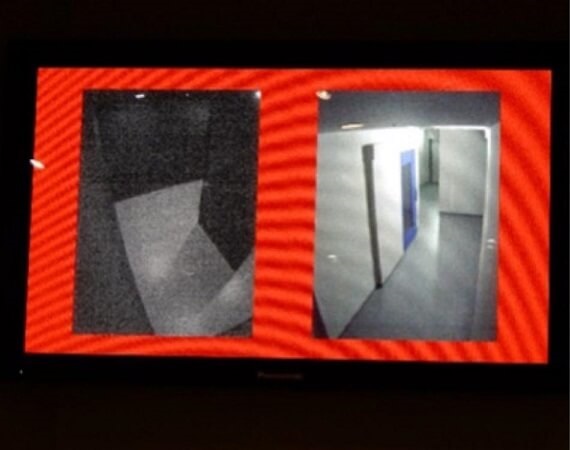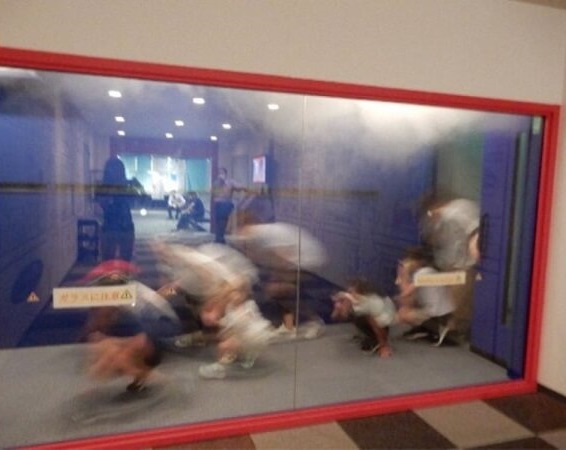 ▶ Rainstorm Experience
In this section, you can experience the strong winds and rain like a big typhoon.

Before entering the experience zone, put on a raincoat and boots that fit your size. Then, children and adults will be divided into two groups to enter the zone and experience the fierceness of the rainstorm.

The children's group has a wind speed of 10 meters, and the adults' group has a wind speed of 30 meters, with intense water and wind coming out of the nozzle in front of them at a tremendous rate. I experienced wind speeds of 30 meters and was unable to look up, soaking wet all over and desperately clinging to the bar.
▶ Flood Experience
In this section, you can try and learn that heavy water pressure might keep you from pushing the door open when a flood occurs and the water rushes up to the streets and houses.

You can experience different depths of 10 cm, 30 cm, and 50 cm, assuming that water rushes in outside the door. The result was that neither the building's door nor the door of the car, at just a depth of 30 cm, was shaken at all by the force of an adult. If you should become trapped in your car, the only way to escape is to break the window. I've learned through my body that human power is no match for water pressure
▶ Earthquake Experience
The machine in this corner was upgraded two years ago, so you can experience the shaking of an actual earthquake that has occurred in Japan before. Again, adults and children experience earthquakes of different intensity, intensity of 6 lower and intensity of 7 upper.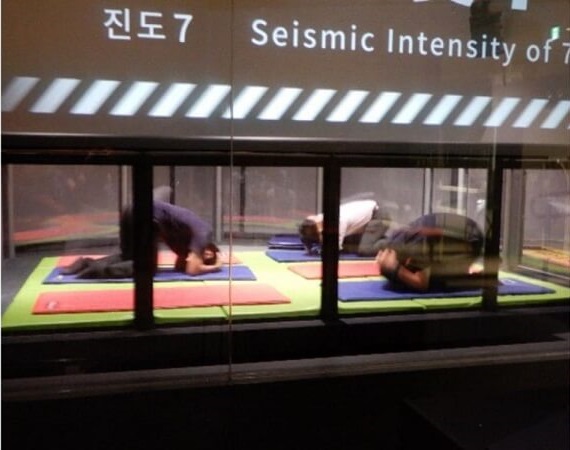 My real experience is that I could hardly stay upright, and all I could do was hang on to the mat. I was reminded of the fear of the Great East Japan Earthquake that occurred 12 years ago. What would you do in such a large earthquake? I'm sure that your awareness of the crisis will be heightened by the simulated experience.
▶ Other Exhibition Booths
Here, there is also a corner where you can visit freely at each floor, emergency report training section, extreme weather wall, life safety games section and life safety library, etc.


Conclusion
I thought I understood the fear of disasters, but after experiencing a simulated disaster at the Disaster Prevention Center, I realized that it is much more than I had imagined. My experience here taught me what I can do now to prepare for disasters and how I should act in the event of a disaster. I hope that you and your children will visit this facility at least once for your own risk management because iIt's fun to learn.
In addition to Honjo Bosaikan, there are also Ikebukuro Bosaikan and Tachikawa Bosaikan, so check them out!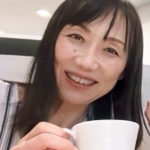 Business training instructor. I'm originally from Takarazuka in Hyogo Prefecture in the Kansai area. Now I live in Yokohama. I love exercising, traveling, watching movies, art, and nature.