Ishigaki Island is the most famous diving site in Japan, enjoyed not only by qualified divers but by a wide range of ages. As an active diving instructor, please allow me to introduce you to how to join diving programs. I hope this will help your travels, but please remember that diving programs are always advertised as an easy activity, even though it's one of the activities fraught with danger.
1. What's the difference between snorkeling and scuba diving? Do we need certifications?
Snorkeling allows you to observe sea creatures while swimming with gear on the surface. You don't need any certifications. It's a wonderful activity that the whole family can join. Anyone who is healthy and can put their face in the water can easily join. You can raise your face up to the surface any time you want because it's just floating on the surface of the water. That's one big advantage of choosing snorkeling. My previous story will give you more helpful information about snorkeling. Please check it out here. ⬇
On the other hand, scuba diving requires very strict criteria to join. For example, participants should be totally healthy and understand what's going on under the sea. So, that is why only children who are over ten-years-old can join scuba diving. There are two types of scuba diving programs.
First, the certified diver can join a tour with a guide called "The Fun Diving" or "Fun Dive (ファンダイブ)" that is a program designed for those who are already certified in scuba diving.
Second, the non-certified diver can join "The Discover Scuba Diving," "The introductory diving," or "Taiken diving (体験ダイビング)," which are programs for those who have never tried scuba diving before, or who are not yet certified. The program includes full scuba gear and a professional guide for your party with one to four people. On "the discover scuba diving" programs, a guide will explain only the minimum knowledge and solutions in advance. Though you can dive without learning any detailed knowledge about diving or equipment, time, depth, and distance travel in a dive are limited to regular dives. Your guide will take care of all of your gear and keep you safe.
Basically, you have to be responsible for your life, but the guide will also manage your safety. They tell important things that can potentially cause serious accidents. Additionally, they're trained to rescue you when there are accidents. However, if you don't have the right knowledge and understanding, scuba diving can lead to fatal accidents. Another advantage of joining a tour is it can cover injury and hospitalization and apply for insurance in this case.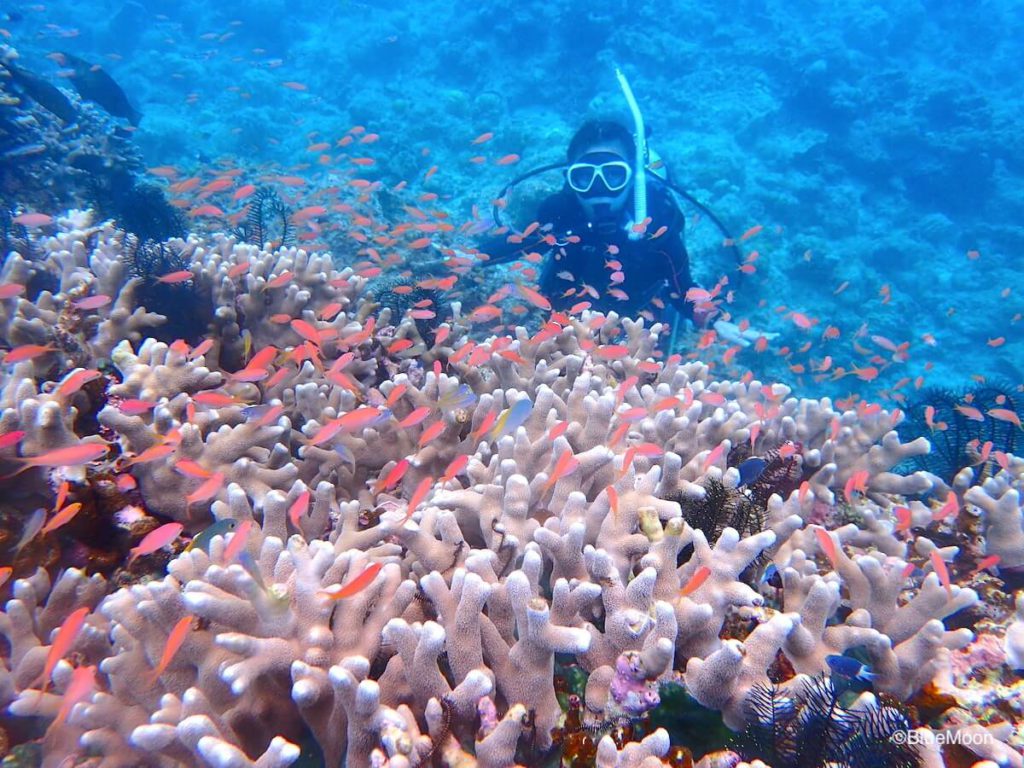 2. What can we see?
The most recommended way to experience scuba diving is via boat tours. The boat transfer takes about 20 minutes to an hour for each. What can be seen depends on the place; totally depending on the departure place, the direction and strength of the wind, the waves, and the tides of the day, the captain chooses where it's calm and safe to dive, so there are many cases where you cannot go to your desired destinations. If you have some purpose, you should research the site and the required conditions.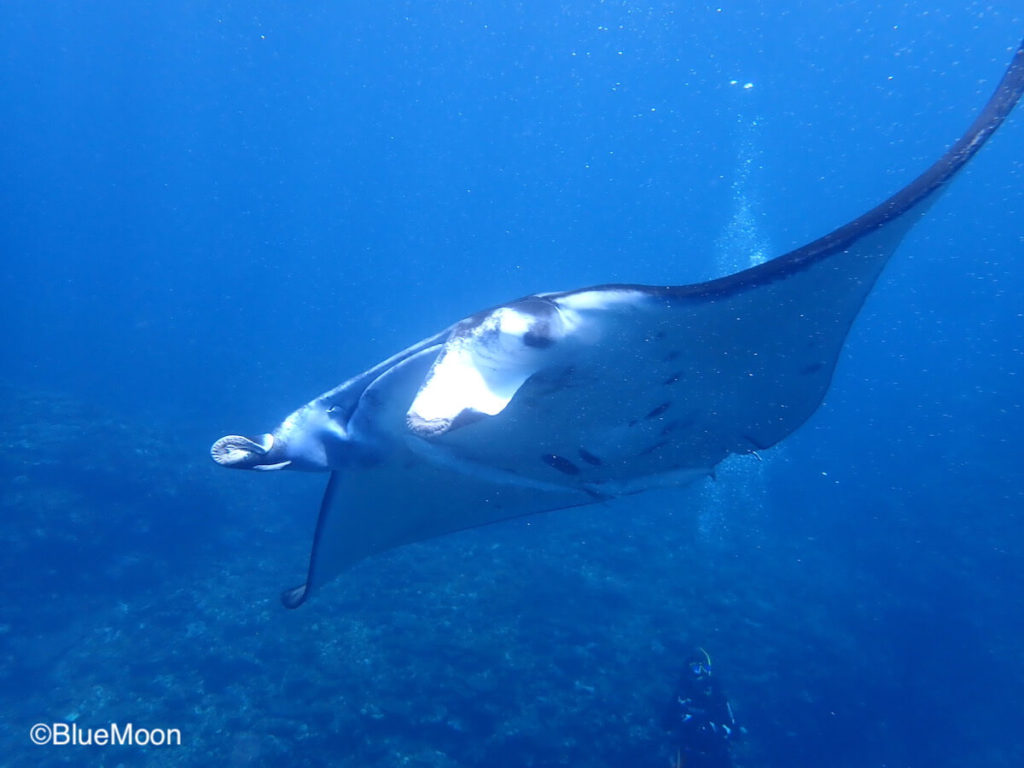 Manta ray is a very popular sea creature for certified divers in Ishigaki island. KABIRA (川平) area is close to the site where manta gathers called Kabira Ishizaki area (川平石崎エリア). It's located northwest of the island, and summer and fall (July to September) is the best season because the wind blows from the south. I recommend departing from the Kabira area if your purpose is watching manta rays. There are some diving shops in the Kabira area, and everyone is very familiar and knowledgeable about this site. The boats are smaller than that of the city area but faster because its travel time and distance to the site is shorter than that from the downtown area. If you worry about motion sickness by boat, a day trip from the downtown area may be a little tough for you.
※Please keep in mind this diving site (Manta point) is basically for certified divers because of its depth and sea current, so you are needed advanced skills to dive there if you're not certified yet. Otherwise, you can snorkel with a guide who knows much about the rules of this site, but skin diving is banned at this site to prevent the environment of manta rays. They don't prefer swimming with humans, so please let them live as they are in nature. Don't follow, touch, and pay respects, please.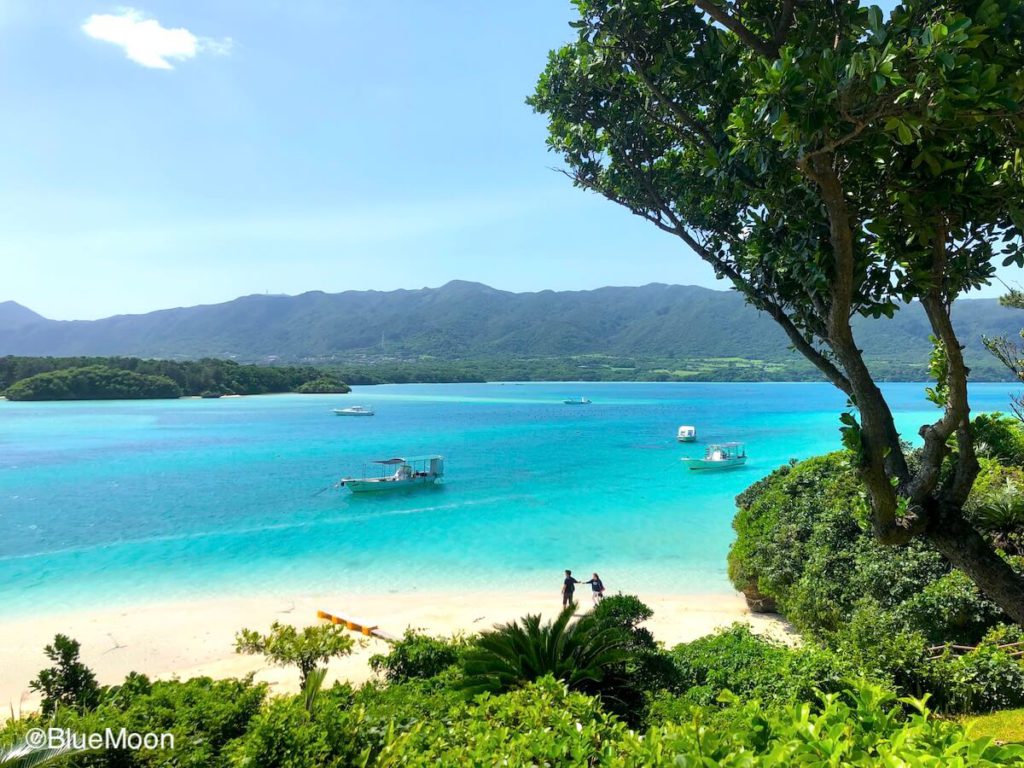 Kariba village is a small but historic one surrounded by nature possessing a beautiful bay called KABIRA bay (Kabirawan 川平湾) that won three stars on Michelin Green guide Japan. Kabira Bay is the most famous destination in Ishigaki island for all tourists. Some diving or snorkeling tours depart from a very closed beach to Kabira bay during the summer season. It takes approximately 30 minutes (20km) from the downtown area by car to the Kabira area, and almost all shops can pick up and drop off you from your accommodations to their shops.
There are also hotels at other beaches in the Kabira area, and it's nice to stay at the hidden beachside after diving. I highly recommend staying in the beautiful Kabira area but I don't think Kabira area is a convenient place for tourists who want to eat out, go to a nightspot, go shopping, or do something because of fewer transportation options and facilities. If you choose, you should rent a car or take a taxi to go out to the downtown area.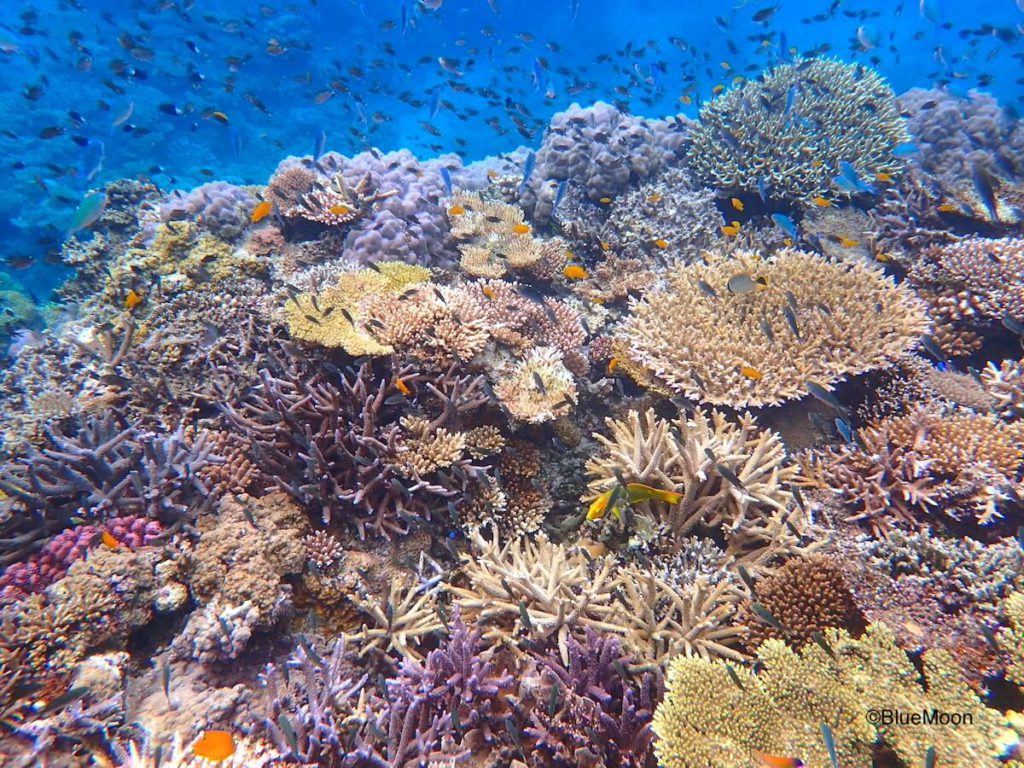 Coral is another type of sea creature you shouldn't miss in the Yaeyama area. It depends on the point of departure, but you can request diving into coral sites from every place. For example, other small islands are close to Ishigaki island include "The Sekisei lagoon(石西礁湖)" possessing wonderful coral site and it's about a 30-minute boat ride from the downtown area. Between Kabira area and North area, there is an outer reef called "Yonehara dabble reef(米原Wリーフ)" and it's easy to access by boat from each departure point.
3. Before joining a scuba diving tour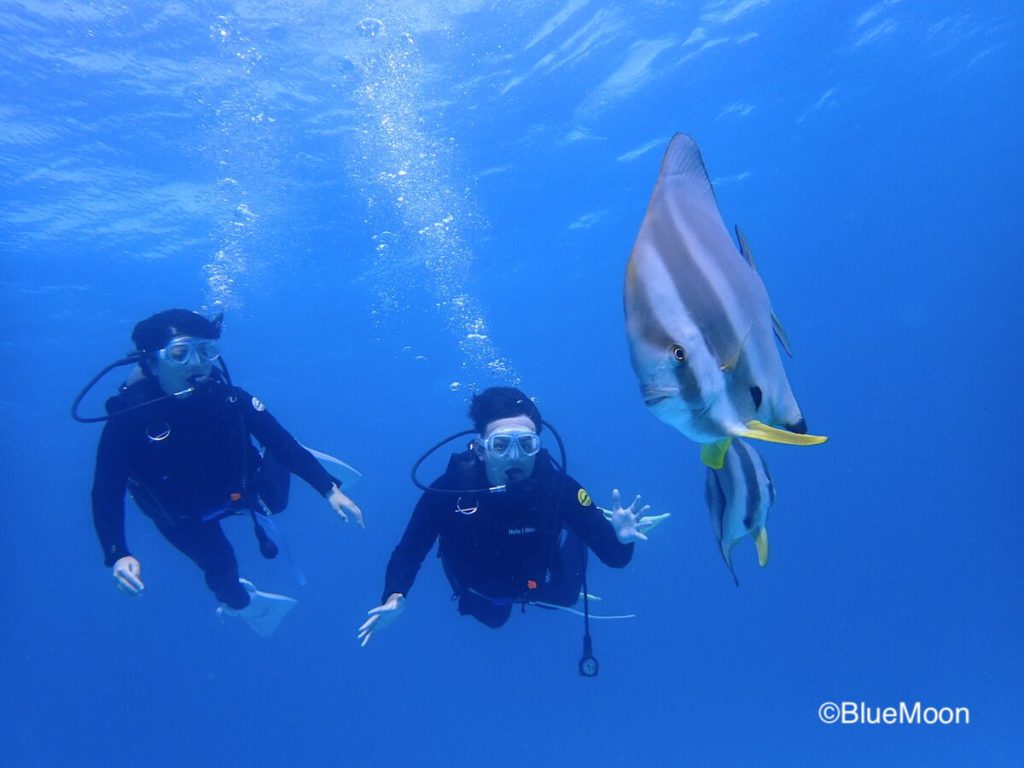 You should consult the shop in advance when you apply for scuba diving if any of the following items apply to you. Basically, those who have the following symptoms are forbidden to join scuba diving. However, you may join the tour by submitting a doctor's medical statement if your doctor judged you could control symptoms with daily medicines or your medical history was so old that you hadn't had any symptoms anymore. Some medical history doesn't allow you to join scuba diving rather than snorkeling. I would say that's the big difference between snorkeling and scuba diving.
【Medical history】
Taking and prescribing medications
Ear diseases (including diseases of the semicircular canals such as Meniere)
Asthma
Lung diseases (emphysema, tuberculosis, etc.)
Heart diseases and seizures, history of surgery and blood vessels and blood
A history of heart attack or stroke
High blood pressure
Mental illness, behavioral problems
Experience of loss of consciousness
Spinal diseases
Diabetes, or high cholesterol levels
Epilepsy
There are many cases where accidents occur because people don't recognize a serious disease. Please do not tell a lie!
Unfortunately, those who are pregnant cannot join scuba diving.
【Age】
Healthy people over the age of sixty may participate, but a doctor's medical statement is required, such as "There's no problem joining scuba diving." Even if you look healthy, it's necessary considering your safety. It's okay if you can get a signature.
Kids over ten years old can join scuba diving under the control of a certified professional instructor. They also use gear fitted for their size, but it's almost the same as adults' ones. This, like pool goggles, doesn't make nasal breathing possible. Kids are very reluctant to breathe through their mouths with their noses clogged. I think it's more fun for them to just float with tubes or snorkeling if they don't feel comfortable. Add to that, kids have to understand what happens to their body under the sea and how they should deal with that by themselves. Please listen to your guide's opinions and take more time than adults do.
When it comes to snorkeling, it's recommended that individuals be at least five years old. Please remember that the time parents spend scuba diving by themselves and staying with their kids should be properly shared. The guide isn't a guardian. And then, these problems should be consulted with the shop in advance. You can also find a solution with shop staff. If it's a small shop or they have a lot of staff, it may be possible to reserve the boat for private use by your family. It may be possible to choose a site everyone can enjoy.
4. What do we actually try on the tour?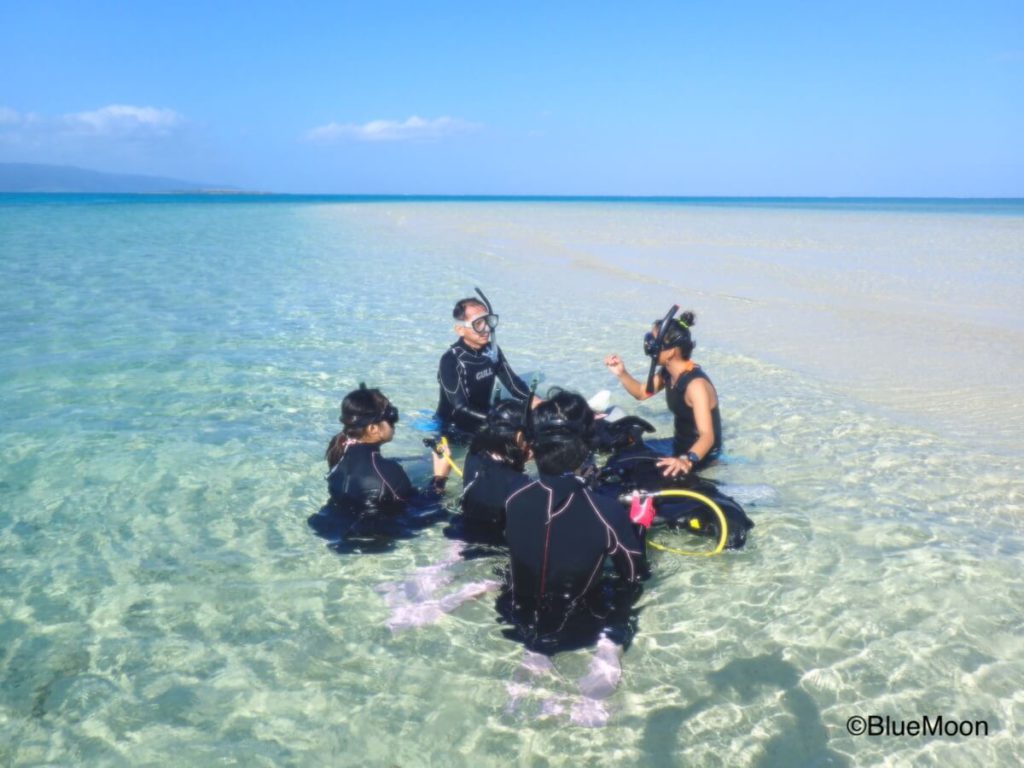 If you're a beginner or experienced, you should learn or review how to use gear and skills first. Unfortunately, there aren't many shops available in English. I highly recommend that you Google "How to snorkel" or "How to go scuba diving" in your dominant language before your trip. Then, join the lectures your tour presents.
What you will learn includes:
How to adjust and put the gear on
How to deal with water entering the mask or the snorkel and the regulator.
How to breathe with gear under the sea.
How to handle fins and how to swim with them
How to equalize ear pressure (Ear clearing, Equalization)
How to communicate under the sea (Hand signals)
5. How much does it cost?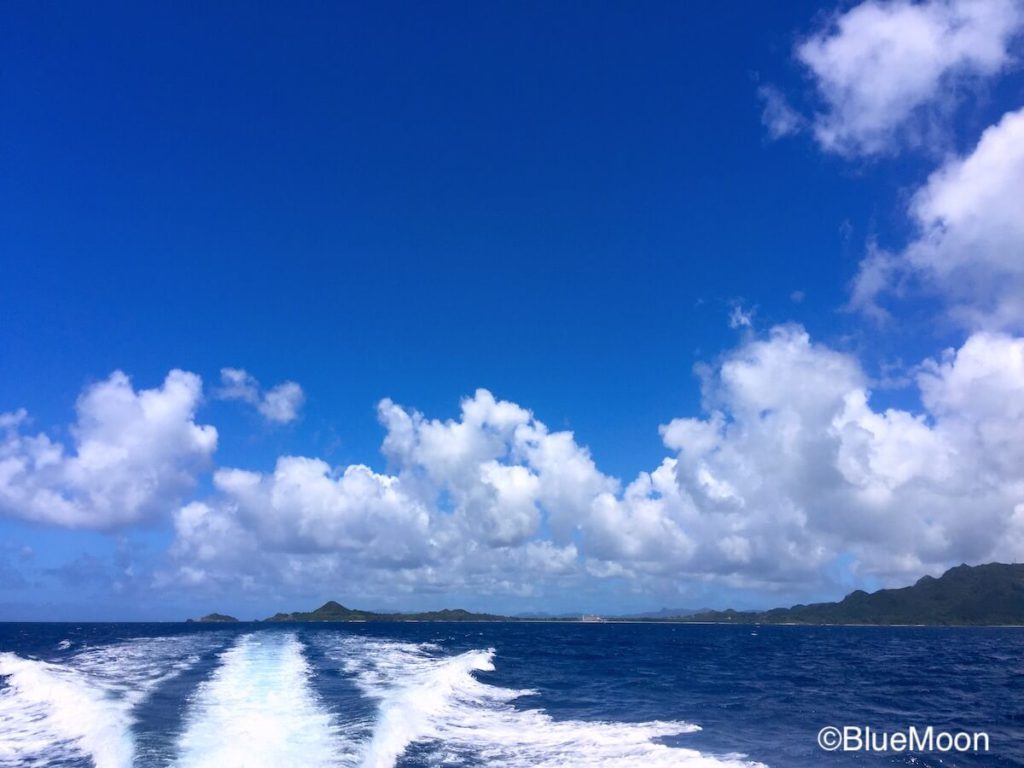 It costs about 15,000 yen for a discovery program with one dive a day or a half-day including guide fees, gear-rental fees, and insurance. Your lunch may be included as a service.
It costs about 20,000 yen for a one-day program for certified divers with 3 dives without gear rentals. All gears cost about 5000 yen a day except a dive computer.
As I mentioned in the case of snorkeling, there are some cheaper shops, but you cannot ignore the question: "affordable…. or bad quality and unsafe?" So, be careful and try to get more information for your safety. Diving programs are always advertised as an "easy" activity but it's an activity fraught with danger. Please ask yourself not only about your health but also your mental health. I recommend that you use your best judgment to quit or put off when you feel anxious.
6. How do we sign up for diving programs?
The area is divided into the following four departure-places for the tour.
Downtown area
Kabira area
North area
Other islands
I recommend #1 or #2. #3 and #4 need more information about the area because of its fewer facilities and transportation. Most accommodations are located in a downtown area that has easy access to the boats, and most shops will pick you up and take you to your place.
There are two types of shops; one only for snorkeling and introductory diving. The advantage of this kind of shop is they are used to beginners and select a place to dive that is closeby and relatively easy to manage. They often hold a half-day tour. The other is a diving shop that accepts all varieties of divers and non-divers. Their pros and cons are they are mostly offering one-day tours, and select various sites depending on the condition. However, you have to ride the boat for the whole day, even if you feel motion sickness.
In any case, you had better get more information about the programs, shops, and each boat from websites or social media before booking. I hope you'll find a good shop and enjoy a wonderful experience. I'd say scuba diving will change your view of life.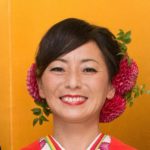 Diving instructor, tour conductor, and officially licensed Okinawan interpreter and tour guide. Yuka was born in Hiroshima but graduated from the Institute of Technology in Tokyo. After a few years of working as an engineer in Ibaraki, she settled down on a southern island called Ishigaki, which is located between Okinawa and Taiwan. For over 15 years, Yuka has been a guide and interpreter between nature and people. She is interested in cats, dolphins, traveling, spacecrafts, MARVEL, and Disney.