What you have tells a lot about who you are. It's not necessarily fancy things. Stationery is a good example because everyone uses it every day. Of course, there are many fine kinds of stationery all over the world. What is unique about Japanese stationery? I think Japanese stationery is well-thought-out and affordable. You can see it as an ordinary pen that you use every day. The easiest way to find unique stationery in Japan is going to a specialty shop like TOKYU HANDS and LOFT. Their buyers select interesting items that make our lives better.  You might want to go to Hyakkin, Convini and other speciality shops, but you can find useful stationery easily at both stores. Please refer to my other article How to enjoy a Hyakkin! and How to enjoy a Convini! If you are interested in Hyakkin and Convini. 
Today I'm going to show you some of my recommendations. Let's dive into it.
1. The Best Fit Feeling in Your Hand.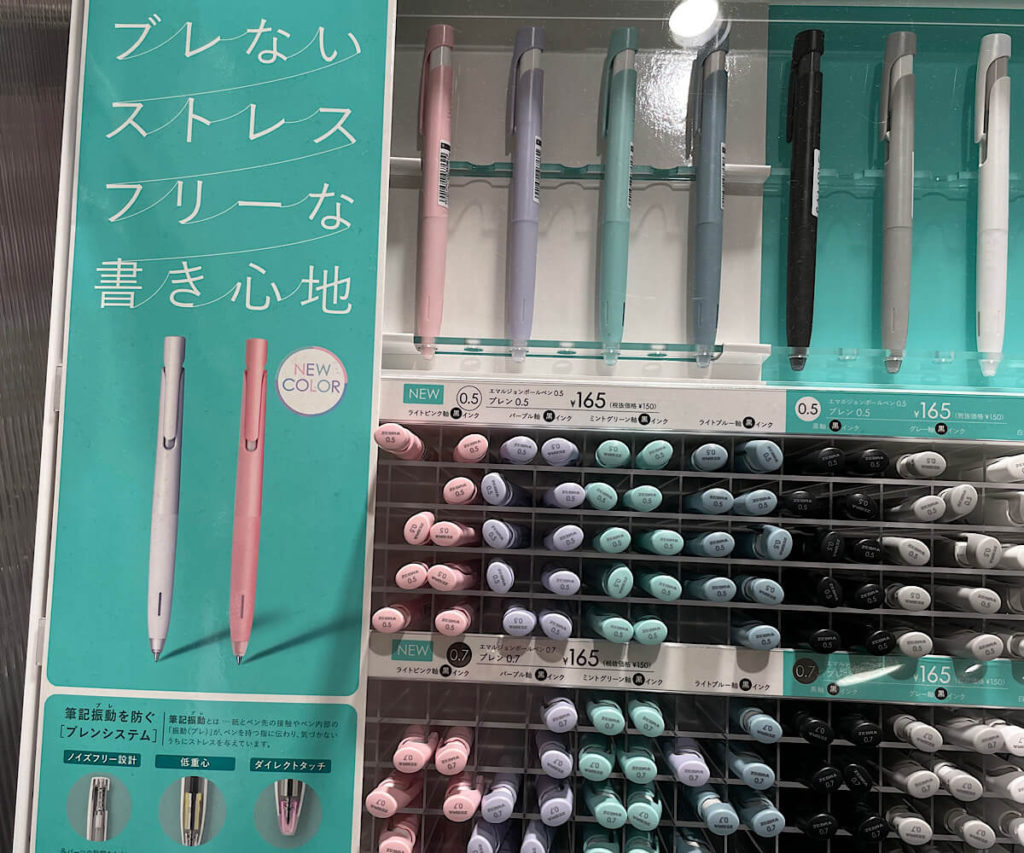 We are particular about daily items like pens and notebooks but don't want to pay much for them. You can feel this pen stick to your hand when you write with it. This pen is called "Blen" and is made by one of the most famous pen companies in Japan. This is not English. Buleru( ぶれる) means to vibrate in Japanese, and "Len" is the negative form, so "Blen" means " something that doesn't vibrate." This pen is designed to reduce the uncomfortable vibrations when people are writing. Actually, I've never thought of the vibration before. According to the maker, people unconsciously feel this vibration is uncomfortable, and get stressed when writing.
That's why they figured out a solution to this problem. I was surprised. In my opinion, it might be true but it didn't matter to me how I felt about writing because it's not an expensive pen. When I used this pen for the first time , my thoughts about an ordinary ball point pen were blown away. It literally feels like it's sticking to my hand and writes smoothly. Also it was designed to be minimalistic. It won the Good design award in 2019. This pen is my recent favorite.
Many stationery makers compete with each other intensively because Japanese customers are really picky about things. They never overlook subtle user's complaints, and they are always developing new products. Other stationery makers also offer another type of pen, so you can try it. Unfortunately, most displays of products are written in Japanese but you can guess what function they have from photos. Just try it and you will understand how different they are, like the quality of ink, the material of the barrel and writing. I'm sure you can find your favorite pen.
2. Write and Erase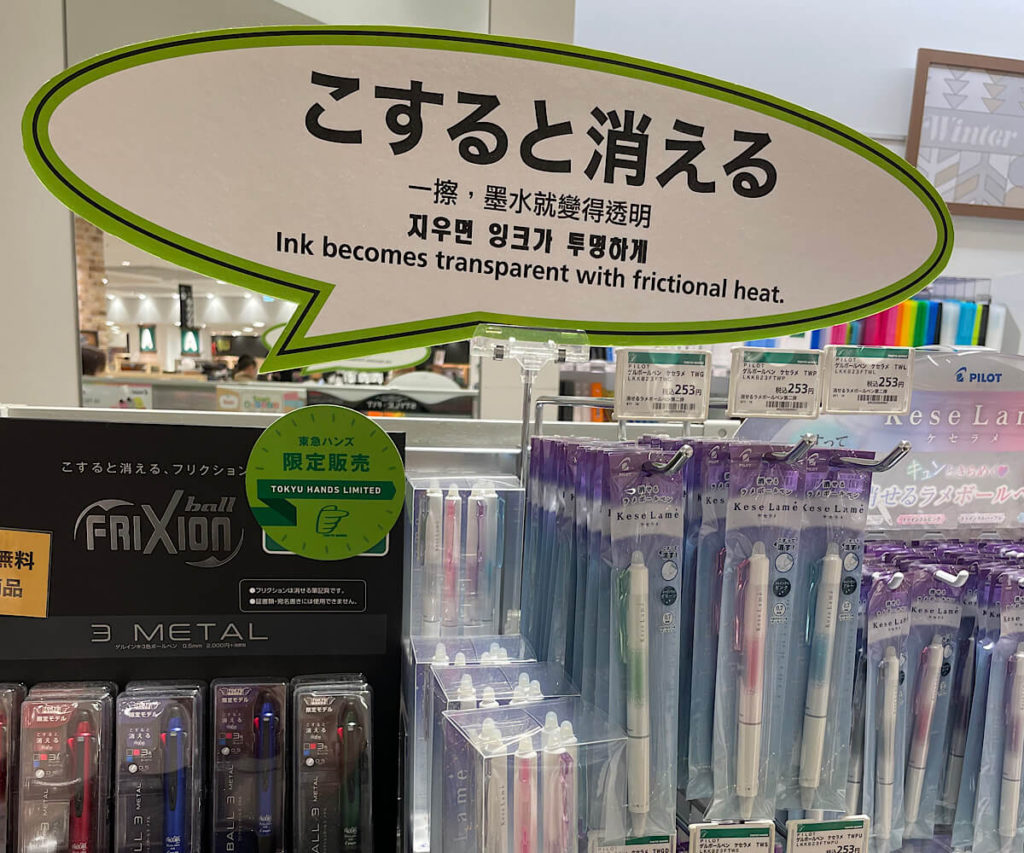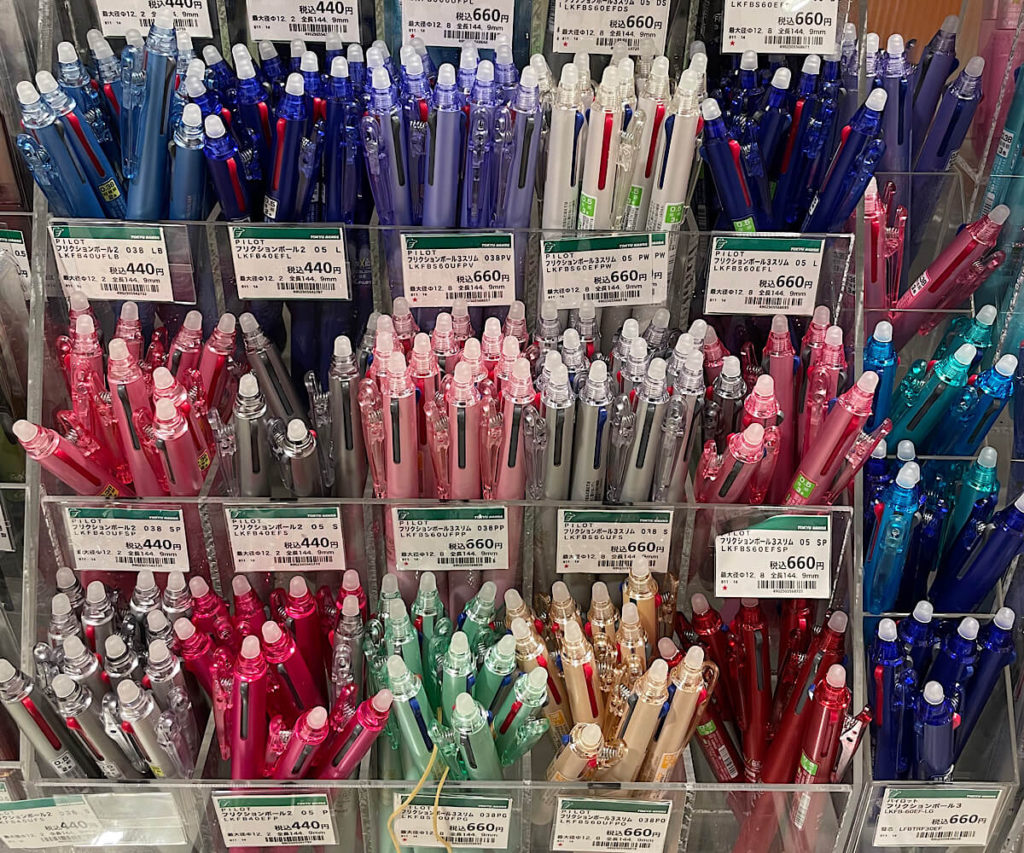 It's not an exaggeration to say that this is the greatest invention of the century in stationery. The name is "Frixion ball pen" and it's made by a Japanese company. You can write and erase with only this pen. What the difference between these and mechanical pencils? Mechanical pencils have eraser dust, and the core breaks sometimes. It's a little bit of a pet peeve of mine. I'm not going to lie, most Japanese have Frixion pens.
Actually, similar products have been around for a long time. They were kind of cheap toys. For example, they were not erasable. You could still see your writing after you erased it. The inks were light compared to a normal type of ball point pen. I used to break my notebook because I needed strong power to erase, which means, you couldn't erase it completely. People thought it wasn't good enough to use in our work every day.
Another thing that I want to bring up here, Japanese paper is excellent relative to paper from overseas. It's thin, tough and has a smooth surface. So, I think the similar type of pen was not good enough to use because Japanese paper broke when I erased with other similar types of pens. That was the consumer's complaint. Then, a Japanese maker spent a couple decades developing a new type of ink. They launched the new products in the European market in 2006 first and then in Japan the next year.
The rest is history, this pen is a big seller all over the world. Still I have a little complaint about this pen. It is slightly less smooth to write with compared to the ball point pens that I mentioned above. The ink doesn't last long. That being said, the benefits outweigh the downsides. I have no doubt that most Japanese offices have them today. One more thing, you might already know it, but just in case, the ink color changes to transparent when its temperature is over 60℃. So don't leave the memo you wrote out in high temperatures.
3. Cute Stationery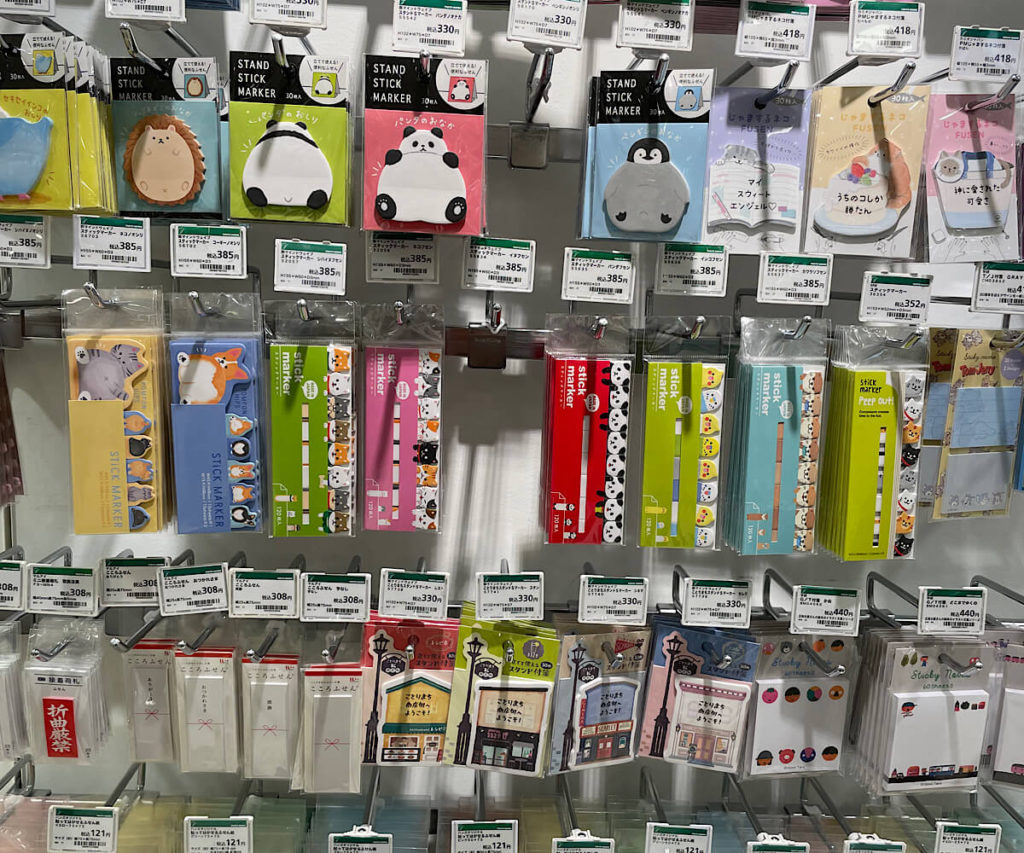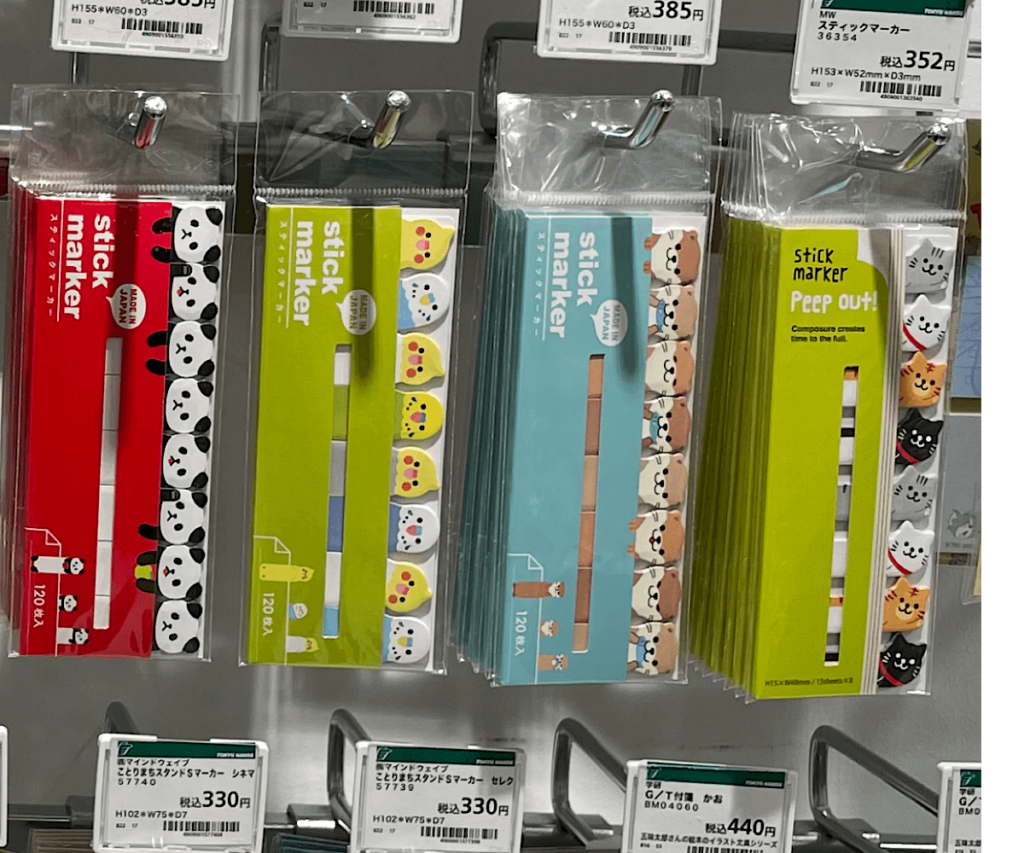 Sticky notes are really useful and it's not a Japanese invention. You might be surprised to see so many cute sticky notes at stores. This is because Japanese people tend to find it relaxing to see such cute things in their busy daily life, I'd say. Since they're aimed at adults, they're also practical. For example, the sticky glue is important because glue that's too strong damages the paper easily while if it's too weak it is not usable as the sticky note. Many companies are coping with developing both the quality of the glue and the cute design.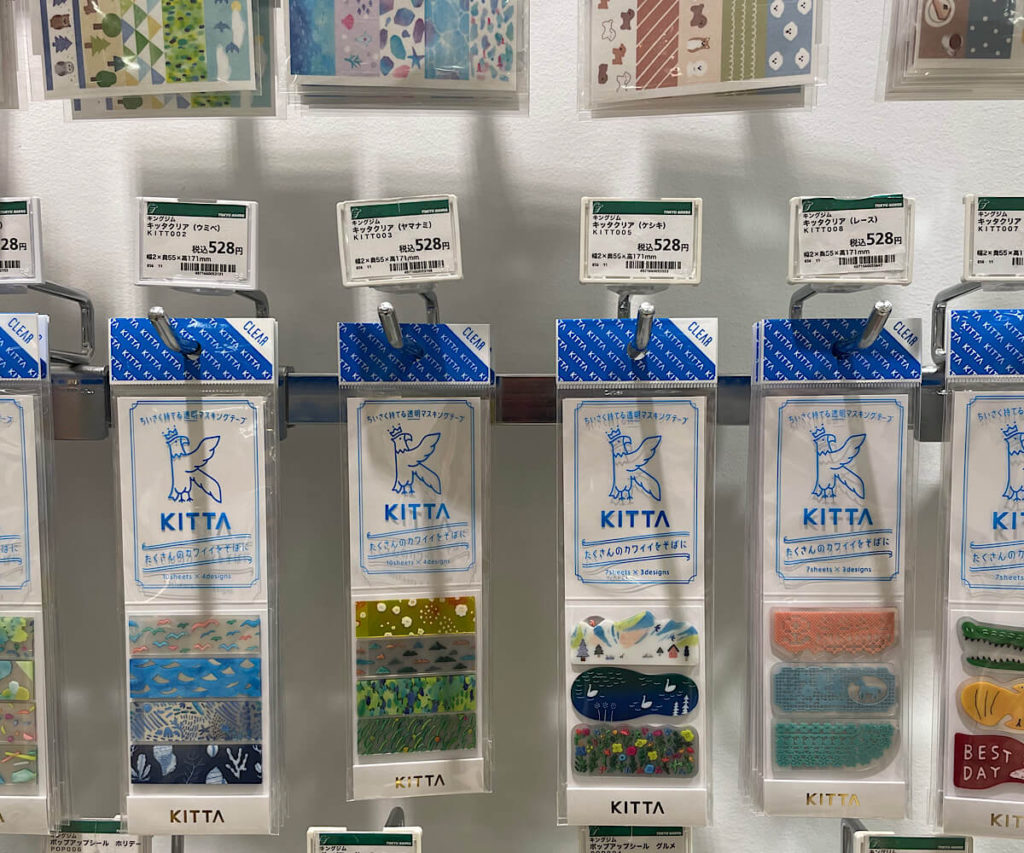 4. As Small As Possible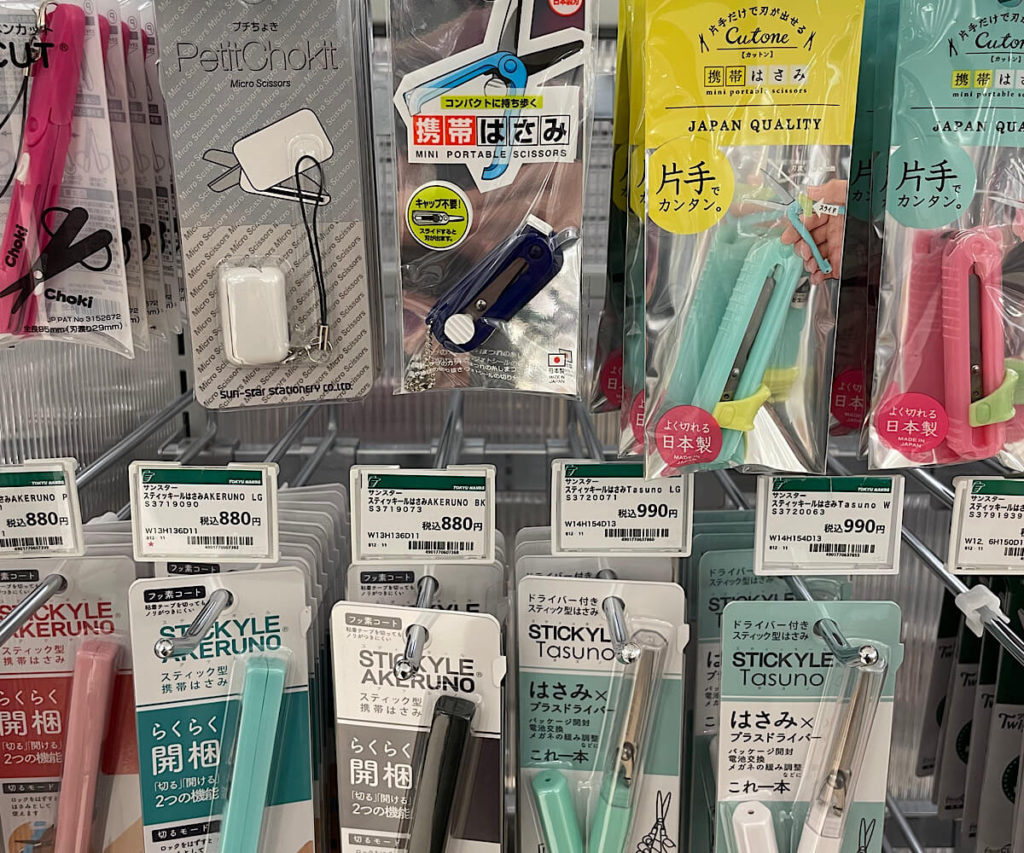 Making something small doesn't need to sacrifice functionality.You might think that this is not practical because it is too small. That is a big mistake, I'd have to say. These scissors can cut well and are portable, also they're designed to be safe. We are good at making something into small without losing its function. Also the design is sophisticated.
This is roughly what Japanese stationery is all about. It's interesting, isn't it? Knowing that, you can spend time enjoying the stationery area for a couple of hours. You might want to buy some for your family or friends as a Japanese souvenir. Thank you for taking the time to read my article to the end. See you next time.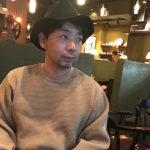 I've been working at a trading company for many years. I live in Tokyo with my wife. Love skiing, traveling, IPAs, wine , X-treme sports, fashion, and learning English and Chinese.