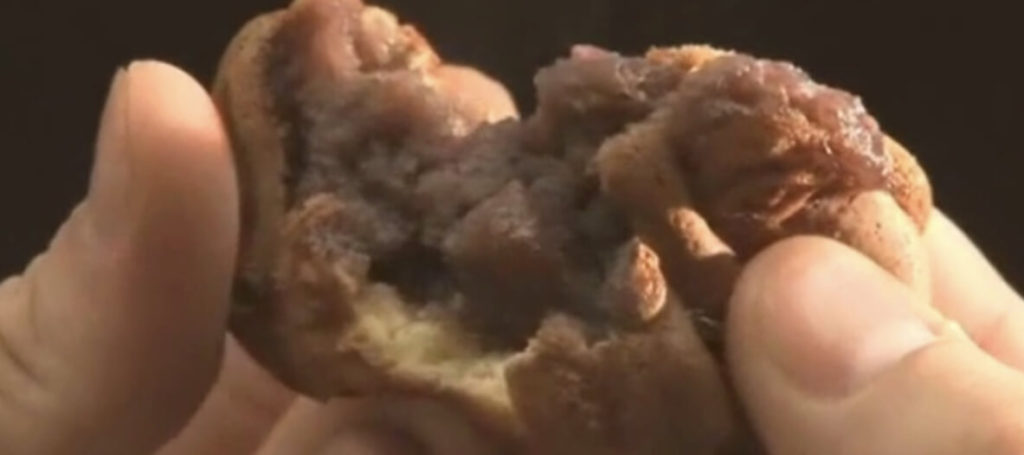 Ningyoyaki (人形焼) is one of the most famous types of confectionery or souvenirs of Tokyo. It is a tiny cake baked in a small mold, and it's filled with sweet red bean paste. At some of the shops you can watch Ningyoyaki being made and try them fresh. For souvenirs you can buy anything from a single cake to a big decorated box. The cake will keep for a few days and will not lose its shape.
The word "Ningyo" means figurine in Japanese, so Ningyoyaki represents a cake baked like a figurine or doll. However, you will find many types of Ningyoyaki here in Japan from authentic face-shaped to some animation characters. Probably you will be wondering why the Ningyoyaki is mainly face-shaped. Or someone probably says that several Ningyoyaki are not figurines or faces.
This time let us trace its history, and you will realize how the word "Ningyoyaki" exists deeply in our hearts.
The first Ningyoyaki from Nihonbashi, Tokyo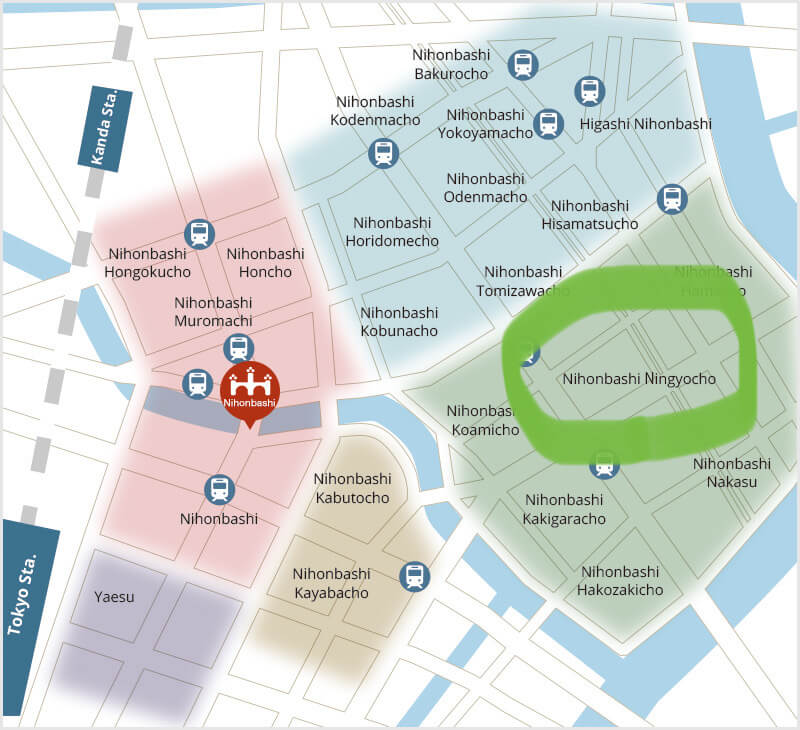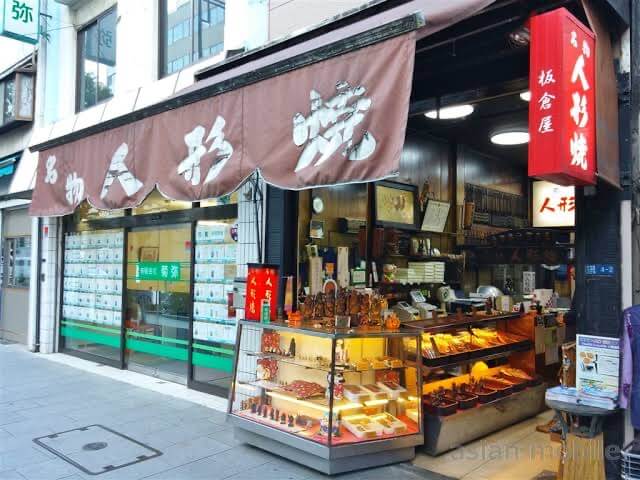 Itakuraya (板倉屋), one of the grocery stores in Nihonbashi, Tokyo, started their business in 1907. In this district of Nihonbashi was nicknamed "Ningyocho" (人形町), a town of figurines or dolls. That was because this area was famous for its kabuki theater or bunraku performances, Japanese puppetry show stages, and there lived a lot of people who were concerned with these shows.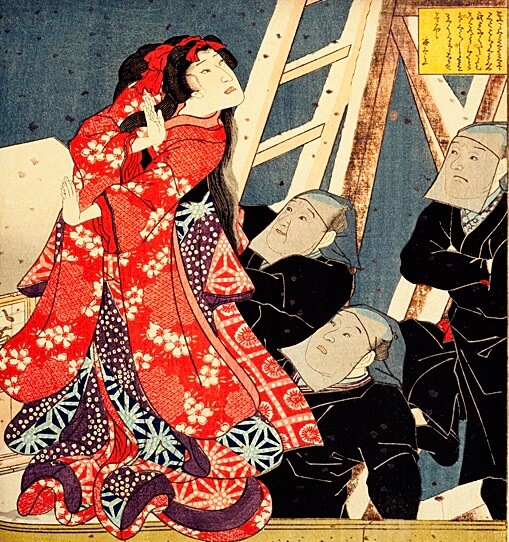 Furthermore, shrines in this area enshrined one of the seven different deities at each place so that people pay a visit one by one to wish for their good fortunes at the beginning of every year. So the owner of Itakuraya had been thinking about selling something specially related to this place.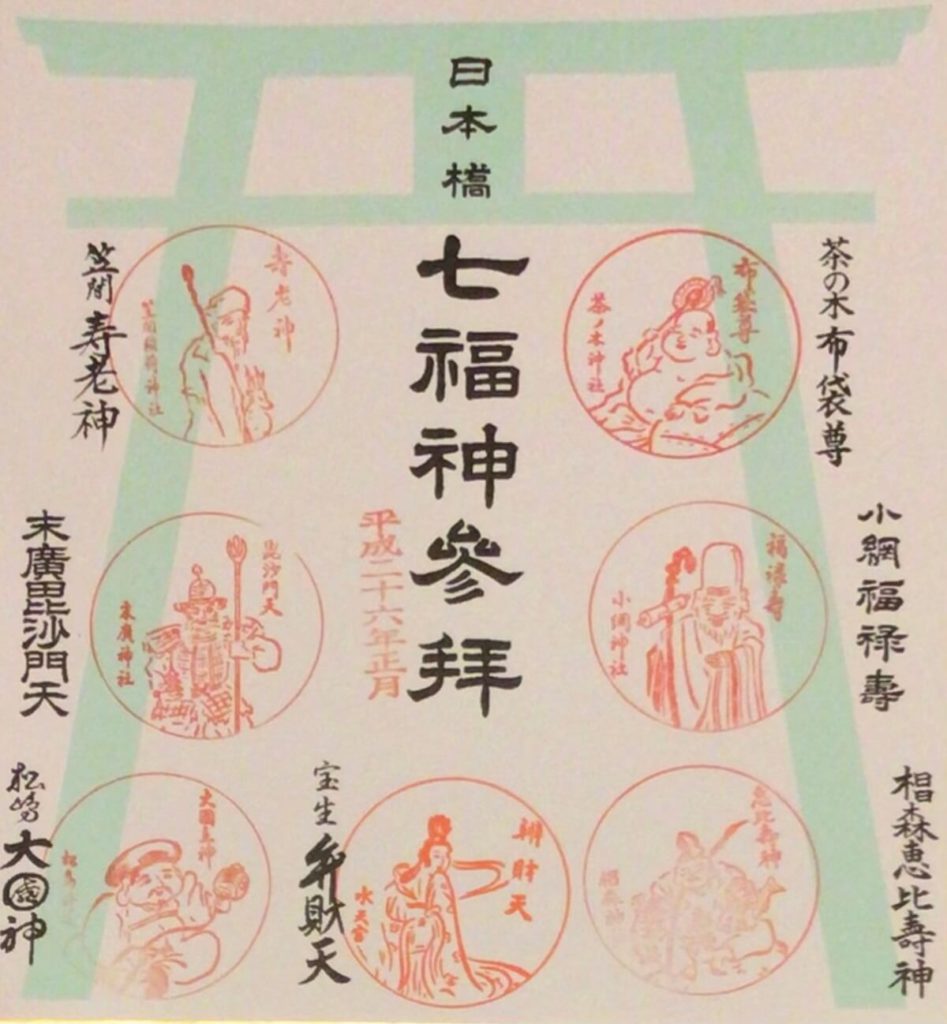 The first owner, Mr.Fujii, cooperated with the confectioner Mr.Yoshii who had worked in Osaka to bake Tsurigane-manju (釣鐘饅頭) . This Osaka-born confectionery was a precursor of a cake baked in the small metal mold. They inherited the idea from this cake and produced a doll-shaped tiny cake named Ningyoyaki (人形焼) as their staple confectionary in Ningyocho Town.(人形町).
Seven deities of good fortune (七福神) was selected as its motif.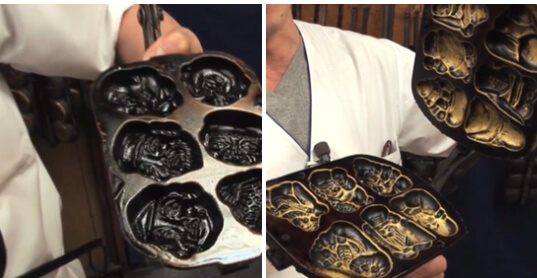 For a much more tasty one, their Ningyoyaki became a face-shaped one, and they have kept making this Ningyoyaki up to now. You could say that Ningyoyaki is a signature confectionery at Ningyocho, Tokyo. Actually, a lot of stores had baked and sold Ningyoyaki for a long time at Ningyocho, however, many of them closed their stores, and now only a few shops kept and inherited its tradition. Itakuraya is one of them.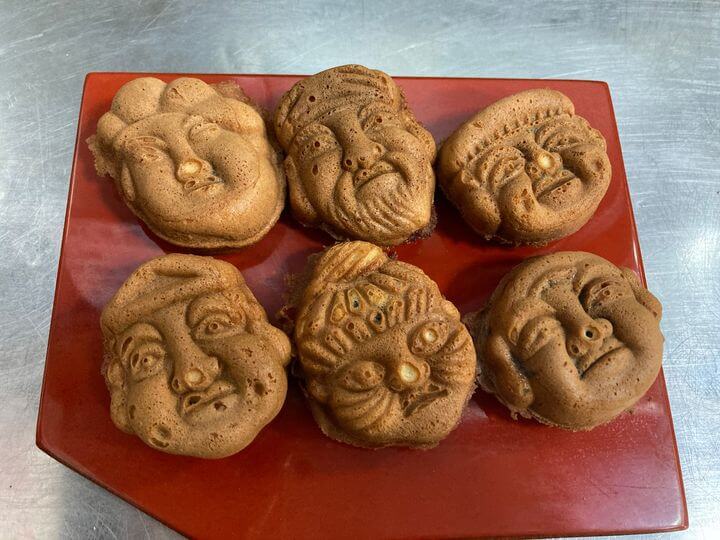 The staff of Itakuraya hope that their Ningyoyaki gives the customers not only good taste but also a great smile, literally seven smiles from their Ningyoyaki modeled from seven deities. However, If you look closely at the picture above, you will notice there are only six deities, missing one. Can you imagine why?
The answer or solution is to ask each customer to add a "smile" to make them seven.
Please check this links:
https://youtu.be/RCdgJU-vrhk
https://youtu.be/i-S5pbLFA5M
Ningyoyaki from Ningyocho to Asakusa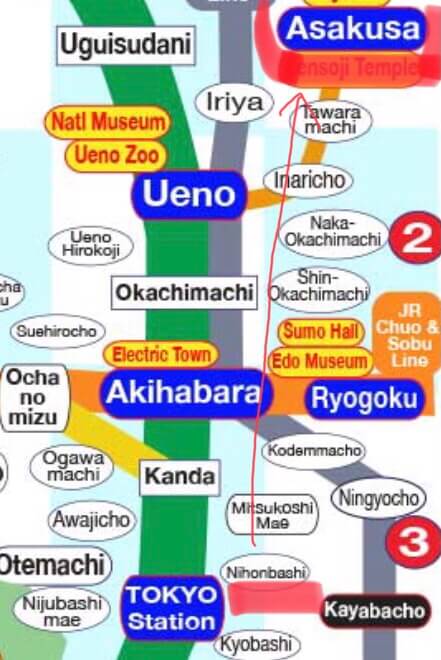 History records that it was a fire disaster called Meireki no Taika (明暦の大火) in 1657 and the government restriction of Tempou (天保の改革) in 1841 which gave a srtrict regulation to kabuki stages and changed Ningyocho drastically. Many specialists of traditional theater staff of kabuki and people concerned with these stage performances had to move to the northern part of Edo, Tokyo.
Around the Taisho era (1912-1926), many of the Ningyoyaki makers moved to the Asakusa area.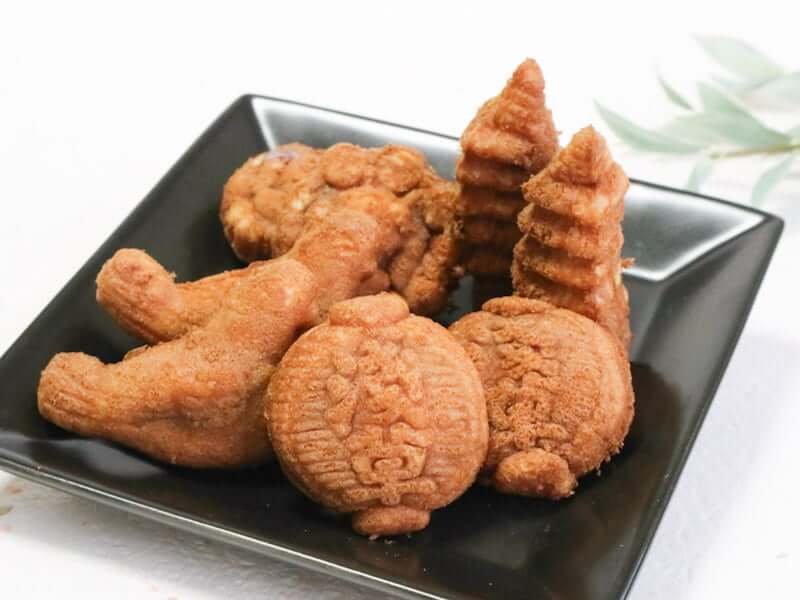 In Asakusa (浅草) , the Ningyoyaki makers started to make a special version of their confectionery: something that represents Asakusa. They created meishoyaki (名所焼き) which means the famous touring destinations, not figurines or doll-shaped ones. Asakusa Kaminarimon Gate, a thunder deity, five-story pagoda, and dove at Sensoji Temple are the representatives.

Their new products gained great popularity, however, something interesting happened. Most people have never called their products meisho yaki. People call them Ningyoyaki, though they are not figurines or doll-shaped.
Then the shop owners of meisho yaki stopped insisting on calling their name meishoyaki and changed it into Ningyoyaki(人形焼). This means the word Ningyoyaki had already lived deeply in people's hearts, and many people supported this name.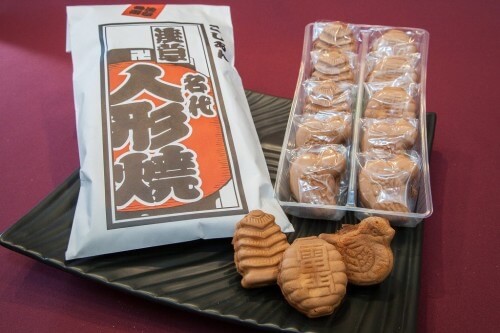 Please check this link:
https://youtu.be/9PLjzUxRbHs
Conclusion
Ningyoyaki, which gives us a wonderful pastime every time we savor it, is one of the lovable confections and souvenirs which we can be very proud of because every city or area which makes Ningyoyaki as their local speciality has made a great effort to create their original taste and shape. Even characters that collaborated with TV shows were made into Ningyoyaki. These expansions of Japanese creation are never-ending.
The word "Ningyoyaki" left its original meaning and is widely accepted as a natural expression for tiny small cakes with red bean paste.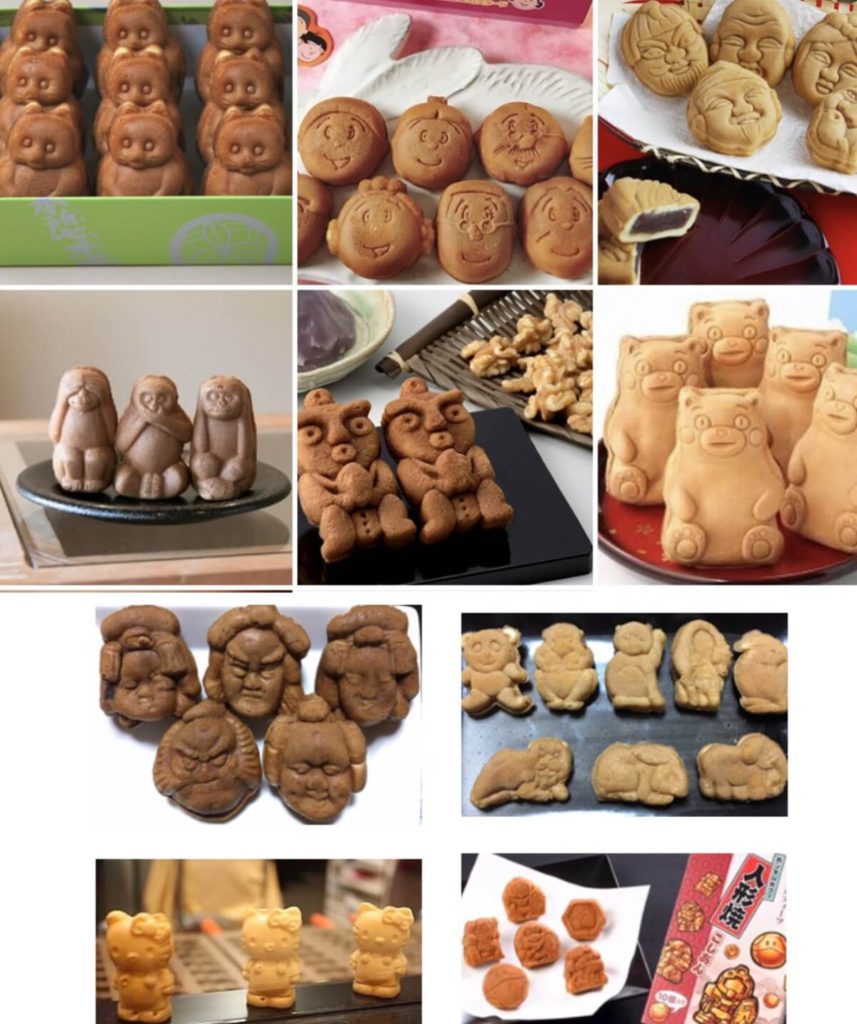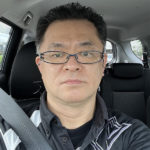 National Tour Guide (English), Eiken Grade 1, TOEIC A rank. Have been studying and teaching English for over 30 years.